Sara Tommasi purported hardcore scenes can be viewed and downloaded soon at http://www.love-me.it/home.php
http://bestvideoitalia.com/sara_tommasi_priv.html
________________________________________
Ashlynn Yennie Talks The Scribbler from the Set
This writer hit the set of director John Suits' upcoming feature
The Scribbler
last week and brought back a teaser image as well as an interview with actress Ashlynn Yennie. Read on for word on her clothing-challenged character and more!
An adaptation of the 2006 Image Comics graphic novel,
The Scribbler
, with a screenplay by Daniel Schaffer, was being lensed at the soon-to-be renovated filming spot Linda Vista Community Hospital in downtown L.A., and upon arriving to the night shoot, I immediately encountered the properties' bordering neighbors engaged in a display of cacophonous fireworks. Over the years this has become standard protocol for the residents of the apartment structure, who do so in order to extort money from productions leasing in the nearby Linda Vista. Their ploy worked apparently (as it has done many times before) as upon entering the hospital, producer Gabriel Cowan confirmed the production's yield to their machinations.
Starring Katie Cassidy ("Supernatural",
A Nightmare on Elm Street
), Garret Dillahunt (
The Last House on the Left
), Michelle Trachtenberg ("Buffy the Vampire Slayer"), Eliza Dushku (
Wrong Turn
, "Buffy the Vampire Slayer"), Gina Gershon (
Killer Joe
), Michael Imperioli (
The Lovely Bones
), Billy Campbell ("The Killing"), Sasha Grey (
The Girlfriend Experience
) and the previously mentioned Yennie,
The Scribbler
(according to the flick's PR) concerns
"Suki (Cassidy), a young woman confronting her destructive mental illness using 'The Siamese Burn', an experimental machine designed to eliminate multiple personalities. The closer Suki comes to being 'cured', the more she's haunted by a thought... what if the last unwanted identity turns out to be her?"
Shooting Day 18 of the 20-day shoot, the production was in full swing filming scenes with Cassidy, Dushku and Imperioli, and after watching the action on the monitors, I found my way with the help of unit publicist Shannon Sonnier to the room of The Scribbler to have a look at the "The Siamese Burn" contraption before sitting down with Yennie to discuss her role in the film.
"It's been really fun,"
said the actress, whose previous turns include that of the tail end of the surgically conjoined human monstrosity at the center of Tom Six's
The Human Centipede
, as well as the head of the same in his 'ATM' sequel
The Human Centipede 2
.
"I've had some really intense shooting days, but overall it's been amazing to work with everyone here."
Yennie, who had already wrapped The Scribbler and arrived to set that night in order to do press, engagingly revealed of her role: "I play 'Emily,' and all of us are kind of like in this halfway house for the mentally insane, but we are not allowed to live outside in the world yet. I play a girl who has a condition called 'Vestiphobia', which is the fear of being trapped in clothing. So I run around naked a lot in this movie!"
Commenting on the decayed interior of the circa 1933 structure, Yennie laughed, "Yeah, it's great to be running around Linda Vista naked and barefoot. I was actually really scared that I was going to catch something. But they did end up putting me in a dress so I was like 'yes,' but my character was screaming 'no!' I had to do a very intense scene where I have a mental breakdown because they put clothes on me. Yes, this is real. This is my life."
"So they put me in the dress," continued Yennie, who earlier this year completed her role in Adam Gierasch's upcoming feature Schism, "and then I have a mental breakdown. My character actually hates everyone else's clothing in the movie, too, and I comment on what they are wearing. At one point I make fun of Michelle Trachtenberg's outfit, and then she..."
(Note: As this article will remain fairly spoiler-free, I'll refrain from communicating what Yennie revealed. Let's just say the scene will be a narrative and visual treat, more than likely).
As for how Yennie became attached to The Scribbler, she stated, "When I found out they were looking to cast the role, they had already cast the entire film so I emailed the casting director, and I was like, 'Hey, here's my reel, can I read the script?' And she was like, 'Oh my god, you need to come meet the director,' because John knew me from The Human Centipede films, and they pretty much knew that I wasn't afraid to be naked or whatever, but they also knew that I could kind of handle the heaviness of someone who has a condition like this because she's really serious about it, like it's not a laughing matter. She has a fear of clothing. I did a scene with Katie where I actually really do make fun of everything that she's wearing, too, because I am so offended by it."
https://twitter.com/#!/search/%23TheScribbler
http://www.facebook.com/AshlynnYennie
https://twitter.com/#!/RealMichelleT
* Ashlynn Yennie nudity is no-brainer. But the part where she describes making fun of Michelle Trachtenberg's outfit in a scene and then Michelle's character..."strips off as well" (my own add-on).The editor of the piece even suggested it could be visual treat of sexy kind. Holy crap! Is it possible 27-years old Trachtenberg will do her first nude scene? She plays Alice.
Why Michelle Trachtenberg Got
Blue Hair
Michelle Trachtenberg's hair now has bright blue ends
, and it's all because of her new role as a psycho killer in the thriller
The Scribbler
, out next year. "
It wasn't even something they asked me to do, I just said 'I think half my head should be blue
,'" she told us at the Coach-hosted Childrens Defense Fund benefit party in Santa Monica last night. While producers denied a full head of blue hair, they compromised with just the tips, and
Trachtenberg sought celebrity colorist Tracy Cunningham to dip-dye her strands
. "We did it and it's been so much fun," she said. Of course, it took some getting used to. "
It is super subtle though during the day it is a bright
," she said. "
But after the first washing, I thought I killed one of the characters from Avatar!
" Tell us: Do you like her look?
________________________________________
'

True Blood

' star Stephen Moyer raises stakes as director
SANTA MONICA, Calif. -- There are hidden hazards to being a full-time vampire.

"Look, I've still got my blood on," says Stephen Moyer, stretching out his deep crimson nail beds under the glare of midday sun at HBO's offices. "We all have blood under our fingernails. It was my stupid idea from Season 1, and it never comes off."

It's his last month shooting Season 5 of

True Blood

, which pulled in more than 5.2 million viewers during Sunday's premiere. The season opener saw vampires Bill Compton (Moyer) and Eric Northman (Alexander Skarsgard) silvered and dragged to The Authority's chambers in retribution for killing the governing vampire group's public spokesperson.

"Bill has had this crazy arc," says the British actor. "He's gone from this innocent sort of old-fashioned, slightly enigmatic Heathcliffian ... character, to somebody who is revealed as this dark malevolent force who's been hiding all of this stuff this whole time."

It's a politically charged season that - when not luring its visually arresting cast of humans, fairies, vampires, werewolves and shape-shifters into bed - pits vampires who campaign for assimilation against those who believe humans are simply a tantalizing food source.

Former foes Bill and Eric have embarked on a bromance that "sort of turned into Lethal Weapon" on-set between the two real-life friends, says Moyer, laughing. "And so we were sort of told we had to get a little bit more serious. It was like, 'Don't forget you're going to die, all right? There is a stake literally in the middle of your chest.' "

The season marks big firsts for Moyer, 42. His wife and co-star, Anna Paquin, 29, is pregnant with their first child. (Moyer has two children, Lilac, 10 and Billy, 12, from previous relationships.) And

Moyer directs for the first time

, joining other stars, including

Mad Men

's Jon Hamm and John Slattery,

Breaking Bad

's Bryan Cranston and

Brothers and Sisters'

Matthew Rhys, who have stepped behind the camera for their own series.

The actor began lobbying creator Alan Ball for a shot at directing during Season 1.After Moyer shadowed True Blood directors last year, Ball decided the actor was ready. "It's a very strong episode," says Ball. "

He directed a sex scene that might be the hottest sex scene we've ever had on the show.

""I didn't get the easiest of episodes," concedes Moyer, who was charged with Episode 8, which involves complicated flashbacks. "I was terrified - not of being able to do the job, but I was scared of how the other actors would react to me telling them what to do." But "they were so supportive. It is a giant family, and there were times when I knew they had my back."

Of course, "I got a bit of sass from the wife," he says with a grin. "She was like, 'Oh, my God, this director is such a diva.'" (The show has shot around her pregnancy.) Moyer teared up when Paquin gave him a book full of stills from his episode, signed by the cast and crew.

Next, the couple co-produced art-house film

Free Ride

(Paquin stars), which will hit the festival circuit this year.

This week, the cast will do their final table read with Ball before he exits as show-runner (he will stay on as executive producer).

Moyer smiles, predicting an emotional day. "When I started this job, I didn't know it was going to lead to five, six years of working here, or living here or meeting a wife and leading to babies. So Alan has got a lot to answer for."

Synopsis for Episode 8:

The Authority revels in a new direction; Sookie and Jason visit the site of their parents' deaths; Luna gets stuck on Sam. (Written by Mark Hudis; directed by Stephen Moyer.)

Not only is Steve directing this episode, but it appears we're getting a look at Bill's history: the show is casting Sarah Compton-Harris, an elderly woman seen in flashback to 1931. She's in her 70s-80s, and ravaged by cancer. Does Bill find his daughter at death's door and offer her an alternative?

The werewolf storyline continues to heat up as the Shreveport pack faces a leadership change. At a meeting, we'll meet Ryder, a large male werewolf who addresses the group, and a lady packmember with a suggestion of her own. Could the reason for the meeting be in the casting of Sean? He's a track star at a university who is forced to outrun a wolf pack. That is one of the scariest sentences I have ever written.

A young woman in her 20s is being cast as the victim of a vampire who begs for her life as she's being fed on. If you'll recall, this is the third or fourth episode to include a casting call for a vampire victim. Do we have a rogue vampire on the loose? Is it Russell? Pam? Jessica? TARA????

Also intriguing is that the show is looking for a double for Sam Trammell. * The sex scene is probably between Sam and Luna (Janina Gavankar) or Ryder - large male werewolf and Kelly Overton. Prefer the latter. ________________________________________

Lindsay Lohan Apprehensive About Doing Full Frontal
A couple days ago it was announced that Lindsay Lohan would be starring opposite porn star James Deen in Bret Easton Ellis' The Canyons. However, a source says Lindsay hasn't officially signed the contract citing a concern about the nudity involved.
"Lindsay and her team are concerned about the nudity that is involved. Lindsay would be required to do full frontal nudity, and the sex scenes are very, very graphic. Yes, Lindsay has posed nude for Playboy, but doing it in a movie is completely different. Lindsay needs to make sure that she is comfortable with it, and that this is something she can handle as an artist. It's expected that Lindsay will sign the contract in the next two weeks, as filming begins at the beginning of July. Lindsay has admired Bret's work for a very long time, and one of her favorite movies is Less Than Zero," the source added.
This is a girl who did full frontal for New York Magazine, posed for Playboy and flashed her vagina on a boat. Now is not the time to be demure. Especially when bills are piling up, she has to drive a rented Porsche, which she just crashed, and her mom Dina keeps calling and shouting in her ear, "Show me the money!"
* Now that's a shocker. Be prepared for darkly-lit sex scenes and topless nudity. James Deen will be allowed few humps on Lohan. Bret have no choice but listen to soon-to-come demands from her rep. Much of the production budget goes to paying Lohan. The publicity she brings the movie is priceless. If she drops out........
________________________________________
SCARLETT JOHANSSON ISN'T KEEN ON RAUNCHY SCENES
SHE may have gone topless in leaked photos from her phone and graced the cover of Vanity Fair magazine in the nude but movie bosses may have trouble getting Scarlett Johansson naked for the steamy movie Fifty Shades Of Grey.
The Avengers actress, 27, is the favourite to star as the lover of a billionaire businessman in the film, but isn't keen on stripping for raunchy scenes.
"I'm still making up my mind about when or how I'll do a nude scene," says Scarlett.
"You always imagine people buying the film on DVD and going back and forth watching your boobs over and over again!"
________________________________________
Producers jockey for '

Fifty Shades of Grey

'
Shortlist includes Jacobson, De Luca, Stuber, Sher, Grazer
As "Fifty Shades of Grey" author E.L. James and lit agent Val Hoskins spend the week in town to discuss a feature adaptation of the bestselling erotic novel with high-level execs at Universal Pictures and Focus Features, the search for producers has narrowed significantly, with a decision expected soon.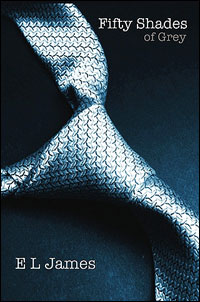 James and Hoskins have already met with dozens of producers, some based on the Universal lot, others off, though all are being asked to commit to the project full-time. Production companies were quick to trot out female producers in an effort to entice James, though sources say the producer, and furthermore the director, won't necessarily be female just because women comprise the majority of the book's fan base.
Sources tell Variety that the studios have focused their search on a shortlist that now includes (in alphabetical order): Michael De Luca; Ron Howard and Brian Grazer of Imagine Entertainment; Nina Jacobson and Brad Simpson of Color Force; Michael Shamberg and Stacey Sher of Double Feature Films; and Scott Stuber of Bluegrass Films. Other names are believed to still be in the mix.
Universal had no comment.
-- De Luca is said to be a candidate to watch, given his longstanding relationship with Universal co-chair Donna Langley, the exec largely responsible for "Shades" landing at U. De Luca has a deal at Sony, where he produced Best Picture nominees "The Social Network" and "Moneyball," both based on high-profile books.
-- Imagine has been chasing the coveted gig hard and, as arguably the highest-profile production company on the Universal lot, makes it into the final round. Still, Universal and Focus are said to want a younger producer who has experience with edgy material -- something Imagine does not possess.
-- Stuber is coming off Universal's big-budget disappointment "Battleship," though he also produced the hit "Safe House" and is behind what could be the sleeper hit of the summer, Seth MacFarlane's "Ted."
-- The frontrunners appear to be Jacobson and the Double Feature duo of Shamberg and Sher. That latter are producers of equal status who bring both sexes' perspective to the material; they also have experience handling edgy fare as exec producers of Quentin Tarantino's "Pulp Fiction" (duo are currently producing "Django Unchained"). Shamberg and Sher also have a long history of producing pics with strong female characters, such as Jennifer Lopez in "Out of Sight," Julia Roberts in "Erin Brockovich" and Uma Thurman in "Kill Bill."
-- Jacobson may be the best positioned for the job, but the success she had with "The Hunger Games" may put her at a disadvantage, since the studio is looking to a hire a producer who can focus full-time on "Fifty Shades of Grey," and Jacobson will undoubtedly have her hands full with the "Hunger Games" sequels.
Rumors have also surfaced that Focus topper James Schamus may end up writing the script himself. Schamus is a frequent collaborator with Ang Lee, who has experience handling controversial sexual material, having directed "Brokeback Mountain" and "Lust, Caution."
While Universal and Focus certainly have a say in who will write, produce, direct and star, one producer tells Variety that "[James] has worked in the entertainment industry and is not going to let anyone dictate who gets put on her movie." Indeed, James, a former television executive from the U.K., has final approval over the filmmakers and talent. One producer remarked: "Like J.K. Rowling and Stephenie Meyer, E.L. understands the fan base -- because she is the fan base."
________________________________________
2 Days in New York Trailer: Chris Rock vs. The French
Julie Delpy's directorial effort revolving around her character's awkward French family terrorizing her live-in boyfriend won over Sundance audiences as what she calls a "cheesy love story with a happy ending." Now behold old man sausage-smuggling and car-keying courtesy of Delpy's real-life father, a subdued Chris Rock we very much would like to spend time with, a pull-quote dusting off the "vintage Woody Allen" sentiment, and a frazzled, lovable Delpy at the center of it all.
2 DAYS IN NEW YORK is available On Demand July 6th and is in theaters August 10th
* Julia Delpy is slowly becoming a director to be reckoned with. I think she deserves a chance for crack at the big-time if the major studios have the balls to hire her. Personally I think Julia will be perfect choice to helm Fifty Shades Of Grey. She has no issues with sex and nudity (unlike Americans) and will treat the subject matter in nonchalance style. Immensely enjoyed 2 Days in Paris (2007) with Adam Goldberg and the sequel was well received at film festivals as well. Alexia Landeau provides the nudity in this one btw.
________________________________________
Inside a Prague Brothel, Where Sex Is Free If You Perform for the Web
A client checks his performance on the monitor installed on the ceiling of the Heaven Room. Taken by one of four web cameras installed in each corner of the room, the video went out live on the Big Sister website.
A prostitute walks out of the sauna as a client takes a rest in the relaxation room.
A prostitute in the Barbie Room waiting for her client to finish his shower.
A prostitute lying on the bed of the Hell Room talks to one of the camera operators on the fourth floor of the Big Sister building while the client takes a shower. The camera operator gives her directions as to which camera in the room she should be facing for the best filming results.
A prostitute with her client in the elevator. The men would choose the girls in the bar and then take an elevator up to one of the available rooms.
A prostitute waits on the bed of Desert Room for her client to finish his shower. Usually the girl showers first and while the guy is getting clean, she makes the bed. This is a daily routine for most of the prostitutes here who have 10 to 15 clients a day.
A prostitute and a client take a bath.
A web camera decorated with plastic flowers in the Barbie Room.
A prostitute checks her performance on the monitor installed on the ceiling of the Heaven Room.
A prostitute with her client in the Fetish Room.
________________________________________
________________________________________


As Ronnie Wood, 65, smooches with his 34-year-old girlfriend...The ugly truth about dating an older man
To celebrate his 65th birthday, Ronnie Wood took his beautiful 34-year-old girlfriend to Venice, the city of love. As they cuddled together in a gold-encrusted gondola, Sally Humphreys leaned in adoringly for a lingering kiss — from a man almost old enough to be her grandad.
And didn't he look it? His thin, wrinkled lips were puckered like those of a man who had misplaced his dentures. His crepey skin stretched across his thin, boney face, his sun-damaged hand reached for her slender knee, his turkey neck wobbled in anticipation of a night of passion.
To be honest, it was utterly revolting. One can only imagine that when they did make love, Miss Humphreys laid back and thought of the Bank of England.
Rolling Stone Ronnie Wood and his reported new girlfriend, Sally Humphreys, are spotted during a gondola ride in Italy
How else can you explain the love affair between the scarecrow Wood and this lovely theatre producer? While it could be true love, it's more likely she's been seduced by the lure of celebrity, or the money and lavish lifestyle that the multi-millionaire Wood can offer.
And he has offered it to many women, all young enough to be his daughters, since he separated from his wife of 24 years, Jo.
We've long become accustomed to the sight of fabulously wealthy and famous older men dating younger women, but when the age gap reaches more than 30 years, you have to wonder what the women can be thinking.
Not that there is any shortage of much younger women keen to go to bed with these gnarled old codgers. Monty Python's John Cleese, 72 years old, is in a relationship with 41-year-old Jennifer Wade; Charles Dance dated 25-year-old Sophia Myles when he was 58; 80-year-old Des O'Connor's wife is 43-year-old Jodie Brooke Wilson.
The pattern is always the same: rich, successful older man pairs up with unknown young woman. But after the first flutter of love and £50 notes, do these women really have any idea what is in store for them?
As I discovered recently at a gathering of thirty to fifty-something women who were all single and dating, a younger woman pays an especially heavy price to be with a much older man.
You only have to look closely at the picture of Ronnie Wood to see what they're in for. He's not only dyed his hair, he's also dyed his eyebrows. But while this may knock off a few years when he's dressed, when he revealed himself in all his wrinkly majesty, Ms Humphreys will have discovered that he's not a natural brunette, if you catch my drift.
While so much is written about what happens to women's bodies when they hit 50 (their breasts and bottoms head south, their tummies never recover from having children, they have stretch marks, cellulite and sagging flesh), very little is said about what happens to men's bodies at a similar age.
Without going into too much detail in a family newspaper, let's just say their wobbly bits droop as far and as fast as a mother-of-six's breasts. And instead of a washboard stomach, they have washboard bottoms. Male buttocks over 50 are like dodos — they just don't exist.
And, as one of my young friends revealed over dinner after her affair with a 65-year-old, the sex can be a nightmare. He's either not that interested (unless you're wearing PVC or a nurse's outfit) or he's popping Viagra like Smarties and you're up all night grappling with a wrinkly old bloke who thinks he's Leonardo DiCaprio.
One woman at the dinner, a glamorous fifty-something, told of her latest dating experience. She met an adorable man 12 years older than her who was very keen, but who suddenly stopped calling or returning her texts.
After three weeks without a word, he reappeared. Was there another woman? Was he back with the ex-wife? No, he'd broken his front tooth and couldn't bear to see her until he'd had it replaced.
Yes, teeth problems loom large with the older man, as does health in general. When men get to Wood's age, they have a lot of health issues — both real and imagined.
They're obsessed with their libidos (or lack of them), their cholesterol levels, their blood pressure, their prostates. They insist they've had a stroke or a heart attack when it's just heartburn from eating too much.
They fret about their receding hairline and their ever-expanding waistlines. Forget the myth about the older man who can support you emotionally and financially: they are as needy as children, especially when they are with younger women.
Constantly seeking reassurance, they need their lovers to lavish praise on them. As Wood said of his new girlfriend: 'She's really supportive of everything I do.' Clever girl.
The most brilliant portrayal of the truth of the much older man and the younger woman comes, ironically, from Woody Allen — who left his partner and mother of his children, Mia Farrow, who was a modest ten years his junior, for their stepdaughter Soon-Yi Previn, who was 35 years younger than him.
In Allen's film You Will Meet A Tall Dark Stranger, Anthony Hopkins plays Alfie, a married man who dumps his wife Helena and marries a gold-digging prostitute half his age called Charmaine Foxx.
Alfie subjects himself to fake tans and endless gym sessions, wears teenage clothes and watches his bank account dwindle due to her excesses. Desperate to recapture his youth, he can't even make love to his nubile young wife without Viagra.
It is a poignant, rather pathetic portrayal of the Ronnie Woods of this world and reveals the truth about love with an old rogue.
Of course, older men can remain wonderfully attractive and lovable to women who've grown old alongside them. As exhausted Alfie discovers when he leaves his young wife and tries to reconcile with Helena, there is something marvellous about a long marriage.
Even in your 80s, as I know from my own parents, you remember the young person you fell in love with, and they remember you as you were — the soft skin, the bright eyes, the youthful body, the passion and the enthusiasm. Long-term love doesn't see the wrinkles.
But while a lengthy marriage might provide a woman with a bank of memories to draw on when her husband turns grey and doddery, for a young woman going out with a much older man, what you see is what you get.
The truth is, women are much more likely to find happiness with a man nearer their own age. At 54, I've never been tempted to go out with a much older — or much younger — man, knowing I'm far more likely to find common ground with someone who is also in their early 50s.
So why do men in their 50s and 60s suddenly dump the wives with whom they've shared a lifetime for much younger women?
This question was answered rather succinctly in a scene from American TV show Mad Men, when the silver-haired advertising executive Roger Sterling is sitting in a bar with his stylish and attractive ex-wife, Mona.
He is lamenting the breakdown of his marriage to his second wife, the twenty-something spendthrift Jane, acknowledging his folly in leaving a loyal wife for a beautiful young woman.
Mona responds, with breathtaking clarity: 'I always thought the reason that you left me and married Jane was because I got old. Then I realised it was because you got old.'
* I'm all for rich old geezers getting it on with 20-something hot chicks. It's a fetish of mine. There is a genre devoted to it in the porn. Apparently young women (18-25) are the biggest subscribers to Oldje.com site. Viagra is a game changer.
But you also have to admire these girls willingness to suck old wrinkled smelly cocks just for financial security. You rarely see guys in their 20's or 30's hooking up with a female septuagenarian or octogenarian unless he was a gigolo.
________________________________________
Men gone mild!
It's 'The Hangover' on hiatus: Why more guys are sowing their not-at-all-wild oats at G-rated bachelor parties
By DOREE LEWAK
When Patrick Carone, 35, clicked on the e-mail announcing plans for his friend's bachelor party, he was expecting a blueprint for a sordid Vegas jaunt, or perhaps a steakhouse bash in NYC, with a bevy of beauties on the side. Instead, he was invited to "join us in a relaxing weekend of fishing, light hiking, even barbecuing!"
Carone, who is admittedly "more of the traditional-bachelor-party kind of guy," was crestfallen.
He frantically scanned the e-mail again for the words "strippers," "steakhouse" or "Vegas," but only found "hike," "upstate NY" and "bug spray." To be fair, the guys did manage to take shots, sort of: Their outing at the Catskill Pheasantry this past weekend involved skeet shooting, where the group fired off shotguns at clay discs for two hours, leaving some of the guys with bruised shoulders — and egos.
"A bachelor party is a rite of passage for guys," protests Carone, the entertainment director at Maxim. "When else can a group of guy friends cut loose like this, in what is the last free pass society hands us?"
But Carone is fast becoming part of the minority — and he risks being left behind at the strip club, thanks to a shifting mindset among men who cite a "been there, done that" mentality, financial fatigue and a new distaste for raunchier activities that don't fit into their lives. In a June poll by wedding Web site the Knot, more than half of the female respondents reported that their fiancés are planning low-key affairs for their bachelor parties — activity-oriented celebrations or a simple dinner and drinks.
"The cliché that all bachelor parties need booze and women is quickly becoming extinct," says Chris Easter, founder of the go-to site for grooms, the Man Registry.
As men get married older — the average age for a groom in the US has risen from 24 to almost 29 in the past 30 years — Easter says, "They've got the college lifestyle and partying out of their system. Their interests have changed, and they don't require a night of binge drinking to say goodbye to their single life. It means that a dinner with friends is an ideal alternative to doing 15 shots of whiskey and not remembering the night."
A few of Easter's recent personal faves are the shooting range, golfing, and — yes — even fishing excursions.
Jason Diamond, a writer/editor at the culture Web site Flavorpill, was married in February, and began the preparation for his bachelor weekend with a stern e-mail to friends that read, in capital letters, "NO STRIPPERS."
"It was dorky, but so am I. I admit it," says Diamond, a 31-year-old West Village resident who made sure to filter out friends who wouldn't be happy with his G-rated menu of activities. His bachelor weekend kicked off with a civilized brunch at the organic, locally sourced East Village spot Back Forty, then moved on to a karaoke-thon and ended in an anticlimax, with Diamond and his buddies crashing on his couch to watch Ken Burns' documentary about the Civil War.