Aussie Actress Margot Robbie in Talks for 'Wolf of Wall Street' for Martin Scorsese
Young Australian actress Margot Robbie may be about to get a gigantic break. She is in talks to join the cast of "
The Wolf of Wall Street
" for director Martin Scorsese as the second wife of the main character, Jordan Belfort, being played by Leonardo DiCaprio. Terence Winter ("The Sopranos") adapted the screenplay, which details Belfort's Wall Street travails, which included a high-flying lifestyle, drug and alcohol addiction, and eventually prison. Production is scheduled to begin in August in New York.
Red Granite Pictures owns the rights to Belfort's memoir and is financing the film. The company's Riza Aziz and Joey McFarland are producing along with DiCaprio, Scorsese and his Sikelia Productions partner Emma Koskoff, and Alexandra Milchan. Irwin Winkler and Georgia Kacandes are executive producers.
Repped by CAA and Management 360, Robbie starred on the ABC series "Pan Am" and the long-running Aussie series "Neighbours." She has just begun filming the Richard Curtis feature comedy "About Time" for Universal.
Leonardo DiCaprio Gets A Wife In Martin Scorsese's 'The Wolf Of Wall Street'
From a Tony nomination to playing Leonardo DiCaprio's wife in a film directed by Martin Scorsese -- as far as career boosts go, it doesn't get much better.
27-years old
Cristin Milioti, recently nominated for her turn in the Broadway production of "Once," has landed the pretty plum role in "The Wolf Of Wall Street." Joining a cast that so far includes Jonah Hill, Kyle Chandler and "The Artist" star Jean Dujardin, the film tells the true story of Jordan Belfort, a wheeling and dealing New York stockbroker who sees his career and personal life fall into shambles thanks to sex, drugs and alcohol. Milioti will play of Belfort's Italian-American hairdessing wife Denise (first wife), who is crushed by his infidelity.
Milioti will continue her run on Broadway before heading over to 'Wall Street' when production on the Terence Winter penned film begins at the end of the summer. And we would guess her appearances on "The Sopranos" may have tipped her to Winter and Scorsese's attention.
* I'm not surprised the role went to an Aussie. With extensive nudity involved I really didn't believe the initial first choice Blake Lively and later Mischa Barton was really interested. In fact there was a drawn out auditions to find an American-actress to play Nadine (http://vimeo.com/42058566. Other videos have been removed) but the explicit scenes and nudity was a barrier so Leo and Marty settled for a foreign talent.
In similar vein to Sharon Stone character in Casino, Nadine @ Duchess of Bay Ridge is foul-mouthed sarcastic hot sexy bitch. It's a possible an award-winning role. But while Blake would been okay with topless scenes the character of Nadine spends most of her time fully naked or in transparent top. It could be the break-thru Margot Robbie have been looking for since the dismal Pan-Am was cancelled. Like nearly all Australian imports nudity is not an issue. She was on Aussie show Neighbours (TV series) for few years before deciding she wants to settle in US, make loads of cash in process and do her best in carving out a successful acting career. Yes siree bob! Full frontal is very likely if they go for hard R-rating.For all intents and purposes the movie is directed by Leo (with Marty in supervisory mode). In fact the graphic sexual situations is unlike Marty flicks of recent years that I believe Leo was very much the lone wolf in directing the intimate love scenes. Remember the recent news report of Leo auditioning bevy of models/actresses and got them to strip for him in private session.
More updates coming soon regarding rest of female cast, the characters and nudity.
__________________________________________
Prometheus Cast and Director Talk Deleted Scenes for the "Special Edition"
This clip starts with Charlize initiating the conversation about the deleted sex scene between Vickers and Janek where Ridley responds with "we've kept it for the special edition." This is followed by Noomi talking about her own sort of sex scene with Logan that shows him ripping her whole outfit in one take. Finally Charlize goes into passionate detail about Idris Elba's... swagger.
__________________________________________
Blake Lively and Taylor Kitsch Discuss Savages Nudity
Blake Lively, Taylor Kitsch and British actor Aaron Johnson get into a threesome in Oliver Stone's new film, "Savages," but the only skin on display is from the boys.
"Yeah, it was definitely a choice on my part," Blake told Access Hollywood on Friday at the film's junket of staying covered up. "That's a nice thing that you don't have to see all the parts, but it made…"
"It made sense for the guys," Blake's co-star, Salma Hayek, chimed in, with a laugh. "'Do you want to see some butts? Well, show yours!'"
Taylor said he didn't add in any extra workouts for his bottom-on-display scene
"I trained with SEALS so that was probably what I would have looked like if I was a SEAL," the actor said. "Training with them… you just let it fall where it may… I really just shadowed this cat and worked with him… I'm representing more of a SEAL than just worrying about one nude shot. That's what drives me."
And it didn't bother Aaron, either.
"I guess we just embrace that really," he said of the nudity. "There was no kind of sense of awkwardness at all. It's an Oliver Stone [film]… It was all a part of it really."
In the film, Taylor and Aaron play marijuana farmers who go to war with the Mexican drug cartel, headed up by Salma Hayek, who kidnaps their girlfriend (yes, the boys share a girlfriend), played by Blake Lively.
Salma comes across strong as Elena, the drug cartel leader in the film, but she said their director, Oliver, had some reservations initially.
"He claims he wrote the part with me in mind, but he was a bit concerned, maybe because I was a mother, that I've become softer, and you know what? He's right. Since I [became] a mother, I have become softer, but that doesn't mean I have become a bad actress," Salma told Access. "I can still act."
And in between takes, she found a friendship with Blake, who is 24 (Salma is 45).
"We were lucky to have each other," Blake said.
"It's a boys club [on this film], but it's not just that. I have to confess, I always found her interesting and beautiful, but my God, when you get to see this girl in action, it's inspiring," Salma said.
"She's like, infectious," Blake chimed in. "Salma is, honestly, like a drug, you're around her and you need more!"
"I'm much older than her… Oliver Stone, he's so bright and he's so strong, and you look at this lovely blond little young girl, 'She's about to get destroyed!' Oh My God! She sat down with her little blond hair [giggling, but] when she opened her mouth, I just went, 'Yes! You go girl," Salma said. "She was so intelligent and eloquent and strong, and let me tell you something. There was no pushing around Blake."
"Savages" opens in theaters on July 6.
* I think it's time for Oliver to retire when one of the most pivotal scenes from the book (at least to me) - the threesome don't have any female nudity. The guy lost his touch. He persuaded Rosario Dawson at the last minute to go au naturel in Alexander. But all you get from Blake is see-thrus. Fuck that. The original lead was Jennifer Lawrence and she dropped out to work on Hunger Games. Big boobs from Kentucky have no problem with baring it all (waiting for the right role). I fervently hope she have not signed any non-nudity agreement with Hunger Games producers which prevents her from performing nude scenes until all of the trilogy in the franchise is released. There suppose to be a vital love scene in Serena (comes out in 2013) and my hopes are high thanks to the presence of a female director. The character strips completely nude in presence of Bradley Cooper's George. Jenn just finished shooting most of her scenes in Prague last month. It was filmed quickly because of her involvement in sequel to Hunger Games or whatever.
__________________________________________
Hannah Hoekstra
full frontal nudity in
Hemel
(2012). The sex scenes are virtually non-existent. Nonetheless a brave performance from the Dutch newcomer and the movie is quite good. The skinny babe has acting chops. Tittyless Hannah bears a striking resemblance to Emma Watson.
http://www.featurescm.nl/artiest/205/Hannah__Hoekstra
__________________________________________
Interview with

Agnes Bruckner
June 15, 2012
Agnes Bruckner scored her first major role as Meg in
Blue Car
when she was just fifteen, and she's been keeping busy ever since! You might recognize her from
Blood and Chocolate
or even Lifetime's
The Craigslist Killer
. Agnes stars as Nicole in the newly released movie
The Pact
and she recently beginning shooting for Wrong Cops. Fortunately, she took some time out of her busy schedule – and a break from her hardcore gaming – to give us an interview. The good news is that she's not as serious as some of the character's she's played in films. In fact, she's actually got a pretty good sense of humor. Check out our interview below.
You recently started filming for Wrong Cops. What can you tell us about your character?
"I play Julia in
Wrong Cops
. Julia is a fitness chick that's gets picked up in a fitness class by a weird and sleazy cop. It's a really fun role – and Eric Wareheim and Arden Myrin play the cops. They are hysterical and I think this will be a funny and very interesting film."
What has been your most challenging role so far?
"I think each role that I've played has been challenging in one way or another. It's always challenging to bring a character to life and try and be as real as possible."
And which has been your favorite?
"My favorite role by far has been Meg in
Blue Car
. There's a piece of her with me still. [It was an] unbelievably great experience filming
Blue Car.
Truly honest and raw performances out of the entire cast!"
You've been involved in a lot of thrillers. Is it difficult to get into the mindset and be "scared" while on set?
"Yes! People always think its easy to run around with fake blood all over you, screaming your head off – but it aint easy! You have to be even more true and convincing to pull it off. It's very tiring because you are constantly in a state of panic and fear. You really have to stay focused and on your game when you film a horror or thriller. It's hard to cry and pretend you might die or have to kill someone; you have to really go there and out your all into it."
I noticed on your Twitter that you're into some serious gaming, which is awesome. Which is your favorite right now?
"I have been obsessed with playing WoW [World of Warcraft] for 8 years. I even got Dominic Monaghan into it while we were filming
The Millionaire Tour
. Now he really got me into Skyrim for X Box. I love WoW though. Its just a fun escape to go off and raid Orc villages and ride on the back of flying lions on my off time."
The Baytown Outlaws [Baytown Disco] looks like it's going to be such a great movie. Tell us about your experience with that and your character Mona.
"Baytown was one of the funnest shoots in my career – from the moment we had wardrobe and I got to wear a real tire rubber corset, to being on set giving Clayne Crawford a lap dance in one of my main scenes! That was definitely a first for me and it went so well. Mona was such a badass and cool role. She was tough and super sexy. She used her sexiness and seduction to get to men. It was really empowering and fun! The cast was awesome and the director Barry Battles is a genius. Zoe Bell who played our gang leader was such a sweetheart, too! I think its going to be a big awesome kick ass movie!"
Finish the sentence: "Something that people are surprised to learn about me is…"
"I am a HUGE nerd and homebody at heart. I love watching Whale Wars while playing WoW and having a glass of red wine. That, to me, is the perfect combo. I am also fluent in Hungarian."
What has been your favorite location you've filmed at so far?
"Everywhere! I love to travel and find new places and explore. That's one of the best parts of being an actress is that you get to travel and meet new people all the time. It's a lot of fun! My favorite place I've shot so far has probably been in Hawaii for
Hawaii Five-O
. It was warm and sunny and you could go swimming in the ocean and have a Mai Tai after work! Amazing."
Do you have a favorite Marvel superhero?
"I love Typhoid Mary and Mrs Marvel…. I love all of them. I think it would be amazing to play a superhero or Marvel character. You get to pretend like you have powers and fly – who wouldn't want to play one? I also love doing stunts and playing action roles. I find it thrilling and super exciting! I got to do a lot of harness work when I shot
Blood and Chocolate
so I think that got me hooked."
You transition between filming movies and TV pretty well. Is there one that you prefer shooting more?
"I love working on TV shows, but I lean more towards films. You get more time exploring and working on films. TV is very fast and you usually have a bunch of writers and people telling you to do this or do that, [but] on films you have more freedom."
Do you have any funny behind-the-scenes stories or experiences you can share with us?
"We played a lot of pranks on each other while we were filming The Baytown Outlaws! One day Travis Fimmel went back to our trailers during lunch and switched all of our things out of our trailers, so when we got back I found other peoples things in my trailer – like Zoe's bra and Daniel Cudmore's pants – and they had my purse and script. So we decided we'd get him back – by printing out all these pictures of his modeling days and posted them all over the set. He didn't like that very much!"


__________________________________________


Downright Terrifying Red Band Trailer for Sundance Sensation 'V/H/S'
No one would have guessed that, more than a decade after "The Blair Witch Project" broke box-office records to become one the highest grossing independent films of all time, audiences would still flock to found-footage flicks. From the ongoing success of the "Paranormal Activity" movies to the recent strong opening of "The Devil Inside" that caught many by susprise, one thing's for sure -- the style is here to stay.
"V/H/S," a 2012 Sundance Midnight Madness selection that earned rave reviews upon its premiere and got picked up by Magnet out of the festival, is one more in that vein. The buzzed-about film's a collective horror effort featuring segments directed by Radio Silence, Adam Wingard, Glenn McQuaid, David Bruckner, Joe Swanberg and Ti West. To string all the parts together, "V/H/S" centers on a group of petty criminals hired to retrieve a rare piece of footage from a house filled with strange VHS tapes, which they must scan through individually.
__________________________________________
HBO Debuts Aaron Sorkin's "

Newsroom

" With

No Nudity

or

Four Letter Words
There was a time when HBO could be counted on for two things: gratuitous nudity and foul language. Think of Samantha in "Sex and the City" or the girls at the Bada Bing in "The Sopranos." On Sunday, the cable network which can do whatever it wants–it's cable–will debut Aaron Sorkin's "The Newsroom." Someone may say 'shit' but I don't recall it. And Sorkin himself says there is no nudity, no sex. The show follows "True Blood" on Sundays, a show which has plenty of sex for everyone. But the main thing about "The Newsroom," which we saw tonight with a media-heavy audience, is that it's the kind of well written, acted, directed, produced show NBC used to put on at 10pm on Thursdays.

Indeed, "The Newsroom" is the updated version of "Lou Grant" meets "Broadcast News." Jeff Daniels stars as the host of an 8pm cable news show; both he and the show have become tired. Sam Waterston — awakened from 50 years on "Law and Order"–is his boss, head of the news division. There's a great younger cast — Emily Mortimer, Tom Sadoski, Alison Pill, John Gallagher Jr., Dev Patel–to mix things up with. Mortimer, in fact, is the yin to Daniels' yang, and may wind up being the central nervous system of the show thanks to her role as producer of the fictional "NewsNight."

Every episode of "The Newsroom" will revolve around stories that have recently been in the news, and how the "NewsNight" folks deal with them. Whether a liberal bias will creep into the storytelling is unknown yet from the pilot–we shall see. So far, everyone's on equal footing, but I am told that in coming weeks the Tea Party becomes part of the story. And Jane Fonda joins the cast for two episodes as the conservative billionaire owner of the network.

But in the end "The Newsroom" is going to be like catnip for HBO subscribers. And it's ready made for awards — Golden Globes, Emmys, all of it. Watching "Newsroom" take off will be a pleasure, and a relief to HBO, which has had had trouble launching dramas lately.

Last night's audience will have been the harshest critics–people from CBS, ABC, and NBC, CNN, MSNBC were all there–from George Stephanopolous to Bryant Gumbel to Regis Philbin to Charlie Rose and even New York Times publisher Arthur Sulzberger, Jr. Quite the star studded group poured from the screening room into the Porter House restaurant in the Time Warner Center to congratulate Sorkin and his cast. And yes, they loved it.
and in a related matter..........
HBO, Your Liberal Id Is Showing
Some sort of slickster-sounding company called Buyology that does "neuro-insight"
recently surveyed 4,000 Americans
asking them how they feel about various products. Part of what they learned is that HBO and Showtime are "the most politically polarizing brands in entertainment." Democrats are totally into them but Republicans really are not.
The dislike for Showtime is a little confusing. Its biggest show in a couple years,
Homeland
, is a paranoid terrorism drama from an old
24
guy, and
24
, with its jingo celebration of American might was a big hit among conservatives. Maybe there's just too much sex and swearing on Showtime, a network that has built itself on a platform of graphic profanity and nudity. Or maybe Christian Republicans don't like
The Borgias
because it makes clergy look pretty venal and conniving? Whatever the reason for the right's dislike of the network, it's a little surprising. But HBO, of course, makes total sense.
America's premiere premium cable channel has been letting its liberal id show a little heavily these days, hasn't it? They've got the new Aaron Sorkin cable news drama
The Newsroom
debuting next Sunday, which ought to, if nothing else, come cluttered with lots of Sorkin-y center-liberal bloviating. Though the show might not have the total support of
the intellectual bastions of coastal liberalism
(a fact that conservatives are
thrilled about
), it'll still be on the air, planting its feet firmly on the left side of the conversation.
Aside from a directly polemical series like
The Newsroom
, HBO has plenty of shows which display their blueness in subtler, but no less clear, ways. Remember the kerfuffle last week about the fake head of George W. Bush appearing impaled on a spike on
Game of Thrones
? That was supposedly
done out of budgetary concerns
, but the creators did snicker about it nonetheless in DVD commentary. Normally
Game of Thrones
would seem like a very Republican show — hawkish, all about men and honor and traditional gender roles, only the wealthy seem to have any health care — but gags like the GWB one position it against the right. Even though on the show everyone from the north part of the country is a godless zombie hellbent on destroying centuries of Westerosi culture and tradition, and everyone from the east, across the sea, comes across as a scary weirdo savage praying to strange gods, the show reads liberal. Because it's on HBO.
True Blood
, though its political metaphors and allegories are always pretty confused, is at root a decidedly non-Republican show. Though it takes place in the conservative Deep South, show creator Alan Ball has infused the show with messages about gay marriage and diversity and other hot-button Democratic issues. He's also spent seasons making fun of holy rollers and redneck bigots and the like, and this season there's a character, a powerful religious zealot vampire played by Chris Meloni,
who is based on Rick Santorum
. The allegory isn't done that well — there have been plenty of zealots on
True Blood
before and Meloni's character doesn't read differently in any specific Santorum-y way, but certainly by talking about the connection in interviews, Ball is helping to cement the reputation of his show.
We also can't imagine too many Republicans going in for
Girls
, which featured a somewhat casual abortion plotline and trades in a whatever-wave version of liberal feminism. But one show we think they ought to like is
Veep
, which concerns a bumbling and, if not incompetent, certainly ineffective Democratic vice president. It's Democrats hilariously screwing up for a half-hour every week! But maybe Republicans assume the whole thing is some sort of coded knock on them, so they stay away.
There's nothing particularly wrong with a scripted television network having a unified point of view. There are enough rah-rah hours of
NCIS
and
Hawaii Five-O
and
C.S.I.
on CBS to practically qualify it as a Republican network. But it is a shame that Republicans are so turned-off by HBO, as they have some really good shows! Shows everyone can like! What's a Republican's problem with
Boardwalk Empire
or
Curb Your Enthusiasm
? And, uh, the uber patriotic
Band Of Brothers
and
The Pacific
were on HBO, as was David Simon's honest and appreciative and troop-supporting look at Iraq War soldiers,
Generation Kill
. Not that Republicans are only interested in war stuff, but that's part of the whole thing, right?
One wonders if the Republicans polled are simply still mad about
Game Change
, the fictionalized look at the 2008 presidential campaign that painted a particularly unflattering portrait of
the crumbling Republican campaign
. Whatever the reason, the polarization is unfortunate. There's certainly some partisan stuff on HBO, but it's not the only content on the network. Like,
True Blood
is mostly about vampires. And
Game of Thrones
is mostly about magic and swords. We should all be able to agree on the entertainment value of bloody fantasy violence, shouldn't we?
__________________________________________

'Thailand's Got Talent' Contestant Duangjai Jansauoni's Topless Painting Spurs Art Debate
Duangjai Jansauoni caused a stir after she used her bare breasts to paint a canvas on "Thailand's Got Talent," spurring debate about what is considered art and leading the country's culture minister to call the topless painting "very shocking."
"Thailand's Got Talent" contestant and independent artist Duangjai Jansauoni, 23, began her act, which can be seen in the video below, by drawing an outline in yellow paint on a white canvas before seductively unbuttoning her shirt with her back to the audience and unclasping her black bra.
Actress and "Thailand's Got Talent" judge Pornchita Na Songkhala and two backstage hosts were shocked at the sight.
Duangjai Jansauoni then poured buckets of yellow, red, green and blue paint over her topless body and turned toward the audience as one woman in the crowd put her hands over her forehead in shock.
Jansauoni's breasts were censored during the airing of "Thailand's Got Talent."
She then pressed her breasts against the white canvas to fill in the outline as she moved to music.
Pornchita Na Songkhala immediately rejected the naked artist's creation.
"I'm not saying this is not good, but it's not appropriate," Songhkala said, according to the Associated Press. "Within the Thai cultural context, I don't support this."
The other two judges, both men, agreed to send Duangjai Jansauoni to the next round.
Jirayut Wattanasin, a singer, disagreed with Songkhala's assessment of the topless painting.
"This is an art form. If we were in Italy, like Florence or Milan, or the Czech Republic, say Prague, this would be OK," Wattanasin said.
The "Thailand's Got Talent" audience overwhelmingly sided with Wattanasin, with many flashing "V for victory" signs, the Daily Mail reported.
But Thailand's culture minister, Sukumol Kunplome, said Monday that the topless painting on the show went too far.
"This program is intended to showcase the talent of Thai people and it usually encourages youths to show their special skills," the minister said, according to the AP. "Still, there have to be some limits."
Panya Nirandkul, who heads Workpoint Entertainment, the production company behind "Thailand's Got Talent," said the show did not know of Jansuoni's act in advance and did not know that the independent artist planned on showing her breasts on television.
Nirandkul also denied that Jansuoni's performance was a deliberate move to boost ratings, according to the Daily Mail.
__________________________________________
'Game of Thrones' Nude Scenes: Actress Wants Even More in Season 3
When asked about gender equality in regards to the show's nude scenes, Natalia Tena, who plays Wilding, Osha told The Independent she's all for it.
"There's that in everything in the world. I think it's really unfair, every actor, any actress has had her t-ts out. Every single actress I know. Blokes it's like, let's see some @#$!. Do you know what I mean? Let's make it more even," said the 27-year-old Brit.
Not to be hypocritical, Tena says she had no qualms about her nude scene in 'Game of Thrones' second season, as it's just part of the job.
I don't give a f— about nakedness. As an actor…obviously if it calls for it. You're not just going to get naked otherwise that's just basically doing porn. But if it calls for it, I really think you should get over yourself.
Still, Tena took issue with her character's well-kept lady part and we agree. Since when do Wilding Women get bikini waxes?
'I was a bit upset about the fact that they showed my minge without hair because I think my character would have a massive bush. I would have muff, like a muff coming down the thighs," said Tena, who's also starred in the much tamer 'Harry Potter' films as Nymphadora Tonk.
Luckily for Tena and like-minded 'GOT' fans, the show's producers have promised more "male junk" next season. Renly Baratheon would be thrilled.
If you're among those 'Game of Thrones' fans who want to see the Full Monty on Sunday nights, you're not alone. In fact, one of the show's female cast members is calling for more male nudity from HBO's saucy fantasy hit.
__________________________________________
Hemlock Grove - book review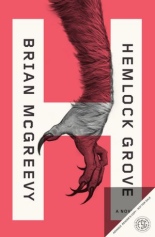 Somewhere in the weird mess that is
HEMLOCK GROVE
is a germ of a good idea: Two teenagers — one a werewolf, the other a vampire — team up to catch the savage monster preying on the teenage girls in their town.
How anyone could screw up such a simple, yet fun idea as that is beyond me. But debuting author Brian McGreevy, in his effort to reinvent the Gothic horror novel as a tale of modern teen angst (think
THE CATCHER IN THE RYE
if it were written by Anne Rice — on second thought, don't), serves up an overwritten and overstuffed novel that ultimately goes nowhere, with a cast of characters that are, well,
characters
.
Peter Rumancek is the high school outcast, descended from a family of gypsies and trying to keep out of trouble. For some reason, Peter has no problem telling people he's a werewolf.
Roman Godfrey is the heir to the Godfrey fortune and local teen aristocrat who dabbles in drugs and casual sex. Roman is also an
upir
(a Russian term for a vampire who can travel about during daylight).
Shelley Godfrey is Roman's mute 7.5-feet-tall sister, who walks around with her feet encased in blocks of potting soil. She also glows. (And yes, the author nearly hits us over the head with the comparison by naming her
Shelley
.)
Essentially, McGreevy is updating the werewolf, vampire and Frankenstein's monster mythos for a modern audience, but along the way, he loses sight of the clever idea he had at the beginning: two monsters teaming to stop another monster. Instead, he throws just about every Gothic horror staple he can at the reader: witches and witchcraft, second sight, horrible deaths, the rich family ruling over a small town, sinister mad scientists, etc.
Eventually, the reader becomes lost in the morass of plotlines:
• What exactly is Shelley Godfrey, and is she truly alive?
• What is going on at the biotech facility that appears to have carte blanche to do whatever they wish?
• Is Roman's mother behind any of the grisly deaths, and what exactly is her agenda?
Along the way, we're struck with several underlying questions:
• Will all of the plotlines be resolved by the novel's end?
• Or at least, will
most
of them be resolved?
• Does the burgeoning friendship between Peter and Roman seem believable?
• Will any of the characters achieve a semblance of likability?
• Does it make sense that Roman — a rich and handsome young man with the
upir
ability to make people do whatever he wants — pays women for sex?
• Is it really that much of a mystery who the killer is, especially since the author practically holds up a flashing neon sign when the character is introduced?
• Do we, the reading public, care who makes it to the end?
Sadly, the answer to these and many other questions raised by HEMLOCK GROVE is "no."
What could have been a fun and clever horror novel is lost in unresolved plotlines, out-of-character moments orchestrated for either a quick laugh or forced suspense, and near-impenetrable prose:
"The green-eyed boy sat alone in the food court and fingered the needle in his pocket. The syringe was empty and unused, he had no use of the syringe. He had use of the needle. The green-eyed boy, he was called Roman, but what you will have seen first was the eyes, wore a tailored Milanese blazer, one hand in pocket, and blue jeans. He was pale and lean and as handsome as a hatchet, and in egregious style and snobbery a hopeless contrast from the suburban mall food court where he sat and looked in the middle distance and fidgeted the needle in his pocket. And then he saw the girl. The blonde girl at the Twist in pumps and a mini-skirt, leaning in that skirt as though daring her not to, or some taunting mystic withholding revelation. Also, he saw, alone."
Yes, where McGreevy could have used one sentence to get his point across, he uses five. Also, as you can see, he plays fast and loose with sentence construction and punctuation. If the entire novel was written in that style — a hybrid of Victorian flowery prose and the halting gait of someone who is not native to the English language — then perhaps I could have become accustomed to it.
But McGreevy shifts back and forth between that strange prose-as-verse style and modern usage, so much so that it continues to jar the reader every time he jump-cuts between the two. After a while, I learned to skim along to keep the story moving.
How this book got a publisher — not to mention a TV series deal out of Netflix — is the greatest mystery. The only thing I can think is that McGreevy sold it based on the premise, and once the TV deal was made, the editor in charge of the project took an extended holiday. That's a shame, really, because an editor could have done something with this: chopped out the superfluous bits, rearranged the Chinese puzzle-box sentences, and forced the author to either resolve his superfluous plotlines or cut them completely.
I enjoy a good hamburger. This could have been a good hamburger. Instead, it's a fast-food hamburger buried under a pile of garnish so that it's unrecognizable … yet the publisher is swearing it's a steak.
It's not.
* Eli Roth got the sweet deal with Netflix promising it will be opposite of Twilight. Full of graphic sex and violence. Nudity by actresses/models playing teenage girls. Most of the budget is for gore effects.
__________________________________________
A CALL TO PRODUCERS: INNOVATE OR DIE
By Mynette Louie
I'm very fortunate to be friends with many accomplished independent film producers–people whose films have screened at the best festivals, won significant awards, gotten picked up by major distributors, earned healthy gross receipts, and received accolades in the mainstream press. We hang out sometimes, one-on-one or in groups, to catch each other up on our projects, share recent experiences, exchange opinions on companies and people we've worked with, etc. But essentially, we get together for emotional support against an industry and an economy hostile to our work. At any given time, half of us will have one foot out the door, ready to escape an occupation in which the appreciation and
financial rewards
we get have zero correlation with the insanely hard work we do and intense emotional stress we endure.
I was recently struck by three things I read that echoed some of these sentiments: Ted Hope's
forlorn blog post
in which he catches up an old friend to where he is now,
Brian Newman's post
about how YouTube stars are disrupting the old indie film model, and
the Huffington Post article
on Jay Van Hoy and Lars Knudsen. I deduced a common theme running through all three: innovate or die.
Ted's post lamented, "It is very frustrating watching what I love crumble away. I see many people with their fingers in the leaks, but few that want to build a new city higher up on the hill." Brian said that filmmakers need to find innovative ways to connect to their audiences before the latter start to liken Sundance to the Metropolitan Opera, "a place you go to see a wonderful artform that you know you should respect, but that no one cares about anymore and which very few can afford to make or attend." And the HuffPo article quoted Jay and Lars saying that too many indie producers "are too busy adapting when we should be innovating." Film may be the new theater (or Metropolitan Opera), TV the new film, online streaming the new TV, but any way you frame it, the world of content creation, distribution, and consumption is changing–dramatically.
Independent producers are entrepreneurial by nature. Each feature film we undertake is a distinct startup, with rounds of financing to raise, a team to build, development and production phases, a launch (premiere), and an exit strategy (sale). We are, essentially, serial entrepreneurs, except–as a matter of survival–we have to run multiple businesses simultaneously, being in some combination of development, production, post, and distribution on different films, all at once. So why don't we take our creativity, penchant for hard work, and entrepreneurial chutzpah, and put it all toward innovation?
Let's figure out how to reconcile the artfully crafted 100-minute narrative with the public's growing appetite for cheap and quick content. Let's make sense of the confusing array of social media and alternative distribution tools out there. Let's build on the examples set by folks like Louis C.K. and Ed Burns (except let's try to remove the "be famous already" prerequisite to their success). Let's see if we can't operate outside Hollywood's lottery system, outside its control, and sustain ourselves as "middle-class filmmakers" who continue to make films that speak to people.
If we don't innovate the way we make and sell our movies, the independent film space will become further dominated by two groups: young first-time filmmakers who are willing and able to work for free (and who haven't yet maxed out the favors they can call in), and filmmakers who are already rich and don't need a paycheck or a return. Writers, directors, and producers who come from economically disadvantaged backgrounds, those who are older, those from immigrant and minority groups, and those who are trying to make their second, third, fourth features (to which they could apply the expertise gained from making their previous ones) will leave the business–and the scope of stories being told will become severely limited.
Fellow producers, I know you're busy. I know it's hard to tread water in a vast sea of emails, calls, contracts, scripts, screeners, budgets, schedules, financing plans, accounting statements, tax filings. I know you're juggling so many projects, you sometimes confuse the names of your protagonists. I know you wish you were doing a better job of absorbing the continuous stream of industry news. I know there are a ton of writers, directors, composers, actors, cinematographers knocking at your door, hoping to introduce you to their work and pick your brain (and I know you'd love to meet with many of them). I know you waste a lot of time talking to "potential financiers." I know dealing with agents, managers, and lawyers exhausts you. I know it's maddening to hustle for paid short-term gigs in the midst of prepping, posting, or delivering your feature, or traveling to festivals and markets. I know you never get enough sleep or have enough time with your loved ones.
But, my dear producer pals, the next time we meet up to kvetch about work and life, let's put our heads together and figure out how to sustain not only ourselves, but ultimately, the art that we love so dearly, and the diversity of artistic voices that make it. There is a better way, and we've got to find it soon.
A New York-based independent film producer, Mynette Louie produced Marshall Lewy's "California Solo" starring Robert Carlyle (Sundance 2012), P. Benoit's "Stones in the Sun" starring Edwidge Danticat (Tribeca 2012), and Tze Chun's critically acclaimed "Children of Invention" (Sundance 2009), co-produced Andrew Bujalski's "Mutual Appreciation" (SXSW, Top 10 films of 2006–EW, Village Voice, Film Comment, Artforum, etc.), and was the consulting producer on Olivia Silver's "Arcadia" starring John Hawkes (Crystal Bear Award, Berlinale 2012). Mynette has been a fellow of the Sundance Creative Producing Lab, Rotterdam Lab, Berlinale Talent Campus, and Film Independent; served on advisory committees for the IFP and Sundance Labs; and was named one of Ted Hope's "21 Brave Thinkers Of Truly Free Film.". She previously worked at the Hawaii Film Office, where she authored the state's production tax credit, and in business development and marketing at SportsIllustrated.com, Jupiter Research, and Time Magazine. A native New Yorker, Mynette graduated from Harvard University, where she studied Chinese literature and film. Visit her blog at mynettelouie.com.
__________________________________________
Brooklyn beauty Mallory Hagan crowned Miss New York 23-year-old Park Slope resident beats out 25 others, will represent state in Miss America Pageant
Mallory Hagan, a stunner in the swimsuit competition, will represent New York in the Miss America Pageant.
Mallory Hagan, a blond beauty from Brooklyn, was crowned Miss New York on Saturday night.
The 23-year-old Hagan, who won the Miss New York City crown in March, beat out 25 other contestants to win the crown at the St. George Theatre on Staten Island.
"I'm feeling so overwhelmed and overjoyed," Hagan, of Park Slope, told the Daily News.
"I cannot even explain it."
Hagan, a junior at the Fashion Institute of Technology, has been competing in the Miss America pageant since she was 13.
"It's 10 years in the making," gushed Hagan, who is originally from Alabama.
Hagan won a $10,000 scholarship.
She'll spend the next several months touring the state and promoting her platform — child sex abuse prevention and awareness.
The Miss America Pageant will be held in January in Las Vegas.
Mallory Hagan of Park Slope, Brooklyn, was crowned Miss New York at St. George Theatre on Staten Island.
* Dayumm in a every bad sense of the word. She looks more like 32 than 23! And the tits. What the hell.....
Miss Hagan was working the pageants circuit for 10-years. I used to cover regional beauty pageants as a photographer. The subtle exploitation and abuse that goes on is pretty insidious. Mallory face tells a story stemming from years of providing 'favors' or better known as give-and-take policy. It's either booze or drugs helping her cope with the trauma. And you wonder why so many beauty queens are raging alcoholics. She is majoring in fashion - an industry so saturated that aspiring female fashion designers needs a rich pervy patron to help start a career or ends up working in totally unrelated job. Don't be surprised if Mallory goes to Hollywood in near future and strips on cable shows just like Miss New York 2009. Unless of course she already have a sugar-daddy. With southern girls anything is possible.__________________________________________
Korean actress with spectacular rack goes to Denny's, makes fun of overweight white chicks on Twitter.
Lee Chae-young - actress and a one-time cover model for Maxim Korea - is coming under fire after she went into Denny's presumably in the United States and Tweeted some demeaning comments about two plus-sized white ladies she spotted.
To make matter worse, she photographed them. Anyway, she's apologized for her thoughtlessness.
Actress
Lee Chae Young
is being put under fire for a recent careless tweet regarding the overweight.
On June 16th, the actress wrote, "
I went to grab a meal at the nearby Denny's, but while waiting at the restaurant, I was met with a pink light of fear. They came out looking a lot skinnier in this photo. This is for real. Should I not eat and just leave?
"
Accompanied by the post was a photo of two overweight foreigner's back view at a Denny's restaurant.
Followers and netizens were shocked upon seeing the post, leaving many outraged and furious.
But without knowing what was going on, Lee Chae Young continued, "
This makes me want to lose 10 kg as soon as I arrive in Seoul. I'm sorry for secretly taking the photo without permission, but thank you for motivating me
," adding onto the issue.
Although her posts have been deleted, they have already racked up an overwhelming amount of livid responses. A number of netizens screen captured her message and shared the photos on various portal sites, criticizing her careless behavior.
They commented, "
I never knew she was an actress who would behave so rashly
", "
I'm shocked. Just imagine how hurt those two women would be if they happened to see that photo
", "
How embarrassing
", "
She should have just kept her thoughts to herself
", and more.
Lee Chae Young has since apologized for her thoughtless remarks saying, "
I'm sorry. My heart feels heavy knowing that I have disappointed many for my careless remark. I will take the time to reflect on my actions. I sincerely apologize
."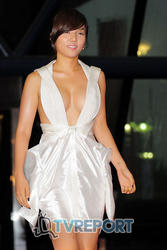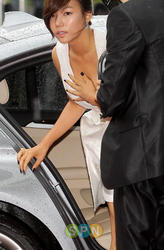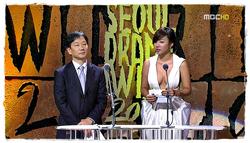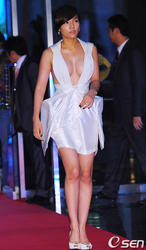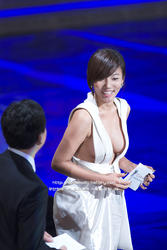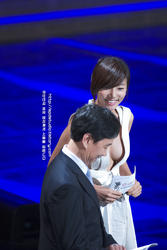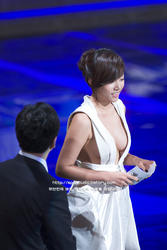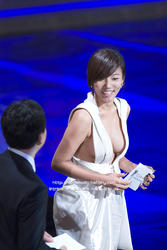 * Is it just me, or did she get work done on her jaw? Bewildered why folks from US and Europe are not swarming over to South Korea for plastic enhancements. The dog-eaters are the best in the biz.

__________________________________________ Is Porn Darling Kink.com Ripping Off Its Webcam Girls? A Class Action Suit Claims Company Violating Labor Law

For connoisseurs of BDSM porn, San Francisco's Kink.com has built up a reputation that makes them the sadomasochistic equivalent of Ben and Jerry's ice cream.

Fans of the company's sites look to them not only for high-quality porn that caters to a wide variety of fetishes, but for an explicit ethical code. As cultural messages directly equating "sex work" with "trafficking" become stronger, Kink.com has established itself as the Good Guy of porn, where the models are there because they want to be and are able to stay safely within their personal limits.

These are not vague promises on Kink.com's part: On its website, there's a nine-point list of model's rights that includes the right to safewords, sanitized toys, condoms, and STD tests. An even more detailed list of rules for shooting includes strict guidelines that prohibit directors from pressuring performers to go beyond their stated limits and outlines safety measures for specific kinds of scenes. Thanks to policies like this, many in the local BDSM and fetish communities regard Kink.com as one of their own, a remarkable achievement in a town as anti-corporate as San Francisco.

But now, as a labor dispute heats up at the company's cam site, KinkLive, some people are taking a second look at that reputation. Maxine Holloway, a local artist, activist, and adult performer, is alleging that she was fired from KinkLive last month when she tried to organize her fellow performers in opposition to changes in the payment policy that would eliminate minimum payments for each shift in favor of a commission-only plan. The new plan, according to Holloway and her supporters, would amount to a drastic reduction in wages for most of KinkLive's performers.

According to Holloway, she was fired from Kink.com immediately after she started trying to get KinkLive models to sign a letter protesting the new system of payment. Peter Acworth, CEO of Kink.com, denies that she was fired at all, instead saying that she was asked to take a temporary leave. "It was only a temporary thing," Acworth says. "We asked her to take a break because her shows had turned nonprofitable. If she's no longer on the site for a while, then she comes back, maybe it'll be a different story." According to Acworth, Holloway has already been invited to perform on KinkLive at the end of June. She acknowledges the invitation, but says she received it only last week, after the situation had gone public.

"I really enjoyed my job working there," she says. "But I've seen things and heard a lot of things that make me really uncomfortable. And then, having this whole payment policy thing go down and then being let go ... illustrates the fact that they consider us to be disposable. I think it is unfortunate that they are going to publicly say that they don't treat their models that way at Kink.com, but in actuality, they do."

If Kink.com was, in fact, trying to shut Holloway up by giving her the boot, they failed miserably. The letter was ultimately delivered via the Sex Workers Outreach Project (SWOP) without individual names. It was then posted and re-posted online via Twitter, Tumblr, and sex blogs. For a few days, the headline "New Kink.com Policy Disrespects Models" seemed to have become a mantra of every pervy Twitter feed in the country. The news of Holloway's firing just gave the letter an extra signal boost.

What's happening at KinkLive allegedly goes much deeper than whether Holloway was or wasn't fired, or whether or not it was done for legitimate business reasons. Holloway and three other cam models -- Coral Aorta, Wendy Fairfax, and Siren Wolf -- have filed a class-action lawsuit representing the models against Kink.com, alleging that the new payment policy violates labor law. While reluctant to discuss the specifics of the case, the models' personal concerns range from being able to make a living wage to being able to enforce their boundaries without pressure.

Already, Fairfax says, policies allowing models to set and maintain personal limits are largely theoretical. "I know that when I started there, there was no discussion of boundaries. It was like, 'You have boundaries, I'm sure, and you will follow them,' and that was it. There were no examples of how to deal with pushy customers or anything like that."

Under the old system, cam workers were guaranteed $150 for a four-hour shift in which they brought in $500 or less from customers paying for private sessions. Above $500, commissions ranged from 30 to 50 percent. In the new payment plan, which becomes official July 1, models get a 30 percent commission for shifts below $300, 40 percent between $300 and $1,500, and 50 percent if they bring in more than $1,500 on a shift.

"That's one of the reasons that KinkLive is -- was -- such an awesome place to work," Fairfax said. "It's one of the very rare things where you can make consistent money as an adult performer."

Without that minimum to support them, Holloway and her colleagues are afraid that models are going to feel pressured to push past their personal limits, to always ramp the kink up to 11 and beyond just to make the rent. In addition, changes have also been made to what KinkLive models are allowed to do in the free chat channels. The free chat channels are kind of like the antechamber of KinkLive, where viewers come to see which models are available and engage in some light chat before signing up for a private session.

Until recently, models were restricted to relatively mild, playful behavior while in free chat. Those guidelines were discarded in favor of allowing every model to be as explicit as she likes. At first, that might sound like an opportunity for the models, but Holloway sees it differently.

"I think the significance is that now you're on this commission-only system, and there's this big new policy change that will affect how much money you make. If the girl next to you is spreading her legs in public for a couple [dollars], and you're like, 'No, I can't do that,' or 'I can't do that for that low an amount,' she's going to make more money than you." In other words, the models will be forced into a race to the bottom to see who can be the kinkiest for the least amount of money, just as their base pay has been eliminated.

But Peter Acworth says that without making drastic changes, there won't be a KinkLive. "The product is not profitable in its current form. We're losing somewhere in the range of $30,000 to $50,000 a month, and it's because of having these model minimums in place," he says.

"There's no other cam company that does that. The business is incredibly competitive and cutthroat. The webcam sites all compete for models by offering them better and better deals. Our deal was to compete by offering them a minimum. Unfortunately, that didn't work for us, so we're reverting to what the entire industry does, which is commissions only." In addition to the payment policy, Acworth expects to have most models doing their shifts from home by October 1, instead of in studios at the Armory.

It's certainly unreasonable to expect Acworth and Kink.com to commit financial suicide, but at the same time, it's somewhat jarring to hear him cite industry standards to rationalize the new policy. The entire Kink.com brand is built on customers who expect them to invent new standards, not follow them.

However, Acworth thinks that, in this case, the industry standard will provide KinkLive models with fair and safe employment. He wrote in an email to SF Weekly: "If I thought the industry standard for the webcam business was exploitative or endangered the model in some manner, I would advocate we just close KinkLive.... Since numerous webcam companies compete for the same webcam models, this ensures the model receives a substantial cut of the revenue."

For Coral Aorta, the fact that Kink.com is such an exception to the standard practices of the industry is the very reason that confronting them on this is so urgent. "I think it's the only company where models come into the studio and work only in the studio for a wage. I don't think that there's ever been any company like this, which is why it's such an important issue to set this precedent now, that if you're going to be operating like this, you have to pay your models."

At the same time, Aorta is not unsympathetic to the financial woes of KinkLive. "It's my goal to see a compromise between the models and Kink.com in which everyone's making money, KinkLive is able to continue operating, and they treat us with respect. I would love to keep working with them, as long as I'm getting some kind of a base pay that makes it worth my time to work there."

The models say that the work they do for KinkLive is also unique from any other company in the industry. "It's the hardest job I've ever had," Wendy Fairfax says. "I've worked as a pro-domme and stuff, and I find that the KinkLive experience is way more intense than doing anything like that. It's partly because you have to do it for multiple people, but also because they expect so much. It's because these are Kink.com customers."

Holloway agrees: "I've never done any other kind of cam work where you are doing anal, electrocution, bondage. You are like a BDSM porn magician. You're shifting gears, you are giving it your all. You might be doing 20 minutes of anal, and then back in public and then 10 minutes later doing hardcore pain endurance or corporal punishment. You are doing a much more intense level of work than any other webcam company ever, I think."
__________________________________________