Jena Sims : Crazy As I May
You're watching "Crazy As I May" a new video by Kaloopy
The gorgeous Jena Sims dances in a cut-off Florida t-shirt and blue bikini bottoms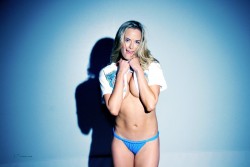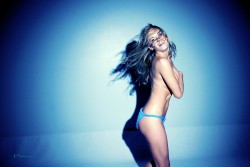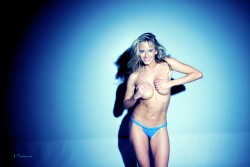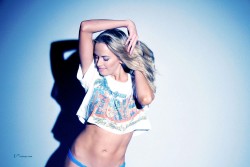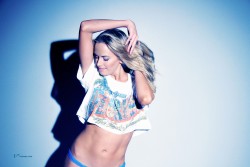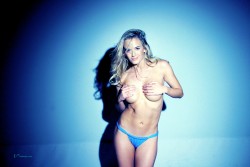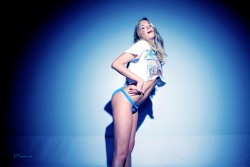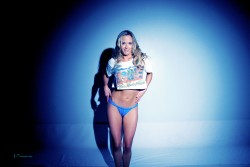 http://www.flickr.com/photos/kurtheim/7406967688/in/set-72157630205376880/
* Unlike the above video, Miss Georgia Teen USA 2007 hands will not be covering those melons in upcoming Attack of the 50ft Cheerleader. Make sure to catch it when it premieres August 25 at 10pm EST on EPIX. Miss Sims (and this is purely my gut feeling) will also soon pose for Playboy. Babygirl sure have a fine ass.
________________________________________
Jumped the gun on Sara Tommasi saga yesterday. Apparently it's still on (July 7) due to clever work by
Federico De Vincenzo selling the movie quickly to a foreign distributor where Italian laws and Sara's lawyers powerless to do anything about it. The dude probably anticipated issues arising from Sara thanks to her recent erratic behavior....
http://www.hardcelebrity.com/site/News/affaire-tommasi-federico-de-vincenzo-il-video-di-sara-sono-certo-che-uscira-e-con-la-tommasi-abbiamo-un-sacco-di-progetti-aperti.html
(translated article)
We met
Frederick De Vincenzo- the sole company director of
Diva and Star Agency.
The guy is being accused by Sara Tommasi for forcing to take drugs and participate in a hardcore movie.
He denies making any promises made to Sara halting the sales and release of the movie.
"I never made any such promise to her during or after the contract signing. Anyway I'm a producer not a distributor. After making the movie I sold it to a foreign company that deals with the distribution."
We interrupted De Vincenzo to get confirmation Sara Tommasi indeed has a contract with his agency.
"Hell yes, here it is! Others can say what they want but, as the Latins said Verba volant, scripta manent ...
"I produced the film and, like all entrepreneurs who invest in a project - I then sold the material to derive revenue. It is the task of who has bought the film to promote, divulge and sell in different markets ... These are simple market logic."
Will the film be released on the Italian market or not?
"I think so but at the moment not sure. The company that bought Sara's movie will do what it wants and will release the video on the markets it considers most appropriate - China, India, Germany, Italy."
What about the accusations that were leveled by Tommasi, who claimed to have been drugged before being filmed?
De Vincenzo smiles : "It 's water under the bridge with Sara clarifying everything. Sara after the scene was duly paid. She signed the release form (see photo below) . Each friction has been resolved and, despite what the rumors, our working relationship still going strong. We have a lot of projects ahead of us and we look forward to achieving that ... "
De Vincenzo : "I think the current problems with the lawyers and Sara was drugged was not of her making. There are people who are close to her that do not take kindly to this porn project and immediately tried to throw a wrench in the works
. Doesn't it seem strange that a few days ago the site of 'Attorney Marra' - former lover of Sarah wanted to demonize so much of Tommasi's involvement in the hard world? Don't forget that few months ago the same Sara was used by Marra to pose nearly naked in order to demonstrate against the bank oligarchs...."
Any new movies involving Sara on the pipeline?
De Vincenzo : "
Sara for the moment has not currently expressed any desire. We might have talks in the future about certain projects I have in mind"
What kind of show are we talking about in the Sara's movie?
De Vincenzo :
"Sara is a very uninhibited girl and she proves proves it in the movie. Hers will be a top rate erotic show that will leave everyone present satisfied. That is a promise!"
We asked how did the collaboration with Sara came about and whose idea was it?
De Vincenzo :
"Certainly, there is no secret. Mutual friends introduced me to Sara at a dinner in Naples. On that occasion as a joke Sara - knowing that I'm man of porn - tells me she likes watching porn and expressed a desire to give it a shot. I did not wait a second longer and after three meetings with Sara we quickly arranged a contract signing, discussed financial details and then we started shooting".
________________________________________
* If anyone's interested..........
Octomom Nadya Suleman : Home Alone
Witness the Octomom in the nude, only at Wicked Pictures.
Jessica Drake introduced Nadya Suleman to the world of erotica and she couldn't wait to explore the joys of female masturbation in her very own sologirl sex scene! See this sensual mother of 14 get naked and attain a new level of self-pleasure.
Produced by legendary adult film director Brad Armstrong, this uncensored video of one of the last few years' most famous celebs will leave you breathless.
Screen Resolution : 1280x720
https://www.rapidshare.com/files/3018884192/Octomom.Home.Alone.WEBRip.x264-TiNADiA.mkv
________________________________________
Lea Michele

Talks Boobs! Glee Star Recalls Her Topless Broadway Past
Lea Michele
loves her boobs, and she's not ashamed to let everybody know it!
The bubbly
Glee
starlet is appearing on Bravo favorite Bethenny Frankel's new talk show
Bethenny
this Thursday, and the show just released one very saucy preview clip of what's to come. The topic of conversation? Lea's very ample chest.
First things first: Lea assures Bethenny that her perky twins are all real. No cosmetic surgery here! "They're all mine," Lea clarifies, before continuing, "Lately, [...] everyday they're like please, come, give us a chance. Give us a shot. We've always been so good to you."
They've always been good to her?
Wha...
?
Allow Lea to explain: "When I was on Broadway, my most recent Broadway show was
Spring Awakening
and every night I did a topless scene. So when I lived in New York, they were like every night signing autographs. They were like the stars of New York. They were like, major."
Oh, poor Lea's boobs. It must be so difficult for them now that those days of Broadway fame are gone. Sadly, we doubt they'll get to make a cameo on
Glee
anytime soon.
* Despite Lea's Jewish ancestry, she was raised Catholic. That is good news. Pretty pretty high percentage of nudity when it comes to actress from Jewish-Catholic background. All that guilt and angst leads to full frontal. Apparently she has 14-tattoos on her body. Incredible.
________________________________________
Damages

Fifth and Final Season : Gather 'Round the Table!
First exclusive look at the gothic image, in which regulars Glenn Close and Rose Byrne are joined by new blood John Hannah (by the door), Ryan Phillippe, Jenna Elfman (laid out on the table), and Janet McTeer.
Jenna Elfman (best known for her sitcom turns, including the new NBC comedy 1600 Penn) plays a pivotal — and not very funny – role. "Yeah, I get murdered!" she told me, hoping that she wasn't letting slip with too big a spoiler. After all, she notes. "You'll see the ad everywhere, where I'm naked in a bathtub with blood everywhere." The way it sounds, Elfman's on-screen death will figure into this season's flashbacky, unraveling mystery. "It's a real whodunit," she says — one that features Ryan Phillippe as a Julian Assange type whom Elfman's corporate whistleblower seeks out. "Ryan is incredible," the actress raves. "It was some of the most fun I've had acting with anybody."
We're intrigued by the shadows, which are doing decidedly different things than the figures they're attached to, and the birds. What's up with the birds? Review the art, hit the comments and share what you think it
means for Season 5, which premieres July 11 (9 p.m. ET/PT) on DirecTV Channel 239!
Jenna Elfman Talks Damages

: Exclusive Interview
You won't find any traces of quirky Dharma in Naomi Walling—Jenna Elfman's character in Season 5 of Damages. Naomi is an investment bank employee who comes across some incriminating information about her company. Morally torn, she considers making this information public on Channing McLaren's (Ryan Phillippe) website. Will she go through with it? You'll have to tune in to Season 5 to see how the story unfolds. In the meantime, see what Jenna has to say about her transition to drama and what she did to prepare for her role. Our Damages insider, Josh Payne, recently sat down with Jenna for an exclusive interview.
JOSH PAYNE: Why did you want to do Damages?
JENNA ELFMAN: I was excited to work on a well-written show with excellent actors. Also to change it up and do some drama I thought would be fun. And having the opportunity to change it up and play the types of scenes I haven't yet had the opportunity to play.
JP: You're known mainly for comedy. Was drama easier or more difficult?
JE: When I started acting I did both. It was kind of by accident I got the comedy trajectory in my career. A happy accident. But I didn't start acting to do comedy, necessarily. I love comedy and always wanted to do it. But I also love drama. I got in this business to become other characters and experience the lives of other people. I happened to get success with comedy and just kind of took that road.
JP: Recently you did an episode of Comedy Central's Web series Matumbo Goldberg. How did you get involved in that?
JE: I had a general meeting with Rob Pearlstein, the writer-director, a year before. He wound up doing this and asked me if I wanted a role on one episode. I read it and it was hilarious, so that's how that came about.
JP: Was it vastly different from working in network TV?
JE: It was different because the entire crew and production were smaller, which actually made it more fun because there wasn't a huge done-by-committee executive presence on set. It was just the writer-director and the actors. It was much more laid back.
JP: How did you prepare for your role on Damages?
JE: It's funny. I did prepare, but sometimes you find something that's not obvious but it opens the door for you, even though for others it may not seem like a direct connection. I actually did a lot of walking in New York City and, in my head, pretending I was Naomi Walling and I had just found out this horrible news. So walking amongst people and feeling that sense of disorientation and feeling like every single person knows everything about me now. And this awkward walking the streets a lot and imagining this sense of isolation and thinking about: "How do you solve this problem of your life that happens out of nowhere?" You went from a private life to a public life over night and it was all bad news.
* Is it too much (or too late?) to ask if for once Jenna shows her tits. Just a glimpse. Even in painted red hues will be nice....
________________________________________
Talk about a change of image! High School Musical star

Ashley Tisdale

dresses as hooker for Sons Of Anarchy guest role
Her fans know her best as the villainous Sharpay Evans in the hit High School Musical series.
But her latest role in the Sons Of Anarchy is as far away from the world of Disney as you can possibly get.
The 26-year-old actress is starring as a high-class escort on two episodes of the hit show, which follows the adventures of a loose-knit outlaw motorcycle club.
________________________________________