How Severe and How Terrible:
Dreama Walker on Compliance
The most shocking scenes, the uncomfortable conversations afterwards and the disturbing real-life events that inspired the new drama.
I actually met Dreama Walker while I was covering the Television Critics Association press tour last month, at a party for her show "Don't Trust the B---- In Apt. 23." She was so nice, she remembered me by name and said hi at another ABC party later in the week. Now we got to talk about her movie
Compliance
, which I'd followed since the Sundance Film Festival this year, where it became legendary for angry Q-and-As with hostile, shocked audiences. Walker plays Becky, a fast food employee who is forced to undergo an invasive search by a man impersonating a police officer on the phone. It is based on true incidents that happened multiple times in different fast food restaurants. Walker spoiled one of the more shocking elements
[SPOILER WARNING]
, but I'm leaving it in because it's so shocking and an important discussion (and you can read the real case files, it's all in there and more).
CraveOnline: Were you able to shoot Compliance in chronological order?Dreama Walker:
No, we did not shoot this in chronological order. We did the scenes that actually took place outside in the restaurant in an actual restaurant, and then we had a studio for the scenes that took place inside the office
For the office scenes, were you able to go in order of escalation?
Not too much, but a little bit.
When you read the script, what did you think would be the hardest scenes? [SPOILER ALERT]
Definitely the blowjob.
The blowjob.
Spoiler alert, yes. The act of fellatio. I wasn't sure how that was going to be done and I wasn't really comfortable with making that too obvious.
In the movie you're not even sure. It's like is she doing that? Is that what I think it is?
Yes, and that's what [director] Craig [Zobel] and I [agreed.] Thank God he had the same sort of ideas and sentiment that I did, but I got really freaked out at first when I read the script and I was like, "Oh crap, what does this entail exactly?"
But you must have known movies have ways of shooting sex acts that aren't compromising.
Absolutely, but I didn't really want it to be very vivid and something to be stuck in people's heads for the rest of my career.
It's funny, that was obviously something that could be faked, but the stripping scene there's no way to fake that. So how did you feel when you read that that was one of the things Becky goes through?
You know, Craig and I had a lot of conversations about what we were going to do in that scene. We both decided, and thank goodness he agreed, that it wasn't meant to be gratuitous and it certainly wasn't meant to be all over the place. It's meant to just solidify everything and say that this is what actually happened and it's part of the road to understanding how severe and how terrible this all was. But it's certainly not the focal point of the film.
It's obviously different on the inside than watching it from the outside, but did you have to come up with an explanation for yourself for how someone could believe they had to take their clothes off, and not question that's not real police procedure?
You know, we talked about this all day and we've talked about this since the beginning of the film. I think everyone's reaction is always that they're superior and that they're smarter and that they wouldn't do that and they wouldn't put themselves in that situation. But the thing that drew me to it is that I think a lot of people aren't being honest with themselves. I think my character was put in a situation where she thought the world was falling down around her and she was going to lose everything, her job, what freedom she had, she felt she was going to be sent off to jail and I think there's a lot of despicable, horrible things that people would to do stop that from happening if they think the walls are closing in on them.
Had you heard about these stories before you got the script?
Yes, in 2004 when this one event happened, it was made pretty public. It particularly resonated with me because the victim and I are the same age and I was graduating from high school right around the time it happened. So it really stuck with me. I had a lot of conversations about it with friends and parents and that sort of thing. We talked about what we would do and how this happened. It always stuck with me. It would come back every now and then and I'd look at the world through it and just be like, "This still really happened." I never got comfortable with it.
Have you in real life had situations, maybe not as extreme as this, where you've been frustrated that people don't question things, just do things without thinking?
Yes, I mean, I've been in plenty of situations where I have felt pressured to do something and it wasn't something that I was really comfortable with. Whether it starts on the schoolyard and it's another kid being mean to the nerd in class, and you feel like you have to chime in. It starts very small. It can be something as simple as going into a store that you like and a salesperson getting you and you really thinking, "I don't need to buy this. Why am I doing this?" And you buy it. So it can be something as trivial as that or something as serious and terrible as the content in
Compliance
.
True, the suggestive sell. It exists because it works.
Essentially, Officer Daniels was using the same tactics, the push and pull, make the person feel inferior but then validate them and give them a nice compliment, that
The Game
teaches you. It's a very common practice.
The Neil Strauss book, with The Mystery Method?
Yeah, almost like being mean and saying something offensive and getting at the person, but then saying something nice to bring them back to you. All of a sudden you fall prey and fall vulnerable to this person and feel like you have to please them.
That's an interesting reference. I did not expect The Game to come up in this discussion.
I'm certainly not calling Neil Strauss a sociopath.
No, but what was interesting about that book is it's not shocking that someone invented that system. It's shocking that it works. Shouldn't women read that and stop falling for it?
Yeah, if some guy were to make a smartass comment to me, I'd like to think that I'd be really dismissive and be like, "All right, Pal. Go away, get on out of here." But for whatever reason it does seem to work.
That schoolyard example is interesting because I feel it still goes on in my industry, like red carpet catty criticism. I want to say, "I don't want to participate in that. Everybody looks lovely." I guess we have to fight that fight every day.
Right. Absolutely. It's common practice. I can't think of many magazines that don't make fun of someone for something, something silly.
Maybe this is idealistic, but I feel they couldn't sell it if there weren't people buying it. So it's the people buying it that should say, "We don't want this anymore."
I know. You're absolutely right. People should be able to remove themselves and look at it from the bigger picture and think about how it affects other people and if it's really the right thing to do.
Did Compliance raise your acting game?
I think so. It was really cool to have the experience of Pat [Healy] being on the other line and us actually doing it live like we did. It was really great to have an experience and a project where the arc is so huge and it's such a big part of it. The camera's in your face the whole time and everything that you internalize, all of that is projected onto a screen. Also it was really great to get to add my own interpretation of my truth and also my understanding of it and put it out there. It was something I was super excited to do and feel very proud of.
What do you think happens to Becky after the events of the movie?
I think about her a lot. I felt a tremendous amount of empathy for her in 2004 when I heard about it because I thought how terrible it would be to be the victim of something like that and then to have people say that you're an idiot on top of that. When you should be healing and people should be around you consoling you, for people to question your intelligence is insult to injury. So I have a tremendous amount of respect for the victims and also I wish them nothing but happiness and a nice recovery.
When you were at the festival Q-and-As and some of them got volatile, did anyone yell at you specifically?
There was one specific comment made to me that was extremely disconcerting. Obviously someone had said that the film was exploitative and that it was misogynistic and this and that. Going back to the exploitative thing, I had said, "It's not meant to be appealing." And there was a certain man that I'm sure felt like sh*t afterwards because everyone made him feel like sh*t and gave him really dirty looks, but he said, "Your body's pretty appealing." So for me, obviously that was a pretty terrible feeling. I just felt pretty vulnerable, and also I don't think there's anything particularly sexy about rape or a woman not finding her power, her confidence and her ability to choose what's happening to her and who the partner is going to be. So in my mind I think that is sick and pretty disgusting. For that to be put out there into the universe was pretty terrifying.
When you were in those public situations, did you feel support from Craig and the crew?
A tremendous amount. Actually, my co-star Ashlie Atkinson opened up a can of verbal whoop- ass and ended up getting a standing ovation for her response to him. I couldn't be more grateful for her and her verbal wit that I was unable to find in that moment.
Are you happy to have people able to see Compliance and "Don't Trust the B---- in Apt. 23" at the same time?
Certainly. I'm very happy that they can watch something like
Compliance
and have it be provocative and thought provoking and do a lot of things for their mind and bring out the discussions that
Compliance
brings up, but also then happy to make them laugh and be silly on "Apt. 23."
What's coming up?
I know that it's been publicized now that there's going to be a "Dawson's Creek" reunion. I'm excited about that. I'm sure June is going to be ecstatic and all in it. I know that there is a Halloween episode and a Thanksgiving episode. We're going to someone's house for Thanksgiving although I can't tell you whose.
You're back October 23 so the Halloween episode better be second!
I think they are. So I know it's tremendously funny and I know that we're going to have a blast. I can't wait to get back with everybody again and get back in the groove.
How do you feel about the way June is developing?
You know, I am June. So I'm happy to see her succeed and then I'm also happy to see her be humbled sometimes because I think the most helpful thing you can learn in New York is that you can never get enough humble pie. You can never get enough of just when you think you've got it mastered and got it conquered and you can walk down the street and know your way around and not get lost on the subway and not let a taxi cab driver take advantage of you, you somehow fall on your ass in another way and I think that's one of the best and most beautiful things about that city. So I love playing June and I love reliving that and also the hilarious things that the writers come up with.
One of your earliest movies was playing Clint Eastwood's granddaughter in Gran Torino. How important was that experience?
It was awesome. I thought it was a glitch and some sort of mistake and I didn't know how I got that part and I didn't know why or how he wouldn't have cast somebody that was more well known. But it was an extremely cool experience. He is just so easy and so wonderful to work with and for. His team, he uses the same crew essentially he has for the last 20 years and they're just a machine, an amazing machine and it's like 9 to 5 days. Everyone couldn't be nicer and is just so efficient and good at their job. So it was a fantastic experience and of course he's just a super cool dude. So that was awesome and I remember being like, "Well, this is it. This is over." My dad still is like, "Well, what's going on now, Dreama? You should call up Clint and see if he's got anything else." I'm like, "It doesn't work like that, daddy. That's not how it happens."
Did it open some doors though? Was it a stepping stone?
I would sure as heck like to think so. That and "Gossip Girl" were things that came at a really cool part in my life when I was just starting to transition into being a working actor. I got a chance to practice and get comfortable in front of the camera and figure out what I was doing. We'll see, I live in a world now where I think I know what I'm doing, but those two projects definitely paved the way for where I am today for sure.
You also guested on some great episodic shows. How did that prepare you for being a lead of your own show?
I loved being on "The Good Wife." I really enjoyed that character. I thought what they did with her was so smart. That show is just so intelligent and so well written. I was just super happy to be a part of something so cool, but I remember I was like, "I want this. I want my own show. I want to work long crazy hours and be exhausted and cry on the weekends. I want this." And I have it, except I don't cry on the weekends. It certainly prepared me and made me want it even more. "Don't Trust the Bitch in Apt. 23" was exactly what I had in mind, exactly what I dreamed of.
So you call it what it is, you don't go with the ABC Marketing approved "Don't Trust the B----?"
Noooo. I know it's the longest title in the free world.
Not anymore.
Which one's longer?
"How to Live With Your Parents (For the Rest of Your Life)"
Oh boy, yeah, that's longer. Well, good. Maybe we're starting a trend.
Compliance (2012)
How stupid can people be?
That's the question asked at almost every turn during this taut psychological thriller about the way people fail to question their choices and blindly accept what an authority figure – any authority figure – tells them to do. Based on a true story, it follows events at a Chick-Wich fast food restaurant one busy Friday night when a prank caller persuades employees to perpetrate unimaginable horrors on one another during the supposed investigation of a crime.
Upon receiving a phone call from a man identifying himself as "Officer Daniels", the manager, Sandra (Ann Dowd) agrees to help him question one of her employees, 18 year-old Becky (Dreama Walker) about an alleged theft from a customer. Sandra's already on the back foot; under-stocked and understaffed, potentially in trouble with her area manager, she's awaiting a visit from a mystery shopper and has already gotten some attitude from her young employee. She's surrounded by problems that she's ill-equipped to deal with, and a cop on the phone is just one more thing on the list.
'Officer Daniels' zones in on her beleaguered state immediately. Suddenly, he's the sole sympathetic voice in her ear, completely understanding the stress she's under, the ungrateful kids she has to nag to do their job, the lack of support from senior management. He apologizes for the inconvenience of his initial request, that she keeps Becky in the office until the police can get there. So far, so reasonable. Despite Becky's insistence that there's been some mistake, that she would never, never do anything like steal from a customer's purse, Sandra sits her down in the office and waits for 'Daniels' to tell her what to do next.
Most prank callers hang up after a few minutes. 'Daniels' plays Sandra like a Stradivarius for the next few hours. Once she's made that initial decision to do as she's told, she's his pliable instrument of torture. Although she expresses doubt at some of the things he asks her to do to Becky, he alternately berates ("You need to call me Sir") and cajoles ("You're doing a great job") her into obeying him. She chooses to believe his increasingly elaborate excuses as to why no actual cop car has rolled up out front, and why Becky should be treated like an international drug mule rather than a teenager suspected of petty theft.
From the get-go, the audience knows that 'Daniels' isn't real. That makes Sandra's initial compliance extremely frustrating to watch. What is this stupid woman doing? Why doesn't she ask for the police station number and call him back instead of hanging on the phone? Why does she even believe it's possible that Becky – a girl with no previous history of wrongdoing – could have committed such a brazen theft from the customer's purse without anyone seeing or saying anything? The astute script, along with Dowd's sympathetic performance, makes Sandra's bad choices very plausible. She's a middle-aged woman who still lives with her father, and is waiting on her boyfriend to propose. She's not the smartest bear in the woods. She's worked in a fast food environment for too long, where's she's been conditioned to open conversations with "Can I help you?" and keep to the corporate script. When an authoritative male voice on the other end of the phone asks her to jump, she'll react with a "Do you want fries with that?" Sandra's never deliberately malicious towards Becky. She's just a woman under a lot of pressure trying to do what she thinks is best, encouraged at every step by Daniels' reassurance that he will take "ultimate responsibility" for her actions.
Sandra's not the only one who plays a part. At various stages, other Chick-Wich employees are called into the office and asked by 'Daniels' to participate in Becky's humiliation. Although they express degrees of doubt and refusal, no one wants to directly challenge Sandra's or the cop's authority. They mutter among themselves that this is "not right", but even with cell phones to hand, no one checks with the local police, or calls Becky's parents, or does anything to stop the brutal treatment of their naked, sobbing colleague. All that is necessary for evil to triumph is for good men to do nothing.
None of this, of course, could happen if Becky didn't go along with it. But she's only 18, as low status as it gets, unused to doing anything but what she's told. Yes, she positions herself as unresisting victim early on in proceedings, but what else is an adolescent girl to do? Walker's nuanced performance takes her from outraged denial to sullen acceptance to catatonic misery. It's heartbreaking. One of the cruelest aspects of her humiliation is that 'Daniels' can't see what's going on. There's no eye in the sky, just a middle aged white male making himself a cheese sandwich in his suburban kitchen, unable to believe how far his victims are willing to obey his commands. He gets his thrills from his imagination, and by asking his dupes questions ("How big are her nipples… has she shaved?"). The casual, disconnected nature of his power play is the most chilling aspect, and Pat Healy does some great work conveying just how much 'Daniels' enjoys this. He doesn't know the staff of the Chick-Wich. He's not watching from across the street. He's not a former employee out for revenge. He's just some bored guy with a calling card who's figured out a cruel and unusual way of getting some Friday night kicks.
Compliance isn't the easiest film to watch, and Zobel cranks up the tension from beginning to end. What begins as embarrassment for Becky ratchets into humiliation, trauma, and finally criminal sexual assault. It's a movie to squirm through, powerless to affect the events unfolding on screen, well-aware where this is all headed, completely unable to make it stop. Zobel intercuts proceedings in the office with shots of Chick-Wich customers tucking into burgers, Cokes and fries, cheerfully unaware of the abuse being meted out just a few feet from their tables. There are also montages of fast food processes, fries sinking into fat, meat rolling in flour, sodas gushing into cups. By cutting away from Becky's persecution to the regular Friday night happening around her, Zobel emphasizes the mundanity of her experience. The little people are bullied by authority figures all the time, and nobody steps in to save them.
In reality, more than 70 prank calls of this nature were made to fast food restaurants between 1994-2004, but none escalated as far as the one to a McDonalds in Mt. Washington, KY, on which Compliance is based. Zobel's script follows real life events pretty closely, and the authenticity gives the movie an added kick. Along with the infamous Milgram Experiment, or the high schoolers' behavior in The Wave, it's an indictment of how little we value independent thinking in our society of sheeple, and how dangerous that can be. The psychological implications of the story will stay with you long after you've left the theater.
__________________________________________________
Starz's 'Boss' back for 2nd season
Hospital Roof- Ian (Jonathan Groff) gives Kane (Kelsey Grammer)


Chaos is come again.
That's Shakespearean for the political melodrama "Boss" is kicking off its second season on Starz on Friday and virtually every character is up to no good. Last year,
Kelsey Grammer
proved he was much more than a master of fussy comic timing when he burst upon the TV screen as magnificently flawed Chicago Mayor
Tom Kane
, a Machiavellian urban monarch who is struggling mightily to keep both his fractured political machine and even more broken family intact against mounting challenges, including his diagnosis of an incurable neurological disease known as Lewy body dementia.
On the political front, virtually everyone around him was in the thrall of power in season 1 and is even more besotted this season. At home, Kane's wife, Meredith (
Connie Nielsen
), the daughter of the former mayor, is constantly building and nurturing her own power base. She shows up at official events on Kane's arm, but that's because her support of him is extended only when it suits her own goals. Kane's daughter, Emma (Hannah Ware), is a drug addict estranged from her father.
Kane's other "family" at City Hall last season included his coolly efficient personal aide,
Kitty O'Neill
(
Kathleen Robertson
), who was not only having an affair with the seemingly clean-cut, good-guy state treasurer, the very married
Ben Zajac
(
Jeff Hephner
), now running for governor, but who had just enough conscience left last season to cause her to self-destruct and flee from the Kane machine.
At the start of the second season Friday night, Kane is more alone than ever. His daughter is in jail, Meredith knows something is physically wrong with him but doesn't know the specifics, Kitty has repaired to her mother's home and Kane's most trusted confidant, Ezra Stone (
Martin Donovan
), has been killed.
Sustained panic
Meanwhile, the clock is ticking on Kane's life and career and he is in a sustained panic which he struggles to keep under control against mounting odds, including the more rapid progression of his disease.
Created by
Farhad Safinia
and executive-produced, in part, by
Gus Van Sant
and Grammer, "Boss" is an unrelenting dramatization of the maxim that power corrupts and absolute power corrupts absolutely. The characters are complex and driven, and when cornered by life or their political or personal adversaries, they default to scheming.
Even those who initially seemed to be the heroes of the piece have been corrupted by power, including
Sam Miller
(Troy Garity), a crusading reporter for the Sentinel who last season pursued Kane and his cronies regardless of the economic harm to his newspaper and the efforts of his editor to keep him on a tight leash. His zeal resulted in his own elevation to the top job.
Now that he's in charge, he's as determined as ever to find out what Kane is up to with a long-delayed airport expansion project and a huge effort to renovate a notoriously crime-ridden public housing project known as Lenox Gardens.
But here's the thing: While continuing to tell himself that he's on the side of right, Miller has become intoxicated by his own power as much as Kane, Meredith and Ben Zajac. In the early episodes of the second season, we come to understand he's really no better than the man he considers public enemy No. 1. Like Kane, he has few boundaries and will stop at nothing to get what he wants, and that ruthlessness obviates the supposed nobility of his crusade.
In every way, these deeply imperfect characters become even more desperate in the second season, so much so that certain plot developments come off as desperate as well, as if Safinia and company are in a panic over the show's less-than-stellar ratings and the irrational absence of Emmy love for Grammer's thundering performance. There's a whole
Monica Lewinsky
incident, for one thing (no, not involving Tom Kane, a stained blue dress or a cigar) and an explosively violent incident later on.
And then there are the hallucinations. As Tom's disease progresses, he's prone to seeing things more and more frequently. Occasionally, they are actual reptiles. At other times, they are the political variety. The hallucinations work in part because they give us greater insight into Kane's deteriorating mind, but they still feel gimmicky, regardless of the reality of Lewy body dementia.
If the show's first season took some dramatic inspiration from "Macbeth," the new season looks to another Shakespeare tragedy with the arrival of a wide-eyed young aide named
Ian Todd
(
Jonathan Groff
) whose almost serenely pleasant mien hides a ruthlessness that is so all-consuming that we quickly understand he may have even fewer boundaries than Kane himself.
Groff, who had a recurring character arc in "Glee," plays Todd as bland pretty boy but with an expression so fixed and so unrevealing, we begin to suspect there's much more to him than meets the eye. Kane has little use for him at first, but seems to respond to a kindred ambition. As he gradually begins to understand Todd can't be trusted, he enlarges his role on his staff. We look to Todd to become Iago to Kane's Othello.
Greatness remains
Much of what made the first season of "Boss" great carries over to the early episodes of the second season. Although the characters have only scant or fleeting redeeming personal values, we continue to buy into their machinations because of how they are created and because of superbly convincing performances at every level of the cast.
As the ratings dipped in the first season, some retroactively criticized Starz for giving the show a second-season renewal even before the premiere had aired. But the cable channel made the right call. Even if we never see a third season of "Boss," just having another chance to see Grammer rage against the dying of the light is a gift to discerning TV viewers.
__________________________________________________
* Guys, you want to see the likes of Monica, Tania naked? Time to fork out some voluntary contribution............
Manson Girls
Manson Girls, from the perspective of eight of the girls during the Summer of Love. Sex, drugs and a Rock-and-Roll deal gone murderous.
Manson Girls teaser with Taryn Manning, Monica Keena, Vanessa Zima, Zarah Mahler, Yvonne Zima and Bill Moseley. Directed by Susanna Lo the film also stars Tania Raymonde, Eric Balfour, Estella Warren, Laura Harring, Patti D'Arbanville, Priscilla Barnes and Ron Jeremy. Music produced my Guy Allison and John McFee of The Doobie Brothers and song sung by Bill Moseley.
Short Summary
Hi Everyone! This is Susanna Lo, the writer/director of Manson Girls. First, thanks to all the fans of this project and all your support to date. Manson Girls is the first time the Manson Family story will be told from the perspective of eight of the girls while being written and directed by a woman. Deliberately ending before the infamous Tate/La Bianca murders, the film focuses on the girls' earlier lives, through to their time as a "family" on Spahn Ranch. The intoxication from free sex, heavy drugs and one of the most tumultuous periods in American history turns what started out as pure magic into the horrific act of murder. With over 300 articles already written about the film, this is clearly a story the world wants to hear. Please, be a part of helping us bring this incredible movie to the theaters. The Manson Girls team started this journey a year and a half ago at our Sundance announcement, with the cast and members of The Doobie Brothers showing up to perform songs from the Manson Girls soundtrack and to meet and entertain our audience. Now we need our audience to help us complete that journey. And see for yourself, the GIFTS we offer as a thank you to all our supporters are AMAZING, and come from the participation of cast members Taryn Manning, Tania Raymonde, Eric Balfour, Chad Faust, Bill Moseley and many more. Even Guy Allison and John McFee of The Doobies, have contributed guitars and VIP, backstage concert tickets for a Doobie concert. And Ron Jeremy is offering to autograph his own personal brand of Ron Jeremy Rum!
What We Need and What You Get
We need to raise an additional $150,000, ideally more, so we can start the next phase of shooting on Manson Girls. With close to 100 cast members and a story that takes place in 1969, the whole Manson Girls team is dedicated to bringing an authentic representation of the time and place of this real period in American history. Our incredible THANK YOU GIFTS include autographed photos of the cast (these pics go for double on Ebay), cd copies of Manson Girls soundtrack with members of The Doobies, The Beach Boys, The Bangles, David Crosby, Beth Hart and the cast participating, and opportunities to come on set and have lunch with the cast. So help us complete this journey and we'll thank you by bringing you into our family.
Other Ways You Can Help
We understand that not everyone can afford to help financially. But you can help by getting the word out. Post this onto your Facebook accounts and let others know about this film and the opportunity for them to join in with the Manson Girls family, while getting some really cool gifts.
* Ms. Lo is doing the right thing to pull in potential investors and sponsors. Lez sex scenes is a big seller. Here hoping it's not all a big tease and we get to see all the female leads in various state of undress.
__________________________________________________
TIFF 2012 Adds 'The Master,' 'Passion,' 'Spring Breakers,' 'On the Road,' and More
As if the line-up couldn't get any better, Toronto International Film Festival have went ahead with what looks to be their final announcement of premieres. Added to the slate is the oft-rumored
The Master
, showing in 70mm, as well as
Brian De Palma
's
Passion
,
Harmony Korine
's
Spring Breakers
,
Peter Webber
's WWII romantic drama
Emperor
, a
Jeff Buckley
biopic, as well as Cannes premieres such as
Lee Daniels
'
The Paperboy
(
review here
) and
Walter Salle
s'
On the Road
(
review here
). Check out the new additions below.
GALAS
Song for Marion
Paul Andrew Williams, UK Closing Night Film
A feel-good, heart-warming story about how music can inspire you. Song for Marion stars Terence Stamp as Arthur, a grumpy pensioner who can't understand why his wife Marion (Vanessa Redgrave) would want to embarrass herself singing silly songs with her unconventional local choir. But choir director Elizabeth (Gemma Arterton) sees something special in the reluctant Arthur and refuses to give up on him. As she coaxes him out of his shell, Arthur realizes that it is never too late to change.
Emperor
Peter Webber, Japan/USA World Premiere In the aftermath of Japan's defeat in World War II and the American occupation of the country, a Japanese expert (Matthew Fox) on the staff of Gen. Douglas MacArthur (Tommy Lee Jones) is faced with a decision of historic importance, in this epically scaled drama from director Peter Webber (Girl With a Pearl Earring).
What Maisie Knew
Scott McGehee, David Siegel, USA World Premiere Based on the Henry James novella, the story frames on 7-year-old Maisie, caught in a custody battle between her mother – a rock and roll icon – and her father. What Maisie Knew is an evocative portrayal of the chaos of adult life seen entirely from a child's point of view. Starring Joanna Vanderham, Onata Aprile, Alexander Skarsgård, Julianne Moore, and Steve Coogan.
Arthur Newman
Dante Ariola, USA
Wallace Avery is tired of being a loser. Once a hot shot in the world of competitive amateur golf, Wallace was dubbed 'The Choker' when he hit the pro circuit. Unable to shake off a monumental loss of nerve on the greens, Wallace retired from the pro tour and slipped into the ranks of the quietly desperate. Deciding to address a radical problem with a radical solution, he stages his own death, buys himself a new identity as Arthur Newman, and sets out toward his own private Oz of golf. An offbeat love story set in a perfect storm of identity crisis, Arthur Newman looks at how two people try to remake themselves and come around to owning up to some basic truths about the identities they left at home. Starring Emily Blunt, Colin Firth, and Anne Heche.
Bad 25
Spike Lee, USA North American Premiere Bad 25 celebrates the 25th anniversary of the Michael Jackson "Bad" album with unseen footage, content shot by Jackson himself, and a treasure chest of findings. The documentary is divided into two parts: artists today who were influenced by Michael, and people who worked by his side – musicians, songwriters, technicians, engineers, people at the label – all committed to Michael and the follow-up to the biggest record of all time, "Thriller." Interviewees include: Mariah Carey, L.A. Reid and Sheryl Crow.
Disconnect
Henry Alex Rubin, USA North American Premiere Disconnect interweaves multiple storylines about people searching for human connection in today's wired world. Through poignant turns that are both harrowing and touching, the stories intersect with surprising twists that expose a shocking reality into our daily use of technology that mediates and defines our relationships and ultimately our lives. Directed by Academy Award® nominee Henry Alex Rubin (Murderball), and starring Jason Bateman, Hope Davis, Frank Grillo, Paula Patton, Michael Nyqvist, Andrea Riseborough, Alexander Skarsgård, and Max Theriot, as well as Jonah Bobo, Colin Ford and Haley Ramm.
Do Not Disturb
Yvan Attal, France World Premiere Jeff unexpectedly shows up on Ben's doorstep at 2am. Since their college days, they've taken very different paths. Jeff is still the wild man, a serial lover, an artist and eternal vagabond who's never stopped roaming the world. Ben has settled down with chilled-out and wonderful Anna; they bought a small and comfortable house in the suburbs and started trying to make a baby. But this quiet life is disrupted by the whirlwind that is Jeff, especially when he takes Ben to a wild party, from which they return at dawn, having made a decision that is about to turn all of their lives upside down. This provocative, hot and funny new film by award-winning French director Yvan Atta stars François Cluzet and Charlotte Gainsbourg.
Greetings from Tim Buckley
Dan Algrant, USA World Premiere Greetings from Tim Buckley follows the story of the days leading up to Jeff Buckley's eminent 1991 performance at his father's tribute concert in St. Ann's Church. Through a romance with a young woman working at the concert, he learns to embrace all of his feelings toward the father who abandoned him – longing, anger, forgiveness, and love. Culminating in a cathartic performance of his father's most famous songs, Jeff's debut stuns the audience and launches his career as one of the greatest young musicians of his time. Starring Imogen Poots and Penn Badgley.
Lines of Wellington
Valeria Sarmiento, Portugal North American Premiere After the failed attempts of Junot and Soult in 1807 and 1809, Napoleon Bonaparte sent a powerful army, commanded by Marshal Massena, to invade Portugal in 1810. The French easily reached the centre of the country, where the Anglo-Portuguese army, led by General Wellington, was waiting. Starring John Malkovich, Nuno Lopes, Soraia Chaves, Marisa Paredes, and Victoria Guerra.
Love is All You Need
Susanne Bier, Denmark North American Premiere Love Is All You Need is a new film by Academy Award-winner Susanne Bier. Philip (Pierce Brosnan), an Englishman living in Denmark, is a lonely, middle-aged widower and estranged single father. Ida (Trine Dyrholm) is a Danish hairdresser, recuperating from a long bout of illness, who's just been left by her husband for a younger woman. The fates of these two bruised souls are about to intertwine, as they embark for Italy to attend the wedding of Philip's son and Ida's daughter. With warmth, affection and confidence, Bier has shaken a cocktail of love, loss, absurdity, humour and delicately drawn characters who will leave only the hardest heart untouched. This is a film about the simple yet profound pains and joys of moving on – and forward – with your life.
On The Road
Walter Salles, France/Brazil North American Premiere Directed by acclaimed filmmaker Walter Salles and based on the iconic novel by Jack Kerouac, On The Road tells the provocative story of Sal Paradise (Sam Riley), a young writer whose life is ultimately redefined by the arrival of Dean Moriarty (Garrett Hedlund), a free-spirited, fearless, fast-talking Westerner and his girl, Marylou (Kristen Stewart). Traveling cross-country, Sal and Dean venture out on a personal quest for freedom from the conformity and conservatism engulfing them in search of the unknown, themselves, and the pursuit of it – the pure essence of experience. Seeking unchartered terrain and the last American frontier, the duo encounter an eclectic mix of men and women, each adding meaning to their desire for a new way of life. The screenplay is by Jose Rivera (Academy Award nominee for The Motorcycle Diaries), while Executive Producer Francis Ford Coppola has been developing the project since 1978. Also stars Viggo Mortensen and Kirsten Dunst.
Passion
Brian De Palma, France/Germany North American Premiere An erotic thriller in the tradition of Dressed To Kill and Basic Instinct, Brian de Palma's Passion tells the story of a deadly power struggle between two women in the dog-eat-dog world of international business. Christine possesses the natural elegance and casual ease associated with one who has a healthy relationship with money and power. Innocent, lovely and easily exploited, her admiring protégé, Isabelle, is full of cutting-edge ideas that Christine has no qualms about stealing. They're on the same team, after all… But when Isabelle falls into bed with one of Christine's lovers, war breaks out. Starring Rachel McAdams, Noomi Rapace, Karoline Herfurth and Paul Anderson.
Rhino Season
Bahman Ghobadi, Iraqi Kurdistan/Turkey World Premiere After thirty years spent in prisons of the Islamic Republic of Iran, Kurdish-Iranian poet Sahel finally walks free. Now the one thing keeping him alive is the thought of finding his wife Mina, who thinks he is long dead and has since moved to Turkey. Sahel sets out on an Istanbul-bound search. Starring Behrouz Vossoughi, Monica Bellucci and Yilmaz Erdoğan.
Spring Breakers
Harmony Korine, USA North American Premiere Four sexy college girls plan to fund their spring break getaway by burglarizing a fast food shack. But that's only the beginning. During a night of partying, the girls hit a roadblock when they are arrested on drug charges. Hung over and clad only in bikinis, the girls appear before a judge but are bailed out unexpectedly by Alien (James Franco), an infamous local thug who takes them under his wing and leads them on the wildest spring break trip in history. Rough on the outside but with a soft spot inside, Alien wins over the hearts of the young spring breakers, and leads them on a spring break they never could have imagined. Starring Selena Gomez, James Franco, Vanessa Hudgens and Heather Morris.
The Master
Paul Thomas Anderson, USA North American Premiere A striking portrait of drifters and seekers in post World War II America, Paul Thomas Anderson's The Master unfolds the journey of a Naval veteran (Joaquin Phoenix) who arrives home from war unsettled and uncertain of his future — until he is tantalized by The Cause and its charismatic leader (Philip Seymour Hoffman). Starring Amy Adams, Joaquin Phoenix, Philip Seymour Hoffman and Laura Dern.
The Paperboy
Lee Daniels, USA North American Premiere A chilling sex-and-race-charged film noir, The Paperboy takes audiences deep into the backwaters of steamy 1960s South Florida, as investigative reporter Ward Jansen and his partner Yardley Acheman chase a sensational, career-making story with the help of Ward's younger brother Jack and sultry death-row groupie Charlotte Bless. Starring Matthew McConaughey, Nicole Kidman, John Cusack, David Oyelowo and Zac Efron.
The Son Did It
Daniele Ciprì, Italy/France North American Premiere The Son Did It is the story of the Ciraulos, a poor family from South Italy whose young daughter is mistakenly killed by the Mafia. As compensation, they receive a large amount of money from the State but this sudden richness will change their life in a completely unexpected way. Starring Toni Servillo, Giselda Volodi, Alfredo Castro and Fabrizio Falco.
The Suicide Shop
Patrice Leconte, France/Belgium/Canada International Premiere Imagine a shop that for generations has sold all the accoutrements for the perfect suicide. This family business prospers in all its bleak misery, until the day it encounters joie de vivre in the shape of younger son, Alan. What will become of The Suicide Shop in the face of Alan's relentless good cheer, optimism and determination to make the customers smile? Starring Bernard Alane, Isabelle Spade, Kacey Mottet Klein, Isabelle Giami and Laurent Gendron.
Thérèse Desqueyroux
Claude Miller, France International Premiere In the Landes region of France, near Bordeaux, marriages are arranged to merge land parcels and unite neighbouring families. Thus, young Thérèse Larroque becomes Mrs. Desqueyroux. But her avant-garde ideas clash with local conventions and in order to break free from the fate imposed upon her and live a full life, she will resort to tragically extreme measures. Starring Audrey Tautou, Gilles Lellouche and Anaïs Demoustier.
White Elephant
Pablo Trapero, Argentina/Spain North American Premiere In a poverty-stricken and highly dangerous Buenos Aires slum, two men – both friends, both priests, both deeply respected by the local community for their tireless endeavours on behalf of the poor and the dispossessed – take very different paths in their struggle against violence, corruption and injustice. Starring Martina Gusman, Ricardo Darin and Jérémie Renier.
Yellow
Nick Cassavetes, USA World Premiere Nick Cassavetes' seminal work, Yellow, is a searing take on modern society and the demands it makes on people. Centered on Mary Holmes, a young woman who has a difficult time feeling things, and swallowing twenty Vicodin a day doesn't help. We enter her hallucinatory world, peopled with Busby Berkeley dancers, Cirque du Soleil, Circus freaks, and human farm animals where nothing is quite what it seems. Starring Sienna Miller, Gena Rowlands, Ray Liotta, David Morse, Lucy Punch, Max Theoriot, Riley Keough, Daveigh Chase, Heather Wahlquist and Melanie Griffith.
__________________________________________________
GHOST TITS (feat. Olivia Munn)
__________________________________________________
Ashley Greene and her all-natural dairy pillows at Malibu beach [August 2012]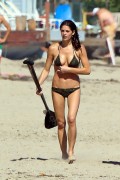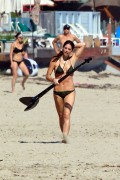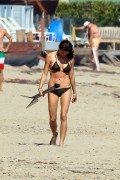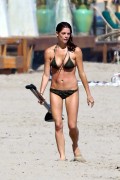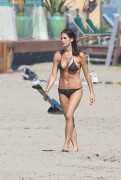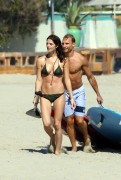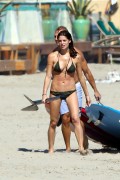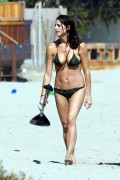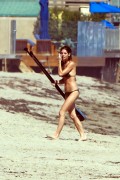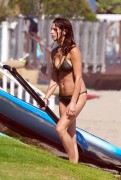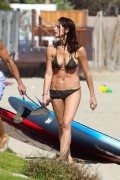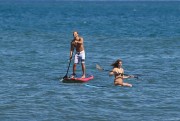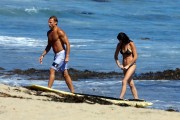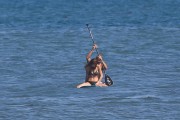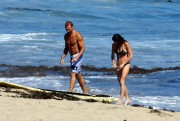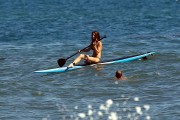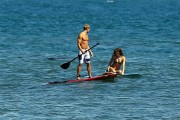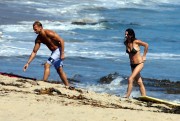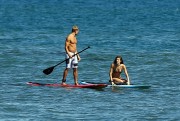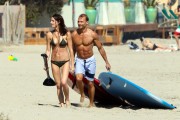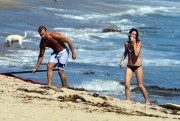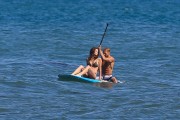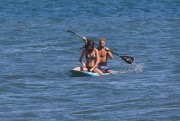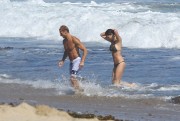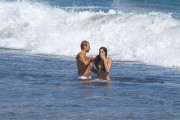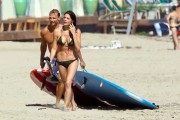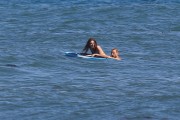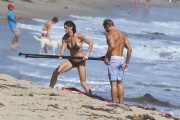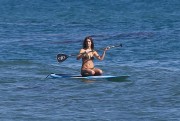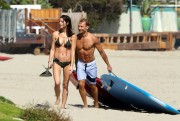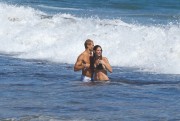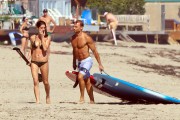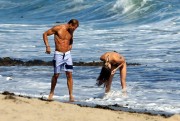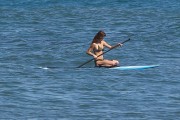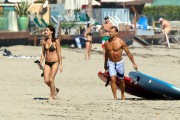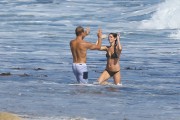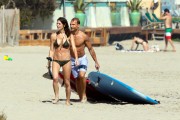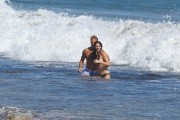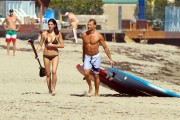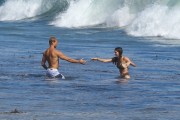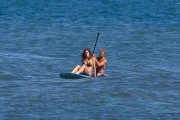 __________________________________________________
Jodie Foster Heads To Showtime To Direct Mob Drama 'Angie's Body'
by Kevin Jagernauth
"I think I may spend some time on cable," Jodie Foster told the
Oregon Herald
at Comic-Con last month, about where she might be going next. "I think it's a good outlet for what I do. What I do are personal stories and, in some ways, usually involve family and they have equal amounts of comedy and drama, sometimes an absurdist twist, and they're very verbal. And I like constructing complex characters and hopefully seeing this sort of tapestry of how they interact with each other over time evolve. Well, TV's the place for that." And it looks like those words are coming true.
Foster will return behind the camera for her first effort since "The Beaver" with Showtime's "Angie's Body." Penned by Rob Fresco ("Heroes," "Crossing Jordan") the series adds a unique twist to the organized crime drama, and will center on a deadly woman who runs her own syndicate, and those are the only details so far. Foster doesn't direct often, and thus far her choices have been interesting from the underrated drama "Little Man Tate," the Christmas comedy "Home for the Holidays" and Mel Gibson vehicle "The Beaver." But perhaps none of those are as intriguing as her very first gig behind the camera, helming a 1988 episode of "Tales From The Darkside" entitled "Do Not Open This Box" (watch below). Certainly, the television landscape has changed a lot since then.
The Showtime gig brings her back to the network where she produced "The Baby Dance," starring Laura Dern and Stockard Channing in 1998. Not word yet on when "Angie's Body" will roll but it will need to cast up first. Foster will next be seen at a theater near you in Neill Blomkamp's "Elysium."
__________________________________________________
Poonam Pandey posts nude bathing self-pics

Indian model Poonam Pandey posts bathing self-pics via Twitter
Poonam Pandey, an Indian model, posted on Twitter new nude photo of herself taking a bath.
Pandey, age 21, started posting the photos on Twitter on Sunday and continued posting photos for about six hours.
"Fresh morning, just had a hot shower bath…have a blessed Sunday #FreshMorning…" said Pandey in the tweet that started it all.
Later Pandey tweeted, "#BathLikePoonamPandey its really cold out here…. but m loving it".
The Twitter hashtag #BathLikePoonamPandey was trending on Twitter all day, said Pandey.
"#BathLikePoonamPandey haha trending whole day… thanx for loving me so .. luv u all…"
Poonam Pandey and Sherlyn Chopra are making headlines for their nude photos: Sherlyn Chopra's Playboy photos, along the Poonam Pandey's on-going nude photos.
This is the second time in ten days that the model has posted nude photos of herself – the last was on August 3 where she posted photos captioned "How do you like your coffee served?" with a coffee cup balancing just below her abdomen.
The photos are available via twitpic.
Poonam Pandey became broadly known when she appeared in a photo for the 2011 Kingfisher Calendar. In May 2011 she offered to strip naked in the stadium where India was competing in the 2011 Cricket World Cup. India went on to victory and , as promised, she posted a nude photo of herself (from then side, and laying down on her front) and dedicated it to Indian batsman Virat Kohli.
In June 2011 Pandey appeared in Khatron Ke Khiladi – Season 4 (India's version of the US television program "Fear Factor") yet was eliminated during the competition.
Translated, "Khatron Ke Khiladi" means Daredevil; however the literal translation is "players of danger".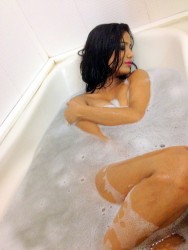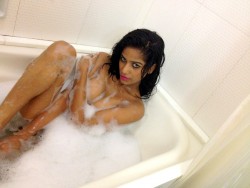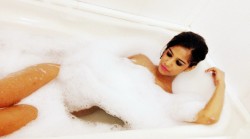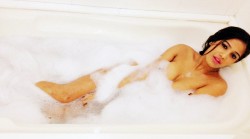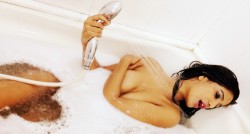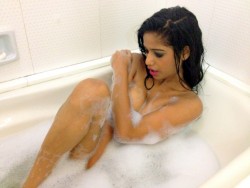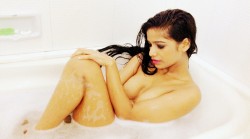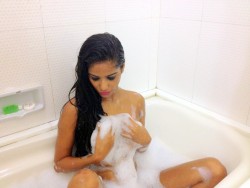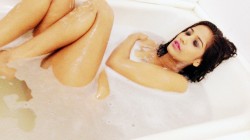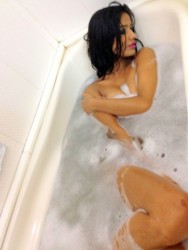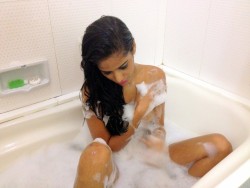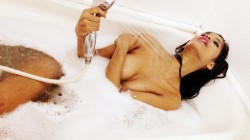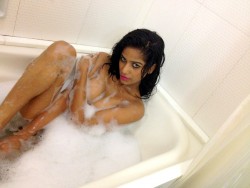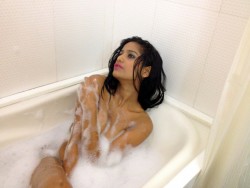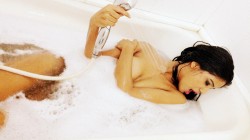 __________________________________________________
* tragic news of the day.......
Outrage:

Miss Italy Beauty Pageant Does Away With Bikinis
Officials with the Miss Italy beauty pageant said they will switch from bikinis to one-piece swimsuits as part of a greater emphasis on inner beauty.




Patrizia Mirigliani, head of the Sept. 8-9 pageant, said the contest will no longer feature two-piece bathing suits in the swimwear competition, ANSA reported Tuesday.




"With this new type of swimsuit, we hark back to the classic beauty of 1950s feminine icons, who are still setting trends," Mirigliani said.




She said the change is part of the pageant's increased emphasis on inner beauty.
If the officials really want a greater emphasis on inner beauty why don`t they allow a few "Plain Janes" to enter the competition? It`s hot chicks, and not brilliant minds that garner good ratings.
Why not do away with the swimsuit competition altogether and instead have the young ladies strut their stuff in business suits?
The bikinis are an integral part of a beauty contest, when I tune in to a beauty pageant I want to see skimpy bikinis and hear the young women wax eloquent about world peace.
_________________________________________________
ASAP Rocky 'Purple Kisses'
Official video for ASAP Rocky's 'Purple Kisses' Off The A$AP Mob Album Lord$ Never Worry Due 8/28/2012 on LiveMixtapes.com
Director: A$AP Rocky
Co-Director: Luke Monaghan and Barber
Produced By: Very Rare
http://lukemonaghan.tumblr.com
__________________________________________________
Jake and Amir: Cheryl Part 2 (starring

Allison Williams

)
__________________________________________________
Cam girl breaks down during live session
This a busty cam girl losing her mind during a work session after chat room visitors called her names. Her breakdown includes yelling, crying, and exclaiming "God forgot about me." We laugh to keep from crying, obviously.
That is easily the saddest dildo I've ever seen behind her on the bed. It looks like a sad child. Confused, scared, and alone is no way for a ten dollar sex toy to live its life. We stand behind you in solidarity, friend.
__________________________________________________
Beethoven's
Moonlight Sonata danced in the nude.
__________________________________________________
What is 'fake' and 'real' in the sex industry?
Porn has hijacked our sexuality, according to anti-porn author Gail Dines. Her sentiment is not unlike that of other 'raunch culture' commentators – the sex industry is damaging because it represents 'fake' pleasures and 'fake' bodies. Both queer and feminist communities have produced porn/magazines/performances aiming to represent desires, bodies and acts that are 'authentic', 'genuine', 'documentary' and 'real'. But is this line between 'fake' and 'real' so clear-cut?
Zahra Stardust
explores the issues.
13 August 2012
As someone who works in the sex industry – in spaces that purport to be 'real' as well as spaces that are accused of as being 'fake' – it seems like there is no distinct line between the two. As someone who works with a body that is sometimes perceived as 'real' and other times read as 'fake' – it seems that the bodies which move across these spaces are equally fluid.
As someone whose pink bits have been airbrushed in magazines, but which have also been on explicit display; who performs both with and without make-up; whose 'real' name
is
my stage name, distinctions between 'fake' and 'real' don't always make sense.
I experience pleasure at work in the mainstream sex industry that I certainly perceive as 'real'. This pleasure comes from physical sensations (lactic acid, endorphins, sweat, carpet burn, whipping hair, a double ended dildo angled against my g spot, real orgasms) but also from the thrill of voyeurism (exhibitionism, cameras, being naked in front of thousands of people).
Pleasure comes from creative aesthetics (coordinating colours, angles, props and shapes) and the kick of doing something that is (to some) taboo. I consider that pleasure a
genuine
part of my own sexuality. Sure, it's work – and during shows I am also thinking about choreography, musicality, crowd control, not falling over, pole grip, camera angles, the audience member who is wandering off with my g-string – but work and pleasure are not mutually exclusive.
Yes, it can be mundane, repetitive and sometimes I end up with pole bruises, aching muscles and an intolerance for drunk men, but I use the stage as a platform to explore my own desires, and this assumption that what we do at work and the pleasure we experience from it isn't 'real' must be problematised. My vagina will tell you otherwise.
At the same time, websites that purport to depict 'real' or 'redefined beauty', often seem to be just as conventionalised as the mainstream genres they criticise. 'Alternative' nude modelling site Suicide Girls gives
calculated instructions
on their website about the kinds of photos, make-up and aesthetic sets they accept: 'tasteful', 'picture perfect' shoots with 'a little bit of face powder and mascara and freshly dyed hair', but specifically
not
'cheap wig[s]', 'top hats', 'stripper shoes', 'food' or things that look 'cheesy', 'gross' or 'creepy'.
Similarly, the 'girl next door' look of the Australian all-female explicit adult site
Abby Winters
represents an alternative to glamour photography, featuring make-up-less, 'amateur' adult models – but models are still required to cover up hair re-growth, remove piercings, and not have any scratches, marks or mosquito bites for the shoot in order to appear 'healthy'.
Other sites I've shot for speak about the importance of models representing their 'own' sexuality, but then go on to qualify: "We might get you to tone down the eye make up a bit", "Maybe don't talk about politics", "Lesbians don't really use double-enders do they?" One company asked me repeatedly to stop wearing frills.
In doing so, these sites produce bodies of a particular class, size and appropriate femininity, which are marketed as 'real', but which are equally constructed, conventionalised and cultivated. This fear of replicating 'cheesy', 'predictable' mainstream porn means that depictions of 'real' sexuality are often similarly clichéd, albeit with a different set of aesthetics.
In their avoidance of 'the mainstream' (whatever that means), 'alternative' porn (whether it brands itself queer, feminist or 'erotica for women') can sometimes replicate and reinforce what Gayle Rubin calls 'Good, Normal, Natural, Blessed Sexuality': the sex is vanilla, and involves only bodies (without objects or toys). Sex occurs in the home, between members of the same generation and only within couples. The scenes are soft, gentle, usually in 'natural' light and 'every-day clothes' (which in my experience means we are expected to bring
Bonds
underwear).
To think that this could be any more 'real' than mainstream porn seems strange to me, especially when it is produced in an environment that is completely staged: our movements are restricted by camera angles, someone is standing beside us operating the equipment, many of us are professionals pretending to be amateur, and in true 'documentary' style, we are expected to cum on cue. These kinds of websites are marketable and loveable because they refuse to define themselves as 'porn' – even though, as Annie Sprinkle said in the
Herstory of Porn
, the difference between erotica and porn "is all in the lighting!"
It is an important goal to make sexually explicit material that does not prescribe unrealistic standards, perpetuate hegemonic gender stereotypes or marginalise diverse sexualities. But many of us in the sex industry will tell you that those stereotypes and marginalisation come – not from audiences or clients – but from public reductive readings of our work and stringent legal frameworks.
These frameworks determine which bodies and sexual practices can legally be portrayed and whose voices are heard or silenced. Callous distinctions between 'fake' and 'real' present un-nuanced and uncritical readings of the sex industry and contribute to regressive laws.
Sure, we may play with, embody and embrace hyper-femininity, but we are no less 'authentic', or political, or real, because our lip gloss is hot pink instead of 'nude'. We don't need to 'tone-it-down' to be any more queer, radical or 'real'. Our bodies may look 'unrealistic' to you, but the labour of preparing for work gives erotic performers a sentient, working knowledge of gender performativity.
Much of the time, our work is far from glamorous. I return from work with smudged mascara, sticky lube, patchy fake tan, knotty hair, smelling like sweat and vaginal fluid – and the customers experience this up close and personal. My vagina certainly isn't airbrushed when I get it out at buck's parties, complete with shaving rash, discharge and blonde hair caught in my clit ring.
Merely working in this industry gives us access to hundreds of 'real' bodies – all different, all diverse, all unique. We all bring real, orgasmic pleasure, to audiences, clients, and readers (of many genders).
Blaming certain kinds of femininity and reading our bodies as 'fake', normative and indulgent is part of a wider culture that does not value – and actively ridicules – femininity. Reading our bodies as 'fake' insults femmes. Many of us feel our femme presentation is a way of queering femininity; glitter, six-inch thigh-highs and suspender belts may be far more 'natural' for many queer femmes than bare feet and beige make-up.
To call us 'fake' valorises masculinity above femininity, privileging 'masculine' or androgynous embodiment (an absence of make-up, hair-removal and accessories) as 'real' and represents femmes as superficial and trite dupes who cannot be considered serious feminist or queer subjects.
The irony is that you can never win – 'appropriate femininity' is unachievable. We are either too much or not enough. Our hyper-femininity is often so far beyond normative feminine ideals that it brings us social censure – our make-up is too thick, our heels are too high, our breasts are too large. As Rosalind Gill writes about women in media, our "bodies are evaluated, scrutinised and dissected" and are "always at risk of "failing."
Dyke porn in particular uses 'authenticity' to market products. Girls site HotMoviesForHer.com asks in their advertisements, "Sick of gay-for-pay straight girl sex? So are we" and instead offers "Real lesbian porn". This is an important response to the imitation of homosexual desire by the heterosexual majority for financial reward, and a reaction to discrimination and underrepresentation of lesbian sexuality. Further, it raises important issues about representation, inclusion, accessibility, and which bodies and sexualities are depicted as erotic or desirable.
However, these critiques also assume that for adult performers, there are clear distinctions between what is 'authentic' and 'performative', or solid lines between 'gay' and 'straight', whereas often the protagonists of girl-girl porn/striptease/sex work – straight and queer –may experience a blending of
both
.
Australian Porn Star Angela White's research shows that even where straight-identifying women perform in girl-girl, femme-on-femme pornography aimed at straight male audiences, the process of selling sex can queer their heterosexuality. In her interviews she found that the 'straight' women found themselves enjoying lesbian experiences in a way that confused their heterosexual identity, made sexual identity categories redundant and "transform[ed] their own sexual identity".
There is some amazing queer and feminist porn around that is diverse and celebratory. But I'm not convinced that distinctions between fake and real are all that useful, or necessary. To call somebody fake involves a whole set of assumptions about their body, identity, gender, sexuality and politics, about what is 'natural', 'normal', which sex acts are 'real', what is 'authentic' for whom, and how one must look and behave to be 'feminist' or 'queer'.
It puts limits on the kinds of sexual encounters and relationships that are 'real', discounting the intimate experiences we have with clients every day. Using the fake/real distinction to denigrate certain sexualities, shame femininity and blame the sex industry for gender oppression is too easy. It perpetuates a language that is whorephobic, femmephobic, and slut shaming, which is being co-opted and reproduced as acceptable in mainstream media, academia and popular culture, but also (dangerously) by feminists, queers, and fellow smut-makers.
As a queer femme sex worker, reading our bodies and sexualities as fake is offensive to me and my community. Is it acceptable to you?
Zahra Stardust is a Penthouse Pet, award-winning stripper, pole dance champion and queer femme-inist porn star.

She abandoned a legal career in favour of pole dancing, and has run for Parliament three times as a Candidate for the Australian Sex Party (she is currently campaigning for Lord Mayor of Sydney).

With three degrees including a Master's degree in striptease, she has been a guest lecturer and tutor in Gender and Cultural Studies at the University of Sydney, worked in sexual health and development with the United Nations, teaches pole dancing at Suzie Q Pole Studio and works during the day at Scarlet Alliance, the Australian Sex Workers Association, advocating for sex industry law reform.

Throughout her career she has modelled at the World Body Painting Festival in Austria, undressed on trapeze at Auckland Erotica Expo, taught pole dancing workshops in Sweden, performed in a circus tent at the Amsterdam Burlesque Festival, judged Miss Pole Dance Bavaria in Germany, been a life drawing model in Japan, and belonged to a burlesque troupe at the Adelaide Fringe Festival.

Her titles include: Miss Nude Australia Pole Dance Champion 2012, Miss Nude Pure Platinum 2011, Miss Centrefold Oceania 2010, Penthouse Pet October 2010, Miss Nude Dancers Cabaret 2010, Australian Pole Dance Open Pairs Champion 2009, Miss Nude NSW's Most Unique Entertainer 2009, Miss Pole Sydney Sexpo 2009, Miss Pole Dance Australia Finalist 2008.

Her new porn website features female ejaculation and fisting and includes scenes with genderqueer porn star Jiz Lee and feminist pornographer Liandra Dahl. It will launch in September: www.zahrastardust.com

__________________________________________________