Another hot tip from

virginia

. Season 5 of Nurse Jackie will have real nudity for the first time on the show. Yep. Boobies. A new series regular on the show: Dr.Carrie Roman is a narcissistic and almost incompetent. But she is gorgeous and she knows it. Uses her looks to snare powerful men. Hopefully we will get a first-timer in nudity department.
* Showtime probably feels the half hour show needs a bit more sexiness to bolster the ratings and bring in new youthful demographics. It also a way to lighten up the dramedy. Showtime is going all out to be the number one cable channel in 2013. They're not holding back in. Everything is going to be ramp up. I won't be surprised if full-frontal becomes a fixture with Maggie Grace hopefully leading the way.
________________________________________________
* more news filtering from Magic City set
Jessica Marais's Lily Diamond will have sex with this character (Nicky Grillo) in season 2.
Olga Kurylenko as expected will be a glorified stripper (brief breasts). Oops. Burlesque dancer is probably the polite term.
________________________________________________ With the
Season 3 premiere of "Boardwalk Empire"
in the books, HBO has released episode details for the Prohibition gangster drama's next four episodes.
So this post comes with an inherent spoiler alert, but for "Boardwalk" fans who are interested in a vague roadmap for what the early part of the season has in store, these descriptions provide a few details of the conflicts and storylines that lie ahead.
They highlight three separate budding turf wars: Lucky Luciano clashing with Joe Masseria in the New York heroin trade, Al Capone involved in a South Side Vs. North Side Chicago battle against the Irish mob, and Arnold Rothstein and Gyp Roseti feuding over booze in New York. Meanwhile, Nucky Thompson's brother Eli gets released from prison, and Nucky runs into some trouble in Washington, DC.
Check out the episode descriptions below:
Episode #28: "Blue Bell Boy," airs Sun., Oct. 7:
"After tracking down a liquor thief, Nucky (Steve Buscemi) and Owen (Charlie Cox) spend a long night hiding out from the feds with the precocious perp. In his boss' absence, and with Rothstein (Michael Stuhlbarg) fuming over a late delivery, Mickey (Paul Sparks) overrules Eli (Shea Whigham) to make a routing call that will have far-reaching consequences for Nucky and Gyp (Bobby Cannavale). Margaret (Kelly Macdonald) encounters a familiar face while promoting Dr. Mason's (Patrick Kennedy) classes at the new women's clinic at St. Theresa's. In New York, Lucky (Vincent Piazza) haggles with Joe Masseria (Ivo Nandi) over heroin splits, while in Chicago, Capone's (Stephen Graham) feud with O'Banion (Arron Shiver) heats up when one of his collectors gets roughed up on the South Side."
Episode #29: "You'd Be Surprised," airs Sun., Oct. 14:
"After venting with Nucky about his liquor travails, Rothstein sends Gyp an unequivocal message in Tabor Heights. In Washington, Gaston Means (Stephen Root) sees opportunity in a Senate investigation of Harry Daugherty (Christopher McDonald) and the Justice Department. Billie (Meg Chambers Steedle) gets a new co-star to revive her faltering show; Van Alden (Michael Shannon) and Sigrid (Christiane Seidel) receive an unexpected visitor; Gillian (Gretchen Mol) worries about keeping her business afloat in Jimmy's absence; Margaret has Awkward moments at the hospital and, later, at Madam Jeunet's (Anna Katarina)."
Episode #30: "Ging Gang Goolie," airs Sun., Oct. 21
"After being detained in Washington by Daugherty's henchmen, Nucky approaches Esther Randolph (Julianne Nicholson), his onetime nemesis, and later entertains an intriguing proposition from Gaston Means. In Atlantic City, Margaret copes with Teddy's (Rory and Declan McTigue) demons, while Owen investigates a suspicious fire; Gillian feuds with Lucky and finds a surrogate for Jimmy; and Richard (Jack Huston) connects with pugilistic vet Paul Sagorsky (Mark Borkowsky) and his daughter Julia (Wrenn Schmidt)."
Episode #31: "Sunday Best," airs Sun., Oct. 28
"On Easter Sunday, Eli looks to get back in Nucky's good graces at a Thompson family reunion. While Richard and Tommy (Brady and Connor Noon) spend the day as guests of the Sagorskys, Gillian stays at home and makes a sacrifice to improve her future. In New York, after dinner and prayers, Gyp heads downtown in search of a blessing – from Joe Masseria."
________________________________________________
Jennifer Lawrence

: Hilarious Interview Moments
Part 1
If you've never seen The Hunger Games star Jennifer Lawrence on talk shows, her interviews are usually TV gold! She has a very gregarious personality and really isn't afraid to say anything, and it shows in this compilation of her funniest talk show moments.
________________________________________________

CanCon Comeback
Looking at the 2012-13 season there is much to be excited about for fans of Canadian television.
Hart Hanson's
BONES
is back on FOX and Global for it's 8th season. Though technically there is still part of season 7 that remains un-broadcast at this time. Why lead off with
BONES
you might wonder. It was among the first shows to premiere this season and it's creator, the aforementioned Hart Hanson, is a Canadian. Look for
BONES
Mondays at 8pm.
The final season of
Flashpoint
will be on CTV Thursdays at 10pm ET starting on 20 September. We are all still sad it is ending but we can find some solace in knowing that this fifth season was given a proper series wrap-up by the creators because it was their decision to end the show. There is already some talk of follow-up tv movies. It is possible but don't expect it.
Everyone's favourite mysterious town is back for a third season on Showcase on 21 September.
Haven
makes the move from Mondays at 10pm to it's new time of Fridays at 10pm ET to align with the US broadcast. You might not have known it but this made-in-Nova Scotia show was shown on a 3-day delay in Canada the past two seasons. Monday was a prime time slot but by then many fans would have downloaded the show from it's US broadcast. In theory this should boost the ratings
Haven
in Canada, assuming you are inclined to watch tv on a Friday night. In both Canada and the US it made the move from summer show to autumn show.
Over on HBO Canada the loveable Richard Fitzpatrick is back for a third season in
Call Me Fitz
, which premieres on 23 September with two episodes. Some may have seen the little tiff i ended up in with allegedly the creator of the show regarding all of the Americanisms in this show which is supposedly entirely Canadian. Will there be a real license plate on a car in season 3 instead of the psuedo-Nova Scotia plates? Will there be more exchanges of American currency when Fitz needs a favour? Will they still call it soda? The episode titles have been available for some time now. Fitz tries to take over city hall. And all of Fitz' shagging catches up with him when a pregnancy test is positive.
If you missed season 5 of
Murdoch Mysteries
on Citytv this past summer you can catch an encore showing of it at the show's new home, Monday at 9pm on CBC. The sixth season will be shown in January. While many wished CBC had shown season 6 last night the January date is still better than the June date Citytv had been offering the past few years. Especially since it is on in February in the UK regardless of when it is on in Canada.
New episodes of
Lost Girl
won't be on Showcase until January. This probably has something to do with keeping the US broadcaster of the show happy. Syfy (silly name) doesn't want it for September but rather January. And so viewers in Canada will also have to wait. It will probably help the ratings in the US since viewers there won't have been able to download the episode 4 months before it is on tv where they live. As a Canadian fan of the show this just sucks.
The producers of CBC's bold and controversial show
The Border
are back with a new series that will be on CBC in January. David Sutcliffe, whom we all love from
Gilmore girls
, stars in
Cracked
as Detective Aidan Black, a seasoned officer dealing with post-traumatic stress disorder.
Cracked
is a unique blend of a police and medical drama inspired by the real-life experiences of police officers and mental-health professionals. The series is a bold depiction of the psychological side of policing and the emotional impact on front-line workers. It's a fascinating yet affectionate exploration of all dimensions of human behaviour. That bit was from a press release but how could it be said better?
Also returning in January will be
Republic Of Doyle
on CBC for it's fourth season and
Being Human
on SPACE for it's third season. Maybe if we are lucky the second and pledged to be better season of
XIII
will be on Showcase in January. If you are thinking it has been a long time since
XIII
has been on tv you are correct. It's last new episode was on in France in May of last year and in English in Canada on 12 July 2011. The much belated US broadcast on Reelz concludes this coming Friday. The first season's ratings were total shit in Canada but it was a hit in France. Word of the show's renewal broke in February of this year. Still, a year and a half gap (or more) between the end of season 1 and the start of season 2 is not something that would instill much confidence in the hearts of the fans.
Even with a rough date still not announced there is much to look forward to about
Vikings
, a Canadian-Irish production that is to be shown on RTÉ
in Ireland, History Television in Canada, and History in the US at some time in 2013. With a cast that includes Travis Fimmel, Clive Standen, Katheryn Winnick, Gabriel Byrne, Jessalyn Gilsig, Gustaf Skarsgård, and George Blagden it promises to be a top-quality show. It is being produced by Ireland"s World 2000 and Canada's Take 5 production companies, in association with
RTÉ
,
Shaw Media, and some other companies.
Canadian shows on tv right now include
Hell On Wheels
season 2 and
Copper
season 1. Given they are both set in the US around the time of the civil war there you might not know they are both Canadian productions made in Canada. Both shows were created by Americans and commissioned by US cable channels but in both instances they turned to Canadian companies to actually make the shows. There is also the mini-series
World Without End
which is a Canadian-British-Hungarian production.
Shows currently in production in Canada, either by Canadian companies or the likes of NBC, include season 2 of
Arctic Air
, season 1 of
Arrow
, season 1 of
Bates Motel
, season 2 of
Bomb Girls
, season 3 of
Covert Affairs
, season 1 of
Cracked
, season 1 of
Cult
, season 1 of
Defiance
, season 12 of
Degrassi
, season 1 of
Emily Owens, M.D.
, season 3 of
Falling Skies
, season 5 of
Fringe
, season 1 of
Hannibal
, season 1 of
Hemlock Grove
, season 3 of
Lost Girl
, season 1 of
Motive
, season 6 of
Murdoch Mysteries
, season 3 of
Nikita
, season 2 of
Once Upon A Time
, a pilot for
Port Hope
, season 7 of
Psych
, season 1 of
Red Widow
, season 1 of
Rogue
, season 4 of
Rookie Blue
, season 2 of
Suits
, season 8 of
Supernatural
, season 3 of
The Haunting Hour
, season 2 of
The L.A. Complex
(my that it cutting it close if it is accurate since the season 2 finale is on tv in 6 days and they have filming scheduled to run through this coming Friday), season 1 of
The Next Step
, and season 4 of
Warehouse 13
.
________________________________________________
________________________________________________
Veronica Jett May Testify Against Isaacs in Sentencing Phase
By Rhett Pardon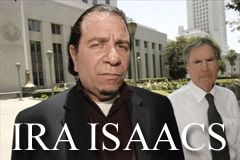 LOS ANGELES —
The Justice Department plans on calling a veteran adult entertainment performer to fetish filmmaker Ira Isaacs' upcoming sentencing hearing to testify she suffered mental anguish after filming two films from his "Hollywood Scat Amateurs" series.
The performer, Veronica Jett, is planning to testify that she would have never taken part in the scat films if she had not been high after allegedly being fed drugs by Isaacs at the time of the filming.
Jett, whose real name is Amanda Tibbetts, is a seasoned performer with more than 300 adult film credits.
As a result of shooting scat, she claims she's had to seek professional counseling for her shame, anguish and fear. Further, according to court papers, she feared going out in public.
"She was afraid people were looking at her and thinking 'there is the girl who ate feces,'" said Justice Department attorneys, who noted they'll also call up LAPD Det. Kyle Lewison to recount the story of another performer, Sarah Gray (whose porn name is April), who had similar experiences like Jetts'.
Earlier this month, an LAPD detective provided Justice Department attorneys with new evidence that fetish filmmaker and distributor Ira Isaacs was selling newly advertised and released "obscene" films shortly after he was convicted last May.
The revelation of an undercover purchase of four videos deemed obscene by the LAPD detective was raised by prosecutors as a judge weighs sentencing for Isaacs, who was found guilty in April on five counts of violating federal obscenity laws.
Federal prosecutors have asked for enhanced sentencing that would send Isaacs away for seven years and three months, while Isaacs attorney, Roger Jon Diamond, has asked for a reduction in sentencing.
In federal court documents made available today, Diamond contends the Justice's Department shouldn't be able to convert an obscenity trial into "a totally different trial involving unfounded accusations against Mr. Isaacs."
"By calling [Veronica Jett] and [LAPD Det. Kyle Lewison relative to testimony of] Gray, the government would be attempting to utilize the consenting adults in the movie as so called 'victims,'" Diamond said. "Defendant Isaacs is not charged with rape or committing any crimes upon Jett or Gray. Neither one comes within the sentencing guideline theory upon which you intend to call these witnesses."
Diamond added that time does not permit searching for, locating and interviewing potential witnesses to discredit Jetts or Lewison's interview with Gray.
Government attorneys argue that Isaacs should spend more time behind bars because of the allegations that he pushed drugs on the performers.
"[S]ince the defendant continued to provide Tibbets with methamphetamine, she agreed to film a scat scene for the defendant," Justice Department attorneys said. "Ms. Jett will testify that she went to the defendant's house to film "Hollywood Scat Amateurs #10" with Ms. Gray, and when she arrived, the defendant provided her and Ms. Gray with methamphetamine, marijuana, and alcohol."
But Diamond said that bringing in new testimony on movies not involved in the Isaacs obscenity case during the sentencing phase raises a host of problems.
"The movies were not the titles which were the subject of the indictment," Diamond said. "In this particular case there have been additional sales of any type of movie that arguably would be covered by the verdict.
"As stated earlier, when the FBI conducted the raid of Mr. Isaacs' office he readily admitted at that time that he was responsible for the distribution of the movies. He reiterated that position in court a few times when he testified in pretrial proceedings and at two trials. He has always accepted responsibility."
U.S. District Judge George King has not yet scheduled a new sentencing hearing.
A sentencing hearing was called off earlier this month after Lewison said that Isaacs appeared on a KFI-AM talk radio show hosted by David Cruz, asking listeners towards the end of the show to visit his site, ScatMoviez.com, and buy videos.
Lewison ordered and received through the U.S. mail four videos — "Euro Scat Girls," "'My Pony Lover," "Violet: Dog and Pig Fuckers" and "Hot Girl With Dogs" — that weren't part of the Isaacs obscenity trial.
WARNING

: DON'T CLICK ON THE LINKS IF YOU'RE AVERSE TO OR DISGUSTED BY SCAT FETISH
* I was told (this was many years ago) that it was all fake by one of the crazy broad who appeared on Ira video t. Ira had special effects guy making the gooey thingy (tastes like chocolate) and the hardest thing to do on the set was actually pretending to be gagging from the stench. I was pretty naive back then. But most of the industry insiders knows what really goes on at Ira's place. I had to accept reality the hard way after watching infamous "Toilet Sherry" in action. The guy is a deranged fuck (his fetish is scat on pretty faces) but he pays good money to cast the hottest babes (newbies with drugs issues) performing the sickest thing you will ever see on porn. Many of these girls later goes on the BS-spin about being high on something but the truth is......somewhere between the middle.
Here is the link to Veronica Jett video and the part where she tastes the original brown cookie.
Veronica was a freshie in the biz at that time. Just a cute little bundle. Started out doing the normal B-G stuff but within weeks she was taking it up the ass and turning into a human toilet. You gotta to feed the habit after all.
________________________________________________

* Flawless skin on this Aussie chick.
Margot Robbie
is gorgeous beyond words. Maybe she is worried about doing nudity for the first time on-cam including going fully nude briefly and Leo sniffing coke off her tits. But the role of Nadine is a certain career break-through for Margot. Equally profane and seductive at same time, Nadine is like a realistic version of Mona Lisa Vito from My Cousin Vinny (1992). The role that deservedly won Marisa Tomei an Oscar. If she plays her card right, loosen up emotionally (rarely seen in Aussie starlets working in a US-based productions with exception of talented but cry-baby Toni Collette) and just immersed herself in the character, Margot will be on the A-list in no time and a shot at Oscar glory.
________________________________________________