Elle Fanning in Lolita Lempicka
++++++++++++++++++++++++++++++++++++++++++++++
MASTERPIECE on PBS and ITV STUDIOS Presents

MR. SELFRIDGE

STARRING JEREMY PIVEN
MASTERPIECE/WGBH and ITV Studios have announced a coproduction deal that includes
Mr. Selfridge
(w.t.), a highly anticipated new drama series starring Jeremy Piven (Entourage) in the title role.
Created by Emmy® Award-winning writer Andrew Davies (Pride and Prejudice, Bleak House) and executive produced by Kate Lewis for ITV Studios, Mr. Selfridge recounts the real life story of the flamboyant and visionary American founder of Selfridge's, London's lavish department store.
"Adding Jeremy Piven to our legendary list of MASTERPIECE actors is a real treat," says MASTERPIECE executive producer Rebecca Eaton. "Mr. Selfridge has all the qualities viewers expect from our programs—a riveting story, fabulous production values, a first-rate cast, and now…shopping!"
Mr. Selfridge will air on MASTERPIECE in 2013. MASTERPIECE is presented on PBS by WGBH Boston.
Harry's colourful life will play out against the rich tapestry of London at the turn of the century. In his leisure hours he was a gambler, and although happily married, he enjoyed the company of glamorous show girls and film stars. His womanising was legendary and he very much lived life in the fast lane.
Based upon the book Shopping, Seduction and Mr Selfridge by author Lindy Woodhead which is the account of the real life story of Harry Gordon Selfridge and his store, the series will go into production in April in London for transmission on ITV1 during 2013.
Joining Piven in Mr Selfridge is KATHERINE KELLY (Coronation Street) as the confident and alluring socialite Lady Mae, whose connections prove vital for Harry as he builds his empire.
Also starring is FRANCES O'CONNOR (Piccadilly Jim) who will play Harry's wife Rose, acclaimed French actor GRÉGORY FITOUSSI (Spiral) as Henri Leclair, Harry's flamboyant creative director,
AISLING LOFTUS
(The Borrowers, Dive) as shop assistant Agnes, TRYSTAN GRAVELLE (Anonymous) as ladies' man Victor, the Assistant Manager at Selfridges in-store restaurant, and
ZOË TAPPER
(Desperate Romantics) playing a celebrated stage entertainer, Ellen Love, who becomes the new 'face' of Selfridges.
* Don't expect too much skin from the show. The usual suspects will probably give us a glimpse including Zoe Tapper. Aisling plays Agnes with a huge crush on Piven's Selfridge. Let see if he acts on it in most ghastly manner (say it in English accent).
++++++++++++++++++++++++++++++++++++++++++++++
Kate Upton
: Cosmopolitan USA [Nov 2012]
++++++++++++++++++++++++++++++++++++++++++++++
Julia Stiles sex scene from O
* one of the sexiest love scenes despite the lack of real nudity. Real brave move by Julia who was just 19 when she did this scene. Most young actresses of Caucasian persuasion will run the other way if you mentioned "romantic" and "black man" in same sentence but not Ms.Stiles. She is color blind when it comes to auditioning for a part and her Desi Brable is pretty convincing in her love for Odin James. Observe Julia's tongue play, biting and sucking on his lower lip.
++++++++++++++++++++++++++++++++++++++++++++++
Miss USA 2010

Rima Fakih

is as fickle as they come. Donald Trump is finding out the hard way. He got her a lucrative stint on WWE as potential Diva only for her to bail at the last minute. Even WWE is confused with Rima's inconsistent statements to the press. Reportedly her family is not too keen on seeing the Muslim princess parading around in skimpy outfits. They're already in tight bind with Rima love of purple crayons. Unlike her successor Alyssa Campanella who is currently going places and eyeing an acting career, Rima is tip-toeing between careers without any real interest to improve herself or thinking about her future now she is at wrong side of the twenties. Modeling is strictly a past-time. She better start apply herself more or she going to end up rudderless and irrelevant.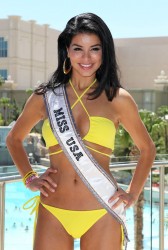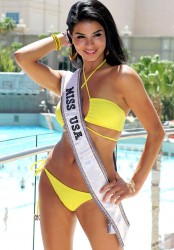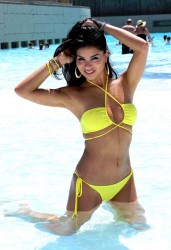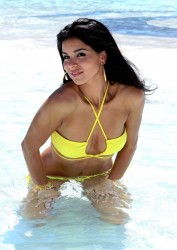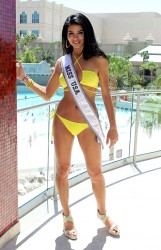 ++++++++++++++++++++++++++++++++++++++++++++++



Julianne Hough

is one nasty Mormon. She was freakingly sexy good (dancing not the acting part) in Rock of Ages (2012).
The scene with Tom Cruise coulda been a classic if she stripped all the way à la Elizabeth Berkley in Showgirls. Hey...a man can dream, right. In this biz anything is possible when it comes to conservative chicks. Hough is so far a box-office poison. She needs a winner soon.....
++++++++++++++++++++++++++++++++++++++++++++++
Cameron Diaz says life begins at 40... and judging by these stunning photos who are we to argue?
The sultry star, who recently celebrated the big 4-0, looks absolutely stunning in a leather corset, stockings and stilettoes
Judging by these shots, racy actress Cameron Diaz is clearly loving life in her for-tease (for-tease, forties, geddit?)

The sultry star, who recently celebrated the big 4-0, looks absolutely stunning in a leather corset, stockings and stilettoes.

In another pic, Diaz – whose hit films include Something About Mary – gives a tantalising glimpse of her lingerie.

Speaking to Esquire magazine, she said: "For the first time in my life I'm content. Getting older is the best part of life.

"Like, I know more than I've ever known. I have gratitude.
"I know myself better. I feel more capable than ever. And as far as the physicality of it - I feel better at 40 than I did at 25."

Cameron also dismissed some cosmetic and surgery claims you can look younger.

She said: "There's no such thing as anti-ageing - it's all a crock of sh*t, you can't go back in time.

"So for me, it's about living in this moment, the best that I can.

"Contentment is about coming to terms with life as it is, rather than getting all p*ssed off that things didn't fit into your little prescribed box.

"And it's much bigger."
++++++++++++++++++++++++++++++++++++++++++++++
Simon Bolz Calendar 2013
Thanks to Christiane, Kamilka, Janey, Alex Casar, Victoria Sayen aka Dominika Jandlová, Amina, Melisa Mendini, Lelojka, Leila and Mia for starring in this calendar video.
++++++++++++++++++++++++++++++++++++++++++++++
Amateur Porn Shot In Cornell Engineering Library, As Students Study Unawares In The Background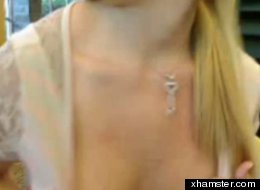 Libraries--they're not just for studying anymore. At least, not in Carpenter Hall, a library at that bastion of elite Ivy League academics otherwise known as Cornell University. On Monday, a discerning viewer of porn website xhamster.com was astonished to discover that a very NSFW webcam performance posted to the site appeared to have been filmed in the Engineering School library. The viewer then helpfully
pointed this fact out on Ezra Hub
, an informal message board for Big Red co-eds.
"This video is clearly filmed in Carpenter," writes user mash-agl;hgdaslhk. "You can go to that exact spot and look around, even the chairs are the same as in the video. My question is, what the poppycock? She's facing a window (the one by the bike racks) and it's broad daylight. And at one point you can see people behind her studying."
Ivy League blog IvyGate ran with the story, confirming Tuesday that the video, titled "She Wanks and Masturbates In the College Library!" was indeed
filmed in the aforementioned hall of learning.
The talented Girl Next Door from the film was identified by Gawker as
amateur model and aspiring Playboy model "Cameron Knight,"
a 22-year-old from Syracuse, New York who loves dogs, coffee and her smartphone. The talented Knight's one woman show has racked up 242,766 views since its posting in mid-August with the tagline, "She loves the thrill of almost being caught ;)"
While certainly not condoned by the university, sex in Cornell libraries (or "sex in the stacks" as CU students commonly refer to it) is a storied part of school lore.
A popular list of things to do before graduation,
"161 Things Every Cornellian Should Do,
" is published every year in
The Cornell Daily Sun
, and begins with the item, "Make the library into your bedroom and have sex in the stacks."
The xhamster video, however, was presumably posted in the summer, a time when campus is mostly deserted. Having sex in a library during this "offseason" is less laudatory, however, according to a
2010 Daily Sun feature on the phenomenon.
This is the second time in as many weeks that Cornell has tested the theory that all publicity is good publicity. Last week,
The New York Times
found itself
embroiled in a mini brouhaha
over a trends piece on the school's bar hopping habits was found to have quoted several Cornell undergads who gave fake names.
++++++++++++++++++++++++++++++++++++++++++++++
Bar Refaeli Needs Help Raising Money For Her Sex Tape in New Funny or Die Clip
Supermodel Bar Refaeli needs some help, you guys. As she explains in this new, excellent video exclusively for Funny or Die, she's embarking on a new career path, and just needs some small donations to get her started. Specifically, she wants to star in a sex tape, and needs to raise money to buy expensive HD equipment to capture every square inch of her naked body in high quality. Sure, it's not real, but we can dream.
You can check out the video above. Can we request a sequel to this?
++++++++++++++++++++++++++++++++++++++++++++++
'

Movie 43

′ Features Most of Hollywood in This NSFW Trailer
It looks like someone finally took up the mantle of films like 'Kentucky Fried Movie' and 'Amazon Women on the Moon,' because 'Movie 43′ is a comedy omnibus that reminds of those scatter-shot but often hilarious sketch-based films. Actually, a lot of people took up that mantle. Like, half of Hollywood (47%) at least.
'Movie 43
features
Emma Stone
,
Hugh Jackman
,
Kate Winslet
, Naomi Watts, Terrence Howard,
Halle Berry
,
Jason Sudeikis
, Gerard Butler, Kristen Bell, Chloe Moretz, Josh Duhamel, Johnny Knoxville, Elizabeth Banks, Christopher Mintz-Plasse, Richard Gere, Anna Faris, Justin Long, Liev Schreiber, Uma Thurman, Seann William Scott, Kieran Culkin, Leslie Bibb, Jimmy Bennett, Ricky Gervais, Stephen Merchant, Kate Bosworth, Patrick Warburton, Tony Shalhoub, Chris Pratt, Jack McBrayer, Aasif Mandvi, and Bobby Cannavale, and was directed by Brett Ratner, Elizabeth Banks, Mike Judge, Peter Farrelly, Bob Odenkirk, Steve Baker, Damon Escot, Rusty Cundief and more.
So, like we said, everybody. The film, which could be amusing enough (the home schooled segment with Liev Schreiber and Naomi Watts looks like a highlight), is due out January 25 so even with all this star power it's being released in an off season. Hopefully it's great, but films like this are often better on home video where you can use chapter stops to skip the lesser parts.
++++++++++++++++++++++++++++++++++++++++++++++
Sex Show hits the stage
Actors bare all to reveal Kiwi appetites
The Sex Show is just what it sounds like.

A repeat of The Outfit Theatre's well-received production from the 2011 Fringe Festival, director Joel Herbert describes the show as a way to "shed light on what it is to be a sexual New Zealander".

Pulled from the X-rated experiences of the cast - there are almost 20 of them - and a bunch of brave Kiwis who took part in an online survey, The Sex Show pulls apart the good and the bad in the world of sex.

So what does it mean for the New Zealand bed sheets?

Told in woven snapshots of the characters' lives - we are taken on a debauched ride through bathroom stalls to marital beds, and practically everything in between.

The actors really do bare all for the production - there is a lot of nudity, as well as swearing, drug use and, well, sex. It's not R18 for nothing.

There are some clever characters, some that have been reworked for this version - a rather conservative politician (Andrew Ford); a philandering, all-together creepy All Black (Bede Skinner) and his long-suffering fiancée (Jacqui Nauman); and the girl who will do anything to be liked (Kayleigh Haworth). All the characters deliver amusing one-liners throughout the performance.

But the Auckland Town Hall's concert chamber is a big space and at times the occasionally messy staging and lack of volume from some of the actors means dialogue gets lost and some scenes are hard to follow.

Along with what felt like an awkward attempt to be edgy, some of the real issues that could have been tackled in this production were glossed over, like the wife who couldn't connect with her husband after being sexually assaulted.

The Sex Show titillates, and it will make you laugh. But there's a feeling of a missed chance to really say something about what makes us tick under the covers.
THE SEX SHOW
WHERE: Auckland Town Hall
WHEN: Until October 13
++++++++++++++++++++++++++++++++++++++++++++++
IS CREATIVE WORK ONLY FOR THE PRIVILEGED?
by Scott Macaulay
J. Maureen Henderson at Forbes asks a question for these times:
"Are Creative Careers Now Exclusively Reserved for the Privileged?"
She primarily refers to writing and publishing jobs, but her question applies to the film world too.
Henderson's piece quotes from another by writer Alexandra Kimball, who writes at Hazlitt about breaking into publishing… when you can't afford to be an intern.
From Kimball:
To be a writer in this market requires not only money, but a concept of "work" that is most easily gained from privilege. It requires a sense of entitlement, the ability to network and self-promote without seeing yourself as an arrogant, schmoozing blowhard. And it requires you to think of working for free—at an internship, say, or on one of those gratis assignments that seem to be everywhere now—as an opportunity rather than an insult or a scam.
This is no longer an industry that rewards working-class values, in other words, and I underestimated how hard it would be to shuck them. It still seems strange to me that people work, unpaid, without a guaranteed job at the end. And I haven't reconciled myself with the central irony here: that journalism, ostensibly a populist endeavour, is becoming a rarefied practice best suited, both financially and psychologically, to the well-off.
Henderson follows up with this:
Careers in creative fields are made (or not) in large part on internships and the connections established during them. If you aren't financially able to shoulder the cost of working for free, you face a greater struggle when it comes to breaking into journalism, fashion and the publishing or music industries among others. And privilege runs downhill, because it's often your educational background that opens the door to landing those coveted entry-level unpaid gigs. A 2006 study from Britain found that 54% cent of that country's top national newspaper editors, columnists, broadcast editors and news anchors were private school graduates, despite the fact that private schools educate only 7% of the total British population.
Elsewhere in Henderson's piece she cites an editor who told her that she could always tell which interns of hers juggled night jobs to pay the bills based on their work performance. I winced at that line, remembering a production fellowship I had early in my career that was, essentially, an internship. I read scripts for a studio at night and was also juggling post-production on the first film I produced, for which I, like everyone involved, had deferred my fee. I remember feeling a tinge of guilt as I'd leave the production office around 7:00 each night to go home and do script coverage, and I learned later that these relatively early departures were held against me.
The difference today? It's probably harder to get the kind of related work — like script reading — that is a natural fit with unpaid work like film interning. Otherwise, the reliance of independent film on free labor has only increased. I think internships are great learning experiences — and the issue of getting the most out of your internship is a whole separate article. But as these blog posts demonstrate, there is a cost to our field in terms of the people and talent excluded.
++++++++++++++++++++++++++++++++++++++++++++++
Interview with Economist Joseph Stiglitz :

'The American Dream Has Become a Myth'
Women pose for photos near a homeless man during New York Fashion week this month.
The finance industry is to blame for the growing divide between the rich and poor in the United States, says Nobel Prize-winning economics professor Joseph Stiglitz. In an interview with SPIEGEL, he accuses the industry of preying on the poor and buying government policies that help them get richer.

At Columbia University, which is located just blocks from Harlem in Manhattan's West Side, wealth and poverty are closer together than they are in many places in New York City. This is where American economist and 2001 Nobel Prize winner Joseph Stiglitz works as a professor. The Gary, Indiana native has spent years examining social inequality. His first personal experience with the issue came when, as a young boy, he asked why his nanny wasn't caring for her own children. Later, as the World Bank's chief economist, he studied the phenomenon on a global level. In June, he published a book on the topic entitled "The Price of Inequality: How Today's Divided Society Endangers Our Future," which has just been released in German as well. In a SPIEGEL interview, Stiglitz discusses how wealth disparity is dividing America and how Europe can best overcome the euro crisis.
---
SPIEGEL: Professor Stiglitz, how do you expect the next President of the United States to tackle the problem of unequal distribution of wealth?
Stiglitz: First, he has to recognize that there is a problem at all. Watching inequality grow is like watching the grass grow. You don't see it happening day by day, but over a period of time it becomes visible.
SPIEGEL: What is the scale this inequality?
Stiglitz: In the last decades, income and wealth disparity have grown dramatically in this country. Let me give you an example: In 2011, the six heirs to the Walmart empire commanded wealth of almost $70 billion, which is equivalent to the wealth of the entire bottom 30 percent of US society.
SPIEGEL: The US has always thought of itself as a land of opportunity where people can go from rags to riches. What has become of the American dream?
Stiglitz: This belief is still powerful, but the American dream has become a myth. The life chances of a young US citizen are more dependent on the income and education of his parents than in any other advanced industrial country for which there is data. The belief in the American dream is reinforced by anecdotes, by dramatic examples of individuals who have made it from the bottom to the top -- but what matters most are an individual's life chances. The belief in the American dream is not supported by the data.
SPIEGEL: What do the numbers suggest?
Stiglitz: There has been no improvement in well-being for the typical American family for 20 years. On the other side, the top one percent of the population gets 40 percent more in one week than the bottom fifth receive in a full year. In short, we have become a divided society. America has created a marvelous economic machine, but most of the benefits have gone to the top.
SPIEGEL: With five more weeks to go in the presidential campaign, inequality hasn't played a serious role yet, though.
Stiglitz: It has been a topic, but typically only underneath the surface. One cannot expect a scientific debate on the Gini coefficient, the statistical measure of inequality. But when the Democrats say that they are supporting the middle class, they are really talking about inequality. And they highlight the contrast with the Republican candidate Mitt Romney, who is emblematic of the top one percent of the population. Romney's denigration of the 47 percent of Americans who don't pay income taxes had an enormous reaction, partly because it showed how out of touch those at the top were with the rest of the country.
SPIEGEL: The Occupy movement's political slogan was "We are the 99 percent." But who exactly represents the one percent?
Stiglitz: It is the group of people who get 20 to 25 percent of the income. Their share has doubled in the last 30 years. And they own about 35 percent of the wealth or more. They have the best houses, the best education and the best lifestyles.
SPIEGEL: Don't the rich also give something in return? In Germany, the upper one percent contributes almost a quarter to the tax revenue, and the top ten percent more than half of the taxes. Isn't that an appropriate share?
Stiglitz: I don't know about the German numbers. What I can say is that the top one percent in the United States has an average tax rate of less than 30 percent of their reported income, and the large proportion who take much of their income as capital gains pay far less. And we know that they are not reporting all of their income.
SPIEGEL: We thought that as a rule Americans don't begrudge the rich their wealth, though.
Stiglitz: There is nothing wrong if someone who has invented the transistor or made some other technical breakthrough that is beneficial for all receives a large income. He deserves the money. But many of those in the financial sector got rich by economic manipulation, by deceptive and anti-competitive practices, by predatory lending. They took advantage of the poor and uninformed, as they made enormous amounts of money by preying upon these groups with predatory lending. They sold them costly mortgages and were hiding details of the fees in fine print.
SPIEGEL: Why didn't the government stop this behavior?
Stiglitz: The reason is obvious: The financial elite support the political campaigns with huge contributions. They buy the rules that allow them to make the money. Much of the inequality that exists today is a result of government policies.
SPIEGEL: Can you give us an example?
Stiglitz: In 2008, President George W. Bush claimed that we did not have enough money for health insurance for poor American children, costing a few billion dollars a year. But all of a sudden we had $150 billion to bail out AIG, the insurance company. That shows that something is wrong with our political system. It is more akin to "one dollar, one vote" than to "one person, one vote."
SPIEGEL: Ninety-nine percent against 1 percent: That actually sounds like the perfect setting for a revolution. Why are things still so calm in the US?
Stiglitz: The United States doesn't have much of a revolutionary spirit. My real concern is that people get alienated from politics. In the last election we had a voter turnout among young people of around 20 percent. These are the people whose future is most at stake, and 80 percent of them think it's not worth to vote because it is a rigged system and in the end the banks are going to run the country anyway.
SPIEGEL: The Occupy movement wasn't able to become a powerful factor. Why did it fail?
Stiglitz: It became an anti-establishment movement, and one aspect of being anti-establishment is anti-organization. You can't have a movement that is not organized. Anyway, the frustration is still there. I'll tell you a story: I recently went to see Bertolt Brecht's "Threepenny Opera." When it came to the line, "What is the crime of robbing a bank compared with the crime of founding one?", the whole audience started clapping.
SPIEGEL: Four years ago, we quoted that line on a SPIEGEL cover about the banking crisis.
Stiglitz: Really? It was not a rabblerousing crowd that night in the theatre, but to me it was saying something about the extent to which this has reached the psyche of Americans.
SPIEGEL: What is on their mind?
Stiglitz: The people fear losing their job. Even if they have a job they are not certain of keeping it. What they are certain of is that if they lose a job it is hard to get another one. Everybody knows someone who can't get a job...
SPIEGEL: ...or who lost their home.
Stiglitz: This is another source of anxiety. More than a quarter of all homeowners owe more money than the value of their houses. We need a growth strategy to stimulate the economy. We haven't invested enough for 30 years -- in infrastructure, technology, education.
SPIEGEL: With a debt burden of $16 trillion there is not much room for maneuvering.
Stiglitz: The United States can borrow at close to a zero percent interest rate, we would be stupid not to invest more money and create jobs. And we could also make efforts to ensure that the super-wealthy pay their fair share. We could raise more money in a variety of ways. Look at the mining companies: The government grants them the right to extract resources for far less than it should, but auctions could make sure that they pay appropriately.
SPIEGEL: So your answer to the inequality problem is to transfer money from the top to the bottom?
Stiglitz: First, transferring money from the top to the bottom is only one suggestion. Even more important is helping the economy grow in ways that benefit those at the bottom and top, and ending the "rent seeking" that moves so much money from ordinary citizens to those at the top.
SPIEGEL: Is redistribution also the strategy when it comes to Europe and the euro crisis -- moving money from the north to the south?
Stiglitz: The main problem in Europe right now are the austerity packages, they depress demand and weaken economic growth. The reversal of this policy is absolutely essential to develop growth and more equality. Spain, for example, gets weaker and weaker, money flows out of the country, and it is a vicious downward spiral.
SPIEGEL: Isn't the real problem the lack of competitiveness? Spain and the other countries in crisis have lived beyond their means, that's why they are in trouble.
Stiglitz: No, Europe's crisis is not caused by excessive long-term debts and deficits. It is caused by cutbacks in government expenditures. The recession caused the deficits, not the other way around. Before the crisis Spain and Ireland ran budget surpluses. They cannot be accused of fiscal profligacy. More fiscal discipline will only worsen the downturn. No economy ever recovered from a downturn through austerity.
SPIEGEL: Really? What about Estonia or Latvia? With severe pay cuts the Baltic states boosted productivity and recovered.
Stiglitz: They are small economies. They can make up for the loss of government spending by more exports. But that doesn't work with a fixed exchange rate and when your trading partners are not doing well. The crisis countries don't suffer from excessive spending. The problem is not supply but demand. It is the responsibility of monetary and fiscal policy to maintain the economy at full employment.
SPIEGEL: No matter what the costs? No private household can live beyond its means permanently. Why should governments be exempted from that rule?
Stiglitz: Because countries are different from households. If a citizen cuts back his spending, it is without any consequences for the country. Unemployment does not increase. But if the government cuts back its spending, it has a major effect. An expansion of spending can increase production by creating jobs that will be filled by people who would otherwise be unemployed.
SPIEGEL: You assume that a government knows best where to create jobs. Don't you overestimate that ability?
Stiglitz: We need roads, bridges and airports. That's obvious. The returns from public investments in technology on average have been very high -- think about the Internet, the Human Genome Project and the telegraph.
SPIEGEL: There are also many examples of public money that was wasted. The US space program cost a fortune, and the results were questionable.
Stiglitz: But even those expenditures are still less than the money wasted by America's private financial sector, and the billions spent to bail out companies from the financial sector. One corporation alone, AIG, got more than $150 billion -- more than was spent on welfare for needy families from 1990 to 2006.
SPIEGEL: The government also became owner of these companies and even managed to sell parts of them with a profit, though. Aren't you afraid that this strategy of ever bigger stimulus packages might lead to inflation?
Stiglitz: Not necessarily. The central bank has the ability to take out liquidity from the system.
SPIEGEL: But it is much harder getting the liquidity out than getting it in.
Stiglitz: A well-managed central bank has lots of tools. It can raise interest rates or reserve requirements for private banks. So I think there is actually relatively little danger. The weakness in the European economy poses much more of a risk than any risk of moderate inflation. Better some job where the pay has declined in real terms by a few percent than no job at all.
SPIEGEL: What do you think Europe's future prospects are?
Stiglitz: Europe is facing a critical point. The alternatives are "more Europe" or "no Europe." The halfway configuration is unstable.
SPIEGEL: Which option would be better for Germany?
Stiglitz: Both strategies will cost Germany money, but the "more Europe" option will cost less. Europe needs a common banking system and a common financial framework. If Europe borrows as a whole it could have even better access to credit than the United States. So "more Europe" is not only better for Spain or Italy, but also for Germany.
SPIEGEL: Professor Stiglitz, we thank you for this interview.
Interview conducted by Alexander Jung and Thomas Schulz
++++++++++++++++++++++++++++++++++++++++++++++