STARZ

Presents
From David S. Goyer, co-writer of the Dark Knight Trilogy and Man of Steel
Debuting at New York Comic ConSTARZ is giving NYCC goers an exclusive first-look at "Da Vinci's Demons", the new action adventure drama from David S. Goyer, premiering Spring 2013. Goyer will be joined onstage by series co-stars Tom Riley, Laura Haddock and Lara Pulver to debut his bold new take on the world's greatest mind.
Lara Pulver as Clarice de Medici.
Laura Haddock as Lucrezia Donati.
* one way to find out if a starlet is going to strip for the very first time on-screen is through her pay package. And I can promise you guys Laura Haddock is receiving hefty pay check to strip all the way. It wouldn't have came about if it was sole low-budget British production and the only nude scenes will be quick and barely memorable. But Starz is pulling out all the stops and Ms.Haddock will bare those heavenly tits and bubblicious butt in a way Jessica Marais did on Magic City. Long, clear and lengthy view of her English assets. You can take that to the bank.
+++++++++++++++++++++++++++++++++++++++++++++++
Take Note, '

The Scribbler

' Teaser To Premiere TOMORROW!

Bloody Disgusting has learned that John Suits' The Scribbler will be promoted at this weekend's New York Comic-Con.

Taking place Friday, October 12 from 7:45-8:45pm, the panel presentation (at Jacob Javits Center, Hall 1A2 655 West 34 Street, NY, NY 1000) will be hosted by stars Katie Cassidy ("Arrow") and Gina Gershon (Killer Joe), Director John Suits, and Producer Gabriel Cowan, where they'll unveil the film's first teaser trailer. Until then, check out this first ever look at Katie Cassidy (A Nightmare on Elm Street) the film!

"'The Scribbler', based on the graphic novel, concerns Suki (Cassidy), a young woman confronting her destructive mental illness using "The Siamese Burn", an experimental machine designed to eliminate multiple personalities. The closer Suki comes to being "cured", she's haunted by a thought… what if the last unwanted identity turns out to be her?"
* Ashlynn Yennie (check out her tweeter. She is blunt and funny) runs around in her birthday suit in the movie and I even posted her interview (click here).
Young Hollywood sits down with the stars of the psychological thriller 'The Scribbler', based on a graphic novel by Daniel Schaffer. Lead Katie Cassidy shows off her edgy new look for her role as Suki, the mentally unstable main character, and tells us how she prepared for the challenging part. Co-star Ashlynn Yennie chats about being nude for most of her scenes and her experience in another notorious horror flick, 'The Human Centipede'. Then, Eliza Dushku dishes on her role and how this movie is a fresh take on the genre. Hosted by Oliver Trevena.
+++++++++++++++++++++++++++++++++++++++++++++++
Hannah Ware

: Funny* Joke(s) from a Beautiful Woman
In case you need that joke again:
A man walks into a library and asks the librarian for a book on suicide. The librarian replies, "Fk off. You won't bring it back."
About the jokester:
London native Hannah Ware has to overcome a lot of challenges playing a drug addict and the daughter of the corrupt mayor of Chicago (Kelsey Grammer) on the Starz drama Boss. Like maintaining an authentic American accent while huffing aerosol cans. "When there's a certain level of emotion in a scene that you need to sustain," the 29-year-old says, "the accent is the first thing to go." The second, apparently, is consciousness--almost. "I just tried to make myself really dizzy. And I've already got low blood pressure." But it's all part of the job. "Actors are kind of sadomasochistic," Ware says. "They like inflicting pain on themselves and feeling it and doing it. So I never saw it as a stressing task." And, if only because of her talents, neither will we. —Matt Goulet
*Esquire cannot guarantee that this joke will be funny to everyone.
+++++++++++++++++++++++++++++++++++++++++++++++



EXCLUSIVE

: Mitch Glazer Talks

Magic City Season 2
by B. Alan Orange
When it first premiered in March of this year, critics were quick to call Magic City, which follows the life of a Miami City hotel owner in 1959, a Mad Men knock-off. But the series turned the other cheek and proved itself to be a wholly original drama that quickly garnered a solid fanbase throughout its limited 8 episode run.

The show arrived on Blu-ray and DVD last week amidst the news that it had also been renewed for a second season. We recently caught up with series creator Mitch Glazer to find out what we can expect from the series in 2013 (it hasn't been given an official premiere date yet), as well as what fans can expect to find on this excellent Blu-ray release. We even learned a little more about the recent casting of James Caan and Sherilyn Fenn.

Here is our conversation.

How are you?

Mitch Glazer: I am in Miami, shooting a scene. What could be better? It's good!

Can you describe to us which scene you are shooting?

Mitch Glazer: I'm shooting a scene in what is based on a club called The Night Beat club from 1959. Back in the day, in Miami, there was an area called Overtown. It was basically an African-American middle class neighborhood that is now gone. Back in 1959, artists like Nat King Cole and Ella Fitzgerald, and Sammy Davis Jr. would all play the big hotels, but they couldn't stay there. They were literally by law forced to come over the causeway to where we are now, in Miami, and they stayed in this part of the city, and they would perform in this nightclub. The greatest music on earth was happening in this tiny little place, and we have recreated it. I got my childhood idol, a woman named Betty Wright, a local Miami R-and-B singer, who was a clean-up woman back in the 70s, to come and sing an Ike and Tina Turner song from 1959. So I am in heaven. I have an R-and-B band, and Betty Wright performing. This has been a great morning.

How often are you able to bring someone in, like Betty Wright, whom you have always admired?

Mitch Glazer: Its one of the joys of doing this. Hopefully others will enjoy it. For me, I get to sit and hear Betty Wright sing. Yeah. I could be wrong, but my feeling is that the more specific the show is with the details, and storytelling...I believe that it connects to people in a more powerful way. So bringing in these people is not a generic thing. This is my memory of Miami Beach in 1959, in the details, from one end to the other. It is as perfect and as accurate as I can make them. It is a complete reality that the audience can step into.

Is it easy to find places where the architecture hasn't changed there, in Miami, from 1959?

Mitch Glazer: Yeah. It's easy and hard. It's easy in the sense that they still exist. It's hard in a sense, because these locations do require an amount of CGI removal. Signage, and whatever modern things have cropped up. For instance, we shoot the pool where I was a cabana boy in 1973, and on either side of it are new hotels, and we have to CGI those out. Then we build graphics onto the first two floors of our hotel. There is this stuff that you can do, which is really fantastic. 10 to 20 years ago, you were really locked into what was there. No it's a combination. Why I wanted to shoot here is because there is a different architecture, and feel, and smell, and vibe in Miami than there is anywhere else in the world.

You bring up being a Cabana Boy. Why aren't you doing the Flamingo Kid remake?

Mitch Glazer: By the way...Brett Ratner went to my high school after me. But, I bet a year's salary that he relocates that movie to Miami. I'm going to strangling him. But, yeah, I should...I was the same type of Cabana Boy that Matt Dillon was on that show. I did it for a summer. I was known for putting out the towels. There was a moment when we were shooting, where my assistant brought me into this one room, where I could write while we were shooting...And it was the exact same room I used to hide in, in 1973, so I didn't have to work. That's the room I was writing in. I thought it was perfect. I wasn't the best Cabana Boy. But the The Flamingo Kid hit home, for sure. I have no connection to the remake, but I love the original to death. But if Brett Ratner is involved with it? My two guesses would be that it will be his decade, in the 80s, and it will be in Miami...You put that away and we'll see if that comes true or not.

Looking at the first season, it seems to me, as the creator of the show, you wrote more scripts that first year than most creators do over the span of an entire series run...

Mitch Glazer: I came at this from the world of film. I had no experience whatsoever of being in the writer's room, or dealing with writers. A lot of these other guys were coming off other shows, and they have worked in TV. It wasn't my orientation. My orientation, when I heard there would be 8 shows, was to come at it with a British model. That it would be more in line with Downton Abbey. Maybe I am wrong, but I think that all largely comes from one voice. I am not doing twenty-three of these things. In the first season, while they were bringing the deal together, and they were figuring out how much this show was going to cost, I just kept writing. I had the time to write, and its what I do best, apparently. So by the time we started to come down to Miami, I had written six of these shows before we even relocated. So there wasn't much left to write. Also, it is a wildly specific and personal story. I was born and raised here. The Evans family is a composite of the people I grew up with. Their voices are really known to me. And the location? My father worked here, and I grew up in the lobbies of these hotels. It's not like other shows, where you are doing a franchise, and it's a different crime every week. This is kind of a novelistic thing. The equivalent would be having six or seven different writers coming in to write a novel. This is the way it happened, but not through a specific plan. If you give me time, I will sit and write.

Is that the same plan heading into Season 2?

Mitch Glazer: I have writers this year, which is great. We have a writers' room. Which is terrific. They are wonderful writers, and this is a great story. Writing is a lonely business, so this was a joy. Its great to have other smart people giving their input on the characters, and this and that. There are some scripts that have writers on them, and then for the last couple, it will probably be me, by myself, again, like it was last season. Because I am down here, and I have a chance to write them. But I like having writers. It was an inspiring exchange to have that few months to work together.

Do you ever feel a sense of time travel when you step onto some of these sets? Or are you too far behind the camera to get swept up in this world at any time during the day's shoot?

Mitch Glazer: There are out of body moments. And it's powerful. It's really powerful, again, because of my connection with the material. We are in the apartment I rent with my wife for the second year, and I look out at the houses I grew up in, that my grandfather built fifty years ago, across the bay. I can see the island where I grew up. It's such a powerful connection. And the locations where we are setting these things are taken from my childhood. So there are moments that are so perfect. The cars, and the wardrobe, and the locations. We shot a scene last season on South Beach, and the hotels behind us were the same as they were back in 1959. The music was the same thing that my grandfather used to play. I had to step away from the tent, because it was like a Twilight Zone moment. It was so perfect, I had to regroup. I love it, and it's an odd one. I drive home from the set, and pass my old high school. Your point about me writing a lot of the episodes...Its such a part of my life, its sometimes overwhelming.

Now, on the DVD, we get to see some of this stuff you are talking about, right?

Mitch Glazer: It's cool. There is so much history still here. I live in Los Angeles, and there, its like, they can't wait to tear down Ben Franks and build a Johnny Rockets. It's literally another diner where the cool diner was. But, in Miami, the deco-district is so protected. As you see in those special features, we are shooting where a lot of these things occurred. Our hotel was build in 1958, so that is the exact period. I love that.

Are you a big Twin Peaks fan?

Mitch Glazer: I love Twin Peaks! I did. If you are talking about Sherilyn Fenn coming in for Season 2, I wrote a movie for her twenty years ago. It was called Three of Hearts. I was on set for the entire shoot, and I just fell in love with her then. It was right before she had finished Twin Peaks, and I thought she was the most beautiful, sexiest actress short of my wife, in Hollywood. When I was writing this new character, I wrote it for her. Because she is still beautiful. But she has that Elizabeth Taylor quality. She could play Elizabeth Taylor. She has done beautiful work. She came in her first day and shot with Danny Huston. I think people are going to really be excited to see her. She is great, she holds the screen. She is like an iconic movie star, which is obviously perfect for our show.

You also have James Caan coming in this year, and he fits that same template.

Mitch Glazer: Yeah, he actually came in last night. I worked with him. I know him in the world, which is an honor and a joy, and the character he is playing is controlled and less flashy than Ben Diamond. He came in, and I put him on set, and it was like Elvis had stepped in. people stopped shooting, and it was fairly disruptive. But he is James Caan. Four or five days ago, I came home in the middle of the night, turned on the tv, and hit the coffee shop scene with James Caan and Tuesday Weld from Thief. I still think that is one of the greatest ten minutes of acting on earth. So, I had to pinch myself. I couldn't believe I was working with the guy. He shoots on Friday, and I am counting the days. It's going to be really cool.

Magic City Season 1 is available now on Blu-ray and DVD. Magic City Season 2 debuts in the spring of 2013.
+++++++++++++++++++++++++++++++++++++++++++++++
Photographer Marc Lagrange Pops America's Cherry With Erotic Nude Solo Show
The body language in his portraits find a unique balance between ferocious and delicate. Every image is carefully arranged, from props to scouted personal locations and models, but the result looks impossibly effortless.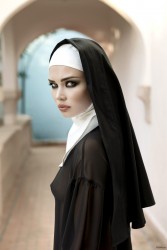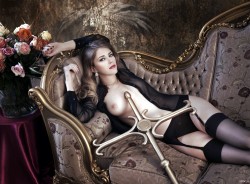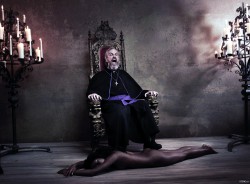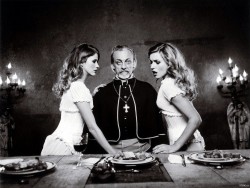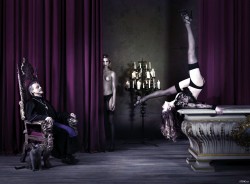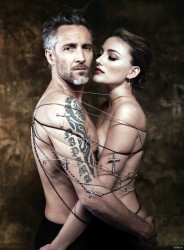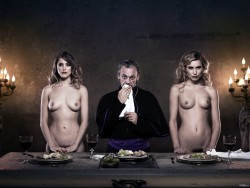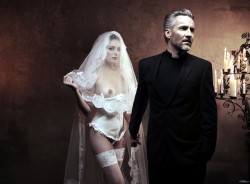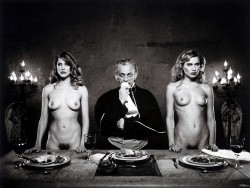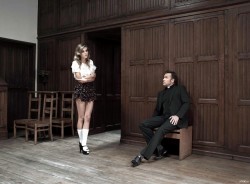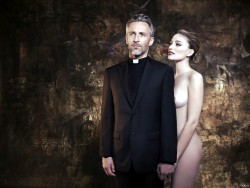 The exhibit is an outright temptation to what normal standards deem should be kept behind closed doors, but Lagrange is ready to bear it all for Miami in large format and Polaroid works, some of which are more conservative than others.
The preview reception will take place Friday, November 9 at 7 p.m. followed by the gala opening Saturday, November 10 at LMNT Arts Gallery, 59 NW 36th St., Miami. Call NAC Gallery at 1-805-272-5831.
+++++++++++++++++++++++++++++++++++++++++++++++
Dylan O'Brien Talks Sex Scene Awkwardness : '

The First Time

' with Britt Robertson
+++++++++++++++++++++++++++++++++++++++++++++++
'Gangster Squad'

: new trailer
Here's the new trailer for Gangster Squad which opens January 11. The original trailer was attached to some prints of The Dark Knight Rises. WB also shifted Gangster Squad to January 11 from September 7. The delay put some distance between the Aurora theater tragedy and Gangster Squad, and allowed Warner Bros to cut the offending scene and film a new version in a different setting.
* The film was extensively re-edited (removing climatic shoot-scene at a cinema) after Aurora massacre. According to this guy(extra in the movie), Haley Strode is naked in the movie. So we have to wait and see. It will be Haley maiden venture into nudieland if the segment makes it to the final cut.
The Kentucky-born Haley is a rising star, has strong theatrical credentials and fearless in taking on roles that brings out her best and more....
The Kentucky native is enjoying a rush of success lately. She has lead roles in three independent films scheduled for release next year and a co-starring role in "Pack of Wolves," a network pilot for the Disney Channel. She also narrated a film that was screened at the internationally acclaimed Sundance Film Festival.
"2011 has been an incredible year and I have been so blessed with work, I don't know where to start," Strode said. "I've done many commercials that have helped pay for my life, and have always been thankful for those. But the jobs on Comedy Central were the first that I can remember that changed my life."
While performing sketch comedy on several different shows, including "Root of all Evil," "Mind of Mencia" and a recurring role on "Important Things with Demetri Martin", she landed her first supporting role in a feature film. In a case of art at least partially imitating life, Strode plays a naive girl from Kentucky in that film, "LAs Angeles."
"The role was originally written for a girl from Ohio, but I opted to try it my way for the director and he loved it," she said. "This was a very exciting moment for me, being that it was my first film."
Strode returned to Oxford this summer to shoot "Bent Prism," a feature film written and directed by Jim Shollenberger, retired chair and professor of theatre arts at UM. While filming, she received an offer to play Giovanni Ribisi's wife in a 1940s drama titled "The Gangster Squad." The cast also includes Oscar-winner Sean Penn and Oscar nominees Ryan Gosling, Emma Stone and Josh Brolin.
"Everyone has their own way, their own road to achieve what they want in this profession," Strode said. "Mine has been, needless to say, incredibly interesting."
Strode fondly recalls her days as a UM student and expressed gratitude for the Ole Miss experience.
"I had heard wonderful things about the theatre department, and I felt like Oxford was the perfect town to have the full 'college experience' in a town filled with tradition, school pride, unity and mostly Southern charm," Strode said. "After starting school, I quickly realized I was in the right place. We had an incredible staff of professors that gave me my foundation as an actor and so much more."
She talks about her role in the movie here
Haley 'emoting' in a short flick.
+++++++++++++++++++++++++++++++++++++++++++++++
From Cathedral to Hollywood
Before she 'kissed a girl and liked it,' Katy Perry made her appearance on the Cathedral stage at John Brown University.


As a 16-year-old, aspiring Christian artist, Katy Hudson took the stage as an opening act for Bebo Norman during September 2001. The Cathedral was full of Norman's fans.

Marikit (Schwartz) Fain, archives coordinator, was a freshman the year Katy performed. Fain said Katy talked a lot more than she sang, and kept talking about how she did not want to become a stereotypical Christian singer and did not want to be able to fit into a box.

Jeff LeMaster was a junior at the University in 2001. As the sports editor of the Threefold Advocate that year, he interviewed Katy after her performance.

"I got the impression that she really wasn't satisfied with the Christian music scene," LeMaster said. It seemed like she was much more interested in the career aspect of her music than the ministry aspect.

Mandy Moore, director of first year experience, was a sophomore in 2001. She had transferred to another college that year, but came back for Bebo Norman's concert.

At the time, Moore thought Katy seemed immature because she was only 16. She was also unpolished and talked a lot in between her songs.



"I definitely got the sense that her faith was something that had been required of her by her family, church and community," LeMaster said.



"I remember her talking a lot about the ups and downs in her faith journey," Moore said. "Everyone was there for Bebo Norman. I remember just wanting her to finish her part so that we could hear Bebo."

Katy soon changed her name from Hudson to Perry, changed her look, style and music, and became a household name.

"I didn't make the connection until I saw a promo that she was going to be a guest judge on American Idol a few years back," LeMaster said. "I'd heard her single 'I Kissed a Girl' and thought it was pretty dumb, so I hadn't really paid much attention to her music."

"It's not really shocking, but it's become a fun story to tell at parties," LeMaster said. "I got to interview Katy Perry before she was Katy Perry."

For Moore, the connection came quickly.

"I thought it was well known she came. It's crazy that she was here when she was starting out," Moore said. "It's kind of cool to think that the Katy Perry that is on TV is the same Katy Perry that was 20 feet away from me when I was a college sophomore."

Katy has certainly changed enough to make heads turn and eyes open wide. She topped the charts and created catchy songs.

"It's weird to me that in 2001, everyone was there for Bebo Norman and we didn't know who Katy was," Moore said. "Now Katy is bigger, and we hear about her all the time and we don't hear a thing about Bebo anymore."

LeMaster added that Katy's faith had some influence on her story when he interviewed her in 2001, and hopes that she can experience that again.



"In interviews with her that I've read since then, it seems that hers is an all-too-common story of a young person whose faith early in life was all about rules and not doing the wrong thing," he said.



"She rejected that and set out to find her own values," LeMaster added. "I hope at some point the Holy Spirit will grab hold of her heart so she can experience God in a real way."
Katy Perry : J.B. photo shoot (2012)
* What I know about busty Katy is her preference for guys with dependency issues packaged in shady and sleazy lifestyle. She likes 'em bad and who knows maybe she ends up with a guy generous enough to leak a sex tape. I bet Ms.Perry loves taking it up her Christian butt. She is a swallower that's for sure.
+++++++++++++++++++++++++++++++++++++++++++++++
Dreamshow | "Animals" (Official Video)



Directed by | Buddhatron
DP | Alex Bergman x Buddhatron
AC | Mike Ashley x Josh Aronson
Editor | Rex Lowry
Production Designers I Jacquees London x Gael Jean-Louis
Producer | Theo Brooks
Executive Producers | Aristotle x David Waltzer x Todd Blumberg
Special Thanks | Gavin Shapiro, Na Thirakomen, Brian Allen, Sorin Pitu, Eric Cruz, G-CO, Garen Barsegian, Heidi Jacobo, Stacy Compton Maga, Stephanie Laboy, Mela Murder, Natasha Rozhdestvensky, Carley Beck, Suzie Ford, Michelle Marshall, Robot, Ashley Sperber, Catie Agro, LeAnn Crumpi, Hayden Elizabeth, Ainsley Douglass, Anna Fancourt, Kachina Linscott Dechert, Marie-Therese Bjournerud, Liam Williams, Shark Toof, Char Boogie, Asher Roth, Ev Gross, Rebekah Burke, Kimmy Sazuki, Lil Doobies, Jon Goldberg, Andy Martinez, Jackie Wachter, Pollara Family, Alex Goldman, Jeremy Mishali, Kate St. Hilaire, and Brooke Diaz.
+++++++++++++++++++++++++++++++++++++++++++++++
"Wild Nature" by Luca Nocera
Enjoy this beautiful, fresh editorial captured by Luca Nocera and modeled by beautiful Sara Rosati.
Photographer : Luca Nocera
Model : Sara Rosati
+++++++++++++++++++++++++++++++++++++++++++++++
* old article about Hettienne Park first nudity albeit on stage. 29-years old actress is set for her first major role on NBC Hannibal (TV series) in 2013.
New York actors reveal the naked truth about doing nudity on and off Broadway
Hettienne Park bares her talent, and breasts, in 'Seminar' on Broadway.

"What'd I miss?"

That line from "Seminar," the new Broadway comedy about wannabe writers and their ego-bruising teacher gets big laughs when the dim Douglas (Jerry O'Connell) asks it.

No wonder.

The setup is great. During the preceding minute-and-a-half, free-spirited Izzy (Hettienne Park) underscores a point she's making to another author by lifting her blouse to reveal a no-bra zone.

That, Douglas, is what you missed.

Nudity on stage is hardly uncommon. Consider famous past head-turners: Nicole Kidman's backside in "The Blue Room," Daniel Radcliffe's full-front in "Equus" or Kathleen Turner's, um, Mrs. Robinson in "The Graduate."

And it's no fluke why the edgy yuletide show at the Times Square Arts Center goes by the title "Naked Holidays."

Jingling all the way (or thereabouts) gets attention. While it stirs things up for audiences, it does the same for the actors.

Ask Park. She's making her Broadway debut in the
Theresa Rebeck play alongside Alan Rickman, who stars as a nasty novelist-turned-instructor.
"I knew what I was getting myself into," says the Korean-American actress, adding that the flashing scene "is right there in the script. It speaks volumes about who Izzy is. She's not a stereotype or cliche."

Dramatic truth is one thing; going topless in the 800-seat Golden Theatre is another.

"I can't say I wasn't nervous," admits Park, who has impressed Off-Broadway playing a straight-shooting spouse in Tony Kushner's "The Intelligent Homosexual's Guide to Capitalism and Socialism With a Key to the Scriptures." She can also be seen as Charlize Theron's friend in the film "Young Adult."

"But the nudity in 'Seminar' wasn't a dealbreaker," Park adds. " I love Izzy, so I was game."

Andrew Garman
echoes that sentiment about Jack, the actor he plays in Thomas Bradshaw's graphic button-pusher "Burning," which concludes its Off-Broadway run on Saturday.

Like nine other actors in the 13-member New Group ensemble, he appears nude and in various intense sexual scenarios.

"You see see me wearing nothing but socks and a smile," says Garman. And while the fictional Jack has no qualms parading in his birthday suit, his portrayer has very real reservations.

"As a person, I have a ton of self-consciousness," says Garman, who went to Catholic school as a kid. "Without the character's sense of comfort, there's no way I could do it."

He admits on nights when his brother and a childhood friend saw the show, it took extra focus not to squirm. "The nudity was actually less challenging that the behavior," he says, "the kissing and sexuality.

Park relates. She says her musician-husband, Ryan Pilla, thought her nude scene was "hilarious." But she adds, "He's less amused about my kissing scenes."
+++++++++++++++++++++++++++++++++++++++++++++++

Ahead of TIFF appearance, Corman critical of films 'made for festivals'
The high-minded fare of the film festival circuit and the cheap thrills of B-movie pulp couldn't seem farther apart, but the circuit will be closed when king of the B-movies Roger Corman heads the competition jury at this year's Tokyo International Film Festival.
B-movie master: With more than 400 titles under his belt, producer Roger Corman is a genuine film legend. He will head the jury at this year's Tokyo International Film Festival.
Corman is a legendary producer and director, whose decades-long career has produced dozens of B-movie classics, ranging from biker flicks ("The Wild Angels"), hippie-era sex-and-drugsploitation ("The Trip," "Women in Cages"), punk rock (The Ramones' "Rock 'n' Roll High School"), and a slew of Edgar Allan Poe adaptations with Vincent Price.
It was under Corman's tutelage that a bevy of stars got their first break on some el-cheapo production; alumni include Jack Nicholson, Pam Grier, Martin Scorsese, Robert De Niro, Francis Ford Coppola and James Cameron, to name but a few.
Just take a look at the TIFF jury this year: sitting by Corman's side will be producer Luc Roeg, son of director Nicolas Roeg, who worked as a cameraman on Corman's 1964 film, "Masque of the Red Death," a fact that Corman dredged up quickly in a phone interview with The Japan Times, showing that this 86-year-old's memory is as sharp as ever.
So is his wit: When mentioning Roeg Sr. — who went on to make such brilliant films as "Walkabout" and "Performance" — Corman notes, "So many people became directors after working with me. It's either that I inspired them, or they felt, well, if Roger can do it, anybody can."
This year will be Corman's second time on a TIFF jury; he served on the Young Directors competition jury in 1994, the year that TIFF was held in Kyoto.
Corman may be known as the man who brought America grindhouse fare such as "Night Call Nurses" (1972), but what's less well known is that he also introduced a generation to the finest auteurs of world cinema: It was Corman's production company, New World Pictures, that brought the work of masters such as Kurosawa, Fellini, Truffaut and Bergman to American art-house cinemas.
Corman explains: "The low-budget American films I was distributing through my own company were very profitable, and I felt those directors were not being distributed well in the USA. The big studios didn't understand how to distribute these films, and the smaller companies were more like aficionados, and didn't have the know-how or power to distribute them correctly. I felt we could, and I did it simply because I wanted to work with and help those directors, who I admired."
It's interesting to note that art-house cinema back then did have a certain commercial potential, something which seems to have been lost over the years. Indeed, without meaning to single out TIFF, one would have to go back to 2000's competition winner at the Tokyo fest, "Amores Perros," to find a winner that did some decent box office, and nearly half the winners since did not even manage a theatrical release in Tokyo, a city with no shortage of micro-theaters.
When asked whether festival cinema has become too hermetic, Corman replies, "Most of the festival films today, I don't know exactly how to phrase this, but they don't have the scope or really the quality that can be shown in theaters. They're pretty much made for festivals, and that's all they play, except for a few that do get small theatrical releases."
Is it more a case that the market has disappeared for smaller, artier films, or is it that filmmakers have turned away from the market? "Both," says Corman. "The filmmakers — with some exceptions, you can't generalize — are making films for themselves, and for festivals. But also, the market has slipped away for that type of film. Every now and then one of these festival-type films will break through and will do some business, but it's much less so than when I was distributing them."
Corman is hopeful regarding the TIFF competition, though, and is quick to add that back in 1994 he saw Paul W.S. Anderson's debut "Shopping" at TIFF, and though it didn't win any prizes, he was impressed enough to contact the filmmaker and distribute the film quite profitably in the States.
It's impossible to hang up on such a long-time industry insider without asking what advice he'd give to filmmakers today.
"It's a more difficult market today; the major studios, with these $100-200 million pictures, dominate to such an extent that it's very difficult for an independent or low-budget picture to break through. If you're doing a big-budget film, though, the studio is making decisions and looking over what you're doing all the time. With low-budget films, the one thing they give you is the opportunity to do whatever you want; I had the freedom to experiment. But you have to be aware of the commercial potential of the film, and at the same time, make the film that you yourself are passionate about making."
Tokyo International Film Festival runs Oct. 20-28. "Corman's Way," a tribute to the jury head, will feature an all-night screening at Toho Cinemas Roppongi Hills in Tokyo on Oct. 27 of three of Corman's films and an appearance by the man himself.
+++++++++++++++++++++++++++++++++++++++++++++++
Wall Street Grows Anxious About Dreary Initial Fall Season TV Ratings

Season-to-date prime time ratings are down 11% vs last year for the Big Four networks in live-plus-same-day results for their target audience of 18-to-49 year olds. And investors want to know: Is this a blip, or a symptom of a deeper problem — possibly viewer defection to online videos? Two reports out this morning acknowledge the problem but urge investors to wait for more information before panicking about the prospects for the Big Media companies that own the major networks.

While it may be cold comfort for moguls, the main problem seems to be something they can address: lousy programs.

"Most of the freshman shows have been a disappointment," says Barclays Equity Research's Anthony DiClemente. "Without top quality new programs to augment the success of past hits, we believe aggregate network ratings have suffered."
Still, several factors may have exaggerated the problem. There are the vagaries of the schedule: For example CBS's decision to move Two And A Half Men from Monday to Thursday "impacts both nights because of last year's early success on Monday [with the introduction of Ashton Kutcher who replaced Charlie Sheen] combined with the greater competition this year on Thursday," Nomura Equity Research's Michael Nathanson says. NFL football also may be tipping the scales: Match ups are stronger this year for Monday Night Football, and the NFL Network added five Thursday Night Football games. (Previously it didn't begin its schedule until week 10.) That could be taking a bigger bite than usual from live ratings as the number of people who use DVRs to time-shift non-sports programming grows. The audience for shows including Revolution, Glee, The Office and Up All Night is at least 50% higher when you measure viewing up to seven days after they air vs live plus same day results. When Nielsen releases the data that advertisers value most, live-plus-three day ratings, that "will tell a more complete story," DiClemente says.
But while the additional info will help, "we don't see it offsetting this year's higher declines," Nathanson says. He warns that CBS, which collects 27% of its revenues from broadcast network advertising, is "most exposed" if the ratings drop continues. It would affect 8% of News Corp's revenues, 7% of Disney's, and 5% of Comcast's (which controls NBCUniversal). Put another way, if broadcast network ad sales dropped by 5% due to poor ratings it could cut earnings per share at CBS by 5.7%, News Corp by 2.1%, Disney by 1.3%, and Comcast by 0.7%.
* This is my two cents worth on the growing thorny issue of dwindling viewership - networks needs to step up with the times and introduced 'real' ratings system for shows after 10 pm slot. Make it very gradual but always moving forward. They need to take on FCC or negotiate with them to introduce more mature system (read:sex/violent content). Network shows have become the last bastion for nudity dodgers to cower behind in my opinion. As I reiterated before - by 2016 I want to see for every 10-female performers ( age between 19 to 30) entering the biz, 9 of them goes nude within two years. Nudity clause gone by the way of dodo and full frontal are the norm. Fantasy for now but it will happen one day.
+++++++++++++++++++++++++++++++++++++++++++++++
Getting to the bottom of the last great taboo
CityKat
Katherine Feeney is a journalist, professional people watcher and pop culture critic. She is formalising her interest in human relationships through an anthropology degree. You may occasionally spot her on the tele.
View more entries from CityKat
Why are we so backwards about the back-door?

Earlier this year, a study from La Trobe University based on a national survey of 845 gay Australian men found a strong link between age at first anal sex and HIV/STI vulnerability: The younger you were, the more likely you were to be infected.

The study concluded with a call for better sex education for young people. And while it is right to put the argument that sex education in Australia – currently patchy at best - ought to move away from the traditional, heteronormative model and encompass homosexuality, I might suggest that there's a danger inherent in this thinking. That danger is that there's a definitive difference in the way gay and straight people conduct their sexual relationships - that one way is right, and the other is wrong. This, of course, is simply not true. For one, sex with love is a lovely thing. For another, everyone is doing it every which way these days.

Including, and especially, anal sex.

But is it safe, and is it satisfying?

Let's address the safety first. Latest data confirms a rise in STI notification rates across the country. The jump includes infections such as syphilis and HIV. It's worth mentioning that the reason for rise is unclear. Does the swell run tandem with an increase in infection rates, or does it simply reflect an upswing in the number of people being tested? Perhaps it's both. We need more work from the academy in this area. But we also need to talk about it as a community - as the community ultimately responsible for these figures. We need to examine our sexual habits and ask ourselves; 'How are we shagging, and do we really know what we are doing?'

It must be noted that the how now may not be that different from centuries ago. People have always been freaky, missionaries didn't invent the style, and anal sex is nothing new. The important difference here relates to advances in technology and medicine. Technological leaps see us sharing information with greater speed and ease, so ideas about how to have sex – or what kinds of sex may be had – are swiftly propagated, and brought to bloom. Meanwhile, medical advances have enabled us with the power to cope with the consequences of our heavily fertile minds; we can now treat the beastly outcomes of badly communicated sex ideas. To wit, people who've heard about anoreceptive intercourse, and do it, but don't get it right (here's why you ought to get it right, and how).

And there are a lot of people doing it. Men and women.

Two years ago, an American study found 20 per cent of women aged 18 to 19 were engaging in anal sex, but women aged 20 to 24 were twice as likely. This compares to vastly lower numbers in 1992, when just 16 per cent all of women aged 18 to 24 reported anal experiences. Interestingly, the age group reporting the most anal sex has grown older over the years. Twenty years ago, women aged 33 reported the highest rates, while in 2002 it was 35, and now, in United States, 46-year-old women are most likely to report anal. But how does Australia compare?

There is scant comparative information locally available that concerns women and anal sex. Much of the literature focuses on the male experience. And this is right insofar as, historically, anal sex among men was taboo and sodomites were damned, so a correction needed to occur. That correction is playing out across science, culture, politics, and, in some cases, religion, and gradually homosexuality being demystified. This is good, because related issues may be addressed with the common sense that befits a reasonable society. So it is good that there are studies involved with advancing the idea of safe anal sex amongst men. And we need to apply the same common sense when considering sex in general. Including, and especially, anal sex amongst everyone else; gay men, straight men – and women.

Especially women.


Because when you look at the guff about backdoors and babes in men's mags, dude-blogs and porn forums, the extent of straight male interest in the subject is clear. What is less apparent is how straight women feel. Just as boys have negotiated anal sex with boys for centuries, boys and girls are figuring it out as well, possibly less effectively because the notion is less familiar. Do women enjoy anal sex? Does it feel nice? Perhaps, more importantly, is anal sex even a nice idea?

The last question is important because, for many women, and men, this particular form of sexual intercourse is flatly thought of as nothing more than very nasty business. This doesn't necessarily suggest prudishness – many people will enjoy a bit of kink or 'dirty' behaviour and still regard anal as a line-crosser – but it does prompt us to question why anal sex remains an awkward subject (that it has been so closely associated with homosexuality is one reason – witness Queensland's consent laws, for example, which still distinguish between 'carnal knowledge' and 'sodomy' and require men to be at least 18 before having anal sex – apparently men and women don't engage in it at all?) (Of course they do.)

But to the other, relevant question; is anal sex satisfying?

I will mention the results of another, not widely-reported study (again from America) that sought to explore one of the most common concerns associated with the subject – does anal sex hurt? (And if it does, that's good enough reason not to do it.) The answer, according the research, is yes – for many women, anal sex is a painful, unpleasant experience. Several factors contribute to this such as inability to relax, lack of lube, lack of sexual assertiveness. The baffling but not unimportant condition anodyspareunia was also taken into account. However, just like the La Trobe study, the authors concluded by calling for greater sexual education and more comprehensive investigation.

A call I'd heartily like to echo. Hence, this post.

I believe it's time we brought this sexual practice out of the shadows – out of the closet, if you like – and began talking about it in a manner that goes beyond cheap porn chat and some way to addressing the two big aspects of sex that really matter, these days: is it safe, and is it satisfying.
+++++++++++++++++++++++++++++++++++++++++++++++