Zooey Deschanel
:
Allure Photoshoot Interview
Zooey Deschanel is Allure Cover Girl for February 2012, she explains the importance of a good haircut and defends her "adorkable" style choices.
+++++++++++++++++++++++++++++++++++++++++++++
'

Texas Chainsaw 3D

' Exclusive Set Visit Is A Bloody Good Time
MTV News goes behind the scenes of Leatherface's return to the big screen.

Leatherface lives! And what better day than Halloween to unmask his latest romp in all its gory glory?


In the upcoming "Texas Chainsaw 3D," a sequel to the 1974 Tobe Hooper-directed "The Texas Chainsaw Massacre," everyone's favorite power-tool-wielding killer is back, stalking a whole new generation. Starring Alexandra Daddario, Tania Raymonde, Keram Malicki-Sanchez, Shaun Sipos and Trey Songz, the slasher pic will hit theaters January 4, 2013.

MTV News got to witness, firsthand, all the thrills and chills during a visit to the Shreveport, Louisiana, set last year, where Daddario explained how the new flick fits within the established Leatherface canon.

"This one is a sequel to the original. I think it's a different kind of film than the original, but as far as the stories and the characters, there are a lot of references to the original, so I think fans of the original will sort of get a kick out of a lot of those references," she explained.

"It sort of starts off — it shows a sequence of flashbacks that is the direct continuation of the way the movie ended in the first one," Raymonde added. The film then pushes forward to present day, in which Daddario's character, along with several friends, returns to her grandmother's Texas home to collect her inheritance. One companion along for the ride is singer Trey Songz, in his debut lead acting role.

"The cast has been great in helping me as a new actor just with whatever skills they use or whatever methods they use — how to navigate in certain situations," Songz enthused in between takes. "It's been great working with these guys because they've been doing it for a while although they're still young and very fresh faces. They've been very helpful."

Of course, some have been more, er, helpful than others.

"Some moments that will standout for me? Uh, well the day before yesterday I got to make out with Alexandra Daddario. That was heaven on earth," Songz said with a big grin.

But ooey-gooey romance will take a backseat to the gorefest horror audiences have come to expect from the man behind the mask.

"It's just like a really frickin' scary movie," Raymonde promised. "Some dude in a mask made of human skin chasing you with a chainsaw? That's scary to anyone — that's scary to people who've seen the original, and it's scary to people who've never heard of 'Texas Chainsaw Massacre.' So I think it's universally going to freak people out."
+++++++++++++++++++++++++++++++++++++++++++++
Ashlee Simpson

Previews Comeback Single 'Bat for a Heart' in Video Teaser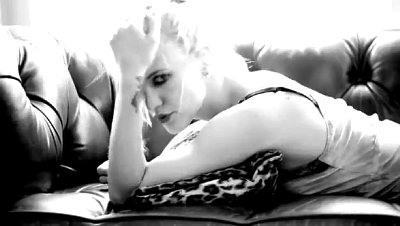 Four years after the release of her last album "Bittersweet World", Ashlee Simpson is finally going to make a music comeback. On Halloween Day, the younger sister of Jessica Simpson gives a first taste on her brand new single called "Bat for a Heart".

The song is sure to show off her evolution from a girl who sings about boys to a vixen who tempts music lovers with her sultry lyrics. "I know you want it now/ I'm gonna bang bang f**k you up, twist you out inside of my head," the mother of one brazenly seduces in the upcoming song.

"Happy Halloween! As promised, here's a little tease of what's to come!" 28-year-old Ashlee hyped up her Halloween treat on Twitter. "#BatForAHeart." The former wife of Pete Wentz added, "In this tease I do drop the F bomb so you've been warned!"

In anticipation of her new release, Ashlee has updated her official website. In addition to posting the teaser, she also announces that the song and the music video will be released on November 21. The video has already been previewed in a black-and-white snippet featuring her.

The official announcement of Ashlee's return to music comes hot on heels of her parents' divorce. Her father Joe and mother Tina decided to go their separate ways after 34 years of marriage. "It is an amicable split and there is no third party involved," a rep said. "Any other related allegations are completely false. The family appreciates your respect for their privacy at this time."
+++++++++++++++++++++++++++++++++++++++++++++
Shiri Appleby

Sexiest Actress Alive
And the Sexiest Woman Alive 2012 is ... Shiri Appleby
Shiri Appleby, 33, has been dubbed "the Sexiest Actress Alive" by Glamour's magazine in its November 2012 issue out this week.
The magazine has released its annual list of the 100 women who made history hotter, and the honors go to exactly who you thought they would (if you keep up with celebrity news):
Shiri Appleby
. For the second year in a row, our gorgeous hottie beat out some other equally hot women for the number one spot! And we can't say we disagree!
Twitter Frenzy
Within minutes of Shiri Appleby being announced as this year's winner, it had become the top trending topic on Twitter:
"She is unquestionably beautiful, she's been smartly building her career on more than her looks," wrote one fan.
"#Shiri Appleby being named THE Sexiest Woman Alive makes her boyfriend the luckiest Man Alive?" joked another one.
The major upside of the award is that the American actress will be getting plenty of press for the next few weeks. So what do you say? Do you think Shiri Appleby is the Sexiest Actress Alive? And if not, who gets your vote?
* Hoping she truly earns the title when new season of HBO 'Girls' comes out.
+++++++++++++++++++++++++++++++++++++++++++++
Jena Sims

:
Lost in the Magic
SuperModel Actress Jena Sims in "Lost in the Magic" a new video by kaloopy
Follow Kaloopy on
Facebook
.
Kaloopy
official site
.
Track:
Oskar Baeten, Cozma John, Nicklas Bruun - "Mental Disorder"
+++++++++++++++++++++++++++++++++++++++++++++
Gareth Huw Evans And Timo Tjahjanto Join V/H/S 2


More directors have been enlisted to bring top-loader scares to a cinema near you. Out of Indonesia Gareth Huw Evans (The Raid) and Timo Tjahjanto (Macabre) will contribute a segment. Eduardo Sanchez (The Blair Witch Project and Lovely Molly) will contribute a segment along with his producing partner Gregg Hale and Molly writer Jamie Nash. Jason Eisener (Hobo With a Shotgun) and Adam Wingard (You're Next) have their own segments. And Wingard's partner in crime, Simon Barrett, will make his directorial debut.
The first movie followed a group of students hired to break into a desolate house to find a lost VHS tape, paving the way for the movie to go into a series of found-footage stories directed by up-and-coming genre filmmakers. The new movie follows a similar structure, with a pair of investigators discovering a tape while looking for a student.
The Collective and Bloody Disgusting are producing the second film and Wingard and Barrett are now joining Site B's Zak Zeman and Bloody Disgusting's Tom Owen as executive producers. Word from on high (Gee, I wonder...) is that the script for Evans and Timo's segment is awesome.
* safe to say the sequel - thanks to chosen film-makers - will be far superior to the original, competently directed and lots more effective in delivering the chills.
+++++++++++++++++++++++++++++++++++++++++++++
Behind the Scenes at Midnite Haute Photoshoot with Peter Bannan
FashionTV is behind-the-scenes at a Midnite Haute photoshoot with photographer Peter Bannan. A model lounges on a bed, showcasing sexy bra and panty sets including a leopard print and an embroidered fuschia. Another is embellished with chains and bows on a black set for a playful, girly, goth look. The last part of the video shows the topless model clad in blue jeans and posing by a pool.
+++++++++++++++++++++++++++++++++++++++++++++
Tim, actress in a huddle
Jets quarterback Tim Tebow is dating actress Camilla Belle. Sources tell us the couple met at the Met Ball in May and have quietly been seeing each other ever since. We're told Tebow, who lives in storm-damaged Hoboken, and Belle avoided the wrath of Sandy by spending the weekend and the early part of this week in Jacksonville, Fla., where his parents have a place. They were spotted at Latitude 30 in Jacksonville on Tuesday night, where they bowled "and played arcade games" together, a spy tells us, adding, "They were very together and affectionate, until some young fans asked to take Tim's picture, when Camilla politely stood aside." They've also been spotted together at the beach and at restaurants in town. Belle, who has previously dated Joe Jonas, was raised in a strict Catholic household, and sources tell us she and Tebow have attended church together. Another source said, "They first met at the Met Ball in May and have been quietly dating since. It's amazing they've been able to keep it so quiet."
* The virgin and the lesbian.....ex-'BF' Jonas was a virgin too.
+++++++++++++++++++++++++++++++++++++++++++++
Dexter Season 7 SpoilersMiami Metro heroine Debra Morgan and newly-minted murderess Hannah McKay have yet to cross paths on Showtime's Dexter (Sundays, 9/8c), but an intro between the two is imminent and — according to Jennifer Carpenter – it's not gonna be pretty. "The interaction between Deb and Hannah is like putting two Siamese fighting fish in a bowl, where one will ultimately destroy the other," the actress tells TVLine with a laugh."You just don't know who is going to win." Carpenter reveals that "their tension is palpable" from the get-go for a number of reasons, including "the rap sheet that Hannah comes with, [and] the threat she poses to both Deb's brother [Dexter] and to Deb herself." Adds the actress, "Hannah's such a different flavor than Deb; still just as strong and potent, but she has a different fighting style… She's working all kinds of angles, and there's every reason [for Deb] to get her out of [their] lives."

Read More at: http://tvline.com/2012/10/31/dexter-season-7-spoilers-deb-hannah-war/#utm_source=copypaste&utm_campaign=referral
Dexter: Jennifer Carpenter on Deb/Hannah Drama and Her 'Incredible' Co-Star

Yvonne Strahovski
Miami Metro heroine Debra Morgan and newly-minted murderess Hannah McKay have yet to cross paths on Showtime's Dexter (Sundays, 9/8c), but an intro between the two is imminent and — according to Jennifer Carpenter – it's not gonna be pretty. "The interaction between Deb and Hannah is like putting two Siamese fighting fish in a bowl, where one will ultimately destroy the other," the actress tells TVLine with a laugh."You just don't know who is going to win." Carpenter reveals that "their tension is palpable" from the get-go for a number of reasons, including "the rap sheet that Hannah comes with, [and] the threat she poses to both Deb's brother [Dexter] and to Deb herself." Adds the actress, "Hannah's such a different flavor than Deb; still just as strong and potent, but she has a different fighting style… She's working all kinds of angles, and there's every reason [for Deb] to get her out of [their] lives."
Onscreen drama aside, Carpenter could not be more complimentary of co-star Yvonne Strahovski, whom she calls "an incredible human being and a brilliant actress." "It is such a treat to work with an actor who's playing a character who can feel feelings," she continues, joking, "because Dexter can't! So, that's been amazing."
Dexter: Jennifer Carpenter on Deb/Hannah Drama and Her 'Incredible' Co-Star Yvonne Strahovski by Megan Masters

Read More at: http://tvline.com/2012/10/31/dexter-season-7-spoilers-deb-hannah-war/#utm_source=copypaste&utm_campaign=referral
+++++++++++++++++++++++++++++++++++++++++++++
Spartacus: War of the Damned
Gaius Claudius Glaber is dead. The rebellion has swelled to thousands of freed slaves, and Spartacus, alongside his generals Crixus, Gannicus and Agron, prepares for war with Rome.

The Roman Senate turns to Marcus Crassus, a wealthy, strategic politician, for aid. With a young Julius Caesar as an ally, Crassus must crush the rebellion.

The epic conclusion of a legendary journey, "Spartacus: War of the Damned" unleashes a battle unlike anything ever seen before.

Gaius Claudius Glaber is dead. Many months have passed since his defeat, and the rebel army, led by Spartacus and his generals Crixus, Gannicus and Agron, continue to amass victories over Rome. With the rebel numbers swelling to thousands of freed slaves, it has become a force that has started to challenge even the mighty armies of Rome.


Spartacus is more determined than ever to bring down the entire Roman Republic. Following the death of Ashur, Naevia and Crixus fight as one with newfound strength and determination.

And Gannicus, always seeking to embrace life to the fullest, shares his bed with the beautiful and dangerous Saxa (Ellen Hollman)

.


Together, the rebels engage in one bloody skirmish after another and prepare for the inevitable: a full out war with Rome.


The Roman Senate turns to its wealthiest citizen, Marcus Crassus, for aid. A powerful, strategic politician, he respects his opponent and refuses to make the same mistakes Glaber and his predecessors have. With a young and fiercely competitive Julius Caesar as an ally, Crassus is determined to crush Spartacus and his rebellion.


The epic conclusion of a legendary journey, Spartacus: War of the Damned will unleash a battle unlike anything ever seen before.
* This pretty much confirms Ellen Hollman will perform her first nude scenes. Tits and ass galore.
+++++++++++++++++++++++++++++++++++++++++++++

Viva's new 'sex goddess' set for debut flick
ABS-CBNnews
MANILA, Philippines -- Billed as an
Anjanette Abayari-look-alike
"groomed
in the mold of Cristine Reyes
,"
Yam Concepcion
is set to bring back the trend of "bold" movies as she makes her debut as Viva Entertainment's new "sex goddess."
For a newcomer to the entertainment industry, however, Concepcion said she feels pressured from being given the tag once associated with sexy star Joyce Jimenez, herself a former Viva talent.
"It's a heavy title to carry, so I don't really know what to feel about it yet, but right now, it's just so pressuring for me, on my part, because I'm just starting," Concepcion told ABS-CBN News on Tuesday.
"I don't know where I stand, because I'm just beginning to set foot into this whole new world," she added.
For her first major outing as a "sex goddess," Concepcion will topbill the Erik Matti film "Rigodon," where she portrays 25-year-old Sarah Dilag, "a confused girl who will face struggles in her life."
Concepcion said she will go topless in the movie, which also stars John James Uy and Maxene Eigenmann.
The 23-year-old, who attended an all-girls school, said working on "Rigodon" was a breeze, thanks to the workshops leading up to her "bold scenes" and her fascination with film-making. The premiere of her "Rigodon" nearing -- it is set for release on November 21.
+++++++++++++++++++++++++++++++++++++++++++++
Erin Cummings

' Charity Provides Warmth for Detroiters
A Big Thumbs Up: Actress Erin Cummings is still giving a helping hand to Mittens for Detroit, a charity she founded that provides warmth for needy children and adults
By Jim McFarlin
Cummings with Tigers mascot Paws - the Tigers made a collection last year during their Winter Caravan (left); Erin Cummings and Detroit 1-8-7 co-star Natalie Martinez took mittens to Latino Family Services in Detroit (right).
A
moment can be a magical thing. A single act of kindness, a flash of genuine compassion, can inspire an individual to greater heights, alter the course of a life — even make a visitor fall in love with Detroit.
Consider actress Erin Cummings. (Yes, guys, we know. But try to focus.) While most of her belongings are in Los Angeles, Cummings lived nine months in New Zealand playing Sura, devoted and sexy wife of the title character on the Starz cable drama
Spartacus: Blood and Sand
. She's currently attempting to grasp the rhythms of New York, where she's co-starring in the new CBS fall series
Made in Jersey
(Channel 62 in Detroit). Yet despite the nomadic nature of her profession, the time she spent absorbing Motown as Dr. Abbey Ward in the tragically short-lived ABC police saga
Detroit 1-8-7
apparently left an indelible impression on her heart. Cummings can't forget the Motor City, thanks in part to one extraordinary moment of caring.
It occurred Halloween night, 2010. Cummings was at the Southfield home of Kathi Moss, the cousin through marriage she never knew she had before coming to Detroit, helping to pass out treats at the front door. A mother arrived with her daughters. The youngest was crying because the night was brisk and she had lost a mitten. Instinctively, Moss went into the house, produced a pair of mittens she keeps "in case anyone's cold," and handed them to the child. Cummings was touched. "She thought it was this monumental thing, and to me it was just what I do," recalls Moss, a pediatric nurse. "I was stunned she was so moved by it."
"It was that small act of kindness, seeing the ripple effect," says Cummings, 35. "This girl is crying on Halloween and her mother is distraught. Now, because of a pair of mittens, all the girls are happy, a mother is able to enjoy her children, the memory of this Halloween will be a happy one instead of a cold or miserable one."
At that moment, Mittens for Detroit was born. To date, Cummings' community initiative — whose only mission is to collect and distribute new, unused mittens and gloves to children and adults in need — has gathered more than 10,000 pairs of warming hand helpers.
Her first move was to contact Detroit publicist Jason Brown, a man she knew only via Twitter through their mutual love of cupcakes. (Brown's clients include the Just Baked Cupcakes chain.) "I knew he was familiar with a lot of things around town, so I just called and said, 'What do you think?' " she says. "He said, 'I think it's a great idea, and you're going to need a website!' " Brown paired her with a web designer who constructed the uplifting
mittensfordetroit.org
site virtually overnight.
Cummings then began talking to everyone she met around Detroit. "I said, 'The goal is really simple, I want to get gloves and
give them to people who need them; could you help me?' " she explains. One chance encounter landed her a face-to-face meeting at the Michigan Box Company in Detroit, where 200 drop boxes were fabricated for the cause. Further conversations got the boxes placed in diverse locations such as ACO Hardware stores and Emagine Theatres.
Then she made in-person visits to such charitable organizations as Covenant House Michigan, COTS (Coalition on Temporary Shelter), and the Michigan Veterans Foundation to ensure the mittens got into — and onto — the right hands. "I could have just driven around giving gloves to people, but why would anyone have reason to trust me?" she asks. Among the agencies she charmed was the North Woodward Community Foundation, which placed Mittens under its 503(c) umbrella so contributions are tax deductible.
Cummings launched Mittens during a period of considerable personal hardship. First, of course, was
Detroit 1-8-7
's cancellation. "When a show's been canceled, it's like going through a breakup," she says. "And you were 100 percent the one who was dumped." Then her finances went in the Dumpster.
"My 2011 was very dark, in part because I had a business manager who was very unethical," Cummings says. "It was that classic story of an actor who gets a job, makes money, then wakes up one day and not only is broke, but in debt. That was me! I mean, there's a reason why my mother is my business manager now." To compound matters, Andy Whitfield, who starred as Spartacus to Cummings' Sura, died that September. "We knew from the very beginning that the show would fail if the love between Spartacus and Sura was not believable," she says. "When Andy died, I allowed Sura to die with him."
She has channeled her off-camera energies into Mittens, and as its third winter approaches, an increasing number of local companies are gathering donations of mittens or cash from their employees during the holidays. One health class at Troy's Boulan Park Middle School raised enough money last year to donate 400 pairs. But why is Cummings doing this? And why Detroit?
"I think that the combination of the devastation the city has gone through and the mistakes of the past that people are trying very hard to rectify, there's still a spirit there," she says. "Every person I met was so unlike the stereotypes I had heard. That spirit of Detroit that people talk about — it's still there. That's what is exciting to me. That's what makes me want to continue learning about the city.
"It also helps that I've established a family there. [Dr. George Blum, a local pediatrician, is Moss' father.] I'm from Texas, but I go back to Huntsville once a year. I go to Detroit once a month. And the charity isn't paying for that. Last year when I was broke, I still managed to scrape together enough to get the cheapest flight so I could continue helping the city in my small way.
"Now when people ask, 'Where are you from?' I say, 'I'm from Los Angeles, Detroit, and New York.' Because that's my existence."
+++++++++++++++++++++++++++++++++++++++++++++
Was Kate Moss exploited as a young model?
In 1990 she was just 16 when a nude photoshoot launched her career. But it wasn't a happy time, says the supermodel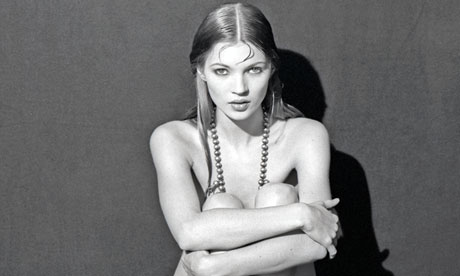 Kate Moss poses nude in 1992, two years after the topless photoshoot that launched her career. Photograph: Alamy
She is laughing, but the body language couldn't be clearer – Kate Moss covers her bare breasts with an arm, and hunches over, trying to conceal the rest of her naked body with a sunhat. The photograph, one of a series taken by Corinne Day that also included a topless photograph, appeared in the Face magazine in 1990 and launched Moss's career, though two decades on she does not remember the shoot as a happy one.

"I see a 16-year-old now, and to ask her to take her clothes off would feel really weird," she says in an interview with Vanity Fair. "But they were like: If you don't do it, then we're not going to book you again. So I'd lock myself in the toilet and cry and then come out and do it. I never felt very comfortable about it."

Moss also tells the magazine that she sought medical help for anxiety two years later. "Nobody takes care of you mentally. There's a massive pressure to do what you have to do."

This happened 20 years ago – and Moss, of course, went on to have a phenomenally successful career, becoming one of the most powerful models, and remained close to Day.

Other models, though, say the industry is not much different now. "Nothing has really changed," says Victoria Keon-Cohen, a model and founding chair of Equity's Models' Committee, which now has around 800 members. "Until we started the union there wasn't any recognition of this kind of treatment in the industry. We wanted to help young models assert themselves and understand what rights they have. Unfortunately what Kate is talking about does still happen and has happened to me."

"It is not uncommon for models who are children to be asked to take nude or semi-nude photos," agrees Sara Ziff. "I started modelling at 14 and there were several occasions where I was put on the spot to take topless photos." Ziff founded the Model Alliance union in the US to set standards, and doesn't think "significant change is going to happen until there are laws that protect child models in the way other child performers are protected". In a previous interview, she described how, when a 16-year-old model complained that a 45-year-old photographer had propositioned her, "her agency said she should have slept with him".

But as Moss's comments show, it isn't only predatory men who are the problem, but a blurring between sexual imagery and fashion, and the models who have to negotiate it are often young – and fear speaking out.

For any model worried about their career, the pressure to keep quiet is strong enough, she says, "And then you've got girls from eastern Europe who are responsible for supporting their families."

"There will always be horror stories, but I think it's a less frequent occurrence now because I think everyone is much more aware of [models' wellbeing]," says Rosie Vogel, bookings editor at Vogue. "These younger girls often have chaperones - their agent would be there." Vogue's minimum age limit for models is 16. "Not everyone has the ethics that we do, and you can't police everyone. There will be people who will exploit girls but hopefully it's getting better. A lot of the girls are more outspoken and they're not as afraid to say they are not comfortable."

Do agencies do enough to support their models? (Storm, Moss's agency since she started, didn't respond for this piece). "Some do look after their girls, but they are a business and they have a lot of models to take care of so it is very difficult to make sure the support is consistently there. That's another reason we started – so models can have their own access to counsellors and a support network. It is improving but it's a long road," says Keon-Cohen.
* I want to personally exploit Ms.Saner myself. Bet her love holes is bleached clean

just

like her pretty face.
+++++++++++++++++++++++++++++++++++++++++++++
Coming to America:

South Korea's top directors on hitting Hollywood with English language films.
Park cited Martin Scorsese's Hugo as a recent English-language movie he enjoyed, though his favorite contemporary English-language movie is David Cronenberg's A Dangerous Method. "Cronenberg is my hero," Park said. While Wentworth Miller drew on Hitchcock for Stoker's script, Park said, the director himself channeled sleek, stylized, sexy Brian De Palma. "Stoker is a film with cross-cut scenes in it. In making such a film, I couldn't help but think of De Palma," said Park, who noted his favorite by the director is 1980 murder thriller Dressed To Kill. "Once upon a time, I used to write film reviews for a living, and I reviewed Dressed to Kill. While I was conscious of DePalma, I wanted to make Stoker differently. How could I make it different from DePalma, maybe through less use of slow motion?"
The Future
Coming to Hollywood and English language films is a huge opportunity, and risk, for Park, Kim and Bong, similar to Taiwan's Ang Lee transitioning from 2000's Crouching Tiger, Hidden Dragon to 2005's Brokeback Mountain with Heath Ledger and Jack Gyllenhaal, or Hong Kong action master John Woo leaping into making American films with 1997's Face/Off, starring John Travolta and Nicolas Cage, and then 2000's Mission: Impossible II (though Woo has since gone back to focusing on Hong Kong cinema).
"From the outset, I never decided I was going to make films only in the U.S., in the English language," Park said. "I always thought I would go back and forth between Korean- and English-language films, much like what Ang Lee does." Park confirmed he's in active discussions to direct English-language crime drama Corsica 72 and western The Brigands Of Rattleborge. Meanwhile, Bong is preparing a project that's half in Korean, half in English, based in both the United States and Korea. He looks to Mexican director Guillermo del Toro's successful switch from Spanish language films to English. Kim said he wants to make films in both countries.
But will the three directors actually accomplish reaching a wider audience next year? Stanley Rosen, a professor of political science and an Asian film expert at the University of Southern California, voiced some skepticism. Chinese directors such as Chen Kaige and Xiaogang have had a harder time finding crossover appeal at the box office with English-language movies, he said, and Korean directors have already cast an influence on American and European directors, who generally remake Korean films with more box office clout. Park's South Korean Oldboy, full of hyper choreographed violence, sex, and revenge-filled freakouts, for example, has set a high bar for Lee's English-language version, starring Josh Brolin.
"Because of this, it makes good sense for the Korean directors to seek an American and international audience with English-language films that avoid dubbing or subtitling. But it won't be easy," Rosen said. "Ang Lee is of course the most successful Asian director. Although he started out making popular films in Taiwan — which did well at the U.S. box office — he learned English and how to make films while at NYU Film School. In general, the Korean directors don't do as well with English, don't have the same top U.S. film school background, and even many of the Hong Kong directors — such as Ringo Lam — haven't been able to duplicate their success in the U.S."
The field is also open for female directors such as South Korea-born So Yong Kim, who lives in New York and is fluent in English and entrenched in American culture. Growing up watching Korean films before being introduced to European and American movies, she just released her own first English-language film, the stark indie For Ellen, starring Paul Dano, and provides a female-centric outlook within a scope of directors that is heavily male dominated. "Each director has their own style, so it's hard to blend them together into one expectation," she said of Kim, Park, and Bong. "However, I'm excited to see how they transport their Korean-inspired visions of the world to English-language audiences."
The future, then, for Bong, Kim, and Park in Hollywood is both sweetly plentiful, and unknown.
"We will have to see once the Last Stand releases, but I am hoping for the best. It is my first Hollywood film, and admittedly getting familiar with the system took some time," said Kim. "I feel that I was not able to showcase everything I've got, and in my next Hollywood film I really want to show what I am capable of. The Last Stand has shown me all the possibilities in Hollywood, and I will continue to make films here."
+++++++++++++++++++++++++++++++++++++++++++++
Pity the girls who work for the Indian Playboy
Playboy plans PG-13 clubs and cafes for an India that can't handle cheerleaders.
Pity the girls who work at India's upcoming Playboy Clubs--if they ever come to fruition.


According to India's Hindustan Times newspaper, Playboy plans to open eight Playboy clubs in India over a period of three years, and ramp up to 120 clubs, bars and cafes in 10 years.

Good luck with that.

For several years now, Playboy has been talking about launching the magazine in India--which already has Maxim and the like--without full nudity. And this year Bollywood wannabe Sherlyn Chopra became the first Indian-Indian to pose naked for Hef (see here). But despite the Indian male's desperation--or perhaps because of it--the brand will face a long haul here, in my humble opinion.

Over the past four years since its beginning in 2008, the intercity Indian Premier League (IPL) has repeatedly drawn fire for importing scantily clad cheerleaders to perform during matches. Finger-wagging editorials have lamented the demise of Indian culture--not to mention cricket. Several teams have been compelled to revamp their cheerleaders as dowdy, traditional Indian dancers, in an odd mix of "culture" and sport that was not well received by the louts in the bleachers. And there have been more than a few tell-all reports from the cheerleaders themselves of the nightmare gauntlet of lechers they're forced to endure for the chance to high-kick for cash.

Here's my prediction: The very first Playboy Club will open, most likely in Bangalore or Mumbai, to the soft serenade of the Shiv Sena, Bajrang Dal, or some other defender of Indian honor. Windows will be broken. "Bunnies" will be manhandled. A government will step in with high-sounding rhetoric about "hurt sentiments" and so forth, and the eager members will be compelled to turn in their keys. (Note: This is a country where canoodling couples get beaten up by self-appointed moral police on Valentine's Day).

If by some miracle, that doesn't happen, I look forward to the first tell-all to appear in India's Open or Tehelka: My Bottom-Pinching Nightmare as a Playboy Bunny.
+++++++++++++++++++++++++++++++++++++++++++++
Unknown Singer Adokiye Bares Her Boobs in Raunchy Magazine Shoot…Amid Claims She Was Paid $200,000 + A G Wagon Mercedes Benz For The Steamy Pics!!!
by Teefah Rozay (October 30, 2012)
The things people will do in the quest for fame. I received these pictures in my email (as I'm sure other bloggers did). And they are of an unknown singer, her name is* Adokiye*, and prior to today i'd never hear of her. And I'm positive neither had you but a wet t-shirt flashing your boobs in a magazine will get you far if all you after is cheap publicity.
To add to it "sources" (aka her PR people) are claiming she was paid 200,000 US Dollars (that's 31 Million Naira) and a G Wagon Mercedes Benz car to bare just her boobs for the rauchy photo spread with a US tabloid magazine (Oh by thw way they don't say what mag this is).

I can tell you for a fact that the 200,000 dollar payment is an outright lie! This chick didn't get paid s**t for these photos. I'm certain she even paid for them herself. No one knows you, why would you get $200,ooo to semi-show your breasts?! *Even Kim Kardashian* didn't get $200k for her playboy shoot and she showed way more! I tire for Nigerians, if you wannna lie be smart about it!
Anyway we'll give her what she so desperately desires…publicity. I know my males readers will enjoy these photos :)
+++++++++++++++++++++++++++++++++++++++++++++