EXCLUSIVE: Alexandra Daddario, star of the recent No.1 movie Texas Chainsaw 3D, Elizabeth Reaser, co-star of the blockbuster Twilight Saga franchise and The Wire alums Wood Harris and Michael Potts have joined the cast of True Detective, HBO's upcoming eight-episode drama series starring Woody Harrelson and Matthew McConaughey. The project is described as an elevated serial narrative with multiple perspectives and time frames. It centers on two detectives, Rust Cohle (McConaughey) and Martin Hart (Harrelson), whose lives collide and entwine during a 17-year hunt for a serial killer in Louisiana. The investigation of a bizarre murder in 1995 is framed and interlaced with testimony from the detectives in 2012, when the case was reopened. Michelle Monaghan was recently cast as the female lead, Hart's wife Maggie.

Daddario will play Lisa Tragnetti, a sexy court reporter whose relationship with Hart takes a dark turn for them both

. Reaser will play Laurie Perkins, Cohle's (McConaughey) pretty, refined girlfriend, a surgeon who works at the hospital with Maggie, and has dated Cohle for 4 years. Potts will play Maynard Gilbough, a cerebral detective. Harris will play Detective Thomas Papania, Gilbough's partner. The two question Hart and Cohle about the 1995 case and feel the duo is hiding something. Daddario, repped by UTA and McKeon Myones, next reprises her role as Annabeth in the Percy Jackson sequel Sea Of Monsters. Reaser played the lead on the CBS series The Ex List and has done arcs on The Good Wife and Grey's Anatomy.
[LISA TRAGNETTI] 26, Caucasian, dark haired and sexy. Having an affair with Hart, he goes to her instead of home. The breakup is bad and she goes to Hart's home and tells Maggie everything…Supporting, appears in 3 episodes.
* Hallelujah! Woody, you lucky sonofabitch! I will post more updates on Alexandra Daddario's possibly first nude scene ever. Yes..you heard it right. The role requires nudity according to a New Orleans talent agency. It's amazing. Nothing is confirmed right now. Nothing is set in stone yet.
I reiterate - more info will come soon.
I think this will be

a

some sort of test run for Daddario - fingers crossed - auditioning la

ter

for Fifty Shades of Grey. Her character will only be in few episodes and is having an affair with Harrelson's Martin Hart. I'm not sure if they're going to shoot the sex scene with her and Woody's Martin Hart just as a gimmicky shocker to show the
viewers
Marty's other side. But pretty sure Alex will be topless in non-sexual content. They will start shooting next week.
Guys, make sure to check regularly Alex tweets (please don't harass her about the nudity or anything relating to the series. I heard the same thing happened to Maggie Grace). She has

began

to update consistently; hopefully the bosom

y wonder

will leave clues and posts almost abstract-like musings as her nude shoot edges close.
Please don't embed the videos

at another site

. I been flagged twice and before I can remove the video, the actresses concerned took down the vid first. Uploaded to my own Vimeo account

a

s a preca

ution.
+++++++++++++++++++++++++++++++++++++++++++++
Paul Abbott To Produce English-Language Take On Supernatural Series 'Les Revenants'
Originally produced by France's Haut et Court for Canal Plus,
Les Revenants
aired in eight one-hour episodes last fall, drawing record numbers for the pay-TV channel.
Paul Abbott
, creator of the British and co-creator of the U.S. version of
Shameless
, and his AbbottVision will produce the English-language adaptation for the international market. The series, with the English working title
They Came Back
, centers on a group of men and women in a small Alpine village who find themselves in a state of confusion, trying to return to their homes. What they don't yet know is that they've been dead for several years, and no one is expecting them back. AbbottVision has a first-look deal with Fremantle Media Enterprises which acquired the rights to the project and will handle international distribution.
* Don't be surprised if Paul cast Kaya Scodelario. Her sullen almost gloomy nature is well-suited to play one of the roles in the bleak tale.
+++++++++++++++++++++++++++++++++++++++++++++
'Canyons' star James Deen on working with Lindsay Lohan, the 'NY Times' article, and always being known as 'that porn guy'
Like many a pop culture aficionado,
The Canyons
star James Deen read the
New York Times story
on Lindsay Lohan/
The Canyons
over the weekend. But unlike many fans gobbling up the article for intel on Lohan, her co-star Deen read the feature, which outlined Lohan's love of chaos and inappropriate on-set behavior, with bemused wonder. "The best way I can describe [the
Times
article] is actual life events reflected in a mirror and then retold for dramatic effect," Deen said on the phone with EW this morning. "It's accurate enough that it can't be said that it's not; it's not a lie. But it's twisted enough that if you were actually there you're like, 'Wait. That's not exactly what happened.'"
What did actually happen was Deen (real name Bryan Matthew Sevilla), affectionately known as 'the porn star next door' with over 4,000 credits to his name, started hearing his name thrown around by screenwriter Bret Easton Ellis on Twitter. Ellis was looking for an actor for an upcoming noir thriller, and needed the person to be conformable with a lot of nudity. Enter Deen. What Deen didn't know at the time was the low-budget project that would become
The Canyons
, directed by Paul Schrader, would also be starring Lindsay Lohan — and that equaled a lot of extra drama.
Deen wasn't all that familiar with Lohan. He'd heard the stories about her self-destruction with drugs and alcohol, but he'd never actually seen a Lohan movie – not even
Mean Girls
. So when Lohan appeared for her first day on set with him – late, as
The Times
wrote, Deen didn't know what to expect. There is
audio floating around
of the two of them arguing over a scene one day, with Deen saying he was doing
The Canyons
"for fun," which seemed to anger Lohan – a convo Deen chalks up to a misunderstanding.
"It's just the delicate ego of the Hollywood person," he said. "I've learned that most people in the Hollywood mainstream world are so delicate, fragile and egotistical. [Comments like mine] really f*** with their heads."
* Nails it right on the head.
One day on set that Deen is eager to talk about is the duo's already-infamous sex scene, which would mark Lohan's first on-camera nudity for a film. "The Times said there were a bunch of other porn stars there, but that's not right," he said. "It wasn't like we were all having sex and an orgy in the bedroom! During rehearsal, everyone was talking the scene to death. Schrader was so uncomfortable. I think the issue was every other [cast member] was so comfortable, it made Lindsay feel like she didn't matter. …I think Lindsay wanted [the nudity] to be a bigger deal than it was. She needs attention. [She wanted the crew to be naked] and they just laughed. So Schrader is freaking out and then this is what actually happened: Schrader looked her in the eye and said, 'I'm not making my f***ing crew do that. But you know what?' strips his clothes off except for his socks, walks to the monitor, and says, 'Action.' And Lindsay ran out from the closet, giggling like crazy, and we shot the scene. One take."
Beyond the occasional flare-up, Deen said that he got along well with Lohan, hanging out with her to build chemistry, and that for a bit after the shoot [it concluded end of July] they would continue to text. While they have different "lifestyles," "She herself doesn't bother me at all," Deen said. "It'll be interesting [to see how the movie turns out]. It might be really good; it might be really strange. But either way, it's going to be cool to watch."
As for what his own future holds post-
Canyons
, Deen isn't concerned about getting past the porn-star label (nor does he have any plans to stop making adult films and transition entirely to more mainstream fare). "Hollywood is always going to see me as 'that porn guy,'" he said. "There is no way to avoid it…I do adult because it's what I love." But he is working on other projects in addition to shooting his scenes, most notably producing. He's taken
to Kickstarter
to get funding for a sci-fi western steampunk short called
Cowboys and Engines
. "I'm not going to be the next Brad Pitt or Marlon Brando. I'm that porn guy. And after [
The Canyons
] comes out, I'm still going to be that porn guy. And maybe I'll be that porn guy who gets offered a little indie every now and then."
+++++++++++++++++++++++++++++++++++++++++++++
Joe Manganiello Gears Up For

True Blood

Season 6: The Scripts Are 'Pretty Wild!'
BEVERLY HILLS, Calif. -- Caption Joe Manganiello has been sporting a longer-locked look lately, thanks to his role in Arnold Schwarzenegger's next movie, "Ten," but he's about to chop it down.

"It's gonna get cut off this week to go back to 'True Blood,'" he told Access Hollywood on Sunday night on the pink carpet at HBO's Golden Globes after-party.

Joe plays Alcide Herveaux — a contractor (and werewolf) in "True Blood" — and he hinted at the drama ahead for his character when the show returns to HBO later this year.



"[It's] racier," he said. "My character's taken over the wolf pack, so as an alpha, and a pack of dogs, you gotta regulate, you gotta set it straight with everybody so there's some violence. It'll be fun."



Joe said the material he's read for the new season amps things up.

"This is Season 6 and the first couple scripts I read – I think they're doing a lot of stuff that they maybe held back on the past couple years," he told Access. "They're pretty wild. I think it's going to be a pretty wild season."

Temperatures have dropped in Southern California, and with plenty of skin on display in the series, Joe is hoping things change by the time he hits the set later this week.

"Wednesday night I start shooting, so I really hope it warms up by then or it's going to be a really tough night," he laughed.
* Bring on more of Kelly Overton in the buff.
+++++++++++++++++++++++++++++++++++++++++++++
Felicity Jones

:

Fifty Shades of Grey

role depends on the film-maker and script
Felicity Jones has been tipped to play Anastasia Steele in Fifty Shades Of Grey (Picture: Daniel Lynch)
Felicity Jones talks about her new film Cheerful Weather For The Wedding and being tipped to play Anastasia Steele in 50 Shades of Grey.

Before meeting Felicity Jones, I stumble across a YouTube clip featuring images of her and Chris Hemsworth, of Thor fame. The three-minute montage, compiled by a young fan, is accompanied by text citing their 'phenomenal acting talents' and 'physical appropriateness' to Anastasia Steele and Christian Grey, the characters in the steamy novel Fifty Shades Of Grey, which is to be made into a movie. When I mention this to 29-year-old Jones, she looks bored. She has clearly buffered this speculation before.

'It all depends on the film-maker and script, just like any other job,' she says of the role, adding: 'Anyway, I've heard there's lots of campaigns by fans pushing other brunette actresses but I guess I should thank this person who went to all that trouble.'

She is, however, intrigued that sites such as YouTube can be used to help cast an actor in a role or propel an unknown film-maker into the public eye. 'There's always a place for immensely well-crafted cinema but, at the same time, it's important we have fresh, unusual ideas with no budgets coming through the digital medium,' she says.

So far, her career has spanned both these extremes – and lots in between: the improvised 2011 Sundance Film Festival favourite Like Crazy was shot on a tiny Canon EOS 7D camera with no budget (Jones did her own hair and make-up); romcom Chalet Girl showed off her comic timing; her credible portrayal of Luise Miller at the Donmar got the theatre world's attention; she held her own alongside Maggie Gyllenhaal in Hysteria, the story behind the creation of the vibrator; and she has just finished filming The Invisible Woman with Ralph Fiennes, about Charles Dickens's secret mistress, Nelly Ternan.

But today we're here to talk about her current release, Cheerful Weather For The Wedding. This glossy big-screen adaptation of Julia Strachey's 1932 novella sees Jones play Dolly Thatcham, the headstrong older daughter of Hatty Thatcham, played by Downton Abbey heavyweight Elizabeth McGovern.

Dolly is about to get married to handsome-yet-dim Owen but her former lover, Joseph, arrives on the morning of the wedding, threatening to derail the day. His presence causes all sorts of melodrama, especially for Dolly's acerbic mother, who is desperate for the day to go ahead.

In the hours before the ceremony, we watch Dolly swigging rum from the bottle, vomiting and reliving memories of her summer romance with Joseph, which are depicted through sun-drenched flashbacks. These golden scenes contrast starkly with the iciness of her winter wedding, mirroring Dolly's emotional state.

'Dolly is a very complex character and quite an alternative heroine,' says Jones. 'She's pitched as a rebellious young girl but she's actually quite scared of being with the man she loves, so she goes with the safe option – she's actually a coward.' The actress, who chose a degree in English literature from Oxford over drama school, adds: 'There is something very hard about all the characters – I love how unsentimental they are. I studied Virginia Woolf and this film reminded me of Woolf's wonderfully acidic diaries.'

If Jones were in Dolly's position, which man would she choose? 'Well, you've got to go with your heart, haven't you?' she grins.

And what of Jones's heart? She's happy to mention her boyfriend, artist Ed Fornieles. They've been together since university and live in Hackney, east London, although these days, Jones spends a lot of her time in LA. But that's all she's willing to reveal.

'I find that if you know a lot about an actor's personal life then, instinctively, it is harder to believe in the character they are playing,' she says. 'I like going to the cinema and being surprised and that's more difficult when you know every single detail about the actor on screen. Besides, I couldn't be that open, simply for my own sanity.'

She currently appears in a Burberry shoot alongside Cara Delevingne and is also the face of Dolce and Gabbana make-up. Doesn't her modelling contrast with her serious acting career?

'The campaigns are very high-fashion and I approach them as if I were playing a character,' she says. 'To be the Burberry girl, I got into a chic, 1960s and Jean Shrimpton-esque mood. So, in that sense, I feel it doesn't threaten what I do.'

This week, Jones will leave Hackney and LA behind for the Sundance Film Festival in Utah, where her latest film, Breathe In, is showing. She plays an exchange student whose arrival at an upstate New York home has devastating consequences for the family. It stars Guy Pearce and reunites her with Like Crazy director Drake Doremus, although Jones says it is a far more solemn picture.

Once, when asked why she went for a role in Hysteria, Jones simply replied that she wanted to play someone silly. What mood is she in for 2013? 'My last few roles have been quite heavy and serious,' she says. 'So I'm ready for something lighter. I'm feeling playful.'
Cheerful Weather For The Wedding is out now on DVD, Blu-ray and digital download
Like Crazy was a hit at Sundance Film Festival (Picture: File)
How Jones prepares for her roles

Felicity Jones has a strong method approach to her acting. 'The more preparation I've done, the more comfortable I feel,' she says. 'I guess it's because I take an academic approach: I prepare as much as I possibly can in order to be as spontaneous as possible on the day. I love the idea of doing something I've never done before.'

For Chalet Girl, where Jones starred alongside Tamsin Egerton (pictured right), she spent a month in the Alps learning to snowboard, followed by an undercover stint scrubbing toilets and partying in St Anton.

'I fell over about 50 times a day – it was an incredibly painful process but it felt extraordinary to even put on a snowboard and move down half a mountain.'

For Breathe In, Jones learned how to play the piano. Guy Pearce plays her piano teacher. You can work the rest out.

While treading the boards and playing Luise Miller, a deeply religious character, she immersed herself in Catholicism. 'I knew a very religious family and I'm not from a religious background, so I spent one month living with them and attending Mass. It was an intense but interesting experience.'

And for Page Eight, David Hare's TV thriller, Jones plays Julianne, a talented artist and daughter of Bill Nighy. So she immersed herself in the art world, which wasn't too difficult thanks to her boyfriend Ed Fornieles. He introduced her to his friends at the Royal College of Art, where she hung out and even attempted to take some 'terrible pictures' herself.
+++++++++++++++++++++++++++++++++++++++++++++
29-years old English model Agyness Deyn : Craig McDean [Interview]February 2013
+++++++++++++++++++++++++++++++++++++++++++++
26-years old Dutch model Milou Sluis : Daniel Roche [Be Magazine]February 2013
+++++++++++++++++++++++++++++++++++++++++++++
TV's most naked truth
What does the "Girls" star's casual nudity say about us -- and the Howard Sterns made so uncomfortable by it?
In the run-up to Sunday night's "Girls" season premiere, the old repetitive war over the show's content took on a new dimension: Radio shock jock Howard Stern attacked neither the youth nor the perceived entitlement of showrunner/star Lena Dunham, but her display of her body.
Stern called Dunham
"a little fat girl who kinda looks like Jonah Hill and she keeps taking her clothes off and it kind of feels like rape … I don't want to see that." New York Post TV critic
Linda Stasi took a similar tack
, calling Dunham "a woman with giant thighs, a sloppy backside and small breasts … compelled to show it all."
Anyone who saw the
premiere
knows that even by the standards of "Girls," there was a great deal of nudity in the 30-minute episode, which ended with Dunham's character Hannah stripping down to her thong. An episode later in the season, teased in
the season's trailer
, has Hannah baring her breasts in a revealing mesh top everywhere from a dance club to a pharmacy; when asked what she is, or isn't, wearing, she nonchalantly replies, "Oh, a shirt!"
The real-life Dunham is equally unfazed by criticism. Appropriating Stern's mocking terms, she told David Letterman: "It put me in the best mood! I just want to be like, my gravestone says, 'She was a little fat chick and she got it going.'"
We're a long way from Sarah Jessica Parker demanding a no-nudity clause so that she could wear a bra while in bed with Mr. Big. Dunham's audience, for whom issues of race and class have been far more contentious than those of her body, seems to accept her nudity as part of the story line.
"Not only does she look like them, but her matter-of-factness about her body is the way they feel," said
xoJane
editor Jane Pratt of her writers in Dunham's age group. Pratt
ran an essay
by a writer praising Dunham's showing off a body "remarkable in its unremarkableness."
Perhaps nudity of all sorts on air is coming to be, well, unremarkable too, rather like depictions of violence: something to which we've become desensitized. Said Pratt, "It's very matter-of-fact — and that's one of the reasons it has made an impact. It's not like she's trying to make a statement. It's just part of what she does. And the matter of factness of that — that's the strongest statement." She compared the series' plot-driven use of nudity to those Dove ads that showed off the bodies of "real women," as opposed to models. "What does that mean? It's labeling, still, as opposed to just getting over it and stopping making a big deal out of what is absolutely normal diversity."
In early "Girls" episodes, Dunham mocked Hannah's body at times by having her wolf down cupcakes and buy ice cream cones after attempting to jog. This early into Season 2, though, her body shape is off the table as a matter of discussion. It's the fact of her body, and what she does with it, that moves the plot forward.
Such arguments, prompted at last on the Internet by Dunham's utter comfort and seeming lack of explicit political intent, have long been tropes of nudists and naturists. "Naturism gives women power or gives them the feeling of being empowered. It makes them feel, I'm in control here," said
Nicky Hoffman
, the editor of the Naturist Society's magazine, noting that accepting nudity necessarily means getting over micro-analysis of bodily quirks. While Dunham (obviously) isn't affiliated with the pro-nudity movement, her fixing the lens on herself makes the issue of exploitation moot. (Even the male-gaze chop shop MrSkin.com, which publishes nude pictures of glamorous actresses repurposed from TV and movies, recognized the auteur in Dunham,
praising her in a roundabout way
for "direct[ing] herself to get nude.")
"Nudity in our society is associated with sex, and a nude woman is automatically considered a 'slut' and someone who is asking to be disrespected or raped," said Gypsy Taub, one of the activists fighting the recent ban on public nudity in San Francisco, where nudists had traditionally traversed the Castro.
Said Taub: "I can't imagine art without nudity. I can't imagine life without nudity. True artists have always been free from body shame. Freedom of self-expression is impossible for a person who is imprisoned by body shame because body shame is a form of self-hate."
The "entitlement" perceived by fans and detractors of "Girls" — Hannah feels no shame about expressing her needs for sex, for attention, for money from her parents — extends to pride in a body that's neither model-thin nor traditionally "plus-size," just hers. Said Christina DiEdoardo, the lawyer fighting the San Francisco nudity ban, "If I had a dollar for every time I saw a comment, like, 'I'd be in favor of [ending the ban if the nudists] were hot chicks.' But it's about the speech, not about who's speaking. If it were attractive women in their early twenties, people would not be offended by this. But because they're real people, men are offended by this."
"Seeing nudity that's not there for titillation and that represents different body types is still somehow shocking to people," said Pratt, the editor, "or revolutionary, or horrifying to people, or considered something that should be Photoshopped. But her visibility right now and what she's doing with showing herself and not making any big thing about it, it's a super important moment in evolving body culture."
And the culture's being moved forward not merely by the show itself but by the discourse, often enraged, surrounding it. Pratt admitted that she hadn't yet seen "Girls," but had seen the coverage, both positive and negative. "I'm definitely aware of some people seem to be outraged by how much of her body Lena Dunham reveals on the show. It may not be that she's driven to show us her body however that body looks. It may be that it's just part of the story line." Sometimes, a mesh shirt is just a mesh shirt.
+++++++++++++++++++++++++++++++++++++++++++++
Sci-Fi Short "R'ha" Grabs Attention of Internet and Hollywood
By
A few days ago, a video was posted to Vimeo that the Internet buzzing over the weekend. With over half a million views and universal praise, the response to the sci-fi short R´ha would be impressive on its own. Add in that the effects look Hollywood good and that it was written, directed, and animated by a 22 year-old German film student named Kaleb Lechowski, and the video becomes downright staggering. Watch it for yourself after the break.

The short film is an interrogation scene from a much larger plot. Machines have taken over an alien planet, and a computer entity tries to torture one of the aliens to find out where the rest of his people have escaped to.
While the short doesn't exactly have a unique storyline, it's effectively made and has a nice twist. According to The Hollywood Reporter, the short has sparked the interest of some film execs, and Kaleb is expected to head to Hollywood later this month (presumably for meetings).

You can follow Kaleb and R'ha on Facebook, Tumblr, DeviantArt, and YouTube. He's very open about his process and has said there will be more work put out related to R'ha.
+++++++++++++++++++++++++++++++++++++++++++++
Hayley Atwell

meets Bugs Bunny
Hyman74Roth
+++++++++++++++++++++++++++++++++++++++++++++
Most Anticipated Films from the Sundance Film Festival!

By: Joey Magidson and Terence Johnson
Sundance Film Festival is right around the corner! Joey and I are incredibly excited to attend the festival on behalf of the site and are looking forward to all the films and people we will meet. As many of you know there are a ton of films that premiere at Sundance so, Joey and I decided to take an in-depth look at the schedule and find the films that we are the most excited to see at the festival. Take a look at our Top 10 Most Anticipated Sundance Films after the jump!
Joey's Top 10
10. Lovelace: This one is just morbid curiosity on my part. I'm fairly certain that this Linda Lovelace biopic will be a mess, but what has me hopeful in a small way is that the directors previously made Howl, a film that made my Top 10 list a few years back. Amanda Seyfried as Lovelace is, well…interesting.
9. A.C.O.D.: Earlier this year Richard Jenkins mentioned a project to me while I was interviewing him called Adult Children of Divorce. That film is now premiering at the fest and features a great cast including Adam Scott, Mary Elizabeth Winstead, Jessica Alba, and Jenkins. Could this be the breakout comedy of Sundance?
8. S-VHS: I enjoyed the found footage horror flick V/H/S last year, and now we get the sequel, one of the first to ever play the festival (though not the only one this year, or in fact the only one on my list here). If the filmmakers can continue to show off diverse scares while keeping things interesting, this could easily be a new indie horror franchise to annually look forward to.
7. The East: Brit Marling made a lot of fans with her last film at Sundance, the similarly themed cult film Sound of My Voice. Now she's got her sights set on anarchist groups, and with a bigger cast that includes Ellen Page, I'm very interested to see what she's up to now.
6. The Way, Way Back: The co-writers of The Descendants get their chance to direct, and the final product sounds like it could be akin to Adventureland, a favorite of mine. I feel like either Steve Carrell or Sam Rockwell could potentially break out into next year's Oscar race from this one, so I'm really looking forward to it.
5. Upstream Color: I still don't know if I understand Shane Carruth's other film Primer, but it's truly something different. The promise of something just as intelligent and different has me very excited for this one.
4. The Spectacular Now: The writers of (500) Days of Summer, the director of Smashed, along with Mary Elizabeth Winstead and Shailene Woodley in the cast? This seems almost tailor made for me.
3. Prince Avalanche: Once upon a time I would have included David Gordon Green on a list of my favorite directors working today. His studio comedies have been a very mixed bag, but a return to more indie territory, along with a teaming of Emile Hirsch and Paul Rudd…well, he's got me hyped up for one of his movies again.
2. Don Jon's Addiction: I love actors who step behind the camera, and I'm a huge Joseph Gordon-Levitt fan, so this is one of my most anticipated films of 2013, Sundance be damned. Add in Scarlett Johansson to the cast and only one other title at the festival has me more hotly anticipating it.
1. Before Midnight: Part of me feels like Julie Delpy, Ethan Hawke, and Richard Linklater are playing with fire by trying to take two perfect films and add a third to them. Still, I'm dying to see what's happened to these characters, so if I could only see one film at this year's fest, I'd have to go with this one!
Terence's Top 10
10. A Teacher – Try though I may, I can never resist juicy sounding material as you will see with this and the following entry. A Teacher is about a teacher who falls in love with one of her students. What's so interesting about this premise is that it plans to focus on how a relationship such as this would exist in the modern world of sexting and other technological impulses.
9. Two Mothers – Robin Wright + Naomi Watts in a drama about two women who fall for each other's sons is either a bad Lifetime movie waiting to happen or a glorious critique of social taboos. Either way it sounds fantastic and I am certainly planning on catching a screening.
8. Stories We Tell – Sarah Polley's documentary got some great publicity coming out of Telluride and I've been keeping tabs on this documentary since then. I'm thrilled that this film will be at Sundance for my viewing. To even talk about the details of the plot, but sufficed to say Sarah Polley set out to make a love letter to her family and ended up discovering more than she thought possible. Polley is one of most interesting directors working today given the deft touch she employs with difficult subject matter and I've no doubt she's delivered again.
7. Kill Your Darlings – Daniel Radcliffe has proven himself very capable outside of the Harry Potter franchise but tackling the role of Alan Ginsberg is something that should really test him and his abilities. He won't be going it alone however, as Kill Your Darlings stars one of the best ensembles in a film playing at Sundance (Dane Dehan, Elizabeth Olsen, Jack Huston, Michael C. Hall, Kyra Sedgwick and Jennifer Jason Leigh).
6. Don Jon's Addiction – Joseph Gordon has really exploded in a big way the past few years and even if he was merely acting in this movie it would be one of my anticipated films. But given that he both wrote and directed this film, and got a fantastic supporting cast to join him, I am thoroughly intrigued as to what JGL will do with this movie.
5. American Promise – Coming off a year with such great documentaries, I'm now energized for what the art form can do. This documentary about two African American boys growing up and their experiences going through public and private school. Education is a cause near and dear to my heart and I'm looking forward to seeing what critiques the directors can bring forth about its place in the African American community.
4. Ain't Them Bodies Saints – This film stars one of my favorite young actors (Nate Parker) and two other actors I greatly admire (Rooney Mara and Casey Affleck) in a tale about an outlaw couple who struggle to reunite after the father is thrown in jail. This movies sounds like a mix between Terrence Malick's Badlands and Bonnie and Clyde, and with that cast I'm certainly going to be first in line to see it.
3. kink – One of the Midnight selections for the festival is this documentary which takes an inside look at the porn studio Kink which operates from inside the San Francisco Armory Building. For those of you unfamiliar, Kink makes porn that caters BDSM community. This sounds like a fascinating subject for a documentary and having grown up in the Bay Area, I'm incredibly drawn to how the industry has flourished in San Francisco. If anything, this movie can't not be titilating right?
2. Stoker – I want this movie in front of my eye balls right this second, but I guess I can hold on Park Chan-Wook's English language film till Sundance arrives. The trailer was so atmospheric and Kidman looks like she's having a ball playing the evil mother of the tale. Add to the intrigue that the script was penned by Prison Break Wentworth Miller and you'd have the most anticipated film at Sundance except for…
1. Fruitvale – I vacillated between putting this and Stoker number one, but given the real world implications and commentary it won out. Fruitvale, the telling of the story of Oscar Grant is something that is very close to my heart. As a both an African-American and a Bay Area resident, the actual ordeal was like something out of a nightmare and I was incredibly invested in the social issue it brought forth. Having had a front row seat to the whole ordeal, I am incredibly interested in how they are planning to tell the story. Will they go for shock value or be more restrained? The closeness I feel towards the story will probably make this one of the tougher films I'll have to sit through but with a cast that is led by Oscar winner Octavia Spencer and Michael B. Jordan, I'll be sure to watch.


+++++++++++++++++++++++++++++++++++++++++++++
More city co-eds turning to sugar daddies for school support
By REBECCA ROSENBERG and REUVEN FENTON

More New York City co-eds are turning to a new source of income — sugar daddies — to cope with the rising cost of their college tuition, surprising statistics released yesterday reveal.

And the majority is enrolled at New York University, according to the sugar-daddy dating site SeekingArrangement.com.

Nearly 300 NYU co-eds joined the site's service last year seeking a "mutually beneficial" arrangement with rich older men — a 154 percent jump over 2011.

It was the second-highest number of new members for any college in the country.

Hundreds more young women from Columbia, Cornell and Syracuse universities also have recently signed up for the service, the site said.

"I'll admit that I've thought about doing something like that," said a Columbia junior who gave only her first name, Karen.

"It would be easier in some ways than working, taking classes and then spending years paying back loans."

Alex Cranshaw, 22, who graduated from NYU last year, said three of his female classmates had sugar daddies — including a woman whose benefactor financed a whole semester in Madrid.

"He funded her tuition, paid for her housing, gave her spending money and paid for her airfare," Cranshaw said.

"She told her parents she got a scholarship. They had no idea."

Not all students approve of the arrangements.

"Clearly, we need more financial aid if those are the lengths people are going to pay for school," sniffed Ashley Thaxton, 20, an NYU theater major.

"I have friends who work multiple jobs, and there are other opportunities to support yourself through school," she said.

Still, few jobs bring in as much money — and as many extra benefits.

The average co-ed "sugar baby" receives about $3,000 a month in allowances and gifts from her sugar daddy, enough to cover tuition and living expenses at most schools, said Jennifer Gwynn, a spokeswoman for the site.

In New York City, where cost of living and learning are higher, sugar babies can fetch as much as $4,000 a month.

NYU and Columbia are among the nation's most expensive universities, with Columbia ranking third with $59,208 in total annual costs and NYU ranking fifth with $58,858 in total annual costs, a recent Forbes magazine survey found.

The Pew Research Center says one out of five households are in debt because of student loans.

"I can understand why someone would be desperate enough to do it," said Abby Kron, 19, an NYU student studying communications.

"But I don't support it."

Then again, "it's easy to stand in judgment when you or your parents' economic status allows you to pay your tuition in traditional ways," she said.
* Why it's still so surprising to some folks? It's been going on for

years

and is quite common now. Trust me. It ain't so glamorous. The things sugar-baby have to give up, must do and willing to indulge in all the sick fantasy the guy has in his mind. Will even make a hardened porn star hesitate for a second or two.
+++++++++++++++++++++++++++++++++++++++++++++
Porn on the Precipice
Last year wasn't the best year for the porn industry.
Piracy continued to ravage the already suffering video business. And scandal rocked the industry more than once. The industry suffered a setback in November when voters in Los Angeles County passed a resolution that made condom use in adult films shot in the area mandatory – and, depending on how the issue is enforced, could mean a lot more than that.
Despite that, industry insiders are upbeat about 2013. The industry, estimated to make roughly $14 billion per year in revenues, is in the midst of transition. Thanks in part to the incredible success of "Fifty Shades of Grey," mainstream America is more curious and open to the industry. New stars are rising to the forefront. And new revenue streams are starting to fill in the gaps created by the downturn in traditional video.
The mainstreaming of the industry seems to be one of the themes of this year's Adult Entertainment Expo, which starts this week. The AVN Awards (the so-called "Oscars of porn"), for example, will feature entertainment by normally family-friendly Cirque du Soleil.
For an industry that's striving for some mainstream acceptance, though, porn's problems are growing – and the AEE is a good indicator of that. Attendance at the industry's annual trade show was down 8 percent last year – and floor space for exhibitors was reduced by almost 40 percent.
Part of the reason for that is the ongoing consolidation among porn companies – which limits the number of companies who might have a presence at the show. Manwin, owner of several so-called 'tube' sites that stream porn clips for free (think YouTube – only with hardcore pornography rather than "Gangnam Style"), continues to buy up studios. And while it seemed as if that spree would go unchallenged, Larry Flynt recently started flexing his company's muscle to offer some competition.
"I think the stronger companies will continue to survive and grow," said Michael Klein, President of LFP, Inc. "The business is stil growing - knock wood. It's improving and revenue is still there. … We think a healthy business is one that has lots of competitors."
LFP stepped to the spotlight in October, when it purchased New Frontier Media, a broadcaster that oversees nine adult-themed pay-per-view networks, including XTSY, TEN and Penthouse TV. Manwin and an investment holding company were considered the front runners for the company, so many in the industry were surprised when LFP emerged from the background to take the company.
Klein says that while LFP/Hustler hasn't been as active on the acquisition front, that has been a deliberate decision.
"We've been offered a number of the companies sold in the past year, but we just didn't feel the value was there," he said. "If someone wants to pay too much for a company, we'll let them do that."
Manwin, meanwhile, has problems of its own. Managing partner Fabian Thylmann was arrested in Brussels in December and extradited to Germany on suspicion of tax evasion. He was released on bond right before Christmas, but the arrest of the company's frontman has put Manwin on the defensive.
"Manwin's managing partner is currently the subject of an investigation by the German tax authorities and accordingly, no conclusion was reached in this matter — as of the date of this release," the company said in its only statement about the matter. "Manwin's global operations remain unaffected and, as is customary with our company, we will not comment on pending legal matters."
The passage of a law requiring condom use in all porn films is another shadow hanging over the industry. The industry maintains that its testing requirements are sufficient – but was
forced to shut down last year
for weeks following a syphilis outbreak that occurred when a prominent male performer hid his diagnosis from producers. It was the third shutdown in three years due to infectious disease.
While the Free Speech Coalition, an industry trade group, is appealing the Constitutional merits of the law and determination on how it will be enforced is being determined by county officials, porn companies are trying to plan for the industry's worst case scenario.
While several have threatened to move out of California, that's unlikely – but filming of the movies may move elsewhere. Among the whispered locations are Florida, Nevada, Mexico and Europe.
This all comes as more and more women become curious about the industry's products, a side benefit of the "50 Shades of Grey" phenomenon. Just as eBook sales of erotic fiction have spiked in the past year, porn companies have seen an explosion in the success of their films tailored for a female audience.
"It's been picking up -- mostly on the DVD side," said Allison Vivas, president of Pink Visual. "It's been picking up since Wicked picked up on this and started making productions that were more female friendly. … On the digital side, what we're looking at is the tablet market. We don't imagine a woman enjoying this sort of thing sitting in front of her computer screen in her home office."
Meanwhile, the adult novelty business is exploding. A push by major corporations, including
Church and Dwight
, in the field has led to increased sales and their appearance in stores that wouldn't have considered stocking them a short while ago.
"Toys are where the growth is in this industry – and where it seems to continue to be," said Scott Taylor, president and founder of New Sensations. "In this time of recession, to still see growth in that field says something."
Because AEE is one of the industry's tent pole events, though, most of the conversations about the challenges the industry faces this year – and the problems of 2012 – will remain in the back rooms, well out of the earshot of fans that come to rub elbows with their favorite stars.
The show, as always, must go on.
+++++++++++++++++++++++++++++++++++++++++++++
+++++++++++++++++++++++++++++++++++++++++++++
Sundance 2013:
January Jones chases frontier justice in 'Sweetwater'
+++++++++++++++++++++++++++++++++++++++++++++
'My grandparents watched my bathroom masturbation scene': Girls star

Allison Williams

on her very supportive family
As season two of the award-winning HBO series Girls hits the small screens in the UK on Sky Atlantic Monday night, it's clear to see one of its leading ladies Allison Williams it set to become a household name.
Her character, the beautiful yet uptight Marnie, went through an emotional ride in the first series, breaking up with her long-term boyfriend after having a sexual awakening in her office toilet, and a massive falling out with main girl Hannah - played by writer and director Lena Dunham.
That bathroom scene could have made a lesser actor blanch at the prospect, but it didn't stop some of her older relatives tuning in to see their granddaughter in action.
Older fans: Allison Williams says her grandparents watch her on the hit HBO show Girls
Speaking to
Company magazine
about filming that particular sexual scene, Allison said, '
There were moments reading the script that I thought, "WOW, okay!"'
'It's the most private thing anyone can do, but being an actress can make you feel vulnerable. But of course, my grandparents watch the show.
'
'I don't know why I was so concerned though, they have been alive for virtually 90 years, so who am I to presume that sex never existed before me?' Allison reasoned.
Her grandma and grandad aren't the only people who have been glued to their screens throughout the first season, with critics singing Lena's praises for her comedy drama.
And this recognition was made official when the Judd Apatow produced show won two Golden Globes on Sunday night.
The best: Allison said getting the part of Marnie was 'the best' thing to have happened to her
If Allison was hoping for a reprieve in the second series, she was left disappointed, with the opening episode showing Marnie getting some action from the unlikeliest of avenues.
But she's clearly got over her early shock, to realise this is 'the best' gig she's ever got because it portrays a life accessible to most of their viewers: 'There is nothing alienating or too hipster about it. We're not dating handsome boys, they're weird.
'It's like a digital time capsule,' Allison explains, 'people will watch it in 20 years time and it will sum up a certain generation.'
Google ban: The star said she asked some other actresses for advice and they all said 'don't read anything;
Award-winners: Allison with co-stars Lena Dunham, Zosia Mamet at the Golden Globes on Monday
To some nay-Sayers, the actress and some of her co-stars family connections - Allison's dad, Brian Williams, is the biggest NBC anchor man in America - makes the series less credible.
However the Yale-educated star believes that 'at the end of the day, even if all these wonderful doors are open for you, you have to stride through them.'
She steers clear from reading this type of criticism by refusing to fall into the trap of self-googling herself, but although she doesn't enjoy reading about herself, she does enjoy catching up on the gossip on her favourite news website:
'I'm obsessed with Daily Mail online – talk about guilty pleasure! All day, every day.'
The full interview with Allison can be read in the February issue of Company magazine (also available in digital edition) and behind the scenes footage of the cover can be viewed online
Cover girl: The full interview can be found in the February issue of Company magazine
+++++++++++++++++++++++++++++++++++++++++++++
Hugh Bonneville bares all in '

Da Vinci's Demons

'
'Downton Abbey' star reveals a side of himself fans won't see on PBS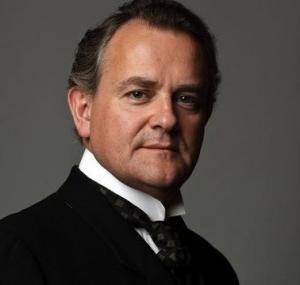 "Downton Abbey" fans will see actor Hugh Bonneville like they've never seen him before when he appears in Starz's new series, "Da Vinci's Demons."
The drama, which debuts in April, will feature a pants-free Bonneville in the beginning of the first episode, no less.
We know Lord Crawley has hit a financial rough patch in Season 3, but nudity? That is not suitable behavior for an Earl. What would the Dowager Countess say?
All jokes aside, Bonneville, 49, is a
Shakespearean-traine​d
thespian. And maybe baring his backside on a cable series liberated him. After all, he most certainly won't be doing so on "Downton."
As for "Da Vinci's Demons," it follows a young and sexy Leonardo Da Vinci (Tom Riley), a genius who must fight against social constraints dictated by religion and class. David S. Goyer, who co-wrote "The Dark Knight" trilogy, is the brains behind the eight-episode series. Bonneville plays the Duke of Milan.
+++++++++++++++++++++++++++++++++++++++++++++