Roza Abdurazakova
- The 20-years old Uzbekistan native discovered by MC2 in 2010 and has been working non-stop between Miami and New York.
Cake Magazine #5 by Joe Wehner Photo Shoot
The topless shoots are first for the Muslim babe from fairly liberal Uzbekistan but don't think she will be going home any time now. She won't be stoned to death (after shooting with Terry, she will be stoned all right) but Roza will certainly be shunned by her local community. These Slavic looking girls typically ends up marrying Arab douches so it will all work out for Roza.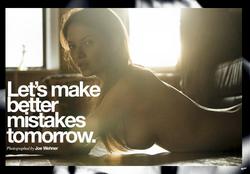 topless photoshoot by Terry Richardson
Terry
is the guy the top agencies look for if they want a top photographer to 'initiate' new and top potential models into the big league.