Holy crap! Guys, great news. The notorious nudity-dodger Maggie Grace is finally getting naked for upcoming sixth season of Californication.
http://insidetv.ew.com/2012/05/11/maggie-grace-californication/
'Lost' actress lands major 'Californication' role
Former
Lost
costar Maggie Grace has landed a major role in the next season of Showtime's
Californication
.
Grace has secured the role of "Faith," a character with a nine-episode arc next year. The actress, who's also set to appear in the upcoming
The Twilight Saga: Breaking Dawn — Part 2
and has a role on Fox's upcoming
The Following
, will play a muse/groupie to famous rock stars on the show. "Faith has been on the road with various bands for years and is considered a muse to elite artists," reads the character description. "Though she has a fondness for sex, drugs and rock and roll, she remains quite religious. She meets and becomes friends with Hank Moody [David Duchovny] and eventually, that friendship blossoms into more."
As previously reported, the Faith character is also being contemplated for a potential
Californication
spinoff, though any firm decisions won't likely be made until the sixth season debuts, at the earliest.
Californication
returns in 2013.
Here is the requirement for the role :
[FAITH]
25 to 30. Beautiful. American. Faith is an intoxicating combination of sunshine and sin. Sinshine. Faith is what happens when an innocent young Catholic school girl is exposed to the evils of rock and roll and falls heads over heels in love with the music and the men who make it. A modern-day Penny Lane in "Almost Famous," Faith has been on and off the road with her favorite bands for years now and is viewed as a "muse" in elite rock circles. Faith is unapologetic about her fondness for sex, drugs and rock 'n' roll, but she's also on a spiritual quest to reconcile her extreme behavior with her conservative background. She comes from a deeply religious family and still believes in God herself......MAJOR RECURRING ROLE. (9 EPISODE ARC) MUST HAVE GREAT COMEDIC TIMING.
ROLE REQUIRES TASTEFUL NUDITY AND SIMULATED SEX
.
The very first scene Faith is in is a dream sequence where Jesus eats her out. And then:
Quote:
Faith slowly rejoins the land of the living, an angel beneath the sheets, naked save for a little cross of gold around her neck...
Faith, still naked, has a pretty long convo with a rock star, gets him to cum, he writes a song and then
Quote:
...she gets out of bed. Naked and beautiful. Walking inspiration. Rock Star watches her, hypnotized.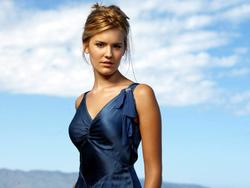 It's always been strange to me why it took Maggie Grace so long to be naked on-screen. Now she is hitting the big 3-0 next year, the high-school drop-out know her career as an actress will be hitting the wall in youth conscious Hollywood. Her no-nudity clause is nonsensical at this point. It's incredible Maggie who even hated doing bikini scenes and never ever gave us a peep at her assets will be baring everything. Reportedly her co-star in upcoming Relative Insanity (2003) and Californication's David Duchovny told her to try out for the role. Maggie's pretty conservative family and friends (including another nudity dodger Emilie de Ravin) will be super surprised with her bold choice. For me personally, if you ain't got the talent but posses a super bod - flaunt it, babe. Maggie fits the description to a T. Her early path to Hollywood is similar to that of Hillary Swank. Miss Grace though didn't possess the tenacity to succeed or the ability to cry on cue like Miss Swank. The latter also took on career-defining role of Brandon Teena in Boys Don't Cry when she was just 23 (getting naked and all) and winning the Oscar. Maggie - nicknamed Miss America - never capitallised on her Lost success. Instead she was in slew of forgettable and usual rom-com flicks. Basically smiling, looking cute and sleep-walking in nearly all the characters she played - Maggie barely registered as a big screen actress. To be fair, she was quite terrific in The Lockout (2012) matching Guy Pearce in funny verbal duels. Maybe she is finally maturing as an artist. She certainly projected sexy confidence in recent interviews and on talk-shows. Returning to small screen is ideal at her age and probably the right time for Maggie. Looking forward to Miss Grace in Californication. Her nude scenes are going to be the highlight of the whole series so far IMHO.There is also hint of desperation in opening new official Tweeter and Facebook accounts after all this time. Maybe she got herself a new and far more aggressive agent or agency.
Friday June 25, 2010
UTA has signed away more of ICM's talent roster today: Diane Kruger, January Jones, Maggie Grace, Eddie Izzard, Amber Valletta, Adam Goldberg, Jack Huston, Bonnie Sommerville, Jake Abel, and Ashton Holmes met with various UTA agent teams this week, and I'm told all of the actors made their moves over the past 48 hours. All had been represented by ICM talent agent Chris Hart who last Friday made the move to UTA, where he's part of the teams. Last week, UTA signed actors Paul Giamatti and Alex O'Loughlin away from ICM.
Since joining UTA, her filmography have become edgier albeit a role in Twilight franchise. She have worked twice with Helen Hunt in short period of time.
Check out actress who answered the previous requirement for "tasteful nudity" and "simulated sex"
Eva Amurri Martino
My take on Maggie upcoming nude scenes :
Miss Grace never had a sparkling movie career to speak of. In many ways she is WASP-ish version of Emma Rossum prior to her Shameless fame - stucked in cherry-like roles with notable exceptions here and there. Just like Rossum, Maggie decides it time to challenge herself by taking on a character that is basically everything opposite she has ever played. What is more surprising is Maggie allergic-like reaction to sex and nudity like Dracula to garlic. But now that she is hitting big 3-0, it's time to bring out the puppies before they go south and requires plastic enhancements. It's also time to have proper financial security with a chance of a spin-off series for Maggie.
I believe the nudity will follow exactly like Rossum's nude scenes (tasteful nudity and all) . Few clear view of the breasts, sex scenes shot in dark and shadow angles. Eye-catching view of her butt as she walks away from the cam.
Wish I'm wrong and it will be more like Camilla Luddington naked fiesta.
Anyway I have chalked up my 2013 - in my presumptuous manner - as the year Maggie will top the celebs nude list. Let us pray and hope she will not let us down. Arouse me, Miss Grace.
Californication Camilla Luddington Interview
(the same thing will probably happen to Maggie - they will keep changing the script every week and she have no choice but to adapt. Wonder how Camilla reacted when she had to film that sex scene with Charlie)
____________________________________________________
Talking about nudity first timers, here is another shocking but very pleasant news. Another actress bares her soul and tits in an indie flick.
Allison Mack is NUDE in Marilyn (2011)
http://www.imdb.com/name/nm0532928/board/thread/198856641
http://marilynthemovie.net/Marilyn_the_Movie/Welcome.html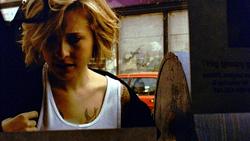 Little cutie-pie Chloe Sullivan finally grows up.
____________________________________________________
'Savages' Trailer: John Travolta Shows Balding Head, Plus Blake Lively's Saucy Bathtub Scenes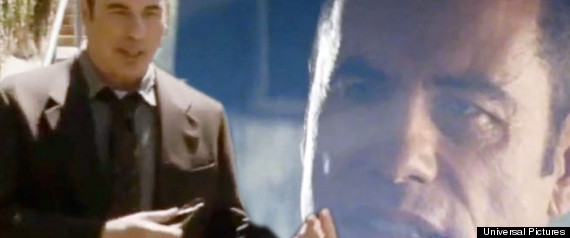 John Travolta finally embraces his balding head in the latest trailer for
Savages
.
In 2008 he hit headlines after shaving his head for his role in
From Paris With Love,
but since then his 'hairpiece' has been back on the scene.
The
Pulp Fiction
actor's latest role sees him play a Federal Agent named Dennis. The trailer for the upcoming crime-drama also shows some saucy scenes from Gossip Girl's Blake Lively as she takes on one of her grittiest roles yet.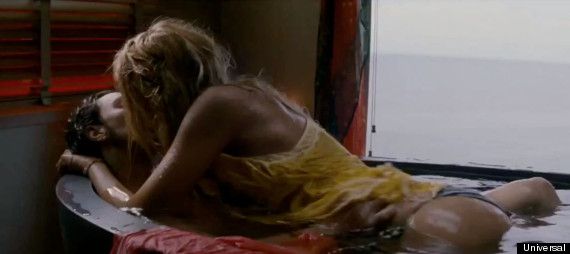 The film, directed by Oliver Stone, tells the story of marijuana growers Ben (Aaron Johnson) and Chon (Taylor Kitsch) as they face off against a Mexican drug cartel who kidnapped their shared girlfriend.
Based on the novel of the same name by Don Winslow, Savages will also star Uma Thurman, Salma Hayek, Benicio del Toro and Emile Hirsch.
Savages Trailer HD (Oliver Stone)
____________________________________________________
Sasha Pivovarova
today released the first picture of her pregnant self since announcing in December that she was expecting a child. The black-and-white photo was taken by her husband,
Igor Vishnyakov
, and features her topless — to show off her stomach — and wearing a floor-length skirt. Pivovarova, 26, is estimated to be eight or nine months pregnant and hasn't commented on when she will deliver or what the sex of the child will be.
____________________________________________________
Piranha 3DD

Review: Delivers Gratuitous, Exploitative Entertainment

May 11, 2012
Rating:
"Piranha 3D" was a film that, for all intents and purposes, probably should not have succeeded, yet it ably demonstrated that if a director fully commits themselves to an idea, no matter how unappealing, the results can impress. Indeed, Alexandre Aja's remake of Joe Dante's 1978 B-movie classic gleefully revelled in its boobs-and-blood modus, while delivering action both tense and smart, and, well, featuring Kelly Brook wearing absolutely nothing for most of her screen time. It follows that this sequel – directed by the relatively unknown
John Gulager
– lacks the bawdy confidence of its predecessor, but still manages to deliver the gory goods and cavorting, naked bodies that its target audience desires.
Piranha 3DD follows the schematic of the previous film to a T, a lazy move perhaps, albeit one which still works, if with lessening effect. Again, one of the opening scenes has a former, now obscure film star – this time
Gary Busey
in place of Richard Dreyfuss – bite the bullet at the teeth of a swarm of piranhas, before we're introduced to the attractive teen lead, Maddy (
Danielle Panabaker
) and all Hell starts to break loose.
It might be thought impossible, but this sequel is in fact even keener to layer on the smut and sleaze than the previous film; within minutes, the screen is festooned with bouncing 3D breasts, as Maddy's lecherous step-father Chet (
David Koechner
) has turned their family water park business into a glorified slip-and-slide peep show, complete with "water-certified strippers". Though none of the nudity is rendered with the oddly thoughtful artistry of the first film – after all, who can forget Kelly Brook's beautiful naked dip through the water with a feisty friend? – it is still delivered with amusement as well as titillation in mind.
While the last film dared to build slowly, not delivering much in the way of gore in its first half, before unleashing a full-tilt Grand Guignol in its second, Piranha 3DD instead unfolds as a more conventional slasher-type film, with piranhas attacking poor, dumb teenagers with increasing aggression throughout. This of course builds to a grand set-piece at the water park, though disappointingly, the stinger at the end of the last film – which saw Adam Scott be devoured by a gigantic "mother" piranha – appears to have been forgotten entirely.
Like its predecessor, the wealth of truly entertaining content comes in the second half, where a litany of cameos provides plenty of amusement.
Christopher Lloyd
returns as the loony Dr Goodman, chewing through the dialogue with a welcome, knowing enthusiasm, and whoever convinced him to utter the phrase "laughing diarrhoea baby" not only once, but twice, should probably get some sort of bonus.
David Hasselhoff
is also an inspired choice as the water park's celebrity "lifeguard" despite, as he asserts, having never been a lifeguard in real life. Scribes
Patrick Melton
and
Marcus Dunston
– who also wrote most of the lesser "Saw" films – milk his appearance for all it is worth, wringing out one particularly hilarious Baywatch gag which admits The Hoff's advanced age while still giving him his due as an entertainer.
Also returning is
Ving Rhames
as Deputy Fallon, now kitted out with titanium legs which the piranhas cannot bite through, and to boot, the legs also have shotguns attached to them. Though more could probably have been done with him overall, Rhames gets a good share of the film's laughs, and steals a few scenes with some outrageous one-liners.
Those expecting a gorefest on the level of the previous film might be disappointed by the final showdown at the water park; it is interested in smaller moments between its characters rather than conveying the bloody scale of the carnage like the 2010 film. That said, it somewhat compensates for this with a greater focus on absurd comedy, namely some rib-tickling references to the likes of "Jaws" and "A Nightmare on Elm Street". Like before, there is a stinger left for the very end, an absurd twist which makes the last film's cliffhanger seem positively grounded. Needless to say, if a third film is made, it is going to be very interesting. And make sure you stick around for another appearance from Hasselhoff during the credits.
Though not as inventively gory as the previous "Piranha", the riotously funny cameos make it worth another go.
Piranha 3DD is out in UK cinemas now.
Review:
Piranha 3DD
Review by Ben Bussey
How fondly and vividly I recall the build-up to Piranha 3D. From the moment those first photos came online, with Kelly Brook and Riley Steele dancing in their bikinis and throngs of nameless extras plastered in astonishingly gruesome make-up, my heart was captured, along with that of every other horror fanboy. Marc and I posted every inconsequential snippet of news we could on it, giddy with schoolboyish anticipation for what Alexandre Aja promised would be the biggest, grandest guilty pleasure tits and gore movie ever made. And even though the resulting movie did not disappoint (
despite my initial reservations
), I can quite comfortably say that I enjoyed that foreplay more than the finish.
With Piranha 3DD, things have been a little more subdued. Once the guffaws at the inspired title died down, it all went a bit quiet. There were no eye-catching set photos lighting up cyberspace, no murmurs of how much fun the cast and crew were having. Indeed, the only Chinese whispers leaking out were speculations that it might go straight to DVD. Surely not, we thought. For some, alarm bells were ringing when it missed its intial release date, but then so had its predecessor. No cause for concern there, then. No press screenings beforehand? Big deal. Again, like its predecessor Piranha 3DD should in theory be critic-proof. Surely there was nothing to worry about.
Quoth Kevin Spacey: "WRONNNNNNNNNNNNG!"
Perhaps the first clue should have been when the poster to the left was released. Take a good look at this poster, if you will. See what a badly composed, obvious Photoshop job it is; how the head clearly does not belong on the body; how the killer fish themselves are an afterthought; how poorly it tries to balance terror and titilation. It beggars belief that anyone thought this poster should be released to the public, that it was suitable to sell the film. Well, perhaps in this case the marketing department were subversively making a point. Yes, the poster is a supremely lazy hack job, but that is an entirely accurate reflection of the product. Piranha 3DD is potentially the most incompetent excuse for filmmaking I have ever seen from a mainstream horror franchise, so poor that – and I can't quite believe I'm about to type this – it makes me stop and think that Platinum Dunes weren't that bad after all. Sure, their films were painfully formulaic and designed to appeal to the lowest common denominator, but they were at least vaguely coherent. This – this is practically Uwe Boll standard. Chirst, it's only a hair's breadth above Friedberg and Seltzer. Indeed, it could have been released under the title Piranha Movie and I doubt anyone would have blinked.
I'm not even talking about the little things like the premise being dumb, or the special effects being subpar, or most of the cast looking embarrassed to be there; those things were always a given. The problem here is the outright lethargy of it all. It's the most basic of horror movie formulas with a few "wow, look how crazy we are!" moments tacked on to delude you that you've got your money's worth. Never is there any sense of build-up or payoff; never do any of the gags hit home they way they should. And it's such a shame, because clearly the most thought went into the gags, and under different circumstances some of them might have really worked; I won't give any away, though if you've watched any of the trailers you should already have a good idea what to expect. As for everything in between the gags; well, as you may have gathered from my overall tone, it's just half-arsed codswallop. (A lot of people felt this way about Hatchet II, and although I was one of that film's few defenders I could see their point… well guys, Hatchet II is The Shining next to this.)
Contrary to what we might sometimes feel, you can't just throw a few tit shots and a bit of gore onto any old piece of shit and wind up with a great B-movie. We have to earn those money shots. Look at Piranha 3D; we're given time to get to know Jerry O'Connell, Kelly Brook and Riley Steele, every successive scene making us that bit more anxious to see the girls getting naked and Jerry suffering a hideous death; subsequently, it's a reward when those sights are delivered. Here, with Danielle Panabaker, Katrina Bowden, Meagan Tandy; yes, they're all lovely to look at, but it's evident early on that none of them will actually be disrobing, and in a film of this nature that is simply breaking the rules. Throwing in a few anonymous naked extras now and then, no matter how visually striking they may be, simply won't make up the difference. (Case in point: the owner of the film's most infamous decollatage, showcased at the top of the page, appears only in the few seconds you've most likely seen already in the trailers.) And while, yes, a few of the key players meet a grisly end, there's nothing to match the satisfaction of seeing O'Connell made a eunech, and the gore quota of the finale isn't even a hair on the arse of the original's Spring Break massacre.
The Hoff isn't funny. The Garey Busey cameo – near enough blink and you'll miss it – isn't funny either. The return of Ving Rhames and Paul Scheer is stupid, pointless, and also isn't funny. As for David "whammy!" Koechner… I just feel sorry for him.
It ain't double the terror, nor double the D's. It's well more than double the sense that you've wasted your time and money. Yes, it really is that bad. Sorry. I'd recommend you just watch the fucking trailer again and leave it at that.
____________________________________________________
Reporter stripper Sarah Tressler is "grateful" for Gloria Allred as she files discrimination claim against the Houston Chronicle
Like
Kevin Bacon said
, dancing is not a crime. And according to Sarah Tressler, it's not a legal reason to fire someone.
Tressler made national news in March when the Houston Press
outed her for working as a stripper
in addition to her job as a society reporter for the Houston Chronicle. Tressler chronicled her exploits on Twitter and in a blog called "Diary of an Angry Stripper," not using her real name, but posting pictures where her face was visible. Tressler was summarily fired by the Chronicle for failing to disclose her other employment.
On Thursday, Tressler joined famed attorney Gloria Allred in Los Angeles for a press conference, announcing that Allred would be representing Tressler and had filed a gender discrimination claim with the U.S. Equal Employment Opportunity Commission.
"Couldn't ask for anyone better by my side ... So grateful,"
tweeted
Tressler.
In a statement provided to CultureMap, Allred said, "Sarah's work as a dancer is lawful and is not a crime. It does not, has not and will not affect her ability to perform her job as a journalist."
Allred explained that Tressler, 30, started performing as an exotic dancer when she was 22 because she needed the money to help pay for college. Her only other job at that time was as a barista at Starbucks earning $7.25 an hour.
When she danced she did so as an independent contractor and she was never an employee of any club.
Therefore, when she was asked by the Houston Chronicle about her prior employment, she did not list dancing, since she was not an employee of any clubs.
Sarah feels that when she was terminated, that termination was sexually discriminatory in violation if the Title VII of the Civil Rights Act.
Most exotic dancers are female, and therefore to terminate an employee because they had previously been an exotic dancer would have an adverse impact on women, since it is a female dominated occupation. Terminations like this would also discourage women from trying to improve their lives.
Sarah also believes that it seems highly unlikely that men who are independent contractors have been terminated if they have failed to list in Houston Chronicle employment applications work which they have done legally."
Allred added that when not working for the Chronicle and at the University of Houston, where she was an instructor, Tressler had volunteered 200 hours of her time in 2010-11 at University of Texas M.D. Anderson Cancer Center.
Allred describes herself as a feminist discrimination attorney, and is known for working on high profile cases, including Nicole Brown Simpson's family during the trial of O.J. Simpson, Scott Peterson's mistress-turned-witness Amber Frey and most recently Miss Canada finalist Jenna Talackova after she was disqualified by the Miss Universe pageant for being transgender.
In a statement provided to CultureMap, Tressler said:
I felt very lucky to have landed a job as a reporter for the Houston Chronicle. I liked the work and felt that I had good editors who provided me with opportunities to cover stories in Houston that might otherwise have been overlooked.
I was very upset that I was fired, because I had been told by many editors that I was doing a good job. I was covering high society and also doing general assignments, human interest stories, men's and women's fashion and other stories.
I don't believe that I should have been terminated because of a claim that I did not disclose on my employment application that I worked as an exotic dancer. There was no question on the form that covered my dancing. I answered the questions on the form honestly.
I had demonstrated that I was able to do my job as a reporter very well and I would have been happy to continue to do it had I not been terminated.
I plan to continue with my career in journalism. I earned an M.A. in Journalism and have been an instructor in writing for print and digital media for the School of Communications at the University of Houston.
I feel that women should not be denied other employment because they have worked as exotic dancers.
Some young women will use dancing as a way to make ends meet while they study to prepare for the career that they hope to be able to have for the rest of their lives. These women should not have to live in fear that once they acquire a position in the career that they have worked hard to achieve, that their past work experience as a dancer will jeopardize that position.
My job as a dancer was legal and I don't understand why I should be punished because I did it.
I look forward to the outcome of the EEOC's investigation."
In a
brief article
on the suit, The Houston Chronicle declined comment.
____________________________________________________
It seems like Hannah Fierman really went for it in The Girl's Guide to Depravity
.
http://www.hannahfierman.com/www/Photos/Photos.html
____________________________________________________
'Fifty Shades Of Grey' Author: 'Film Won't Have Full On F**kery'
E.L. James spoke to women at a conference in Westchester, New York May 11 about her inspiration for 'Fifty Shades of Grey,' the upcoming film adaptation and the research behind the raunchy S-and-M sex scenes!
The trilogy
Fifty Shades of Grey
has taken America by storm and
HollywoodLife.com
's
Bonnie Fuller
had the opportunity to see the author,
E.L. James
,
speak about the popular series — which was originally
Twilight fan fiction
and is now being turned into a movie
.
"I'm very concerned about how it will translate onto screen," E.L. said at the conference, which was held by
Lyss Stern
, founder of the Luxury Lifestyle Brand DivaMoms.com. "They don't have to do full on f**kery. They can be done with great taste…they will be fun!"
Even though the film will be tasteful, it wouldn't be complete without some of the story's controversial S-and-M scenes, which the author tried to make as realistic as possible.
"I talked to a couple people into S-and-M to do research on the book," she said. "I also talked to an online guy, who was a submissive."
Of course, E.L. was pushed by fans about writing a fourth book (and even a prequel to the series) — and despite being happy with where she left her characters, Anastasia and Christian, she said "never say never."
____________________________________________________
"MY WORLD"
IGGY AZALEA "MY WORLD"
from
WHAT YOU STEAL
on
Vimeo
.
Iggy Azalea is apparently from Australia, and moved to US right before she turned 16 years old to pursue her music career. Her father was a comic artist and painter and her mother cleaned holiday houses and hotels. Azalea didn't graduate from high school because she'd rather earn and save money by cleaning with her mother to pursue her desire of moving to America. She lived in Miami, Houston and Atlanta before moving to Los Angeles in 2010. She is still unsigned, has a free mixtape out, and several videos that went viral on YouTube. I'm not sure what in the world she was doing in all those cities and how she got the money to put all those videos out, but let's not let our fantasy run wild. I found something about scam gift cards and selling hair on internet, random hustle.
Dating this moronic looking dude
Iggy Azalea - Pu$y
Iggy Azalea - Pu$y
from
Nathan Helm
on
Vimeo
.
____________________________________________________
Jeffrey Bewkes Discusses Media, Entertainment
(quite relevant to all web-players and consumers)
Why Time Warner CEO Jeff Bewkes Wants to Bring Movies to Your Home Faster (And Why it Might Kill DVD and Blu-ray)
On
Charlie Rose
last night,
Time Warner
CEO
Jeff Bewkes
explained his desire to shorten the time between theatrical releases and home entertainment availability. His reason? It's great for everyone ever.
It makes sense that Time Warner (which owns
New Line
,
Warner Bros
.,
HBO
,
DC Comics
,
Castle Rock Entertainment
, and other media ventures) would want to shorten the window. Bewkes evoked the dreaded P-word in his initial rationale for getting movies to television screens sooner, but he also recognized that there's an audience beyond pirates that wants to have home-viewing options.
"Everyone in the business, including theater owners, has an interest," said Bewkes.
But what exactly is in the theater owners' best interest? And what will broadband bundled with shorter waiting periods mean for DVD and Blu-ray?
Stale Popcorn
The claim that theater owners would benefit from shorter exhibition windows seems absurd en face. The numbers vary depending on different studies, but every theater owner I've spoken to agrees that they're a business held hostage by ticket rates and an unbalanced percentage cut, especially when it comes to bigger films where the studio seeks 90% of ticket sales in the opening week (with descending rates as the weeks continue). How cutting them off at the knees when the percentage rates start to level off will help them is unclear.
Make no mistake, shortening the window will have a negative effect on down-the-line ticket sales. However, theater owners are not helpless victims either. They'll need to do a better job of drawing in customers with more than just the name on the marquee to stay afloat. Those that don't, will fail. Those that do, will find a re-engaged audience that doesn't mind paying a fair price for an excellent viewing experience.
On the other side of the fence is the piracy argument. This is
what many pirates have been saying all along
. Amidst other arguments, a major point is that they wouldn't be breaking the law if they didn't have to. If there were fairly-priced, easily accessible digital versions of movies and television shows, apparently piracy would all but dry up. That seems about as absurd as Bewkes's claims, but it's still vital to recognize that at least one major corporate master is taking notice of what they're saying (while also
trying to revive SOPA in closed-door deals
).
Will DVD and Blu-ray Die At the Same Time?
"They're still in Walmart and 7-Eleven…The bad news is [DVDs] may have to be cheaper," said Bewkes in the interview.
This seems to be the biggest looming question because of the potential impact of a positive answer. The proliferation of technology has always seen the rise of new champions (like VHS in the 80s) which are eventually destroyed (like VHS in the 90s) in favor for a new format. DVD has been on life support with the rise of Blu-ray, but if broadband technology and an increasing need to store our belongings in the cloud overtakes us, Blu-ray could be killed alongside the format it's helping to kill.
The scenario is an easy one to imagine. A family has to decide whether or not to spend time and money to go to the store and get a DVD/Blu-ray or to pay a similar or cheaper amount by clicking a button and ordering an instant digital copy they can house in the cloud. That may seem more like a near future, but we live in a world where asteroids are about to be mined for water. The future was three years ago.
The hurdle standing guard over physical home entertainment options is the idea of ownership. For the same reason some (including me) are reluctant to give over their books wholesale to a digital device, fans may want to hold a movie in their hands and be able to see it on the shelf. There's a psychological aspect at work here.
Of course, all of that is still secondary to profit margins. If DVDs and Blu-rays are both forced to be cheaper in order to compete, it might as well signal the beginning of the end for both. If companies can't make a compelling amount of money per unit (after considering store percentages and other overhead), and if tossing digital versions onto the virtual world is so cost-effective, it may no longer be in the best interest of companies to produce DVDs or Blu-rays. Or at least as many.
This is all hypothetical. In fact, with the announcement of
4k televisions
, Blu-ray could be killed off by a newer format before broadband has a chance to do the critical damage.
The point is that as broadband becomes more and more available (and more and more accepted by the audience), physical home video formats might struggle to compete. It seems clear that digital distribution is the future; it's just a question of how soon that future can be.
The Bottom Line
What Bewkes is proposing could be injurious to theater owners (he'll likely have plenty to account for to NATO) but with all stages of evolution, there are winners and losers when the change comes. It won't kill theatrical releases completely, and even physical home video formats might stay alive in some form or fashion. After all, vinyl still exists. There are enough collectors out there to make a 4K option a viable one, or to even keep Blu-ray around, but it will undoubtedly go from mass media to a niche market.
However, the interview provides insight into where a very powerful company might be headed and where they might lead the pack. At any rate, whenever you see a trailer and think, "Eh, I'll just wait for the DVD," you might not have to wait as long as you think.
Where is the future of home entertainment headed? Will Blu-ray be the last physical format? Will shrinking release windows hurt theater owners or fans?
____________________________________________________