Jena Sims

is certainly 'one to watch'
Every now and then we come across an actress or model that is relatively unknown to the world at large, but we think has real potential for breakout fame. Today that woman is Jena Sims. Jena, a former Miss Teen USA, has been personally selected by producer Roger Corman to play the lead in his latest production (and surprisingly, first 3D picture) Attack of the 50 Foot Cheerleader set for release in August. She's already appeared on Entourage, Dexter, Vampire Diaries, CSI, One Tree Hill, and Leverage, but this will be her film debut. And that's why she's one to watch
Attack of the 50 Foot Cheerleader
follows a college coed who uses an experimental drug to transform herself into a popular beauty – but at a huge price. Produced by Corman along with his producing partner/wife Julie Corman, the movie stars Jena Sims (The Vampire Diaries), Sean Young (Blade Runner), Treat Williams (Hair, Prince of the City, Everwood), Ryan Merriman (Pretty Little Liars), A.J. Lamas (Leave it to Lamas), Mary Woronov (Eating Raoul), Ted Raimi (Spider-Man), with cameo appearances by Corman himself and director John Landis (An American Werewolf in London, Animal House, The Blues Brothers). Acclaimed visual effects artist Kevin O'Neill (Francis Ford Coppola's Dracula, Blade and Piranha 3D) directs.
* Jena will be topless in the movie. Fake tits and possibly butt injections but all come together in perfect fuckable package.
___________________________________________
It seems like too much to ask for in one day but not only do we get to see the first image of season seven of the Showtime hit Dexter (above), but now we are also learning some casting news! Chuck alum Yvonne Strahovski will appear in a multi-episode story arc in the role of "Hannah McKay, a strong, independent woman with a past that she's struggled to put behind her. As a turn of events leads Miami Metro Homicide to ask for her help in solving some old cases, Dexter (Michael C Hall) works with her and begins to wonder if there's more to this woman than she's professed."
Production on season seven began last week and will premiere on SHOWTIME on Sunday, September 30th at 9 p.m. ET/PT, just a day shy of my birthday! Geez guys, you shouldn't have!
So let's talk about the first photo showing that the series will pick up just where they left us during the big cliffhanger last season. Deb (Jennifer Carpenter) has just seen her brother ritualistically kill Travis, the s6 baddy right before her eyes. There is no way he can get out of this one, or is there?
I highly doubt the team of executive producers and writers would let ol' Dex off the hook that easy. So its definitely going to be an adventure to see just how Deb will react and how much of his past will unravel before her eyes.
Homegirl bleeds blue but Dexter is her family. I'm gearing up for another exciting season!!
* Seems like foreign female talents are cornering the cable market mostly due to their flexible attitude towards sex-nudity and standardized salary.
___________________________________________
'Strike Back' Season 2 Teaser Trailer
Michael Stonebridge and Section 20 return this summer on Cinemax.
Last season on "Strike Back," Michael Stonebridge (Philip Winchester) and Damien Scott (Sullivan Stapleton) brought down the international terrorist Latif (Jimi Mistry), but their commanding officer, Col. Eleanor Grant (Amanda Mealing) was killed in the process. In the aftermath, Stonebridge retired from Section 20 to be with his wife and child.
But this August, Stonebridge and Scott are getting back together, as shown in this teaser trailer for the new season of "Strike Back" on Cinemax.
Cinemax has also released two "in-production" clips from the upcoming season of "Strike Back." In the first clip, we get a brief taste of some of the early episodes of the season.
And in the second clip, Winchester explains a helicopter stunt being filmed in South Africa as Scott and Stonebridge take on over two hundred armed men who are attempting to eliminate them.
Joining the cast this season is Rhona Mitra (Underworld: Rise of the Lycans) as Captain Rachel Dalton; the new commanding officer of Section 20.
"Strike Back" will return to Cinemax on Friday, August 17 with two back-to-back episodes.
A police car screeched through the gates of an empty lot, trailing dust behind it. The township was on fire.
Now in its second season (third if you count the original UK version), the series has always relied on SA to provide a backdrop to its gritty action. And Langa is the latest location for a series that has filmed and transformed every corner of SA – whether it's passing off a town hall in Durban as a hotel in India, or a stretch of Western Cape countryside as a slice of Eastern Europe.
"It's like the Wild West with an ocean," lead actor Philip Winchester said of Cape Town this week.
Winchester plays the lead role of Sergeant Michael Stonebridge, a former British Special Forces soldier assigned to Section 20, a secret branch of MI6. In the first season he is teamed up with a select group of operatives and tasked with trying to stop Latif, a Pakistani terrorist, who is plotting "Project Dawn".
The HBO series, screened on Cinemax in the US and on Sky1 in the UK, has everything we have come to expect from the US network; nudity and sex are bundled with an abundance of violence, delivering an action-intense escapade through the world of counter-terrorism. And all this has been taking place right here in SA.
"South Africa has great scenery and skilled crew," said producer Bill Shephard. "That's what makes it such an attractive option to shoot over here."
The Strike Back team had set up a labyrinth of trailers in the grounds of the Langa Sports Centre for the week. The area around the centre was transformed into a hub of activity as white shuttle buses bustled film crews to and from the set. According to Shephard, renting the facility is just one of the ways they are contributing to the local community.
"We are also hiring people from Langa to make up the crowds," he said. "There is a lot of excitement around the set."
Children and adults were milling around outside the film set, or even sneaking in to watch the action as it roared into life with a burst of gunfire.
"We get to do a lot of amazing stunts here in South Africa, which we may not have been able to do elsewhere," said Winchester, after coming off a set where he was firing a shotgun. "We are doing handbrake turns on Long Street and stunts on the N2."
___________________________________________
Buzz-seeking cablers make mark by the hour
Road to the Emmys 2012: Drama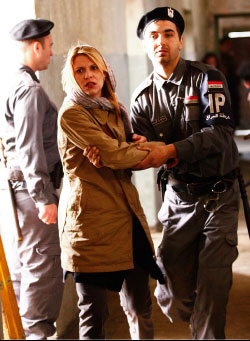 Last season on "The Good Wife" a lonely, bored Alicia Florrick (Emmy-winner Julianna Margulies) switched on her TV. Viewers heard the fictional show's voiceover intoning, "The story of Joan of Arc, as only cable could tell it," followed by sounds of sexual ecstasy. Rolling her eyes, Alicia tuned out.
Writers of the CBS legal drama, which many consider the best show on broadcast -- and the only network Emmy drama nominee last year -- were having a bit of fun at the expense of cable.
You can't blame them. Again this year, cable launched freshman dramas that grabbed critical attention and became "must-watch" television. And there's even more to come, with Starz and Cinemax joining leaders HBO, Showtime, AMC and FX in developing their own buzz-inducing slates of original programming that are particularly heavy on drama.
"They don't program nearly as many shows as the broadcasters do," says TV Guide critic Matt Roush, "so each one has to make a mark. They're looking for signature shows."
For cable, those signature shows tend to be dramas.
Howard Gordon, co-creator of Showtime debut hit "Homeland," previously exec produced "24," the last network show to win a drama Emmy, back in 2006. Gordon believes dramas get a stronger response from critics than a comedy would, which makes them key for the smaller slates of cablers.
"Dramas sort of seem more important because the subject matter would suggest a kind of gravity, and comedies don't necessarily," Gordon says. "We have more runway to tell a story that has some weight and heft. For the same reason, movie dramas are thought of as being more substantial. Woody Allen, in the end, some of his great movies are amazing, essentially, dramas. 'Hannah and Her Sisters,' 'Crimes and Misdemeanors' are weightier films than 'Bananas.'"
Fulfilling the high expectations audiences have for the drama genre is easier to do on cable, thanks to shorter episode orders that let showrunners emphasize quality over quantity.
"For so many writers, it's easier -- not easier but less impossible -- to do 12 episodes well than 24 episodes well," Gordon says. "It may be less lucrative but, creatively, it's more palatable. It allows for better work."
Premium cable is also a better viewing experience for drama audiences, because of the lack of commercials.
"It wasn't so much about nudity or brazen content as it was about the audience taking in all these different points of view to decide the truth," Gordon says. "We set out to create a mood that required not being interrupted."
Cable dramas also attract prestige stars who can't find the roles they want in film. Claire Danes has already won a Golden Globe for her portrayal of brilliant bipolar CIA agent Carrie Mathison on "Homeland."
"What Claire responded to was this very strong female protagonist," Gordon says. "This has become cliche, but this kind of role isn't that easy to come by in the movies."
At the same time, because thesps still want to be available for films, it helps that the cable schedule is career-friendly: "Claire might not be interested in 22 episodes as a cop on broadcast but is willing to commit to a 12-episode order for professional and creative reasons," Gordon says.
Big-name smallscreen actors jump to cable too. Kelsey Grammer won a Golden Globe this year for work as a big city mayor on freshman drama "Boss" from Starz, the cabler headed by former HBO topper Chris Albrecht. Starz also launched a second drama, "Magic City," this year.
"Starz was looking to ramp up quickly to a yearly slate of originals," Albrecht says. " I'm not trying to be glib, but if you want to put an hour of programming on the air, you need either one drama or two comedies. It was more economical, effort-wise, for us to go out in hunt of dramas.
"Most importantly, the brand we're looking to create for Starz is one of very high-quality, theatrical, fun, take-the-audience-to-another-place kind of entertainment, and that lends itself more towards drama."
The dramas are working. Starz just hit a high of 20.1 million subscribers, and Albrecht attributes that to original programming. Even one hit drama can attract subscribers.
"There was a lot of value to 'Homeland,' " Roush says. "People who didn't have Showtime wanted it." Audiences can get pulled in even if a show is not universally praised, as with FX's freakily groundbreaking freshman drama 'American Horror Story.'
"It was a huge hit for them. The critics were divided. Some got into it. Some felt it was cheap shots and indulgent. At the same time, it was a reckless, crazy piece of television that didn't look like anything else, that took chances, that you just could not air on regular network TV."
Daring characters are another thing that makes dramas so compelling.
"Very vivid characters tend to be dramatic characters," Gordon says. "Tony Soprano or Walter White or Carrie Mathison or Don Draper. These are very apt lead characters and they have a trajectory, from episode-to-episode and an evolution from season-to-season."
One fan of cable dramas is Oscar and Emmy winner Alan Ball, who struck TV gold twice at HBO with his hits "Six Feet Under" and "True Blood" and is executive producer of "Banshee," one of the dramas premiering on Cinemax next year. He finds there are few dramas of the same quality at multiplexes.
"People aren't making those movies anymore," Ball says. "I get a lot more excited about the next episode of 'Game of Thrones' than the movie that's premiering that weekend.
"So many of the movies now are targeted at people who are so much younger than I am. The big broad strokes, the simplistic things, the eye candy -- I just don't find that interesting. If I was 20 I would, but I'm not."
Ball also thinks TV dramas can tell more involving stories than features: "The extended canvas of a series allows for more intricate drama, for a lot more nuance, for characters to experience a lot more evolution. As opposed to two hours to tell a story, you get five seasons -- hopefully."
The domination of feature-film quality cable dramas can be seen at TV's biggest awards show. Just five years ago, only one of the five Emmy drama nominees was a cable show. It was "The Sopranos," and it won. The last time a network drama won an Emmy was in 2006 ("24"). For a Golden Globe, it was 2007 ("Grey's").
Competition has only grown more intense among cablers aiming to build strong brand identities to attract audiences.
"When we were doing programs at HBO, there were only about four other networks doing it," Albrecht says. "Now there's about 40, so it's very difficult to find a way to distinguish yourself. My approach now is (that) I think about the kind of a show that would be right for the brand and the business model. That narrows the field."
Networks are trying to keep up. "It's why we're seeing shows like (Fox's) 'Touch' and the idea of a limited order," Gordon says.
Roush says it's not impossible for a network drama or cable comedy to become a signature show.
"If it's the right kind of comedy," he says, "or if it is stretching the boundaries of the genre of comedy as much as these dramas. Look at the writing that's going on over Lena Dunham's 'Girls' on HBO. It's become a zeitgeist show. 'The Good Wife' is sophisticated, well-written, beautifully acted, has moral complexity, sex appeal, and tells crackerjack stories every week."
But cable dramas have the advantage over broadcast. Says Roush: "They're unshackled from the ratings system, and they have creative freedom."
___________________________________________
___________________________________________
Eamon Keegan shot to national fame yesterday on the back of a picture with some topless Croatian fans, but he was far from the only one exposed to their, er, assets.
Fuelled by a few pints of Polish's finest brew, Eamon got up close and personal with a couple of friendly and half-naked female Croatian supporters and without wanting to mince our words here, became an internet sensation after a photograph surfaced of Eamon kissing one of their boobs.
We had a chat with the legend himself yesterday and if you want to read his account of the whole thing, click
here
.
Everyone in this country wanted to know more about Eamon and how the boob-kissing came about, but it became a bit easier to understand how he found himself in such a situation when we were sent in a series of photos from a Croatian source of the ladies in question in similarly revealing poses with some male compatriots.
Judging by the photos below, the ladies in question, who we are told are named Viktorija and Jelena, certainly aren't the shy and retiring type. Before you do have a look, however, let us warn you all that these pictures are absolutely not safe for work, so if the boss is hovering around, come back again and have a look later.
We wonder if Eamon will feel slightly cheated when he sees the few fairly scandalous pictures below.
___________________________________________
They were not aware of the topless photos but both still supported her new role.
Cr Tate said: "You see more if you go to the beach on any given day."
Cr La Castra said he was sure the photos were "tasteful".
"I'm sure it's purely to promote that she's Australian and proud of her country," he said.
Ms Saagar, who released her fifth album Indian Girl this month, has lived in India for the past eight years but spends months on the Gold Coast during summer.
She said the images were not meant to be posted on the website and were intended to be launched in India to promote her career "down the track".
"The whole point of these photos is to promote me as an artist," she said.
"Bollywood has come a long way. It's quite modern and they are trying to experiment with different genres."
Mr Tate said he hoped Ms Saagar would lift the Coast's profile in India so visitor numbers from the sub-continent would eventually match those from China.
"It's not just about bringing tourism here, it's about getting investors here too," he said.
"The Indian market is down on the list, as low as 4 per cent and that's how we started with the Chinese market.
"With the Indian population and wealth, we want to bring them here to enjoy our lifestyle, then they'll see what a good place it is to invest.
"It will match the Chinese market in a different part of the year to fill in the gaps."
___________________________________________
As Talent Flees to Cable, Networks Fight Back
It was once the ultimate prize for a creator of drama series on television: a call from one of the broadcast networks during upfront week to say that his or her new project had been selected to fill an hour on the prime-time schedule.
For some, at least, that thrill is gone.
"Yes, we do have A-level producers who say, 'I don't want to be on the network; I only want to be on cable,' " said Zack Van Amburg, the president of programming and production for Sony Pictures Television, a studio that generates shows for both network and cable channels.
In growing sections of the television drama business, a condition known as "cable envy" has been setting in — and spreading. Cable, the land of small budgets and even smaller audiences, has become the place creators of drama go if they want to take big creative risks — and win golden trophies.
But increasingly, networks are trying to lure talent that otherwise might succumb to the allure of cable. It helps that some of the top network programmers cut their teeth in cable: Kevin Reilly of Fox once was the top programmer at FX, Bob Greenblatt at NBC earned his post because of his success leading Showtime, and Paul Lee, the top programmer at ABC, previously had that job at the ABC Family Channel.
They are not trying to reshape their hourlong dramas along the lines of the hot cable series of the moment, but they are willing to bend traditional network rules.
For example, networks are willing to offer shorter seasons — a staple of cable programming — and to run serialized shows without interruption by reruns. This season interruptions, primarily repeated episodes, clearly drove viewers away from certain network shows. "Unforgettable," on
CBS
, sank late in the season after long stretches of reruns.
Last week, the producer Kevin Williamson, among others, released the news that Fox had ordered a new high-concept drama called "The Following," about a police officer's pursuit of a charismatic serial killer. The officer will be played by the busy film actor Kevin Bacon, who put a cablelike stipulation into his deal: he will work only on 15 episodes a year.
Mr. Reilly, the president of entertainment at Fox, who said he could not officially confirm the show's order until Monday, said that, with serialized shows like "The Following," audiences "want to sit down and blow right through them." Fox set the standard for that kind of scheduling with "24." Like that series, "The Following" could be held back until January and then allowed to run without interruption.
"The networks are opening up to that scheduling model, and we're going to drive it," Mr. Reilly said.
The term "cable envy" was either invented or popularized by the longtime program-planning executive and outspoken industry wise man, Preston Beckman of the Fox network, who did not like the condition. "Cable envy is something that needs to be guarded against," he said. "If you believe in it, go work for a cable network."
Rather than give in wholly to guard against cable-style scheduling, networks are trying to offer a little taste of it to producers and writers. Mr. Greenblatt, for example, said NBC is holding back the second season of its Broadway drama, "Smash," until January so it can run uninterrupted, "a little bit in the cable way."
But it is not easy to coax drama creators to return to the broadcast airwaves.
A big reason is prestige. Of the six dramas nominated for Emmy Awards last season, exactly one, "The Good Wife" on CBS, was from a network. AMC's "Mad Men" was the winner for a fourth consecutive year. This season, quality drama has become even more pervasive on cable, thanks to shows like "Homeland" on Showtime and "American Horror Story" on FX.
Another reason is the wider palette offered by cable — in language, sexuality and subject matter. "There's one word about cable," said Ryan Murphy, a whose résumé includes "Nip/Tuck" and "American Horror Story" on cable and "Glee" on network. "And the word is freedom."
Mr. Murphy said the cable practice of ordering only 13 episodes and running them straight through also helps with casting: big-name stars are increasingly willing to sign on for the shorter duration of cable shows.
"The 13-episode schedule was how I was able to get the cast for 'Horror Story,' " Mr. Murphy said. "Jessica Lange was not interested in doing 22 episodes."
A few years ago, Mr. Van Amburg had the bright idea to try to lure Vince Gilligan, once an executive producer on "The X-Files," back to network television from movies.
"We said to him, 'Come back to TV; let's create the next 'X-Files' together,' " Mr. Van Amburg said. "And he pitched us a show about a guy who gets cancer and starts dealing crystal meth."
That idea became the now-celebrated AMC series "Breaking Bad."
"I just find cable particularly appealing," Mr. Gilligan said in telephone interview. "You get a certain amount of creative freedom."
The true contrast between network and cable comes down to dollars. Networks pay more per hour for dramas — up to about $4 million an episode, versus about $3 million for a top cable drama. They also offer a much bigger payday for shows that become hits.
The cable-drama business model has been helped by the interest of digital distributors like Netflix and Amazon. They have provided a much healthier aftermarket for the serialized shows that dominate in cable. Serialized shows do not fare well in syndication. Nor are they as appealing in sales to international television companies. In both cases, buyers prefer closed-end episodes because viewers can watch them in any order.
Mr. Reilly said, "Cable producers can do very well," citing Matthew Weiner, the "Mad Men" creator, who recently landed a lucrative deal to continue that show. But he added, "Compare that to 'House,' one of the biggest global sellers ever." Sales of "House" have generated hundreds of millions, which means a much bigger payoff to the show's creators.
If there is a center of cable-envy resistance in the business, it is at CBS. The network scrupulously stands by the traditional network formula — 22 or more episodes, no serialization. That is largely because, for CBS, deep in crime show hits, it is working fine.
Mr. Beckman congratulated CBS for its absence of cable envy. "I give CBS props. There's nothing wrong with developing shows you can make 24 episodes of."
Robert and Michelle King, who created "The Good Wife" for CBS, admit to a bit of cable envy. "Yes, we feel it," Mr. King said. "When I read that Matt Weiner is on a slope in Vail after he's finished his 13 episodes, I'm like: 'Stuff it, Matt.' We're still here working on episode 21." But Mr. King and his wife said they still preferred the grind of 22 episodes a year.
"I think we'd get frustrated telling only 13 stories," he said.
Mr. King added that what network producers would most like is not related to language or sexual content, but "a return to the 10 o'clock drama that allowed more experimentation."
That described such past network shows, and Emmy winners, as "NYPD Blue" and "E.R."
"When we talk about the creative renaissance of cable it's not about nudity or swear words, it is the willingness to go into some dark or chancy territory, and the networks should be able to do that just as well," he said.
Shawn Ryan has created shows for cable and network. This year he developed a big ambitious show called "Last Resort," in which a submarine with nuclear warheads goes rogue and takes over an island. He decided it fit best at ABC.
While Mr. Ryan agreed shorter schedules were an attraction, he disputed some of the other advantages of cable. At networks, "You get as much creative freedom as you earn," he said.
For several years he led both "The Shield" on FX and "The Unit" on CBS at the same time. He won awards and prestige for "The Shield," but he had 16 million viewers for "The Unit." "The Shield" averaged fewer than three million.
He recalled that when he was producing the two dramas at the same time, "As soon as anyone in Los Angeles heard I worked on 'The Shield' and 'The Unit,' all they wanted to talk to me about was 'The Shield.' But anytime I went home to Rockford, Ill., all they wanted to talk about was 'The Unit.' That was always a nice lesson for me."
Mr. Ryan added: "You can get caught up in the cacophony of people who write about television and people who work in television, where 'Mad Men' is really a big deal. It's not such a big deal outside of Los Angeles and New York."
___________________________________________
Dave Cummings: From the Trenches, The June Edition; Thanks to Piracy There's Stench from the Trench
Porn oldie goldie Dave Cummings writes: For many years, my monthly column has been titled "From The Trenches"; BUT, because of the devastation resulting from rampant piracy and the impact of the weak economy, I'm now having difficulty finding the "trenches" so I can write about them. Where did the trenches go? What Trenches?
I understand that many actresses and actors (called "talent") are also searching for the "trenches"; in their situation the "trenches" are the porn shoots, the numbers of which appear to be tanking. Why should the remaining studios incur the expense of making new porn when the piracy/uploading/downloading thieves make it extremely difficult to even cover the shooting expenses!
Down-loaders who "take", instead of "paying for" their porn via DVD purchases or Video-on Demand, seem to be stealing copyrighted Porn Industry materials off of the Internet, thus pounding more nails into the Adult Industry coffins. Isn't stealing still an actual crime! What Trenches??
Surviving thievery isn't easy. Downsizing decreases office and warehouse size and number of employees, as well as the number of trenches. Budget cuts reduce the number and content of shoots; some porn productions no longer have the number of scenes that they previously had, or the number of participants; crew sizes, and in some cases the quality/quantity and experience of the crews, has sometimes been downgraded to save on salaries.
Like me, I imagine that Ron Jeremy has also had to alter some on-set eating habits and cuisine consumption standards now that a number of studios have shaved their on-set catering costs. What Trenches???
The ranks of distributors seem to be thinning. I imagine that UPS revenues from porn companies are down since the shipments of DVD sales have sunk like stepping into quicksand. Likewise, agents appear to be feeling the piracy, too. Video-on-demand companies look like they are challenged to reap the business they enjoyed pre-piracy.
Judging by the decreasing number of pages and advertisers, I've noticed that the Adult Industry publications seem under some duress; same for the number Adult Industry online forum threads and postings. It looks like new girls are still seeking to become porn talent, but that there appears to be too many of them for the reduced number of available bookings, thus some have a relatively shorter career now days. What Trenches????
I suspect that the actors/actresses, including me, are having a more difficult time making ends meet. I sense that, like me, a lot of the talent folks are ordering from the $1 menu items at McDonalds. I think many Adult
Industry people and entities are cutting some corners as a means of hanging-on. What Trenches?????
"Trenches" supply happenings that readers want to hear about, in a gossip way as well as a news-reporting way. Yes, the economy and other outside influences impact the porn Industry, sometimes significantly. But, in my opinion, the main "trenches abductors" are primarily the piracy criminals, and herewith I am calling out the up-loaders, the illegal sites that allow copyright infringement, and the actual down-loaders. What trenches??????
May the fleas of a thousand camels and millions of cats and dogs infest the pubic and nose hairs of anyone and everyone who has contributed to the red ink heaped upon the Adult Industry, and the wandering off of many of the Trenches!!!!!!!!!!!!!!!!!!!!!!!!!!!!!!!!!!!!!!!!!!!!!!!!!!!!!!!!
Lawsuits: No more free porn!
___________________________________________