Butts, Thongs and A Really Big Penis: 2 Red Band TV Spots For '

Magic Mike

'
While the summer season in 2012 features a lot of men dressing up in tights, the dudes in
Steven Soderbergh
's "
Magic Mike
" flip the script by taking off their clothes instead. But they're not going out to fight crime. Instead, they're melting hearts and making some fast money at the same time. And if you want to know how wild this movie might get, two red band TV spots are here to give you a taste.
Starring
Channing Tatum
and based on his own experiences swinging around a stripper pole, and also featuring a beef-tacular cast including
Matthew McConaughey
,
Alex Pettyfer
,
Joe Manganiello
and
Matt Bomer
, these two new ads offer everything the ladies want: hard bodies, butts and thongs. And oh yeah, a quick glimpse of one ginormous cock that would put Dirk Diggler to shame. You could ring the bells of the Notre Dame Cathedral with that thing.
So gals, maybe close the door for a bit privacy, and fire up the spots below. And dudes, rest assured, there are some ladies in this too, with
Cody Horn
,
Riley Keough
and
Olivia Munn
all featuring as well. "Magic Mike" opens on June 29th.
* There were rumors Olivia put-in-my-ass Munn will be topless in the movie. It was in the original script. But all indication seems to point to bra-clad sex scene during the opening scenes. Hope I'm wrong.
The truth about male strippers
When asked recently about the allure of being a male stripper, Channing Tatum, who plays one in the film Magic Mike, laughed and said, "Money, girls and a good time".
Why do men strip? Why the hell not? Not for them the ominous low-lit venues and sexual vulnerability of female stripping; when it comes to men taking their clothes off, they're the ones in charge.
Tatum himself used to be a stripper before he hit Hollywood, so he knows a thing or two about a world that, despite requiring its participants to shave their legs, oil their chests and quite literally expose themselves in the most nerve-wracking way possible, still seems to many of its new recruits like the best job in the world.
In Magic Mike, the boys leave the stage with wads of twenties stuffed between their thighs, and girls lining up to go home with them. Tatum, who co-wrote the script at the behest of director Steven Soderbergh, is quite categorical about its authenticity: while the story is fictional, he says, the world it depicts is definitely not.
In reality, at least in the UK, there is not quite so much money as one might imagine; indeed, one stripper tells me that "the money is rubbish, unless you're in the US. They tip".
Many of the more upmarket dancers, such as The Chippendales, are forbidden from taking tips, however.
Most strippers earn anything from £80 to £250 a night (R1 000 to R3 000), depending both on their experience and the show in question – more for big shows, less for private – but at just a few shows a week it's hardly megabucks.
But the girls and the good times part is definitely true. Bari Bacco, who set up The DreamBoys, the UK's answer to The Chippendales, 25 years ago and is currently launching a "supergroup" of "really talented dancers" called Dream Idols, has plenty of risqué tales.
"There was a time when we were in Germany on tour and got stuck in terrible traffic. Several of the guys started getting in cars with women. Suddenly, T-shirts were going up at the window and we could see these cars going up and down. They called it the car sex game."
On tour after shows, before the boys were packed on to buses back to their hotel, there would be what was referred to as "groupy and gropey time", where the boys would chat to the fans and sign autographs, often on their breasts.
"We did used to say to the guys, this is not an open door for you to go and screw as many girls as you can. You're here as entertainers. But of course we did have problems with the girls sometimes. I wasn't running around with a bunch of priests, after all. These are strippers – they're promoting sex."
There's certainly a healthy appetite for male nudity, as I discover one night. At one show, women, mostly hen groups, turn wild at the sight of gyrating muscles slick with baby oil, at policeman costumes, firemen costumes, even gorilla costumes. Chants of "get 'em off, get 'em off" echo around the room in frenzied tones. One woman even flashed her breasts. And they do get them off – every last thread.
These men are gods on stage. There are plenty of different styles, from the subtler titillation of the Dream Idols (Bacco dubs the G-string "the line between eroticism and obscenity") to the sillier "bananas and cream" performers and the more wholesome Butlers in the Buff, who serve champagne in just bow ties and little aprons to bashful hens. But there is one thing they all have in common: ego.
It's not necessarily about taking the girls to bed. For many, the end game is simply the adulation, not the after-party. As one tells me: "The chance to show off in front of hundreds of screaming women? What's not to like?"
The girls can definitely get rowdy, too. On one occasion, Bari says, audience hysteria grew to such a level that the men had to hide in the bathroom as women outside detailed the things they wanted to do to them, before they escaped out of the bathroom window to a getaway bus.
But do the boys ever feel exploited? "Definitely not," he insists. "Physically speaking, they're stronger than their audience, which creates a different power dynamic than with female strippers. These guys like showing off and frankly, I don't think they mind being objectified. That's precisely what they enjoy."
It's hard to imagine that male stripping, though seemingly far less demeaning than its female counterpart, doesn't involve some kind of Faustian pact. Surely anything that requires you to 'drop trou' for a living must have consequences. What, for example, do the boys do when their looks go?
In the film, Mike stockpiles $50 bills in the hope of one day owning a respectable furniture business. In real life, Tatum acknowledges that the "good times" are indeed short-lived. "You feel like a rock star... but you're nothing," he told Entertainment Weekly. Like male modelling, the stripping industry is packed with people trying to figure out what to do next.
Most try to get out of the game by their early thirties, many of them setting up strip clubs or entertainment businesses of their own. But it's hard to move on from a business where you're adored. "It's really sad," one man tells me, "I know guys who are still stripping in their fifties and they do look really old. The day someone tells me I look old is the day I hang up my G-string."
It is sad. But despite the undeniable talent of some performers, it's hard to shake the feeling that there's something just a little funny about male stripping, a juxtaposition of the erotic and absurd – and perhaps the thing that makes it seem that little bit more acceptable, especially to the performers themselves.
It's a world where men are kings, but they're kings in tiny little pants.
_________________________________
the reviews are in for

Blue Lagoon: The Awakening
(2012)
: World Premiere, Saturday June 16 8/7c
on Lifetime.
http://www.nypost.com/p/entertainment/tv/different_shade_of_blue_1x2CuYcpaVURJRKCO1esiI
If you hated old 'Lagoon,' you'll love new one.
Unlike in the old movie, these kids don't get stranded as toddlers and somehow end up living in a duplex hut with wrap-around porch.
Instead, they get stranded on a high-school trip that their class has taken to the Caribbean.
Somehow, under the noses of their teachers, (Christopher Atkins from the original is now the teacher!), the whole class sneaks out of the hotel and boards a party boat.
Emma falls overboard when the cops come to raid the party boat.
Since Dean is the only one who notices, he jumps in after her and gets her aboard the dinghy tied to the big boat.
Cut to the chase: They are stranded at sea and fall asleep from exhaustion.
When they wake, they see an island in the distance and row through the waves and rocks to get to it. Why Club Med hasn't invaded this place is hard to know.
Meantime, Dean's dad and Emma's family, especially her mother (Denise Richards, who really does look like the kid's mother), are frantically trying to find them.
Weeks and weeks go by, and Emma and Dean start to become attracted to each other.
Look, if you have to be stranded on a deserted island, it's best to be with someone who looks like they fell out of a Calvin Klein ad — right?
Forty-three minutes into the movie, they finally succumb to the call of nature.
That
nature.
Unlike the original where nudie scenes were followed by fornicating turtles (kill me!), here their "awakening" is tastefully done with nothing much showing except their emotions.
Look, it ain't Lina Wertmüller's "Swept Away" — it's more like "Survivor: Paradise."
Even so, I might be insane, but I enjoyed every silly minute.
http://communityvoices.sites.post-gazette.com/index.php/arts-entertainment-living/tuned-in-journal/33287-back-to-blue-lagoon
"Blue Lagoon: The Awakening" feels out of place on Lifetime. Perhaps it's a bid to draw a younger audience but the TV movie seems like the slightly racier version of a movie you'd see on ABC Family.
The general plot of this "Blue Lagoon" is roughly the same as the old one: Teen couple gets lost at sea and lands on a deserted island where they must make a life for themselves, which eventually leads to sex on the beach.
Turns out there's no hotel to be found so the two bond, grow close and make love in a particularly unsexy sex scene shot from above with a tree branch obstructing the view in an ineffective attempt to protect the characters' modesty.
_________________________________
Lauren Mayhew joins Dexter Season 7 Cast
Lauren Mayhew who is a well known singer and actor joins Dexter season 7 cast. She will be guest starring in the 3rd

episode

(Buck The System). As of now we are not sure of her role, we will provide more information on that in coming days.
Lauren most likely will play a victim or a serial killer with killer smile. Either way hoping for upper frontals.
So far here are the female guest stars in upcoming new season.
Calista Flockhart as an Agent

– Calista Flockhart will play the role of an Agent from another bureau, she will guest star only in the first

episode

of 7th season. [ Nudity : Very Unlikely ]
Katia Winter as a Russian Stripper in a Miami Club – Katia Winter will be playing a recurring role of a Russian Stripper in a Miami Club. She may be

working

in the same club where Jason Gedrick in the manager.
[ Nudity : Topless dancing ]
Yvonne Strahovski as Hannah Mckay – Yvonne Strahovski will play the role of a strong, independent woman with a past that she's struggled to put behind her. She will be appearing in multi-episode story arc.
[ Nudity : sex scene with Dexter. Probably filmed in very darkish style and we really
can't
see anything ]
_________________________________
Rookie actress Jung Ah Yool passes away
June 14th, 2012
It has been revealed that rookie actress Jung Ah Yool (25) has passed away. On June 14th, according to Jung Ah Yool's acquaintances, the actress hung herself in her home on the 12th and was rushed to the hospital after she was discovered; however, it was too late.
The police are looking into the case investigating other possible causes and exact reason for her death.
Acquaintances have stated that the actress had been suffering from depression. On the early morning of June 11th, the day before her death, Jung Ah Yool had posted on her Facebook, "Nothing consoles me".
Not too much is known about the actress other than that her contract with Myname Entertainment had ended 6 to 7 months ago and that she had been a singer trainee previously before becoming an actress. The 25-year-old actress appeared in KBS's 'Love, Love".
May Jung Ah Yool rest in peace.
* I hope for Korean movie biz sake it's not related to sexual exploitation of young female artists so prevalent in the industry.
_________________________________
Mary Elizabeth Winstead

// ASOS Magazine
We take you behind-the-scenes with ASOS mag cover girl Mary Elizabeth Winstead, she tells you why she's hotting up Hollywood right now.
* I do feel motherhood will loosen up Mary reservation about nudity just like it did Kelly Overton
. She will look even hotter with a bun in the oven.
_________________________________
Update on

Sara Tommasi porn debut
"I finally fulfilled my greatest fantasy .... be a real porn star. It was an unforgettable experience .... Exciting .... I think I'll try again!" -S.Tommasi

"Initially I was a little afraid of really enjoying and fucking in front of people looking at me. At first, it was embarrassing when the scene started but I was soon comfortable...." -S.Tommasi

"I have watched many movies porn in my life. I'm so excited to finally be a star of a real porn movie. A dream come true" -S.Tommasi

FINALLY THE FILMS THAT MAKE THE DREAM OF PROHIBITED MILLIONS OF ITALIAN A GREAT EXCLUSIVE ... SEXFACTORY
* Sara sex show will come out at end of this month. According to my Italian friends there are attempts to scuttle the release by some quarters. There are rumors she made nearly 10-scenes and puts in a performance even veteran porn starlet will be proud of. Apparently Sara is very into pussy licking, swallows cum, DP'ed in very lengthy scene and does "ass tasting" few times.
Amid all the publicity there is genuine fear and sadness for the former Miss Italy contestant's mental health by friends and loved ones. They believe she is a victim of Silvio Berlusconi sex parties (and whoring out Italian girls to foreign delegates) where they are forced to participate in porn-like fuck fest.
_________________________________
Felicia Day nude!!!!!!!!!!!
http://tomwebster25.wordpress.com/2012/06/07/felicia-day-nude/
Felicia Day Nude…. well if that isn't nerd's wet dream right there!!!
I was going through my inbox this morning and was confronted with an update for a blog I sometimes read. According to the title of the post they had exclusive pics of the oh sooooo lovely Felicia naked.
Now not that I am into that sort of stuff of course but being the brave, intrepid explorer of the internet that I am… I just had to check it out
So here it Felicia Day in the all together
Yeah, I know more than a little bit of a let down huh??
Still if like me you are now feeling sad alone then maybe this fully clothed yet still awesome pic of the always alluring Miss Day will cheer you up.
Don't even try and tell me that you wouldn't ,)
Nathan Fillion, Wil Wheaton and Felicia Day Get Photobombed
by Wil's son Ryan, no less! Just another day at Comic-Con. Also, I approve of Felicia's wardrobe. (July 25, 2011)
http://wilwheaton.typepad.com/wwdnbackup/2011/07/on-the-meeting-of-nathan-fillion-or-the-obligatory-comicon-post.html
_________________________________
28-years old actress and mental case Stacy Dash first and only sex scenes in Illegal in Blue
The direct-to-video noir came out around the same time as Dash's theatrical breakthrough in Clueless. Supposedly to capitalise on Dash sudden name recognition. Unfortunately the movie was pretty bad but it was the graphic sex scenes that sank Stacey career for couple of years. Instead of garnering roles in mould of cherry Dione of Clueless, Stacey was flooded with B-grade scripts revolving around - what else - love scenes.
Stacey Dash HD Sex Scene 1
by madboy111
Stacey Dash HD Sex Scene 2
by madboy111
Stacy Dash later claimed she was so embarrassed of that movie and regrets ever making it to this day. She also said you could even see how uncomfortable she was doing those love scenes. Yeah right.
http://staydashing.wordpress.com/
Anyway the point of posting the video is like a tutorial for current cable shows producers such as Magic City. This is how you shoot a sex scene : longish, real intimacy, plenty of close-ups and make sure everything is in 'clear' view.
* Note to Mitch Glazer: Dominik García-Lorido supposed to have lots of nude and sex scenes in Season 2 (according to the original script). Make sure she doesn't back out. Dying to see her naked and bet my crazy ass she have nips just like Stacey. Use the above videos as an inspiration.
_________________________________
Kelly Macdonald of 'Boardwalk Empire' enjoys the ride
Kelly Macdonald of 'Boardwalk Empire' discusses New York living, her 'Trainspotting' nude scene and voicing Merida on 'Brave.'
She looks bright and chipper as she strolls into Essex and Sons restaurant on the Lower East Side of Manhattan, but Kelly Macdonald is wiped out. No wonder: She'd been filming "Boardwalk Empire," in which she stars as Irish immigrant-turned-mob-mistress Margaret Schroeder, until the wee hours, was woken up at 7 a.m. by her son (she's married to Travis bass player Dougie Payne) and will be on a plane home to Scotland in less than 24 hours to prep for the"Brave" press junket (she voices the lead, Merida).
It's all a wild ride, one that she didn't necessarily plan for but seems more than happy to take. Here, she talks about lingering accents, nude scenes and why her next career may just be in the floral arts.
You've been in New York City for a while for "Boardwalk Empire." Do you feel like a New Yorker yet?
Even though it's been three years, it still feels temporary. It's been a bit of an adjustment, but … it's New York. That's the main thing. I keep calling these my New York years.
What appealed to you about playing Margaret?
Honestly, I kind of accepted the role blindly. I'm not very good at planning in advance or looking at schedules. I had the pilot, and that's what I wanted to do and that's what I signed up for. It wasn't until after the fact that I realized that I'm involved now.
Was the Irish accent hard to slip in and out of?
It's weird. When I'm here in New York, I find myself reacting not as Margaret but in her voice. If I bump into someone on the street, I apologize and my "Sorry!" is her "Sorry!"
You were in "Trainspotting" when you were just 19, and it was your first professional job. How did it change your life?
Entirely. It opened the door to the life that I wanted. I left school at 16, went to college, but I was sort of directionless. If I'm not interested in something I don't make any effort, and it was just about having the [nerve] really to do something about it. Then I saw this flier for the open auditions, and it was a real effort to get myself there. I got to the building and nearly walked off, but another girl I knew was going to the same thing, so we went in together. I was quite shy.
Not so shy that you wouldn't do a nude scene in the film. Was that awkward?
I was terrible, I just wouldn't think about it. Almost the worst part was thatDanny [Boyle, director] came from a theater background, so we had to rehearse. It's one thing to do it on the day and just go for it and not shillyshally, but the rehearsals … ugh. And the day we filmed it turned out to be the day I chose to invite my family to the set. That's how much denial I was in.
"Brave" is your first shot at voice work; did you create a new voice or modulate your own for Merida?
It's basically my teenage voice. I'm a little embarrassed at how quickly that came back to me. It's just me being a teenager, complaining, whining and groaning.
Will this be your son's first Pixar film?
No, he's seen a lot of them again and again — we've had to buy the DVDs over and over because they get so scratched. He's aware of the character of Merida. I was going to work one day and he said, "Are you going to do Merida?" and I said, "No, today it's Margaret." All he knows is I go to work and come back with makeup on.
At 3 a.m. Which means you could be in other professions.
Exactly! I come home really late, lipstick smeared all over my face...
What did you think success would look like when you started?
I had no idea. Well, I thought success would be like a plastic bag with underwear in it. I know that sounds really weird, but when I started working regularly and had to go to London all the time, I was always traveling and carrying around this polybag with my used underwear back and forth. So that was one way I knew I had some success.
If you had to pick any other career aside from acting, what would you have gotten into?
Well, yesterday we were talking about flower arranging at work for some reason, and I destroy flowers. No one should ever send me flowers. I keep cutting the stems shorter and I end up with single flowers in egg cups by the end. I was thinking I'd like to learn that. Maybe being a florist could be quite good.
_________________________________
* I think we'll have to wait bit longer for Monica Keena, Tania Raymonde and Stella Maeve first nude scenes in Manson Girls. There are some funding issues which is yet to be resolved. I'm being optimistic here. Check out the couple of interviews. First is by Susanna Lo (writer/director) and the second is by Bill Moseley (Charles Manson). Someone is shitting us big time.....
[1]
Manson Girls: A Conversation with Susanna Lo
(March 16 2012)
It's safe to say that if you haven't yet heard the story telling of director
Susanna Lo
the chances are pretty good that before the year is over that will all change.
Susanna is a remarkable author and filmmaker best known for her award-winning 1996 film,
"Black and White: A Love Story"
.
She is also the writer, director and producer of "
Manson Girls
", a film currently in the works which is already creating a stir in Hollywood circles.
"Manson Girls
" is an epic story told from the point of view of the female followers of the notorious Charles Manson, who went on a killing spree during the Summer of 1969.
All of the elements for the film are already in place: the cast, the crew and locations. Filming of the movie's trailer has already been shot and main shooting for Manson Girls will begin once additional funding is complete.
The film features such talented actresses as: Tania Raymonde (
LOST
); Estella Warren (
Planet of The Apes
); Taryn Manning (
Sons of Anarchy
) and Monica Keena (
Entourage
).
Need more proof about the buzz already being generated by this film? Look no further than the casting process. For not only did thousands of actors audition for the roles but a simple contest for a walk on part wound up turning into an all out bidding war.
In this wonderful interview with Susanna, she gives the inside story of
"Manson Girls"
and what it's like working with the cast, which also features Bill Moseley
(The Devil's Rejects)
in the role of the infamous Charles Manson.
We'll also discuss her thoughts on the music for the film, which includes a contest for aspiring musicians to get their original song added to the soundtrack.
goJimmygo (gJg): Hi Susanna, how are you today?
Susanna Lo (SL): I'm good. How are you? Thank you so much for taking the time.
gJg: It's my pleasure. I must say that when I first heard about "Manson Girls" and who all was involved with it I was amazed.
SL: Yes, it's a pretty amazing ensemble. They're all wonderful people to be around. Which makes filming it so much easier when it's such a gigantic cast.
gJg: What's the current status of the movie? I was reading articles that said you have been filming for a year or so.
SL: Actually, we started filming some scenes right before the holidays and then we took a bit of a break to go to Berlin and raise some more funds.
It looks like there are quite a few people who are interested in providing the rest of the funding for it.
gJg: That's a good situation to be in.
SL: Yes, fortunately we're in the position of being in the middle of some what of a bidding war so it gives us some choice. It's the ideal situation because we've wanted a large theatrical release from the get go. We don't want it to end up in just ten theaters or anything like that. We want it in the theaters, that's the whole thing.
gJg: What's the premise of "Manson Girls"?
SL: "Manson Girls" is a story about eight of the girls that helped commit the crimes for Charles Manson but told through their perspective. It begins with the girls in their teenage years (the years before they meet Manson) and ends a minute before the Tate / Labianca murders in 1969.I was fascinated with how these eight young, talented, beautiful girls could all come under the spell of Manson. And its a story that, quite frankly, has never been told before.
gJg: It's hard to believe a story from their perspective has never been told. It's been almost 43 years now.
SL: I know, right? It's kind of a no brainer but it's never been told. Except for little curiosities people have had here or there with one girl or the other.What's funny is that for a time I found myself living right across from the Labianca estate and not even realizing it. There were times where I would come home from work during the day time and couldn't get near my house because there were all of these tour buses with people from all over the world on them. I finally realized what it was about and I didn't even know about the Labiancas.
gJg: Was Bill Moseley your first choice to play Charles Manson?
SL: Well, it was unbelievable when we were out casting actors. The submissions for each role were unbelievably large. I think just for the girls we had something like 1000+ submissions per role. For the role of Manson there were about 300-400 submissions, including Steve Railsback at one point. Bill's manager just happened to get me on the phone one night and we hit it off immediately. I remember she said to me, "You just have to meet Bill Moseley. It's a no brainer". Of course, I had to play a little hard to get about it. But the three of us eventually did go out to lunch and once I met Bill I just knew it.
gJg: I agree. I just watched him for the first time in "The Devil's Rejects" and he was fantastic in the role of Otis. When I heard about him being cast as Manson I thought "Wow, this is absolutely perfect!"
SL: Yeah and Bill is so calm natured and "normal" in real life that it's absolutely shocking when you see what he can pull off on-screen.
gJg: Here's a question for you. Is there any truth to the rumor that at one point Lindsay Lohan was interested in a part in this movie?
SL: There have been several rumors and discussions about Lindsay. I had been approached and told that Lindsay would have some interest in doing this one. I just felt at the time that because this was an ensemble situation it would just be too difficult with everything she's going through right now. I thought that she probably should take a break and organize herself because it would be tough, with this project in particular.I'm not kidding though when I say that these girls I have now are some of the nicest people in Hollywood. You might expect some kind of chaos but no, they really are magnificent to watch.
gJg: I'm a big fan of Tania Raymonde, just from her time being on LOST.
SL: Tania is amazing. I always regret that she's as young as she is. She's just 22 but she's a phenomenal human being. Very world traveled, very cosmopolitan. A smart girl. She's great.And I've been catching up on "LOST" as well. I rented all of the DVDs so I could watch her performances.
gJg: Did you ask her about the numbers? Because I'm still trying to figure that part out.
SL: You know she told me that she was originally only supposed to appear in one episode but because they liked her so much they just kept writing her back in.
gJg: And what's amazing about her role as Alex Rousseau on the show is, she actually does look like the daughter of the Danielle Rousseau character. Another example of perfect casting.
SL: She does. And if you actually look at pictures of Leslie Van Houten (her role in "Manson Girls"), Tania actually does look like her too. She's really morph-able. Its unbelievable. You can always find a picture of her looking like somebody else.
gJg: That makes it easy for you.
SL: She just has such an exotic background. I think that's part of it.
gJg: Is there any concern that because of the nudity and sex involved with this story that the movie might garner an "X" rating?
SL: Well, there is some concern because you never really know what the MPAA will deem to be an "R" or an"X".
Certainly I have to deliver an "R" because we want a large theatrical release but at the same time I'm not going to shoot the film and have it impeded by the possibility of it generating an "X" rating. I'm going to shoot the film the way it was organically meant to be made.
Let's be honest, this was the Summer of 1969. There was certainly a lot of nudity and sex going on. That's just the way things were back then. So we'll let the film go to where it was meant to be and then we'll work around it. If they're going to give me an "X" rating for anything it should be for the violence.
gJg: What about the sound track for the film? I've heard mention of some of the Doobie Brothers being involved on it?
SL: The soundtrack is brilliant. 1969 was a great year for music. Some of the best musicians ever were around in the late 60′s and early 70′s. Sure enough, we do have two of the Doobie Brothers: Guy Allison is our composer and John McFee along with Guy are the producers of the soundtrack. We've also got everyone from Al Jardine of the Beach Boys, David Crosby, Beth Hart and Susanna Hoff from the Bangles all participating with the music along with members of the cast as well.
gJg: The cast? Really?
Yes. We've got some all original songs and then we've taken Taryn Manning and the Doobie Brothers redoing "California Dreamin". and Estelle Warren with the Doobies redoing "House of the Rising Sun". And Bill Moseley himself sings The Doors' "Five To One". ~ He is so wild and seductive it's amazing .But for me personally, having the Doobie's on there is a dream come true. Guy Allison is brilliant.
gJg: I believe there's also a contest for musicians to have their own original song added to the official "Manson Girls" soundtrack. What made you decide on a contest?:
SL: Well, we recently held an auction where the winning bidder received a walk on role in the movie. The response to it was incredible. So much so that towards the end it actually turned into a bidding war and even the people who wound up coming in second and third contacted the people who ran the contest for us and offered to pay more. That was so successful that we decided to also open the doors for the music soundtrack as well. It's exciting.
gJg: How can people get involved in the contest?:
SL: We've set up a website with all the details:
http://www.mansongirlscontest.com
.
gJg: Is there a release date for "Manson Girls"?
SL: We're aiming for October 2012 release. The film festivals like Toronto are definitely interested in having us so we'll be pushing some of those deadlines which come up in the August/September time frame.
There's a lot of good buzz building about the movie. I've been writing some articles on occasion on the "making of" and right now its gotten to the point to where its being read in over 117 countries. Who would ever think that 117 countries would even know who Charles Manson is?
gJg: I think he's still getting tons of mail.
SL: Yes, I read somewhere where he gets more fan mail then all other prisoners put together. Its unbelievable. Especially when you consider that he's just this tiny little man. Although smart and quite crazy. It's hard to believe that he has a "fan base" that's existed for this long.What's funny is that for a time I found myself living right across from the Labianca estate and not even realizing it.
gJg: Are you serious?
SL: There were times where I would come home from work during the day time and couldn't get near my house because there were all of these tour buses with people from all over the world on them. I finally realized what it was about and I didn't even know about the Labiancas.
[2]

Horror legend Bill Moseley talks 'Manson Girls' (June 12 2012)Speaking of which, am I right in thinking you've just played Charles Manson?I haven't played him yet.
Actually, I've played him in a trailer that we've done for
Manson Girls
, Susanna Lo's movie. But we haven't shot it yet. We have a trailer out for which I also recorded a version of the Doors' song "Five to One" with Guy Allison of the Doobie Brothers and that's the soundtrack of the trailer. I'm not sure if it's a trailer that's been put out for public consumption or if it's part of a fund-raising package.
I think they're still looking to fully finance before they start shooting.
_________________________________
Entertainment Experience is a film project in which two films are created. One user-generated film and one film made by Dutch director Paul Verhoeven.
http://en.wikipedia.org/wiki/Entertainment_Experience
The script consists of eight parts. Part one is written by Kim van Kooten. The "crowd" (participators of the competition) will subsequently write the scripts for the seven following parts. Both Paul Verhoeven and the participating film crews will make their film based on those scripts. The process of making the film is shown in a TV show on Dutch channel Veronica. The project was launched on 21st September 2011 and will finish at the end of 2012.

The public film will be composed out of 8 separate parts. The actual fulfilment of the movie is decided by the audience. From the beginning of the project multiple teams have formed. These teams exclusively receive parts of the script, composed by Paul Verhoeven and script writer Robert Alberdingk Thijm, in order to film them.
Seven of the eight scripts are based on various separate scripts, contributed by the audience. Based on these contributions, Paul Verhoeven and Robert Alberdingk Thijm composed a script each time, which formed the basis for the next script. In total 85 participants contributed to the final scripts.
Synopsis:
The story centers on real estate tycoon and womanizer Remco (Peter Blok – Black Book). During his 50th birthday party thrown by his wife Ineke (Ricky Koole – Sonny Boy), his successful and frivolous lifestyle takes a turn for the worse. His business partners, Wim and Fred, are scheming behind his back to sell him out. And to make matters worse, both his current mistress Merel (and also daughter's best friend) and his former office-fling Nadja, show up uninvited with one of them pregnant. All is not what it seems to be in this tale of passion, betrayal and disintegrating relationships. A story only Paul Verhoeven could tell like no one else.
[1] Verhoeven's project is at Part 5 (out of 8) which premiered on 12 March with nudity by Gaite Jansen (Holland's Anne Hathaway). But the expected sexual heat never materialises. She is topless and that's about it. Surprisingly lame stuff from Verhoeven. 52-years old Peter Blok and 20-years old Gaite's love scene would have rocked every May-December fetish freaks. Maybe the final 3-parts will have something but don't hold your breath. Possible unrated DVD release is our only hope.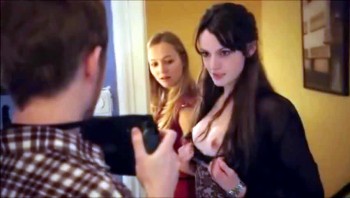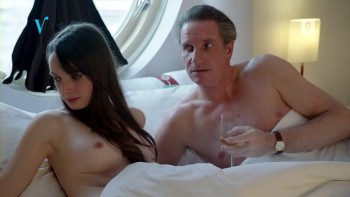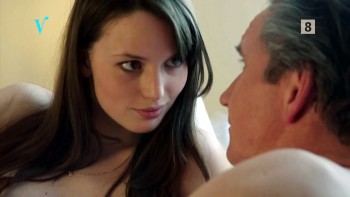 720 version: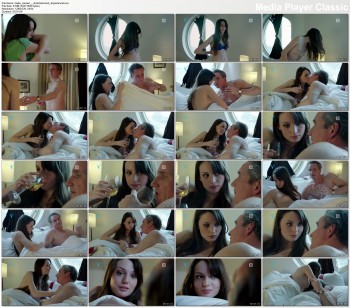 https://rapidshare.com/files/597748799/GJ-EX.rar
[2] The one by pro-am production group is now at Part 7 and final segment will be released soon.
You can check out all the segments (free video stream) at
http://www.entertainmentexperience.nl/halloffame/STAGE_1
Quick topless by 24-years old Marleen Maathuis at Deel 2 (and
in lingerie at
Deel 5).
_________________________________
31-years old actress and nudity dodger

Julia Stiles

: see-thru at Ghetto Film School Annual Benefit Gala in New York [June 13 2012]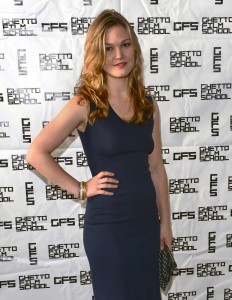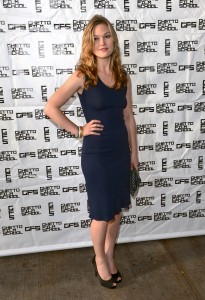 _________________________________