the latest on

Sara Tommasi

...
http://www.socialchannel.it/mag/2012/06/29/esclusivo-il-produttore-eroina-e-stata-sara-a-propormi-il-film-dopo-essere-andati-a-letto/
http://www.erosdvd.it/DVD/57830/IN_ARRIVO_A_GIORNI:_SARA_TOMMASI-IL_MIO_PRIMO_FILM.html?&docheck=yes
Length: 55 minutes + 60 minutes extra video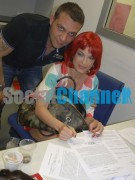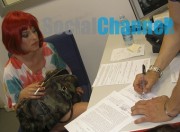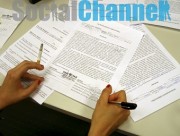 * Keep this in mind guys - Sara was doped the hell out of her mind (voluntarily) so if you're uncomfortable viewing a glassy-eyed model plowed to kingdom come.........I'm going to watch it anyway. But I hope Marra stop taking the higher ground and get Sara into a rehab. Pronto. Her recent weird blabbers about aliens and strange presence suggest she is on verge of a breakdown. The expected media circus after the movie release could be detrimental to Sara's declining mental health. Immediate family members disowned her long time ago after learning she was a high-end hooker for politicians and doing nasty shit in Miami and Dubai.
_________________________________________________
Top 5: WTF Terry Richardson Stories!
by
You Peepz know how Bucky and I feel about Terry Richardson, we love his work even if he his America's drunk and inappropriate uncle. you know the one that drinks too much at Christmas (and every other family gathering for that matter) and makes you sit on his lap even thought you've long since outgrown pigtails.
Most people either love him or hate him; when it come to Uncle Terry there is no middle ground, but even the people who love him recognize that he's a hipster douche who sports a pornstar 'stache, and molester glasses. Hell, he probably thinks he invented plaid, but it's Terry and he doesn't give a fuck and most people just shrug at his antics, because, hey, we get to see all the nudy pictures he takes of his celebrity friends.
The dude is God, the dude is legend. He's also quite the perv; a side of his personality that gets him into trouble. If you listen to the Internet hype, he's got quite the reputation for taking advantage of his models. Hey, Terry said it himself: "In this business it's not who you know, but who you blow."
Now, I don't know if any of the rumors and allegations flying around are true. Consider everything I'm about to say, and everything I've already said to be conjecture, gossip, rumors and allegations. I wouldn't want to be sued over any of this, it's true, but in all honestly it's kind of difficult to separate truth from fiction when it comes to this guy.
As I said, in a previous post, Terry really is a myth of his own creation; when it comes to Richardon's body of work,
he's the real star
, not the chicks who pose topless for him. And since we do feature his work on a semi-permanent basis, I thought it was only fair to give you a little more information on the guy. Truth or fiction? Who knows. Hero or villain? You tell me.
5. Just Call Me Uncle Terry
I always thought Bucky referred to him as Uncle Terry, because the dude really does looks like the stereotypical inappropriate uncle, but the origin of the "Uncle Terry" moniker is apparently self-assigned. Usually, giving yourself your own nickname never works, but when you're Terry Richardson and you've got all the power and fame that comes with that and you ask a nude model to call you "Uncle Terry" people oblige you. Is it ironic? Does he really want to be seen as the creepy "bad touch" uncle? Is he completely insane and doesn't give a fuck? Or maybe he just dig it when between mouthfuls of dick models moans: "Oh, Uncle Terry. Oh yes, give, me that big cock. Unnnnncle!"
4. Uncle Terry Loves Tampons
One model claims that when she told told Terry she was on her period to rebuff his advances during a particularly frisky photo shoot, he told her he looooved tampons and asked her to take it out so he could play with it… and make some bloody tea. She declined, but if you call him up and ask nicely, I bet he would pull it out with his teeth for you while the water boiled.
3. He Shoots In The Nude
Terry might have that whole creepy hispter douche vibe down to a science, but he's a nice, fun guy and the last thing he wants to do is make is models uncomfortable, so to loosen things up on-set when a lovely lady is about to take her clothes, Terry often takes off his own clothes to make her feel at ease. This should in no way be considered a move on his part. He's a gentlemen after all, and yes, that's him making that model feel more comfortable by spreading his cum all over her tits.
2. He Fucked A Sheep, Sort Of, Maybe
Back in the '90s, Terry published a picture of himself fucking a sheep. Try as I might, I was not able to find the picture, and depending on the source, the sex was either real or simulated. Either way, some impressionable teenager saw it and immediately fell in love. With Terry that is, not the sheep. Not all love stories end badly, or with sheep impaling, because as luck would have it, this love sick teenager grew-up, meet Terry Richardson, fucked him, and wrote a story about it for xoJane.com.
1.
His Models Frequently Blow Him
"It's not who you know, but who you blow" remember? This one is hard to deny when there's so much photographic evidence. Terry doesn't just like to shoot naked lady models with nice tits, he also likes to insert himself into the photographs he takes as well. It's one of his trademarks actually, and by insert, I, of course, mean his dick into their mouths.
http://jezebel.com/5494634/meet-terry-richardson-the-worlds-most-fked-up-fashion-photographer
* The thumbs-up sign in case of Terry usually means he got the girl naked/topless for a photo-shoot. Any model displaying that gesture have gone naked and beyond for him. So we can expect topless shots of Kate Upton to surface in the future when she decides to enter the second phase of high-end modeling : full-blown nudity.
Perry Michaelson: Monster of Photography
It looks like Terry Richardson isn't the sketchiest fashion photographer in town anymore.
_________________________________________________
Yvonne Strahovski
on 'Dexter' role: 'She's haunted by her past'
Yvonne Strahovski has spoken about her role on Dexter.
The former Chuck star has been cast as Hannah McKay, a young woman "haunted by her past".

"[She becomes] involved in solving a murder through Dexter (Michael C Hall)," Strahovski told TVLine.
"I feel very lucky to have come from Chuck, and then gone straight into a movie, I, Frankenstein, and then to something completely different again with Dexter."
The actress added that she is excited to be part of a show that is "so celebrated in this industry".
"Dexter is respected for the quality of work that the actors and the writers and everybody brings to that show," she suggested.
Dexter exec Sara Colleton previously refused to rule out the possibility of a romance between Hannah and the show's lead.
"Whenever there's a man and a woman, there's always that possibility - or a man and a man or a woman and a woman or any configuration," she hinted.
The show's seventh season begins on Sunday, September 30 at 9/8c on Showtime.
_________________________________________________
Kristen Stewart Eyes Porn Star Physique For New Role
Actress Kristen Stewart is to hit the gym after vowing to get into "the best shape of my life" for her next role in a gritty action movie.

The pale-skinned Twilight beauty will get a tan and dye her hair blonde before shooting edgy thriller Cali with director Nick Cassavetes.

She tells Women's Wear Daily, "I'm going to get into the best shape of my life. I'm going to look like a stripper. I'm going to look like a porn star."

Stewart will play Mya, who flees Los Angeles with her boyfriend after selling a snuff film, but returns years later to save her sister when she lands in trouble.

The 22 year old admits she was intrigued by the "extreme in every way" script and hopes she can get to grips with her character's psyche.

She adds, "A lot of times, you'll read a script and you can identify with things that are very surprising, things that kind of shock you about yourself. And the process of making the movie is finding out why those feelings occurred. Sometimes they're not always easy to define... (But) if you don't know why someone is the way that they are, then you're just playing a caricature of a girl."
Actress Kristen Stewart is set to star as Mya in edgy action movie Cali and she would be seen dealing with murder, sex and drugs. Producer Craig J. Flore promises viewers will see a different side to Kristen in the movie.
"Kristen is a talented and dynamic actor, with a proved box office draw. Her role in Cali will be edgy and sexy. It will no doubt push the envelope on the public's view of Kristen's wide-ranging abilities," he told variety.com.
* Kristine is producing the flick so very unlikely she will get naked. Hope I'm wrong. But actress auditioning for the role of Mya's sister will discover it requires nudity...
_________________________________________________
'Game of Thrones' Season 3 Casts a New Lady
SpoilerTV has gotten wind of the fact that young actress
Charlotte Hope
has been cast in the third season of HBO's 'Game of Thrones,' which will begin production this July in Belfast, Ireland. Hope will play a character named "Myranda," which is speculated to be that of "Myranda Royce," daughter of Lord Nestor Royce, and keeper of the Gates of the Moon for her father.
It's also been speculated that her character may be combined with that of Mya Stone, who was excised from the first season of 'Game of Thrones,' and might be more age-appropriate for Charlotte Hope. Season 3 of 'Game of Thrones' will adapt its material from George R.R. Martin's third book in the 'Song of Ice and Fire Series,' entitled 'A Storm of Swords,' which was long enough to merit dividing into the HBO program's fourth season as well. In 'A Storm of Swords,' Sansa Stark (Sophie Turner) thinks about being banished from Kings' Landing to the Gates of the Moon, having heard that Myranda keeps a lively household.
_________________________________________________
Age Restricted '

Girls Gone Dead

' NSFW Trailer
Today we have a very NSFW trailer for the new horror/comedy Girls Gone Dead, if you like blood and boobs then this one is for you.
Girls Gone Dead is said to be hilarious throwback to the sexy 80s' comedy/horror flicks. The film centers around six beautiful high school friends reuniting for spring break during their freshman year in college -- only to find a sadistic killer with a medieval war hammer has targeted them! With a cast filled with notorious celebs and personalities – such as Jerry Lawler ("WWE Raw"), Beetlejuice and Sal 'The Stockbroker' Governale of "The Howard Stern Show", Ron Jeremy, Iron Maiden's Nicko McBrain, scream queen Linnea Quigley and a passel of Penthouse Pets like Ryan Keely and Janessa Brazil – this soon-to-be cult classic is certain to add some sizzle to your summer!
Rebecca (
Katie Peterson
)
is set to spend her first Spring Break home from college with her old high school cheer-leading friends. As luck would have it, the group of six sexy girls have been granted the usage of a rental property in the Florida coastal town of Manatee Creek. However, they are soon to find that their vacation may be anything but... Just down the road, in Daytona Beach; "Crazy Girls Unlimited" -- a company famous for its drunken topless DVD releases -- has been throwing an event for their latest video series. However, the shoot ended early when a war-hammer-wielding killer showed up to end the festivities. Unaware of what has transpired, Rebecca and her friends decide to throw a Spring Break Free-For-All, but the girls get more than they bargained for when, one by one, the party-goers begin to disappear. It seems that an uninvited stranger has been cutting the guest list – literally – and it's everyone for themselves in this hysterical, splatter-tastic flick.
Extras: Extensive Making-of Featurettes: "Wyld Willee's - A Tale of Two Bars" Featurette (featuring an interview with Nicko McBrain), "Beetlejuice The Director" - Short Featurette, "Sal's Fried Chicken Prank" - Short Featurette;Outtakes/Bloopers; Deleted and Alternate Scenes; 4 Music Videos including: "Three Words" by Amber Pacific; "All Signs Point to Lauderdale" by A Day to Remember; "Rescue Me" by Hawthorne Heights and "A Crush is a Crush" by Victorian Halls; Audio Commentary with Director/Editor Michael A. Hoffman; Producer Ryan Dee; Writer Meghan Jones and Composer Ryan Copt
The ladies of "Girls Gone Dead"
_________________________________________________
In Unsurprising Magic Mike News, A Lot Of People Are Googling 'Olivia Munn's Boobs' Today
http://www.nudography.com/News.aspx?IDNews=5689_________________________________________________
Top 4 Pop Singer Nude Scenes
Something different, so to speak…
_________________________________________________
Video From WME Quarterly Staff Meeting
WME client Mo Mandel trades places with his agent for one day to find out whose job is more difficult. Bizarre truths and inside jokes ensue. Directed and edited by Oren Kaplan for WME's quarterly staff meeting:
_________________________________________________
She takes a photo every day: 5.5 years and counting
_________________________________________________
Chances are, it'll be a good long while before we start seeing anything truly substantial from 'Game of Thrones' season 3, even this summer in San Diego at Comic-Con 2012. Earlier today we learned that a new location had been added to the epic George R.R. Martin series' international production, and now we've gotten confirmation that a young actress has been cast to play a well-known book character. Who is this mysterious lady, and what might her casting mean for the series?