'

Fifty Shades of Grey

' Movie Casting News:

Alexis Bledel

Delighted That Fans Want Her to Play Anastasia Steele
More stars keep attaching themselves to two of the most talked about characters from a novel (except for Bella and Edward): Anastasia Steele and Christian Grey.
"Gilmore Girls" star
Alexis Bledel
recently acknowledged to her fans on facebook that she was a fan favorite to play Anastasia.
"I see that lots of you wants me to play "Ana" in
Fifty Shades of Grey
. :)," Bledel wrote on her Twitter page.
Could that smiley face mean that she's happy her fans are all for her being Anastasia?
"
Fifty Shades of Grey
," written by bestselling author E.L. James, tells the story of 22-year-old recent college grad
Anastasia Steele
, who enters into a dominant/submissive sexual relationship with 27-year old sexy billionaire
Christian Grey
, and both explore Christian's world of BDSM (bondage, dominance, submission, masochism).
Bledel, 30, is a fan favorite to play Ana despite maybe being a little too old for the part. One B-and-R commenter said, "From the dark hair, blue eyes and soft pale skin, Alexis would be perfect to play Anastasia." Another said, "Alexis is perfect for this role....she fits the character of Ana in all ways!!!!"
Movie Pilot described Bledel as a "spot on" resemblance to Anastasia, who has big blue eyes. "Not only is Bledel cute as pie, but she has Ana's sweet and innocent look down pat," Movie Pilot said. "She looks like she can blush and chew her bottom lip with the best of them at the sight of sexy Christian, so we don't care that she's actually 30 years old (if you can believe it). She's our girl!"
FansShare described Bledel with "seductive blue eyes and a stance that binds awkward charm and sex appeal."
"The way Alexis enunciates and expresses herself is also not far from the way intelligent literature graduate Anastasia carries regular conversations."
In a B-and-R
Anastasia Steele poll
, Bledel dominates, leaving other favorites like Lucy Hale and Emilia Clarke in the dust.
"Twilight" actress
Anna Kendrick
recently "hinted" at the coveted role in an interview with Bravo's "What What Happens Live!"
She dodged questions about being attached to "Fifty Shades" and was bashful when a viewer's question caught her off guard.
Recent reports suggest that author James has been eyeing "The Descendants" actress
Shailene Woodley
to play Anastasia.
Woodley, 20, who played George Clooney's daughter in "The Descendants," has allegedly "caught the eye" of James because of her acting in the Oscar-nominated film.
* The problem with casting Alexis is the age factor. Remember the book is a trilogy and the gap between filming the movies means Alexis will be around 34 or 35 by the time they get around to the final chapter. Going the route of Lords Of The Rings by shooting all at once is very risky financially if the first one doesn't take off at the box-office. Also no actress will agree to an extended period of commitment where she have to be nude most of the time on-set. It's no surprise James is favoring Shailene. She is young and according to Hollywood insiders very 'flexible' when it comes to exploring her 'artistic' boundaries.
_______________________________________________
Craig Zobel on "Compliance" controversy, nudity, and real life inspiration
The filmmaker opens up on his acclaimed picture, based on real events.
A man calls a harried fast food manager, identifies himself as a police officer, and tells her that he has a witness that one of her employees has stolen from a customer – could she help with the investigation until he can get there? Hoping to get this resolved quickly, she complies – even when he asks her to detain, search, and then strip-search the teenage employee. Threatened with arrest, the teenager complies with increasingly bizarre requests from the disembodied voice on the phone – including doing nude jumping jacks to "dislodge" anything hidden within her body's orifices, bending over to be spanked, and performing a sexual act for one of the males guarding her. Only when one of the male employees objects to the proceedings does the caller hang up, because the whole thing was one elaborate prank to see how far they would go.
Not only is that the plot of
"Compliance,"
a disturbing and controversial film out this week, but it's also what
roughly happened
in
70 real-life cases
at rural fast food joints across the country, with some variances. The film is claustrophobic, keeping the viewer for the most part in the same room as the trapped teenager, Becky (played by
Dreama Walker
), who is humiliated and put on display with only a skimpy apron to clothe herself, if that, when her belongings and clothing are taken away. Needless to say, she's innocent of the charges, but her protests fall on deaf ears, since her manager Sandra (played by Ann Dowd) accepts the supposed officer's accusations (which also escalate) as fact without any proof. Beyond the gullibility vs. obedience issue raised by most critics, the situation also begs the question – does no one know their rights?
"Not that I made this film for an advocacy reason, but if people learned their Miranda rights from this, I would feel like we did a good thing," director
Craig Zobel
told IFC. "It should be apparent that it's against the law for anyone who is not a police officer to conduct a strip search, at least in this country, at least right now. You would think if people had seen enough episodes of 'Law and Order' that they would know that."
A season nine episode of
"Law and Order: Special Victims Unit"
even tackled the real life cases, with Robin Williams playing a prank phone caller who called himself "Detective Milgram," in reference to the
Milgram experiment
which tested how people respond to
obey authority
– the very experiment which influenced Zobel's take on "Compliance."
"The specter of a cop is a powerful thing," he said. "It gives people pause. People were scared enough by the idea of police that they didn't question it. They don't want to say the wrong thing. They don't want to get into more trouble."
Some participants, as the Milgram experiment and the
Stanford Prison experiment
demonstrated, were either thrilled or relieved to be able to transfer responsibility for their actions to an authority figure who asked them to and gave them permission to inflict pain or humiliation. "Milgram's experiment was about taking responsibility," Zobel said. "He was basically saying, 'Look, this is my deal. Your only role in this is to do your duty and do what I say.' The thing I can't wrap my head around is how few people questioned that. Maybe some of it had to do with the closed space, feeling away from the world, that this wasn't real, and no one would know."
Because part of the prank/crime in "Compliance" involves Becky stripping and performing oral sex as a punishment, Walker ends up spending much of her screen time in a compromised position. Critics who saw the film at a Sundance screening
called it misogynist and exploitative
, especially because Walker is not unattractive.
"I hoped I shot it in a way that was not sexy," Zobel countered. "Her nudity should have gravity to it. Should I have cast someone who was less attractive? What does that say about what you think about rape? Do you think only attractive or unattractive people get targeted for sexual assault? Is rape about sex to you? Or is it about power? This is about abuse of power.
In the end, Louise Ogborn, the person whose situation most resembles what Becky goes through during the course of "Compliance,"
was awarded
millions in punitive and compensatory damages. Walter Nix, her "guard" who committed the sexual abuse, went to prison. The man accused of ordering him to do so, David Stewart, was found not guilty – but there were no more reported hoax calls of this kind after his arrest.
'Compliance' Director Craig Zobel On Uncomfortable Art And the Cops' Approval
Ever since
I saw Craig Zobel's film Compliance
, about employees at a fast-food restaurant who were talked into an abusing a co-worker, at Sundance, I've been eager to see it reach a wider audience. The movie follows a day in the life of Sandra (Ann Dowd), a manager at the restaurant for whom nothing seems to be going right, who receives a phone call from a man claiming to be a police officer, who tells her that Becky (Dreama Walker), a junior employee at the restaurant, has stolen from a customer. Over the course of the day, the man talks Sandra into detaining Becky, having her searched, and ultimately, another man into assaulting her.
Compliance
is a powerful movie about our desire to gain police approval and our willingness, or lack thereof, to intervene when things are going terribly wrong around us. And it seemed to me to be misunderstood at the festival, where audiences complained that its depiction of what happened to Becky, which is based on a series of true events, was exploitative, or insisted that they couldn't relate to characters who worked in the service industry. I talked to Zobel about art that makes people uncomfortable, what it means that we seek approval from the police, and feminist filmmaking. This interview has been edited for clarity and length.
I wanted to start by asking how you came to the source material. I've seen the Law and Order episode that's based on these real events, so it's floating around in the pop culture ether, but I was curious how you became interested in it.
It's funny, I'm from Georgia, and one of the events took place in Georgia, so I kind of knew about it from that, but I hadn't remembered exactly what the deal was. And I was reading about Stanley Milgram's obedience experiments when I stumbled upon it, so it was after the pop culture moment had happened.
I know Dreama Walker from her more comedic work, but she has been bubbling along in Gran Torino and everything else, so how did you come to work with her?
She read the script and was really interested, and it resonated with her. She was familiar with the original story as well. She came in, and we were casting, the casting for that role was delicate in a way. We had to up front lay everything out. This is what this movie's about. She was interested and came in and auditioned, which was great. And than she and I sat down and had coffee, which I think quickly turned into beer because we were talking about some heavy stuff really fast. She just had the same questions that I did about the story and what it was all about…They just wouldn't come in. It was a voluntary thing. Acting is a voluntary thing. Most of hte people I was seeing were people who were already fascinated by it in some sense. But Dreama and I talked a lot…She just was the right person. it made sense to me for a lot of reasons…She was kind of identifying certain things as the more interesting way to play this or that beat, or the way that was compelling though it was somewhat frustrating. We were talking about these things and kind of landing in the same places. When we started working together, it was very specific. These are the shots. This is what you're going to do. Talking about that stuff before we were ever on set so there weren't any surprises…
I first encountered this story and was very much, kind of what a lot of people's reactions are, "Well, that's fascinating, but I would never do that." Truly a very condescending point of view, when you really think about it. Which has been interesting, to have the movie keep going, to listen to some people who very much distance themselves from the movie at Q-and-As and things like that, who point out how dumb the people were, how they're from a different class, and all these things that I was not comfortable. I think my bullshit detector went off inside of myself when I was so condescending about how I would never do it. I think that's what made me want to do the movie. It was "Why did I just act like that?"
That was one of the things I wanted to ask you about, because in one of the Q-and-As you did at Sundance, one of the members of the audience said "Well, I just couldn't identify with these people because they were too dumb." And it seemed like people, who normally wouldn't fall back on class prejudice or gender prejudice had been scrambling to do that to avoid any suggestion that they could ever be complicit.
Or putting it back on me that it's painted that way. I would feel like I fucked up if that's what you really think, that these people are dumb. I would feel like I failed. I tried hard. I tried hard to avoid that. That was the one thing to avoid in my opinion. It's condescending. Especially when it's multiple people over a ten year period, and it's these seventy cases you can look at, and it keeps happening. It's like, man, it's not that. There's no way it could have been all the dumb people that got called. People do fall back on, I'm reading it the way your'e reading it, people are trying to distance themselves from the movie and don't want to go there and want to put these people into boxes so they can be safe. We had a screening the other day where that came up, and it was funny, because it came from the very back of the stadium seating, and it was just the perfect place for it to come from. You're truly looking down your nose at me and the people who made the movie. You're actually physically looking down your nose at us.

I wonder if one of the things about the movie that makes people uncomfortable is we like the idea that the police are our friends.
It's a contract we've made. They're going to protect and serve us, and they aren't going to do the wrong thing, because what would that mean? That would mean we couldn't trust them. We've made that as a rule. They're our teammates….I feel like, when people have difficulty with that they're ignoring any time they've ever interacted with a police officer. It's only since the movie that I've ever had a run-in with a police officer. I was walking across Sixth Avenue in New York the other day, because there were traffic problems, it was at Canal Street. There were two guys saying, "you, you," the lights had stopped having any meaning, and everyone was looking at the two guys in the yellow things, we're off the grid here, the red light and the green light mean nothing, these guys have superseded it. And I was walking, and I was kind of looking and I realized no one was coming, and I said to one of the two guys, "Hey, can I go?" and he wanted me to not ask questions, so he just said "Okay," and the other guy, even though they've superseded the lights, says to me "You walk when the walk light sign says green. My nine year old knows that." The cop says that. So I go "Okay. Just tell me what to do." I started fighting back, I got heated about it, I said "Do you want me to go or not go?" And I thought, "Woah, I'm fighting back against a cop." And I don't think I ever did that before…It's terrifying, when you get pulled over by the police, if you have to get out, that's terrifying in a certain sense…People just ignore any experience they've had with the police, where people are mostly scared, I think.
I also think there's some kind of reflected valor in cooperating with the police. And I wonder if that's what happened with Sandra [Ann Dowd's character, a manager at the restaurant, who is the initial target of the call]. On a day when everything else is going wrong for her, she can help solve the crime.
It's a way for her to achieve success on a day where nothing else was working. Ann would tell you this is a person, she saw Sandra as a person who was told she didn't have, she wasn't good for a lot. That even complicates the issue. I think that's a funny thing that, in the same way the people don't want to look at their relationships with cops and try to push that away, there are people who are insecure, and that happens. We're all insecure sometimes, we all have some amount of that inside of us. And when you're insecure, you look for ways to not feel that way anymore as quick as you can. For Ann, that was the main driving thing. Do the right thing. Do the good thing.
As a movie about sexism, I thought it was fascinating that you have these male characters who behave along a spectrum, from "I'm not going to collaborate but I'm not going to blow the whistle either," to "I'm going to collaborate because it's what I'm told to do," to "I'm going to intervene." Was that a dynamic that was reflected in the real events, or was it something you decided to have to make sure all those positions were represented.
Truly a little of both, because it is the same as some of the real events. I wills ay that I gave it enough thought that I switched the genders of a bunch of those people in my end, and was like "What does it do to the movie if we have this person as a female?" I never really thought that Becky should be a male because a) it would just be an incredibly confusing story, it would push people more into the "I don't believe it" category. And I don't know what it says that that was my first instinct. I think people exploit authority over women. I'm not a woman, but I recognize that that happens, so I felt like that was important. I thought it was important that the caller was a man. I thought that those were kind of necessary. I thought Ann's character, Sandra, could have been a man. But if she was a man, you immediately would have started thinking of the sexual ramifications, rather than, at least hopefully, getting some recognition of it as a power dynamic instead of immediately as a sexual dynamic. There were a lot of examples of it being a man manager.
To make the movie work, the boyfriend character needs to be a man. You have these two people who kind of dissent in a certain way. To change Kevin, the young kid who says "I don't want to be a part of this, I want to take myself out of this," but he doesn't really do anything. I liked that character. That was someone I knew, in certain cases, there were people who were drawn in and pushed away. But I liked the idea of putting in the water someone who had a crush on her, that you already knew about as the audience, that might go towards exploitation, and he ran away, cowardly, in a way. I thought that was just too interesting to not do. I wanted him to be a man. Then when you talk about the last person in the film, it's after the sexual assault, and literally just from a narrative point of view, it's that kind of climax, what is this guy going to do? He's just a man for narrative purposes…I do recognize that, in some kind of perfect gender checklist version of this movie, there isn't a woman saying "This is bullshit."
At the same time, I feel like you walk a fine line. It's easy to fall over into the idea that men need to rescue women. But it's also important for men to be allies and recognize the abuse of women when they see it.
I hope that maybe that comes across in some way, shape or form. When the misogyny discussion started at Sundance with a bang, I didn't quite know how to verbalize it immediately, but I was like "I swear I thought about it." I know that it's about exploiting women. I know that…At one of the Q-and-As really recently, up in New York, for a taste-maker type thing, there was a person, she was still in school, and she was a graduate women's studies major, and she did this way better than me. I did at some point read Camille Paglia, and stuff, but I don't feel comfortable speaking with too much authority, since I'm a dude. But she was able to kind of talk about the differences literally in second-wave feminism and modern feminism. And basically said the whole point in second-wave feminism was about recognizing that there aren't good images of women in the world and we needed to portray what we hoped a positive version of this, and what we wanted the world to be like, was what we looked to the arts to do. And then at some point there was an acknowledgement, she said it better than me, that it's also important to show that it's not working all the time, and there's still bias and still a mess.
'Compliance' is added to list of most controversial films
When an authority figure orders you to do something, you do it...right? But when does "Just following orders" cross the line into committing a horrendous crime…
The much-talked about indie film,
Compliance
from writer/director
Craig Zobel
has been somewhat of an anti-crowd pleaser since its debut at the
2012 Sundance Film Festival
. It's a dark, chilling, deeply disturbing silent thriller that takes a normal day at a fast-food restaurant and turns it into a hellish moral dilemma that makes its shaken audience ask two questions:
"Why don't they just say no?"
and the more troubling,
"Am I certain I wouldn't do the same?"
As a huge fan of films that makes its audience think and cringe collectively, the tough-to-watch sophomore feature from
Craig Zobel
is a must-see. Based on true disturbing events, the surprisingly intense film has already caused some heated debate and walkouts. The plot concerns a female manager (
Ann Dowd
) and her co-workers of a fast food restaurant, named
ChickWich
in rural Ohio. When an unknown man posing as a police officer phones in and instructs an investigation of the teenage checkout clerk (
Dreama Walker
) he accuses of theft. Convinced she's doing what is right, the manager commences the investigation, following step-by-step instructions from the supposed officer at the other end of the line, no matter how invasive they become. And things go from bad to worse and to worst…Yes, this film is
based on true events that occured at a McDonalds in 2004
.
"People have these complicated relationships with authority."
insists Zobel.
True. Studies have been conducted time and time again, displaying just how complicated said relationship between people and authority figures are. In many cases, individuals will go against their own morals and even common sense when they are given ridiculous and obscene orders by those in supposed authoritative positions. Just the thought of being so easily manipulated by someone with a title to their name is little scary. It can happen any day, at any given moment. When does
"Just following orders"
cross the line and how does one go against that?
Compliance
puts that tough, disturbing question and realities in the minds of its audience. Some might be quick to label the characters in the film as naive and unintelligent; however put in a similar and seemingly simple situation, I'm willing to bet most individuals would fall into the same destructive trap said characters succumb to in the film. No wonder people are so shaken and passionately opinionated about the themes the film carries.
Compliance
is a tough one, and is not a delightful moviegoing experience. The acting is terrific, the pacing is as impeccable as it is stomach-turning and intense, and the Zobel's writing and directing is near perfect, concerning how he deals with the themes and subject matter with a leveled perspective. I'm surprised so many have simply deemed the film as lame
"Sundance torture porn"
and
"misogynistic"
. The critical controversy reminds me of the fact that the world consistently labels things immoral when it is shown its own societal shames. This is the perfect example of that...
Compliance
is not for everyone (and definitely not for the faint of heart), but it does pose a few important questions our society should consider. It's fascinating, but deeply disturbing. The film depicts the worst kind of horror event imaginable. It is hands down the scariest film of the year, and it is based in reality at that. I do not want to go too deep into it to the point I might spoil anything, because it is really a special film, and quite an important one at that.
Craig Zobel
has created a truly unsettling, almost documentary-like, experimental and provocative film that goes in the list of most
controversial films
of all time.
Questioning society's morals and its ever-so complex relationship with authority figures, Zobel's second feature is a stunner, full of nerve-wracking tones, atmospheres, images, all hyped by a tense score and some brilliant acting and directing. Honestly, I applaud Zobel for tackling such a controversial film just in his second go around in the director's seat, and doing it in such a challenging way to where his audience participate in heated debate on the dark sides of
human behavior
and ethics. Strong reactions to controversial films are always interesting to debate about.
Oh, you wouldn't be so stupid to fall for something like that?
You'd be surprised by the weak malleability of human nature, no matter how intelligent one might deem themself.
Obeying orders. Sometimes is not a very acceptable moral defense. And as distressing as that reality is, I'm not sure it calls for labeling a look at one of our society's most complex conflicts as
"torture porn"
. For its exceptional acting, tension and fearlessness,
Compliance
gets a nerving
5 out of 5 stars!
I look forward to how the rest of the world will respond to this film. The film is now on limited release in theaters. Check your local listings.
_______________________________________________
5 Reasons Kelsey Grammer Didn't Receive An Emmy Nom That Had Nothing To Do With His Politics
A couple of nights ago, on the
Tonight Show
, Kelsey Grammer was asked why he was denied an Emmy nomination for his performance in
Boss
last season. His response? It might have had something to do with the fact that he is a Republican.
"It may have to do with several things, honestly, but I think it's possible … I mean, I am a … I'm a declared out of the closet Republican in Hollywood," said Grammer. He went on to say, "Do I believe it's possible that some young person, young voting actor — or even older voting member for the Emmys — would sit there and go, 'Yeah, that's a great performance, but ooooooooooooh, I just hate everything he stands for?' [Cue sarcasm.] I don't believe that's possible." Via EW
It's true, Grammer's performance on
Boss
last season was a blistering tour de force. The man pulled Shakespeare out of his ass and shook him around like a rag doll. Besides
Kathleen Robertson's frequent nudity
, there was no better reason to watch
Boss
than Kelsey Grammer's evil performance. If you're not watching the show, which returns tomorrow night, you're missing a nicely written, brilliantly performed, tightly-wound political drama (with lots of nudity!).
So, despite all of that, why was Grammer denied an Emmy nomination? It had nothing to do with the fact that he was a big old George W. Bush supporter. I mean, the Emmy voters love to nominate people for going full retard; there's no reason they wouldn't nominate someone who politically supported one. It's more likely that one of these five reasons is responsible for Kelsey Grammer's snub:
1)
Boss was seen by only 300,000 people a week
. To put that in perspective, earlier this year,
L.A. Complex
set the record for the lowest ratings EVER for a show on a broadcast network with 646,000 viewers. That's twice the ratings of
Boss
.
2)
The show is on Starz!
Starz is the home of
Spartacus
and, er,
Spartacus: Vengeance
. Even when Starz was airing one of television's best comedies,
Party Down
, (which had even lower ratings than
Boss
), no one was watching the network. You know what deserved an Emmy nomination before Grammer for Best Actor?
Party Down
for best sitcom. And
Party Down
starred a bunch of pinko commie liberals.
3)
Because Boss is brilliantly acted soft-core porn
. Of course, that's part of the appeal for me (
people that complain about too much sex on great television shows make my head spin
), but Emmy voters aren't going to vote for soft-core porn. You think the sexposition in
Game of Thrones
is gratuitous? On
Boss
, they don't even combine it with exposition: Kathleen Robertson or Hannah Ware's characters just like to take a break from the action of f–k every once in a while. Good for them!
4)
Damian Lewis in Homeland, Jon Hamm in Mad Men, Hugh Bonneville in Downton Abbey, and Steve Buscemi in Boardwalk Empire all delivered as good or better performances than Grammer in SHOWS THAT PEOPLE WATCHED.
Michael C. Hall? I could see the debate, but you know who else didn't get nominated? Timothy Olyphant. Now, that's the real crime here (and Olyphant is not a Republican, so far as I know).
5)
Because Bryan MOTHEREFFING Cranston in Breaking Bad is going to win it anyway.
Now shut the f— up, Grammer, stop playing the victim, go buy your 17th wife something nice (family values!), and keep turning in strong performances on
Boss
until someone pays attention to the show.
_______________________________________________
MAXIM Australia
:
Ellen Hollman
Rack-less (is that even a word?) but nonetheless another former top school athlete after Kelly Overton will finally bare her B-cups in next season of Spartacus
_______________________________________________

Review:

About Cherry (2012)
Directed by
: Stephen Elliott
Starring
: Ashley Hinshaw, James Franco, Heather Graham
In trying its best to partially mimic the likes of similar commentaries on the perils of the adult entertainment industry, I'll start off by saying About Cherry is a colossal failure. Focusing on young Angelina as her naivety and familiarly troubled adolescence prompt her to run away to find "bigger and better" things, she and best friend Andrew (Dev Patel) conveniently wind up inside a nice apartment in the San Francisco, California suburbs. Gravitating toward the aforementioned line of work for one reason and one reason only – quick, easy cash – Angelina, a.k.a. "Cherry" seems to have all the answers, that is until she begins to realize the perils of succumbing to such glitz and glamor at a precariously young age.
As much as I'd like to compare About Cherry to 2009′s The Girlfriend Experience, the former's just too inconsequential and inept as it relies too heavily on the sexual aspects of the proceedings, coming off as more smutty than insightful. Sloppy construction and poor editing ensure that the cookie-cutter aspects of Cherry's aspirations don't amount to much, allowing the film to cover all of its embarrassingly familiar bases without a hitch. From maintaining her low-income family's and boyfriend's approval to the difficulty in leaving behind the financial security of her pick-up-and-go profession, you'd swear you've seen it all before, only much more skillfully (and tastefully) presented.
Familiarity aside, it's hard to determine whether or not the scribes' intentions were to either challenge people's opinions about the industry or comment on the questionable integrity of it as an appealingly lucrative line of work. As life becomes increasingly more difficult for Cherry, it's apparent that her story's meant to illustrate the difficulties of leading a normal life off-set, but the proceedings as a whole remain thematically vapid, almost horrifically so, as attempts at characterization fall flat while its focus wildly shifts from one uninteresting individual to the next.
To put things plainly, it's a shame that About Cherry's no-holds-barred depiction of the industry at its core amounts to absolutely nothing. As it continues to fall flat where it counts the most, Cherry's one-dimensional and impoverished beginnings can't quite explain away her interest in doing pornography, making the character herself more of an overly sexualized icon than a portrait of desperate times calling for desperate measures. Muddled intentions and smut galore pave the way toward a ludicrous final act, ensuring that About Cherry is left without a leg to stand on as everything about it steadily and distastefully falls apart.
"About Cherry"

: "Boogie Nights" Lite for the Cinemax Set
After "Boogie Nights" and even "Star 80," you'd think a movie about the porn business would be pretty gritty in 2012. Not so for Stephen Elliott's "About Cherry," which hit downloading services this past week. It won't premiere in theaters until September 21st, although by then the word should be out: "Cherry" doesn't pop, it's "Boogie Nights" with a happy ending.
James Franco is heavily advertised as the "star" of the movie along with newcomer Ashley Hinshaw. But Franco did one day's work on the film as a favor to Elliott. He's fine, of course, but his role is really just an extended cameo. It's Hinshaw and Dev Patel, as the corrupted corn fed ingenue and her clueless platonic pal, who get most of the screen time. Lili Taylor does her best (I wish she were more movies) as the cliched negligent drunk mother Angelina–aka Cherry.
Cherry cannot compare to Julianne Moore in "Boogie Nights." She's got a nice life while stripping, dancing, posing naked, have strange guys on top of her. She's a porn star with a heart of gold–no drugs, no tattoos, no deals gone wrong. While Moore's Amber Waves aka Maggie is a simmering, percolating mess, Hinshaw's Cherry is a Doublemint commercial gone topless. If that turns you on, by all means rent this thing.
Hinshew is a beautiful all American blonde, so she's right for this part of a good girl gone bad–but not too bad. She gets naked a lot, simulates a lot of different kinds of sex, and even has it with Heather Graham. But she's sort of like Alice in Pornland. Nothing really bad ever happens to her. There's just a lot of atmosphere and moody lighting. I've seen Cinemax movies that were edgier. In the end, Cherry gets to do what every actor–even porn ones–want do: direct.
Will people see "About Cherry?" in theaters once they've had a chance to watch it at home. I doubt it. By all means, download it or rent it. It's harmless entertainment. But time spent in a theater should be of a more substantial nature.
_______________________________________________
22-years old

Katrina Darling

is a burlesque dancer and second cousin of Kate fucked-into-royalty Middleton :

Playboy 'God Save The Queen' [September]2012
* Kate Middleton cousin should receive offers soon from top porn producers. She got a rocking body with eye-catching clit and butt made for anal poundings. But even if Katrina Darling gets DP'ed on-cam the biggest scandal in the future will come about when William comes home from his army stint and finds beloved Kate nude and grinding her ginger-haired brother-in-law in the bed. I don't know about you guys but there something going on between these two. Harry Hewitt is a mischievous bastard and dicking his brother's wife could be personal high-point. Kate likes William but finds him too bland. The princess needs someone to show her all the 'fifty states of America'!
_______________________________________________
Exclusive Interview

:

True Blood's Jessica Clark Talks Playing Lilith, Modelling and Becoming A Vampire

When Jessica Clark made her dramatic appearance as
the vampire
goddess Lilith-rising naked out of a pool of blood-she became one of the most talked about vampires on this season of
True Blood
.
TV Equals
was able to have an exclusive interview with Clark about her role, how her modeling background played into her portrayal of Lilith and if she would turn vampire if she had the opportunity.
Clark as a vampire fan
Working on
True Blood
has made a dream come true for Clark, who is a big fan of vampires and the popular HBO show.
"I wouldn't call myself any
sort of
expert, I've definitely always loved vampires and the supernatural, and I've watched True Blood from the first season as a fan," she said. "[B]elieve it or not, I've always wanted to play a vampire, so I was extremely excited when I got fitted for my fangs."
Clark's reaction to Lilith's entrance
One of the biggest set pieces this season-if not the biggest-is the scene that introduces Lilith. Clark's reaction to reading her character's entrance in the script was probably the same one anyone else would have in her position.
"I thought, 'Wow, that's quite an entrance!' she said, laughing. "[The writing crew behind] True Blood were very upfront before I even read for this part, you know, that this is what they were planning and that it would require nudity…and were I kind of comfortable about going in, so I was very prepared."
Before
auditioning
for the role, Clark was a big fan of
True Blood
, so the opportunity to play a character like Lilith is an amazing one for her. "I was excited to [portray her]. She's such an amazing, powerful character you get to play, and I'm such a fan of True Blood anyway, and the fact that she gets to make such an entrance–it was exciting!" she said. "It was exciting to be part of such an interesting storyline they have this season.Obviously there were a little nerves on the day before you start to film, but.it was amazing, it was professional, it was really fun. It's been a rather thrilling ride."

The Vampire Bible as part of the True Blood mythology
Clark loves the layered depth the Vampire Bible provides the world of True Blood. "I am fascinated by it all," she said. "I love that they brought in ancient, mythological, biblical characters like Salome and Lilith, and I've just been reading on the different interpretations of Lilith throughout history, different cultures.to see how they've incorporated the vampire creation myth in the world of True Blood and how Lilith is a part of that whole thing. For me, it's fascinating and I love it. For me, as a viewer who loves the show, it adds a whole other level of interest and depth to these supernatural creatures.

Challenges that came with portraying a vampire messiah
"I mean there's always a challenge with any character," said Clark when discussing her role. "You want to serve the writers and the story and you want to really embody the vision that they had, and with Lilith being the original vampire, you really don't want to mess that one up."
How Clark combated the challenges involved coming at the character from an emotional perspective. "As an actor, I just focused on living in her
power
, and embodying Lilith in that way," she said. "There are a lot of special effects and makeup that goes into playing her, but that was also interesting for me, being a relatively new actor and for this to be my first experience with high-level body art and CGI and prosthetics and fangs." Clark said the special effects and makeup also helped Clark become Lilith. "I was physically transformed," she said. "Even [looking in the mirror] I was Lilith."

Modeling as an acting tool
Before jumping into acting, Clark was a model, landing major campaigns for Aveda, L'Oreal, Redken, Intimissi, and working alongside the likes of Naomi Campbell for design houses like Hermes, Julian McDonald and more. Clark's modeling background has helped her with her burgeoning acting career.
"I think that ability [to convey a mood] is one of the similarities between modeling and acting, particularly if you do editorials and runways, where it's very high fashion and conceptual and theatrical. [Y]ou do seek to embody a different character and tell a story through the visuals, so yeah, that obviously translates into acting somewhat," she said. "There are things that are very different [from modeling]. As a model, you are always conscious of the camera and that's your training.whereas as an actress, you are constantly living as your character and the camera is observing you.so it goes both ways."
To be bitten or not to be bitten?
It's already been established that Clark is a big
True Blood
fan, but would she go all the way and actually become a vampire if she was given the opportunity?
"Hmmm," she said. "I would definitely think about it."
_______________________________________________
Kristen Bell annoys Ryan Lochte on 'The Tonight Show'
He is currently revelling in his success at the London 2012 Olympics and the stardom that comes with it.
But Ryan Lochte didn't exactly have the chance to do that during a TV appearance on The Tonight Show with Jay Leno yesterday.
The swimmer was interrupted a staggering five times by Kristen Bell who attempted to steal the spotlight as he was interviewed.
The Forgetting Sarah Marshall star had been interviewed in a previous segment but sat in while 28-year-old Ryan chatted to the talk show host and couldn't resist muscling in on his airtime.
Kristen, 32, was getting involved from the offset, scooping up Ryan's medals – which he had brought along – and saying: 'They're so heavy. Alright, I'll put them on,' as she slung them around her neck.
She then raised her hand into the air for permission to ask a question when Ryan chatted about the challenge of doing one race after another, and Kristen wanted him to clarify what he had meant.
Jay and Ryan continued their conversation and the host quizzed Ryan about his infamous admission that swimmers often relieve themselves in the pool.
Ryan explained: 'We're in the pool for six hours straight - no one is going to raise their hand and say, "Coach I got to go!"'
Ryan, who has won five medals at the Olympics, then started to chat about his rigorous training regime.
Perhaps forgetting she was in the presence of an Olympic athlete, Kristen rather condescendingly asked: 'Do you have any idea how much training it takes to be on Dancing With The Stars?'
Ryan appeared to have reached the end of his tether at that point and hit back: 'Do you know how much training you have to do to swim?'
Fortunately the pair were saved by the bell as it was then time for Jay to wrap up the awkward interview.
_______________________________________________
IFC's

Bullet in the Face

(2012) is an inconsistent farce but it has some funny moments.....
_______________________________________________
Analysts say Starz likely to be acquired for up to $4 billion
by Andy Vuong
_______________________________________________
Maria Louise Del Rosario

: 8 Things To Know About The Girl With The Anal Tattoo
Earlier this week the world watched as 22-year-old Maria Louise Del Rosario screamed, "Dude, it feels so f**king good," as she got her boyfriend's name tattooed in her butthole. The video immediately went viral, receiving over 3 million views in three days.
The Broward-Palm Beach New Times'
music blog
County Grind
tracked her down and got to know her better. Like, a lot better. After the jump, eight things you should know about the woman behind the anal tattoo. Pun intended. Be forewarned, some of the material is very graphic.
1. She believes she was born from Satan's spawn.
"My dad was born on June 12, at 6:12. If you divide it by two, that's 666. [Note: Her math seems a bit off to me, but maybe I'm confused. -- Editor] I believe I was born from Satan's spawn. He ended up abusing me when I was three months old to the point where I should have been dead. And so the man upstairs has given me a sort of a free pass to do whatever I want … My dad had a drug problem and I was left alone with him. Something happened that nobody has ever told me, but my hip was dislocated, my skull was fractured. How do you do something like that to an infant? … He went away for 7 years for that. And seven is my lucky number, for what he did to me."
2. She got her first anal tattoo, 666, when she was 19.
"When I was 19, I was dating a pill-head. He couldn't keep his d**k up so I started watching porn, and the only thing that entertained me was butt sex

… When I broke up with the pill-head I asked my neighbor Vince to help me with moving his stuff out. We were real comfortable together and I told him I was curious about my little butt so he got me into it and stuff, and I was like y'know, let's brand it, but I want it in your handwriting. So he got a black marker, and signed my ass in big bold letters and then put 999, so when you flip me over it says 666 … When I got it tattooed, he held my cheeks open while I was choking myself from the pain. Then we ended up breaking up because he said he couldn't see us getting married or starting a family."
3. She was not on drugs, just drunk when we saw her getting her most recent anal tattoo. In fact, she's against man-made drugs.
"I had ten shots of Jager in me, and they're calling me a crackhead, or a meth-head. I took a drug test that morning for probation. I'm totally against man-made drugs."
4. She wants to get into modeling and write a book.
"I ain't gonna stop till I reach the top. What I wanna do with all the fame is pursue my modelling shit. I wanna show off my ink, butt naked, not clothes and crap like that. When you show off your body, it's what God blessed you with …I have talents. I wanna write a book. I've been through hell and back, and my story is gonna blow the whole world away. Now, I just wait till the money starts piling up and I can just pull it out of my ass."
5. She just recently got out of jail for grand theft and dealing in stolen property.
"The guy who had me put in jail was named Rockwood. He hated seeing Vince's [tattoo there] when we had sex, so for his birthday I covered [Vince's anal tattoo] with 'Rockwood' because anyway if we broke up then 'I rock wood in my ass.'So we broke up and his mom put me in jail. She thinks I'm a whore from the streets. Her son used to steal all her jewelry and pawn it for drugs, so she manipulated the detectives into believing it was me. I was 21, I turned 22 in jail. The day I got out, her father passed away. I said, 'You fucked me over, and you lost your father the day I got my freedom back, he dies, that's karma.' I went to court over and over, and I finally got probation for 18 months to three years … Jail woke me up though."
6. Her jail nickname was "d**k s**t."
"We were all in one big room, full of bad bitches. I was showing them all my butt hole tattoo. One girl nicknamed me "d**k s**t." I still don't know what it means. On my birthday they even made me a card that said "'Fuck Hallmark, this is jailmark.'"
7. She's a mechanic.
"I work at a mechanic shop part-time learning how to fix cars, picking up parts, answering the phone. They know. They know everything about me. What's awesome is we're open and honest about shit. I live right across the street and there's more than one shop so all the mechanic boys love me."
8. She considers herself a "beautiful disaster."
"I can be happy by myself with nothing. I don't need love or hate. Those are two evil things. Love can hurt you, and hate can hurt you. I'm just a beautiful disaster."
_______________________________________________
'The Mentalist' Actress Sues Warner Bros. TV Claiming Sex Harassment
Shanelle Howard says she complained about constant sexual conduct by a fellow employee and her job was diminished and then eliminated.
A former background actress on CBS' The Mentalist has sued producer Warner Bros. Television and its casting service claiming her role was reduced and eventually eliminated when she complained about a daily barrage of sexually charged comments directed at her by a fellow employee.
Shanelle Howard, who says she has performed as a stand-in and background actress on the hit Simon Baker procedural drama since it launched in 2008, filed suit Friday in Los Angeles Superior Court against WBTV; the fellow employee, Lonnie Moore; and GEP Cencast, the casting agency that handles background actors on the show. Howard says she had been a GEP employee since 2001.

The actress claims Moore subjected her to "a daily barrage of sexually based comments and unsuitable conduct" while working on the show, including statements such as "I'm married but that doesn't mean we can't have some fun," "Are you wearing thongs today or nothing at all?" and "It's just sex; stop being so uptight and give me some."
Howard also claims she was subjected to physical harassment. "There were many times when Moore caught plaintiff off guard, he was thus able to 'cop a feel' before plaintiff could push him away," the complaint alleges.

She claims she complained to superiors in October and was told she had done the right thing by coming forward. But she almost immediately began receiving a cold shoulder from other actors, she claims, and was subjected to retaliatory and confrontational conduct.

Her work declined from five days per week to an average of two days a week, according to the suit, and in late November, Howard says she had a meeting with Warner Bros. attorney Patty Mayer during which she was told the harassment claim had been investigated and the matter was closed. By late April/early May, Howard claims she was no longer being called to work on The Mentalist and was not being offered any other work by GEP; "plaintiff's employment with GEP and Warner Bros. has thus effectively been terminated," she alleges.

Warner Bros. TV declined to comment on the suit.
The complaint, filed by attorney Stephen Ebner, alleges causes of action for sex discrimination, sexual harassment, failure to take remedial action and retaliation.

CBS is not a defendant in the suit.
_______________________________________________
Burning Man Sues Over Nudity Issues
LAS VEGAS (AP) — Organizers of the Burning Man arts festival are suing local officials over new rules for the annual event in the northern Nevada desert.
They say Pershing County is unfairly imposing a festival ordinance that would bring significant new costs and restrictions to the event dedicated to radical self-expression. There's always plenty of nudity at Burning Man. Starting with the 2013 festival, the ordinance will enable sheriff's deputies to regulate activities considered "obscene, indecent, vulgar, or lewd."
The Reno Gazette-Journal reports Burning Man organizer Black Rock City, LLC, filed a federal lawsuit Thursday. Pershing County officials declined to comment.
Burning Man takes place over Labor Day weekend. This year's event is expected to draw around 60,000 people who will camp out and create a temporary city in the desert.
_______________________________________________

NUDE SHOTS:

Azealia Banks EXPOSES Her BOOBS On Twitter!
Upcoming rapstress
Azealia Banks
uploaded a photo of her exposing her breast on Twitter and can be seen wearing nothing except for tassles. And let's just continue to say this girl will do anything for some lime light!.
The Harlem native is definitely no stranger to controversy and is quickly making a name for herself as hip-hop's official bad girl. More details below.......
In a recent interview the '212' star spoke about suffering physical abuse by her mother as a child and its lasting affects on her to this day.
"After my dad died, my mom became really abusive - physically and verbally," the Harlem rapper told Dazed and Confused.
"Like she would hit me and my sisters with baseball bats, bang our heads up against walls, and she would always tell me I was ugly."
Also, check out her "Dazed and Confused" banned cover below:
However, a few days ago
Dazed and Confused
revealed that the September cover of Azealia, has been banned in several countries.
The Sharif Hamza-shot pic shows Azealia smoking a condom like it's a cigar with the headline, "Azealia Banks Blows Up." Apparently this is too risque for shelves.
_______________________________________________
Real to the Touch
DENIS PIEL
sat by a roadside in rural France, chatting on his cellphone. He was winding down from a hectic day that included a wearying drive and a flight punctuated by an infant's squalls.
On the plane he had been tempted, he recalled, to suggest that the mother "just give that child some breast."
The remark was in character. Mr. Piel, after all, is a man to whom little that's natural is awkward or unseemly. Least of all the female form, which he has photographed, often in the buff, for magazines like Vogue and Rolling Stone and, as memorably, for advertising clients like Donna Karan.
Now, many of those images, which began captivating the fashion world in the early 1980s, around the time that Mr. Piel arrived in New York from his native Brisbane, Australia, are gathered in "Denis Piel: Moments," to be published next month by Rizzoli. Mr. Piel's subjects, the likes of Uma Thurman, Andie MacDowell, Tatjana Patitz and Christy Turlington, convey an almost tactile sensuality as different from the hyperglazed mood so prevalent today as a shrink-wrapped apple is from one on a tree. To pore over those images is to discover an aesthetic that seems new and quietly animated, a compelling alternative to the often robotic look of the moment.
Unlike the work of Mert Atlas and Marcus Piggot, Solve Sundsbo and other current fashion darlings, who deliberately render their subjects remote, Mr. Piel's images, while posed, seem intimate, the models' flesh, with its visible goose bumps, stray hairs or film of sweat, almost palpable. He retouches sparingly, a point of pride, and likes to peek behind his subjects' lacquered facades.
"I'm looking to get into the depth of personality, to delve into the character," he said in his Aussie-accented English. "I may not always like what I see, but I don't ever want to make a judgment."
In New York, where he is casting for a project, he expanded on his narrative approach. "What I'm trying to do is make a movie, really," he said, to coax his models to explore a scenario of his own invention, an imagined relationship, perhaps, with a lover just outside the frame.
Or squarely within it, as the case may be. In one photograph, a drenched Clare Hoak showers with a mystery friend. In another Laura Resin hungrily kisses Ken Samuels, a lone tear coursing down her cheek. Mr. Piel seems to revel in capturing women in unguarded moments: Ms. Hoak awkwardly fumbling to lace up her dress; Suzanne Accosta daydreaming unselfconsciously as she perches on a toilet seat.
For the most part such pictures seem nonexploitative, reflecting a collaboration in which the models exult in their bodies, provocative by choice. While you wouldn't call the women robust, some images are unabashedly fleshy, voluptuous in a way that mirrors a renewed appreciation, on and off the runway, of candidly womanly curves.
Curves are nice, Mr. Piel agreed: "I've never liked skinny people in front of my camera." But in the final analysis, it's character that counts.
"What's fascinating'" he said, "is humanity."
_______________________________________________
Porn legacy: A chronicle of 50 years of
pink films
Ginza festival paying tribute to this highly influential low-budget, erotic film form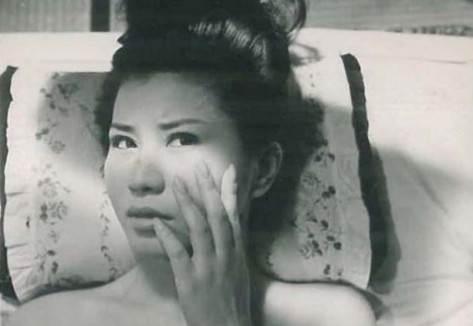 TOKYO (TR) – At its peak of popularity roughly four decades ago, the form of soft-core pornography known as pinku eiga (pink films) utilized more than 1,000 theaters to screen short, low-budget, erotic films churned out mainly by independent studios.
"Around each station of private rail lines there was a pink theater," chuckles industry veteran Akira Mori, the general manager of distributor Shintoho, who, facing a room jammed with stacks of silver film canisters, chats from his offices in Tokyo's Shibuya Ward.
Though currently in their twilight years, pink films, initiated by the introduction of home video in the 1980s, provide a colorful look back to an important period of Japanese cinema. As a tribute to the genre's 50th anniversary,
Ginza Cine Pathos
in Tokyo's Chuo Ward is offering "
Pink Film Chronicle 1962-2012
," a 28-film retrospective extending through Sept. 9.
Shintoho is contributing multiple offerings to the festival, including "Obscenities of Japan," a picture that commemorated the company's 30 years of business at the time of its release in 1993.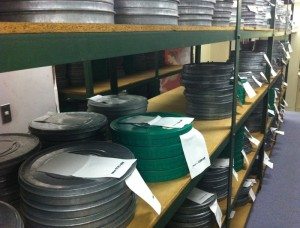 Film archive at Shintoho
Mori describes the film as something akin to a pink-tinged version of a historical epic. "It had a huge budget, twice what was standard, a lot of actresses, and it introduced Japan's erotic past from the Taisho Period (1912-26)," he says.
Pink films
, traditionally shot in three days on a budget of roughly three million yen, differ from conventional porn flicks in that they have significant story lines. Yet it is generally understood by directors that over each picture's 60-minute running time, a half-dozen sex scenes would be necessary — and while not considered the usual porn, these often included hard-hitting scenes of bondage, rape, and public molestation.
"The films are easy to watch," says Mori. "The theaters screen three titles each day, and moviegoers can come and go as they want for one price. It is cheap entertainment."
The lead actor in "Obscenities of Japan" was Shinji Kubo, the self-described "prince of porn," who claims to have starred in more than 800 features.
Over a cup of coffee at a shop just outside JR Shinjuku Station, Kubo, attired in a white T-shirt decorated with black skulls, conveys another distinction between pink pictures and standard adult video (AV) features that are popular today.
"It was about whether the actress would actually do it or not," says the actor, puffing on a cigarette beneath a dark mop of hair. "In pink films, it was usually that she did not, but sometimes things happened 'naturally' under the futon."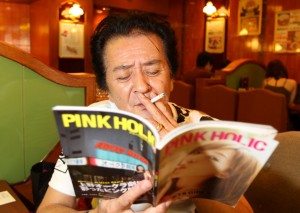 Shinji Kubo in Shinjuku
Some AV actresses would become smitten with the free-form nature of pink productions — Mori specifically cites the ability to "play," as in have an enjoyable experience — and switch over, the most famous possibly being Yumika Hayashi, one of the stars in "Obscenities of Japan."
Before her mysterious death in 2005 — her body was found in her home, presumably the result of a night of heavy drinking the day before — Hayashi won multiple awards at the Pink Grand Prix, an annual event sponsored by industry periodical PG that honors the finest in pink films.
"She had so many fans," says Mori, who attended the funeral of the 34-year-old actress. "In fact, she caused many of her fans to shift from AV to pink."
Kubo found Hayashi's versatility in performing various acts — most of which are not suitable to describe in a family newspaper — to be unbelievable. "She could take on any type of role," says the actor. "These multi-faceted types of actresses do not exist today."
While the roots of pink films are typically traced back to director Satoru Kobayashi's 1962 black-and-white torture production "Flesh Market," the first non-stag film in Japan to introduce nudity, Tetsuji Takechi's fantastical trip to the dentist in "Daydream" from two years later is often considered more inspirational due to its sizeable budget, mainstream release, and battle with government censors over visible female pubic hair.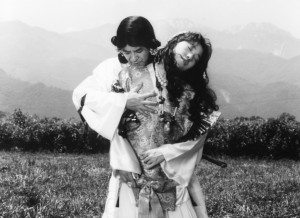 Obscenities of Japan
In 1965, Takechi's followup film, "Black Snow," was met with similar resistance, and the director was subsequently arrested on indecency charges. Directors such as Kan Mukai, who debuted with "Flesh," and
Koji Wakamatsu
, whose story of housewife infidelity, "Secrets Behind the Wall," screened at the Berlin International Film Festival, would that same year become key players in an industry that saw nationwide distribution exceed 200 films.
Nikkatsu
, Japan's longest-running studio, started a second wave of pink films in 1971, when it created its own subgenre dubbed "roman porno," a label that would eventually be attached to a whopping 1,133 features up until its demise in 1988. Studio Toei followed suit the next year with its "pinky violence" brand — films featuring women seeking revenge, such as the sword-wielding femme in "Sex and Fury."
Mori joined Shintoho in the early 1970s. "University students were eager to turn 18 years old so they could watch pink films," he says of those days. "Sometimes they'd lie to get inside the theater."
Problems over censorship and the introduction of AV productions for home viewing during the following decade resulted in the industry's steady decline to the point where less than 80 theaters exist today.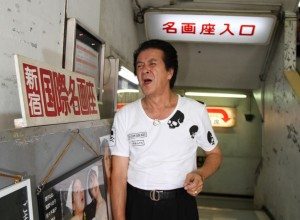 Shinji Kubo in front of the Shinjuku Kokusai Meiga-za
The genre's legacy, however, is still very much intact. Many pink directors went on to success in mainstream cinema. "Departures," the winner of the Oscar for best foreign language film in 2009, was helmed by Yojiro Takita, whose lengthy pink career included "Molester's Delivery Service" in 1986. Wakamatsu, known as the "Pink Godfather," returned to the Berlin festival in 2010 with his war film "Caterpillar."
Attempts at a rebirth have come and gone. In 2010,
Nikkatsu reworked two of its roman porno classics
: "Apartment Wife: Afternoon Affair" and "From the Back, From the Front," in which a female taxi driver does much more for her passengers than simply man the wheel. That same year, the
Ueno Okura Theater
, Tokyo's top adult venue, moved
into a new building
to replace the
aging structure that first opened in 1951
.
Kubo, who famously operated a short-lived "adult" training academy a decade ago, would prefer that the genre fade into the sunset, explaining that current trends toward flamboyance and excessiveness have lost the spirit of the old days. His ideal vision includes, perhaps, a setting in a bathhouse, a smattering of simple dialogue, and a slow transition to…
"The basics should be nudity," the actor says. "A pink film should reflect what it means to truly be a human being."
Note: "Flesh" screens between Aug. 17 and 18 at Ginza Cine Pathos. For information, click here (Japanese only). This report originally appeared in the August 12 issue of the Japan Times.
_______________________________________________
* if you're fan of porn especially interracial genre then you got to watch the video. Quite perceptive. Sad too in many ways.
Interracial Porn : The Life of a Pornstar
"Ace The Pornstar" talks about race in porn!
_______________________________________________