27-years old model-turn-actress Lina Esco show her tits for the first time on-screen in Girlrillaz (2013).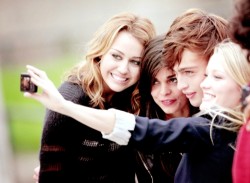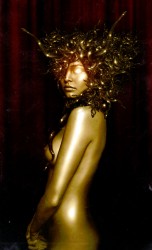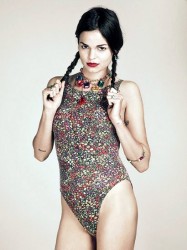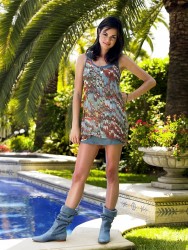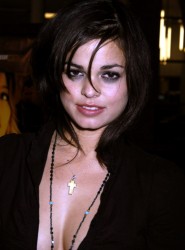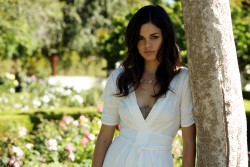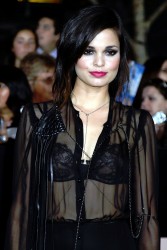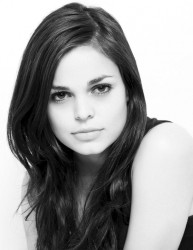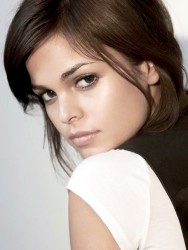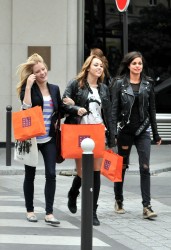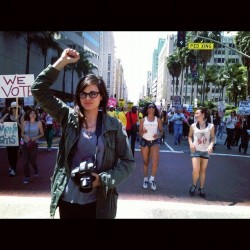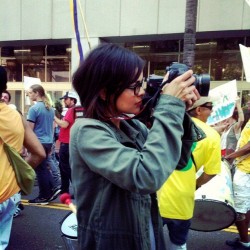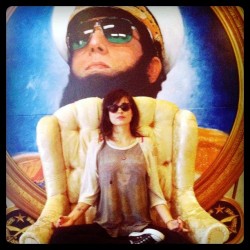 Lina is also directing and producing Girlrillaz. She plays an active role in front of the cam as well. She will be topless alongside other bare breasted women in the big finale filmed in Washington.
She was Janice in LOL which co-starred another first time nude debutant of 2012 : Ashley Hinshaw.
STORY LINE:
Disgusted by society's glorification of violence and repression of sexuality, radical female activists LIV and WITH begin a grass roots campaign to "Free the Nipple" and make public nudity legal in all 50 states — a mission that concludes with a triumphant nude rally outside the Lincoln Memorial.
Girlrillaz (originally titled Saranopolis) falls into a Borat -type category. Scripted, yet sprinkled with interviews and file footage, this film takes on sex, feminism, and censorship within film and television. The crew is predominantly female and they are currently in pre-production research with a plan to start filming in Los Angeles and Brooklyn in August 2012.
The producers are excitedly prepping their upcoming shooting schedule from an office on Hollywood Blvd with an amazing view of the Hollywood Hills.
LOL short interview teaser with Liza Azuelos, Ashley Hinshaw and Lina Esco
+++++++++++++++++++++++++++++++++++++++++++++++
TAKEN 2: Interview with

Maggie Grace
* Ms.Grace looks absolutely ravishing and those bedroom eyes.....just few months away before we get to savor one of the most surprising nudity in recent years.
Woman streaker (with blue and white boobs) invades pre-match at GVVV v Groningen
Ordinarily, the KVB Beker match between GVV and Groningen would be unlikely to make many headlines but thanks to Eredivisie Live, many males out there can ogle at some blue and white boobs.
For what its worth, Groningen emerged 2-1 winners but the pre-match fan fare was dominated by the woman streaker who livened up proceedings.
It is worth pointing out that the video comes from Eredivisie Live – official YouTube channel of Dutch top flight – now owned by Rupert Murdoch.
Watch out for the stewards cheeky smile at 0.09!
+++++++++++++++++++++++++++++++++++++++++++++++
I'm Jo Pincushion
Hey! I'm Jo Pincushion. Some of you may know me from Geekadelphia, GuySpeed, or Things Women Want. Others may know me from The Pincushion Podcast. I am an aspiring singer, comedian, writer, blogger, writer, actor, and reality TV star. I may have a lot on my plate, but I'm always happy to create. I hope my snarky writing catches the attention of the general public, and I bring laughter and happiness to large amounts of people. I also enjoy horror movies, haunted houses, and cosplay. You can catch me around Philadelphia supporting various artists in this great city. Go to
JoPinChushion
for more information and feel free to contact me!
The idea of nudity and artistic expression has always been a touchy subject for me. I have a deep love for the horror genre. Sometimes, in order to perform in these films– nudity is expected of me. I was never comfortable with this, and it has probably resulted in the loss of many acting opportunities. The idea of bouncing my tits on camera for the sake of "boob criteria" in an indie horror film never seemed like a good idea to me. Likewise, nude photo shoots were completely out of the question. I don't have the rock hard body required to pose tastefully in a nude photo. Plus, I think the photographer's photoshopping skills need to be exceptional to make me look even close to appearing magazine ready.
No, nudity was never something I considered doing. I may have texted a topless photo in my day (fingers crossed that it will never re-surface) –but really, nudity is a quick way for a new actress to lose credibility incredibly fast. And like most females in their 20s.. my body issues plague my mind. I blame mainstream media for giving me the self-consciousness pointed directly at my mid section (but I do praise Christina Hendricks for helping me love my curves). I know I look best naked laying down in the dark. So the idea of prancing around naked for the sake of a performance isn't something I could dive into right away.
It wasn't until I was asked by my friend Miss Rose of Bravissimo Burlesque to participate in one of her NAKED GIRLS READING that I started to contemplate exposing myself for my art. I was still plenty hesitant, so I decided to check out the event before committing to anything. I was surprised by the integrity and beauty of it. Sure, in the beginning of the night you're fascinated by the bodies and the bravery of these women standing in front of 25-30 strangers reading Pulp Fiction. After awhile, you sort of lose the shock and awe of the female form and become engulfed by their voices reciting amazing works of literature.
While I sat there listening to tales of Pulp Fiction being read by naked women of all beauty and body types–I fell in love with the premise. I decided to abandon my "no nudity" rule this one time, and take a giant leap into exhibitionist art. I'm not necessarily doing this event for the nudity, in fact, my reasons are far from it. I'm very excited to be reading two of my favorite authors, J.D. Salinger and David Sedaris to an EXTREMELY attentive audience. I'm particularly excited to share my love for 'Franny and Zooey', a story that hits close to home for me. When I read it naked– I won't just be losing my inhibitions, but baring my soul as well.
I'm thinking of this experience as if I'm Skydiving for the first time. It's one of those "I'm in my 20s, you only live once, bucket list" types of things. Every actor I've spoken to has expressed their amazement at an event like this, and told me that it will allow me to become "fearless" in the art of acting. This helps ease my tensions regarding nudity. Particularly, MY nudity. I don't want anything to hold me back when I'm on stage, and if doing NAKED GIRLS READING helps me emerge as a stronger, more confident actress–then I welcome it with open arms.
I'm sure you're all wondering how my night went last night. It wasn't what I was expecting. To be honest… I really had no idea what to expect. Sure, I knew I would be sitting around naked a majority of the time, but I didn't know how the audience would react, and I didn't know how well I would read the passages. It was like I was standing at the edge of the Golden Gate Bridge with a half disintegrated bungee cord strapped around my ankles. Do I still take the leap? Or do I frantically rip the bungee cord off of my legs screaming "I just can't do this!"
I gathered my fears and shoved them into he far corners of my subconscious. There was no turning back now, and thanks to my parents –I've been engrained with an unwavering work ethic that never allows me to back down from a commitment. There was no turning back now. It was naked time.
As I was lightly brushing a bit of light pink blush onto my left nipple I wondered if the other girls were having the inner freak out that I was having. If they did, hey we're hiding it well. Each girl had their own unique form of beauty, and it was amazing how we all stood around naked backstage getting ready without a single taboo or concern. Each girl had their respective insecurities about themselves, but I only saw various forms of female perfection standing in the room. I guess you would say that each girl catered to a particular form of beauty that any man would enjoy.
After applying glitter wherever possible and placing my hair in classic Roman goddess curls, it was time to face the music. As Miss Rose delivered her opening spiel, my nerves suddenly rushed to the back of my throat. "And now here are your naked girls" that was our cue. We slowly walked out looking as confident as possible, and because I was the last one to leave backstage, I had to shut the door behind me. Which was good– considering it gave me the opportunity to avoid eye contact with the audience. Which is my usual routine whenever I'm about to be intimate with a guy.
Before I knew it I was standing on stage with my fellow naked girls about to disrobe. There were no rowdy cat-calls, but rather respectful anticipation. With the lights obstructing my view of the audience I gently took my breath in as I heard the words "This… is naked girls reading." Without looking at one another we disrobed for all to see.
I don't remember much about the general reaction, I just remember letting my top fall past my breasts and around my waist, then semi-gracefully letting the rest of my garment fall to the floor. I think there were a few murmurs and general positive sentiments whispered among the crowd. The general shock of having four naked women on stage was definitely present.
After a half hour or so, the shock and awe of full frontal nudity tapered off. It was time for the literature to take center stage, and it did. I loved listening to the pieces the other women selected, and my nerves began to creep up on me as my turn approached. After drinking half a bottle of water and meticulously adjusting my hair, it was finally time for me to read "Me Talk Pretty One Day" by David Sedaris. I figured I'd read the funny story first. You know, just in case he audience was laughing at my naked form already– getting laughs from them would be a walk in the park.
I stood up and walked to the front of he stage. Again making no eye contact with he spectators ogling at every vulnerable inch of my body. I felt no shame. No concern. The only thing on my mind at that very moment was performing this piece to the best of my ability. It wasn't until my first laugh, where something completely unexpected happened.
I forgot I was naked.
It's true, the idea that I was "butt ass naked" in front of a room of strangers completely slipped my mind. I found myself standing up straight in a powerful stage stance…not thinking about the exposed vagina between my legs.
The reactions to my interpretation on Sedaris' work were invigorating. With every pause I had to make in order to let he laughter subside, I started to realize that I indeed had the attention of he entire audience… But it wasn't because I was naked.
At the second half of the night I read "Franny and Zooey" with an unbridled passion, and my fears and insecurities were non-existent. It's amazing what a little nudity can do for ones self esteem. I don't feel any of the insecurities about my body that I did before. I seem to be walking around with his air of confidence that I've never had before. I feel like I can accomplish anything. I've become totally fearless.
So, after having this surreal experience, I've gained so many benefits that I didn't even think could come from it. My ideas regarding nudity and art have dramatically shifted, and even though I can still say that nudity will not be a regular part of my acting repertoire– I CAN say that I've learned to love my body for what it is. And how to act without a stitch of cloning on. Now, without makeup is a different story.
+++++++++++++++++++++++++++++++++++++++++++++++
Bollywood getting sex oriented! Who is responsible?
Mumbai: Bollywood has been on a changing trend since actors like Mallika Sherawat, Bipasha Basu, Sherlyn Chopra, Esha Gupta, Paoli Dam and last but not the least Sunny Leone stepped their foot in the Tinsel Town. These have categorized the conventional Hindi cinema in at least two parts, adult and non adult certified films.

These have just not adapted the culture from the west and entrenched in the Indian Cinema but also inspired our leading ladies like Vidya Balan, Rani Mukherjee and Kareena Kapoor to get inclined to skin shows in films. From Dirty Picture to Heroine, the female actors dominated the silver screen for revealing their scorching side.


There are also directors in the industry, who have apparently imported the Hollywood mores for B'wood. Ace filmmaker Mahesh Bhatt believes that sex is an essential part of our films as it grabs the attention of moviegoers.


Films are often considered as stress busters, but does skin show in films, the only way to release ones' tensions? The question rose because majority of Hindi films today portray the seductress chemistry between a male and female stars. Rather, the first picture that comes to our minds while considering films like Jism 2, The Dirty Picture, Hate Story and recently released Heroine is of a sex oriented, sizzling lady brandishing, self, on the big screen.


The fashion of putting an item number in a film, yet again marks the portrayal of boldness as these tracks exhibit the spice in a particular film. Why our filmmakers and actors diving in the seas of eroticism? Are they fascinated with the response few models get on social networking websites like Facebook and Twitter?


This could be another factor of the change in the mindsets of Bollywood directors! Models like Poonam Pandey, Sherlyn Chopra, Veena Malik and Rozlyn Khan sit on top of the headlines for the maiden reason, skin show. These just not manage to trend the internet world but also people let them sit on their eyelids. Their profession apparently is to screen their skin on social platform, get into erotic conversations and indulge into everything that helps them grabbing the maximum spotlight.


Do these models inspire our filmmakers, actors to display the dirtiest picture on the big screen? Well, it is still an unanswerable question but what would you say on the paradigm-shift of simplicity to modernity in our very own Bollywood films.
+++++++++++++++++++++++++++++++++++++++++++++++