Disclaimer: This is a work of pure speculation. Any resemblance of characters to actual persons, living or dead, is purely coincidental.
First and foremost

I want to warn you guys this is purely speculative on my part. What I'm talking about? Yvonne Strahovski much anticipated appearance in season 7 of Dexter and the burning question on every nudiefans mind : Will she get naked?
I'm an optimistic person so I will go for a Yes. Yvonne is enacting the role of mysterious and sexy Hannah McKay scheduled to appear in 10-episodes spanning this season and the final season.
Here is the breakdown of my argument for Yvonne's first nude scene :
[1] She is 30 this year. Age factor plays a huge part in actresses taking risk. Hollywood also doesn't look kindly on aging female stars unless they're flexible (broaden her choices) in acquiring roles she would have previously turned down.
Someone once told me or more appropriately complaint to me years ago about actresses and their devil-may-care attitude towards own career. The ones with the looks and acting potential just brimming below the surface. Stuck playing supporting characters (B-lister) or doing tele-shows. Refuses to relax her terms and bypassing plum roles when it goes against her moral values or beliefs until it's way too late. The usual "I'm not ready" or "Too early to take on something like that" is bandied around as an excuse.
Not the exact words (paraphrasing) :
"Don't wait until you're in late 20's and stuck in peripheral of slowly declining career to finally relax your rigid clauses. If you're desperate you'll make wrong choices. The decision should be on your own terms and not dictated by external factors. But the broads never listen. They think they will be a huge success or have financial stability by the time looks starts to fade only to realize it's not opportunity knocking on the door but bills and debt collectors".

[2] A need to diversify her film choices. Can't keep on playing the smiling affable characters all the time.

[3] As a foreigner, Yvonne needs to work constantly to stay in the States (unless she marries her Yank BF). That's is one of the reason many foreign talents drop their nudity clause as soon as offers dries up. Nothing more effective than desperation. It's true some just returns home and come back occasionally for a stint in the States – avoiding the nudity trap. But Yvonne wants to stay permanently in US. She ain't here for few years of career sunshine. That's means she can't be choosy anymore. Everything is on the table.
[4] Yvonne has dropped clues about her Hannah character in various interviews:
"physically free character", "she's a sexy lady", "sexy independent force of nature".
Hanna

h been described as similar to Julia Stiles's Lumen but her spirit and sexuality will be very much a combo of Julia Benz's Rita Bennett and Jaime Murray's Lila Tournay.
Even if she doesn't go topless on Dexter, I give Yvonne one or two years before the Aussie babe strips on-cam. But don't be surprised if it's for a low-budget Oz flick like so many US-based Ozzies tends to do.

Yvonne will only do sex scenes and nudity on her own terms when the time is right, is tastefully done and plot calls for it.
Hannah McKay
Yvonne decision to accept the role of Hannah McKay was an opportunity to challenge herself. Diversifies her rather paltry resume with tiny bit of persuasion and gentle pressure from her agent.

It's a two way boost. Dexter was hammered for a poor sixth season and show-runner Scott Buck received much of the blame after taking over from Chip Johannessen. But Scott is an audience-friendly writer and probably realizes the new season needs some borderline gratuitous diversion. Not the blood-letting variety but boobies! Co-exec Sara Colleton is also helping out to smooth out delicate issues with the ladies.
Just like screenrant.com rightly asserts: "Dexter has set a pattern in the last few years, recruiting a new actor or actress to focus on throughout a single season."

But Scott and the writers nearly falls off the wagon on a reliable plot device last season. Casting Yvonne is a major coup and avoiding another potential nudity dodger if they went with an American. The painful memories of Julia Stiles is still fresh.
Possible Spoiler Alert or Inventive Product of the Sordid Mind
So it's pretty obvious Yvonne's Hannah McKay will be the main protagonist. The other new characters (Ray Stevenson and Katia Winter) are merely McGuffins....red herrings to be precise.
Hannah McKay is an amalgam of infamous female serial killers namely Karla Leanne Homolka and Charlene Adelle Gallego. Dexter will be distracted by other serious matters on hand (Deb and Issac) to figure out the web Hannah slowly weaves around him with her convincing chameleon-like personality and the guileless manner she works with him in solving a crime. Dexter finds himself falling for the charming Hannah. Will it be too late to save himself and the one he loves when he discovers Hannah was the prime instigator of past heinous crime spree.
Yes. There will be love scene for Yvonne and she will be topless. Remember Julie Benz and Courtney Ford? The love/nude scenes will be shot in same standardized style. A see-thru scene wrapped around in you-know-what if you're Dexter fan.

The great thing about cable shows is that script constantly rewritten to insert some gratuitous nudity or violent scene. The female guests in recurring role are particularly vulnerable to this tactic by the show-runner and writers. They are sleazy just like us. The difference is they're very talented sleazebags.

Yvonne will be *Luddington-ed into showing her Quayle and Biden at some point.
* in honor of Camilla Luddington. She claimed she was constantly blind-sided by the script changes at the last minute. I can just imagine her reaction when she was told there will be a sex scene with Evan Handler.
How far the gorgeous Aussie princess will go? Depends on the persuasion powers of the show-runner bolstered by support from Dexter himself.
There's Something About

Yvonne
The fascination with Miss Yvonne Strahovski lies beyond her acting talents if it isn't already obvious. Yvonne is one of the most beautiful of Aussie imports in recent years but what elevates her above the rest is her effortless sensuality and approachability. If you noticed something about Australians is that they have those unique smile of theirs even when they're conversing with you. Almost clone-like grin etched on the face. Very pro forma. Yvonne is total opposite. Her smile is of genuine sincerity. The way her eyes comes alive when she flashes those pearly whites.

She is not lacking in titty or ass department though. Yvonne's breasts (B's) are molded just right on that lanky frame. Spaced apart and slightly droopy which could explain her reluctance to display them on-cam. Here are a pics of Yvonne in bikini for comparison in case she uses body double on Dexter. Tits are like fingerprints. No two (or aptly pair) are exactly alike.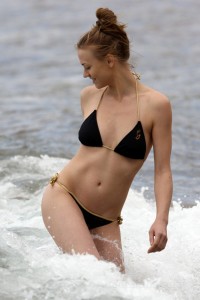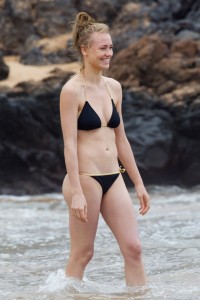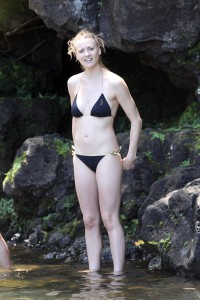 The ass thing depends on your preference. It's not bubble butt but dammn she will look fine taking it deep in belly down style.
Yvonne was a regular fixture -
if you can call it that -

on Aussie telly from 2005 to 2007 when she left to pursue a career in the States.

She was a latecomer to the Hollywood scene at age of 25. In fact it can be argued she was calculating a permanent move to US even when she was on Headland series. While many of her younger counterparts ditch the local scene in a jiffy if a sniff of offer comes from America, Yvonne was very patient. Always sending in audition tapes to film/TV projects that suits her persona and ability. Flew to L.A for casting auditions. Smartly working her angle.

She also had issues with nudity and vowed not to be the usual foreign import in Tinseltown whose main purpose in a movie was to get naked when local actresses backs out.

Yvonne knew deep down in her heart she was ready for a new challenge when Chuck producers indicated she was the favorite to win the role of Sarah Walker. The rest as they say is history.
Want to bustiski my nutsiski on your tititiski...