Kate Upton

's a Sexy Cowgirl
The blonde bombshell goes country. Check out Upton's steamy photo shoot in "Cosmopolitan."
++++++++++++++++++++++++++++++++++++++++++++
Maggie Grace

doesn't own a television and talks Kinsey Meter (allow me to jump the gun as usual.........Is she being courted by
Masters of Sex producers?)
Maggie Grace Running
++++++++++++++++++++++++++++++++++++++++++++
Casting Director Bernard Telsey on TV, Auditions, and his First Emmy Nod
One of the most distinguished and respected casting directors of film and stage,
Bernard Telsey
, recently added television casting to his repertoire. The result was three heralded shows in one season—"Smash," "A Gifted Man," and "
The Big C
"—and his first Emmy nomination, for the latter.
The man who turned a bunch of unknowns into Broadway stars with "Rent" and cast such ensemble films as "Margin Call" and "Rachel Getting Married" had dabbled in TV before, but it was when star Laura Linney and showrunner Jenny Bicks asked if he would be interested in casting the second season of Showtime's "The Big C" that started the ball rolling. "I'd definitely wanted to do television," Telsey says. "I'm a big fan of watching television and I loved the idea of a New York series because I know this community of actors and loved the idea of getting them more television work. I loved the material of 'The Big C' and it opened a new window for us. Because we started doing television, we became available for more television. I don't know if that was coincidence, or if it was that people saw we were open to the medium. Either way, I'm thrilled."
What does an actor auditioning for television need to know?Bernard Telsey:
For television auditions, you really need to know the material so that you can act with the reader and interact with the camera. So much of television work is listening. It's different from a theater audition, where you can look down at your sides. On camera, if you look down, you've dropped out of the scene. The camera captures everything and people watching want to see you reacting and listening, and you can only do that if you know the lines so you're not having to look at your sides. You really want to have it memorized and have it in your body so you can really be free to act to the camera. Also, you should make colorful choices, so that people watching the tape really get to see the ups and downs and colors. So make a lot of choices, even if it's a short scene.
With TV, actors should have an advantage because they can familiarize themselves with the show thanks to Hulu and YouTube
.
Telsey:
Exactly. And you really need to because some of these small scenes are misleading; they look easy and they're not. They really do refer to things that have to do with the main series regulars. And the more you can know about the show, the more informed you are to make a choice about a reaction or a line.
What was the most difficult role to cast last season?Telsey:
The part that
Hugh Dancy
played was, I think, really tricky and complicated. It was probably the biggest recurring arc on that season and it was all with Laura. When the character was first described it was so many things: "sexy, best friend, maybe sexual chemistry, gay but straight, is going to go through a death." So there was a big bio. Basically, it was a leading man with star presence who would be available for five episodes. It was a big challenge, and Hugh was someone I know really well. He had just done a play, "The Pride," that I'd produced at my theater company,
MCC
. I had a feeling and instinct he'd be great, but there are a lot of things you have to do after that instinct. He ended up coming in and meeting with Jenny and getting cast, and was utterly brilliant.
Was there anyone who was new to you that ended up being cast?Telsey:
Boyd Holbrook
, who played the young Russian lover to Gabourey Sidibe's character. I didn't know Boyd. He was submitted, and like any young kid we didn't know in L.A., we asked him to self-tape. My associate, Abbie Brady-Dalton, saw it and said, "You have to see this guy." This is another thing I say to an actor: If you're given the opportunity to make a tape, make it. The actor often thinks no one sees it, but it's not true.

Is there a particular actor you like to bring in a lot that might not be a household name?
Telsey: Annaleigh Ashford is a young actress who's like my favorite actress of all time. We've cast her in lead roles in New York in "Rent" and "Kinky Boots," which is rehearsing now. She was in "Wicked" and "Legally Blonde" as well. I'm crazy about her. The minute we started doing all this television I was like, "We have to bring Annaleigh in." And we've booked her in all four of our TV shows and all seven of our movies. She played a dominatrix in "The Big C," then went on play the bad actress in the pilot of "Smash." And she'll be coming back for another episode. We just did a Showtime pilot, "Masters of Sex," and she has a real part opposite Michael Sheen. We've watched her grow from bigger part to bigger part. She's someone we can't wait to bring in.

* quite well-known stage actress Annaleigh Ashford will do her first nudity ever on-cam in Masters of Sex. Annaleigh opening scene in the first episode is a showstopper. Her character is very exhibitionistic and foul mouthed to boot. Visually Masters of Sex will trump all other shows on the television season of 2013 for voyeuristically blatant and lengthy nude scenes. The pilot was filmed in New York few months ago. The rest of the episodes commence shooting after the casting auditions in December 2012. I'm eagerly looking forward to see who will snared the role of sex surrogate Maureen Sullivan (name will be altered for the series). Hope the boys in charge contact Maggie Grace. She will be a perfect choice.
+++++++++++++++++++++++++++++++++++++++++++++
Kevin Spacey, Robin Wright:

Why Netflix's 'House of Cards' Is the Future of TV
Seller Sony Pictures screened the first two episodes of the $100 million political drama for buyers at MIPCOM Sunday night.
CANNES – If its pitchmen are to be believed,
House of Cards
, the first drama series commissioned by VOD service Netflix, is the future of TV.

Kevin Spacey
and
Robin Wright
, who star in the modern-day political drama, flew into Cannes to hype the series, which Media Rights Capital is co-producing and Sony Pictures Television is selling worldwide. Sony screened the first two episodes of
House of Cards
to international buyers. Netflix will put all 13 episodes of the first season online at once in February.
With a budget north of $100 million for the two, 13-episode seasons commissioned by Netflix and with
David Fincher
on board as an executive producer – and director of the first two episodes –
House of Cards
has the potential to either be a game changer for the VOD business or a costly mistake for Netflix and its partners. The series is based on a BBC show of the same name from the 1990s which stared
Ian Richardson
as an ambitious and ruthless British politician.
"This is a really new perspective…to drop them all at once but I think that's how we watch TV now," Spacey said.
"This is the future, streaming is the future," said
Beau Willimon
, the Oscar-nominated screenwriter of
Ides of March
who adapted the original BBC series and acts as headwriter and showrunner on
House of Cards
. "TV will not be TV in five years from now…everyone will be streaming."
Spacey, speaking to reporters ahead of the industry screening, said Netflix gave he and the other series creators (Spacey has an executive producer credit on
House of Cards
) complete creative freedom making the show.
"Because this is the first time they (Netflix) are doing drama, they don't even have the offices to do this compared with the other networks," Spacey said. "I feel sorry for the makers of the third series they do – when they have the offices (and can interfere)."
Willimon said Netflix didn't interfere "in any way" with his or Fincher's vision for the series.
"They didn't give notes, like you'd see in other series. They trusted us to deliver, creatively," he told
THR
.
Willimon and Spacey were loath to divulge much of the plot of the series but Willimon did confirm that Spacey's character, Francis Urquhart, a Conservative in the BBC version, would be the Democratic Chief Whip in the U.S. incarnation. The American series kicks off just after the 2012 election when Urquhart is snubbed for a key post in the new administration and decides to seize power himself by any means necessary.
Spacey and Wright said it was the creative freedom that drew them back to TV.
"I was lucky to get into film at a time (the 1990s) that was very interesting for drama," Spacey said. "But if you look now, the focus is not on the same kind of films that were made in the 90s. When I look now, the most interesting plots, the most interesting characters, they are on TV."
"Everything now is escapism, because that's where the money is," said Wright. "There is a vacuum for serious drama. The mid-budget serious drama is something you don't experience anymore."
Spacey argued that Netflix's approach to the series – commissioning 26 episodes upfront without first screening a pilot – will give
House of Cards
greater continuity. "We know exactly where we are going," he said.
Joshua Donen
,
Eric Roth
,
Dana Brunetti
,
Andrew Davies
,
Michael Dobbs
and
John Melfi
will also have executive producer credits on
House of Cards
, which Donen/Fincher/Roth and Trigger Street Productions are co-producing in association with Media Rights Capital. The first season will wrap production later this month. Season two is set to begin shooting in the Spring of 2013.
+++++++++++++++++++++++++++++++++++++++++++++
Korean CEO arrested for adultery
by Park Han-na
The chairman of a Kosdaq-listed company has been charged with adultery with a flight attendant and another businessman, police said Wednesday.
Police said they went to a hotel room in the Gangnam area of Seoul after receiving a report from a college professor who claimed to be the husband of the flight attendant on Sept. 26.
Two men, including the 52-year-old chief executive officer and a businessman who is his school junior, and a 39-year-old woman were found in front of a hotel room, all dressed but flustered.
"The CEO of a Kosdaq-listed company, the wife of a professor who is a flight attendant and a businessman have been arrested on the charge of adultery. They had an inappropriate relationship while all having their own spouses," police at Gangnam station said on Wednesday.
The chairman's firm has 20 foreign branches with annual sales over 100 billion won ($89 million).
During the investigation, the two men denied the charges and said they only had a drink together but the woman admitted to the wrongdoing.
The CEO, who had often gone on business trips and allegedly met the woman on a flight, continued a relationship with her.
"On the day the CEO called the other man to the hotel room and had sequential sex with the woman. However, it is not clear if the three had sex all together," an official said.
The police found evidence including hairs and tissues on the bed and in the shower stall. An investigation is under way to find out if the tissues found at the scene contain semen.
+++++++++++++++++++++++++++++++++++++++++++++
TV's minority report not making the grade
Diverse faces are getting juicier parts on TV, but they still play follow-the-leader when it comes to starring roles.
Last time you went to a clinic, chances were good that your primary doctor was of South Asian descent -- unless you happened to check into a TV hospital.

Fox's "The Mindy Project," a new sitcom about a lovesick ob/gyn, is the first series on broadcast television to feature an Indian-American in the lead role, a milestone that writer/star Mindy Kaling does her best to downplay.

"There's a saying that I really believe in when it comes to my 'Indianness,'" said "The Office" veteran. "I try not to rely on it nor deny it."

What Kaling and the rest of Hollywood can't deny is that the industry has made little progress in putting minority actors in leading roles.

While there's a steady stream of great minority character actors playing diner owners, community-college students and even physicists, they rarely get to be the star. The only returning broadcast shows with that distinction are ABC's "Scandal," featuring Kerry Washington, and CW's low-rated "Nikita," with Maggie Q.

That lack of diversity was glaring at TV's Emmy Awards two weeks ago. Of the 25 performers nominated for leading roles in a drama or comedy, only one was a minority actor, Don Cheadle, for "House of Lies."

Lance Reddick, a supporting player on Fox's "Fringe," said he isn't optimistic about the future, especially after his experience as a cast member of "The Wire." That HBO series is now considered a masterpiece, but during its 2002-08 run it failed to attract a significant audience or a single Emmy nomination for its largely black cast.

"I'm not holding my breath for acknowledgment of African-American talent," he said.

Reddick and many of his peers thought the landscape would change when Andre Braugher took home a leading-actor Emmy in 1998 for his work on "Homicide: Life on the Street," becoming only the third black actor to win in that category (Bill Cosby and James Earl Jones got there first). But in the 14 years since, it's seen only one minority nominee: Braugher again, for the swiftly canceled medical drama "Gideon's Crossing."

It's even worse for women. No actress of color ever has won for a dramatic lead role. And the last nomination? Way back in 1994, when Cicely Tyson got one for the short-lived drama "Sweet Justice."

As for comedy, only two people of color have been nominated for lead roles in the past 20 years: Tony Shalhoub, who won three times for "Monk," and America Ferrera, a winner for "Ugly Betty."

Behind the lens

Braugher hopes to get another crack at a lead-actor Emmy with his new ABC series, "Last Resort," in which he stars as a U.S. submarine captain who turns renegade after his government orders him to nuke Pakistan. Braugher, who won a second Emmy in 2007 for the miniseries "Thief," hopes his success is making a difference, but it's hard for him to gauge.

"The only thing I can suggest is that the wins weren't a blip, that it's part of a progression, but it runs at its own pace and I don't have control or the solution," he said.

Lack of control may be an understatement. Few non-whites have ever run a major network's entertainment division. Scott Sassa, an Asian-American executive, helmed NBC's programming in 1998-99; current CBS Entertainment President Nancy Tessler is half Puerto Rican.

It's no coincidence that three of TV's most diverse series -- "Grey's Anatomy," "Scandal" and "Private Practice" -- are run by a black woman, Shonda Rhimes.

Why is the industry falling short? David Simon, who created "The Wire" and "Treme" for HBO, compares the situation to the urban phenomenon of "white flight."

"A black sidekick here and there, no problem," he said. "A couple less-than-central characters in an ensemble piece, OK. It makes us all feel better about ourselves. Anything beyond that and 'There goes the neighborhood.' The only difference is that the metric isn't home sales and housing values. It's ratings and advertising. Never forget: The entertainment industry is 96.9 percent about money."

Networks misread what audiences want, says John Cho, who plays a radio-station manager on Matthew Perry's latest sitcom, "Go On."

"Producers are naturally risk-averse," said Cho, best known as one-half of the munchies-craving movie duo Harold and Kumar. "But there's no actual risk, any more than there is hiring a white standup that nobody has heard of and giving him a sitcom."

That may be true when it comes to sitcoms, which have meant great success to Bill Cosby, George Lopez and Martin Lawrence, but only a few minority-led network dramas -- notably "The Unit," "Boston Public," "NCIS: LA" -- have come close to being a hit.

That the print publicity campaign for "Last Resort" features a young white actor, Scott Speedman, instead of Braugher may be merely an attempt to woo female viewers. Still, it comes across as a slight.

The influence on kids

The lack of diversity in leading parts is not only hurting minority actors; it may also affect the next generation of Americans. According to a recent study, black children in the Midwest come away with less self-esteem after being exposed to television; the opposite is true for white boys.

"Regardless of what show you're watching, if you're a white male, things in life are pretty good for you," Indiana University Prof. Nicole Martins said. "You tend to be in positions of power, you have prestigious occupations, high education, glamorous houses, a beautiful wife. ... Young black boys are getting the opposite message: There are not a lot of good things you can aspire to."

Louis Gossett Jr., an Emmy winner for 1977's "Roots," also worries about our children: "We have to remember that the medium is the message. If they get the proper message, they'll know that African-Americans are not just gangbangers, but they're doctors and lawyers and mothers and fathers. And presidents. This is a responsibility of ours."

"The Mindy Project" is a step in the right direction, but progressive producers such as Braugher's current boss, Shawn Ryan -- who also cast black actor Dennis Haysbert as lead for "The Unit" -- know that Kaling's "Indianness" will remain an issue until there are more diverse faces on TV.

"I actually do believe that Hollywood is the kind of place where merit is rewarded," said Ryan. "It will be nice when these questions don't get asked anymore and Andre can just be an actor getting praise for his performance."
++++++++++++++++++++++++++++++++++++++++++++
MEGAUPLOAD
Readies for Comeback, Code 90% Done
January this year the U.S. Government destroyed Megaupload, but founder Kim Dotcom is a not done with the file-hosting business yet and is preparing to come back with a vengeance. The coding work for the new Megaupload is nearly finished, the servers have been ordered, and investors are lining up. A return of the file-hosting site appears to be looming.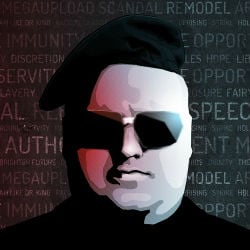 With 50 million visitors per day at its peak, Megaupload was one of the largest websites on the Internet.
This quickly changed January this year when the U.S. Government took down the file-hosting service and had several key employees arrested including founder Kim Dotcom.
Abruptly, the focus of Megaupload's team shifted from serving customers to defending itself in a high-profile criminal prosecution. While the criminal case is moving ahead very slowly, Megaupload's founder does have some progress to report on another front.
Dotcom previously announced that he planned to bring Megaupload back to life, and new information suggests that this may happen rather quickly. In an update this weekend he tweets that most of the work on the second incarnation of the site is already done.
"Quick update on the new Mega: Code 90% done. Servers on the way. Lawyers, partners and investors are ready," Dotcom teases.
"Be patient it's coming," he adds.
From the brief progress update it's clear that the site is on schedule for launch later this year. In addition, it's interesting to note that despite the ongoing criminal case, partners and investors are happy to be involved.
In recent weeks Dotcom has delivered several hints about the new Megaupload, which he says will be bigger and better than the file-hosting service that was taken down.
"We are building a massive global network. All non-US hosters will be able to connect servers and bandwidth," he explained earlier.
According to Dotcom we can expect a Megaupload with an even greater range of applications than just file-sharing. While developers of file managers are being encouraged to get in touch for early API access, Dotcom is also calling out to those involved in email and fax tools, VOIP and video apps.
It's clear that Dotcom doesn't have the slightest urge to throw in the towel.
"They abused the wrong guy. I am going to turn this world upside down. Power to the people. Bye bye Echelon. Hello Freedom," Dotcom added.
It will be at least a few more weeks before the new Megaupload appears online, but there are exciting times ahead. MEGA exciting.


++++++++++++++++++++++++++++++++++++++++++++
Manhattan HS guidance counselor stripped of job over steamy-photo past
Steamy-photo past
She's too hot for teaching.

Tiffany Webb, a highly regarded guidance counselor at Murry Bergtraum HS for Business Careers downtown, was fired after 12 years with the Department of Education because photos of her in lingerie and bikinis from her early career as a model are still floating around the Internet.

Webb, now 37, said she posed in seductive undies between age 18 to 20, but stopped modeling several years before she became a city teacher in 1999. She has worked in elementary, middle and high schools.

But the photos — virtually all Photoshopped or altered, she says — kept popping up without her permission on sleazy sites such as "Mo Girls Entertainment" and "Showgirlz Exclusive," even though she demanded their removal.
Tiffany Webb "should not be punished for something that happened years ago," a panel member wrote.

Webb disclosed her former career when first hired. Yet she was investigated by the DOE three times — and twice spent a year in the "rubber room" — while officials probed the photos.

Each time, she was cleared to return to work with students.

She received nothing but satisfactory ratings, and was respected at Murry Bergtraum, where she juggled a caseload of 540 students.

But the ax fell after ex-principal Andrea Lewis claimed that a student showed her photos of a scantily clad Webb.

Last Dec. 23, days before Webb was to get tenure as an $84,200-a-year guidance counselor, she was dismissed for "conduct unbecoming" a DOE employee.

"The inappropriate photos were accessible to impressionable adolescents," a three-member chancellor's committee ruled by 2-1. "That behavior has a potentially adverse influence on her ability to counsel students and be regarded as a role model."

The dissenting member argued, "Her professional work as a guidance counselor has been outstanding, and she should not be punished for something that happened years ago."

Webb — who has changed her name and taken a teaching job in New Jersey — is now suing the DOE in Brooklyn Supreme Court, charging wrongful termination, sex discrimination and violation of First Amendment rights. She seeks reinstatement, back pay and punitive damages.

"I am a dedicated professional and enjoyed being a guidance counselor," she told The Post. "I did my job well, and my students and parents thought very highly of me. I would love to return to the DOE and resume the career I have chosen to help and guide students."

Her lawyer, employment specialist Stewart Karlin, said all Webb's photos on the Internet are unauthorized and altered, some showing her face with a different body.

"She had no control over it," said Karlin, calling her termination "unconscionable."
++++++++++++++++++++++++++++++++++++++++++++