Knights of Badassdom : Trailer
In this comedic fantasy adventure, Joe (Ryan Kwanten) is a heavy metal rocker who's just gone through a painful breakup with his girlfriend, Beth (Margarita Levieva). His concerned roommates (Steve Zahn, Peter Dinklage Margarita Levieva) kidnap him to their LARP (Live Action Role Playing) gathering, where he enters a realm of fantasy escapism in which pretend knights, elves, and barbarians clash with foam weaponry on a mock battlefield. When Joe's "sorcerer" roommate (Zahn) inadvertently summons a deadly succubus that takes Beth's seductive form, bloody reality crashes down upon their fantasy world. Once LARPers start to turn up dead, the make-believe wizards and warriors must join forces with other adventurers (Summer Glau, Danny Pudi) to become the real life heroes they have been pretending to be and conquer the unleashed evil.
* Awesome cast. All my favorite comics and actors in one movie: Steve Zahn, Peter Dinklage, Jimmi Simpson, Summer Glau in skimpy warrior outfit, Margarita Levieva running around half naked....
Surely going to be R-rated with the talents involved behind the cam. Director Joe Lynch is quickly making a name in the horror-comedy genre and his Chillerama anthology was quite entertaining. Additional post-productions work by Daniel Heffner (known for producing and executive producing the Saw franchise of films). According to producer Wade Bradley Knights of Badassdom is going to be released theatrically in "the first half of 2013. Read up on the making of the movie here.
+++++++++++++++++++++++++++++++++++++++++++++
* The Koreans have never let us down when it comes to graphically realistic (and some will claim there is real penetration) sex scenes. Never.
B.E.D.

: Busan Review
Venue
: Busan Film Festival
Cast : Jang Hyeok-jin, Lee Min-a, Kim Na-mi
Director-Writer : Park Chul-soo


Veteran director Park Chul-soo's film, which has been padded with unimaginative round-the-clock sex scenes, looked out of place as a Busan gala presentation.


BUSAN – Though adapted from a novel by Kwon Ji-ye, B.E.D. has more the feeling of being an extended short story, one that has been liberally padded with soft-core sex scenes to draw a crowd. The prolific veteran Park Chul-soo, who began directing melodramas in the '70s and moved to a more experimental approach in the '90s, has a few good ideas to share about male psychology and his hero's obsession with a woman,

but that hardly justifies putting his actors through serious full-frontal nudity and a repetitive series of barely simulated sex acts.

The film simply looked out of place as a Busan gala presentation, whereas it should find a comfortable berth on the DVD shelves of soft-core aficionados.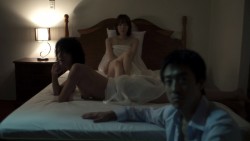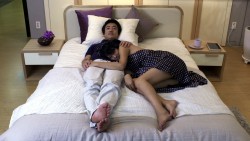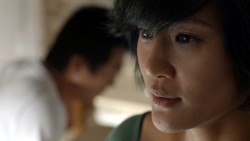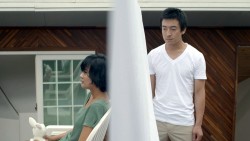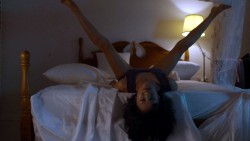 Divided into parts, the story is progressively told through the eyes of the three main characters. The man B. (JangHyeok-jin) is inseparable from a sturdy double bed on which he had a yearlong fling with E. (Lee Min-a), a bored married lady who took up with him for some noncommittal fun. When she dumps him, warning him to get rid of the bed, the depressed B. goes into group therapy and becomes convinced he can forget her by marrying nice divorcée D. (Kim Na-mi), a tour guide with a small daughter who longs to settle down. But their marriage (hardly platonic) is a farse, because B. doesn't even try to shake his obsession with his ex and keeps calling her on the phone, looking for a retrial. He unwisely keeps the bed.


As the wife, Kim plays the most normal character of the lot and superficial though she is, at least she has a child and a job. E.'s motives are never clear, and she comes off as simply an evil tease. Obviously,

both actresses look good whether clothed or disrobed

. As B., Jang has one stupefied expression that covers everything from orgasm to depression.

The round-the-clock sex scenes, shot coyly through a thin veil or with silk sheets hiding or falling off strategic body parts, have nothing imaginative about them.



And for the record, the fabled bed, a wooden affair in fake American colonial style, is not that attractive, either.
Busan 2012: 'B•E•D' Pushes the Envelope With Oft-Nude Cast
Despite racy subject matter, the cast of Park Chul-soo's BIFF world premiere say they were comfortable baring it all.

The three stars of veteran director Park Chul-soo's B•E•D said that the numerous nude scenes in the erotic drama about a menage a trois were not as challenging as everyone expected.
"I'm a married woman, so I gave it a lot of thought before taking the role — but my husband recognized that I'm a professional actor," said Lee Min-a on Sunday at BIFF, where the film bowed. "The first day, I did four or five hours of scenes in bed, but I felt very relaxed. We did a lot of impromptu dialogue and I forgot I had no clothes on."
Director Park said that he "hypnotized" the cast to keep them calm by always speaking to them in a "very soft voice." The film features just three characters: B, a married man who has an affair with another man's wife, E, behind the back of his own wife, D. Jang Hyeok-jin, who, like the other leads, made his name in theatrical productions, said the role was "no different to playing with my clothes on."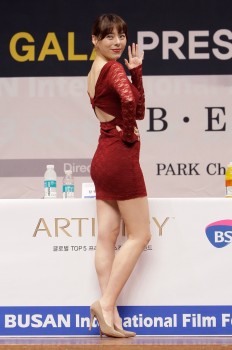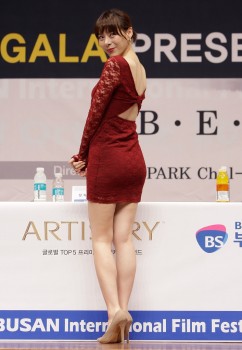 The film is Kim Na-mi's second feature, and her debut Melo is also showing at Busan this year. "This is my first year in film, so I feel like it was kind of soon for me to be walking the red carpet, but I really feel like this is 'my' festival now," said Kim. "When I first read the script I was more worried about getting rejected for the part than the nudity."

Park, who has been directing since the late 1970s, explained how his emphasis has shifted in recent years from storytelling to focusing on imagery of the basic needs in life: eating, sleeping and sex.
"However, unlike Red Vacance Black Wedding, the psycho-sexual drama I made last year, this film examines three different viewpoints on sex," said Park.

B•E•D is based on a short story by female author Kwon Ji-ye, and Park sounded somewhat touchy in his responses to questions about his "male interpretation" of the original work.

"I'm a man, so the movie is different," said Park, adding that the author had given him the freedom to adapt the story. "I'm not an expert on female psychology, but I don't have a skewed male view of sexuality."
+++++++++++++++++++++++++++++++++++++++++++++
Yvonne Strahovski
: O Magazine [November 2012]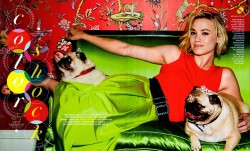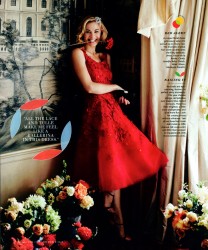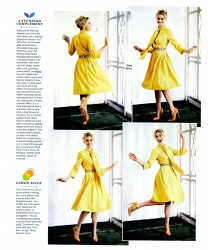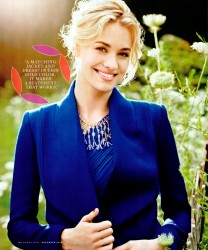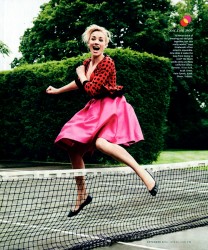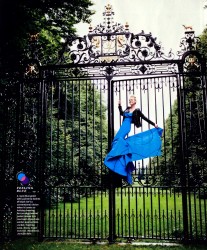 The following account is again pure speculation on my part. Just all out gossipy tidings.
New BFF Jennifer Carpenter was there to offer moral support to Yvonne first ever nude and love scene on-cam. It was one-way street friendship. Jenn's brusqueness rubs Yvonne the wrong way. Yvonne was thoroughly uncomfortable, hated being completely nude beneath the robe on the closed set despite modesty patch between her legs but no pasties for the tits. She still can't believe she agreed to a role that required upper frontal and tasteful nudity but like her rep said - 'if you want to stay you can't say nay to certain roles'. So here she was about to get buck naked in front of colleagues but strangers just few weeks ago while DOP adjust the cam and light before the first shot. The two show runners and Micheal Hall was truly pro in making sure she was comfortable. Hall was also eager to get the scene over and done mostly due to Jenn presence. For Yvonne the promise of being discreet and no lingering framing of her intimate parts by the show runners sounded hollow right now. At least she will have the final word which shot to use from watching the monitor between the filming. Yvonne informed her BF about the scene and he was supportive. But her parents different story altogether. Yvonne haven't told them and hoping they will find out much much later so she could be in a stronger position to explain about the difficulties of making it in US film industry if you're a foreigner.
+++++++++++++++++++++++++++++++++++++++++++++
Dorit Swimwear Photoshoot By Steve Shaw with

Alyssa Campanella

and Amber Arbucci
DQP and

Alyssa Campanella

, BTS
+++++++++++++++++++++++++++++++++++++++++++++
The different facets of

Alexa Vega

or the self-loathing period every Latino and other minorities goes through living in posh Hollywood.
Huge collection of Ms.Vega pics here
* just heard it through the grapevine Alexa was scorching sexy hot on Machete Kills (2013). Both her mentor Robert Rodriguez and surrogate on-set dad Danny Trejo had to pick their jaws up off the floor after Alexa went all out to 'explore her sexuality'. The spicy Latina have a long way to go but I believe she will get there safe and naked.
+++++++++++++++++++++++++++++++++++++++++++++
Femen movement is gaining strength and momentum day by day. They've opened new headquarters in France. The website is Femen.org. New members are embracing the cause. Most are young women just looking for attention but guys don't give a fuck. Boobies galore so my support goes out for them. Femen should introduce an incentive to pull in hefty donations. If you pay certain amount, you get to squeeze a boob of your choice or suck on a nipple for 15-seconds.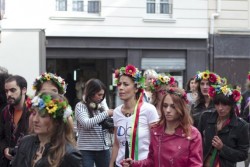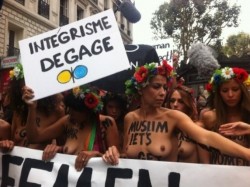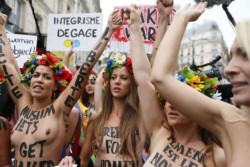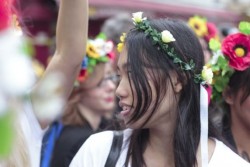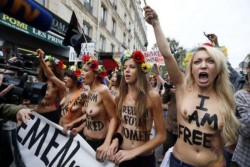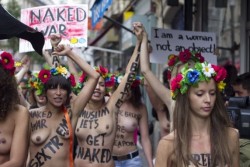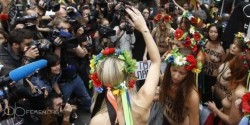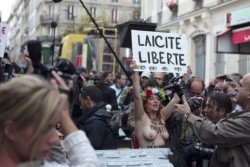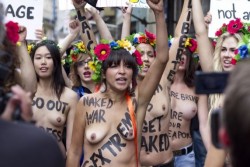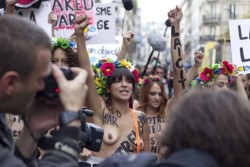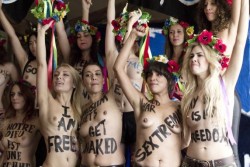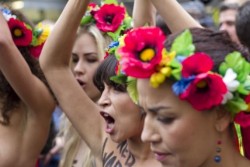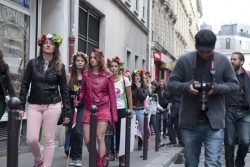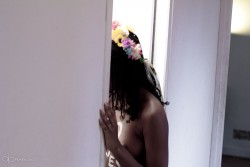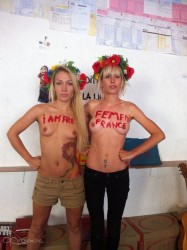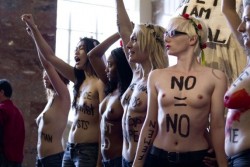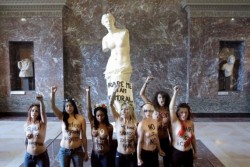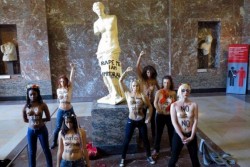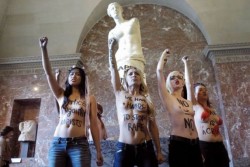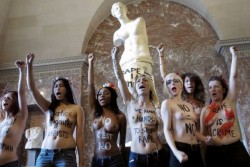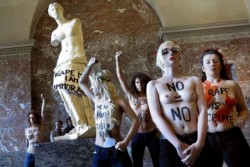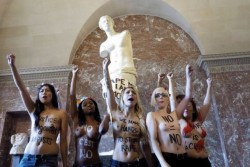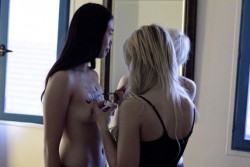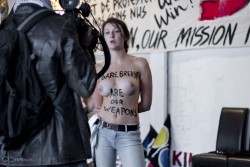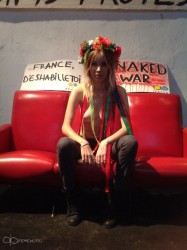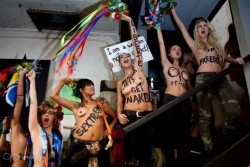 More here
+++++++++++++++++++++++++++++++++++++++++++++
ROGUE REPUBLICAN
NEW YORK – October 5, 2012 – The two titans of American politics, President Barack Obama and Republican challenger Mitt Romney, locked horns this week in the first televised debate of the election season.

Romney managed to show that he was still a viable candidate in spite of a barrage of recent criticism and increasingly negative polls. Obama spoke with his usual oratorical mastery and projected an air of deep thought and calm. But to many, the president appeared rather tired and lacking in his usual pep. Being president and campaigning at the same time is exhausting.

The first debate alleviated some of the gloom previously felt by Republicans and slightly lifted Romney's poll standing. Yet neither candidate generated much emotion, unlike the waves of hysterical adulation for Obama in 2008. Instead of being the Expected One, Obama turned out to be another typical politician mouthing platitudes and making promises that are not kept.

Even so, the underlying arithmetic of the election was still against the Republicans – known as the Grand Old Party, or GOP.

White, middle-aged men are Romney's key supporters, along with Bible Belt Republicans, farmers and ardent supporters of Israel. Say "Republican" and up pops the image of an angry, overweight, 60-something male golfer, shaking his putter in fury at the "socialist" "Muslim" president.

Problem is, there are not enough angry overweight white men and religious fundamentalists to give Romney a decisive victory. Evangelical Protestant fundamentalists voted 78% for George Bush in 2004 and 74% for John McCain in 2008.

But many of these "born-again" Christians, who make up 45% of Republican voters, are leery of Romney's Mormon faith which is regarded as weird and heretical by mainstream Christians. Many may simply not vote for Romney.

American women, particularly younger ones, are totally turned off by the wooden Romney and his deer-slaughtering vice presidential running mate, Paul Ryan. Polls show women 40 to 60 against Romney – a potential kiss of death in the race.

I suspect that Romney reminds many American women of all the things they didn't like about their fathers. Obama reminds them of the kind of fast-talking cool cat that their fathers warned them against. The GOP's jihad against abortion, public health care, and benefits for poor blacks has further angered many women.

Polls show 93% of black Americans will vote for Obama – provided they vote at all. Obama mania has cooled among blacks. Latinos, the most important new voter group, back Obama by 68% to 26% for Romney.

Independents will prove vital in key "battleground" states that determine the election: Florida, Ohio, Colorado, Pennsylvania, and Arizona. Many of these better-educated voters are turned off by Romney's warlike bluster and by Obama's continuation of Bush policies.

America has rapidly turned brown and yellow. The days of white supremacy are over. There are 2 million Muslims living in the great melting pot of America. East Asians top all the educational surveys. Latinos have the fastest growing families. For the first time, whites have become a minority in California, the 11th biggest economy on earth.

Unless there is an unexpected revival, the Republican Party seems destined to become a fringe party of the far right and religious fundamentalists. GOP leaders loudly advocate war against all sorts of enemies, assassinations around the globe, torture and indefinite jailing of suspected anti-Americans, and the endless growth of military spending – without raising taxes. As the party shrinks, it will likely grow more extreme.

I have been a card-carrying Republican all my life. A signed picture of President Dwight Eisenhower hangs over my desk. I'm a veteran of the regular US army.

But today's Republican party is no longer my Republican party. Back in the day, the GOP was run by East Coast elite of well-educated, sophisticated internationalists who exercised America's great power with restraint.

Alas, they have been replaced by rural politicians from the deep south and west with no knowledge of the outside world and no sense of history or culture. America's closet fascist neocons write the GOP's foreign policies.

Dr. Ron Paul was the last chance for the GOP to reform, redefine and renew itself. Paul was sidelined and ignored. As a result, Republicans may be marching towards irrelevance and unimportance.
+++++++++++++++++++++++++++++++++++++++++++++