The Canyons, Starring Lindsay Lohan, Gets A New Grindhouse Trailer
It's not The Hills... THE CANYONS is a contemporary L.A. noir from director Paul Schrader, writer Bret Easton Ellis, and producer Braxton Pope about the dangers of sexual obsession and ambition, both personally and professionally, among a group of young people in their 20's and how one chance meeting connected to the past unravels all of their lives, resulting in deceit, paranoia, cruel mind games and ultimately violence.
* As I suspected and have written about it, the nude scenes were shot in dark hues particularly red to protect LiLo's modesty. Only titty show for Ms.Lohan. The bad fucking news (and yet to be released) is that Schrader and pretentious blowhard Ellis are apparently aiming for "R" type of certification. That means in script filled with lengthy tedious dialogues and jarring violence at the end, the sex/nudity segment could be severely limited. Unrated release is still a high possibility but maybe for VOD or later DVD. Tenille Houston should and will be the big draw in way of nudity.
+++++++++++++++++++++++++++++++++++++++++++++++
EXCLUSIVE
: In a competition that was almost as heated as the subject matter,
Kelly Marcel
has been chosen by Universal Pictures and Focus Features to write the script for
Fifty Shades Of Grey
, the E.L. James publishing phenomenon that has sold 32 million books in the U.S. alone. James had a major say in determining who got to write the script, and she made the choice along with Universal co-chairman Donna Langley (who won one of the most heated book rights auctions in recent memory); the Focus Features production team; and the film's producers, Mike De Luca and Dana Brunetti.
Marcel got the job off of her script
Saving Mr. Banks
, the story of Walt Disney's long courtship of author P.L. Travers' novel
Mary Poppins
. That script is being turned into a big movie at Disney, with John Lee Hancock directing, Tom Hanks playing Disney and Emma Thompson playing Travers. Marcel is repped by WME and Casarotto Ramsay and Associates.
* Both E.L. James and Kelly are English. The latter hired with James supervising in providing inputs to which scenes from the book is required and the ones to be excised from the final draft. Kelly will be responsible in sanitizing the material within the R-rating parameters. Steven Spielberg thinks highly of Kelly and Tera Nova was the result. Next step for the producers is hiring the director and DOP. Casting auditions will follow soon after.
+++++++++++++++++++++++++++++++++++++++++++++++
One in the Oven

Artist and 'Girls' Star Jemima Kirke Bares Her Belly and Chats with Us About Being a Grown-Up

VICE: I ran into you when you were 18 and back home for the holidays from the Rhode Island School of Design. It was at an afterparty for our friend's band Dopo Yume. From the moment I met you I've always seen you as this beautiful, glamorous—But now you're 27 years old and about to be the mother of two. How did this happen? Most people our age who grew up in the city are still kind of fucking around—living at home and not pursuing any of their passions, if they even had any to begin with.
I think that way of life stopped working for me really quickly. Some people know how to balance things, at least enough to be able to continue messing around, but I didn't. I was very all-or-nothing about it, and you burn out really quickly if you keep going that way. It really fucked me.
She hasn't grown up yet.
No, she definitely hasn't, and I don't think she ever will.
+++++++++++++++++++++++++++++++++++++++++++++++
Graham Norton: '
TV needs more nudity
'
Graham Norton thinks modern TV shows are too "goody goody" and believes more nudity is needed.

Graham Norton thinks there is not enough nudity on TV.

The outspoken comedian believes television shows such as 'Queer as Folk' - which depicted graphic sex scenes - could not be made now as very few shows are as controversial as they used to be.

He said: "The big drama hits now are so goody goody. You would never see a nipple on 'Downton Abbey'.

"And you'd have thought that by now in 'EastEnders' there could be nudity. But that's not the case. If you think back to some of the shows we watched growing up like 'I, Claudius' that would never be shown now. I wonder, would 'Queer as Folk' happen now?"

Graham - who rose to fame on Channel 4 before moving to the BBC, where is now one of their highest paid stars - believes the "climate" in TV is now different, causing people to be more conservative.

According to the Daily Star newspaper, he said: "The climate has changed. There are things we can't say and do on TV or radio that 10 years ago we absolutely could have said or shown. We'd show a picture that might've had a penis in it and we can't show that now."
+++++++++++++++++++++++++++++++++++++++++++++++
Son Disgusted to Find Father's Porno Collection, Buys Him Some Decent Stuff to Replace It
Over on a Taiwanese internet bulletin board, a young man's tale of discovering his father's porn stash has drawn hundreds of comments after he alleged that he was so blown away by the terrible quality of the material that he ran out and bought something better to gift to his old man.
The very thought of making such a discovery is likely to send a shiver down most people's spine, and few would find themeselves even able to look dad in the eye for a few days having discovered his box of filth, but this dutiful young man maintains that his tale is 100% true…
The story, as originally told on the message board, goes a little something like this…
It was about eight years ago that this happened, when I was just 19. I found the offending material in a cookie tin left near the family computer. Opening up the tin, I found literally dozens of porno DVDs. Since they weren't mine, and the only other man in the house was my dad, I knew that they had to have been his.
Inquisitive young man as I was, I popped a few into the computer and watched a handful of scenes. While the DVD cases and the images on the covers were of a pretty decent quality, the movies themselves were an altogether different story- these were some seriously butt-ugly girls. I mean straight from the top of the ugly tree, crashing face-first into every branch on the way down. And to make matters worse, all the good stuff had been blurred out.
Judging by the quality and build of the discs themselves, I guessed that they must have been a good ten years old at least.
"Does my dad seriously watch this stuff!?" I thought, over and over again as the blurry blobs of erotica bobbed up and down before my stinging eyes. It actually made my chest feel tight; the thought of my father, the man who raised me and worked so hard to give us a good, happy home, settling in for a little grown-up "me time" with this awful, awful porn.
This went beyond feelings of father-son relations or simply feeling sick at the thought of my dad getting funky on his own; this was a matter of human taste, and I couldn't bear to think of anyone, let alone my dear ol' dad, making do with that stuff.
After a few restless hours, unable to get the offending images out of my mind, I resolved to man up and do the right thing- buy my old man some decent porn, eventually settling on a mix of Japanese and western stuff; nothing too hardcore, but of decent quality.
A few days later, choosing a time when my mother was out of the house, I passed the cookie tin to my dad.
Flushing and blabbering something about "a friend at work", he initially insisted that the pornography had nothing to do with him, but at that point I couldn't have cared less.
"I'm giving this to you;" I said, showing him the new stuff I'd bought, "If you don't like it, you can throw it away- that's fine."
The movies I'd chosen were free of mosaic blurring or unnecessary censorship, so my dad actually put on his reading glasses to watch it. A week later when I peeked into my dad's forbidden cookie tin, I spotted a number of new additions: some "horny housewife" type stuff, a couple of middle-aged beauties, and even some western porn in the mix.
Naturally, Taiwanese netizens had plenty to say in response to this anonymous poster's tale of filial dedication.
"What a wonderful son you are!"
"I just LOL-ed my ass off!"
"Now I feel like a terrible son- I actually threw out my dad's porno mag stash…"
"I don't know whether I'm emotionally moved or just laughing at how messed up this is, but I've got tears in my eyes…"
"Hey now, what if your old man happened to
like
those plain-faced gals!?"
But of course, not everyone was so quick to believe the peculiar account, asking suggesting that this may simply be a work of fiction or, in some cases, suggesting that the story "smells a bit bullshitty".

The writer, however, is quick to defend his epic yarn.
"I swear this is completely true. Even eight years on, I periodically give my dad gifts of new porn. That said, I still have no real idea what kind of thing he's really into!"

Here at
RocketNews24
, we're not entirely convinced that this is a 100% true story, but even if a little poetic licence has been employed here, it's still a pretty good yarn. Maybe we're just suckers for a good father-son relationship story?
+++++++++++++++++++++++++++++++++++++++++++++++
The Many Talents of Yam Concepcion!
Shout out to Yam Concepcion and the awesome feedback surrounding her October 2012 cover! We reckon y'all found this month's cover babe to be a breath of fresh air. Everybody's feeling the Yam phenomenon at the moment, except for a few members of the
FHM
Nation who have no idea who this foxy lady is. Take for example, this golden comment:
So in the interest of those who will be hearing about Yam for the first time, allow us to educate you with a list of amazing things our cover babe has done in the past. We'd like to kick things off by once again showing you the teaser for Yam's
FHM
cover shoot.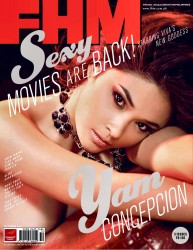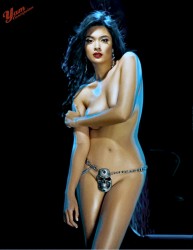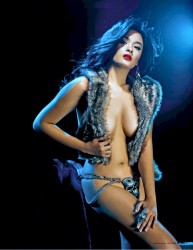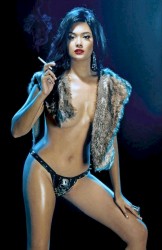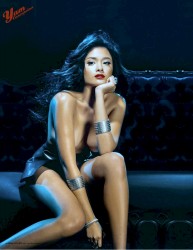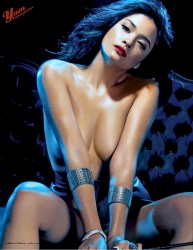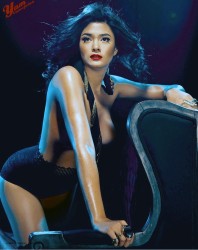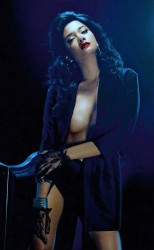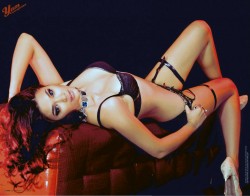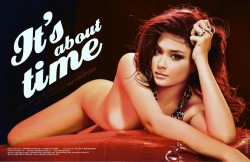 And in this music video, where Yam plays a down-on-her-luck damsel who sets out to find the love of her life, which in this case, is jukebox prince JC Regino. Mr. April Boy would be so damn proud.
And in this Mayonnaise music video, where many of us probably first laid eyes on her, Yam plays the role of a feisty young thing who may not be too happy with the message of the song. From goody two shoes to all-out
kontrabida
? Somebody give her an award!
Why, Yam's quite the musician herself! She lets one off with a ukelele rendition of the Wheatus song "A Little Respect". Take note that this video was taken just days after Yam learned how to play the uke! Talented! It's like the sweetest good night kiss ever. Wish we have someone to lullaby our faces to sleep like that.
It's so cute how juvenile she looks in front of a guitar, yes? Until you realize that she is actually a devil in the drum set. She's really good, as in mean machine kind of good. Check out Yam's band, Ursa Minor's, live performance of "Letters From The Grave" at Al's Bar some years ago.
Yam is also a fantastic actress, mind you. "I'm so sorry, David. It's not working out anymore," exclaims our cover babe in the amateur short film
Let This Happen
, where she plays the role of the David's ex girlfriend. It's kind of a class project shot back in 2008, so spare this woman the crafty criticisms, oks?
And then she decided to co-star alongside Leo Martinez, Pekto, Hero Bautista, Vincent Daffalong, and Brownie Pansalin in an extremely unheard of, terribly corny comedy flick titled
Lawlaw Gang
. The movie looks so damn bad it flipped 180 degrees and became good in our book. Pang-
Eye on the Web
ito!
Ever heard of the show
Pantaxa
? It's Viva Channel's reality show that pits six up and coming sex goddesses against each other, all while operating under the tutelage of former Viva Hot Babes Katya Santos and Maui Taylor! Yam, accordingly, is one of the show's contestants, so we guess we can cite "reality TV star" as one of her talents? We say it's a talent!
We also find Yam's jokes funny. So funny, in fact, that she once made
Esquire Philippines' Funny Joke From a Beautiful Woman
section. "Why does Snoop Dogg carry an umbrella?" she asks. The punchline goes: "Fo' drizzle." Humor's a kind of talent, right?
And finally, the launching pad of Yam's impending showbiz career: an upcoming sex-drama entitled
Rigodon
, co-starring
Maxene Eigenmann
, John James Uy, and directed by Erik Matti, the same director behind the revival of the erotic drama,
Scorpio Nights
. Making love onscreen, we know that one's gonna take a whole lot of good talent to pull off.
Maxine Eigenmann, Yam Concepcion and John Uy to star on the first Viva Films and Reality (Regal Films) project, "Rigodon"
Viva Films and Reality (Regal Films) are now business partners! They will be doing five movies as busines partners and their first is the "Rigodon".
Rigodon is an adult-drama which stars Maxine Eigenmann, Yam Concepcion and John Uy. This is about a love triangle with Maxine Eigenmann (daughter of Mark Gil and sister of Sid Lucero) as the wife, John James Uy as the husband and new Viva sex kitten, Yam Concepcion, as the other woman.
According to Direk Eric Matti, the director of the film, "It'll be told from the differing points of view of the three characters on how they regard love, lust and marriage."
He also promises to make it very sexy then try to enter it in international film festivals.
"We sent the script first to Mark Gil to make sure his daughter has his permission to do the sexy scenes in it and he said it's okay. The three stars already underwent character development and sensuality workshops for them to know what's expected of them during the actual shoot," he added.
* The good old nudie days of US-born actress Joyce Jimenez , Eurasian hottie Maui Taylor and Katya Santos are back (fingers crossed) as Viva again producing full-blown erotica with real nudity. Six new girls are poised to become latest nude starlets of the island nation.
Katya Santos, Maui Taylor mentor Viva's new batch of sexy stars
From left: Yam Concepcion, Sarah Polverini, Jef Gaitan, Carla Castelo, Alexis Navarro, and Jade Lopez are the six seductresses in training on Viva Channel's 'Pantaxa'.
Katya Santos and Maui Taylor are sizzling up the boob tube again. And they have six newcomers with them who are all hoping to follow in their footsteps to become the next "pantasya ng bayan".
The Viva Hot Babes headliners are currently hosting "Pantaxa" (pronounced "pantasya"), a new reality show on their home studio's recently launched cable channel, Viva Channel.
"Pantaxa" follows Katya and Maui as they mentor a bunch of new sexy stars. The twice-weekly series sees the two screen veterans putting the younger girls through various challenges and activities that test their physical, mental, and emotional capabilities to handle the demands of the path that they have chosen to take in showbiz.
"People think it's easy being a sexy star," Maui notes. "It's not. Baring your body in front of the cameras for everyone to see takes a lot of courage, determination, and self-awareness."
Katya Santos and Maui Taylor are the mentor-hosts of 'Pantaxa'.
Katya agrees. "Being sexy is not just about disrobing. It's about making people see that there's something beyond the flesh. Because it's what will establish a deeper connection with the audience, which will have them wanting and coming back for more."
Bringing out the "something beyond the flesh" is what show hopes to achieve with its six screen-seductresses-in-training.
The "Pantaxa" women of the current season are Jade Lopez, Yam Concepcion, Jef Gaitan, Alexis Navarro, Sara Polverini, and Carla Castelo.
The first few episodes saw Katya leading the girls through a lingerie pictorial, a mock TV commercial shoot for a fake brand endorsement, and a sexy music video shoot.
'Pantaxa' on location in Caramoan.
Maui has come in as a mid-season addition, joining the eposodes that were recently shot in Caramoan and the CWC complex in Camarines Sur.
These episodes promise a lot of baring and daring as the girls had to do a topless pictorial and a nude painting session, among a host of activities.
Reports from the set say that some claws have surfaced and there was some heat among some of the girls both on- and off-cam.
The 'Pantaxa' girls with Maui and Katya at the CWC in CamSur.
"Our ultimate goal, really, is to make these girls totally comfortable in their skin," Katya says. "We want them to own their bodies. That's the only way for them to have full control. It's the best way to make their presence felt in anything that they do, whether it's a pictorial or a live event or a movie."
"Pantaxa" airs two 30-minute episodes every week on Viva Channel, which is on most nationwide cable carriers, including Cignal and Dream.
[1]

ALEXIS NAVARRO
Alexis Navarro is one of the newest Viva artists aimed to exhibit her wonderful acting prowess, and more. Being one of Viva's beauty queens, Alexis is not just a young stunner that will hook us all up. She is in fact a stunner, a pretty face but with a great drive to pursue what is truly rightful hers.
[2]

JADE LOPEZ
Her sophisticated looks and grace is just two of the factors that gave her rights to be featured in Maxim magazine and even joined the hottest music video with international star, Usher in the groovy hit, "Love in This Club".
[3]

JEF GAITAN
She was once a 17-year old who dreamed for a modeling career and joined the Mossimo Bikini Summit in 2005 and emerged as one of the finalist. Her acting career started when she appeared as a model in I Love Betty La Fea and eventually been cast for TV5's Rakista as one of the schoolgirls.
[4]

SARAH POLVERINI
Sara Polverini, the Half-Filipina half-Italian wonder is Eurasia's Sweet and Sexy Lady. In the earlier part of her career, Sara can be seen playing wicked bully roles in Sarah: Ang Munting Prinsesa and Cedie. She was also a mainstay of the popular kid TV show in the 90's Ang TV.
[5]

YAM CONCEPCION
Receving her mom blessing and approval to strip on-cam, Yam drew the short stick and will go first among the new batch in displaying T-and-A. She was a drummer of a local indie band UrsaMinor.
[6]

CARLA CASTELO
Her sophisticated looks and grace is just two of the factors that gave her rights to be featured in Maxim magazine and even joined the hottest music video with international star, Usher in the groovy hit, "Love in This Club".
+++++++++++++++++++++++++++++++++++++++++++++++
DEMPSEY STEWART : I.D MAGAZINE
+++++++++++++++++++++++++++++++++++++++++++++++
Vancouver-based actress

Agam Darshi

out of comfort zone in Crimes of Mike Recket
Agam Darshi and Nicholas Lea play husband and wife in Bruce Sweeney's neo-noir film Crimes of Mike Recket. The film plays at VIFF Tuesday at the Vogue Theatre.
For
Agam Darshi
, joining the
Crimes of Mike Recket
cast was a no-brainer.
The Vancouver-based actress, best known for her starring role as Kate Freelander in the science fiction television series Sanctuary, plays Jasleen in Bruce Sweeney's latest murder-mystery film.
"It's a neo-noir movie about a man named Mike, who is a real estate agent. He's going through great lengths to try and make money and as a result he commits a pretty terrible crime," Darshi said. "I play Mike's wife. She's a very feisty and strong woman, who has a very passionate relationship with her husband."
This is Darshi's third time working with Sweeney, which she says convinced her to move out of her comfort zone.

"This is the probably the first time that I've gone to this level of sexuality in my work and it took me nine years to kind of do it," the U.K.-born Darshi said.
"I believed in the story, this character and the connection that she has with her husband so I felt like I was ready to take this next step for myself and my career."
Darshi also feels lucky to play female characters that move beyond race.
"What's really exciting for me about this film is the fact that Bruce took the role of the wife who is so strong, feisty and sexy and he offered it to me who's South Asian," she said. "That doesn't happen very often. That's what my dream is for us to see more of that in films, people just becoming more colour blind and not having many stereotypes."
Darshi said she's thankful for her diverse body of work.
"I play all sorts of types of women – from South Asian to Brianna who's Jamaican in Dan for Mayor," she said. "I think it will be really exciting when film and TV break those stereotypes down a lot more."
VIFF: Crimes of Mike Recket
+++++++++++++++++++++++++++++++++++++++++++++++
I Was Once a Beauty Queen
Beauty queens of the 1970s and 80s on life after their respective reigns
'Beauty queens belonged to a different era:' Tracy Dodds, Miss Great Britain 1982
Even now, as revelation after revelation about what really went on backstage at Television Centre in the 1970s play out in the tabloids, there seems something almost wholesome about the heyday of the televised beauty pageant. Compared to the daily barrage of heavily sexualised images we are bombarded with from the moment we wake as consumers of contemporary culture - bare arses before the watershed, fake orgasms selling shampoo, Kate Middleton's tits on the evening news - the swimsuits the contenders paraded up and down in looked positively demure.

Beneath the surface, however, there's something undeniably creepy about watching footage of those shows played back. Before the advent of reality television turned everybody into a potential star, the contestants didn't know how to play up to the camera. Girls aged just 18, 19, cowered and giggled as they were fed banal questions by the - invariably male, usually mustachioed - presenters. They weren't to know that questions such as "how does it feel to be viewed for your looks, rather than your brain?" weren't powerful social commentary, but the sort of jokes of which they were the punchline. Perhaps they didn't hear their measurements being read out like so much marketing.

It's strange then that not one of the five former winners interviewed for Wonderland's I Was Once a Beauty Queen had many bad things to say about her "reign". The programme introduced us to five women, each living very different lives: there was the successful businesswoman living with her childhood sweetheart in a ski resort in Switzerland; the six-foot tall widow of a small-time rock star; the single mother, who enjoys monthly Botox injections and living vicariously through her daughter; the plain-faced professional house-sitter who still lives with her mother; the glamorous child-woman on the cusp of 60 with the London penthouse who has barely worked a day. Life has been kinder to some of the women than others, which is why the uniformity of the perspectives is particularly disappointing.

Carolyn Moore, Miss Great Britain 1971, began entering beauty contests as "a bit of fun" during the summer holidays before starting a job with a local bank. She was going to be a "bank manageress", she said on air, and then struggled with a couple of questions from a presenter who "didn't know there was such a thing" and whether men "resented" all these women coming into the profession. "I should think they do," the young Carolyn simpered, as her older self turned down an opportunity to talk about how "the feminists or whatever they called themselves" didn't come into her view of beauty pageants because "it was nice to be appreciated".
The feminist line in fact belonged to Brian, Carolyn's dad, who remembered the women who hurled bags of flour at Bob Hope during protests at the Miss World competition the year before his daughter was crowned. Brian took his wife for dinner at the Playboy Club when Carolyn later got a job as a 'bunny girl' though - probably a better career choice in hindsight - so I'm not terribly inclined to count his views as part of a scholarly appreciation of third-wave feminism.

"Beauty queens belonged to a different era," Tracy Dodds, who won the same competition a little over a decade later, told the camera. "An era when everyone was sweet and lovely and never did any wrong." Of the five, Dodds probably has the most to be bitter about: she was stripped of her title when it emerged she had had topless photographs taken, because the "image" of the winner had to be that of a "working-class princess".
It was quite surprising, then, to see the documentary end with Tracy's 21-year-old daughter India Lea - perma-tanned, fake-breasted, a "WAG in training" - entering her first beauty pageant.
Of course it's pretty hypocritical to talk about feminism in the same breath as suggesting that there's something wrong with a woman choosing to be ogled while shimmying around on stage if that's what she wants to do. But there was a staggering lack of critical engagement with the material presented by each of the women - as interesting as their individual stories were, the documentary closed with a sense of missed opportunity.

The BBC televised its last beauty contest 30 years ago, Wonderland's narrator told us, while at home we roll our eyes and wonder how watching young girls in skimpy outfits was ever how a nation spent its Saturday night. At least these days we make them sing and dance as well.
+++++++++++++++++++++++++++++++++++++++++++++++
Sex.Violence.FamilyValues:Trailer [the dirrrty version that didn't make it to cinemas]
A kindergarten principal finds a series of morbid cartoons drawn by a docile child. A porn actor struggles to rise to the occasion while filming a 'romantic cumedy'. A middle-aged nightclub bouncer faces off with a rebellious teenage stripper. First-time director Ken Kwek tells three iconoclastic stories in a short film that pitches political correctness out the window of Singapore mainstream cinema.
http://svfv.com.sg/cast
https://www.facebook.com/Sex.Violence.FamilyValues/timeline?filter=3
Female Cast (no nudity but sexy in its own way)
Lez Ann Chong ……… Susie the underage aspiring porn-star
Sylvia Ratonel ……… Anna the pole dancer
Vanessa Vanderstraaten ……… Rachel
Singapore film Sex.Violence.FamilyValues yanked from release
Just days before it is due to open in the cinemas, Singapore comedy Sex.Violence.FamilyValues has had its M18 classification revoked by the Media Development Authority.
SINGAPORE, Oct 9, 2012 (AFP) - Singapore has banned a satirical local movie three days before its theatrical release because it was deemed offensive to the island's ethnic Indian minority, a media watchdog confirmed Tuesday.
"Sex.Violence.FamilyValues" had originally been rated suitable for viewers aged 18 and above, but a review panel concluded that one of the three stories in the 47-minute independent movie was unsuitable for public exhibition.
"An overwhelming majority of the panel members have expressed that the film should not be allowed for public exhibition in view of its overt racial references which are demeaning and offensive to Indians," said a statement sent to AFP by the Media Development Authority (MDA).
"Should the film owner wish to pursue the matter, they may lodge an appeal with the Films Appeal Committee."
The film's Facebook promotional page carried a news report about the ban on Tuesday, generating strong criticism of the MDA and calls for Singaporeans to be allowed to judge the movie for themselves.
Despite the ban, a trailer showing local film and stage star Adrian Pang making fun of a co-actor's Indian ethnicity in a story entitled "Porn Masala" could still be viewed Tuesday on the film's official website.
The website described the movie, which premiered last week and was due to open in a cinema for a limited run on Thursday, as "three iconoclastic stories in a short film that pitches political correctness out the window of Singapore mainstream cinema".
The Straits Times said the film was made by first-time director Ken Kwek, 33, for just Sg$100,000 ($81,000).
Singapore has relaxed censorship rules on film nudity and violence in recent years. But it has strict laws against inciting racial or religious hatred in a predominantly ethnic Chinese society with Malay and Indian minorities.
The movie was banned on the same day an ethnic Chinese executive of a national labour group was sacked for insulting members of the Malay community in a Facebook posting.
+++++++++++++++++++++++++++++++++++++++++++++++
A Casting Director sits through the worst auditions of his career.
+++++++++++++++++++++++++++++++++++++++++++++++
A brief history of the land called Israel/Palestine/Canaan/the Levant.
Who's Killing Who? A Viewer's Guide
Because you can't tell the players without a pogrom!

Early Man
This generic "cave man" represents the first human settlers in Israel/Canaan/the Levant. Whoever they were.
Egyptian
Canaan was located between two huge empires. Egypt controlled it sometimes, and…
Israelite
The "Children of Israel" conquered the shit out of the region, according to bloody and violent Old Testament accounts.
Macedonian/Greek
Here comes Alexander the Great, conquering everything!
Ptolemaic
Greek descendants of Ptolemy, another of Alexander's competing generals, ruled Egypt dressed like Egyptian god-kings. (The famous Cleopatra of western mythology and Hollywood was a Ptolemy.)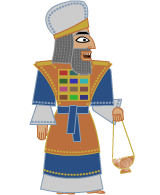 Hebrew Priest
This guy didn't fight, he just ran the Second Temple re-established by Hebrews in Jerusalem after the Babylonian Exile.
Maccabee
Led by Judah "The Hammer" Maccabee, who fought the Seleucids, saved the Temple, and invented Channukah. Until…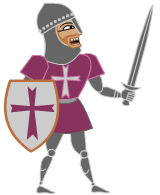 Crusader
After Crusaders went a-killin' in the name of Jesus Christ, they established
Crusader states
, most notably the
Kingdom of Jerusalem
.
Palestinian
The British occupied this guy's land, only to leave it to a vast influx of….
PLO/Hamas/Hezbollah

….so were the people that lived there. Various militarized resistance movements arose in response to Israel: The
Palestinian Liberation Organization
,
Hamas
, and
Hezbollah
.
+++++++++++++++++++++++++++++++++++++++++++++++
Wilmington high schooler charged in sex ring
Alexandrea Berte
WILMINGTON, NC (WECT) – A Wilmington high school student is facing federal charges for crimes related to prostitution. Her mother says her daughter is a victim of sex trafficking.
Laura Berte says her daughter Alexandrea, has been missing since July. She contacted law enforcement but says they were reluctant to place her daughter on a missing persons list since she was 19 at the time. Berte said she continued to push a few more times, until a Wilmington police officer helped put Alexandrea on the missing persons national database.
Laura says, that's what's saving her daughter now.
"It took me 3 times to finally convince a wonderful police officer in Wilmington to believe in me and to make sure she was put on that missing persons report," said Laura Berte. "Had she not been put on that, she might still be on the road."
Alexandrea Berte, who just turned 20 this week, was recently pulled over in Tennessee for a traffic stop. When troopers ran her name, they discovered she was on a national missing persons list. However, "Allie" Berte also had three other young women in the car along with a small amount of marijuana, several gift cards and cell phones.
The next thing you know, Laura Berte is getting word that her daughter is being charged federally for sex crimes.
Alexandrea Berte booking photo.
backpage.com
. Like many people, she was unaware of the online adult services site, which experts say makes it easy for traffickers to advertise girls all over the country with anonymity. In 2010, Craigslist put a stop to advertising adult services, but Backpage soon picked it up. Experts say Backpage makes around $20 million a year for these ads. Laura Berte said she discovered that, within five weeks, her daughter had been advertised for sex in at least as many states.
"I feel like a part of my heart is gone, my best friend is gone," said Laura Berte. "There is such a hole in my life. It's just so traumatic for me to honestly comprehend that this is my life and that my daughter has been lured into this kind of lifestyle. I feel like she's been kidnapped. I feel like somebody stole my baby."
Laura Berte said her daughter has a mental capacity of a 9 year old. She said Allie, though now 20, was in special classes at Ashley High school, but was still on the honor roll for her level. This would be Allie's senior year of high school.
"My daughter's not a criminal," said Laura Berte. "She doesn't have the mental capacity to come up with this idea on her own. This is bigger than her and bigger than most people in this community know, and it's happening right underneath our noses."
Allie hadn't been at Ashley for long. The Bertes moved here in early 2012 along with Allie's now 18 month old. Laura said Allie was on the right path and making good decisions, but like most teens, she wanted more freedom. Allie was living with her grandparents, but one day left the baby behind to live on her own. She even lived in her car for some time, said Laura.
Now the baby is back with the biological father in Florida.
Laura said it didn't take long to find her daughter's pictures surface on the Internet. She said at first they looked 'amateurish' but then progressed into more professional pictures with backdrops and lighting.
"I pulled it up and discovered there were very provocative pictures on this website with an ad," said Laura Berte. "The quality led me to believe someone is investing time and money."
National human trafficking experts say one third of all runaways are trafficked or exploited for sex within the first 48 hours after they go missing. This staggering statistic is increased when girls, like Allie, have been exposed to risk factors like previous abuse as a child, diminished mental capacity and single parent homes with no father figure in the home.
"If this happened to me, it can happen to anybody," said Laura Berte. "It really can. I want parents to be aware of the signs. I was not aware of the risk that Allie was at. I did not realize that her childhood traumas made her a perfect target to be a victim of human trafficking. I thought she was recovering, and I was wrong. People need to be aware that this is happening."
Local experts say human trafficking is a real issue in North Carolina. The Tar Heel State happens to be one of the top ten states for human trafficking with contributing factors such as poverty and location. Many girls have been trafficked up and down the East Coast, making North Carolina a drive-thru destination. Women trafficked from New York to Miami have also likely been trafficked through North Carolina.
Also the laws in North Carolina make it a vulnerable state. North Carolina does not see 'pimping' as a felony, and that means even if someone is busted, they only get about 120 days in jail. However, there's a different story concerning prostitution. In North Carolina, there are no age restrictions on prostitution. So, even if a minor gets arrested for prostitution, they could serve time as an adult. Experts say that's a fault within the system since minors would clearly be trafficking victims.
Allie was 19 at the time of her arrest in Tennessee, even though her mother says she is mentally much younger. She was also driving a rental car, though we do not know if she was the one who was responsible for the rental. At age 19, she may not have been able to rent a car by herself, depending on the rental company. There were three other women in the car at the time – one was an 18 year old from Lumberton. Another woman was from North Carolina and the third was from Kansas. Everyone but Allie was released.
Though Laura Berte is heartbroken this is happening, she is relieved it only took a few months to get her daughter off the streets. At the end of the day, a mother's love is unwavering.
"It is scary and there's a perception out there—in this community, in society—that girls of this age are making the choice," said Laura Berte. "You know, that needs to be changed. My daughter would have never chosen this as a career. And I just feel there are many, many girls out there that are in similar circumstances that are high risk environments that can be prey."
A local hotline number has also been set up to help. Call A Safe Place at 1-855-723-7529.
+++++++++++++++++++++++++++++++++++++++++++++++