Some itty-bitty news on

Camilla Belle

's Open Road. The flick where the original nude scene was 'supposedly' edited out from final cut when Camilla came aboard as producer after the

movie

ra

n

into financial difficulties particularly when it came

to

marketing the drama. It doesn't matter though. The flick is unlikely to receive theatrical release unless Camilla hits it big with Love Is All You Need? and Open Road can ride to wide distribution on the coattails of LISYN success. If not DVD is the usual option.
+++++++++++++++++++++++++++++++++++++++++++++++
The final season of

Spartacus: War Of The Damned

just had its final shoot recently. Here the ladies celebrate the wrap up by having a party and we will too when all of 'em gets naked at some point including

Ellen Hollman

.
Ellen with stunt double and BFF Vanessa Cater
Vanessa, Jenna Lind (pink dress), Ellen, Cynthia Addai-Robinson and Gwendoline Taylor.
Greensboro actress gets her big break on HBO's 'Boardwalk Empire'
GREENSBORO — Meg Chambers Steedle has been called a "budding It Girl," interviewed on television, in print and in online chats, recognized on New York streets and asked for career advice.

That's all happened since September when she began appearing opposite star Steve Buscemi in the HBO series "Boardwalk Empire."

"A lot of this attention has focused on 'Where did you come from? What is your background? What was the audition process like?' " Steedle says from New York, where she now lives.

"Everyone is fascinated about how it came about. It's such a new world for me."

Steedle was born in Winston-Salem and grew up in Greensboro. Her parents, orthodontist Dr. Rick Steedle and dentist Dr. Holly Chambers, live here.

Her acting talent was developed and nurtured at Greensboro Day School, then honed in theater studies at Northwestern University in Evanston, Ill.

In high school, she interned at Triad Stage, then returned in 2009 to play Madge in "Picnic."



Now, just four years out of college, Steedle appears in a recurring role in the third season of the drama "Boardwalk Empire" as Billie Kent, a bubbly flapper and aspiring Broadway actress.



She's the love interest of Buscemi's character Enoch "Nucky" Thompson, the politician and bootlegger who controls 1920s Atlantic City, N.J., during Prohibition.

"One of the things I was excited about was that she seemed to bring this new-age energy to the show," Steedle says.

Flappers "weren't necessarily feminists," she adds. "They were just enjoying the newfound freedom that feminism was bringing to the times. ... Freedom and fun are her two favorite things."

The fifth of the season's 12 episodes airs tonight. Steedle isn't permitted to say what ultimately will happen with her character, and says that she doesn't know what will happen to others.

"The writers really do a good job keeping the story under wraps," she says.

Having her snag such a prominent role has been exciting for her family and for Linda Sloan, the retired head of Greensboro Day School's theater department, whom Steedle calls her mentor.

"She has so much going for her," Sloan says. "She can sing, she can dance and she can act. She has a wonderfully supportive family and is a great person to be around. And she's smart."

"She has worked very hard for quite a while, and it's a big opportunity for her," Rick Steedle says of his daughter.

Although she appeared regularly in theatrical productions, Steedle's only other TV role was in an episode of ABC's "Body of Proof" last year.

After she first auditioned for "Boardwalk Empire" last fall, she didn't hear anything and assumed that she didn't get the part.

Then she got a call back, and wound up as a last-minute addition to the cast.

"We wanted someone who was beautiful, who could sing and dance, and who brought a young, fresh, different type of energy," show creator Terence Winter told The Associated Press. "Meg was the complete package."

Coincidentally, Steedle knew the Jersey shore, having spent summer vacations at her grandparents' home there. And she knew Terence Winter's work. HBO's "The Sopranos," for which Winter was executive producer, was her favorite show in college.

Now, she shares scenes with "Sopranos" alum Buscemi. Steedle describes working with the award-winning actor as "fun, rewarding, humbling."

"At first, I was terrified," she admits. "But the first day on set, he introduced me to his wife. ... To meet his actual family made me feel part of the 'Boardwalk' family."

"Just watching him was the best education I could have in terms of working in TV. He is just so good at what he does. ... And he's a really cool guy."



Aside from acting, singing and dancing, the role occasionally has called for nudity.



"For me, that is a huge deal," Steedle says. "I talked to my agents, because this is my first important job on TV, and it's really important to me that I don't become just 'that naked girl.' "



She wanted to prepare her parents. "I called my mom to say, 'Hey, I got this job. It's awesome. Now nudity is involved,' " Steedle recalls. "She's like, 'Oh yes. It's HBO. I know, I know.' "



Her parents went to choir practice at First Presbyterian Church, where they shared news of her new job. When they returned, Steedle spoke with both her parents on the phone about the nudity.



"My mom said, 'Wait! YOU'RE going to be nude? Oh, Rick, we can't tell anybody else!' "





Holly Chambers says, "We think she is doing a great job," but admits "it's difficult as parents to see your daughter on an R-rated show. It's something to get used to. But she did warn us ahead of time."



Steedle's parents noticed her talent and self-assurance onstage from an early age.

She sang in the children's choir at First Presbyterian. On Thanksgiving, she would recruit younger brother K.C. for plays she had created to entertain the family.

She entered Greensboro Day School after the family moved from Winston-Salem. As a third-grader, she was cast by Sloan as one of the von Trapp children in "The Sound of Music."

"I remember feeling so cool, because it was a bunch of older kids and me," Steedle says.

She continued acting and working back stage through senior year. She studied at Greensboro Ballet and acted in a Community Theatre of Greensboro play.

"I think the arts in Greensboro are pretty great," she says. "It's really cool to see how they keep developing, too."

Sloan kept up with Steedle as she went on to Northwestern. She still visits Steedle, who welcomes her advice.

Now, to Steedle's surprise, other young actors seek her advice.

"As far as giving advice to people my age, I still feel I am in the same boat," Steedle says. "It's still a very new experience for me."

And she's enjoying it.

She was invited as a celebrity guest to a fashion show, where she sat next to actor Edie Falco.

"How did I get to sit next to Edie Falco?" she wonders aloud. "I watched her on 'The Sopranos,' and now I'm sitting next to her?"
+++++++++++++++++++++++++++++++++++++++++++++++
Selena Gomez feels 'used' by Ashley Benson
Selena Gomez feels ''used'' and ''punched in the face'' by Ashley Benson.
The 'Spring Breakers' co-stars are said to have fallen out after Ashley dumped her boyfriend Ryan Good - a close friend of Selena's man, Justin Bieber - to date James Franco.
A source told RadarOnline.com: ''Selena feels used and kind of punched in the face, seeing as though she got Ashley the role and Ashley just used the opportunity to break her friend's heart.
''After Emma Roberts turned down the role because she didn't want to gain weight for it, Ashley practically begged Selena to get her in front of producers for the part.
''She did, because she thought they were all friends, but it was clear early on that Ashley had something going on with James.''
The friend added Ryan started to feel something was wrong when Ashley, 22, started to withdraw, and suddenly started showing great interest in James, 34.
The source added: ''Once the shoot wrapped, Ashley told Ryan they needed to 'slow down' and then booked a flight to New York City to go see James' art gallery showing.
''Selena is p***ed off that she went out of her way to vouch for Ashley, only to have her dump Ryan. [Ashley may have] got the role and got the man, but she lost a good friend.''
+++++++++++++++++++++++++++++++++++++++++++++++
Leighton Meester moving to LA
Leighton Meester
is moving to Los Angeles now that her series "Gossip Girl" has finished.
Michelle Trachtenberg
hosted a dinner for Meester, plus friends and co-stars, at Midtown brasserie Lexington Brass on Saturday, to bid her bon voyage. After dinner, the group attended a "Gossip Girl" wrap party at the New York Palace. Later Meester and Trachtenberg, with
Chace Crawford
,
Ed Westwick
,
Penn Badgley
and
Kelly Rutherford
, continued celebrating at Meapacking District club Tenjune.
* Don't know

why

but I'm feeling good about Leighton moving to L.A. Something tells me she isn't the type to make a fuss about nudity now that she is 26. Leighton will take on any role as long as she can keep working consistently. Just pray

,

guys she fails miserably in landing another network show or it will quickly flop. Ms.Meester best friend is reportedly Emmy Rossum.
+++++++++++++++++++++++++++++++++++++++++++++++
Sex scenes on screen not as fun as they look, actors say
'A horror." That's how TV and movie star William H. Macy describes the often arduous process of having simulated sex onscreen.
These days, especially on unregulated pay cable and to a lesser degree basic cable, there's more of it than ever.
Consider actor Shia LaBeouf's recent breast-caressing exhibitionism in a video for Sigur Ros's song "Fjogur Piano." Showtime's "The Borgias" and "Shameless" are chock-full of carnality, too. So are HBO's "Game of Thrones" and Starz's Chicago-based "Boss."
And thanks to a June Supreme Court ruling that prohibits the Federal Communication Commission from levying fines against over-the-air TV shows for "fleeting" nudity and profanity, network television can feature more of both without fear of reprisal.
While groups like the Parents Television Council have voiced their extreme displeasure at this apparent loosening of standards, Macy takes a much more chilled approach.
"Violence is always bad," he says. "Sex is good. Even bad sex is pretty good."
As an integral part of the human experience, he adds, it's "right up there with eating."
Although the formerly Chicago-based actor and star of "Shameless" (set and partially shot in town) has done his share of steamy scenes — but not in "The Sessions," in which he plays a Catholic priest — he says they remain tough to do well.
But "that's what we get paid for," Macy says of his actorly ilk, "to do intimate things in front of a whole bunch of Teamsters."
He failed to note if Teamsters were present when one of his latest co-stars, Helen Hunt, flaunted flesh aplenty while filming the buzzed-about indie film "The Sessions." It made a splash at the Sundance Film Festival in January and opens Friday in Chicago. The poignant story of a man (played by John Hawkes) confined to an iron lung who hires a sex surrogate (Hunt) to rid him of his virginity, it is rife with unabashed (if pretend) intercourse and nudity — mostly Hunt's and to a lesser degree Hawkes'.
"She's easy to look at, which is always a plus," Macy says of Hunt, "but you have no idea how brave she is … . It's not easy to do."
As Hawkes says, "Any unfamiliar awkwardness or nervousness worked in our favor."
Like any acting, sex onscreen is largely a matter of memorized lines and choreographed movements. And being in the moment.
"You get bold," says Macy, whose carnal prowess is sometimes featured on "Shameless." "You have to turn off a certain part of yourself. You have to turn off the shame. You have to turn off the self-consciousness. ... You just have to throw yourself into it with abandon."
Veteran television director Michael Lange agrees with Macy that sex scenes are a "horror." In his case, that sentiment applies to shooting. Most of his scenes have been for network shows, which must conform to FCC guidelines, so the sex is less unbridled than on cable. Still, it's a delicate dance.
"It's a beautiful act which most human beings enjoy," says Lange, who directed episodes of the MTV dramedy "Underemployed," set in Chicago. "And then it's reduced to a somewhat technical, extremely awkward situation, which takes much of the enjoyment out of it — especially considering there's 50 to 70 people watching while you do it. Now, there may be some actors who like that, but I would not be at liberty to say if I've ever met one."
Male actors are more game, Lange says. "Whenever I've done sex scenes, I have always thought, 'This is why young boys decide to become actors,' " he jokes.
And yes, in case you're wondering, nature sometimes takes its course.
One one "Underemployed" scene, "we had to reshoot because nature took its course a little too much," Lange says. "It was a little too sexy for MTV."
In his 2003 film "The Cooler," Macy recalls, he and his co-star Maria Bello had to perform in several sex scenes. The day before filming, Macy says they met with the director and the director of photography to do a — "if you'll pardon the expression" — "dry run" with their clothes on. When it came time to shoot, they knew exactly how to move and where to look — "no surprises."
"And as a result," Macy says, "we felt sort of in charge of it and we got bolder. We chipped in some ideas. There's a shot where the camera passes down the whole bed, and the only thing between me and the rest of the world is Maria Bello's hand over Young Will. And that was my idea."
In the days and weeks prior, however, he'd been "pissing and moaning" about the seemingly impossible task that lay ahead. "Oh, my God, no!" he fretted. "I can't do this!"
Fortunately for Macy, his actor wife Felicity Huffman ("Desperate Housewives") set her longtime spouse straight. He was "preparing to be bad in those scenes," she admonished. The remedy: either get them cut or start figuring out how to do them well.
"And I was gob-smacked," Macy says. "She was so right. So then I thought of the scenes as an acting challenge: what's different at the end of the scene than at the beginning of the scene?"
That transformational element made his formerly fearsome task somewhat less daunting.
"Suddenly I had something to do," Macy says, "rather than just self-consciously pretend to ..."
His last word rhymes with luck. Hey, we're not HBO.
Why John Hawkes doesn't do the Full Monty in 'The Sessions'
Anybody who has seen "The Sessions," which opened last weekend to strong business in limited release, would likely agree that the film deserves an R rating, assigned by the Motion Picture Assn. of America for "strong sexuality including graphic nudity and frank dialogue."

But 100% of that "graphic nudity" comes from Helen Hunt, who plays the film's sex surrogate and often wears not a stitch of clothing. John Hawkes, who plays Mark O'Brien, the polio patient who hires Hunt to lose his virginity, is bare from the waist up, yet the actor never does the Full Monty. The inescapable question: Why does Hunt have to act in her birthday suit, and Hawkes doesn't?
Ben Lewin, who wrote and directed the film, lays most of the blame on the ratings board.

"My task was not to challenge the MPAA," Lewin said, adding that any male frontal nudity, especially showing O'Brien in an aroused state, would guarantee a NC-17 rating. Even though the MPAA and the National Assn. of Theater Owners say that adults-only rating can and should be commercially viable, several large chains don't customarily book NC-17 films, and a large number of newspapers and television networks bar advertisements for such movies.

"I was pretty aware of [the MPAA's] attitude toward erect penises -- that we'd immediately be dumped into quasi-porno land," Lewin said. "And there was no point in showing John's penis if it wasn't erect."
Hunt said she understood the issue, but that it didn't want to make her be equally covered up. "Anything less than the amount of nudity that's in the film would be antithetical to the spirit of the movie," Hunt said. "For me, the movie is about having a body and everybody's God-given right to get off."
+++++++++++++++++++++++++++++++++++++++++++++++
'Magic City' actress loves yoga, Pilates
On "Magic City," a Starz television drama set in a glamorous Miami hotel in 1959, Dominik García-Lorido plays a Cuban-American housekeeper training to be a Pan Am stewardess. She sizzles as a young woman coming of age and falling in love.
In real life, the actress was born in Miami, the daughter of actor
Andy Garcia
, and spent summers in South Florida after her family relocated to Los Angeles. In August, she moved back down here for six months to shoot the show's second season.
The actress said she has sciatica in a leg and is both lactose- and dairy-intolerant. To enhance her figure, and keep healthy, she does Pilates and yoga and eats lots of vegetables.
Q: Why do you keep fit?
A: [Working out] makes me feel good — it's weird not being active. And obviously you want to look great in front of the camera. Whoever says they don't is lying. There's no negative to working out.
Q: What's your workout routine?
A: I do Pilates and yoga at a studio four or five times a week, depending on my schedule. If I'm filming, I'm really rigorous about my workout ... I have a bike and like to ride it recreationally. At home, maybe I'll speed-walk on the treadmill.
Q: Why so much Pilates and yoga?
A: I used to dance for 15 years. Pilates makes your body lean and flexible so it's similar to what dance would provide for me. And yoga is really good for your mind, keeping you centered. Calm. Yoga, you get a good workout as well, and you can lean out.
But with Pilates you're toning more specific muscle areas. Especially for me, in the butt area, that's the best area, and thighs and abs to get more definition. I like the constant flow of moving your body and having good balance. And it's good to keep your body flexible.
I have sciatica in my right leg, and yoga and Pilates are so good for that. But especially yoga because you're really stretching. With sciatica, you get the pain when you're sitting still.
Q: What was your physically toughest acting job?
A: I did a movie (2009's City Island) where I played a stripper and learned how to pole dance. Three weeks prior, I was working with a private teacher, learning all the tricks on the pole. I had a goal: I wanted to flip upside-down and hang by my ankles. It was hard. That's an amazing workout. The upper-arm strength is crazy.
Q: Played any sports?
A: Basketball from fourth grade to 10th grade. Also a cheerleader, dance captain. All of the ballerinas were cheerleaders. But basketball was my sport. And still is. All the time I play pickup games with my 10-year-old brother and dad.
Q: Does your family keep fit?
A: My dad does a lot of Pilates. And my brother plays every sport there is: soccer, basketball, swim, baseball. A lot of basketball. My dad's a big golfer, and my brother just started at a clinic.
Q: You mentioned sciatica. Do you have any other physical issues that hinder exercise?
A: I have a hyperextended back so I have to be conscious with my positions. When I danced ballet, I had to be careful. I can back-bend but have to be careful because my back curves in. It makes for a pretty shape.
I don't like to run because I get shin splints.
Q: Do you smoke or have any other health vices?
A: I don't smoke cigarettes at all. That's the No. 1 thing to cut out if you want to be healthy.
Q: Do you have a typical daily diet?
A: I stay away from gluten and dairy. I'm not tolerant of those. In the mornings, I'll have gluten-free oats with almond milk or gluten-free toast with avocado, tomato. I love vegetables.
In my coffee, a little coconut milk ... and I don't add sugar. Not much of a sweet tooth. I used to eat a lot of junk food when younger. But as I've gotten older, being healthy is more of a priority. If I'm in my car all day running errands, I'll eat from a bag of sliced apples.
Lunch is salads or a gluten-free sandwich. For dinner, usually I'll have a protein and vegetable like greens.
Q: What do you drink?
A: Water. Don't really drink soda or juices.
Q: Alcohol?
A: On occasion. I don't react well to it. It gives me a bad feeling the next morning, like a weird anxiety.
Q: Take vitamins or sports nutrition products?
A: In the morning, 1 ounce of noni fruit, a Tahitian fruit that's good for the skin and
immune system
and energy. Very tart.
I take 15 vitamins a day: 5,000 (IU) of
vitamin D
; 1,000 mg of the purest form of
vitamin C
; multivitamins. D vitamins are for skin. My doctor does a lot of
Eastern medicine
so he suggests ones that are good for my body.
Q: Have any advice for South Floridians wanting to get fit?
A: It's more about what you eat instead of what you do. If you're eating [unhealthy foods], you won't feel the effects of exercising as much. Eating habits are so much more effective than any workout.
Dominik Garcia-Lorido
Age: 29
Cities of residence: Los Angeles, Miami
Height: 5 feet, 9 inches
Occupation: Actress
+++++++++++++++++++++++++++++++++++++++++++++++
Revival of Korean movies
Korean films initially appeared on the international cinema circuit around the turn of the 20th century. A number of Korean movies were already enjoying global attention before "hallyu," or the Korean Wave, took Asia by storm with K-pop songs and television dramas. Quality films like Kang Je-kyu's "Swiri" (1998), Park Chan-wook's "Joint Security Area" (2000), and "My Sassy Girl" (2001) are among them. But the big spotlight came particularly with Park's "Old Boy" (2003). Since then, the world's attention shifted toward K-pop.
Also Korean directors are making successful inroads in Hollywood, if the ability to cast A-listers can attest to this. Park and Bong have shot new movies in the United States with big Hollywood names. Park cast stars like Nicole Kidman and Matthew Goode for "Stoker," which will be released next year. Director Kim Jee-woon also recently shot his new film "Last Stand" (set to be released on Jan. 18, 2013) in the world's biggest film market with actors Arnold Schwarzenegger and Forest Whitaker.
The rise in K-films is invariably linked to Hollywood as well.
Amid such a spike in the popularity of domestic films, movie exports are booming, reaching $15.8 million in 2011, a 13.8 percent increase year-on-year.
The country has also been the host of various film festivals. The Busan International Festival, which closed Saturday, has positioned itself as the biggest of its kind in Asia and eighth biggest in the world since 1996. The Jeonju International Film Festival, which debuted in 2001, focuses on digital, independent and art films. Other well-known events include the Puchon International Fantastic Film Festival, the International Women's Film Festival and the Jechon International Music and Film Festival.
When the Park Chung-hee administration took office in the 1960s, seen as a golden age, it pushed a program of state-led industrialization and economic development in every area of society and cinema was no exception. It ushered in a more stable system through corporation-style production so companies cranked out films, spanning a wide variety of genres. Notable movies in this era include "Aimless Bullet" (1961) by Yu Hyun-mok, "Mother and A Guest" (1961) by Shin Sang-ok and "Sound of Magpies" (1967) by Kim Soo-yong. Korean film has been through many twists and turns since the golden age and finally regained its momentum.
Is Korean Cinema Soft on Sex?
*
Christopher is a film writer and a graduate arts student at the University of Cape Town in South Africa. He lived and worked in South Korea for four years and there he channeled his passion for film into the Korean cinema scene. Driven by his rampant cinephilic needs and Korea's vibrant cinema, Chris now enjoys watching Korean films and writing about what he thinks of them.
+++++++++++++++++++++++++++++++++++++++++++++++
'Spank!', musical parody of '

Fifty Shades of Grey

,' to be tied to Royal George
"SPANK! The Fifty Shades Parody," the hilarious and naughty new musical parody of "Fifty Shades of Grey," will dominate willing audiences at the Royal George Theatre Main Stage, 1641 N. Halsted, in a limited three-week engagement starting Wednesday evening, November 28.
Prepare for some naughtiness. And don't you dare say you didn't know it was coming.
"Spank: The Fifty Shades Parody," a musical send-up of "Fifty Shades of Grey" — the runaway 2011 erotic bestseller (now a trilogy) will play a three week engagement beginning Nov. 28 at Chicago's Royal George Theatre, 1641 N. Halsted. The production, which clearly notes it is "not associated with, nor authorized by [British] author E.L. James or publisher Vintage Press," premiered in Springfield, Ma. earlier this month. Written and directed by Jim Millan (whose credits include "the Kids in the Hall," "Larry King Standing Up," "Marijuanalogues with Tommy Chung" and "Mythbusters Live"), it is being co-produced by the Just for Laughs Group and Mills Entertainment.
For the uninitiated, "Fifty Shades of Grey," set primarily in Seattle, follows the relationship between a 22-year-old college graduate, Anastasia Steele, and a tremendously wealthy young business magnate, Christian Grey, with extreme tastes in sex that include bondage, dominance and submission and sado-masochism. The book, which reportedly has surpassed "Harry Potter" to become the fastest-selling paperback of all time), has attracted an unusually large number of female readers in the thirtysomething age bracket, and has been dubbed "Mommy Porn." In a prepared statement, producer Michael Mills described the parody as "a laugh-filled evening that captures all the escapist fun and absurdity of the novel" by way of sexy musical numbers in the style of "SNL" and the Chippendales.

Tickets ( $42.50- $52.50), go on sale Oct. 26, at 10 a.m. Call (800) 982-2787 or (312) 988-9000, or visit www. Ticketmaster.com.
+++++++++++++++++++++++++++++++++++++++++++++++
Katie McGrath

:

Promo shoot for Merlin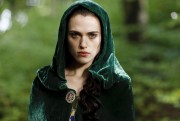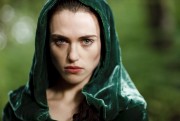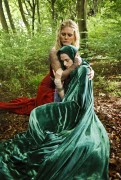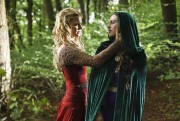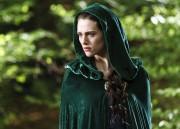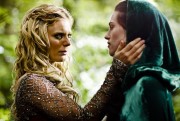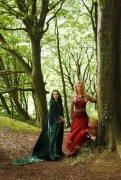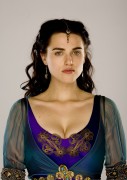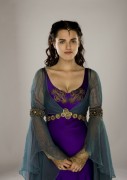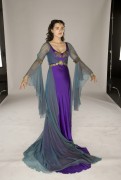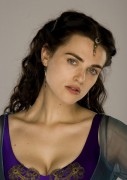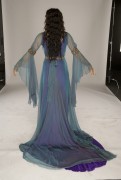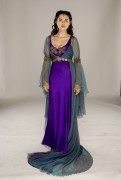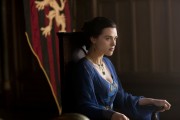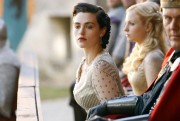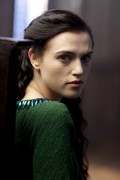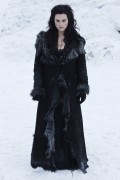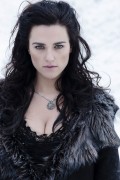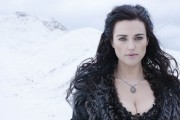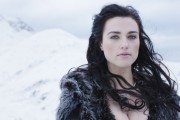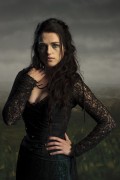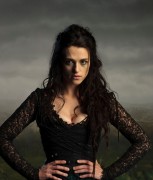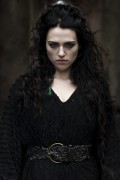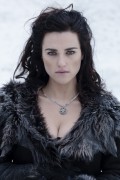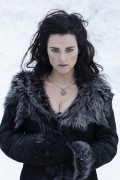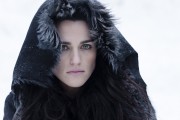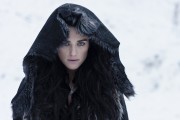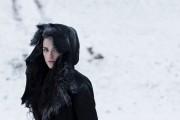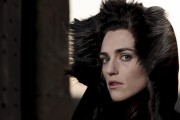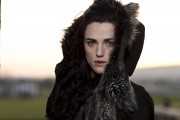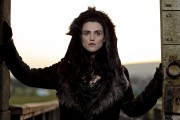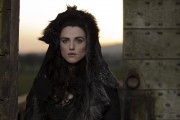 +++++++++++++++++++++++++++++++++++++++++++++++
Fascinating Photos of Beauty Queens from Around the World
For five years, photographer Zed Nelson traveled around the world investigating beauty — "a $160 billion-a-year global industry." With plastic surgery and beauty pageants simultaneously on the rise everywhere, these shots of pageant winners are just one part of his incredible project Love Me, along with hyperventilating muscle men, beauty advertisements assaulting urban landscapes, and extremely graphic photographs of surgery. But first, look at all the lovely girls — from South Africa to Texas, from Brazilian jails to Moscow's atomic energy agencies. It's insightful, mesmerizing and… quite a bit overwhelming, even without the mid-surgery slabs of bleeding skin that can be found in his other work. What do you think?
Photo credit: Zed Nelson. Katie, age 9. Winner. Universal Royalty Texas State Pageant
Photo credit: Zed Nelson. 'Miss Atom'. Elena Kamenskaya, 24. Winner. Russian Federal Atomic Energy Agency annual beauty contest, for female staff aged 18-35. Moscow, Russia
Photo credit: Zed Nelson. Miss South Africa Competition. Sun City, South Africa
Photo credit: Zed Nelson. Tavalera Bruce maximum security women's prison annual beauty contest. Belkis Estrella Maldonado, 31. Contestant number 9. Sentence: 4 years. Drug smuggling. Rio, Brazil
Photo credit: Zed Nelson. Abbie Jones, 15. 2nd place. Miss Teen British Isles contestant. Burton, UK
Photo credit: Zed Nelson. Ms. Olympia competition. Las Vegas, USA
Photo credit: Zed Nelson. Daniele Ramos, 23. Winner, 'Miss Penetencaria'. Sentence: 4 years. Drug dealing. Rio, Brazil
Photo credit: Zed Nelson. "Old age is not for sissies." Wendy Ballenden, 61. Former Miss South Africa Winner 1967. Sun City, South Africa
Photo credit: Zed Nelson. Contestant, Universal Royalty Texas State Pageant. Texas, USA
Photo credit: Zed Nelson. Loser, Miss England competition, Leicester, UK
+++++++++++++++++++++++++++++++++++++++++++++++
Private porn pics aren't private for long

Eighty-eight percent of homemade pornography, including videos and still images, finds its way onto porn sites, often without the owners' knowledge, a new study concluded.

The study analyzed more than 12,000 sexually explicit images uploaded by young people and found that the great majority of images had been stolen and published to what Britain's Internet Watch Foundation (IWF), which published the study, calls "parasite" websites.

These parasites, exclusively devoted to hosting sexual images featuring young subjects, allegedly obtain their material from anywhere they can get it: lost or stolen cellphones, hacked private accounts on Photobucket, Flickr, or Facebook, or from chat sites and Tumblr, a blogging platform notorious for the amount of explicit self-published content by high school and college-age students.

In 2011, the now-defunct IsAnyoneUp.com published tens of thousands of stolen Facebook photos submitted by jaded ex-lovers or angry friends.

"We need young people to realize that once an image or a video has gone online, they may never be able to remove it entirely," Susie Hargreaves, CEO of the Internet Watch Foundation, told the Guardian newspaper in London. "Once an image has been copied on to a parasite website, it will no longer suffice to simply remove the image from the online account."

David Wright, director of the UK Safer Internet Center, agreed with the study and reiterated a warning to youngsters not to send sexually explicit messages via their phones, either.

"Much of the advice for children and young people is, quite rightly, to not 'sext,' " he said.

In its report, the IWF features quotes meant to serve as a warning to others to not even make explicit photos. "One explicit image I took when I was young ... is coming up on the first page of [unnamed search engine]," one quote read.

"Every time I begin to feel good and confident about myself ... I just remember these pictures and what I did," another quote read.

The people who gave the quotes may be heartened, however, to learn that they're not alone. With camera phones and the ability to posting power in the palm of our hands now, self-made sex photos are easier to make and share than ever before. They can bet they're not alone.
+++++++++++++++++++++++++++++++++++++++++++++++
Six-Strikes "Independent Expert" Is RIAA's Former Lobbying Firm
Next month the file-sharing habits of millions of BitTorrent users in the United States will be monitored as part of an agreement between the MPAA, RIAA, and all the major ISPs. To guarantee the accuracy of the evidence that will be used for the accusations the parties agreed to hire an impartial and independent technology expert. However, their commitment to this promise is now in doubt as the hired experts have turned out to be a former RIAA lobbying group.

In an effort to curb online piracy, the MPAA and RIAA teamed up with five major Internet providers in the United States to launch the Center for Copyright Information (CCI).

The parties agreed on a system through which subscribers are warned that their alleged copyright infringements are unacceptable. Starting next month, ISPs can then take a variety of repressive measures to punish the alleged infringers.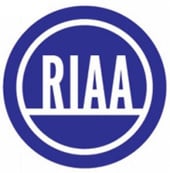 The evidence for these allegations will be collected by an external company, MarkMonitor. Because tracking companies have made false allegations in the past, the CCI agreed to hire an "independent and impartial technical expert" to review the "accuracy and security" of the technology used.

This requirement for an impartial expert review was set in stone in the Memorandum of Understanding, and from an announcement last week the CCI appeared to have kept its word.

"We've worked hard to set up a program that is accurate, fair and protects consumer interests at every step in the process. For example, we retained a recognized technology expert, Stroz Friedberg, to evaluate the content community's system (run by MarkMonitor) for identifying alleged infringement over peer-to-peer networks."

"Stroz Friedberg has completed its initial review of MarkMonitor's methodologies and found that the system is accurate and works properly," the CCI concluded.

While this may sound like good news, it is actually quite a shocker considering the history of the company retained to safeguard the accuracy of "six-strikes" scheme.

Stroz Friedberg is indeed a technology expert, but the group was also the RIAA's lobbying firm for half a decade.

Between 2004 and 2009 Stroz Friedberg lobbied extensively in Washington on behalf of the RIAA. This consulting job earned the company more than half a million dollars ($637,000).

One of the leading lobbyists on record was Executive Managing Director Beryl Howell, who lobbied U.S. Congress and Senate for copyright laws regarding digital music.

Howell's anti-piracy past hit the headlines in 2011 since she is currently a federal judge ruling on mass-BitTorrent lawsuits. In this position she continues to protect the interests of copyright holders, and in a recent ruling she pointed out that ISPs are not doing enough to stop copyright infringements.

While Stroz Friedberg may be excellent at what they do, it is hard to see the company as "independent and impartial" as the Memorandum of Understanding requires.

Given the skepticism and sensitivities of the public regarding the "six-strikes" anti-piracy scheme, the appointment is rather unfortunate and quite unbelievable.

This sentiment is shared by University of Idaho Law Professor Annemarie Bridy, who previously concluded that the copyright alert system lacks transparency and favors copyright holders.

"It's a disappointing choice, particularly in light of CCI's professed desire to build public confidence in CAS and the fairness of its processes. It would have been refreshing to see an academic computer scientist or some other truly independent party appointed to fill that important role," Bridy tells TorrentFreak.

"CCI's choice of a former RIAA lobbying firm makes it clear that the copyright owner parties to the Memorandum of Understanding were more interested in appointing someone they trust than in appointing someone the public can trust," she adds.

Why CCI did not pick a more neutral party as a technology expert will remain a mystery for now. Choosing to shroud itself in secrecy, the group has stopped responding to our inquiries entirely.



+++++++++++++++++++++++++++++++++++++++++++++++