First Look At Claire Danes In 'As Cool As I Am'
spring of 2011
, before "
Homeland
" became a big hit, and thus when we saw a new movie with
Claire Danes
, we sorta just shrugged our shoulders and moved on. But the actress is back in a big way thanks to the hit series (which
just got renewed for a third season
), and undoubtedly many more eyes will now be on her indie feature "
As Cool As I Am
," which
Radiant Films
has just picked up the sales rights for.
Peter Fromm
, the film finds
James Marsden, Sarah Bolger, Thomas Mann, Jeremy Sisto, Mario Batali
and
Peter Fonda
featuring the in the story that centers around Lucy (Bolger), a bright and intelligent teenage girl and her almost-boyfriend Kenny (Mann), who come of age in a small rural town. With her often absent and very young parents (Marsden and Danes) more in need of guidance and parenting than their daughter, Lucy turns to cooking shows to cope with the turbulent pains of adolescence and finds particular comfort in the celebrated culinary personality, Mario Batali. While Lucy charges ahead toward womanhood and her dream of becoming a chef, her mother is desperately searching for her own bigger life in this family comedy filled with laughter, tears, sex, love and pasta.
Irish lass Sarah Bolger's Lucy Diamond in the novel has numerous sexual encounters (according to someone who read the book). As Cool as I Am (2013) is Rated-R for sexual content.
But check out her interview with Irish Independant:
When it comes to stripping off for 'artistic purposes', Sarah is adamant. "I wouldn't do nudity, I don't think," she says, before adding, "for a very long time". She has been forced to think carefully about the subject for some time now. "These scripts were coming up for me even two years ago that had stuff in them that would be just a little dodgy."
(Hmm..."for a very long time". When offers dries up and it will if you're foreigner trying to make it in US but stringent about sex scenes and nudity. Sarah have all the ingredients to be sexually liberal on-screen while maintaining a 'wholesome'image off it. She will realize working in movies offers an opportunity to let off steam....being bad is way of expunging yourself of emotional repression)
I'LL NEVER STRIP FOR FILM ROLE;
Shy Irish star says movies exciting..without nudity. SHY actress Sarah Bolger has revealed she will never strip off for a film role.
The 20-year-old, who shot to fame in Jim Sheridan's hit movie In America, has lined up roles in major Hollywood films which will come out later this year.
But she said we won't be seeing any more of her than we do now.
Sarah added: "There is one scene in Crush where you see my back and my bra strap and that is the closest to nudity I have ever done.
"There was another scene in the Spielberg pilot Locke And Key where I was in a bikini and that was it.
"And you ain't seeing any more than that."
Sarah is starring with Claire Danes, James Marsden and Peter Fonda in As Cool As I Am as a rebellious teenager.
And she said Claire taught her a lot.
Sarah added: "She is a real role model.
She works away and has a happy life and she's a really interesting person.
Sarah is also very spiritual.....
Sarah Bolger on her surprising religious side
" So, who is Sarah?
"Sarah is a butcher's daughter who lives in Rathfarnham," she says, said butcher being her father, Derek, "and loves astronomy." She lives near the Yellow House pub, not far from where I grew up. We bond immediately. I tell her that when the

Pope had his Mass in Dublin, my parents and I had to wait outside Rathfarnham Church at 6am to be bussed to the Phoenix Park.
"On Sundays, I'm a minister of the Eucharist at that church in Rathfarnham," she says. "I became a minister of the Eucharist when I was 17. My parents aren't very strict Catholics, but for some reason I decided this is what I want to do, and I have kept it up."
Asked how her religious side manifested itself, Sarah says that after her mother's parents died, she prayed every single night. "They were religious. I just wanted to be a part of it, and after a while I decided that going to Mass was something I wanted to be involved in -- not particularly because of the Bible. It is not very clear to me," she says, adding that being a minister of the Eucharist means, "I have blessed hands. I got my hands blessed by the priest and I am able to give out Holy Communion at Mass. It is lovely to be part of it."
I asked Sarah of the blessed hands whether she thinks she was a saint in a previous life. "Absolutely not. There is just no way."
Have you had any visions?
"No. I believe there is a God and there are many ways of getting to Him. That's Mahatma Gandhi, not myself. It is just something that I'm part of," Sarah says, adding that she goes to 10.30 Mass every Sunday morning, even when she is away. "I just finished filming in Montreal and I still went to Mass every Sunday."
Sarah says she is careful about the roles she chooses. In terms of darker roles in the future -- Saoirse Ronan's part in The Lovely Bones as a young girl murdered by a paedophile springs to mind --
"there is nothing wrong with anything as long as you feel comfortable doing it. I wouldn't do nudity, but that is just me. That is something I would protect because I don't know that I would feel comfortable in that position. Anything else, I'm sure if I put my heart and soul into doing it then I could do anything.
It's going to be so worth it when Sarah bares her David and Goliath in near future. Conservative girls always do. Mark my words.
10 Beautiful Irish Actresses
St. Patrick's Day is upon us again–the day when America tests its tolerances for alcohol, green dye, and the unbowed Irish spirit. While you're celebrating venerable Irish-American customs like badly mimicking a Derry accent, fistfighting your loved ones, and writing lyrical poetry on the Hibernian mythos, don't forget the most Irish tradition of all: not having sex.
Yes, for eons, Ireland has successfully avoided sex unless another farmhand was an absolute necessity. No other nation has proliferated at a ratio of four people produced for every one act of sex — and even that only during a full moon and after promising a priest not to enjoy it.
That's why you can list eight rugged Irish actors for every one actress whose name has graced your ears. They can't let anyone know Ireland's female population has a wealth of skill and beauty, or else people might start getting ideas. Sexy, sexy ideas.
Too bad, greenbloods! We've uncovered ten talented temptresses you tried to keep hidden from us. And now to seduce them with our blinking, light-up shamrock pins and inability to perform sexually. Well, seduce the ones who are still alive, at any rate.
---
Hell on Wheels
(above). The role is a major breakthrough on the west side of the Atlantic for the lovely Dubliner, who's showed up in a few films over here, but is now in front of a large audience weekly. Remember when
we told you to watch The Guard
, and you didn't listen? Well here's what you missed:
…Woah! Where'd that come from? Sorry, it's just that we look at a woman this fetching, and we realize we're not working hard enough to earn her attention. Heck, we're not even working hard enough to justify ogling her on the internet.
---

8. Katie McGrath
Miss McGrath hails from Wicklow, a county known for its gorgeous mountains, crystal-sweet accent, and silky, raven-colored hair…whoops! Sorry, got bewitched for a second, but that's understandable, since she plays Morgana LeFay on the BBC's
Merlin
. They dress her in peacock colors all the time, since that creamy Irish skin devours weaker hues to gain her power. Also, because she's evil or something? But we ask you–can anyone attractive ever
really
be evil?
Like Bolger, she's a
Tudors
veteran, though in her case the start was in the show's wardrobe department. Show staffers suggested she try acting after the eighth time the camera disrupted filming by swinging away from the set and refusing to turn its gaze from her.*
*Possibly never happened.
Here's a video of her geeking out about
Star Wars
,
Firefly
,
The Simpsons
,and
Game of Thrones
at Comic-Con. Gentlemen, start your nerd-crushes.
---
Brendan McGinley is half-Irish and half-drunk.
'House of Lies'

Adds Larenz Tate, Nia Long for Season 2
The two former "Love Jones" stars will recur in the sophomore comedy starring Emmy nominee Don Cheadle.
Showtime's House of Lies has added a pair to its season two pod.
The workplace-consultant drama starring Emmy nominee Don Cheadle has booked Larenz Tate (Rescue Me) and Nia Long (Third Watch) for recurring roles in its sophomore season, Showtime said Tuesday.
Tate will play Marty's (Cheadle) younger, less ambitious activist brother, while Long will play a fellow consultant and former classmate of Marty's who proves to be a formidable foe.
The casting marks a reunion for Tate and Long, who co-starred in the 1997 feature Love Jones, as well as for Tate and Cheadle, who co-starred in the 2004 drama Crash.
Tate, whose credits also include Ray and Menace II Society, is with APA, Brillstein Entertainment Partners and Hansen Jacobson. Long's credits include Big Momma's House, Are We There Yet? and their sequels. She also voices the character Roberta on Fox's The Cleveland Show. Long is repped by Global and Stone Meyer.
Season two of House of Lies premieres Jan. 13 on Showtime.
* You can see the plot outcome from miles away. Nia will eventually hook up with Cheadle. Keeping fingers crossed we will get clear and lengthy look at those 42-years old breasts. Tate having appeared in couple of interracial plot angles including on Rescue Me should end up banging Kristen Bell.
+++++++++++++++++++++++++++++++++++++++++++++++
Sales Art for

Final Girl
More eye candy has come our way, and despite the wonderfully pictured posterior, it's just a tad too I Spit on Your Grave for our liking. But, hey! It's sales art, right? And this latest poster for director Tyler Shields' Final Girl is sure to do just that!
Abigail Breslin, Alexander Ludwig, Wes Bentley, Logan Huffman, Michael Trevino, Connor Paolo, Francesca Eastwood and Michael Trevino star.
Synopsis
Loner Veronica is new to school, shy and vulnerable the perfect target for a group of teenage boys who lure girls into the woods to hunt and kill them for sport. It's only after they get her alone that she turns the tables on them, escaping and revealing she's armed and knows how to defend herself. Little do they know, Veronica is an assassin-in-training, and she's chosen killing these boys as her final test. When the dust clears, Veronica will find out if she can be the final girl these boys ever have a chance to hurt.
+++++++++++++++++++++++++++++++++++++++++++++++
The Official Plot Synopsis For '

I Spit On Your Grave Too

' Lands Online
In I Spit On Your Grave Too,
"Naturally beautiful, Jessica has just settled into New York where she, like many other young women, is trying to make it as a model. But what starts out as an innocent and simple photo shoot soon turns into something disturbingly unthinkable! Raped, tortured, and kidnapped to a foreign country, Jessica is buried alive and left to die. Against all odds, she manages to escape. Severely injured, she will have to tap into the darkest places of the human psyche to not only survive but exact her revenge... "

I Spit On Your Grave Too will once again be helmed by Steven R. Monroe, from a screenplay handed in by Thomas Fenton.

Production for the film is expected to begin this November. No word of casting has been released at this time.
* Needless to say the coveted role of Jessica will be required to sign a waiver agreeing to full nudity. Monroe and Fenton will be looking for fresh talent (read: nudity first-timer).
+++++++++++++++++++++++++++++++++++++++++++++++

Adult Stars Populate Adam Rifkin's New Showtime Series
HOLLLYWOOD—Anybody out there sick of "reality shows" that really aren't? We mean, does anyone seriously think that the "real people" who appear in "reality shows" aren't influenced at least by the ubiquitous presence of cameras, much less by suggestions from the shows' writers and producers?
But most importantly, isn't it about time that someone with both humor and insight satirized the "reality show" concept for a major cable network?
Meet Adam Rifkin, the award-winning writer/director of such outré classics as The Dark Backward and Detroit Rock City—and a forward thinker who's never shied away from using adult performers in his various projects, the latest being his new series, Reality Show, which will debut on the Showtime networks on November 1.
"Reality Show is a very dark satire on the world of reality television, and I'm very excited about it," Rifkin told AVN.
"The show is about a reality show producer who is sick of reality shows being so fake, and he knows about how fake they are because he's produced hundreds of them. So what he wants to do is, he wants to reboot reality by doing a reality show that actually reflects real life, which is unheard-of in the world of reality TV, so his idea is, he's going to put a family that he randomly selects under complete surveillance without them knowing, and he feels that real people, unaware that they are being photographed without a camera in their face, will be the most interesting type of reality show there is. Real life will elicit real drama.
"He picks an all-American family; he hides cameras all over their house, puts cameras in their cars and at their work and follows them everywhere they go with cameras—but what he doesn't realize is that real people are boring," Rifkin continued. "So he realizes that in order to keep the network happy, he's got to step up the show, so he starts injecting conflict into their lives to create a bit more drama, and little by little, it's working. The more he interferes, the better the show gets, so he's completely betraying his own conceit. Now, the family has no idea why all this bad luck is befalling them, and it starts to get darker and darker as their family starts to unravel, and he doesn't care. He's totally amoral about it; he just feels that it's making the show better and that all will be forgiven at the end once the shows start airing and they become famous and—'Fame heals all wounds,' is basically his philosophy."
And two of the primary "troublemakers" in the series are adult stars Jesse Jane and Ami Emerson, who's now outed herself as mainstream actress Joanna Mahaffy.
"Because our main character, Mickey Wagner, is a reality show producer, we show lots of clips of other fake reality shows that he's produced in the past," Rifkin, who plays Wagner, explained. "One of them is 'Hobover,' which is a hobo makeover show, and the hobo was played by Kyle Stone, who did a great job. Of course, Ron Jeremy is in it; Ron is ubiquitous. Jesse Jane gives a really great performance as one of the producer's operatives, because one of the ways he's trying to get drama is to try to get the husband to have an affair, so he hires Jesse Jane to be his operative, to try to lure the husband into cheating, and she is funny in it, she's like a young Goldie Hawn; she's great.
"One of the fake reality shows is called 'Real Stripper Moms of South Beach,' and one of the stripper moms is played by Sophie Dee," he added. "There's also a woman who used to go by the name of Ami Emerson, who is a former AVN Award nominee—her real name is Joanna Mahaffy, and she's in almost all of the fake reality shows; she was fabulous, really funny, really game for anything. She's in one of the reality shows called 'Autopsy-Turvy,' which is an autopsy reality show. She's in a reality show called 'Blue Balls,' which is like a 'Cops' rip-off. She also plays a news reporter in one of the episodes. She's all over this show; she's great."
And it's not just in front of the camera that Rifkin has employed adult personalities.
"There's a couple of adult people who helped out behind the scenes," he said. "One of our key set PAs, who worked super-hard, was a young man by the professional name of Dane Cross; he did a great job helping out; and also, one of our PAs goes by the name of Riley Shy; she helped out behind the scenes in the art department and everybody really liked her; did a great job."
AVN also spoke with Kyle Stone, who said that he got the part almost by accident.
"I was driving Sophie Dee to the set, and I dropped her off, made sure she was in the right place, and I left," Stone recounted. "Not too long after that, I got a phone call from Adam Rifkin saying he needed to find somebody who could play a homeless person, and Sophie had told him, 'My driver could probably play a homeless guy for you, and he just lives around the corner.'"
"So I show up with my own homeless outfit that I kept because I've played a homeless person in adult movies so often, and Adam goes, 'Wow! That's perfect! Do you happen to have a suit?' So I went and got that too, and after they took photos of me in both outfits, I thought I was done, but a couple of days later, they contacted me again and asked if I wanted to come and play a homeless person for the series? I said, 'Sure, why not?' And Adam is one of the nicest guys you'll ever meet; I just loved working for him!"
We won't spoil the fun by describing what 'Hobover' is all about, but the accompanying photo shows what Stone looks like in costume. However, if the concept of fake reality shows rings a bell, that simply shows that Rifkin, in creating Reality Show, has done his homework.
"Here are the films I took inspiration from: One of them is Network, which is one of my favorite movies of all time, and Albert Brooks' Real Life, which is exactly where I took inspiration from as well; I love that movie," Rifkin revealed.
Reality Show most closely resembles Brooks' Real Life, right down to the fact that the producer who convinces (in this case) a Phoenix, Ariz., family to allow him to film their every activity is played by Brooks himself—but of course, Rifkin takes the conceit several steps further. And of course, Network was the grandfather of the "reality show" concept, with producer Faye Dunaway delivering high ratings when one of her on-air hosts (Peter Finch) is assassinated in full view of his prime-time audience.
"You look at Network, and you may remember that when Network came out, it was seen as outrageous, and now, you show it to an audience and they're like, 'What's the big deal?'" Rifkin explained. "So I needed to push things far, and the show gets very dark. I mean, there's a lot of humor in the show—don't get me wrong—and especially in the first handful of episodes, they're really funny, but little by little, as the family's starting to unravel, it gets super-dark."
Reality Show will debut on Showtime at 11:30 p.m. Pacific time November 1, and it probably can't hurt that its lead-in is the popular series Gigolos.
Ami Emerson aka Joanna Mahaffy is what known in porn circuit as a freak of most beautiful kind. An anomaly. She had everything going for her. High-achiever thru-out her schooling life and active member in her church. She comes from pretty

well-off family in almost all-white
Placerville, California.
But
Joanna had a deep secret that she managed to contained for most of her early twenties and kept it hidden from her parents. But it was too strong and soon it was affecting her daily life. It's not a sickness. Joanna was suffering from a burning jungle fever. Yes. She hungers for black cock. Big juicy ebony poles to breach her white tight pussy in roughest way possible. The best place you can get endless supply of blackness safely and still get paid for it is of course in the smut biz. Joanna was almost exclusively black cock whore during her first year in porn. Except for anal, Joanna was open

to

everything else. She especially loved to swallow cum. The white cream spurting from the tip of darkish corona was a major turn-on and she laps all of the milky goodness down her throat. Incredibly her loved ones (outside of her sister) never found out until someone sent them a video of receiving a loving gang-bang from five black studs. They were understandably shocked but know understood some things are beyond their control. You just have to love your child without condition and provide for them within your means. And making sure to move out if a black family moves in next door.
+++++++++++++++++++++++++++++++++++++++++++++++
So much for humility
.
Heidi Montag
pulled the wool over Billy Bush's eyes last week when she seemingly convinced the "
Access Hollywood
" host that she'd experienced a self-awakening of sorts since her days on "
The Hills
."
We quote:
"[Spencer and I] have both kinda just stepped back and been able to reflect on who we've been and where we want to go and who we want to be and who we want in our lives, and it really wasn't the path that we were down, so we both just kinda changed back to more of who we originally were: very grounded and humble."
But Heidi's feet are definitely not touching the ground in these newly released pics of her sans pants, spread-eagle and stuffing dolla bills into two strippers' skivvies. Over the weekend, the former MTV villainess hosted a three-year anniversary party at Crazy Horse III gentleman's club at Playground in Las Vegas, and, from the looks of it, did a takesies backsies on her claim that she's abandoned the fast life for simpler, fully-clothed pastures. "It was quite the whirlwind and I'm happy to be out of it," she told Bush of her "flashy reality fame." And this is where we bite our tongue (or risk
nasty tweets from Spencer
).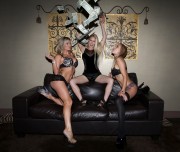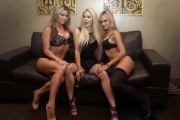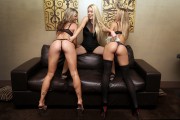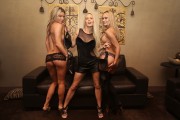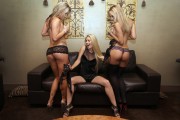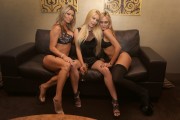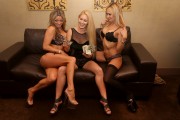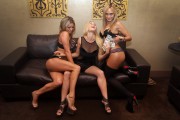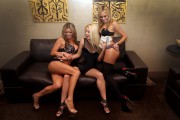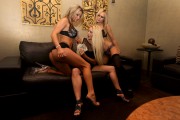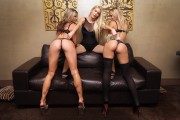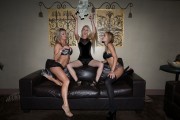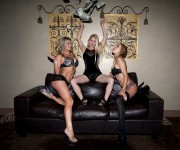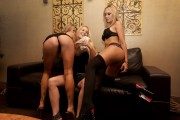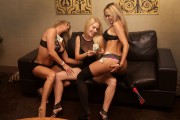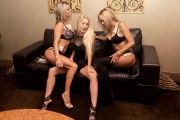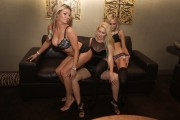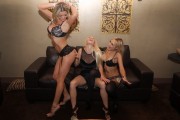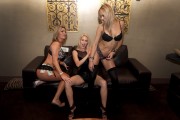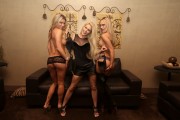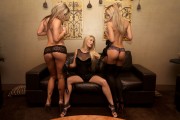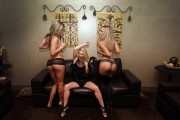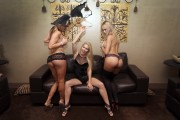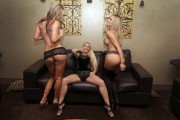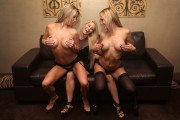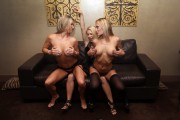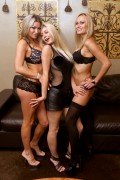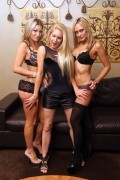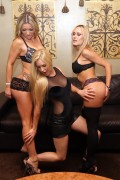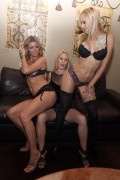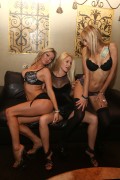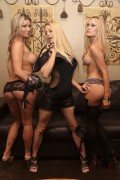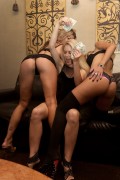 +++++++++++++++++++++++++++++++++++++++++++++++
Sexy Baby

Connects the Dots Between Pornography and Mainstream Society
One of the scariest movies at the 2012 Tribeca Film Festival had nothing to do with ghosts or goblins. Rather, Sexy Baby is a documentary that examines how our hyper-sexualized society is affecting girls and women of all ages. See it this weekend in NY and LA.By Jill Bauer and Ronna Gradus, first-time filmmakers whose feature debut Sexy Baby premiered at the 2012 Tribeca Film Festival.
Ron Jeremy
, of course -- was as real as it gets. Welcome to
Exxxotica Miami Beach
, a porn convention brimming with everything you would imagine at such a convention: posing porn stars; make-your-own-porn tutorials, complete with live demonstrations; the Bang Bus van parked at a booth; and gawking men toting cameras like lost tourists on their way to Disney World.
Though it sounds like a great excuse, we --Jill, a journalist, and Ronna, a
Miami Herald
staff photographer -- were actually there to do research to see whether a story we wanted to report was indeed accurate: Is the porn world truly seeping into mainstream life, and are everyday people idolizing adult film stars?
1. Nichole, a.k.a. Nakita Kash, 32, whose background as a porn star and stripper attracts college girls and housewives to her pole dancing lessons.
2. Laura, 22, who undergoes a labia reduction surgery because of a comment her boyfriend once made while comparing her to the Internet porn stars he was used to watching. (And her surgeon attests to the fact that this is not an uncommon reason for girls to seek out his services.)
3.Winnifred, 12, who says, "We are the pioneers," is simply a kid navigating a world where technology puts everything at her fingertips. Unbeknownst to some parents, kids must now make judgment calls about things they are not supposed to see and that they are not yet ready to understand.
Sexy Baby
, we lived in a bubble with our thesis and our characters. We were never certain how the finished film would translate to viewers, especially since we steered clear of talking heads. When Tribeca's Director of Programming
Genna Terranova
called to offer us our world premiere, we knew we were about to finally find out.
Our primary objective was to get people to have an emotional reaction to the film in order to start this long-overdue conversation. Our first clue came when TFF Co-Founder
Jane Rosenthal
requested to personally introduce
Sexy Baby
on opening night. She stood in front of a sold-out theater (!) and said, "I'm a mother of two teenage daughters, and this is the scariest thing I've ever seen."
As we went on to screen at other festivals, we were very pleased to know that other parents (from Rhode Island to Michigan) echoed Jane's sentiment:
Sexy Baby
is an eye-opening reality check. We also encountered other parents who knew the reality all too well, and in some instances, were moved to tears because they were grateful and relieved to finally have a vehicle to begin an open dialogue.
An unexpected and added bonus was that we seemed to strike a chord with college-age boys. Because the film is largely inhabited by women, we knew it would be popular among the female demographic… but we were thrilled when young men began thanking us for giving them a place to turn. They have told us that
Sexy Baby
is a safe way to look at men's involvement in a culture steeped in raunch, because the film blames no one.
Abigail Disney
best expresses our hopes and dreams for
Sexy Baby
moving forward:
This topic is very near to my heart—we are all long overdue for a national conversation on this subject. Parents especially need reliable sources of information about what is actually out there, not hysterical media stories calculated to scare and shock, nor the calculated silence that predominates the rest of the time. Let's face it: who among us believes that our sons and daughters do not see on any given evening in front of the computer material far raunchier and more sexist than anything we ever encountered during our entire youths?
It is time to ask our peers, friends, children and ourselves how today's hyper-sexualized media and marketing, reality TV, sexting, porn-chic, Girls Gone Wild, online viral culture, has affected all of our lives. The goal of this project is to get people to feel, think, react and have thoughtful debates. No one is being demonized, no one is singled out for blame. But it is time to have an honest and sustained look, that's for sure. Somebody needed to make this film in a big way.
Sexy Baby
opens Friday, October 19, at the
Quad Cinema
* in New York City or the
Laemmle NoHo 7
in Los Angeles.
National VOD
begins November 6.
*In New York, Q-and-As with filmmakers and/or subjects of the film will follow the 7:30 screening on Friday (10/19), Saturday (10/20), Tuesday (10/23), Wednesday (10/24) and Thursday (10/25).
Jill Bauer is a Hearst and SPJ award-winning journalist who has written for and edited Esquire, The New York Times, and more. She launched Smart Kid, a national parenting magazine. Ronna Gradus graduated from NYU and was a staff photographer at The Miami Herald, covering several assignments in Cuba and Hurricane Katrina. Sexy Baby is their first film.

Read more about Sexy Baby.
'Sexy Baby' Documentary Filmmakers Jill Bauer And Ronna Gradus Talk Women, Girls And Porn
The film follows Nichole, a former porn star making a life for herself beyond the business; Laura, a 22-year-old elementary school teacher having labiaplasty (cosmetic surgery to decrease the size of her labia); and Winifred, a 12-year-old Manhattanite exploring what sexy means in the age of Lady Gaga and Facebook.
HuffPost Women spoke to Bauer and Gradus about why they made the film, why chose the subjects they did, and what they learned about how porn and social media are impacting women's sex lives.
What inspired "Sexy Baby"?Ronna:
I was shooting a pretty boring story about a noise ordinance, [involving] the club scene in Coconut Grove, Fla., and it was College Night Out. All of the mainstream clubs had poles. Girls were dancing on them, and their classmates and other guys were putting tips in their shorts. It was total stripper behavior.
I went clubbing in high school and saw plenty of crazy things, but there was some sort of vibe here -- something about this was really upsetting to me.
I called Jill, and I was like, "I had the weirdest experience, and I can't figure out what it was." Later in the day, she looked through the pictures and helped me articulate what was so weird.
Jill:
I noticed in one particular picture [that] the girls were really trying hard, dancing and writhing on the pole and doing all sorts of stuff to get the guys' attention, and the guys were a little bit checked out. It wasn't as titillating as it should have been, and that really intrigued me. I thought, "This is the kind of thing that would be, I don't know … interesting to guys, so why are they not that glued to it?"
R:
It's like they were all sort of just role-playing, kind of on autopilot, like, "This is what we do now, we dance on stripper poles."
J:
I said, "I don't exactly know what this story is, but I feel like there is a story here."
R:
We knew it was going to be a huge challenge. How on earth are you going to pitch an idea, sell an idea, to people? "There is a 12-year-old, a lady of having this operation and a porn star, and it totally makes sense." We knew it was going to be really difficult, but we went for it anyway.
How did you find Nichole?J:
She was at a porn convention, at a booth. I saw a press release for a convention in Miami Beach, and I said, "Ronna, we should really go to this. The mainstream world visits these big porn conventions -- maybe we could find some young kids who are idolizing porn stars." So we had three days of full-on porn convention. It was really intense and incredibly draining.
R:
The first day was kind of fun. We had our little interview with
Ron Jeremy
, and then after that …
J:
At a certain point, you're just like, I can't see anymore --
R:
-- boobs. No more porn.
What was Nichole promoting at the porn convention? R:
This company called X-pole sells portable stripper poles that you can install in your home.
J:
Nichole was selling these poles to housewives, college girls…
R:
… frat houses.
J:
We were talking to her, and she said, "I don't get it. These moms post videos of themselves dancing around the pole and their little 4-year-old [is in the video, watching]."
R:
"They think it's so cute," she said, and she was just sort of like rolling her eyes, like, "I don't. I don't think that's cute."
J:
That came from a former porn star. We found that pretty interesting.
What about Laura, the labiaplasty patient? Why did you choose her?R:
We found her through [her doctor]. We actually wanted a teenager, someone as young as possible -- he does have some young patients, but it was much more complicated to get that permission.
We really liked the fact that she was from North Carolina, a teacher -- someone you would not necessarily expect to want this surgery.
We get to know Laura the least of the three women in the film. Why is that? R:
We followed her much more than it shows in the film. We really were trying to get the deeper, more complicated story to get the real relationship she has with her body, and what's really going on here, and we just couldn't.
J:
We went clubbing with her and her friends, and there was an amateur night at the club, and I guess every couple of weeks they give away a boob job. Laura and her friends were all sitting around saying, "That's so cool."
R:
There is not a lot of questioning that happens. Big boobs are the thing, being sexy is the thing, looking maybe a little more like a porn star is the thing, and she didn't really question it. It was just sort of like, "I want to fit in and feel sexy."
J:
And we spent a lot of time in [her doctor] Dr. Stern's waiting rooms -- he has one in Florida and one in Virginia. We sat in on consultations. We heard the entire back-and-forth between him and the girls, and Laura is really not that rare.
Dr. Stern comes across in the film as somewhat duplicitous and self-congratulatory. He seems pretty candid in his interviews with you guys, but then he clearly plays the salesmen when he's speaking to Laura. Do you think you portrayed him accurately?J:
I guess probably all plastic surgeons are salesmen to a degree. I don't think we did anything sensational. We let him speak for himself. We didn't angle it at all.
Even when he started reading testimonials from women thanking him for changing their lives?J:
He reads testimonials a lot. He is still reading us testimonials. If you come to Tribeca, he will read testimonials to you.
R:
I think it is really gratifying to him, when he sees how happy the girls are.
J:
We have one interview with him -- I don't even know if we used parts of it -- but towards the end he really said, "Hey guys, I'm just providing a service. There's a demand, and I'm providing a service." So what comes first, the chicken or the egg?
Laura says she wanted labiaplasty because she got this ideal in her mind and couldn't get it out. Were you concerned that people seeing this documentary would get the same standard in their minds? R:
We really never thought about that until the film was done. Hopefully our film gives enough information that people would put it in context.
J:
And we definitely show that it is painful.
What have you learned about what men think of labiaplasty? J:
It is a generational thing. The two of us actively date. I'm 48, and Ronna's 34. When I go on dates, men ask, "What is your documentary on?" I tell them, "Okay, so there are three characters," and of course I always mention Laura and the surgery. The guys I go out with, who are in their 40s, early 50s, have no idea what I'm talking about, none.
R:
And the guys that I date either they know exactly what it is, or they're like, "What's that?" Then I tell them, and they're like, "Yeah, I can see why some girls would want that."
It is an exposure thing. We basically think [that mind-set] comes right out of porn.
J:
That's why we wanted to go into the next generation and what everyone is seeing and how [adult entertainment] is ubiquitous, more ubiquitous than it's ever been.
Let's talk about Winifred, your third subject. Why feature such a highly educated kid from Manhattan? Is she representative of how kids are thinking about sex across the country?R:
We didn't set out to tell this story through the eyes of a really privileged New York City kid. We did a ton of searching for this character. Did we want a bad kid? Did we want a kid who was going to crazy house parties, exhibiting the whole "Girls Gone Wild" behavior?
J:
We went to this town, Ridgewood, New Jersey, to the public high school there and did a round table with the kids. We trespassed in the dorms at Hofstra University.
R:
Someone tipped us off to Winifred's acting troupe, and we just thought she was so extraordinary and smart. That's why we approached, and then the first time we went home with her, we were like "Whoa, this is quite an apartment."
We decided that even though a lot people might not be able to relate to the things she has, it is very, very hard to find a deep, soulful, articulate 12-year-old.
At one point Winifred says, "I don't have the guts to watch porn." Did you believe her? R:
We would ask her all the time, "What have you seen?" We were finding out that 11-, 12-, 10-year-olds had seen porn. And she was like, "Nothing. Seriously nothing," and her dad was like, "I don't know if I believe her, guys." So we never quite knew. Is she lying to us? Is she telling us the truth?
I think whether or not she had seen glimpses [of porn] or not, she was probably scared of it. I personally would have totally been afraid of it at 12 years old.
J:
Ronna, I think you're still afraid of it. We've had to watch a significant amount of porn to be able to make this movie, and I always tell Ronna that she just shouldn't do it because she is a little bit destroyed after it.
Did you ever worry that by including Winifred in the film, you were exposing her to more than she was ready for? J:
The thing that made us feel ultimately like we had done the right thing was when a Winifred saw the film about a month ago, and she completely understood.
R:
When we turned on the lights, and we were sitting in there with her parents, we were like, "We are really sorry you just had to see all of that -- was that shocking to you? Did we corrupt you?" And she rolled her eyes and was like, "Are you kidding?" So it was sort of like, Case in point.
What did you learn from making "Sexy Baby" about how people define sexiness and attraction now?J:
It's more computer-focused, Facebook-focused. Like, Like, Like -- 20 Likes, 30 Likes, 40 Likes, wow, I'm a superstar -- versus I'm just going to pass you a note in class and admire you. Instead of "I'm going to hit you on the playground because I'm telling you in my way that I like you," it's "Let me slap you silly because I saw it in porn."
R:
Watching Winifred put up her pictures on Facebook, I just kept thinking to myself, thank God this was not around when I was coming of age.
+++++++++++++++++++++++++++++++++++++++++++++++
Official: The Walking Dead the #1 Show on Television
By Uncle Creepy [
October 23rd, 2012]

Big news has come in for AMC and its hit television show "The Walking Dead." It warms our hearts that the horror genre is as of right now holding the #1 spot on television in non-sports. Oh, the blood-splattered glory of it all.


According to Deadline, with cable steadily gaining on broadcast, a cable show rising to the top of the ratings charts was just a matter of time. But who would've predicted just a couple of years ago that it won't be a series on established basic cable networks like TNT, TBS, USA or FX, which have been nipping at broadcasters' heels, to do it but a drama on AMC? Yes, the highest-rated non-sports telecast among adults 18-49 on all of television this fall was the third season premiere on AMC's zombie drama "The Walking Dead," which drew 7.3 million 18-49 viewers in Live+same day, with no carriage on major satcaster DISH no less.

Also doing incredibly well is FX's horror series "American Horror Story," which launched last week as close second in the Wednesday 10 PM slot to seal cable dramas' ratings assent during one of broadcast networks' strongest periods — the first weeks of the season — when cable networks until recently didn't even dare to program originals.

Talking about flexing some muscle.
* Is it the end of regular network reign as top dog when it comes to viewership? Adapt or die motto will soon come into play. All in all a healthy competition will only be good for the viewers albeit with higher cost of subscribing. Have to admit the horror genre constant evolvement in terms of production values, humanistic plot-line and endless supply of behind-the-cam talents despite circling the same theme (such as vampires, zombies) over and over again makes it somewhat immune to fickle audience tastes and other genres ebb and flow.
+++++++++++++++++++++++++++++++++++++++++++++++
Her ambition stripped bare : There's more to

Anna McGahan

than her star turn with the Razor gang, writes Paul Kalina.
At 24, Anna McGahan has tasted success in Underbelly: Razor and House Husbands, and LA is ready for her reappearance.
NOT that long ago, an actor from Down Under looking to break into TV would hop on the next flight to Los Angeles, find an agent and wait for the phone to ring.
Should their careers take off, we might be lucky to see his or her name buried deep in the credits of an undistinguished TV series playing some forgettable part as, say, the estranged sibling of a murder victim.
By contrast,
Anna McGahan
has been too busy establishing her career at home to do the LA drill.
But instead of enrolling at an acting school and doing the rounds of LA casting agents, McGahan headed straight home for the filming of
House Husbands
.
And with a leading role in the Brisbane production of David Williamson's stage play
Managing Carmen
, and a second season of Channel Nine's successful ensemble drama
House Husbands
starting next year, her hopes of returning to LA in the immediate future have been dashed.
For now, work is the 24-year-old's priority. ''If the time is right, I have this open door to go over there and enter that system a lot more smoothly than had I done it earlier,'' McGahan says on the phone from Brisbane, her home town. ''It's just a question about the right time to do it.''
Writing rather than acting was McGahan's secret, unfulfilled passion when she swapped university psychology studies for acting school. ''I love science, but I knew when I stopped turning up to lectures to go to short-film shoots that something was eating away at me and I really needed to give it a shot. I auditioned for acting school as a test run and got in.''
This year, the first of three full-length plays she has written was produced in Brisbane.
''You could say yes,'' McGahan replies hesitatingly to the question of ambition. ''I do this ebb and flow with writing. If I'm acting I'm usually writing as well, because I'm a bit ADHD and it helps balance it. I have a lot of aspirations when it comes to combining my writing and acting; when it comes to telling important stories and representing women and young people. You're holding the flag for your generation.''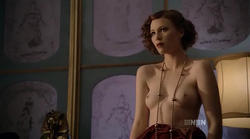 While her Logie-nominated turn as young prostitute Nellie Cameron in
Underbelly: Razor
was regarded as her arrival on the scene, McGahan credits Claudia Karvan and the Foxtel drama she co-created and starred in,
Spirited
, for breaking her into TV. It was, she says, the first job ''that really shook me up''.
''There were things we did in
Spirited
that you'd never do in any other show. Someone's talking in your ear and you have to ignore they're there and keep acting. It took it out of this domestic or acting-school idea of what screen acting is for me.''
It was also a chance to overcome her nervousness. ''By the time we got to
Underbelly
, which was only a couple of weeks after, I still felt very new. I still am,'' she says. ''But I had this confidence, I had this enthusiasm and excitement for
Underbelly
, which I think would have been overshadowed if I hadn't done
Spirited
.''
Nudity and violence are hallmarks of the Underbelly franchise, but McGahan insists her decision to appear in Razor, arguably the most graphic of the series to date, wasn't taken lightly.''I think to have played Nellie Cameron without [appearing nude] would have been a misrepresentation,'' she says. ''I have no qualms about that role or that shoot at all.''She hasn't been asked to strip for roles since, and says her values would be tested were she asked to.''I question when nudity is written into a fictional story and why and how it represents women … There's an interesting line where an audience sees the actor as the character or as you. Anyone that means anything to me looks at [Underbelly: Razor] and sees Nellie Cameron. They don't see me. I feel very protected by the character and the era. People can comment [on the nudity] as they wish and, to be honest, it's none of my business.''
The appeal of
House Husbands
is its complete departure from what she has done before. She plays grounded, practical and sweet-natured Lucy, in her 20s, one of several daughters of serial dad Lewis (Gary Sweet) and the girlfriend of reformed bad-boy sports star Justin (Firass Dirani).
Unlike many up-and-coming actors who would prefer to keep their options open than commit to a multiple-season show, McGahan finds the prospect of playing a recurring character appealing.
''What happens to your character affects other characters, and they affect you. There's an organic quality to it; it lives and breathes.
''I'm not sure what it will be like to go back to a second season of anything, but I've a feeling it's this completely new creation, like the idea that the cells in the body replace themselves every few years.''
Before then, McGahan appears, albeit briefly, in the feature-length
The Mystery of a Hansom Cab
, a period murder-mystery with a biting perspective on Victorian-era values. She had been in line for one of two big young female roles in the production. Having signed up for a job overseas, she let it pass. By the time that job fell over, the other roles on
Hansom Cab
were cast, but a smaller one was available. It required hours of burlesque training, as well as prosthetics.
Oddly, given her string of recent roles, McGahan professes to have no radar for successful shows.
''I take those jobs day by day. I love my job, I go in with a good attitude, but I react entirely to that day's shooting, to my character's progression in the scene. Later I think, 'How did everyone else go?''' Anyway, McGahan says, it's not about predicting how well a show will do.
''It's about what you're giving out to an audience and what that creative process does to help you grow. If you get a lot out of what you do, you can't really fail.''
+++++++++++++++++++++++++++++++++++++++++++++++
The World of a Professional Naked Girl
About a month ago, I was daydreaming at work and a bunch of random memories flooded into my mind. One in particular was this flash of me and an ex-gf from long ago, hanging out in the living room of the apartment we shared. I remembered how this girl, who was a dancer of sorts, could just do these faces and body movements out of nowhere, just in passing, as something intended to be a joke, that would floor me. I've always wondered how some ladies can turn this fountain of sheer, gun blast sexy power on and off, aiming it at exactly who they want, when they want. I asked my new friend, well-known artist and professional sexy lady, Molly Crabapple, to try and make sense of the ramblings I wrote her one day, and this is what she came up with. - Kelly McClure
Illustration by Molly Crabapple.
"If you keep traveling, you're going to get yourself raped."
Z. and I were sitting in a cafe on the edge of the Sahara. We'd been bumming around Morocco for three weeks. Despite my warnings, Z was increasingly disgusted with me for provoking constant street harassment. I covered myself chin to toe, but guys at the bus station would hiss at me like snakes anyway.
"That man just left a mosque," Z said, after an elderly man eye-fucked me. "He's supposed to be thinking of god."
While picking ants out of our mint tea, we struck up a conversation with two other westerners. They were wind-burned, milk-wholesome Scandinavian girls. Z told me that he bet they never had guys stalking them around Marrakech.
"Marilyn Monroe could turn it on and off," Z told me. "You can't."
Turning it on and off was something I thought about when I was lying naked in a warehouse in the Bronx, surrounded by hard-boiled eggs. The man photographing me adamantly denied having an egg fetish. After the shoot was over, he'd offer them to me to bring home and eat. I was broke enough to say yes.
I was 20. I'd been working as a naked model for two years. Back in the early aughts, there was a flourishing semi-legit business for girls like me, based off Craigslist and OneModelPlace. Girls too short, fat or plain to be legit models, unwilling to give the "fuck you" to convention it takes to be in legit porn, would pose for amateur photographers. We called them GWCs, or Guys with Cameras. They paid 100 bucks an hour.
We showed up in their hotel rooms. We posed on their beds. We told each other who was a good guy and who was a sociopath, knowing full well that if a GWC raped us, the police would do nil. A girl I knew was working as a bondage model. The photographer threatened to kill her. She wept. He let her go. When she went to the police, they shrugged her off. The photographer later murdered a model.
Surrounded by eggs and softboxes, I was doing my best to escape the trajectory of art school-retail-professional failure that, as a broke student at a bad school, I was marked out for. I wanted to make money fast, shove it into my business and then get out of here. I was young, which meant I had nothing to interest people with besides my looks. While those held out, I wanted to use them to get other, more versatile trading tokens.
My tits came in when I was 11. Guys hassled me ever since. My family isn't one that sees no intermediary steps between early puberty and teen motherhood, but the Hasidic men who offered me 50 bucks for a handjob didn't much care. Walking down Brighton Beach at 14, a 60-year-old Rodney Dangerfield lookalike asked me on a date. I declined. "No, a sex type date," he said. When I declined again, he told me I was ugly anyway.
For every free coffee beauty privilege gets you, it also gets you a guy following you down the steps on the subway, saying he wants to work his tongue into your ass.
When men harrass us, they blame it on our looks.
Photo by Yumna.
A woman's beauty is supposed to be her grand project and constant insecurity. We're meant to shellac our lips with five different glosses, but always think we're fat. Beauty is Zeno's paradox. We should endlessly strive for it, but it's not socially acceptable to admit we're there. We can't perceive it in ourselves. It belongs to the guy screaming "nice tits."
Saying "I'm beautiful," let alone charging for it, breaks the rules.
My art school roommate was a camgirl. She worked out of a cubicle, mechanically fucking a motorized dildo that the guy on the other side thought he controlled. She soon figured out more lucrative arrangements. I met her johns over a luxurious dinner, but sugarbabyhood wasn't for me. Filet mignon didn't taste like much in that company.
But her paycheck awed me.
I wanted to be an artist. Any tool to get there—even a website or properly printed portfolio—required more money than I could make working retail. If money drove me to the naked girl business, it was something else as well. I wanted to test myself. I wanted to see if I could work in a field fraught and stigmatized, and emerge unscathed. I wanted to burn off childhood.
So I went to Craigslist.
In the years since I was a naked girl, anti-trafficking activists have shut down the Craigslist adult services section. In typical anti-trafficking fashion, it accomplished nothing but irritating sex workers. The ads for webporn and used panties have migrated over to Talent, crowding out casting calls for no-budget movies.
Back then, we had an adult section. That was where I looked.
After answering dozens of postings—"Very Open Minded Models to shoot Erotica 4 Art-Exhibits," "Highly Discreet"—I was hired to pose as a human statue at a loft party. Painted white like Venus, swilling absinthe with Manhattan's monied demimonde, I made $250 cash, and swore off honest employment forever.
Being a professional naked girl would be Anaïs Nin-esque glamour, I thought, lying on velvet couches, smirking at convention. The first man who took my photo swept that all away. T met me in a coffee shop with what I can only describe as a binder full of naked women, all blinking and razor-burn and raw red knees; awkward human creatures that he proudly thought he'd made sexy. What I lacked in modesty, I made up for by being vain. My tits could be on the internet, but not my vulnerability. I posed for him anyway for a hundred bucks, arching my back till my muscles wept, after convincing him black and white film would make the photos "artistic."
When I first took off my clothes for T, I thought the world would end. After a few times posing I kicked my dress away impatiently, indifferent to my skin.
If I was going to be naked, I didn't want it to involve unflattering contortions in T's living room. I took the best of his photos, jacked the contrast on my cracked photoshop, and put them on a website called One Model Place. OMP's Floridian tackiness and dot-com pretensions went with its insistence that it was used by the fashion industry. It was not.
Photo by Jim Batt.
Soon my Hotmail pinged with offers. I went to hotel rooms thrice a week, shucking my clothes and speaking to the "photographers" with the careful mix of distance and friendliness that projected the fact that they would not be getting blowjobs.
It got better. I got better. I bought latex and bright lingerie from Strawberry's, and sex shop platform shoes.
In each hotel room, I loved two things: painting my mask in the mirror, and letting my robe drop. I was a sleek machine for extracting money. Untouched.
The GWCs? Most were nice, if awkward. They had corporate jobs. They wanted to hire a naked girl up to their rooms, but feel like an artist doing it. The few who tried to touch me got barked at, kindergarten teacher style, and didn't try again. Some got off insulting my body. One GWC, who was rich enough to have original Toulouse Lautrecs in the living room, berated my tits the whole shoot. "The model before you," he said, "she had perfect breasts." I took his $500, and recommended him, with warnings, to a friend. He insulted her too. "Your body is hideous," he said, in an exact replay of what he had said to me. "Molly had perfect breasts"
When I was 21, I dropped out of school. Art school is a scam, a way to fit a blue-collar trade into an expensive collegiate format. But I also wanted to seize my window of professional naked-girlhood, to make as much money as possible while I was still young enough. By that time, I hated it. I came into each shoot expecting the GWC to rape me. If there's a beauty privilege, there's a good girl privilege too, where only virgins locked in their rooms are presumed innocent. By working in the sex industry, I had utterly thrown that out. Sex workers (like trans women) are believed to have brought violence on themselves. "Yes officer," I imagined saying. "I was naked in his hotel room. For money."
As protection, I had only the routine of making a guy comfortable while pouting through the baroque pantomime of a glamor mag. While driving me home from a shoot, one GWC begged me to fuck him. "My wife's pregnant," he says. "She won't sleep with me. She says it will kill the baby."
I stared ahead, willing him not to touch me until the road led us back to Brooklyn, where I could slam open the car door and run up the stairs to my apartment.
Photo by Steve Prue.
For safety, we were supposed to bring chaperones. I only did this once. My boyfriend came along to a Jersey hotel. The GWC had a a camera that shot hundreds of frames a minute. He was touchingly proud of it, like a man with a sportscar that he never took out of the garage.
My boyfriend sat against the wall, sketching, as I vamped in front of the vertical blinds. The GWC couldn't get in the mood. "It's not working," he stuttered, passing me my hundreds. I used some of it to take my boyfriend to a cheap fish restaurant outside the Holland Tunnel. I wanted to vomit.
I was 22 years old and sweating on a gogo platform. Glitter melted into my cleavage. One fake eyelash hung off with clockwork orange precocity. In walked the guy I was dating. He was at the tail end of a relationship. He came in with his girlfriend, who was not a painted, exhausted, ridiculous professional naked girl.
I kept dancing, pretending not to notice.
At 4 AM, when my gig was over, I stood in my room. My body sang with pain. I slowly took off the fake hair, platforms, bustier, lashes. Each item I removed, more pain and tiredness leaked out.
The tangle of girl accouterments on my floor was almost as big as the girl.
Now, my hatred of posing baffles me. Professional naked-girl-dom was probably dangerous, often dumb. But it was $300 a pop, by generally complimentary men. Perhaps I had that artist's entitlement. I was the one who should be making images, I thought, not selling mine.
By the time I stopped posing, I had models of my own. God I love lovely women. Never have I seen a stripper without thinking she was a philosopher queen. If I sold my own image without much caring for it, I was addicted to theirs. It was the artist's gaze that's traditionally called male gaze but really isn't. I wanted to paint their beauty, consume it.
Traditionally, this has been a raw deal for glittering girls. Hotness fades, but a painting is forever. You could make a gallery of history's dolls, with Edie Sedgwick right at the top. Above it, you'd write "Muses Don't Keep Copyright."
Not that muses can't be artists. I became friends with Amber Ray while dancing burlesque. I was awful. She was the best. Each night she'd perform alchemy on that dive bar stage. She'd be a lotus flower, a peacock, a golden god. She hired me to work with her as a promo model. We'd teeter around in wigs, corsets, 6-inch-glitter heels. By the end of the gig I'd be crying to sit down and itch my fake hair with a chopstick. "You're the spirit of joy." she'd hiss at me, looking magnificent. "SMILE."
I was never much good at making myself my art.
When I was 23, I had enough art jobs to quit modeling. In quitting, I first got a look at how non-professionally naked women thought of their looks. It astounded me. Office workers lacerated themselves for not looking like Angelina Jolie, even though Jolie-hot Latina girls were bagging groceries throughout Brooklyn.
As a model, my looks were functional, a quantity to be squeezed and shellacked so as to sell for a higher price. Other women were hotter, but my face worked well enough. Civilian (as I thought of them) women baffled me by torturing themselves for a Hollywood beauty standard that would get them neither a better career nor better cock.
The naked girl business left me with an interesting lingerie collection and an ease with the camera's insect eye. As planned, I saved my wadded up 20s, and used them to make myself an artist. Eventually, I became a well known one. Posing for magazines, I remembered the old lessons of self presentation. How I looked, which had been a harassment inducing burden, then a way to get cash, finally became my own.
Women's looks are supposed to be our salvations. In a sense, mine were. But looks are an escape hatch to other places where they're no longer as important. Beauty is powerful because it is pleasing. Real power means not having to please.
+++++++++++++++++++++++++++++++++++++++++++++++
Sex and Scandal

:

Finding a Husband in France Under the Guise of Studying Abroad
An exchange student goes abroad to study. That's why they call it "study abroad," right? But there may be numerous other motivations besides study that send someone to live in foreign lands, and, for some, the title of 'exchange student' becomes the front for what they are really in search of.
In Paris, a city where people from around the world gather to eat, drink and study, Excite News investigated a different kind of exchange student with a different set of circumstances…
In France, online dating services are filled with the personals of Eastern European women who have come in search of French husbands. A residence permit for France is what they want, and a French husband can get them one. The easiest way to reside legally while on the hunt for someone to marry is to enroll in one of the many language schools in France as an exchange student.
However, it has become difficult for even non-husband-hunting foreign students these days to gain a residence permit.
Excite News spoke with an instructor at one of the language schools traditionally attended by children of European and American politicians. According to the instructor, in France, you have to be enrolled in more than 20 hours of classes per week before you can get a proper student visa to stay longer than 90 days. Due to the struggling economy, applications for work-study are not granted, leaving people with few alternatives. Furthermore, foreign student class attendance is reported to immigration to ensure that those in the country on student visas are actually hitting the books staying true to their word.
In this competetive environment, some schools were established solely to cater for those seeking residence permits, recruiting students wishing to stay in Paris. But getting residence permits even through these schools is difficult, so people apply to the bona-fide schools even if it means having to take classes just to stay in the country.
Another reason that some foreigners want to marry is for a work visa.
Foreign student are only permitted to work a maximum of 964 hours a year. However, if they marry a French national then that restriction no longer applies. France also has something called PACS, a civil solidarity pact which is a form of civil union between adults for organizing their joint life. It brings rights and responsibilities but the contract is considered less binding than marriage. If a foreigner can form a PACS with a French person then they are free to work in France and can obtain a residence permit. But in order for a foreigner to form a PACS with a French person they must first live with their partner for at least a year. Which mean they need a residence permit…
As shocking as it sounds, prostitution is often considered by some foreign women as a means of earn the money required to apply to a language school, find a French partner and get the ball rolling on a residency permit. Prostitution is not illegal in France unless it is solicited in a public place like a street corner. In the past, the vast proportion of foreign prostitutes in Paris were Brazillian, but in more recent times the number of Russians and women from former eastern bloc countries engaging in prostitution has increased. The instructor that Excite News talked to recalls a student from the Dominican Republic who, as well as studying full-time and working as a prostitute, had a five-year-old son to take care of.
There appear to be many stories hiding behind the guise of the language school enrollment. Of course, for the most part, people enroll to simply to study a language, but for some, education in European countries is merely a front for those seeking permenant residency, and even then there may be a number of pitfalls to overcome…
+++++++++++++++++++++++++++++++++++++++++++++++
NETFLIX

shares drop after it cuts subscriber forecast
LOS ANGELES (Reuters) - Netflix Inc added fewer U.S. customers than Wall Street expected in the third quarter, forcing the company to roll back its year-end subscriber forecast and sending shares plunging 15 percent.

Netflix said on Tuesday it added 1.2 million new U.S. customers to its on-demand TV and movie streaming service during the July to September period, for a total of 25.1 million. That fell at the low end of the company's guidance and below what some analysts predicted.

Shares of the company fell 15 percent to $58.04 in after-hours trading, down from an earlier $68.22 close on Nasdaq.

"Subscriber numbers were lower than expected, and the guidance for full year (customers) was lower than expected too," said Arvind Bhatia, an analyst at Sterne, Agee and Leach. "The streaming numbers don't look that great."

Netflix projected its U.S. membership base in the fourth quarter would reach as high as 27.1 million as it picks up new customers during the holiday season.

That would fall short of CEO Reed Hastings' forecast made six months ago that the company would add 7 million new U.S. streaming customers this year. To reach that goal, year-end subscribers would need to hit 28.7 million.

"We mis-predicted" the U.S. gains for the year, Hastings told analysts on a conference call. The company now is on track to end the year with 5 million additional U.S. streaming subscribers, he said.

"When something is as new and vibrant as Internet video, it is hard to predict the rates of growth," Hastings said in an interview. The company is "very happy" with the 5 million additions, a 20 percent gain from 2011, he said.

Quarterly profit beat Wall Street expectations. The company posted third-quarter earnings of 13 cents per share, or $8 million. Analysts on average had expected 4 cents per share, according to Thomson Reuters I/B/E/S. Revenue reached $905 million, Netflix said.

A year ago, Netflix reported $1.16 in earnings per share and revenue of $822 million.

For this year's third quarter, free cash flow dropped to negative $20 million. Because of spending on original programs such as "House of Cards" and "Hemlock Grove," as well as other content costs, "we anticipate negative (free cash flow) for several quarters," Hastings and CFO David Wells said in a letter to shareholders.

They said the company had enough cash on hand to fund its expenses and return to positive cash flow, but would re-examine spending plans for new programs next year.

Netflix previously warned it will lose money in the fourth quarter as it spends to add service in Scandinavia, part of a costly international expansion that is hitting its bottom line. On Tuesday, it forecast a $13 million loss to a $2 million profit for the last three months of the year.

In the third quarter, Netflix added 690,000 customers in foreign markets, bringing the total to 4.3 million.

Hastings outlined challenges in Latin America, where Netflix has more than 1 million members but is growing more slowly than it hoped. The company is trying to fix payment problems, such as barriers to credit and debit card transactions online, to help jump-start growth in the region, Hastings said.

"It will take longer than we had planned to get to profitability in Latin America, but we are confident that this will be a very large and profitable market for us in the long term," Hastings and Wells said in their letter.

In the Nordic region, Hastings said he was hopeful for success similar to Canada, where Netflix turned profitable within two years.

(Reporting By Lisa Richwine in Los Angeles; Additional reporting by Alistair Barr in San Francisco; Editing by Gary Hill, Bernard Orr and Ronald Grover)
+++++++++++++++++++++++++++++++++++++++++++++++
Here's Yet Another Sexualized Breast Cancer Awareness Ad


This is exactly how not to do a breast cancer commercial. It's not about loving and saving big breasts. It's about saving lives.

Translation:

"If we love them that much, we should take care of them. Make a woman get a breast exam."
So, the spot is targeting men. Fine. What do you think the number of male viewers who jerk off to the ad will be compared to the number of male viewers who actually ask a woman to get a breast exam?
This was produced by a large Chilean ad agency—Lowe Porta, Santiago.

For your information, Here is how to do a breast cancer awareness commercial, from earlier this month, via the UK.
+++++++++++++++++++++++++++++++++++++++++++++++



Alexis Wright:

The Zumba scandal and the hypocrisy around prostitution
Alexis Wright, 29, turns towards her attorney Sarah Churchill, left, during her arraignment Tuesday, Oct. 9, 2012 in Portland, Maine on 109 counts of prostitution, violation of privacy, tax evasion and other charges for allegedly providing sex for money at her Kennebunk fitness studio and office. Wright pleaded not guilty on charges she ran a prostitution business out of her Kennebunk Zumba studio and secretly filmed her encounters.
Last week, authorities
released 21 names
of men who were issued summons for engaging in prostitution with Zumba instructor Alexis Wright.
The 29-year-old woman is charged with turning her dance studio in Kennebunk, Maine, into a
brothel
and secretly
videotaping her encounters
with men who were unaware they were being filmed.
The news came as a shock in this small beach town of about 10,000 residents, who are now expecting many more names to be revealed. Police say
up to 150 people are suspected of being clients of Alexis Wright and appear on recordings
, including lawyers, law enforcement officers and other respectable members of the community.

Alexis Wright Zumba scandal
This story has all the elements of a
telenovela
. A young, beautiful, protagonist, a fitness enthusiast who also happens to be a calculating, astute prostitute who earned up to $ 150,000 in 18 months. An idyllic village, famous for its beautiful beaches and wealthy residents. And a bunch of men terrified because their dirty relationships with Wright are about to come to light. Wow!
Everyone seems so surprised. Some of the residents have said they never imagined that the sweet
Zumba
teacher could be a prostitute. But hey, 10,000 residents aren't very many. In a small town, everyone hears rumors, although some of them pretend not to.
When women are divided into two categories
I wonder how many wives of the men accused will feel truly surprised. Because, after all, this story tells of the
macho mentality
that divides women into two categories.
On one side,
the wife
, the Virgin Mary figure, selfless and pure. The queen of the home, the mother of his children, but not a sexual partner to play naughty games with. That, they leave for
the prostitute-type, women like Wright
. Young, liberal and sexual. How hypocritical.
Unfortunately
many married women have supported this traditional mentality
and that's the reason why I believe that many of these johns' wives will act as if they're shocked to see their husbands on the list. But they're only playing to the gallery.
Prostitution scandals of the rich and famous
Prostitution is the world's oldest profession, and
prostitution scandals still make their way into the headlines over and over.
Remember
New York Governor Eliot Spitzer
? He was forced to resign after being identified as "Client-9″ for the Emperors Club VIP, a high-end prostitution ring to which Spitzer allegedly paid thousands of dollars to have sex with a prostitute named "Kristen." Similar is the case of
Louisiana's Republican Senator David Vitter
, identified as a client of "D.C. Madam" Deborah Jeane Palfrey's prostitution service in Washington, D.C.
And who can forget when
actor Hugh Grant
was arrested in Los Angeles after being caught in a public place with Hollywood prostitute Divine Brown? She wasn't one of the
Heidi Fleiss girls,
though. Known as The Hollywood Madam, Fleiss led a high-end prostitution ring for numerous famous and wealthy clients (like Charlie Seen) in and around Hollywood.
The truth is that these rich and powerful men have always sought the company of prostitutes. It's part of the game and everyone knows it, including their wives. I think we should stop throwing up our hands in horror when these stories come to light, and
go for a change of mind
instead. I know it sounds naive, but don't you think it's about time that men and women learn to enjoy sex free of guilt or outdated beliefs?
+++++++++++++++++++++++++++++++++++++++++++++++
Nude Dancing As An Art Form? Not Funny When You Think About It
Strip joint decisions. There is nothing better calculated to bring out the inherent maturity in tax and accounting blogs. The first reference I saw to the
New York Appellate Decision in the case of 677 New London Corporation
was on
Going Concern
. The main focus of Going Concern is a satiric view of life in the major accounting firms – the trials and tribulations of capital market servants. They can't ignore a case about whether stripping is an art form. There will be plenty more coverage. It inspires me to take a somewhat different tack.
The Decision

New York charges sales tax on admission charges to any "place of amusement." That covers a lot. Among several other entertainment forms subject to tax, the decision mentions sporting events, stock car races and
even zoos
.
There is an exemption for "
dramatic or musical arts performances
". The case was about the scope of that exemption. There does not seem to be much question that included in that would be performers dancing to music. With that said, many people would think that in the dancing area the exemption would
apply to dancing like this
.
They might think that the dancing that goes on in a place like
Nite Moves
, the establishment owned by 677 New London is of an entirely different sort and does not qualify for the exception. Questions like that are why we have courts. The appellate court ruled 4 to 3 that the exemption should be narrowly construed:
Clearly, it is not irrational for the Tax Tribunal to decline to extend a tax exemption to every act that declares itself a "dance performance." If ice shows presenting pairs ice dancing performances, with intricately choreographed dance moves precisely arranged to musical compositions, were not viewed by the Legislature as "dance" entitled a tax exemption, surely it was not irrational for the Tax Tribunal to conclude that a club presenting performances by women gyrating on a pole to music, however artistic or athletic their practiced moves are, was also not a qualifying performance entitled to exempt status.
I think the dissenters had a point.
Like the majority and the Tribunal, I find this particular form of dance unedifying — indeed, I am stuffy enough to find it distasteful. Perhaps for similar reasons, I do not read Hustler magazine; I would rather read the New Yorker. I would be appalled, however, if the State were to exact from Hustler a tax that the New Yorker did not have to pay, on the ground that what appears in Hustler is insufficiently 'cultural and artistic.'
I think the better way out of this would have been for the legislature to eliminate the exemption entirely, since it does create a significant gray area. The decision may well have been based on the "unedifying" nature of strip joints, which actually might not be such a bad thing. They are part of a disturbing social trend to which there seems to be no good solution.
Disputes that touch on gender and sexuality generate tremendous discomfort. Sometimes the discomfort is dealt with by people going ballistic. Sometimes discomfort causes the dispute to be hidden. Other times it is humor. I predict that the 677 New London decision will produce a lot of amused commentary. It might be better to take the underlying discomfort more seriously. People who are outraged by establishments like Nite Moves will sometimes use the term "pornstitution" to demonstrate the integrated nature of the complex of problems created by pornography and prostitution. They don't see any fundamental difference between the two. Certainly, if there is a distinction between pornography and prostitution, a place like Nite Moves which includes "private rooms" might be on the fuzzy boundary between the two. Critics will say that pornography exploits and demeans women and creates unrealistic and dangerous notions about the nature of sexuality in the minds of young men.
The contrary argument is that the people involved are free agents, for the most part anyway and we don't want an army of prudes regulating harmless entertainment. Here is a thought experiment to perform, if you incline that way. Imagine an 18 year old woman. For whatever reason she is not an academic achiever. Her high school provides vocational guidance. The counselor evaluating her skills suggests she consider adult entertainment as one of her career options. Would that really be OK ?
In a Teaching Company course on Greek mythology, the instructor made a very interesting comment. Nobody can recognize a mythology from inside of it. You can see other people's mythologies, but yours is not a mythology to you. To you, your mythology is the way the world is. Nowadays people in the United States who think slavery is just fine and that people's rights should hinge on their race are on the lunatic fringe. In 1840 people who advocated the immediate abolition of slavery and full equal rights for Americans of African descent were the lunatic fringe. Their opposite numbers were not people who thought slavery was OK . To get as lunatic fringe on the other side you had to be one of the very small group who believed that the trans-Atlantic slave trade should be revived in the interests of humanity. Extremists stand outside their society's mythology and sometimes see things the rest of us cannot see. They are willing to follow the logic of positions all the way through. Whenever people with extreme views start from very different premises and arrive at the same conclusion, the rest of us should pay attention. That is the case with "pornstitution".
Consider these two statements:
Everything therefore in the modern means of social communication which arouses men's baser passions and encourages low moral standards, as well as every obscenity in the written word and every form of indecency on the stage and screen, should be condemned publicly and unanimously by all those who have at heart the advance of civilization and the safeguarding of the outstanding values of the human spirit. It is quite absurd to defend this kind of depravity in the name of art or culture or by pleading the liberty which may be allowed in this field by the public authorities.

And:
We must be encouraged to open our minds to the possibility of replacing free speech with a concept of fair speech. Social issues must be analyzed in terms of harm to both individuals and groups of people. Hate speech should be made a criminal offense, and pornography should be interpreted as hate speech against women. To the end that the human dignity, equality, and freedom of both sexes should be honored and protected…

It is probably not very challenging to figure out which statement came from
Radfem Hub
and which one came from Pope Paul VI, but the convergence is eerie and not something to mock. So that is why I will not be yucking it up about the 677 New London decision.
I asked lawyer activist
Cathy Brennan
to take a look at the decision and share her thoughts. Here is what she had to say:
The court's decision is heartening in that it does not allow an entity that exploits women to pretend that it actually employs such women for "dramatic or musical arts performance." Pole dancing and lap dancing constitute sexual exploitation of women by men – if it's going to be legal for men to buy women in this way, government should at least tax the hell out of it.

+++++++++++++++++++++++++++++++++++++++++++++++