HBO's Very Own 'Homeland,' And Other Promising Shows The Network Has In Development
After a very strong, occasionally spectacular season one, Showtime's
Homeland
, the winner of the 2012 Emmy Award for Outstanding Drama Series, is having an even better second season. It's torpedoing through plots in a way other shows would have spent entire seasons on, and while it might hurt the series in the long run, it's been a
thrilling four episodes
so far. With no due respect to
Brotherhood
, it still feels odd writing something so complimentary about a Showtime drama; all that praise usually goes to the network's older, wiser, sexier rival, HBO. But in a rare reversal, big bro
picked up
a show that sounds awfully familiar to baby bro's
Homeland
.
In a case of a pitch garnering interest from broadcast, basic cable and pay cable networks, a drama from writer David Hubbard (Noel) has landed at HBO. The project, titled The Return of Daniel Shepherd, tells the story of a family thrown into disarray when their son returns home after 13 years missing. When his abductors turn up murdered, he is the prime suspect. That further shrouds the mystery surrounding this family: the boy's father, a former FBI operative-turned-college criminology teacher; his mother, a stay-at-home-mom-turned-congresswoman; and his fraternal twin brother. (Via)
But will there be neck snapping? I hope there's neck snapping. Despite
Daniel Shepherd
sounding like a jumbled collection of
Homeland
traits — son missing for years vs. father missing for years, congresswoman vs. congressman, murder vs. MURDER — I will watch any show that involves either HBO or the word "disarray." (I hope things are topsy, but NOT turvy.) In the past year or so, HBO has picked up a number of intriguing sounding shows, so much so that they're tough to keep track of. Here's a helpful reminder of 10 of the most interesting.
A Visit from the Goon Squad
Author Jennifer Egan has closed a deal with HBO to develop her [Pulitzer Prize-winning novel A Visit from the Goon Squad] into a TV series. The book was published last summer by Knopf and slowly built a head of steam. It focuses on a coterie of characters first introduced as they orbit the world of punk rock in 1980s San Francisco. Their lives are explored for the next 30 or so years, with interlocking stories that deal as much with changes in the lives of the characters as it does changes in technology. (Via)
American Gods
After the continuing success of Game of Thrones, HBO is planning yet another high-profile fantasy series. American Gods, based on Neil Gaiman's best-selling novel [about gods of ancient mythology existing in present-day America], is currently in development. Production duties will fall to Playtone, the production company started by Tom Hanks. The series is currently being planned out in no less than six seasons of 10-12 episodes each. The budget for each season will be in the $40 million range, with a heavy emphasis on CG. The earliest that American Gods would grace the airwaves would be 2013. (Via)
Buda Bridge
Michael R. Roskam, who got a Best Foreign-Language Film Oscar nomination last year for his Belgian film Bullhead, is at the center of a new HBO pilot script order, one which teams him with Michael Mann and Breaking Bad executive producer Mark Johnson. HBO has ordered a pilot script for a drama titled Buda Bridge, a Belgian-set crime story that takes place in Brussels in the near future. It unfolds when a woman is found dead on Buda Bridge, which leads to a series of violent crimes and strange science that bring mayhem to the dark capital of the European state. (Via)
Criminal Justice
The Sopranos star James Gandolfini is a step closer to returning to HBO's drama lineup with a starring role in the network's Criminal Justice. HBO has given a pilot order to the drama project, written by Oscar nominee Richard Price (The Color of Money) and to be directed by Oscar-wining writer Steven Zaillian (Schindler's List). Criminal Justice is a New York-set crime drama loosely based on the acclaimed 2008 BBC series of the same name created by Peter Moffat. Joining the ensemble cast led by Gandolfini are Rizwan Ahmed, Bill Camp, Peyman Moadi and Poorna Jagannathan. (Via)
Family Tree
Written and created by Christopher Guest and frequent collaborator Jim Piddock and to be be directed by Guest, Family Tree is a documentary-style comedy in the style of Guest's films, which follows the world and journey of 30-year-old Tom Chadwick (Chris O'Dowd). Having recently lost his job and girlfriend, Tom has a rather unsure sense of his own identity. But when he inherits a mysterious box of belongings from a great aunt that he never met, he starts investigating his family lineage and uncovers a whole world of unusual stories and characters and a growing sense of who he is and who his real family are. (Via)
Hobgoblin
Darren Aronofsky has come on board an HBO drama series project, which has been in development at the pay cable network for the past several months. Titled Hobgoblin, the drama is being written by the husband-and-wife duo of Michael Chabon and Ayelet Waldman and sounds like Inglourious Basterds with magicians. It revolves around a group of con men and magicians using their skills of deception to help defeat Hitler during World War II. (Via)
The Leftovers
In his first TV series project since Lost, Damon Lindelof is heading to HBO for The Leftovers, a drama based on Tom Perrotta's 2011 book, which the two will co-write together. This marks the first foray into cable for the Lost executive producer/co-showrunner and the first project under the rich three-year overall deal he recently signed with Warner Bros TV. The Leftovers, produced by HBO in association with WBTV, takes place after the Rapture happens but not quite like it's supposed to. It is the story of the people who didn't make the cut… and a world that will never be the same. (Via)
True Detective
True Detective, an eight-part event drama series project starring Matthew McConaughey and Woody Harrelson, has landed at HBO with a straight-to-series order. True Detective is described as an elevated serial narrative with multiple perspectives and time frames. It centers on two detectives, Rust Cohle (McConaughey) and Martin Hart (Harrelson), whose lives collide and entwine during a 17-year hunt for a serial killer in Louisiana. The investigation of a bizarre murder in 1995 is framed and interlaced with testimony from the detectives in 2012, when the case has been reopened. The concept is for the 8-episode first season to resolve the mystery at hand, with subsequent seasons using same structure but new characters and story. (Via)
Untitled Charlie Kaufman Project
In a competitive situation, a half-hour comedy starring Oscar nominee Catherine Keener and to be written and directed by Oscar winner Charlie Kaufman has landed at HBO, which has put it on fast-track development. The untitled comedy is described as an exploration of one day in a woman's life and how the events leading up to it can affect, or not, the reality in which she lives. Kaufman is executive producing; Keener serves as producer. (Via)
+++++++++++++++++++++++++++++++++++++++++++++
Premiering on Starz in the first half of 2013 is
David S. Goyer
's
Da Vinci's Demons
. Starring
Tom Riley
(as
Leonardo Da Vinci
),
Laura Haddock
and
Lara Pulver
, the show is a "historical fantasy, following the 'untold' story of the world's greatest genius during his turbulent youth in Renaissance."
At this year's New York Comic-Con, I was able to talk with Goyer before his panel. During both a roundtable and exclusive interview he talked about how he got attached to the project, how
Da Vinci's Demons
could never air on network TV, the exciting visuals for the show, the fact that he "shamelessly pillaged the crews of
Luther,
Sherlock
and
Game of Thrones
," getting
Bear McCreary
to do the score, and more.
DAVID S. GOYER: I will say that adapting a character like Da Vinci really wasn't that dissimilar from doing Batman or Superman. Because all three of these guys are really iconic figures and yes Da Vinci was historical, but there's clearly been a lot of mythmaking about him and a lot of things have been attributed to him that may or may not have happened. Like supposedly there are new theories that Da Vinci created the Shroud of Turin, and that that was a hoax. In a weird way I approached adapting Da Vinci—I used the same process that I did for Batman or Superman.
Question: Do you see yourself as more of a mythmaker or a de-mythafier?
GOYER: That's interesting…I would have to say mythmaker. I mean, because Da Vinci was clearly a historical figure, but even if you read his first biography, which was written fifty years after his death, there's clearly a lot of confabulation in it. Vasari says he was this tall guy who could bend iron bars with his bare hands, which obviously he couldn't do. But, I think part of the fun of working with a character like Da Vinci is he's such a popular mythic figure and his whole life has always been shrouded in mystery or secret societies, even before Dan Brown. With a character like Da Vinci, why not go for the myth and just keep going? I mean, one of the first lines in the pilot is "history is alive" and that's the thesis of the whole show: history is alive, and it's been honed like a weapon by people who would suppress the truth. And I do believe that, anyway, that it's interpretive and constantly being rewritten. So this character goes on to say that centuries from now your own history will be overwritten and lies will be told about you, and to a certain extent that's what the shows about is Da Vinci will have various adventures that will need to be suppressed for a variety of reasons. So the Da Vinci that modern day people know by design is a lie.

I'm from England and this is a BBC co-production I believe?
GOYER: BBC Worldwide.

Was that interesting for you, working with BBC?
GOYER: Yes, it was. I'm interested in doing co-productions and two recent shows that have come out of England which I absolutely adore are Sherlock and Luther.

That's similar to the myth-making you're doing with Da Vinci.
GOYER: Exactly. I would say that our approach, I mean, even though Sherlock is modern, Moffat did a similar approach with Sherlock. He paved the way for us in that regard. And then when I knew I was going to film the show in England, the other show—it's an American show that films there in the UK—is obviously Game of Thrones. My cast and crew are all British, and I just shamelessly pillage the crews of Luther, Sherlock and Game of Thrones for my crew.

Comparing Sherlock to Leonardo, they're both geniuses…
GOYER: They have similar touchstones, they're difficult personalities. I mean, Da Vinci had a big mouth, he was thrown in jail a bunch of times, he had a reputation for not finishing his projects, for being hounded by his creditors, we know he drank a lot, some people say he smoked heroin. And so, as a historical antecedent to Sherlock or Tony Stark or something, the comparisons are there.

Well also the other characters you've worked on have all been difficult in one way or another, Blade
certainly and Batman
.
GOYER: I tend to find them more interesting, and I think that Da Vinci in some ways—well we'll see, the Da Vinci that Tom [Riley] is doing is, you love him, but you also hate him at times. Which I think is a cool way to depict the lead of the show.

What was the genesis of this? Where did the idea come from and how did it evolve from the original conception to what it ended up being?
GOYER:

Starz and BBC Worldwide approached me. What happened is my show Flash Forward went down. I was really disheartened and told my agent, "I don't want to do TV anymore, it sucks." And they said, "No no no no, why don't you do something in cable? It's more you, it's edgier, and they have a reputation for backing their creators more." And so I went on a series of meetings with some of the cable guys, and I met with Chris [Albrecht] and Chris said, "Look, I back my creators. I fight with them all the time; I fight with David Chase, all these people. But I back my creators." And I have to say he kept his word. I mean he said, "At the end of the day if you say, 'No, I'm doing it this way.' I'm not going to counter you." Chris likes to say, you're the "Killer App in the show" and "I'm not going to fight my Killer App." He lived by it, and I really appreciate that and that's something that's rare. They wanted to do something historical because it does well overseas, and they also thought that Da Vinci was just—he's just a figure that you know inhabits a lot of people's imaginations.
I was asking about difficult characters; some people sort of soften or show the other side of them, you like to show even more the edgier side. I think that's true with your
Batman
, I think it's true with what you did with
Blade
.
GOYER: I can safely say we've done that with Da Vinci.
The nice thing about being on Starz is we don't have any censorship at all, we can say anything, do anything, show anything. I have no doubt that a couple of the episodes in the first season that will generate some healthy controversy.
That's actually what I wanted to ask about. One of the things about Starz is they're able to really push some boundaries in terms of sex, violence, stuff like that; is that something that the network says "we can do this, let's make sure we can," because it's a selling point?
GOYER:
No, they never said to me, "You must show this many tits." or, "You must cut off this many penises." They said it's always been if it's right for the story, you can do whatever you want. And we're not afraid of controversy, so go for it. And Chris has certainly cut his teeth at HBO doing shows like that. Oddly enough, I've made a lot of PG-13 movies and a lot of R-rated movies, and bizarrely in this show I've never once been asked to cut something because it's too extreme- which is not to say were just doing extreme things to do them, but I've never been told "You can't show that," or "You shouldn't show that."
Is there an example that you can give us that is something you were like, "Wow, I can't believe we get to get away with this?" Or you know what I mean, something that pushed the boundaries?
GOYER:
I mean, by the time you see the first episode, a couple of things like that will become apparent
.
So it's safe to say that this could not ever be on network TV?
GOYER: This could never be on network TV. I'm not just talking about what we show, just some of the subject matter they would never, ever do on network TV. Couldn't be a PG-13 movie either.* Apparently Starz edition (in US) will be much more raunchier than the BBC broadcast (including worldwide). One of the benefits of co-productions between Starz and Cinemax with Euro partners is the recent agreement by BBC to allow different cut to be shown on US soil. They previously balked afraid local viewers will wait for the other release and watch it on-line. But Starz and Cinemax were more interested in showing T-and-A rather than altering the flow of the story. HBO/Cinemax did it with Strike Back and Starz is following suit with this series and The White Queen. Chris Albrecht never interferes with on-set productions or the tell the writer/director to change something on the script that could affect the rest of the story. The guy is just like us when it comes to nudity. He wants to see tits and ass and he knows how to interject them into story even if it borders on gratuitous. Chris is a go-getter and also very old-school when it comes to portraying women on-screen. And he ain't afraid to go after girls young enough to be his daughter.
He single-handedly turned Starz Entertainment into a recognizable commodity and Da Vinci's Demons will cement Starz reputation as number one provider of gorgeous actresses in various state of nakedness.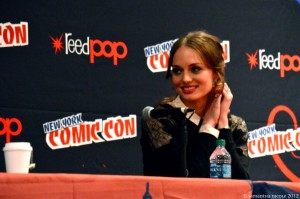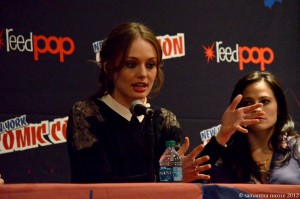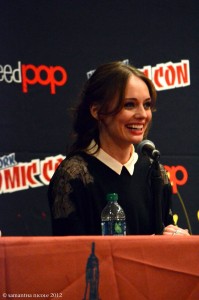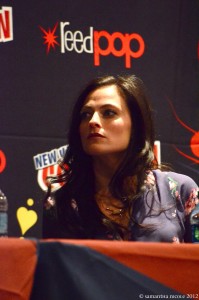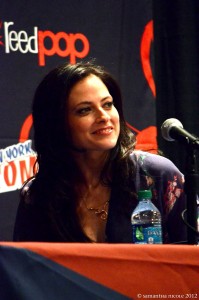 By the way (this is purely my opinion) I feel the female cast are probably in the dark how much of the sex/nudity will be shown having observed Laura Haddock and Lara Pulver during interviews at recent screening in New York. Lara sounded confident enough about the amount of nudity that will be on display.

S

he is the type who will raise hell if it goes beyond what she been told and agreed to during the shoot. Poor Haddock will be shocked initially how much she push herself beyond the boundary she set herself and then likely will shrugs it off. You're young only once and tits/butt will eventually sag. Better to show it to the world in its prime rather than waiting far too long like some actress with their saggy boobies.
+++++++++++++++++++++++++++++++++++++++++++++
Fifty Shades of Grey

Casting! White Collar's Alexandra Daddario Talks Anastasia Steele and Matt Bomer as Christian.

The Fifty Shades of Grey casting rumor mill won't stop turning, but one potential Christian Grey has stirred up quite the controversy: Matt Bomer.

Writer Bret Easton Ellis recently commented that the Magic Mike star could never star as the BDSM-loving entrepreneur in the film adaptation because the actor is openly gay, but Matt's White Collar co-star — and former on-screen girlfriend — Alexandra Daddario begs to differ.

"I think he'd be great," Alex told us at the SuperTrash Flagship Store Grand Opening in New York City on Oct 18. She also noted that he plays a very convincing straight man on White Collar — "Yes, he does. He definitely does." — which she experienced first-hand during her run on the show.

" I don't think that should figure into whether someone gets a role or not," she added, although she admitted that she hasn't personally read the erotic trilogy yet.

The actress should jump on the bandwagon, though, because her name has also been tossed around to play Fifty Shades' doe-eyed leading lady, Anastasia Steele. But if she did land the role, who is her dream "Mr. Grey"?
"Oh my god! I mean that's sort of like the crème de la crème of men. Pretty much anybody, I guess!" she exclaimed after we named a few leading contenders. "I love
Alexander Skarsgard, I love Matt Bomer. Really anyone. There are so many talented, great people out there."

While she hasn't heard any more than anyone else about the actual casting, she noted that "it's really flattering" and "awesome" to be considered. But for now, she is filming the Percy Jackson sequel withThe Perks of Being a Wallflower's Logan Lerman and has Texas Chainsaw 3D and a guest spot on her favorite show, It's Always Sunny in Philadelphia, coming up.
+++++++++++++++++++++++++++++++++++++++++++++
Brazillian model Alicia Kuczman : for Elle Brazil [2012]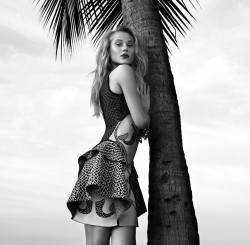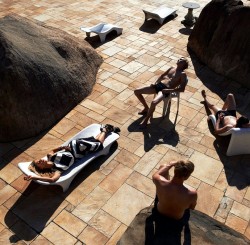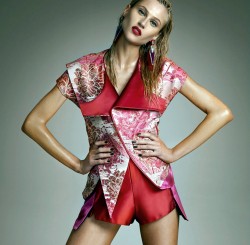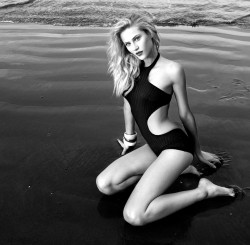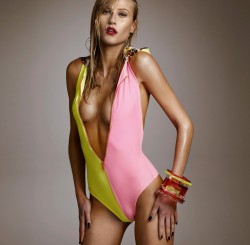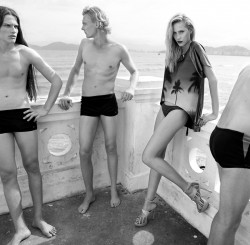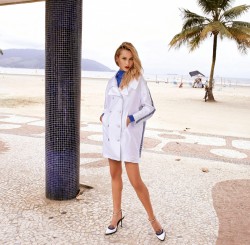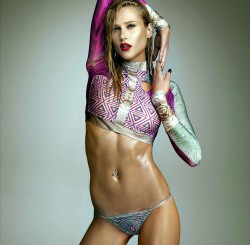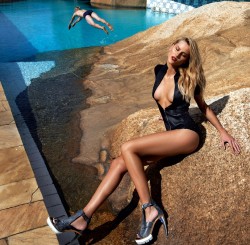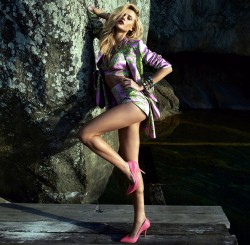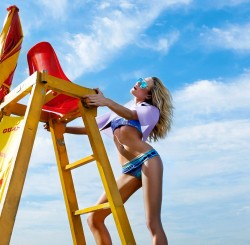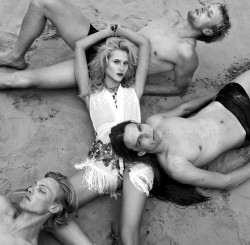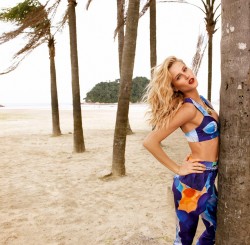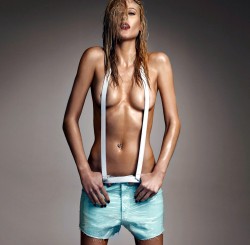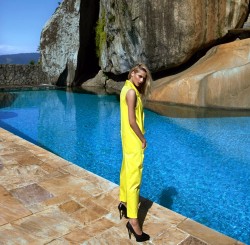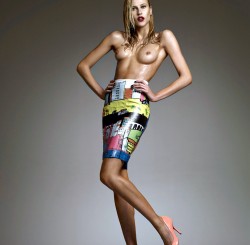 +++++++++++++++++++++++++++++++++++++++++++++
What Happened To all the T
-and-
A?
An interesting thing happened to horror films over the past 10 years when no one was looking.
They became more horrific.
Now, I don't mean in they're necessarily scarier than films prior to the new century. Horror films have always terrified audiences. What I mean is that they've become more focused on being scary and less on being sexy. Sexy was always the naughty kid sister to Scary in the horror film, and lately, she's been noticably absent. And I have a theory on that, but I'll get to that in a second.
Horror films have, up until recent years, always been lumped in with exploitation and sexual depravity, and with good reason. Somewhere in the late 1950's, the genre was co-opted by exploitation masters because they knew that if they failed at scaring their audiences, (which they often did)then they could always fall back on a little T-and-A to make up for it. A fellow filmmaker once told me that tits were the cheapest special effect he could ever hope for. And he was right. Everyone always gathered around for the extraneous boob shot, especially in the shower... in slo-mo.
And so it went for the next 50 years that most horror went hand in hand with T-and-A. I firmly believe in the theory that some horror historians take that nudity equals the greatest vulnerability and that an audience witnessing a victim on screen in the nude is more subject to empathize and relate to the victim because they can easily imagine themselves in that vulnerable position. I agree. They're 100% right.
Probably the best use of that is in the shower scene in Psycho. Much later, horror director David Cronenberg played the nudity-as-vulnerability card in his 2007 film Eastern Promises, (which, incidentally isn't even a horror film). I'm sure a lot of you know exactly what scene I'm talking about, but if you don't, just try and watch the sauna scene where a completely naked Viggo Mortenson is attacked by knife wielding thugs.
But let's be honest. Most filmmakers churning out cheap horror from 1950 through 2000 had no intent on using nudity as an artistic metaphor for vulnerability. They used it because it put asses in seats. And considering what a black sheep the horror film already was, nudity went with scares like peanut butter with jelly.
Additionally, for years before the internet, the only place to see nudity and sex was in porno films, and if you couldn't get your hands on one, or that wasn't your thing, you could still get your titillation with a peak of sex here and there in a horror flick.
But around 2000, horror films started emerging that didn't have a smack of nudity in them. Suddenly the damsel with the torn dress or the shower scene became scarce things indeed. But why? What happened? Did we become more prudish? Hardly. Some people think that the PG-13 rating and the ripe pre teen audiences that were willing to smack down their cash for tickets were the reason for the toning down of sex and sexuality in horror. But that's bullshit. There are still plenty of horror films with R ratings, and even those don't have the sex that they used to.And here's why. The Internet.
Yeah, the internet happened, and along with it, came porn, and if you look closely, you'll see that with the emergence of broadband and the ability to watch porn in the comfort and privacy of your own home, came the demise of the titty horror movie.
And while it's always fun to see a little naughtyness in films, gone are the days (at least for now) of the hack directors throwing in tits and ass just to cover their lack of talent. They'll have to find a new crutch because audiences that can watch any extreme hardcore fetish at home are hardly going to shell out $14 to see a hint of nipple and a brush of bush.
What does this mean for horror movie fans?
Well I for one think it's a good thing. It will cause filmmakers to work harder (which they've been doing), and the dinosaurs who still think T-and-A matters in horror films will go extinct just like they should, and the net benefit is that scary films will be scarier to fill in the gap created by the missing sexuality.
And best of all, with nudity not being a cheap way to sell tickets, when we DO see nudity in a film, it'll have meaning, propel the story, show vulnerability, and most importantly, have something to say, other than "here's some tits".
It's a funny thing, how nudity left the building and no one noticed until it was gone. But that's the way of evolution. There's a sudden silence where there was a sound, and we all stop to listen.
Gaudium per atrox.
+++++++++++++++++++++++++++++++++++++++++++++
Photo:
Anna Nicole Smith movie filming in Buckhead
The Lifetime movie about
Anna Nicole Smith
is filming at New York Prime, the steakhouse across the street from Phipps Plaza in Buckhead. Here's a photo of the film in action. We're told it's a scene in which Smith celebrates a court victory while battling for a share of her late husband's assets.
Previous casting calls have solicited guys to serve as strip-club patrons, so it looks like the movie will give a comprehensive portrayal of Smith's life.
She was an adult entertainer and model before marrying an oil tycoon. After he died she battled with his children over his estate. In her final years she had her own reality show and served as a celebrity endorser for a weight-loss product.
New York Prime is no stranger to celebrity guests, by the way.
Robert Duvall
went there a number of times when he was in town filming the Billy Bob Thornton movie "Jayne Mansfield's Car" last year
.
Anyway, back to the Anna Nicole Smith movie. Actress
Agnes Bruckner
("Private Practice," "The Bold and the Beautiful") is playing Smith, who died in 2007 at age 39.
Bruckner
tweeted this photo of herself
done up to look like the blonde bombshell Smith.
The TV movie, which also filmed at the King Plow Arts Center this week, is scheduled to film through Nov. 9, according to the Georgia Department of Economic Development. They won't be at New York Prime long – we're told the cast and crew arrived at 5 a.m. today but that the restaurant will be open for dinner tonight.
* Agnes is tweeting pics like crazy ever since they started shooting the Anna Nicole movie. Maybe she is over-excited playing a role that could bring her critical acclaim she obviously craves for some time now

but over-sharing by an actress from a movie set suggest to me (and I could be wrong here) this is no ordinary Lifetime movie. Agnes is doing something she never done before. She is nervous about it. And she wants to intercommunicate that feeling to her family and fans that playing ANS is new important chapter in her career. I'm not saying the N-word here.
+++++++++++++++++++++++++++++++++++++++++++++
Why 'Dead' is better than sex
By LINDA
I
-hate
-my-own-body
STASI
Two episodes into Season 3 of "
The Walking Dead
" and we, the living "walkers," are multiplying faster than the dead ones on the show.
That means that "Dead" has become
the
No. 1 non-sports TV show in the 18-49 age group, which is the only age category that TV suits un-die for.
Didn't I tell you from day one that the series was the best thing since sliced dead?
The interesting thing about these viewer numbers is that it proves that regular Joes are smarter than those big-bucks smarty-pants big-shot Hollywood suits who snub their noses at the show because they think it's low-brow and not sexy enough for their sophisticated tastes. Yeah, well their sophisticated tastes — especially this season — have produced too many massive bores that are tanking.
ZOMBIE INVASION: "Walking Dead" is killing in the ratings.
The whole conundrum has network execs scratching their shaved heads in bewilderment.
They need to wake up and smell the blood.
Have you noticed that every network show is trying to ape cable's hard-core sex by opening their premieres with a gratuitous sex scene of insanely good-looking 20-somethings in their underwear rolling around a bed or bumping up against a sink. They think that's what the coveted target audience wants.
Meantime, a show with no sex — gratuitous or otherwise — is, er, killing them.
OK, so Lori did have sex with Shane. And then with Rick. But it ended badly with Shane going all zombie on their asses.
It's not about sex, it's about good storytelling.
And good storytelling is no more about sex than "Dead" is about disgusting, disintegrating zombies — although I defy anyone else to use intestines as decorative neckwear.
While shows like "
666 Park Avenue
" were handing us a bunch of unscary bull, "Dead" was keeping us glued to our sofas in trancelike fear.
I'm therefore calling upon all "Dead Heads" to join together in a mass "up yours" to the Emmys that snubbed it and the Hollywood snobs who ignore it.
Let's all throw up our middle fingers at 8:59 next Sunday night before the start of the show.
With any luck, a lot of those fingers will fly off and head towards Holly
won't,
a town with more fake body parts per capita than Atlanta on zombie extras day.
+++++++++++++++++++++++++++++++++++++++++++++
First Pics From Peter Greenaway's 'Goltzius And The Pelican Company' Premiering At The Rome Film Festival
by Kevin Jagernauth
Even though he has
spent the last decade
ringing the death knell for cinema, Peter Greenaway continues to work in the format anyway, either as a way to go down with the ship, or perhaps to try and right the course (or maybe both). But onward he goes nonetheless, and next month he'll be unveiling his latest, "Goltzius And The Pelican Company," at the Rome Film Festival. A few pics from the film have arrived to give folks a preview.
Starring F. Murray Abraham, the film tells the tale of Dutch painter Hendrik Goltzius, known for his erotic depictions of Biblical stories. The film is the second in a series of movies about Dutch painters, and follows 2009's "Nightwatching," which centered on Rembrandt. And certainly, this one looks like it'll be a fairly decadent production, perhaps not unlike his own work, which tends to hold little back.
There's no distribution for the film stateside yet, so who knows if/when it will land here outside the realm of a film festival apperance. But Greenaway heads will find a way to track it down. Feast your eyes below. [
Kinopoisk
]
* Not surprisingly (it's a Greenaway flick after all) there is nudity and some more according to this critic
+++++++++++++++++++++++++++++++++++++++++++++
Sex and Blood: Dangerous Liaisons is eye candy at Theatre Memphis, Bug's an impressive mess at TheatreWorks
Posted by Chris Davis on Thu, Oct 25, 2012
Peter and Agnes stare into the zapperIn uncertain times there is one thing I know for sure: I am grateful to every God, devil, and hero in the combined pantheon of Global myth that I'm not Sylvia Wilson, the stage manager for the New Moon Theatre Company's ambitious and strongly acted production of Tracy Letts' horror/drama Bug. The ridiculous mess left on stage at the end of every show must be positively spirit-breaking. Bottles are strewn from one end of the theater to the other amid rumpled bedding, multiple insecticide containers and bits of aluminum foil. The floor is slick with water and fake blood although it's never as messy as the lives of Lett's broken characters.

Bug is hardcore pulp and a special treat for anybody who ever stayed up late to hear the guests on Art Bell's syndicated Coast-to-Coast radio show weave every conspiracy that ever existed about shadow governments and aliens into a crazy fabric of alternative space time. It's a grotesque love story about an intermittently stable woman with no self worth and a charismatic but dangerously paranoid Gulf war veteran who may be but probably isn't the parasite-infested end-result of a mad Government experiment gone South. These characters are hard cases: intelligent but isolated, sick, ignorant, deep into their booze and hopeless from lights up.

"I'm not an axe murderer," Peter (John Dylan Atkins) says early on telegraphing to everybody who's ever picked up a trashy novel that he's another kind of murderer. Or he soon will be.

Letts revels in druggy, voyeuristic excess and gore hounds and Halloween thrill seekers with the patience to make it to the end of this talky psychodrama will get their share of the ultra-violence.

As over the top as it may be Bug took on special resonance when I sat down to the news after last Sunday's matinee performance and read about the mass shooting in Wisconsin. In addition to all the rest Letts' play is also a domestic nightmare. Tracy Hansom plays Agnes, a dive cocktail waitress whose sadistic ex's probably been putting the fear in her since he got out of prison after a two-year stretch, and he puts it in her for sure when he shows up horny and throwing fists. The Wisconsin shooter also had a history of domestic abuse. He'd been stalking his estranged wife too, slashing her tires tires and threatening to douse her with gasoline and set her world on fire.

Not to spoil things too much but Bug ends in a great, fully naked, gasoline-accelerated conflagration that, for being accomplished with nothing but light, skin and sound, burns hotter than anything that happens on stage in Theatre Memphis's lavish take on Christopher Hampton's Dangerous


There's a lot right about Jerry Chipman's take on Liaisons, a frequently revisited story of hateful libertines crushing people's souls because they can. Christopher McCollum's unit set — a faintly abstracted art salon is — is brilliantly illuminated by Jeremy Allen Fisher. Andre Bruce Ward's opulent 18th-Century gowns are stunning and lovers of over-the-top costume drama will not be disappointed. When you look past the scenic virtuosity things get dicier.

I liked Liaisons' brisk pace and crisp, almost but not quite presentational style. The well-spoken words gave the play an unexpected storytelling vibe that makes the twisted tale of sexual terrorism easy to follow. But why?

Valmont, a wealthy 18th-Century douchebag is bored to tears with ordinary sexual beastliness and wants to get it on with Mme de Tourvelle, a supposedly virtuous hysteric. To turn his ticket she has to give herself to him physically while clinging tighter than ever to the trivial moral pillars that define her own annoying vanities. The dashing jerkwad accomplishes this while playing multidimensional hate-sex chess with the Marquise de Merteuil who wants him to want her but who also wants to win.

Claire Hayner is the strong, severely beautiful Marquise I'd imagined she might be, owning the stage like some evil Disney-inspired dominatrix. It's a harsh, jarring performance that never seems in synch with John Moore's blithely detached Valmont

Hayner tapps into Liaisons false-feminist anger and makes a strong case that douchey bros who end badly get what they deserve. Unless, of course they ruin her plans in the process. She's also an original Mean Girl objectifying and using other women for sport.

Ending Liaisons with some hint that the French Reign of terror is around the corner isn't unusual, but it almost always feels unearned. Theatre Memphis' production ends, not with the shadow of the guillotine, but with the sound of a falling blade. Historically it makes sense but for the most part the play unfolds in a bubble, acknowledging dire poverty, but never plunging too deeply into the political rivalries that made the guillotine sing.

The driving modern sound design was intrusive, setting a tone and tempo the actors can't seem to match. It's still something they might all aspire to.

When it comes to truly dangerous encounters with men Bug's Tracy Hansom takes home the prize. Greg Boller does his best work yet as Goss, Agnes' hyper-macho thug husband who doesn't give a damn about consensual. And the more she falls for Peter and adopts his paranoid vision the more she tears at her skin to get the parasites out.

Gene Elliot's production is action-packed and his sound design, which consists mostly of Tejano music and helicopters, is managed in such a way that it seems to project the characters disorientation and drugged up paranoia onto the audience.

Bug is overlong and won't be everybody's bucket of guts. It's also one heckuva showcase for character actors who aren't afraid to get down and dirty. Both Hansom and Atkins spend quite a bit of time naked. While both are attractive people neither have supermodel bodies, adding to the grit, and making a pair of already fearless performances that much more impressive.

Kell Christie takes on the role of R.C., a tough, coke-snorting lesbian who tries to help Agnes, and the always interesting Jim Palmer is superb in his walk on role as Dr. Sweet, a psychiatrist who may or may not confirm all of Peter's buggy suspicions.

For more on
Bug. And Dangerous Liaisons.
+++++++++++++++++++++++++++++++++++++++++++++
An Open Letter to Ann Coulter
John Franklin Stephens
The following is a guest post in the form of an open letter from Special Olympics athlete and global messenger John Franklin Stephens to Ann Coulter after this tweet during last night's Presidential debate.
Dear Ann Coulter,
Come on Ms. Coulter, you aren't dumb and you aren't shallow. So why are you continually using a word like the R-word as an insult?
I'm a 30 year old man with Down syndrome who has struggled with the public's perception that an intellectual disability means that I am dumb and shallow. I am not either of those things, but I do process information more slowly than the rest of you. In fact it has taken me all day to figure out how to respond to your use of the R-word last night.
I thought first of asking whether you meant to describe the President as someone who was bullied as a child by people like you, but rose above it to find a way to succeed in life as many of my fellow Special Olympians have.
Then I wondered if you meant to describe him as someone who has to struggle to be thoughtful about everything he says, as everyone else races from one snarkey sound bite to the next.
Finally, I wondered if you meant to degrade him as someone who is likely to receive bad health care, live in low grade housing with very little income and still manages to see life as a wonderful gift.
Because, Ms. Coulter, that is who we are – and much, much more.
After I saw your tweet, I realized you just wanted to belittle the President by linking him to people like me.
You assumed that people would understand and accept that being linked to someone like me is an insult and you assumed you could get away with it and still appear on TV.
I have to wonder if you considered other hateful words but recoiled from the backlash.
Well, Ms. Coulter, you, and society, need to learn that being compared to people like me should be considered a badge of honor.
No one overcomes more than we do and still loves life so much.
Come join us someday at Special Olympics. See if you can walk away with your heart unchanged.
A friend you haven't made yet,
John Franklin Stephens
Global Messenger
Special Olympics Virginia
EDITOR'S NOTE:
John has previously written powerful opinion pieces on the R-word.
Read one here
.
+++++++++++++++++++++++++++++++++++++++++++++