Casting News For Eli Roth's '

The Green Inferno

'!
Daryl Sabara
(
John Carter
),
Kirby Bliss Blanton
(
Project X
) and
Aftershock
thesps
Lorenza Izzo
and
Ariel Levy
are in negotiations to star in
Eli Roth
's horror-thriller
The Green Inferno
along with
Aaron Burns, Magda Apanowicz
and singer-actress
Sky Ferreria
, reports Variety.
Worldview Entertainment (
Devil's Knot
) is financing and producing the Peru-set pic, which
Hostel
helmer Roth is directing from a script he co-wrote with Guillermo Amoedo (
Aftershock
).
"
The story follows a naive group of student activists from New York City who travel to the remote jungles of Peru, where they plan to stage a protest, but instead encounter a tribe of cannibals.
" Pic will serve as an homage to one of Roth's favorite horror films, Ruggero Deodato's 1980 cult pic
Cannibal Holocaust
.
* Don't know about other girls but I'm pretty certain Magda Apanowicz and Sky Ferreira will go the nudity distance

if they didn't switch roles with others.

Both of them were cast

early on

.
Magda Apanowicz
++++++++++++++++++++++++++++++++++++++++++++++
How Does Emmy Rossum Really Feel About Her TV Sex Scenes?


As the resourceful but hard-partying eldest Gallagher child Fiona on Showtime's Shameless, Emmy Rossum has had to film more than her fair share of sex scenes. So how does she really feel about baring it all in the front of the camera, and subsequently, in front of the world?

"The first time, I had a couple beers," Rossum says on the latest episode of Rove LA, airing Saturday at midnight/11c on TV Guide Network. "But then I got on with it. It's part of telling a story. Sometimes people have sex."

How can Rossum be so nonchalant about those revealing scenes? Because, as she and fellow guest
Aisha Tyler explain, fake sex is not even really sexy. "Literally, if we started fake-doing it right now, it would be so not sexy," Rossum says as she leans towards Tyler. So what happened next? Watch the clip to find out:

++++++++++++++++++++++++++++++++++++++++++++++
See Pirupa's Raunchy Party Non Stop Video Featuring Loads Of Topless Girls!
Having encouraged naughty behavior in the clubs and on the beaches of Ibiza all summer, Pirupa's dance anthem finally gets an official video and it's not at all safe for work.
In fact, it's a dark and hedonistic tribute to one of the most unifying dance records of recent memory. So sit back and enjoy the foot-tapping beats with an orgy of topless girls in animal masks…
++++++++++++++++++++++++++++++++++++++++++++++

Amy Seimetz and Nina Conti Join Christopher Guest's HBO Series '

Family Tree

'

Christopher Guest's "Family Tree" is growing. The improv comedy mastermind has been adding cast members to his upcoming mockumentary-style HBO series starring Chris O'Dowd as 30-year-old Tom Chadwick, who begins exploring his roots after receiving a box of belongings from a great aunt he'd never met.
Amy Seimetz
While the first round of additions came from the pool of collaborators Guest has been working with in his films for years -- Ed Begley Jr. as Tom's Uncle Andy, Fred Willard as Andy's neighbor and Michael McKean as Tom's father Keith -- the latest actors to join the series include some newer faces from the indie-film world. According to Deadline, "Sun Don't Shine" director Amy Seimetz has been brought in for a recurring role as Ally, an aspiring writer and bookshop employee in Los Angeles whom Tom meets in unusual circumstances. Ventriloquist and "Her Master's Voice" director Nina Conti has been added as a regular in the part of Tom's sister, while Tom Bennett ("PhoneShop") will play Tom's best friend.
Nina Conti
Additional new cast members include Matt Griesser as Greg, Tom's American cousin; Maria Blasucci as Greg's girlfriend; and Lisa Palfrey as the wife of Tom's father.

The eight-episode series is a British co-production and will air in the UK on BBC Two.
++++++++++++++++++++++++++++++++++++++++++++++
5 Things You Didn't Know About the New Miss USA

Alyssa Campanella
Current Miss USA 2011 winner and New Jersey Native,
Alyssa Campanella
is not your typical Jersey Shore type. Here are the 5 things you didn't know about Miss USA 2011.
5.
She has been modeling since she was 16, she was the face of Wet N Wild cosmetics in 2009 and has modeled for numerous brands including Nordstroms, Tillys, and Macys. She has even modeled for the covers of various romance and thriller novels. When she's not winning USA pageants you can catch her in your local grocery store romance novel aisle.
4.
She volunteers. She has worked with UNICEF for several years, in 2005 she raised over $2200 for the victims of Hurricane Katrina. In 2007 she was named an honorary UNICEF ambassador.
3.
She is dating semi-famous actor
Torrance Coombs
, most known for his role on Showtime's "The Tudors." I guess he cried when she was crowned Miss USA because he tweeted, "I am a puddle." In her promo video for the Miss USA competition she said she actually met him on twitter. Love at first hashtag? Whatever.
2.
She tweets. That was a given, who doesn't? Most of her tweets are about the hockey team, the Vancouver Canucks. Literally, 1/3 of her tweets are devoted to hockey. The other 2/3 are tweeting about needing Starbucks and going to photoshoots.
1.
She claims she loves to cook and bake and would love to meet Cake Boss's Buddy Valastro, "I love to make cakes, and he's Italian and he acts like I do in the kitchen, so I think we would mesh well."
* With all due respect (you use that term when you're going to say something nasty about someone) to both Alyssa and her 'boyfriend', I know for sure it's an open relationship. Alyssa is more of an exhibitionist than a sexual person so expect to see her posing or getting nude in movies in near future.
++++++++++++++++++++++++++++++++++++++++++++++



Maggie Grace

on the Late Late Show with Craig Ferguson


Maggie Grace appeared last night on The Late Late Show with Craig Ferguson
Maggie looked fabulous! The interview was very funny and interesting! She gave him a wonderful French lesson!
++++++++++++++++++++++++++++++++++++++++++++++
The nudity I think scares the nation as a whole because we are taught that nudity is a bad thing. But what I really learned was that when it was packaged the way I was, with no high heeled shoes or long hair or spinning around a pole or popping it, people have a hard time processing it when its not packaged for the consumption of male entertainment. They don't know what to do with it or how to place it or what to say because surely a woman can't be intelligent enough to be making a point. It has to be for publicity or for sale.
- Erykah Badu.
++++++++++++++++++++++++++++++++++++++++++++++
Secret Shoot Gets Underway for German Sex Shocker 'Wetlands' (Exclusive)
The controversial drama, based on a raunchy bestseller, has begun filming in Berlin under a code-name.
BERLIN –
Wetlands
, the German film based on the raunchy bestseller by former German MTV VJ
Charlotte Roche
, has begun shooting, secretly, in Berlin, under a code name and with everyone involved signed to strict, non-disclosure agreements.
David Wnendt
, whose hard-hitting debut
Combat Girls
won the best screenplay honor at the German Film Awards last year, is directing the adaptation, which focuses on the life of a sexually promiscuous young woman and her obsession with all aspects of the human body.
The film is one of Germany's hottest cinema properties. The book was a massive bestseller and became an instant talkshow and tabloid topic.
But the film version has been shrouded in secrecy – Rommel Film, who acquired the rights, have given the film the coded title
Memelland
, apparently to confound reporters and keep the production under wraps.
THR
has learned Wnendt is also shooting some scenes from the film gonzo-style throughout Berlin. All personnel involved in the film have had to sign non-disclosure-agreements -- a rarity for a German film.
A representative from Rommel Film refused to confirm or deny the NDA-requirement but did acknowledge the company was purposely not releasing any details about the film, preferring to finish it first and announce it "in due time."
So far, the obfuscation seems to have worked. Despite the film's high profile in Germany, no news of the shoot has slipped out into the press so far. Rommel has also succeeded in keep the cast a secret – only actor
Axel Milberg
(
Hannah Arendt
) has been reliably linked to the project.
Memelland
is set to film through mid-November in and around Berlin. It's release – as
Wetlands
– is planned for 2013.
++++++++++++++++++++++++++++++++++++++++++++++
Kalpana Pandit's Sizzling Photoshoot
In this Bollywood Hungama special feature, we bring to you sizzling images of Kalpana Pandit, who plays the leading role in the upcoming film 'Janleva 555'. Must watch!
++++++++++++++++++++++++++++++++++++++++++++++
Think YOU are being overstretched in the office? Female contortionist brings new meaning to the term flexible working in incredible calendar shoot
Blonde contortionist Julia Gunthel really means business.
The bendy bombshell has released a calendar for 2013 featuring herself in a variety of incredible positions around an office set.
Rubbery Russian Gunthel, who now lives in Germany and goes by the name of Zlata when performing, is pictured typing, answering the phone and making coffee all while bending her body in to unbelievable shapes.
++++++++++++++++++++++++++++++++++++++++++++++
Despite Directorial Success, It's Not Easy Getting a Movie Made Let Alone Greenlit. You never get a free pass
By:
Brad Brevet
I recently posted
an article
talking about the budgets for films including
Cloud Atlas
,
The Master
,
The Hobbit
trilogy and
Mad Max: Fury Road
.
While it cost around $100 million to make, Warner Bros. only paid around $20 million for North American rights to distribute
Cloud Atlas
.
The Master
cost Megan Ellison's Annapurna around $35 million and
The Hobbit
trilogy is said to bump up against $1 billion, though Warner Bros. disputes that claim. Different kinds of movies, different budgets all for different reasons, be it anticipated Oscar success, lunchboxes, DVD sales, etc.
All three of those movies, however, didn't receive the green light immediately and it got me thinking a little more about the difficulty of getting a film made recently after listening to a 1975 audio interview with director
John Schlesinger
on
Criterion's Sunday Bloody Sunday Blu-ray
as well as a small portion from
Lana Wachowski
's recent
HRC Visibility Award speech
.
In Schlesinger's audio interview he's discussing getting funding for a film and making sure the picture he wants on screen ends up on screen, particularly when it comes to the idea of audience testing:
"I hate the system of everybody going out to [test screenings] with studio executives to preview a film. In fact, I have it written into my contract that I don't have to and don't have to abide by it. I've never done it. I distrust it, because I think panic very easily and quickly sets in. You finally have to be the arbiter along with people that you trust."
Schlesinger won out, as he should in my opinion as news of audience testing and changes being made as a result without the filmmaker wanting such input makes my skin crawl. However, such demands aren't exactly something most filmmakers can make.
In Lana's speech, she mentioned her and her brother's demands for no press following
The Matrix
if they were to make
The Matrix Reloaded
and
Revolutions
. She says:
We told Warner Bros. that neither one of us wanted to do press anymore. They told us, "No. Absolutely not. This is non-negotiable. Directors are essential to selling and marketing a movie." We said, "OK, we get it. So if it's a choice between making movies or not doing press, we decided we're not going to not make movies." They said, "Hang on. Maybe there's a little room for negotiation."
Schlesinger's career allowed him to make his demands and the success of
The Matrix
and the craving for box-office guaranteed the Wachowskis they would get their's. But after the successful career Schlesinger had he still found it difficult to get his films made and while the Wachowskis were given $120 million to make
Speed Racer
after
The Matrix
trilogy -- a gamble that didn't pay off for Warner Bros. -- when it came to
Cloud Atlas
, WB turned the film down when it was originally budgeted at $170 million and only came back after it was made for $100m and paid $20 million for North American distribution rights.
Cloud Atlas
is a gamble from an overall budgetary level, but by putting up only so much, Warner Bros. isn't taking too much of a risk and hoping their investment pays off, especially after getting what would appear to be a $150 million discount.
What we're looking at here, however, is the difficulty in getting a film made no matter who you are or what you've done, and even if a studio does decide to back you, you still aren't able to avoid the overlords.
I have a view -- I hate to use the word "vision" -- but I do have a vision. I know exactly what I want. That's why this -- everyone is going, "What the fuck's on the table? Fucking hologram?" And I think eventually you have to say, honestly, "Shut the fuck up." You can bleep me if you like.
Part of the job as a director is you've got to just stand your ground and say: "This is what I want. Fuck off." And that's it. Then now they're going, "Oh, that's great." But that's part of the job.
What I noticed is it doesn't matter how experienced you get -- I've got more films in this goddamned building and three in, I think, the Library of Congress -- people still go, "What are you doing that for?" It gets really annoying. You'd think I'd have earned the right now to do-- You know, have something. But you don't. I think that's what's interesting about the business. You're in a constant state of somebody saying, "Why are you doing that?" And usually they're really inexperienced or just fundamentally stupid. And you say, "I'm doing it because."
While writing
my review
of Schlesinger's
Sunday Bloody Sunday
, I went looking for old interviews with the director and came across the one below from some time around 1985, before
The Falcon and the Snowman
was being released, and to listen to him talk about trying to get a film made almost 30 years ago shows not a whole lot has changed when it comes to adult dramas nowadays.
Some may look at the money Ellison is spending on the independent films she's financing as too much, and they are probably right, but at least someone is forwarding the idea of getting something in theaters other than superhero movies and brainless rom-coms.
++++++++++++++++++++++++++++++++++++++++++++++
Sasha Grey

: Music is just like the porn industry
Sasha Grey has starred in 270 adult films. Now she is fronting the experimental electronic band aTelecine. But, she says, these two worlds are not so different after all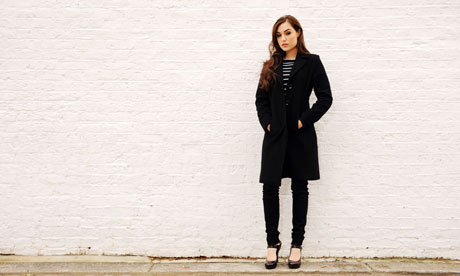 Grey has retired from the adult film industry and now fronths the band aTelecine.
Porn stars have generally left music feeling a bit dirty and used. Most often, as in the case of
Andrea True
or
Traci Lords
, they are reduced to pouting ciphers on dance tracks, while the less said about Pop You in the Pooper by Jeff Stryker, the better. But Sasha Grey, who appeared in 270 porn films between 2006 and 2011, crafts richly textured, psychologically probing music with her band
aTelecine
, full of mysterious landscapes and half-memories.
The band played their first ever live show at the
recent Unsound festival
in Poland, where Grey and Ian Cinnamon set up an eerie sound world accompanied by visuals of a forest turning darkly psychedelic. Like a lot of their music, it oscillated between powerfully affecting and maddeningly undercooked, perhaps a result of their improvisatory approach, using anything from "analogue synths or digital plug-ins to a tin can and a microphone", according to Cinnamon.
"We've never had a process," adds Grey. "We never looked at ourselves as a traditional band; we record when we can. One night it might be standing in front of a mic with no lights on, in a hallway, and someone just says Falcon. Quick, sing!'"
These techniques led first to them making tape loops, then traversing through musique concrète, noise and found sounds towards something approaching traditional songs. "We're figuring out how to make melody work and be comfortable with it, rather than intimidated by it," says Grey.
"The challenge is interesting because at the nucleus of this group are all kinds of different influences," adds Cinnamon. "You like ambient music, I like death metal, you like RB – put that together in a pot. If you're not down with
James Brown
and
Lustmord
, then you're not a fan of music."
aTelecine's live setup featured an almost motionless Grey and Cinnamon behind laptops, but they had previously considered a far more provocative idea. "There were moments of flirtation with how to combine [porn and music] – do a live aspect," remembers Grey. "Performance art pieces, because that's how I approached every scene I did. Obviously that's not always translated to people watching it in five-second clips. So it would have been a way to really grab the focus of the audience. But ultimately we felt it would have been cheaper if we'd approached it that way, because it would have been expected."
Grey has traded in the unexpected during most of her career. Her scenes feature eye-watering self-penned dialogue, a way of asserting herself when directors would try to mould her into generic porn archetypes, such as slutty schoolgirls or babysitters. "People can dress you the way they want, they can do your makeup the way they want, but they can never take away your voice," she says. "There were times I had to fight against it – people wanted me to shut up, and just put a pretty smile on, and I'm not going to do that. I would literally come planned with ideas of things to say. It's a hyper me though – I'm not that loud and obnoxious all the time. I don't write dialogue when I'm in my own intimate situations."
Grey has now left porn behind, saying she wanted to quit in her prime, though she admits that her timing was good in
an industry under siege to piracy and falling budgets
: "It's just like the music industry – it's fucked now, no pun intended. It's the wild west." At the same time, "it's become an American dream – for a lot of girls, it's their day job, or night job, to pay their bills and get to college."
Her career somewhat mirrors that of one of her heroes,
Cosey Fanni Tutti
of the band
Throbbing Gristle
, who also took part in porn. The pair have recently collaborated, with Grey providing vocals for the forthcoming, final
Throbbing Gristle
album,
a reinterpretation of the Nico album Desertshore
. "Their ideology as individuals has always been very inspiring, and I wish as a 13-year-old I had known who they were," Grey says. "To feel proud as an individual, not feeling guilty about yourself or your tastes because of societal norms – that's not something we're encouraged to do."
Like Cosey Fanni Tutti
, Grey is making no feminist statement, saying: "It's such a diluted term; I'm more interested in the idea of self-empowerment, and sex-positivity."
But doesn't the very nature of porn undermine sex-positivity, with its cartoonish angles and male bias?
"When we sit down to watch
pornography
, we know it's a fantasy and we know it's something that we're using as escapism," she asserts, before admitting: "We do have a distorted view of our fantasies in society, but that's because we don't talk about them enough. Whereas men maybe try to have sex with their girlfriends or wives like they saw a guy having sex with a girl in a porno movie, women also expect to get a fat diamond ring and a guy who doesn't cheat on them. We're taught to expect things that are just not possible. It's not an exclusive problem to pornography, it's a problem for human relations."
Her exploration of human relations goes on with her music, her non-porn acting roles as well as her debut novel The Juliette Society, which she promises will be about "the Fight Club of fucking; a young woman's sexual awakening. I'm sharing what I learned, and doing lots of research. Lots and lots of research."
• The Falcon and The Pod by aTelecine is out now on Pendu Sound Recordings. Desertshore / The Final Report by Throbbing Gristle is released 26 November on Industrial Records
++++++++++++++++++++++++++++++++++++++++++++++