Femme Fatales
October 26th, 2012
The new
Numero
is just chock full of eroticism – though with a headline like 'fatale' emblazoned across the issue's frontpage, we'd expect nothing less. The now infamous cover
Sigrid Agren
that left us speechless; shot by
Katja Rahlwes
(New York:
Management + Artists
, Paris:
Management + Artists
) and featuring Sigrid like we've never seen her before, the arresting image certainly makes a statement!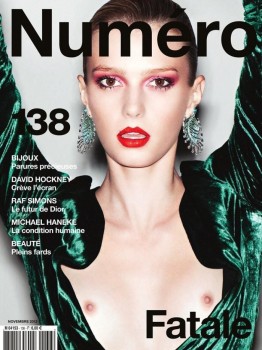 An equally revealing shoot by
Greg Kadel
starring
Keke Lindgard,
puts a sexy spin on the seasons key pieces, by literally stripping away the fluff and leaving behind only statement outwear and haute accessories. With Keke looking better than ever, and Kadel's saturated colors adding interest, the story hits all the right notes.
Katja Rahlwes
(Photographer) |
Franck Benhamou
(Fashion Editor/Stylist) |
Sigrid Agren
(Model) |
Seb Bascle
(Hair Stylist) |
Georgina Graham
(Makeup Artist) |
Cristina Conrad
(Manicurist)
+++++++++++++++++++++++++++++++++++++++++++++
Thesp

Ashley Hinshaw

lands role in 'Deserted Cities
In "Deserted Cities," Hinshaw joins Gael Garcia Bernal, who is set to star with Roberto Sneider helming the pic for La Banda Films.

Pic is an adaptation of the Jose Agustin novel, and follows a female Mexican writer fleeing her home to attend an international workshop in the U.S. leaving her husband behind in Mexico. Hinshaw plays a women who works at the writer's workshop where the main character also works.

Hinshaw, repped by ICM Partners and Liebman Entertainment, just wrapped shooting on the biopic "Snake and Mongoose."
* Ashley is certainly hitting her stride and 2013 could well be a defining year for the babe. She is a rarity in showbiz in that she could be nude in one movie and also appear on a family show as her next gig. She had that seamless quality to work any genres just like Anne Hathaway. But at the moment Ashley wants to concentrate on building a proper career in the indie arena hence snaring a role in a Mexican flick Deserted Cities @ Ciudades Desiertas. Ashley should play Becky if I got it right. A tour guide at the workshop...if the initial Variety synopsis is accurate. Hinshaw is also a perfect fit to portray Irene - writer from Oregon. She hooks up with Gael Garcia Bernal's Eligio after his wife dumps him. Love scenes should revolves around protagonists Susana and Eligio. But Sneider who helmed Arráncame la vida could be in mood for some cross-border copulation if Ashley ends up playing Irene.
+++++++++++++++++++++++++++++++++++++++++++++
House at the End of the Street with Jennifer Lawrence Blu-ray is

Unrated
The news comes via a listing at Amazon.com (tipped by Josh) that also reveals the cover art and offers an early pre-order option. I don't have a release date to share yet but hope to within the next few weeks once an official studio announcement is made.
House at the End of the Street
was made on a relatively modest budget of $10 million and managed to triple that in box office business with $30.9 million in North American ticket sales. The emergence of Jennifer Lawrence as a big star care of
The Hunger Games
should help propel home video rental and sales beyone the usual genre crowd.
Click here to pre-order
House at the End of the Street
on Blu-ray and DVD combo for $27.99 at Amazon.com, 30 percent off the $39.99 list price.
Browse all
Amazon.com Blu-ray pre-orders
* Unless Jenn signed away her rights to portrayed her role differently from what was agreed upon, I don't see expect any nudity from Jenn in the 'extended' version. I could be wrong. She made this crappy effort way before her recent success.
+++++++++++++++++++++++++++++++++++++++++++++
Poster and stills for raunchy rom-com My P.S. Partner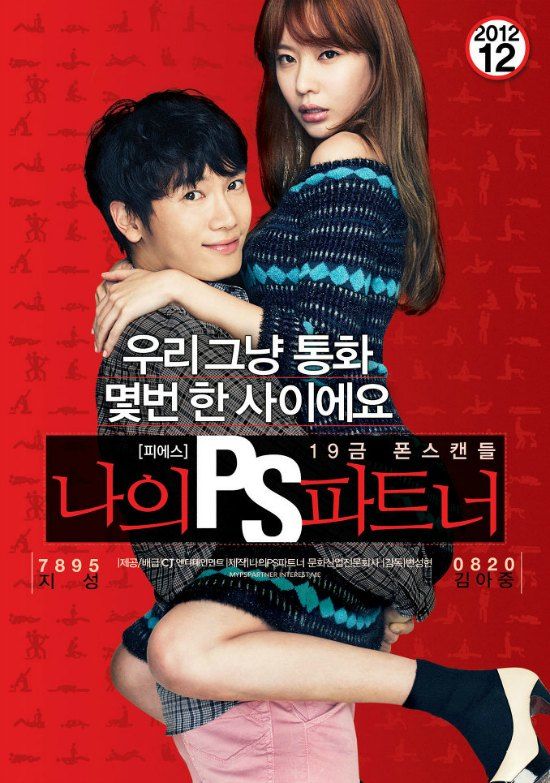 Rawr. Well I'm in. Where's the ticket line? The first poster is out for the new romantic comedy movie starring
Ji Sung
and
Kim Ah-joong
, called
My P.S. Partner AKA My Phone Sex Partner
, and it looks like a fun and sexy romp. The P.S. stands for phone sex (because that happens to be how they awkwardly meet), but this poster tells me they probably graduate past the phone part of their relationship without a whole lot of trouble.
The film will be helmed by PD Byung Sun-hyung (
Youth Groove
), and it stars Ji Sung as a guy still pining endlessly after his ex-girlfriend. To make matters worse, he hears that she's got a handsome new man in her life, and basically becomes a big sleepless, lonely mess. One sleepless night, he gets a strange phone call…
Kim Ah-joong stars as a woman who's been waiting for her boyfriend to propose for five years. She decides to do something drastic to get his attention, and so she screws up the nerve to try phone sex for the first time. She calls and launches straight into it without introduction, to surprise him. Only… it's not her boyfriend who's on the other end of the line. Hee.
Well that's just the most embarrassing meet-cute ever. The movie's plot description sums it up thusly: "With one wrong phone call, a man and a woman's lives get completely entangled." But my favorite is the copy on the poster about the status of their relationship: "We've only spoken on the phone a couple of times." Suuuure. It sounds so innocent when you say it like that.
My P.S. Partner
will hit theaters in December.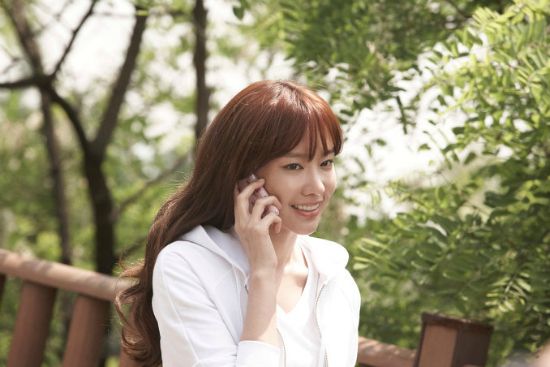 +++++++++++++++++++++++++++++++++++++++++++++
21-years old Kazakhstan model Alyona Subbotina : Treats! mag (October 2012)
Alyona has an awkward beauty that is completely endearing, as well as somehow elegant and totally editorial.
+++++++++++++++++++++++++++++++++++++++++++++
24-years old American model Sarah Varacalli : Factice mag (2012)
Sarah Varacalli, one of Berlin's most sought-after petite models, has been featured in publications from Vogue Germany to FHM. She is also an artist.
+++++++++++++++++++++++++++++++++++++++++++++
Catwalk queen Kate Moss looks back on her life and work in new book
KATE MOSS reveals her body insecurities and denies ever taking heroin or being anorexic in Kate: The Kate Moss Book.
SHE'S an icon of the fashion world and has been a catwalk queen for 20 years. So it's reassuring to know Kate Moss was once as self-conscious about her body as most other women.
Kate, now 38, was a teenager when she began life as a model – and admits she WEPT when she saw herself topless. She said: "I hated my boobs more than anything as a teenager. I'd do anything not to take my top off. "I see nudity as empowering now. Before, I didn't. I cried for years!"
The superstar makes her candid confession in her new book, Kate: The Kate Moss Book, which looks back on her life and work.
Kate tells how she still lived at home in Croydon when she started modelling, and would shock her mum by going out at midnight in a mini-skirt, T-shirt and Vivienne Westwood "prostitute shoes" to party with friends in London – when she was only 15.
In clubs, she remembers rubbing shoulders with the likes of Boy George, Kylie Minogue and John Galliano.
Then, as an aspiring model at 16, 5ft 6in Kate appeared on the cover of hip magazine The Face with a photoshoot titled The 3rd Summer of Love.
Her work increased, she landed a Calvin Klein deal, and she was soon doing up to eight catwalk shows a day.
Fast-forward to 2012, and, after amassing a reported £48million fortune, Kate now looks at her skin and body differently.
She says: "Well, I am never going to be 18 again, when I could do shoots with no make-up. But it's not as though I don't want to have wrinkles, because I think it's important to have your own face that you live in.
"There are always new ways of looking through new eyes. I still don't feel I'm done – I'm not finished yet."
The new book, created by Kate herself, is described as a highly personal photographic retrospective of her career, tracing her evolution from "new girl with potential" to global star.
She dedicates it To Jamie – Jamie Hince of rock band The Kills, who she married in July last year.
At the time, she told Vogue she was inspired by the hit TV show Big Fat Gypsy Weddings.
"I am so romantic about gypsies," Kate explained. "They're not allowed to do anything until they get married. So they all get married really young, at 16.
"You can't believe the dresses. They're like blinging butterflies times 10. They can't move down the aisle! It's so genius.
"I was watching Jamie, so cute, and I was, like, these girls, they just spend their whole life waiting for that day – let's do it!"
Kate and Jamie's marriage was 1920s Great Gatsby-themed, and, in true Moss style, they enjoyed a whole weekend of partying.
Friends are convinced she chose her husband wisely. Photographer Mario Testino, a close pal, says of Jamie: "I've met all the guys throughout the years but he is the most real. He has a great sense of humour."
Kate has a reputation for loving her music. She famously dated bad-boy musician Pete Doherty and counts Keith Richards and Primal Scream's Bobby Gillespie among her pals.
Asked if she would like to be in a band herself, she says: "I'd have loved to get on a bus with all my mates and go from gig to gig. So, in my next life, probably!
But she hasn't always been keen on life on the road. She talks of feeling lonely in airports, circling the globe for work in the 90s. And she remembers allegations about her private life – and diet – that could have damaged or upset her.
In 1993, Kate was at the forefront of a new look dubbed "heroin chic" that was criticised by US president Bill Clinton and led to hurtful claims she was anorexic. But looking back, she says: "If I was anorexic or if I was on heroin, maybe I would have been a bit more, 'Oh dear!'.
"But I wasn't any of those things they were painting me to be.
"It didn't have anything to do with who I was at all, so I never really thought about it. I just thought, the people who know me know the truth."
Kate was helped through that difficult time by another of her ex-loves, Johnny Depp – and she's still grateful.
She says: "I was lucky to be with Johnny at that stage. He taught me a lot about fame. He told me 'never complain, never explain'.
"That's why I don't use Twitter and things like that. I don't want people to know what is true all the time and that's what keeps the mystery."
Johnny wasn't so sure he helped. He said in 2007: "I was not good for Kate. But she's strong and very smart. She's got a great brain on her and she's a good mummy."
It's no surprise Kate's new book also features revealing anecdotes involving famous pals.
She remembers sitting for artist Lucien Freud – and how she got him to draw a flock of birds on her body. She jokes that, if times ever get tough, she can have a "skin graft" and sell the tattoo.
The story illustrates an amazing life. As Kate writes in the introduction to her book: "I remember my mum telling me you can't have fun all the time, and I still hold my answer true today. I told her 'But, why not?"
Kate: The Kate Moss Book, is published by Rizzoli with eight different covers, all chosen by Kate herself. The hardback costs £50.
+++++++++++++++++++++++++++++++++++++++++++++
20-years old Argentine model Sofia Fanego : Factice (2012)
+++++++++++++++++++++++++++++++++++++++++++++
The naked truth
Published on October 27, 2012
Pam Frampton
Celebrities seem increasingly eager to shock and titillate
"Doesn't everyone hang out — literally — with their friends topless and have a controversial fashion photographer take snaps and then years later have the photos posted on their fan website?"
— From an Oct. 4 Hollywood Reporter story about Lady Gaga posing topless with (fully clothed) fashionista Donatella Versace
There's been nudity in cinema at least since moving picture pioneer Eadweard Muybridge showed naked human figures in his mid-1880s primitive motion studies. So it's not like it's anything new.

But lately, performing in the buff — or partially clothed — has become so ubiquitous that it is losing its shock value.

Singer Rihanna seems to be perpetually scantily clad. Last year she shocked a farmer in Northern Ireland by cavorting topless through his field during a video shoot.
For Lady Gaga, there's no such thing as a "wardrobe malfunction" — particularly when there's no wardrobe involved, as in her recent nude photo in Vanity Fair, where she posed as an artist's model for Tony Bennett.

Vanity Fair — which, I realize doesn't fall into the video/motion picture category — is increasingly using celebrity nudity and provocatively posed models in advertisements to sell magazines.

Actress Jada Pinkett Smith bares all in a bleak, Salma Hayek-directed music video about the perils of human trafficking. I'm not offended by artful nudity, and it's effective in this video in that it conveys a sense of vulnerability, but when she starts writhing around in sexually suggestive ways, you start to wonder if the point is titillation and not education.

Kristen Stewart's risqué role in the new movie "On the Road" includes scenes in which she is bare-chested and others where she is nude.

Writing about the film, Huff Post Entertainment Canada blogger Michael Hogan notes: "The toplessness itself is an extremely courageous choice for someone as famous as Stewart."

Since when did going topless exemplify courage?

In these days of celebrities flashing more and more skin, wearing a turtleneck would be a braver thing to do.

Or, at least, it would be nonconformist.

Ramping it up
Increasingly, it seems that performers are pushing the boundaries.

Even celebrity websites like StarPulse point out that "There's a thin line between classy and trashy."

In an article on that site in June 2009, Erin Demchak wrote, "Hollywood royalty used to use body doubles for filming sex scenes in their films; the thought of them baring it all was almost a joke. But as sex and nudity have taken a more artsy approach on screen, celebrities are jumping at the chance to take their careers to a more risqué level."

For Nicole Kidman, that meant urinating on actor Zac Efron during a scene in "The Paperboy" — ostensibly to combat a jellyfish sting his character receives.

According to the website DailyActor, Kidman explained to The New York Times why she was willing to pee on camera.


"I wanted something raw, and I wanted to work with a director who was going to access something different in me," Kidman said.

I fail to see why an Academy Award winning actress has to resort to a role where she has to urinate on cue.



Full frontal


And it's not just women, of course. Many men have had risqué and raunchy parts and have acted in the buff.

Most recently, Leonardo DiCaprio has said he plans to go "the full Monty" in Martin Scorsese's new film "The Wolf of Wall Street."

Actor Shia LaBeouf goes full-frontal along with actress Deena Thomsen in a music video for the Icelandic band Sigur Rós.

Now, I'm not a prude, but part of me yearns for a more innocent time at the movies — a time when the camera would cut away before the sex started, instead of zooming in; a time when catching a glimpse of Donald Sutherland's derrière in "Animal House" could make you blush.

Nudity has its place in film and in other forms of art, but these days it's de rigueur. And frankly, that's a shame. Not every film made for adults needs explicit sex scenes or gratuitous nudity.

Recently, Shia LaBeouf revealed that he sent sex tapes of him and his girlfriend to well-known avant-garde director Lars von Trier as a means of lobbying for a part in von Trier's new film "Nymphomaniac." (How tiresome — everyone, it seems, has sex tapes these days.)

And not only that, but LaBeouf said he'd be willing to have real sex on camera instead of simulating it.

In speaking of von Trier to The Hollywood Reporter last month, LaBeouf said, "He's a genius. He's a visionary. We have maybe, what, 10 of those on the planet? I'll do anything he tells me. I came here ready to do anything."

You have to wonder — are stars simply willing to sacrifice everything in a sincere desire to improve their craft? Are they so desperate for a role that they are willing to sell themselves at any price? Or is everyone so stimulated by multimedia and social media these days that it takes a lot to shock us and grab our attention now?

But you have to ask yourself, what's the next level? What happens when explicit sex scenes are no longer enough?

It seems the line between mainstream film and pornography is becoming blurred.

And that makes me long for the kinder, gentler days, when private parts were private, intrigue and imagination were encouraged, and dignity was still considered a thing of value.

Pam Frampton is a columnist and The Telegram's associate managing editor.
+++++++++++++++++++++++++++++++++++++++++++++
Danielle Day
by David Leslie Anthony for Factice Magazine (2011)
It's was Danielle's first nude photo-shoot. American models tend to lose their inhibitions in Europe.
+++++++++++++++++++++++++++++++++++++++++++++
23-years old American model Sessilee Lopez : Mark Seliger Exclusively for Treats! Issue 4
+++++++++++++++++++++++++++++++++++++++++++++
Abi Fox, Jennifer Becker (potentially tat herself out of job), Lada Kravchenre, Nadejda Nepomnyashaya, Nianga Niana : "WATER GIRLS" BY HERRING

and

HERRING FOR TREATS! ISSUE #4
+++++++++++++++++++++++++++++++++++++++++++++
New Copyright Exemptions Put Strain On Filmmakers and Consumers
This week the U.S. Copyright Office met again to decide on exemptions to the Digital Millennium Copyright Act (DMCA), resulting in a renewal of the exemption (first secured in 2010) that grants filmmakers the right to rip content from DVDs and streaming videos for the purpose of "fair use" incorporation in their work.

However, the decision does not allow an exemption for Blu-Ray, leading filmmakers to question the possible limitations in terms of copyrighted material going forward.


"We are pleased with this decision to extend the DMCA exemption for DVD and streaming video, which is necessary for documentary filmmakers to practice their fair use rights," said Kartemquin's executive director Gordon Quinn. "But we are disappointed that the copyright office decision doesn't also cover Blu-Ray. In this rapidly changing technical environment we will have to assess over the next three years how this may impact our ability to effectively make documentaries."
Isabella Rossellini in "Blue Velvet"
While the office granted use of ripping DVDs to filmmakers, their exclusion of Blu-Ray is troubling because of the rise in Blu-Ray formatting. Blu-Ray is widely considered to be the format of the future.


Also, the Copyright Office ruled that it is still illegal for consumers to transfer their own movie collections to a digital format, putting a heavy limitation on cinephiles worldwide, especially those trying to watch "Blue Velvet" on their iPad. However, in a surprising ruling the Copyright Office ruled that jailbreaking an iPhone is fully legal, much to Apple's chagrin, which is definitely a triumph for consumers seeking a break from corporate restrictions.


The Copyright Office meets every three years to adjust the exemptions, so filmmakers will have to wait before they can present new arguments. [Source:
Kartemquin Films]
+++++++++++++++++++++++++++++++++++++++++++++
FRACTIONS
Pieces of time captured throughout the last year by Matt Kleiner
Surfing: John John Florence, Chippa Wilson, Jordy Smith, Asher Pacey, Josh Kerr
Models: Kerstin John, Terese Amgren, Chyna Powers, Carmen Santo
Music: Godspeed You! Black Emperor
for more work visit MattKleiner.com
+++++++++++++++++++++++++++++++++++++++++++++
The Flowers of War actress Ni Ni involved in nude photo scandal
A series of hot and sexy photos of actress Ni Ni have gone viral on the Internet.
The foxy looks and inviting poses are a contrast to the innocent image Ni has presented in front of the public.
The 24-year-old's manager claimed the person in the photos is not Ni, but someone who looks like her.
+++++++++++++++++++++++++++++++++++++++++++++
A pornographer's guide to feminism, from Carole Pope to Anna Kendrick
Strong women might still freak out people in certain parts of the world, but not Dave Bidini, at least, not since he first saw Carole Pope performing High School Confidential and touching herself in the middle of her pants.
Johnny Bryzgo's dad used to have these
Playboy
s. Huge stacks of them hidden at the bottom of a downstairs closet. On Saturday afternoons, Johnny's folks would take their gold Cutlass into the city, which meant that his house was empty for a few hours.
We would raid the closet, spreading the magazine's centrefolds across the carpet. The photos revealed a dizzying Eden of flesh: one woman with long legs and jiggling boobs and a Dorothy Hamill haircut riding horseback; another wearing glasses and sitting topless at a desk with a pencil behind her ear; and another who wore dark lipstick and leather boots while sitting on top of a man wearing jeans and a lumberjack shirt lying face-first into the pillow. The last photo fascinated me the most, not for what it implied sexually, but for what it said about the girl. Of all the models in all the magazines stacked in Johnny's dad's closet, she was the only one not staring moonishly or tittering in the presence of the camera. Did people like this exist in the world?
There were very few other examples of this kind of role reversal in my young teenage world. After all, my teachers were sweet and kind. So, also, were Helen Reddy and ABBA and especially that woman who sang
The Night Chicago Died
. I started to wonder if the photo had been some kind of mistake. Maybe it was turned the wrong way or flipped over. The next couple of times at Johnny's house, I stared at it until the mean kid on the street, Jimmy Walters, said: "Why don't you rip it out and tape it to your bedroom wall, loser?" Johnny shouted, "You ain't ripping nothing out! My dad will find out!" Jimmy said he was kidding. "Loser stares at it any longer, his loser eyes are gonna fall out," he added.
It wasn't until a few years later while watching television late at night that I felt the same way as I had staring at the picture. It was a live TV concert by a band called Rough Trade, who didn't sound anything like ABBA. The band was striking to me because they looked like nothing else I'd seen before: dressed in sort of space-age formal wear that reminded me of David Bowie, who sometimes dressed like a girl even though he was a man. The singer for Rough Trade, however, wasn't pretending to be a woman. She was a woman, only — get this — she acted like a man. She was shouting and putting her spiked boots on the heads of the guys who stood near the stage. Then she sang a song called
High School Confidential
. I couldn't believe what I was seeing or hearing.
The woman, whose name was Carole Pope, was touching herself. In the middle of her pants. As she did this, she smiled in a cruel, dangerous way, same as the model sitting on the man. Worse, the song was a good song with melodies that stayed with me, so every time I found myself humming along, I remembered this woman touching herself. My reaction wasn't sexual; it was something stronger than that. Carole Pope looked angry. No, she looked glad that she was angry. It was true: People like this existed in the world.
It wasn't long after Rough Trade's concert that punk rock started and then came another leatherette — The Runaways' Joan Jett — who waved her fist around and storked about the stage singing
I Love Rock 'n' Roll
. By Grade 12, I shared the classroom with teenage girls who idolized The Slits and were happy to be angry, too. Some kids like Jimmy Walters fought against all of this, but not me. The angry girls always had better records and comics; better taste in books and movies, too. I always felt more comfortable with the angry girls than guys who tried too hard to be who they weren't.
And then I had a family with kids who grew up, too, only instead of being suspicious of women exhibiting power or control, there was my 12-year-old daughter sitting with her dad in a movie theatre last week watching
Pitch Perfect
, an absurd comedy starring Anna Kendrick as a young musician at college. It's not great by any stretch, but it's a teen movie where women are the villains and heroes who win and lose until, ultimately, they triumph over a bunch of doofus guys who behaved exactly as I would have 20 years ago. It's easy to feel defeated about the complications of progress, but pop culture has vaulted ahead of where kids were in the late '70s. I know because I lived it.
Early this week, I was sitting in a cafe when
High School Confidential
came on the radio. For a moment, I felt the same tingle that something was happening that shouldn't be happening, but it didn't last. The words are still trenchant — "She's a cool, blond scheming bitch/she makes my body twitch" — but instead of triggering confusion or worry, it sounded like just another song about teenage frustration set to a standard tale of lesbian self-determination. Strong women might still freak out certain parts of the world, but what's happening now should be happening. Everybody should be able to sit where they want, on whomever they want, so long as they ask them first. Put another dime in the jukebox, baby.
+++++++++++++++++++++++++++++++++++++++++++++