Amanda Seyfried

's Icy Sex Scene
Amanda Seyfried
used a popsicle when pretending to give Peter Sarsgaard oral sex.
The blonde actress had to film the raunchy scenes with the actor in movie
Lovelace
- a biopic of infamous porn actress Linda Lovelace - and in order to make the sexual acts look convincing, she decided to use the icy treat as a prop.
"We were doing a sex scene where I was supposed to be going down on Peter Sarsgaard. We used a popsicle, and I had my arms covering the popsicle. It was footage that he was going to show the Deep Throat guy, to get her into the movie, to get her cast. I was laughing hysterically throughout. I couldn't stop laughing."
Amanda also says she's become more realistic as her career goes on as she knows Hollywood is a tough place to work in. Speaking about her first big movie,
Mean Girls
, she told
Vanity Fair
, "Back then I thought every movie that was made found an audience and things were all stars and butterflies, before I developed a relationship with this world."
+++++++++++++++++++++++++++++++++++++++++++++++
The lame mini-series World Without End was aired Austrian TV on with nude scenes intact unlike Canadian/US broadcast which mostly censored the nudity/nips out.
I'm now certain there will be nudity from

Katie McGrath

in Labyrinth. Just heard the reason why the producers screened the last 20-30 mins at 2012 France Comic-Con Festival. The first 30-mins is bit of a bore as characters are explicated and they wanted to show the action parts instead. But Katie dominates the opening scenes because she is practically naked in bed with her lover. Yep. You heard it here first. Nude. Tandem and Scott Free ain't holding back on the sex/nude scenes at least in first couple of episodes.
The bad news is we may have to wait for Austrian/German premiere to get a view of Katie's tits. It seems SyFy will be airing the series in US.
(repost) from Tandem Communications: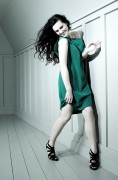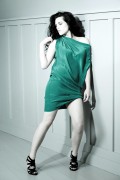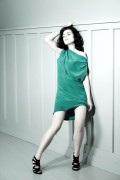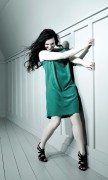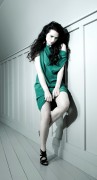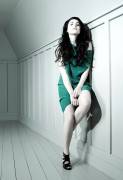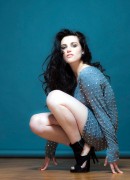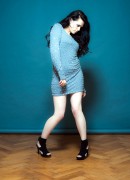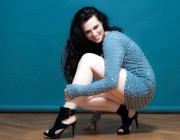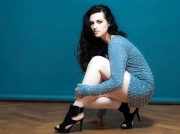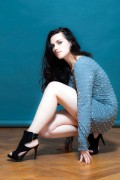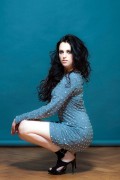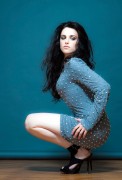 The director(?) teases Katie claiming the clip shown was the only one where she wasn't prominent. His double entendre of "she is in loads. Every other scene" (describing the first episode) is pretty obvious.
Katie blushes talking about sex in the movie
+++++++++++++++++++++++++++++++++++++++++++++++
Kate Upton

: Seductive [Vogue Italia November 2012]
+++++++++++++++++++++++++++++++++++++++++++++++
New Films Sets Release Date for 'Flying Lessons,' Starring

Maggie Grace
The home-coming drama, directed by Derek Magyar, is currently available on VOD.
New Films Cinema will release
Flying Lessons
, starring
Maggie Grace
, in select theaters Dec. 7. The film, directed by
Derek Magyar
and written by
Thomas Kuehl
, is currently being offered on cable, satellite and online VOD, where it made its U.S. domestic debut Nov.1.
In the film, which also stars
Christine Lahti
,
Cary Elwes
,
Jonathan Tucker
and
Hal Holbrook
, Grace plays a troubled young woman who returns to her home town.
Magyar produced the film with
Jenny Hinkey
. New Films
International's Nesim Hason
served as executive producer, and New Films'
Keith Birkfeld
is currently handling international sales.
Accompanying article :
'Awkward's' Nikki DeLoach takes 'Flying Lessons' to the big screen
* They're cashing on Maggie's recent box-office success. Her first nude scene?
You're also guest-starring in the new season of Showtime's "Californication" ... and, in a throwback to your "Curb Your Enthusiasm" guest spot, you're playing a drug dealer?
Uh, I don't know how much I'm allowed to say on that.
The role reunites you with Evan Handler, who was a "Lost" guest star, and your fellow "Lost"-ie, Maggie Grace ... was that planned?
No, it was a surprise. When I got the script, and I saw Maggie's name on it … I mean, I hoped I'd get to see Evan again, but to find Maggie Grace on the cast list was absolutely a surprise and definitely something I was looking forward to. It was fun to get to work with her again, for sure.
(The big guy is referring to her nude scenes in regards to the 'surprise' and cheeky enough to admit he was 'looking forward to it'. Even Jorge like the rest of us thought she was super prude. Trust me Jorge, everyone including her mom is surprised she chose Californication but I'm mighty glad Miss America tits will be on full display)
Do your characters on "Californication" have scenes together?
Oh, yes. They definitely interact.
+++++++++++++++++++++++++++++++++++++++++++++++
Guys, check out The Girls of Transporter the series preview focusing on Andrea Osvárt, Delphine Chanéac and
Rachel Skarsten.
More than five editors were required to cut and paste the actioner to make it p

alatable for that particular country or region

. Trust me when I say the Cinemax version going to be super raunchy. Rachel fuck fest with Chris Vance in the first episode will be much longer and by the end of it you'll never imagined Rachel was once against nudity and sex scenes. In fact all the nudes will be on extended mode for Cinemax airing.
+++++++++++++++++++++++++++++++++++++++++++++++
Sunny Behind the Scenes:

Alexandra Daddario

's Dessert Trip
+++++++++++++++++++++++++++++++++++++++++++++++
Dracula 3D's NSFW Spanish trailer is heavy on the cheese
* looks like campy fun with usual T-and-A.
+++++++++++++++++++++++++++++++++++++++++++++++
Alexa Vega

TV scene in bra and panties
+++++++++++++++++++++++++++++++++++++++++++++++
Erotic Drama 'Addicted' Rounds Out Cast
Sharon Leal, Emayatzy Corinealdi
Sharon Leal, Tasha Smith, William Levy, Emayatzy Corinealdi
and
Tyson Beckford
have been cast in Lionsgate's
Addicted
.
The quintet join
Boris Kodjoe
in the erotic drama, an adaptation of a novel by
New York Times
best-selling author
Zane
, which is being directed by
Billie Woodruff
.
The story follows a woman named Leal whose perfectly quaint marriage isn't enough and she soon finds herself satisfying her addiction to sex with other men. Her insatiable desires take her down a dangerous path that she may not survive.
Paul Hall
is producing while
Charisse Nesbit
exec produces. The movie began shooting this week in Atlanta.
Leal starred in the TV's
Hellcats
while her recent credits include
Woman Thou Art Loosed
and
Why Did I Get Married Too?
She is repped by IFA and Brillstein Entertainment.
Smith, repped by APA, Luber Roklin and Stone Meyer, was recently seen in
Jumping the Broom
and
Why Did I Get Married Too?

Levy, repped by WME, starred in several telenovelas and was a contestant on season 14 of
Dancing with the Stars.

Corinealdi is an up-and-comer who was nominated for her starring turn in the dramatic indie
Middle of Nowhere
. He is repped by ICM, Inphenate and Del Shaw.
Beckford, repped by Bethann Entertainment, is a model-actor whose credits range from
Zoolander
to
Britain's Next Top Model.
Synopsis:
"Finding a compassionate woman therapist to help her, Zoe finally summons the courage to tell her torrid story, a tale of guilt and desire as shocking as it is compelling. From the sensitive artist with whom she spends stolen hours on rumpled sheets to the rough and violent man who draws her toward destruction, Zoe is a woman desperately searching for fulfillment — and something darker, deeper, and perhaps deadly. As her life spins out of control and her sexual escapades carry her toward a dangerous choice, Zoe is racing against time to uncover the source of her "fatal attraction" — as chilling secrets tumble forth from the recesses of a woman's mind, and perilous temptations lead toward a climax that can threaten her sanity, her marriage… and her life."
* Sharon Leal will be exactly 41-years old when she finally brings out her puppies for this flick. I'm sure the film-makers aren't dumb enough to turn it into clothed sex nonsense. Time for some sexy ebony love fest.
+++++++++++++++++++++++++++++++++++++++++++++++

Falling with Glory - From the Start (UNCENSORED OFFICIAL VIDEO - HOT SEXY GIRLS)
The hottest music video to ever come out of Windsor Ontario! Falling with Glory's "From the Start" http://www.fallingwithglory.com Featuring some extremely hot models alongside your favorite indie pop/metal band from Canada's southernmost metropolis.
+++++++++++++++++++++++++++++++++++++++++++++++
'Breaking Amish' Gets Kinky
+++++++++++++++++++++++++++++++++++++++++++++++
Q-an

d-

A: Chicago native Nadine Velazquez of 'Flight'
October 31, 2012|Matt Pais, @mattpais | RedEye movie critic
Here's something you may not expect to hear from "Flight" co-star Nadine Velazquez, who's often included on lists with "hottest" or "sexiest" in the title.
"I just didn't want to be a face that you see and make fun of," says Velazquez of her hesitation toward breaking into film. "People like to get critical and they say, 'Oh, she's not pretty enough to be in film.' 'She shouldn't be in film.' 'She can't act.' I didn't want all those things to be said about me with my experiences in film, so for a long time I wouldn't go out for it if I didn't feel like I couldn't handle it."
Clearly the 33-year-old actress, who grew up just outside Oak Park and also appears on FX's comedy "The League," has gotten over that. In "Flight," opening Friday, Velazquez plays Katerina, a flight attendant who provides an emotional anchor for heroic, alcoholic pilot Whip (Denzel Washington)—and opens the film fully naked in a hotel room with her colleague, post-knocking boots.
From her home in L.A., Velazquez talked about telling her parents about the nude scene, wanting to be seen as more than a pretty face and why people shouldn't take issue with Sofia's fondness for Ruxin on "The League."
What's the most memorable reaction you got from family or friends when you told them the first thing they'll see in "Flight" is you and Denzel Washington sans clothing?
I just told my mom. [Laughs.] I told my parents about a month ago.
What did they say?
My mom was horrified for about five seconds. [Laughs.] And my dad in the background was like, "No, you didn't. No, you didn't." I said, "Yes, I did." And then I said, "Just be late. Just be late for the movie."
Why did you wait so long to tell them?
Because I knew they wouldn't have understood. I would have felt guilty doing it had I [told them] when I got the offer. So I just waited until it was done. And I actually went to ADR to see what the movie was like, to see what the feel of it was. When I did that I just knew it was going to be a phenomenal movie. And after I watched it I called them and told them it was an amazing, epic movie and they should not be worried. This is not a salacious scene. There's nothing bad about the scene other than I'm nude. It's a beautiful scene, actually, I think.
What do you mean you would have felt guilty? If you told them in advance and they disapproved?
Yeah, without me really knowing how that scene would have played out. I needed to see it first to have the confidence to tell them. And I think that had I told them beforehand I would have been questioning it myself [and been] maybe too uncomfortable to do a nude scene.
What tips, if any, did Denzel Washington give you?
He was really helpful. He doesn't rehearse so one of the things he said to me was, "Don't rehearse. Life isn't about being rehearsed. It's about the moment. You can plan a scene, but you don't know what's going to happen even in the scene. You don't know if something's going to fall off the dresser that you'll have to react to. 'Cause you have to react to everything. You never know what's going to happen in the moment because you just never know what the next moment is." He does not believe in rehearsing.
What do you think of that?
I love it! I think that it's a place where I would love to get to. I don't know what he does in his private time; I'm sure he goes over it. But I'm sure when he gets to the set, I think he probably learned it to the extent that he needs to know his character and know what he's doing. Every time was completely different. Every moment I felt like he was living. And for me just recently I usually study with a coach, and I have two amazing coaches that I love, but I had two appointments and one of them [was] yesterday with a director and I just decided, "You know what? I've been doing this for a long time. Sometimes the best stuff happens when you're not planning on it, when you're just inspired in the moment." When you're rehearsing you get really inspired in the beginning, but then it becomes repetitious and you lose the magic. How do you get the magic again? The magic happens when you're not pushing it. So I think that this is going to be a new way of me discovering more about who I am as an artist is to have more trust in that moment and to stop worrying about the results.
You've talked about the challenge of picking roles and being proud of the way you look but wanting to emphasize talent over looks. How are you feeling about that now? Your character in "Flight" is a beautiful woman but is also an emotional anchor for the story. Was that an important aspect in taking on the role, that it wasn't just about the physical side?
I think that is correct. It's a very great part for me as an introduction to film. I think you only get a couple of shots with film. And I have been very resistant to breaking into film because I haven't felt ready in my career to have that. I just didn't want to be a face that you see and make fun of. And of course people like to get critical and they say, "Oh, she's not pretty enough to be in film." "She shouldn't be in film." "She can't act." I didn't want all those things to be said about me with my experiences in film, so for a long time I wouldn't go out for it if I didn't feel like I couldn't handle it.
Why did you think people would say those negative things about you?
Because it is said. Because it's the reality. I think with film you only get a couple of shots. It cannot be about your looks. And it cannot be about anything other than what that character is calling for. And there has to be a respect for that character and every moment has to be true and alive because you are in a screen that is larger than life and you have to hold people's attention for a long time. And I feel like in this movie I get to do that with the part that I have. I don't think there is anything in that part that says I'm not in character. I think I'm completely in character. And I want all my experiences in film to be that way. And that takes time. That takes a seasoned actor, that takes confidence to be able to do that because I want to have a film career. And I want to entertain people and I want people to go see films and not say, "Oh, she's just a pretty face." I want them to say, "I like this person and I like the role that she portrays and I believe her." That's important to me. And I've been very judicious about that. Because for many years I haven't felt ready for it.
Why did you feel ready for this? What made you feel this was something you wanted to do at this time?
I'm just an intuitive actress. It was just time. I said it last summer to my agent. I said, "I'm ready to go out for films." I wasn't going out at all. They're like, "OK, great." And I got three films shortly after … I can testify to my own internal radar to know when is the right time for me to do something or when I shouldn't do something.
Have people said you weren't pretty enough for movies? A lot of people would find that surprising.
No, no one's actually said those words. These are conversations in my own head. But I've had people be critical of me on "My Name Is Earl" [because] of the way that I look. Which is fine. But I'm human and you've gotta get to a place where you really are comfortable with yourself if you're going to portray somebody, which has taken time for me. Because I didn't understand why I would be an actress. Although I loved it I wasn't pursuing as a profession until life brought me to Los Angeles and that was the only thing that was going on. I got an agent and a manager right away, but I didn't have the confidence in myself right away to do this. And I struggled a lot with that. I've never been driven to just be a celebrity or just get me on TV. Never ever. What's always driven me is being successful and being good at what I do. So if I didn't feel good at what I was doing I didn't want to do it until I had the confidence to do that.
Read the rest of the interview here
* You can't figure out women especially actresses. I have provided various reasons and opinions why actresses of anti-nudity background tends to suddenly change their mind. And then there are Nadine Velazquez's of acting world. Sneaky attention-seekers as my grandpa used to call them. He managed so many artists through the years (in 70's and early 80's) but the ones who always and I mean always surprises him are the demure safety-first performers. They refused to do any risque scenes, prefers to work in small medium and established themselves within those career parameters for years. And out of the blue comes into the office, tells him she read a script

,

loved it and

feels one of the roles is perfect for her

. He peruses it and startled to find it requires lengthy sex and nude scenes and the character basically a cameo. A call confirms it and the rest is history. The reas

on for the abrupt 180?

She wants to do it now that she is in her thirties and taking risks becomes important when everything starts to sag (body and career) and breaking into movies in a big way requires audacious statement. You might think I'm talking about Nadine. Nope. The actress I'm referring to was a regular on 70's TV-series. These actresses are a rarity. Just when you think you got them figure out....But Nadine provides the main justifications in the interview from her view-point for her super nude scene. Insecurity and body-image issues plays a huge part (no shocker there. Most women are born with it). Offers contrary arguments (wanting to be seen as more than a pretty face yet performs a full-frontal in her first major flick). The crazy notion she is ugly or thinks some folks do.
+++++++++++++++++++++++++++++++++++++++++++++++
Top 5 HBO Sex Scenes
A sure fire way to help a television series' ratings jump through the roof is to throw in a raunchy, racy, steamy sex scene. Whether they totally turn you on or totally make you turn your head, erotic scenes have become an entertainment industry staple – especially for channels like HBO. Check out our top picks for the network's steamiest sex scenes, keeping in mind that some clips may be too hot to handle. Enjoy!
5. Entourage
: Charlie gets a call to make a deal over the phone with some business partners, but little do his colleagues know, he's having the time of his life on the other end.
4. True Blood
: In this scene, Sookie believes her true love Bill to be dead. As she goes to lay flowers on his grave, he pops out of the ground. Shocked to discover Bill is alive, the two proceed to give dirty sex a literal meaning – as Bill is completely covered in dirt.
3. Sex and the City
: Charlotte enjoys sex with a city guy named Alexander, until she realizes his strange, offensive way of reaching an orgasm. While not your typical steamy sex scene, this one will definitely keep you laughing.
2. Game of Thrones
: Robb and Talisa share an intimate love scene, equal parts sensual and romantically sweet.
1. The Wire
: The hit TV show boasts several racy sex scenes, making it impossible to choose just one. Check out the video below which shows a montage of the shows best sex scenes.
+++++++++++++++++++++++++++++++++++++++++++++++
Jessica Marais

' "best years" Meg Mason
The Sunday Telegraph

JESSICA Marais may have landed the role that sets her US career alight, but it pales in comparison to motherhood.




Roller-coaster, whirlwind, adventure... Pick any metaphor that describes a period of happy upheaval and it will perfectly sum up the past two years of Jessica Marais' life. "

My feet haven't touched the ground," the 27-year-old says in her husky drawl. "It's been so challenging, and scary at times, but I have an inkling I'll look back on these as the best years of my life. Nothing can compare to the experiences I've had."

The last time sunday magazine checked in with the Australian actor, a year ago, she was about to announce her pregnancy. After being based in Miami, filming the first season of moody '50s mobster drama Magic City, she was keen to return home to her fiancé James Stewart, who was working on Packed to the Rafters, to welcome their first child.

Twelve months on, she's a mother to six-month-old daughter Scout, is back in Miami filming Magic City and Stewart has quit his role on Rafters to relocate overseas to be with his new family.

"I didn't plan to do everything all at once," says Marais, who's dressed in the glam garb of her character Lily Diamond and waiting for her next call onset. "But I'm a firm believer in making the most of things. My heart said to do these things, so I went with it."

After the birth of Scout in Sydney in May, the last thing Marais wanted to think about was work, but when the opportunity to return to the US for a second season of Magic City came along, she knew she had to go for it: "Luckily, the costumes were great for my post-pregnancy body. I'm in a '50s equivalent of Spanx all day, so it's the curvier the better."

Relocating to the US (they are currently based in Miami but will call LA home), the epicentre of body image, immediately post-partum can't have been easy for the famously lithe actor, whose steamy Brigitte Bardot-inspired GQ shoot will live on in the popular consciousness for a while yet. "LA is an intense industry town and there's a side of it that's superficial," she says, "but I surround myself with the kind of people who don't let me get sucked into that."

And actually, Marais adds, coming over a little philosophical for a moment, "it's not just Hollywood that pressures women – it's the world now, it reaches us everywhere. If I didn't buy into it in Australia, I won't here."

Days onset are long, but the shooting schedule often allows her four- and five-day stretches off, which she devotes to Scout. "I'm a lucky working mother in that regard," she explains. "I waste whole days doing nothing except looking at her. She's a great little time-waster. Just mesmerising."

While she's onset, Stewart manages the childcare, and Marais is full of praise for his hands-on fathering. "If I've had a night shoot, Jimmy will let me have a sleep in," she says, before adding that working-mother guilt often drives her out of bed anyway.

"I feel so guilty, I end up getting up and playing with her because I don't want to miss a single moment. Sometimes I worry I'm not resting as much as I should, but my focus is on her."

Both sets of grandparents visit and Marais' mum, Karen, to whom she's extremely close, travelled to the US to help the new family set up house. "I'd hate it to sound as if everything happened by itself," Marais insists. "I have a wonderful support network."

When Marais first hooked up with Stewart, her Rafters co-star at the time, they kept their relationship off limits, engaging in publicity only when work demanded it – no interviews together, no romantic shots leaked to the press – so it was a surprise when the couple agreed to a cover shoot with Scout shortly after her birth.

Did Marais feel pressure to do a classic soft-focus mother-and-baby magazine spread?

"It was actually about trying to lessen the mystery," she explains. "On the day we arrived home from the hospital, there were a fair few cameramen camped outside the house and it was very overwhelming. I quickly learnt I wouldn't be able to control that, but I didn't want to take the baby out for a walk and have someone shove a camera into the pram."

Unsurprisingly, after a gruelling 11-hour labour, Marais felt reluctant to step in front of a camera, but it seemed the best way to manage public interest. "

As a new mother, you're so vulnerable and make mistakes all the time. I guess there's more pressure when you're in the public eye, but I'd never stand by and let anyone exploit my daughter," she says fiercely.

Marais isn't in any hurry to produce a sibling for Scout: "Giving birth isn't for the faint-hearted; I need time to forget." Anyway, she adds, "I can't imagine finding any more love, because my heart is so full at the moment. There's nothing like it in the world."

Still, the actor, whose father died of a heart attack when she was nine, is close to her own sibling, younger sister, Clara. "My relationship with her is fantastic. We moved around a lot as children and there's so much security and self-assurance that comes from a sibling. Maybe that's the lifestyle Scout will have."

Contrary to reports, Stewart and Marais haven't decamped to the US forever. "Both grandmothers would be furious," she says with a laugh. "Scout will always have a home in Australia, but for now the three of us are a little unit and we go where the work is."

Ultimately, the couple hope to arrange their schedules so one works while the other keeps the home fires burning. It's Marais' turn now, but she'll be "more than happy to go wherever Jimmy gets his next job".

They head home as often as work allows – plans are afoot to pop back for Scout's first Christmas – but while Skype comes in handy, homesickness is a semi-permanent state for the Perth native: "When I hear an Australian accent here, it melts my heart a little bit.

"We haven't found the equivalent of a good Aussie pub yet," she adds. "We took Scout to hear an Australian band here – it was her first rock gig and she wore little earplugs – and when they asked

if there were any Aussies in the audience, Jimmy and I started screaming like banshees. It made us incredibly mushy for home."

But if Marais' career stays on the same trajectory, home might have to wait; there's a lot left on her to-do list. "I'm looking forward to playing the meatier roles you get in your 30s. The early 20s can be a hard time for an actress – it's always bombshell or romantic lead. The good stuff you can really sink your teeth into comes later." She cites icons Cate Blanchett and Meryl Streep as her professional inspiration, and it's not difficult to imagine a similarly long-lasting career panning out for Marais.

Although leaving Rafters and its famously tight-knit cast while the show was at its height was a tough decision – which was raked over by fans and the press with equal fury – it was a savvy career move. "I was worried I'd just be Rachel Rafter, the girl next door, forever," she says, "and there are so many other things I want to do."

Becoming a mother, meanwhile, has given Marais a different perspective on work and a new pool of emotion and experiences to draw on.

"I feel more relaxed about it in one way. There's much less urgency than there used to be, and now I have all this new love and energy to pour into it. Motherhood informs my work 100 per cent."

If we check in with her in another two years, who knows what Marais will have to report? For now, she isn't willing to guess. "I've learnt you absolutely can't predict the way things will map out. Life can only get more interesting."

* I don't know about her acting back in Australia but she pretty much sucks on Magic City. Only her frequent nudity makes her eminently watchable. She got dreams of becoming the next big thing from down under and she should go for it. Maybe she will succeed without needing to take her clothes off in every flick she will appear in. Personally I think she's going to struggle when Magic City ends. Her inability to act is of course a major factor. She will dump her nanny husband in couple of years living in hedonistic Los Angeles. Hook up with another Aussie or likely married an American to facilitate permanent residency. Who knows maybe James Stewart will catch a break himself and be far more successful than his ex-wife. Stranger things have happened.

+++++++++++++++++++++++++++++++++++++++++++++++
Starz's Head Of Programming Stephan Shelanski To Exit, Dave Baldwin Joins Network As EVP Program Planning
Stephan Shelanski
, who has been at
Starz
since its 1994 launch, is leaving the company at the end of the year. HBO veteran
Dave Baldwin
is joining Starz as EVP Program Planning, taking over some of Shelanski's responsibilities. Shelanski serves as EVP Programming, overseeing all original programming and film acquisitions for Starz Entertainment and its linear channels, HD services, on-demand platforms and broadband services. He shepherded the pay cable network's entry into original programming with dramas
Spartacus: Blood And Sand
and
Crash
and comedy series
Party Down
and
Gravity.
Based in Starz's New York City office, Baldwin will be responsible for all programming planning and research for the company's linear channels and associated on-demand and online services. He will report to Starz CEO Chris Albrecht, for whom he previously worked at HBO. Baldwin comes to Starz after serving 31 years in research and scheduling at HBO, most recently as EVP Program Planning. "I am very pleased to bring my long-time colleague, Dave Baldwin, onto the Starz executive bench," Albrecht said. "Dave has an incredible amount of experience and a proven track record in program planning and research."
* The HBO boys are taking over at Starz.
+++++++++++++++++++++++++++++++++++++++++++++++
Looking for moral ambiguity: why it's hard to make complex films
But this is the season for Oscar releases, our chance to see the few mid-budget, socially relevant dramas still extant, and two are in theatres now:
Flight
, which opened on Friday, was directed by Robert Zemeckis, and stars Denzel Washington as a commercial airline pilot whose alcoholism may be a factor in a fatal crash. And
The Sessions
, which is expanding across Canada, tells the true story of Mark O'Brien (John Hawkes), a poet paralyzed by polio from the neck down, who decides in his 40s to lose his virginity to a sex surrogate (Helen Hunt). I asked people behind those two pictures how they see the current climate, and why they keep fighting the tide.
Zemeckis, 61, still remembers the first movie he saw (
The Blob
), as well as the one that inspired him to become a director (
Bonnie and Clyde
). "I realized that my emotions were being manipulated, and I thought that was a very powerful thing," he says. Since then, he has helmed a dazzling string of star-driven mainstream successes –
Romancing the Stone
;
Back to the Future
and its sequels;
Who Framed Roger Rabbit
;
Forrest Gump
;
Cast Away
;
The Polar Express
. He reads on average a script a day, so he knows what's out there, and when he found
Flight
, he was fascinated by the complexity of Washington's character, Whip, and the "moral ambiguity of everything."
But despite his commercial taste and sterling track record, when he told his long-time studio, Paramount, that he wanted to make a morally ambiguous movie about a complex character, they didn't exactly jump: They agreed to green-light it only if he could bring it in for $30-million. (Movies like this typically run $100-million and up.) He pulled that off only because he and Washington waived their salaries and gambled instead on a percentage of the profits.
Surprisingly, though, Zemeckis doesn't blame Hollywood for the demise of drama. "It's the taste of the audience," he says. "They don't connect with dramas. The guys who are running studios love them, but everything is shifting so dramatically, I get a profound sense Hollywood is completely paralyzed."
This "saddens and disheartens" him, he says. "I never thought I'd see the collapse of interest in young people for classic cinema. I didn't expect that I would be this old and still be allowed to make movies. I expected that there would be young gunslinger filmmakers arriving to reinvent the art form way before now, who haven't arrived. When I was coming up" – in the 1970s, when filmmakers like Francis Ford Coppola, Martin Scorsese and Robert Altman were shaking up cinema – "it was an exciting time for the art form. Movies were on the cover of Time and Newsweek. Movies are not important now – and we don't even have Newsweek any more."
With
The Sessions
, the budget was even smaller, and the challenge even larger. "It was hard to get any backers to read the script," Judi Levine, the film's producer, says. "No amount of trying to explain that this was an upbeat movie, and they'd walk away feeling happy, was going to convince them to read about a man in an iron lung." The fact that the sex scenes aren't salacious or objectifying, the humour is wry and sophisticated, and there are fascinating conversations about faith and fate – the very things that would have sold it 40 years ago – made it only harder.
Actors, however, ate it up. "I thought it was a beautiful story, and there are almost none," says Hunt, 49, who has been working since age 8. "It was moving and a healing thought for me, to be part of a movie that's simply about touching each other."
Not that it was all fun – Hawkes had to act solely from the neck up, and spent his days lying on a painful foam ball, to mimic the contortions of O'Brien's spine. Hunt had to perform some of filmdom's frankest (and least fussily lighted) sex scenes totally naked. "It's not nothing to take your clothes off," she says. "But my desire to bring this story to life outweighed my fear. It didn't seem as big a deal as the chance to be part of a movie about being human. I feel like this movie is nourishing, with just enough of both dark and light." She laughs. "An old friend of mine once said, 'You're like a Dostoevsky character with pompoms,'" she remembers. "That's the kind of role I like."
But since those films aren't getting made, after winning four Emmys for
Mad About You
and an Oscar for
As Good as It Gets
, Hunt sort of ebbed away. "I want great parts, so that makes it a small needle to thread," she says. The birth eight years ago of her daughter, Makena, with her partner Matthew Carnahan, writer/producer of the cable series
House of Lies
, made her even more reluctant to leave her family for work that was less than thrilling.
"So I've chosen movies that not everybody sees, and I did two plays in the last few years that were hugely challenging and successful," she says. She has directed television, and is writing a screenplay – "a comedy about some painful things, a mother/son story, an empty-nest story and kind of an anti-technology story" – that will likely prove another tough sell.
Her great hope for
The Sessions
– "maybe more than any movie I've been in," she says – is that people will see it in a theatre. "Because everyone is rolling with laughter. And then we become Mark, so we're as terrified as he that this woman will come in and be naked. We get so invested, it feels like everybody in the audience is naked, everybody is that vulnerable."
Zemeckis was drawn to
Flight
for the same reason. "It's a universal theme, it speaks to the imperfection of all humans," he says. "That feeling of isolation that Whip is so desperately struggling with. He's desperate to find a way to get some relief from the demons that haunt him, to find a way to be in the world."
That's what humans have always turned to drama for: to ask those questions, to suggest some answers. "I don't think that's changed much, from ancient Greek drama to Shakespeare to now," Zemeckis says.
Whether we'll keep seeing those stories on the big screen, he says, is up to us.
+++++++++++++++++++++++++++++++++++++++++++++++
* Kelly Brook is becoming one annoying cock-tease....but fuck she is hot!
Kelly Brook drives men AND women in the audience Crazy with her moves
Sun man and his girlfriend give their verdicts on opening night
.
+++++++++++++++++++++++++++++++++++++++++++++++