HBO Remaking Racy French Brothel Costume Drama 'Maison Close'
French TV series "Maison Close" is getting an HBO remake. The ongoing Canal Plus drama, which premiered in 2010, is set in a Parisian brothel in 1871 and follows three women who work there and are trying to free themselves from prostitution.
According to
Variety
, HBO has picked up remake rights to the series. Mark Wahlberg and Stephen Levinson's production company Leverage Management, also responsible for fellow HBO shows "Entourage," "How to Make It In America" and "Boardwalk Empire,' will produce the English-language pilot. "Alcatraz" co-creator Elizabeth Sarnoff, who wrote multiple episodes of "Lost" and "Deadwood" (among others), will pen the pilot.
The HBO remake will be co-executive produced by Jacques Ouaniche ("Games of Love and Chance"), who's the creator of and a producer on the original series, and will star American actors despite being set in Paris.
Ouaniche cites "Deadwood," which featured two memorable brothels itself, as a primary inspiration for his series.
Directed by Mabrouk El Mechri ("JCVD"), the original "Maison Close" stars Jemima West, Anne Charrier, Valérie Karsenti and Clémence Bretécher and is currently in production for its second season.
* At least we can expect abundant of female nudity unlike the lame French version. Watch out for the casting news on this one.
+++++++++++++++++++++++++++++++++++++++++++
Nadine Velazquez

Reveals Why Denzel Washington Thought Her V-Spot Was Deformed!
Lindsey Paul
for
Global Grind Staff
Nadine Velazquez
may not be a name we hear everyday, but that doesn't mean she's not making a big mark in Hollywood.
Nadine has put her
My Name Is Earl
television days to the side to pursue even bigger things with her acting career, and she's taking the next step after being a sought-after model.
With her most recent project taking on a role alongside the legendary Denzel Washington as his love interest in the movie
Flight
, Nadine is a face we won't forget.
From getting almost too close for comfort with Denzel himself, to taking on a whole new kind of role, Nadine has already broadened her acting horizon incredibly.
+++++++++++++++++++++++++++++++++++++++++++
Macgruber Sex Scene
* perhaps the most realistic love scene ever depicted in a mainstream flick and I'm not joking! Excluding MacGruber's hilarious grunts, yours truly was huffing and puffing while she (my ex btw) laid there like a goddamn statue. If a woman is not in the mood....
+++++++++++++++++++++++++++++++++++++++++++
Tim Tebow thinks Camilla Belle is a virgin and 'the woman of his dreams'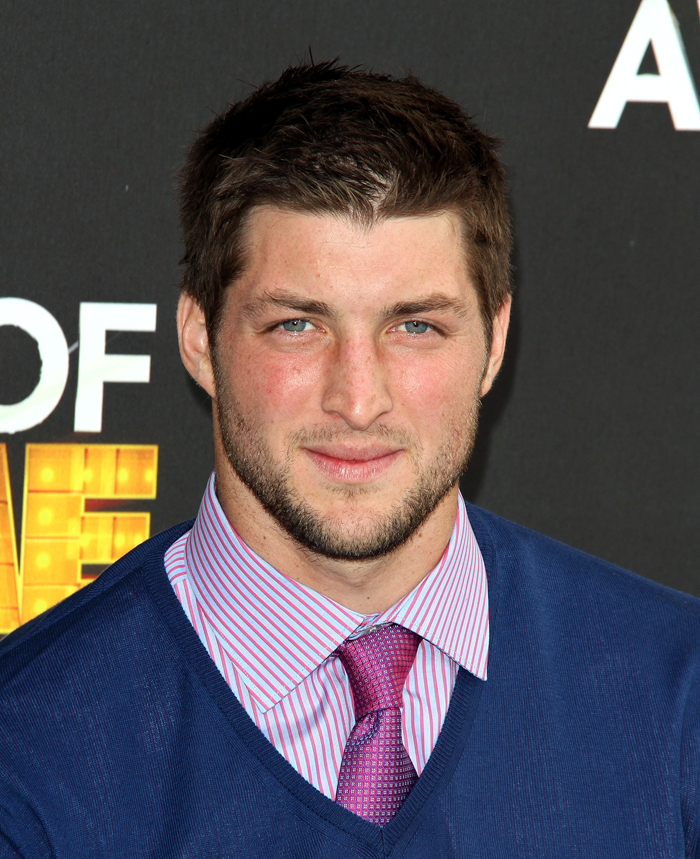 Last week, we covered the shocking news that Tim Tebow is not only dating someone, but the lucky lady (relatively speaking) just happens to be Camilla Belle, who is best known

for dating

Joe Jonas for about nine months a few years ago. Joe Jonas, of course, is best known as one of the trio of (semi-musical) brothers who made a huge deal out of wearing

purity rings

. Of course, Joe Jonas also dated Ashley Greene, Demi Lovato, and Taylor Swift, and these chicks don't exactly seem like they'd be down with dating a dude who is using his

purity ring

for anything other than a publicity stunt. So my question is this … would Joe Jonas, who in 2008-2009 could have commanded the interest of countless young starlets, choose to date a girl who wouldn't put out over the course of nine months? This is doubtful, but Tim Tebow, who has made no secret of saving himself for marriage, seems to believe that Camilla Belle is indeed a virgin as well. In fact, Tim has allegedly been dating Camilla since this past summer, and he's so wild about her that he's already thinking of marriage according to the Enquirer: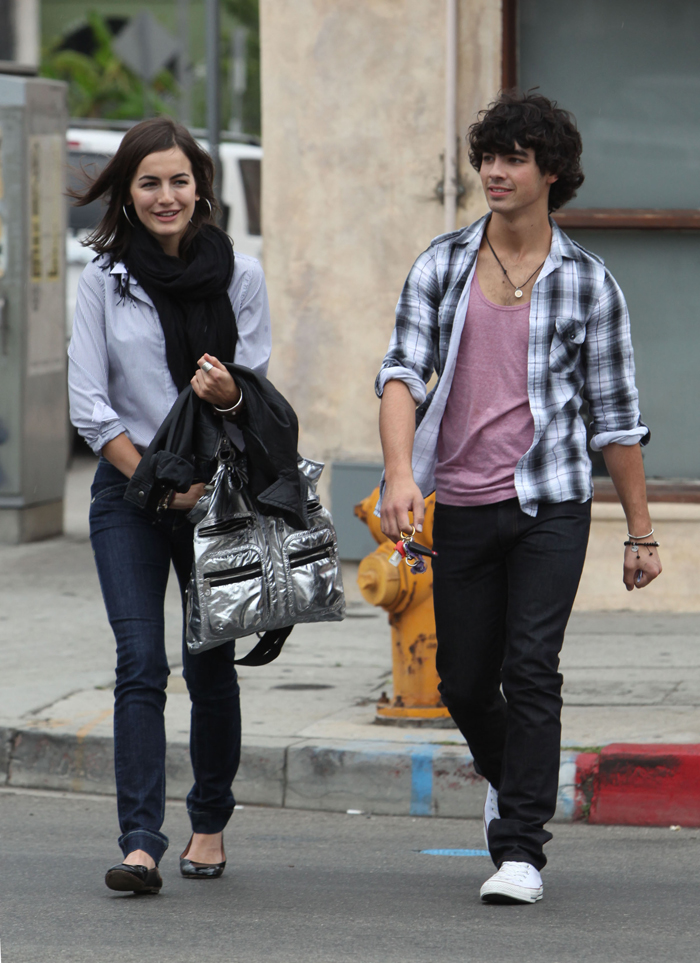 Self-proclaimed virgin and football star Tim Tebow is so

head over

heels for his new girlfriend that he's already sizing her up for marriage, sources tell The Enquirer. The lucky lady is Camilla Belle, 26, a knockout brunette who shares the 25-year-old quarterback's conservative views on premarital sex.
"Both say they're virgins," an insider divulged. "They've been dating secretly since the summer, but they can't hide their love any longer. Tim is looking for a woman so he can have a proper engagement and church wedding, and he's told

friends

that Camilla fits the bill."


The highly religious twosome — he's a devout Christian raised by Baptist missionary parents, while she was raised Catholic — were spotted getting affectionate during an Oct. 30 date at Latitude 30, an entertainment center in Jacksonville, Fla.




Tim, who plays for the New York Jets, has been open about what he wants in his wife. In September, he told a reporter: "Obviously looks play a part…but there's also so much more than that for me. It's about finding someone sweet and kin — and that has a servant's heart. It's about finding a girl who likes me for me, and not because of what I do or who I am or the name."


Camilla dated singer Joe Jonas for about nine months after starring in one of his band's

music videos

, but they ended the relationship in July 2009. Meanwhile, plenty of women — including reality star Kim Kardashian — have made a play for Tebow, but pals say Camilla's the first to capture his heart.


"Tim calls her 'the woman of his dreams,'" added the insider. "He's anxious to make Camilla part of his close-knit family."
[From Enquirer,

print

edition, November 19, 2012]That "servant's heart" thing freaked me out at first, but then I realized that it's a popular sentiment within Christianity. Also, I honestly don't know whether or not Camilla is a virgin, but I think that she (at the very least) must have taken great care to covet such an image by dating one of the "purity ring" brothers. Even if the move wasn't calculated, she's certainly benefiting from the Jonas shtick since she managed to land Tim Tebow. It's not like he'd ever know whether or not she was a virgin if they got married, right? I mean, he's got no experience down there, so he really wouldn't notice if anything was amiss. Dude is just going to be so happy to finally get some.
* More than half of US population believes blowjob doesn't constitutes as a

'real'

sexual act. I can assure you Joe Jonas and Tebow belongs to this group. They can still be 'pure' while getting their cock orally serviced. Muff diver Camilla

the

Catholic

has swallowed more jism down her throat than up her pussy hole. I have to admit it's pretty much hard to detect if a chick is into cunt-licks if they're all womanly in appearance. Gay-radar fails big time when it comes to women unless they officially come out or started dating person of same gender. The fear of letting down parents and loved ones plays a huge part in denial game. Don't be surprised if the couple goes on to have children and Camilla in her late 30's and 40's finally walks out of the closet and dumps poor Tim who I expect by then to indulge in dalliances of his own. Virgins are unstoppable once they get the taste of the pussy.

+++++++++++++++++++++++++++++++++++++++++++

24-years old American model Ava Smith : Jem Mitchell [Flair November]2012Ava Smith : "I was born and raised in Chicago … born on the north side, grew up on the south side, so I'm a true Midwestern city girl. Moving to New York wasn't that much of change for me; maybe Chicago is a little bit cleaner. I was a brat growing up. If I would've met myself as a kid today, I would be so annoyed with myself. I don't know how my parents or anyone put up with me. There are so many embarrassing home videos of me reenacting the Cats musical because I knew every single word from it. I have three sisters; I'm the second oldest of the bunch, and we're all very different. I was 14 or 15 when I was first approached, so I was quite young. My family has a little summer cottage on Lake Michigan, and some woman came up to me while we were there and said, "You're tall, skinny, and pretty. You should model." It wasn't really the first time I heard it, but it always seemed kind of sketchy, so we never really went for it. She was pretty persistent, saying she knew someone in Elite Chicago [now called Factor Women] so she introduced me to them, and it went from there.

"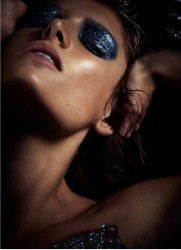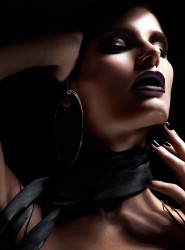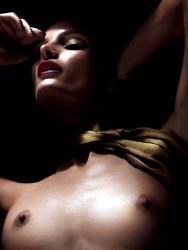 +++++++++++++++++++++++++++++++++++++++++++
The 6 Most Awkward Sex Scenes Of All Time
There are several movies featuring fantastic sex scenes. Some are steamy while others are funny. Meanwhile, there are some that are so sexy they take your breath away. On the flip side there are some sex scenes that are brutally awkward. What makes a sex scene awkward? Perhaps it is images that cause moviegoers to cringe in embarrassment. Or scenes that make audiences burst out in laughter. It could even include sex scenes that take place in awkward places or involve conditions and circumstances that are totally unorthodox. Below are six of the most awkward sex scenes of all-time that possess these traits and more.
Apple Pie Scene in "American Pie"
It does not get much more awkward than a parent walking in on a teenager while he or she is having sex: unless of course you are that teenager. The awkwardness magnifies tenfold when that parent catches you with your
wanker
stuck in the pie hole of a freshly baked dessert. That was the unfortunate situation that horny teenage virgin Jim
Levenstein
(Jason Biggs) found himself in when his dad caught him molesting his mother's freshly baked apple pie. Bon Appetite!
Knuckle Shuffle Scene in "Fast Times at

Ridgemont

High"
Like any typical red blooded American in his teens, fast food employee Brad Hamilton (Judge Reinhold) finds himself fantasizing about the lovely bikini-clad Linda Barrett (Phoebe Cates) as he watches her bath in their pool. Meanwhile, he decides to give Rosie Palm and her five fingers some action and of course Hamilton walks in on him in mid-stroke. Classic.
Condom Scene in "Naked Gun"
Detective Frank
Drebin
(Leslie Nielsen) meets the girl of his dreams in Jane Spencer (Priscilla Presley). As it turns out, they both believe in practicing safe sex; so much so that they each bundle themselves up in a pair of condoms that would look big on King Kong. Shirley….errr…surely this ended up being one awkward romp.
Masturbation Scene in "Black Swan"
Black Swan may have been one of the most depressing movies of the past decade but it did feature two sexy scenes featuring Natalie Portman. Easily the most talked about scene is when Nina
Sayers
(Portman) imagines her sexy dance rival Lily (Mila
Kunis
) performing the tongue tango between her legs. However, the most awkward sex scene is when Nina begins to pleasure herself one morning, only to find mommy dearest sleeping in the chair next to her bed.
The "Day After" Scene in "

Gia

"
One of the hottest sex scenes in movie history took place when Angelina Jolie and Elizabeth Mitchell enjoyed a post photo shoot romp. Jolie played famed supermodel
Gia
, while Mitchell assumed the role as Linda, her make-up artist. There was nothing awkward about the way Linda seemed of kiss every inch of
Gia's
perfect nude body. However, the awkwardness came the next day when the make-up artist tried to do the walk of shame, only to be confronted by a totally nude
Gia
. Giddy-Up!
Hotel scene in "Easy"
"Easy" is a little known but under appreciated 2003 Independent Film starring Marguerite
Moreau
, the Iraqi dude from "Lost," and the chick from "Bones."
Moreau
plays the role of Jamie Harris, a semi-slutty young adult who has a hard time finding Mr Right. Finally she meets late night television host, Mick McCabe. After deciding to take things slow, they finally decide their first time would be at "The Just Blue Inn" a small hotel in the country where everything in the building is blue, right down to the condoms. This movie makes the list of most awkward sex scenes because Harris is afraid that McCabe will end up being another failed relationship, while McCabe is…..well awkward.
+++++++++++++++++++++++++++++++++++++++++++
Exclusive interview with sex goddess

Yam Concepcion
Q: How far did you go in terms of revealing the skin?
Yam : You see everything. Frontal and...Yeah.
* music to my ears. Was she talking about full-frontal nudity?
+++++++++++++++++++++++++++++++++++++++++++
RESTLESS
:

A Sundance Channel original starring Charlotte Rampling, Hayley Atwell, Michelle Dockery and Rufus Sewell.
PREMIERING DEC 7
All New Sundance Channel Original
Limited 2-Night Miniseries Event, Based on William Boyd Novel, Stars Hayley Atwell, Rufus Sewell, Michelle Dockery, Michael Gambon and Charlotte Rampling

Thrilling Spy Drama Produced by Emmy® Award Winner Hilary Bevan Jones and Directed by Edward Hall

New York, October 17, 2012 – "Restless," Sundance Channel's riveting original miniseries, will premiere December 7th at 9 pm et/pt with part two premiering on December 14th at 9pm et/pt, it was announced today. Part of the cable network's upcoming robust scripted programming slate, the two-part co-production, is based on the novel penned by celebrated award-winning contemporary British novelist William Boyd and depicts the thrilling story of a daughter who discovers that her mother was recruited as a spy during World War II. An enthralling story of wartime espionage, love and betrayal, "Restless" also lifts the lid on one of the last secrets of World War II.

Produced by Emmy Award winner Hilary Bevan Jones (State of Play, The Girl in the Café) under her shingle Endor Productions, directed by Edward Hall, and featuring a teleplay written by Boyd, the two compelling installments feature a world-renowned cast including Hayley Atwell ("Any Human Heart," Captain America) Rufus Sewell ("Pillars of the Earth," "Zen"), Michelle Dockery ("Downton Abbey", Anna Karenina), Michael Gambon ("Page Eight," Luck) and Charlotte Rampling (Melancholia, The Eye of the Storm). Filming took place this summer in South Africa and the UK.

"Restless" asks the question: What becomes of your life when everything you thought was solid and certain about it turns out to be a fantastically complicated lie? This is the quandary faced by Ruth Gilmartin (Michelle Dockery) when, one day in 1976, her mother Sally (Charlotte Rampling) suddenly reveals that she has been living a double life. She is not the respectable Sally Gilmartin, but in fact Eva Delectorskaya, a spy for the British Secret Service who has been on the run for thirty years.

Eva's story begins in Paris in 1939. Eva (Hayley Attwell), a beautiful Russian émigrée, is recruited for the British Secret by Lucas Romer (Rufus Sewell), a mysteriously alluring Englishman. As Romer trains Eva to become the perfect spy their love affair begins. When a crucial mission collapses in the USA and Eva finds herself in terrible, fatal jeopardy she knows she has no option but to run and hide forever. Once a spy always a spy. No one can be trusted. But now Sally Gilmartin yearns to end her years of restless watching and waiting. Thirty years on, the only man who can bring this about is her former lover and spymaster, Lucas Romer, now Baron Mansfield of Hampton Cleeve (Michael Gambon), and the only person she can call on for help is her daughter, Ruth. The final chapter of this epic story of love, duplicity and betrayal is about to end – and who will pay the greatest price remains to be discovered.

RESTLESS is made by Endor Productions in association with Sundance Channel for BBC One. Program is produced by Hilary Bevan Jones and Paul Frift for Endor and Executive Producers are William Boyd with Matthew Read for BBC and Christian Vesper for Sundance Channel.

"Restless" is the first of three new scripted projects announced by Sundance Channel this year. The channel recently wrapped production in New Zealand on "Top of the Lake" from Jane Campion and starring Elisabeth Moss and Holly Hunter and has just completed production in Georgia on "Rectify." "Rectify," from the producers of "Breaking Bad" and Oscar® winner Ray McKinnon, is Sundance Channel's first wholly owned production and is scheduled to air in 2013. Earlier this year, the network received Golden Globe and SAG® nominations for scripted mini-series "Appropriate Adult." The network's first scripted project, "Carlos", won the Golden Globe for Outstanding Mini-series in 2011.
* nudity is pretty much confirmed in Jane Campion's "Top of the Lake" (much of the series will be at a commune for post-menopause women ran by Holly Hunter). That's why I'm optimistic about Restless - another Sundance production. The love scenes are integral part of young Eva Delectorskaya maturing as an adult and a spy for British secret service. The passion of Eva must come through in very believable manner and clothed sex ain't going to cut it.
+++++++++++++++++++++++++++++++++++++++++++
Isla Fisher
:

Confessions of a seriously funny girl
Her love of a good gag, she says, comes from her childhood growing up with four brothers. Their father worked for the UN, which meant a different school every year – so a self-deprecating sense of humour helped her make new friends. "Also, when I was growing up in Australia, there were really tall model-y girls and I was a short red-head, and there's only so much a push-up bra can do – you've got to get funny! You've got to take out the competition with some jokes – so that was my pulling technique!" She grimaces. "I'm going to regret that quote!"
Growing up without watching films – her parents only took her to see The Dark Crystal and E.T. – Fisher was turned on to acting by watching her mother play in an amateur production of Twelfth Night. "We had to go to bed really early while she was prancing about singing songs, and I wanted to be a part of it." By the age of nine, she was appearing in commercials, before making inroads in television – notably in that perennial Aussie soap Home and Away. Her Hollywood break came in a supporting role in the live-action 2002 film of classic cartoon Scooby-Doo, before Wedding Crashers sent her global.
While Fisher has mainly plied her trade in comedy – bar 2007's crime film The Lookout, which saw her use all her charms as the seductress Luvlee – she's rarely dipped into drama. But next year will see her in The Great Gatsby, Baz Luhrmann's 3D spectacular take on F Scott Fitzgerald's novel, playing social climber Myrtle Wilson. It was, she says, a "surreal" experience to work for Luhrmann. "He's my dream director. I've only ever had a short list of people I've wanted to work with, and he was at the top of it. I honestly couldn't stop smiling the whole time."
She's also just finished Now You See Me, a thriller about a group of illusionists that pulls off bank heists, alongside Mark Ruffalo and Morgan Freeman. Then there's her love of writing; in the past she's published two "trashy chick-lit" novels – including Seduced by Fame, about a waitress who wins a role in a soap opera. She wants to do more, has even knocked out two scripts, "but it's hard, with having a family and trying to keep my acting career ticking along". No wonder Baron Cohen is bonkers over this lady.
+++++++++++++++++++++++++++++++++++++++++++
PHOTOS: '

Spartacus

' Stars Deliver Smiles to Deployed Troops
The cast members of the
Starz
drama
"Spartacus"
deliver touches of home to deployed troops in the Middle East.
The actors visited six installations in Kuwait, including visits to troops serving at
Camp Virginia
,
Camp Buehring
and Camp Arifjan. Additionally, the band of actors touched the lives of more than 1,600 servicemen and women serving overseas.
The group included Australian born
Liam McIntyre
and
Viva Bianca
, New Zealand native
Manu Bennett
and Michigan born
Ellen Hollman
were excited to discuss the show's final season, "Spartacus: War of the Damned," which will premiere in the U.S. on the Starz television network on Jan. 25, 2013.
From left to right, "Spartacus" actors Viva Bianca, Liam McIntyre, Manu Bennett and Ellen Hollman strike a Spartan pose in front of the U.S. Army Area Support Group Headquarters Facility on Nov. 5. This was the group's first USO tour.
Bennett gives a big kiss on the cheek of Sgt. Rexach, one of the more than 300 troops that lined up to get autographs and photos taken with Bennett and his fellow "Spartacus" actors as part of a USO meet and greet.
The cast poses for a photo with troops in the Middle East as part of their first USO tour.
Bianca, left, and Hollman get set to board a C-17 on Nov. 4.
"To say the USO tour had an impact on me is an understatement," Hollman said. "Not only were the troops beyond inspiring with their dedication and bravery but also very receptive to my inspiration for the tour. My dear childhood friend, Sgt. Michael McClaren Kashkoush was lost to us while serving in Al Anabar in 2007. He's motivated me to be the best warrior I can be on screen and to do my absolute best to support our amazing troops. I can't thank the USO enough for this priceless opportunity."

Bennett gets a lift from USO volunteer Ally LeClair at one of their meet and greet visits to a USO Center in the Middle East.
Bennett said: "Many I met had already done active service in Iraq and Afghanistan and the stories I heard made me realize the price of freedom. ... I have come to know America better through it's soldiers who ultimately fight for peace, freedom and a better world for generations to come."

McIntyre took a few moments to pay tribute to those who have lost their lives in service at a base in the Middle East.
"This trip has been amazing for all of us," McIntyre said. "The men and women we met, who put their lives on the line everyday, are an amazing group of people. Being able to share my first USO tour experience with my cast mates makes it even more memorable. I know I speak for us all when I say 'Thank you' to the men and women of the U.S. Armed Forces for keeping us safe and for all that you do."


+++++++++++++++++++++++++++++++++++++++++++
Condom law won big in nonwhite, working-class areas
Los Angeles County's porn condom law won big in nonwhite, working-class areas, according to an analysis of voting results.

Countywide, Measure B won by 56% to 42%, but the ballot initiative requiring condoms to be used during porn filming racked up huge margins in lower-income neighborhoods that are either heavily Latino, black or both, like East Los Angeles (67%); Inglewood (75%); Compton (76%); Los Angeles' 8th City Council District in South L.A (76%); and Willowbrook, south of Watts (77%).


In contrast, neighborhoods voicing the most opposition to a condom requirement were higher-income areas that have significant white majorities. The "no" vote for the measure rose to 54% in Malibu, Ranchos Palos Verdes, Westlake Village and Sierra Madre; 55% in Calabasas, La Crescenta, and Topanga; 56% in Redondo Beach; 57% in Hidden Hills and Rolling Hills Estates; 58% in El Segundo; 59% in Manhattan Beach; and 60% in Hermosa Beach.


"I think that what you see is a no vote amongst white voters, and a yes vote amongst Latinos and African Americans," said Darry Sragow, a longtime political strategist and attorney unaffiliated with either side of the campaign.


What's unusual about the numbers is that areas seen as reliably Republican, like the Palos Verdes Peninsula, and liberal bastions like the Westside voted against the measure. What both areas have in common is they are both whiter and have higher incomes than the rest of the county.


The city of Los Angeles voted by a 12-point margin to back the condom measure, a margin mirroring the countywide vote. Measure B won majorities in city council districts covering downtown, Boyle Heights, South L.A., San Pedro, Silver Lake, the eastern San Fernando Valley, and surprisingly, in the southwest Valley, including Canoga Park, where the adult film industry's lobbying group is based.


Only four of L.A.'s 15 council districts voted against Measure B, which include the 12th District, the northwest section of the Valley that includes Chatsworth and the hub of porn production; and the 4th, 5th and 11th districts, which cover the Westside, Encino, Sherman Oaks and the Hollywood Hills.


The early absentee ballot vote came in heavy for the condom measure, with 64% of the vote, a margin that narrowed to 56%.


James Lee, spokesman for porn industry's campaign against Measure B, said he thought that showed that the industry's efforts were working, but they didn't have enough money and ran out of time. Lee said he believed they got a boost when the editorial pages of the Los Angeles Times and the Daily News and its sister suburban papers came out against the measure.


But he said their side spent under $300,000. The L.A.-based AIDS Healthcare Foundation, a provider of healthcare for HIV patients that backed Measure B, said it spent $900,000 on the campaign, in addition to the $1.1 million spent to gather signatures to qualify the measure for the ballot.


"We got outspent, big time," Lee said. "We had only four days of advertising" on television.


The AIDS group mounted a multi-pronged campaign, mailing fliers, billboards, TV commercials and front-page newspaper sticker ads advertising the backing of the Los Angeles County Medical Assn. They touted an endorsement from La Opinion, the dominant Spanish-language newspaper, drove an 18-wheel big rig with a "Vote Yes on B" around the region, and passed out condoms.


Michael Weinstein, president of the AIDS Healthcare Foundation, said he thought the breakdown of the vote showed that working-class voters endorsed the idea that porn performers should have employee protection.


Measure B was endorsed by "people who relate to the idea that you can get hurt in the workplace," Weinstein said. "I think it's unlikely that people in Malibu and Palos Verdes are factory workers or construction workers."


As for speculation that areas hit highest with HIV infection came out strongly for Measure B, Weinstein said that was not true. West Hollywood has the highest rate of HIV infections in the county, and rejected the measure, he said.


Weinstein has waged a lonely battle for nearly a decade on requiring condoms in porn, becoming vocal on it since 2005, after a porn star infected three sex film actresses with HIV. His attempts to get local public health officials to require condom use went nowhere, with county supervisors uninterested in the issue.


After another porn star was infected with HIV in 2010, Weinstein decided to take the question to the voters.


The porn industry has said consumers don't want to buy porn featuring condoms. They say that regular testing porn stars for HIV and disease is effective at reducing the risk of disease transmission. They have threatened to both sue the county over Measure B while preparing to move film production elsewhere.
+++++++++++++++++++++++++++++++++++++++++++
Barack Obama And The Death Of Normal
I was on an airplane last night as the election was decided. As the plane landed after midnight on the East Coast, I confess that my hand was shaking as I turned on my phone for the news. I did not want to see dishonesty and divisiveness and raw political hackery rewarded. It is hard enough for anyone to actually address the problems, to move this country forward, to make the intransigent American ruling class yield even a yard of the past to the inevitable future. But going backwards last night would have been devastating. I read the returns in silent elation; a business trip had me traveling in business class and the gnashing of corporate teeth all around precluded a full-throated huzzah on my part. I abhor a gloat.
But the country is changing. And this may be the last election in which anyone but a fool tries to play — on a national level, at least — the cards of racial exclusion, of immigrant fear, of the patronization of women and hegemony over their bodies, of self-righteous discrimination against homosexuals. Some in the Republican party and among the teabagged fringe will continue to play such losing hands for some time to come; this shit worked well in its day and distracted many from addressing any of our essential national issues. But again, if they play that weak-ass game past this point, they are fools.
America is different now, more so with every election cycle. Ronald Reagan won his mandate in an America in which 89 percent of the voters were white. That number is down to 72 percent and falling. Fifty thousand new Latino citizens achieve the voting age every month. America will soon belong to the men and women — white and black and Latino and Asian, Christian and Jew and Muslim and atheist, gay and straight — who can walk into a room and accept with real comfort the sensation that they are in a world of certain difference, that there are no real majorities, only pluralities and coalitions. The America in which it was otherwise is dying, thank god, and those who relied on entitlement and division to command power will either be obliged to accept the changes, or retreat to the gated communities from which they wish to wax nostalgic and brood on political irrelevance.
You want to lead in America? Find a way to be entirely utilitarian — to address the most problems on behalf of the most possible citizens. That works. That matters. Last night, it mattered just enough to overcome the calcified political calculations of men who think that 47 percent will vote against them because they are victims, or that 53 percent are with them because the rest of us vote only from self-interest and without regard for the republic as a whole. It was a closer contest than common sense and the spirit of a truly great nation should dictate. But unless these white guys who have peddled "normal" for so long — normal as in racial majority, normal as in religious majority, normal as in sexual orientation — unless they have a hard moment of self-reflection and self-awareness, well, it will not be this close again.
Eighty years ago, the Democratic party became a national utilitarian enterprise, molding the immigrant waves of Irish and Italian and Jew into a voting bloc that stunned the political opposition and transformed American society, creating the world's greatest economic engine in the form of a consumer class with vast discretionary income. The New Deal asserted for American progress — shaping and influencing administrations both Democratic and Republican — for three decades before running aground on the shoals of the civil rights movement, resulting racial fears and resentments, and, of course, the Southern strategy of political cynics.
Well, a new voting bloc as formidable as the New Deal coalition certainly isn't yet complete, and the political results are still fitful. To be sure, venality has transformed the upper house of our national legislature into a paralytic failure, with a new standard of a filibuster-proof supermajority now the norm. The lower house of that legislature reflects less of any national consensus than it does the absurdity of post-census gerrymandering. Never mind Obama. If Romney had won this election, our government would be just as broken. It is the legislative branch that remains an epic systems failure.
For lost and fretful white men, unwilling to accept the terms of a new America, Congress is the last barricade against practical and inevitable change. But there, too, the demographic inevitabilities are all in play. All the gerrymandering in this world won't make those other Americans, those different Americans, go away. And the tyranny of minority and lack of compromise that you employ to thwart progress now will likely breed an equal contempt when the demographics do indeed provide supermajorities.
Hard times are still to come for all of us. Rear guard actions will be fought at every political crossroad. But make no mistake: Change is a motherfucker when you run from it. And right now, the conservative movement in America is fleeing from dramatic change that is certain and immutable. A man of color is president for the second time, and this happened despite a struggling economic climate and a national spirit of general discontent. He has been returned to office over the specific objections of the mass of white men. He has instead been re-elected by women, by people of color, by homosexuals, by people of varying religions or no religion whatsoever. Behold the New Jerusalem. Not that there's anything wrong with being a white man, of course. There's nothing wrong with being anything. That's the point.
This election marks a moment in which the racial and social hierarchy of America is upended forever. No longer will it mean more politically to be a white male than to be anything else. Evolve, or don't. Swallow your resentments, or don't. But the votes are going to be counted, more of them with each election. Arizona will soon be in play. And in a few cycles, even Texas. And those wishing to hold national office in these United States will find it increasingly useless to argue for normal, to attempt to play one minority against each other, to turn pluralities against the feared "other" of gays, or blacks, or immigrants, or, incredibly in this election cycle, our very wives and lovers and daughters, fellow citizens who demand to control their own bodies.
Regardless of what happens with his second term, Barack Obama's great victory has already been won: We are all the other now, in some sense. Special interests? That term has no more meaning in the New America. We are all — all of us, every last American, even the whitest of white guys — special interests. And now, normal isn't white or straight or Christian. There is no normal. That word, too, means less with every moment. And those who continue to argue for such retrograde notions as a political reality will become less germane and more ridiculous with every passing year.
Lots of waste and shouting and ignorance still to come, of course. But last night was a milestone.
+++++++++++++++++++++++++++++++++++++++++++
MY WIFE'S LOVER
My wife is having an affair with a government executive. His role is to manage a project whose progress is seen worldwide as a demonstration of American leadership. (This might seem hyperbolic, but it is not an exaggeration.) I have met with him on several occasions, and he has been gracious. (I doubt if he is aware of my knowledge.) I have watched the affair intensify over the last year, and I have also benefited from his generosity. He is engaged in work that I am passionate about and is absolutely the right person for the job. I strongly feel that exposing the affair will create a major distraction that would adversely impact the success of an important effort. My issue: Should I acknowledge this affair and finally force closure? Should I suffer in silence for the next year or two for a project I feel must succeed? Should I be "true to my heart" and walk away from the entire miserable situation and put the episode behind me?
NAME WITHHELD
Don't expose the affair in any high-profile way. It would be different if this man's project was promoting some (contextually hypocritical) family-values platform, but that doesn't appear to be the case. The only motive for exposing the relationship would be to humiliate him and your wife, and that's never a good reason for doing anything. This is between you and your spouse. You should tell her you want to separate, just as you would if she were sleeping with the mailman. The idea of "suffering in silence" for the good of the project is illogical. How would the quiet divorce of this man's mistress hurt an international leadership initiative? He'd probably be relieved.
The fact that you're willing to accept your wife's infidelity for some greater political good is beyond honorable. In fact, it's so over-the-top honorable that I'm not sure I believe your motives are real. Part of me wonders why you're even posing this question, particularly in a column that is printed in The New York Times.
Your dilemma is intriguing, but I don't see how it's ambiguous. Your wife is having an affair with a person you happen to respect. Why would that last detail change the way you respond to her cheating? Do you admire this man so much that you haven't asked your wife why she keeps having sex with him? I halfway suspect you're writing this letter because you want specific people to read this column and deduce who is involved and what's really going on behind closed doors (without actually addressing the conflict in person). That's not ethical, either.
* I feel for this guy but we humans are never meant to be monogamous. Marriage should evolved into an open contract after certain period of time. But moralistic hypocrisy and living in denial becomes much more easier to accept than alternative

approach.
+++++++++++++++++++++++++++++++++++++++++++