34-years old

Nadine Velazquez

becomes a true cinematic nudity alumna in Flight (2012). To paraphrase
the
President : This Is A Nudity You Can Believe In!
[cam-copy GIFs]
* the Blu-Ray going to sell like hotcakes.
++++++++++++++++++++++++++++++++++++++++++
New Promo for
Hayley Atwell

's Spy Thriller '

Restless

'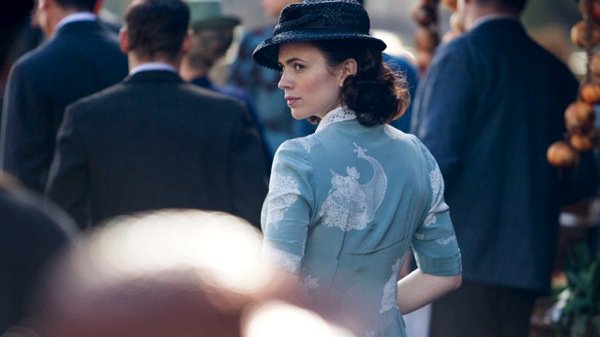 Sundance Channel is gearing up to release its original drama "
Restless
" and teases viewers with a new promo video. Based on William Boyd's bestselling novel of the same title, the story begins as Ruth finds out her mother Sally Gilmartin isn't just an ordinary woman as she thought.
Having been living a double life, Sally was a Russian emigre named Eva Delectorskaya who was recruited to be a British secret agent by the shadowy figure, Lucas Romer, during World War II. A love affair started between Sally and Lucas, but soon a dangerous mission and a deadly betrayal forced her into hiding.
Thirty years later, Sally is gripped with paranoia when she fears her cover has been blown. With no one else to turn to, she recruits her unsuspecting daughter to help uncover the truth and confront the elusive Romer. After a life of conspiracy and intrigue, Eva wonders if she'll ever feel safe.
"
Captain America: The First Avenger
" leading lady
Hayley Atwell
portrays the young Sally, with
Charlotte Rampling
taking on the older version. "
Downton Abbey
" actress Michelle Dockery stars as Ruth, while
Rufus Sewell
and
Michael Gambon
join the cast ensemble as the young and the older versions respectively of Lucas.
The two-part miniseries will premiere Friday, December 7 at 9 P.M. on Sundance Channel.
Gruesome find for Falcón star Marton Csokas in Spain
Shocked ... Marton Csokas had grim discovery while working with detectives ahead of role
Marton Csokas, who plays the title cop in Sky Atlantic's Falcón, witnessed the vile discovery while researching his role with the homicide department of Seville.

The new drama is set in the Spanish city and co-stars Emilia Fox, Hayley Atwell and Charlie Creed-Miles.

Marton said: "They showed us a robbery where someone had their head blown off."

But he said the grim discovery of the larynx had stuck in his memory most.

"That's the one that made me go, 'What? What am I doing here?'." he said.

"But it was incredibly useful because it makes you look at a crime scene as just that rather than going, 'Oh my God, how horrible'. And it made me see how obsessed the detectives become with their job and how their relationships suffer and all that sort of thing. It's so intense."



Emilia and Hayley say the drama, based on the best-selling books by Robert Wilson, is one of the SEXIEST they have ever appeared in.



Hayley said: "I'm in a lot of tight skirts and bling and gold and this is most amount of make-up I've ever worn for a job."

Emilia revealed Falcón was more bloody than Silent Witness, the BBC drama in which she plays a forensic pathologist.

She said: "It's quite gruesome. Maybe it's even more gruesome than the post-mortem stuff you see in Silent Witness."

James Floyd plays Falcón's nephew and had to train to be a bullfighter for the role.

He said: "I was planning to have children before I saw that outfit. It's the first role I've had where I've been told where to put my weenie."
Falcón starts on Sky Atlantic on Thursday at 10pm.
++++++++++++++++++++++++++++++++++++++++++
THE CANYONS

: 1950's TEASER TRAILER
* James Deen have all the makings to be a top mainstream actor. The guy oozes effortless charisma. I can say with certainty and it isn't farfetched to claim both LiLo and Tenille Houston may have indulged in a romp off the cam with Deen and his seven i

ncher

...the porn star experience!
++++++++++++++++++++++++++++++++++++++++++
John Madden Talks Showtime's

MASTERS OF SEX

.
Is it exciting to also have Masters of Sex picked up to series at Showtime?
MADDEN: I loved [making the pilot]. I'm very involved in it. It's a very interesting world, it's a very cool story, and it unleashes all kinds of things that you don't normally see dealt with or questioned. It was a fantastic script. I loved doing it. I'm thrilled it's been picked up. I think it will have a long life. And I will remain very centrally involved in it, I hope.
As a producer, or are you looking to direct more episodes?
MADDEN: Well, certainly as an executive producer, and quite possibly to direct it. It's just that the first phase of production probably coincides with a movie that I'm supposed to do. But, I'll definitely come back to it.
Read the rest here
++++++++++++++++++++++++++++++++++++++++++
First Look At Steve Coogan In Michael Winterbottom's 'The Look Of Love'
by
There are a few filmmakers as prolific and diverse working these days as
Michael Winterbottom
, and even though he just dropped his latest effort "
Everyday
" on the festival circuit this fall, he's already getting ready unleash his next film, "
The Look Of Love
."
Formerly titled "
The King Of Soho
," and changed after a
legal tussle with a rival project
, the film is now headed to the finish line and a couple of new pics and a poster have arrived.
Steve Coogan
stars in the true story of Paul Raymond -- a pornographer, strip club owner and impresario who managed to accumulate a fortune of close to £650 million (or just over a billion dollars) after buying up property in the central London area of Soho.
Anna Friel
and
Imogen Poots
, also feature, with the former playing will Raymond's wife Jean, and the latter his tragic daughter Debbie, who died of a heroin overdose in 1992.
"Like '24 Hour Party People,' it's a very British story about an eccentric character at the centre of pivotal events in British culture," Coogan told Empire. "I love the film. It has that strange combination of comedy and tragedy that Michael Winterbottom manages to pull off with a real deftness of touch. Like very few films these days it's actually about something without being portentous. Oh and there's lots of naked ladies in it too!"
Sounds good to us. "The Look Of Love" opens on March 8, 2013. No U.S. date yet.
++++++++++++++++++++++++++++++++++++++++++
19-years old German model-actress Alena Gerber : Playmate of the Month for the German Playboy [October 2008]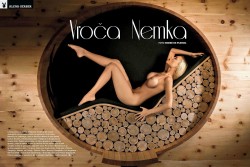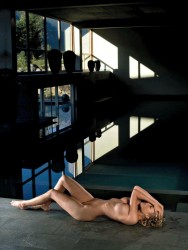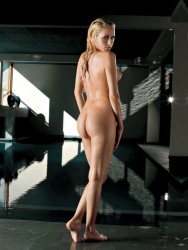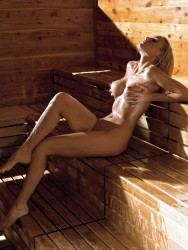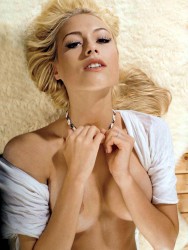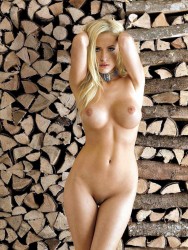 ++++++++++++++++++++++++++++++++++++++++++
Marais juggles roles for Magic City
Pam Brown, The West Australian November 13, 2012
The beautiful brunette rises from the pool naked, water cascading down her back. The Miami sunshine is so mercilessly bright that the revealing scene would be a challenge for any actress, much less one doing her first nude scene.

Asked about that scene early in the drama Magic City, which starts tomorrow, Jessica Marais says that it was not only her first nude scene but her first day on the set of the eight-part series and to handle it she channelled the personality of her character - gangster's wife Lily Diamond.

"Lily is swimming in her pool at home and when she realises she is in the view of another man she's not particularly bothered by it," Marais said.

"I myself would probably be shy in that situation and not able to do it but Lily is a completely different human being and when I go into being her, I don't really have a problem with it."

The WA-raised actress is on set in Miami filming a second series of Magic City when we speak. In a vote of confidence, the US network which commissioned the show ordered another eight parts before the first episode had screened.

Magic City begins at the end of the 1950s on the eve of Fidel Castro taking over in Cuba, an event which triggering a flood of refugees into Miami, and at a time when organised crime was tightening its hold on the city. There is a Mad Men quality to the attention to dress and period detail in the show.

Marais found herself in the early stages of pregnancy during the making of the first series but still managed to pour herself into the sculptured gowns of the period. Now with daughter Scout six months old, her post-pregnancy curves are fitting right in with Lily's sexy siren image.

"I have always been a fan of vintage clothing and I've always enjoyed taking dresses from time periods past and playing with them in a modern way but I haven't done it all out," she said.

"I don't think I would survive. It was not just throwing on sunglasses and T-shirt and out the door. Then, the nails had to match the dress, you had to pick the right colour eye shadow and have perfect hair and even the right undergarments."

Appearances are important to Marais' character Lily, who survives on her looks and her wits. Her husband, mobster Ben "The Butcher" Diamond (Danny Huston), is a silent partner in the new and luxurious Miami hotel, Miramar Playa, built and run by Ike Evans (Jeffrey Dean Morgan).

Evans is forced to turn to Diamond for help when a labour picket looks like ruining a crucial New Year's Eve concert by Frank Sinatra. What Evans does not realise is that his son Stevie (Steven Strait) is having an affair with Lily.

Marais is enjoying playing Lily, who she says becomes more complicated as the season unfolds.

"She is in what appears to be an abusive relationship and married to the most dangerous man in Miami," she said. "He teeters on the verge of charisma and then absolute psychosis most of the time and he is physically threatening when he wants to be. She is handed a lot of psychological and physical violence.
"It was very tempting to play her as a victim. However, I think there is a huge strength among all her vulnerability and she has a huge will to survive."

Marais expects to be still filming in Miami until the new year.

Her fiance James Stewart, whom she met on Seven's Packed to the Rafters, is caring for Scout while she works and the family has settled into life in the Florida city.

"I really enjoy it here but my life is very different to my life as Lily," she laughed. "I'm lucky if I get to go out once every blue moon. Going out for dinner is pretty much the extent of my living the Miami high life. My life is looking after the baby and any minute that I am not on set I am spending with my family."

Family is important to the couple and that is one reason why, contrary to reports, they are not planning to settle in Los Angeles.

"Both sets of grandparents are back in Australia and my mother would kill me if I spent the rest of my life in America and only ever went back for Christmas or holidays."But she still does not know if they will be able to bring Scout home for Christmas. "That is the million-dollar question, it depends on how the shoot goes."
++++++++++++++++++++++++++++++++++++++++++
Savannah Film Festival: 'I love my job,' Michelle Monaghan says
Posted: October 24, 2012
Actress Michelle Monaghan loves what she does, which makes her especially appreciative of the Spotlight Award she'll receive Nov. 1 at the 15th annual Savannah Film Festival.
The award is for her performance in "Tomorrow You're Gone," which also stars Stephen Dorff and Willem Dafoe. Following the award presentation at 9:30 p.m., the film will be screened.
Monaghan first learned of the award about a month ago.
"I can tell you it was a lovely, lovely surprise to get it," she says.
"It's so funny. Savannah has been on my list of places to go for probably about 15 years now. This is really a special way to be introduced to Savannah.
"I'm going to have about three days there," Monaghan says. "Fortunately, I'm going to be there with people who have spent quite a bit of time in Savannah and are already sending me lists of restaurants and must-dos."
Monaghan is best known for her roles in "Mission: Impossible III," "Kiss Kiss Bang Bang," "Gone Baby Gone," "Made of Honor," "The Heartbreak Kid," "Eagle Eye" and "Source Code."
After graduating from high school, Monaghan moved to Chicago to study journalism.
"Being an investigative journalist is really what I wanted to do," she says.
"I came from a small town in Iowa, and the idea of a world outside such a small place interested me. I am fascinated by current events.
"We discussed a lot of hot topics around the supper table," Monaghan says. "I was really interested in righting the wrongs of the world."
In her senior year, Monaghan realized she didn't want to be a journalist after all. She began modeling and, with just one semester to go, left college to move to New York City.
"I just decided journalism wasn't what I wanted to do," Monaghan says. "I was at a loss as to what I wanted my career to be, but I did know I wanted to move to New York.
"I really was hoping something would happen for me there. Sure enough, I discovered acting.
"I think I knew from the first experience I had that I'd made the right decision," she says. "I was confident in what I wanted to do."
Monaghan soon realized she had a lot of learning to do, but felt her instincts were good.
"I got an agent and have really worked at it," she says.
Her big break came in 2002 when Monaghan co-starred in the series "Boston Public."
She is thrilled that "Tomorrow You're Gone" is being screened at the film festival.

"It was directed by David Jacobsen, who did 'Down in the Valley,'" Monaghan says. "I've been wanting to work with him since I saw that film.

"He's a unique filmmaker. There is a European quality to his filmmaking style.

"He does real character studies," she says. "I found him interesting in the way he tells a story."

The movie is adapted from a book called "Boot Tracks" by Matthew S. Jones.
"It's what I would call a dramatic thriller," Monaghan says.
"It's about a character named Charlie Rankin. who meets a young woman, Florence Jane, who's kind of ethereal. It ends in an unlikely place, and it's got a very mysterious quality, almost a dreamlike quality."

Dorff plays Rankin and Monaghan is Florence Jane. "Willem Dafoe plays a character called 'The Buddha,'" Monaghan says.

Although she's played a variety of roles, Monaghan says she has no favorite. "I choose roles because they interest me or are going to challenge me," she says.

"I'm quite found of 'Kiss Kiss Bang Bang.' I had a wonderful experience working on it and it will always hold a strong place in my heart.

"There's a little tiny film I did a few years back called 'Trucker' that means a lot to me," Monaghan says. "'Mission Impossible III' was a great experience."

So was "Made of Honor," a comedy.

"I had a great time making out with Patrick Dempsey and hanging out in castles," Monaghan says.

"'Tomorrow You're Gone' is one of my dreams come true because I got to work with David. I'm in a movie coming out that's called 'Fort Bliss,' about a medic trying to reconnect with her family and loved ones after 15 months in Afghanistan."

Other upcoming films include "Fast Flash to Bang Time," "The Coup," "A Many Splintered Thing," "Gus," "Better Living Through Chemistry" and "Penthouse North."
Monaghan is married to Australian graphic artist Peter White and they have a daughter, Willow Katherine, who is 7.
"She entertains me," Monaghan says. "She makes me laugh. She's such a joy in our life."
Willow doesn't really understand what her mother does for a living. "I haven't made any movies appropriate for her to watch," Monaghan says. "I don't think she'll be acting any time soon."
Now Monaghan is ready to come south.
"I'm so excited to spend some time in Savannah," she says.
"I'm really honored they're recognizing me. I love my job so much that to have other people appreciate my work is just wonderful."
* Michelle Monaghan plays a porn star and there is a good but very remote chance she will be topless in at least one scene. Florence is a lost soul just like protagonist Charlie Rankin and as the duo take to the road, cautiously exploring the blossoming love between them. But the writer Matthew Jones sued the production company for changing the script without his permission. Likely the changes were made to accommodate Monaghan
aversion

to

nudity and tone down the violent content.
According to the complaint, after the novel came out, Jones was "courted" by defendants David Jacobson and Larry Rattner with assurances that the film would be consistent with the authenticity of the novel. In November 2010, Jacobson, who directed the film, and Rattner, who produced it, allegedly gave the writer authority over any script changes in the "Option Agreement."
Jones alleges that the defendants fraudulently made such promises "so they could misappropriate (his work) and use it in the way they wanted."
The film is said to be materially different from the screenplay in order to secure a financing and a distribution deal. Allegedly, principal photography was completed without the producers ever actually exercising the option to purchase Jones' work.
After Jones learned of this, he says he confronted the defendants, who were allegedly unresponsive to his concerns until they learned that Jones planned to file a lawsuit. At which point, they purportedly exercised the purchase option.
Now, Jones is suing for copyright infringement, breach of contract and fraud. He's demanding $500,000 in compensatory damages, $1 million in punitive damages, further statutory damages, an injunction against the film's release, and dissolution of the defendants' film company, Dirt Blossom.
The defendants couldn't be reached for comment.
++++++++++++++++++++++++++++++++++++++++++
I feared I'd boob film sex with

Scarlett Johansson
Steamy ... Paul Brannigan and Scarlett Johansson stripped for saucy sex scene
ACTOR Paul Brannigan feared he'd make a boob of a TOPLESS romp with Hollywood A-lister Scarlett Johansson.


While the stunning actress was semi-nude for the scene in sci-fi flick Under The Skin, Paul had to be completely NAKED.
The 25-year-old Glaswegian admitted: "I was really nervous because I have never done a sex scene before.
"I was stood there completely naked in front of Scarlett and all I was worrying about was how it would embarrass my son.
In the movie - filmed partly in Scotland — Paul is intent on seducing Scarlett's character Isserley.
But he only realises she is an alien maneater hungry for human flesh once it gets to the steamy scene.
Paul, who shot to fame in Angel's Share, added: "Needless to say all my friends are now asking me how they can get into acting."
The actor was speaking yesterday as he opened the Aberlour Family Support Service in Glasgow's east end. Paul was born to drug addict parents, and turned his life round through voluntary work.
The centre offers rehab accommodation to expectant mothers. Paul said: "It's a cause close to my heart."
++++++++++++++++++++++++++++++++++++++++++
Agnes Bruckner

on Portraying Anna Nicole Smith
Five years after her death, Lifetime is working on a biopic on the convoluted life of
Anna Nicole Smith
.
ET
recently visited the set of the film and caught up with the actress who is depicting Smith, Agnes Bruckner.
"It's just such a fascinating story to me," Bruckner said of undertaking the role. "There were so many different layers to her and she was so iconic and...larger than life. It was just something that I was like...'This is going to be really scary, but it's going to be really awesome at the same time.'"
As her life unfolded in the public eye due to intense media coverage and her own reality show that ran for a year, Bruckner had plenty of material to sift through when researching the role.
"I watched 'ET' stories; I watched YouTube clips," she said. "So much of her life was on camera, so there was so much to watch....[I researched with] a lot of DVDs, a lot of articles, [and] pictures--everything that was there."
While her research will certainly pay off for the film, viewers wouldn't be able to appreciate the biographical film if Bruckner didn't look like Smith. With the help of costume and make-up personnel, she was able to make the transformation from a self-declared brunette tomboy to a blonde beauty.
Although the abundance of Smith's life caught on film helped Bruckner study up for her role, those videos are also available for the public to watch, which can put more pressure on her to adequately portray the role. As her co-star Adam Goldberg attests, she's carried out the role well so far.
"She's been great. Agnes is an interesting actress, and she's not doing an impression of [Anna Nicole]," Goldberg said. "I think it's a very difficult role to play because there is just so much tape on this woman that's it's very easy to just do an impression...You have to find something in it that is honest for yourself and I think that's what Agnes is doing."
Watch the full video above for the full interviews, including that of Martin Landau, who plays Smith's billionaire husband, J. Howard Marshall.
The Anna Nicole Smith Story
will premiere in 2013 on Lifetime.
++++++++++++++++++++++++++++++++++++++++++
* winner of oblivious statement of the day....
KEIRA Knightley

: 'No one is interested in my boobs'
KEIRA Knightley says she is happy to take her top off because no one is interested.
The actress made the comments in the latest edition of Allure magazine in the US, where she appears topless on the cover.
"I'm quite rigorous about what gets exposed," she said. "No bottom half! I don't mind exposing my t-ts because they're so small - people really aren't that interested."
Knightley says film bosses are always keen to enhance her bust.
"They always pencil in my boobs. I was only angry when they were really droopy," she laughs. "For King Arthur, for a poster, they gave me these really strange droopy t-ts. I thought, 'Well, if you're going to make me fantasy breasts, at least make perky breasts.'"
The
Bend it like Beckham
star also hits back at those anorexia rumours, saying all the speculation made her question herself.
"The anorexic stuff - all of that - it's always going to have an impact, so I think it did hit pretty hard. Because you go, 'Oh, maybe that's right!' I knew I wasn't anorexic, but maybe my body is somehow not right. Or my face is not right. Or the way I speak is not right," she says. "When you're going through a period where you're really getting a lot of criticism, you go, 'Maybe all this is right! You just kind of want to hide it all.'"
++++++++++++++++++++++++++++++++++++++++++
25-years old Serbian singer Tamara Bencsik @ Bencsik Tamara: Playboy [2012]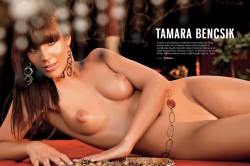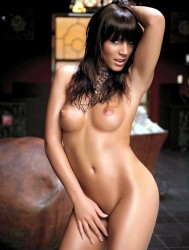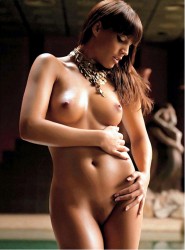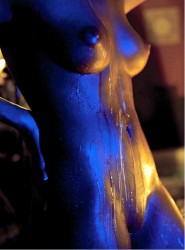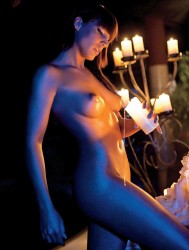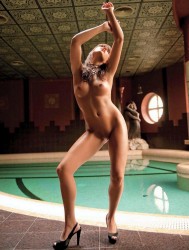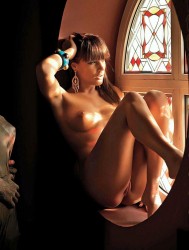 ++++++++++++++++++++++++++++++++++++++++++
'90210' casts 'Californication' actress Lyndon Smith in major role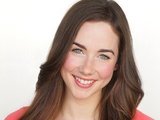 90210
has cast newcomer
Lyndon Smith
in a major role.
The actress will appear in six to nine episodes of the CW teen drama,
Deadline
reports.
Her character Michaela is described as "free-spirited" and has an incredible talent for singing. She also has a connection to one of the show's regular characters and will transform their life when she arrives in Beverly Hills.
Smith will play a minor role in the sixth season premiere of Showtime's
Californication
- to air in January 2013 - and has also been cast in MTV pilot
Cassandra French
.
* Lyndon Smith is a gorgeous creature but her appearance (also on-screen debut) on Californication sixth season premiere seems to be a very minor guest role. She is credited as Girl.

She must have made such an impression to jump straight into a major recurring role on shitty 90210. Hmmm....
++++++++++++++++++++++++++++++++++++++++++
In Bed with the CIA:
The Resignation of Petraeus
In Bed with the CIA: The Resignation of Petraeus
by Binoy Kampmark
November 13, 2012
Another affair, another moral paroxysm. Not that we should be concerned about extra renditions, torture, and subversive tactics – the CIA's Director can resign, not because of a vicious policy, but because of a considerable lack of bed room judgment and horizontal collaboration. This, speculate Washington insiders, is the end of David Petraeus' public career. "No man is indispensable," writes an almost mournful John Barry, "but Petraeus' brains, drive, and combination of military and political talents did give promise that the CIA would not be his last public office" (Daily Beast, Nov 11).
The casualty rate for a CIA director is a high one. Richard Helms (1966-73) ran foul of the Nixon administration for perceived disloyalty; James Woolsey (1993-5) departed in light of a perceived reluctance in taking a stance against officers involved with the Soviet-Russian CIA mole Aldrich Ames. John Deutsch's lighting brief tenure (1995-6) ended after allegations of casual mishandling of sensitive material (Eurasia Review, Nov 11).
The sense of proportion about this is staggering, though there are feeble attempts to claim that this is something beyond "sex", security beyond the bedroom. As Michael Pearson of CNN (Nov 12) claims, "The scandal surrounding the decorated four-star Army general who once ran the wars in Iraq and Afghanistan involves questions of national security, politics and even the September 11 attack on the U.S. consulate in Benghazi, Libya, that left four Americans dead."
The news is being sexed, spiced, and gingered. The participants are being deemed "security" leaks – Paula Broadwell, the suspected paramour, supposedly gave a compromising speech on the security complex of the Benghazi consulate. She might have leaked material on Facebook. She might have even had, shock horror, access to the General's email account. One suspects, however, that the press corps and smut vultures are grasping at straws. There is nothing more to tell, other than showing that such scandals can bring heads of vast and lethal government departments to heel.
A look at other historical events suggests that the comingling of body fluids and state information are considered fundamental parts of the espionage pursuit. Britain had its Profumo affair in 1963, when the Secretary of State for War John Profumo did the walk with "party girl" Christine Keeler. All was above board – till it came out that Keeler had also been dallying with senior naval attaché Yevgeny "Eugene" Ivanov of the Soviet Embassy in London. When it came to a sex scandal involving officials of the South Korean consulate in Shanghai last year, a "probe" was immediately launched. "Our probe," claimed Kim Seok-min of the South Korean prime minister's office, "showed it was a simple sex scandal caused by a lack of discipline among Korean diplomats. It's not an espionage case" (Zeenews, Mar 27, 2011). A CIA chief, for his position, ticks all the boxes – smut, security and sundry.
America's own apotheosis of sex in high office took place when the President erect, in the form of a careless and occasionally ruthless President Bill Clinton spilt his genetic material over a certain intern's blue dress. Conducting foreign policy with his fly open, his sexual antics dangerously combined with the infliction of war crimes on the Al-Shifa pharmaceutical factory in Sudan – a vicious mix, if there ever was one. Individuals such as Independent Counsel Ken Starr (don't we miss those days?) preferred to examine Clinton's record on mendacity. Presumably, Starr thought that a person, when confronted about extra-marital pursuits in high office, would actually speak about them with angelic honestly.
Everything that is being written about this encounter reeks of smut and innuendo. Consider CNN's account. "About four years ago, Paula Broadwell began her PhD dissertation on Gen. David Petraeus' innovative leadership skills." Note the suggestive sniggers, the dirty grin and assumptions that follow. "Some of the interviews were done via e-mail. Others were conducted as Broadwell occasionally ran with the physically fit four-star, including one with Petraeus and his team along the Potomac River in Washington." Rehearsed fitness regimes, followed by sly bonking, and chatter about deep matters of national security. Instead of doing the decent thing and staying regular on claret, Petraeus was engaging in that fatuous thing called "exercise" – with an admiring intelligence analyst in tow. Beware figures of authority who run.
The language itself of the entire episode easily moves into the realm of the lewd and lurid. It seems that the chief of central intelligence was having his own emails monitored by the FBI, on suspicion that Broadwell might have had access to them. There are double entendres, morsels for the dirty mind. The language of the military – one of violence and subjugation – often lends itself to sexualised import. "Broadwell told [Brooke] Baldwin [of CNN] that she embedded with Petraeus' staff and troops in the field, sharing their hardships and risks."
One of the problems here, it seems, was that Petraeus' admirer could not keep her mouth shut, stroking the ego of her subject while no doubt gaining a sense of self-inflated confidence. Those who seek retreat in the kingdom of the body tend to have little imagination outside it. This was well manifested by Broadwell's 60 push-ups on The Daily Show. Green horned jealously eventually intervened, and Broadwell's itchy fingers sent an assortment, it is claimed, of harassing emails to another woman "close" to Petraeus, since named Jill Kelley. (Ah, another snigger. Did the general get Kelley into the sack as well?) The FBI, that august institution and not always friend of the CIA, decided to get their paws dirty after Eric Cantor, the House majority leader, received information from "an FBI employee whom his staff described as a whistle-blower" (New York Times, Nov 11).
As hard as the sex scroungers will be looking, justifying their lust for lewdness by seeking a "security" breach, sex is all they will find. That, and the extraordinary sense of disproportion that comes with its appraisal. One can make agreements with the President on launching drone strikes that wipe out entire families in Waziristan. Or – and the Taliban, take note – one can fall from grace after a sexual indiscretion in Freedom land. The moral in Washington, as it has been since the early days of the Republic: Make sure your fly is always done.


*************

Binoy Kampmark was a Commonwealth Scholar at Selwyn College, Cambridge. He lectures at RMIT University, Melbourne.



*

Paula

was bored with her husband. Her children welfare and how they'll view her in future didn't even come into equation when she decided to suck Petraues cock under his table. Yep. The sordid e-mails was so explicit it shocked FBI. It

reportedly

describes sexual acts between the pair and it

seems

they were reliving it through the e-mails. I'm interested to know who made the first move. If it's Petraeus then it's likely he cheated before and there is a pattern to it that m

ust

had FBI worried. But I'm pretty sure it was Paula. I'm not being a sexist pig but women are drawn to powerful men. Someone who is in charge. In a all-powerful position

s

exually excites the ladies. It doesn't matter if the guy is well into his sixties or seventies. Or married.
My dad was super successful in construction when Florida was slowly booming into life in 60's and 70's. He was the man in the small town. And the asshole took full advantage constantly breaking my mum's heart over and over. He wasn't secretive about it. In fact he was smug and after my mother passed on, started to bring his girls home. He prefers them in their early 20's. Your waitress kind. He was a misogynistic racist and money made sure he was safe from any real repercussions. He will boast about his sexual conquests

in drunken stupor. It was a hellish year for a 17-years old. The story he likes to repeat over and over is when he slept with both mother and daughter combo. Not at the same time. The mother worked at the restaurant we used to frequent when my mum was alive. She was the manager and around fortish. I believe his main aim was the daughter. She was about nineteen and regular fixture on beauty pageants circuit.

G

orgeous to say the least with flowing blond tresses and very Kate Upton-ish body. It's also a well-known fact she was 'for sale'. It was her way of saving money to enroll in a college. She broke off with the local councilman as soon as my father made it known he was interested in her. Maybe it was envy on my part but I despised my dad even more when she trudges around the kitchen wearing his old bath-robe in the morning, smelling of sweat and sex and still looking hot as ever. Thankfully she was dumped after couple of months. I couldn't wait to move out and leaving Florida for good. When the chance arrived, I took it.

++++++++++++++++++++++++++++++++++++++++++
LA County's Measure B is a major win for safe sex in adult entertainment
The failure to block the pro-condom ballot, for all their political leverage and wealthy donors, is a knock for Big Porn's exploiters.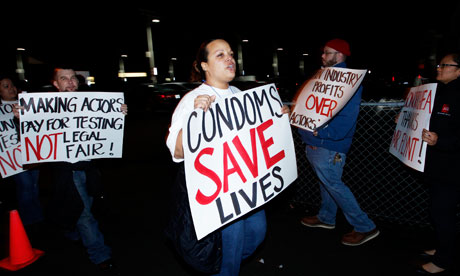 As an anti-porn feminist academic and activist, I am often accused of being in bed with the right. Well, the time has officially come for the pro-porn camp to stop worrying about my bedmates, because they seem to be the ones who are cosying up to some very strange bedfellows indeed.

Who, for example, would have believed that the pornographers would end up in the same corner as the Los Angeles County Republican Women's Federation? This was just one of the groups, along with the Los Angeles County Republican party, that supported the porn industry's efforts to stop the Los Angeles County ballot initiative that would require condoms to be used for vaginal and anal sex in porn films shot in the county. Known as Measure B, and authored by the Aids Healthcare Foundation (AHF), this initiative also requires porn film producers to obtain public health permits. Repeated failure to do so could result in civil fines or misdemeanor charges.

Even though there was a massive campaign against this measure – orchestrated by the porn industry and supported by business organizations such as the San Gabriel Valley Legislative Coalition of Chambers of Commerce and the Valley Industry and Commerce Association (Vica), which proudly boasts that it "promotes a pro-business agenda" – the measure passed on 6 November, with 55.9% of the vote. It is worth noting that some of the "premier partners" of Vica include Chase Bank, Walmart, Southwest Airlines and Vons (a Safeway company). With friends like these, it is clear that the pornographers' carefully crafted image as a bunch of cool, hip, renegade artists at the cutting edge of protecting our fantasies and freedoms is bogus. They are in bed with the big boys of American capitalism, and the fact that a non-profit group such as AHF won is a rare instance in this country of David beating Goliath. It's no surprise that the mainstream media has virtually ignored this, because it shows just how a well-organized, committed and dedicated group of activists can fight and win against corporate power.

And there was lots of corporate power fighting the measure. One of the biggest contributors to the effort to defeat Measure B was Manwin, which can best be described as a foreign-based porn cartel. In addition to Los Angeles, Manwin maintains offices in Montreal, Canada; London, United Kingdom; Hamburg, Germany and Nicosia, Cyprus. Manwin owns a number of well-trafficked internet porn sites such as MoFo's and Brazzers, as well as most of the popular so-called "free porn" sites that are actually major conduits of traffic to its for-pay websites. The two controlling agents are non-US nationals: Fabian Thylmann, whose residence is listed as Brussels, Belgium, and Andrew Link, whose residence is listed as Montreal, Canada. Given this fact, the Aids Healthcare Foundation has filed a complaint with the Federal Election Commission regarding violation of the prohibition on political contributions by foreign nationals.

According to records obtained by the AHF, Manwin not only donated over $300,000 to fight Measure B, but also had banner ads reading "Vote No on B" splashed across its porn sites. On its Brazzers site, the banner was directly above an image of a woman being anally penetrated by a condom-free penis. In addition to Manwin, questionable supporters opposing the measure included the Coalition for Senior Citizenry, which gives its address as 2350 Hidalgo Avenue, Los Angeles, but has a disconnected phone number; and the Council of Concerned Women Voters, which has no phone number and no web presence – and also resides at 2350 Hidalgo Avenue, Los Angeles. Along with support from these purported grassroots, or "astroturf", organizations, money flowed in from major studios such as Vivid and porn companies like Flynt Management Group, and John Stagliano, owner of the hardcore porn company called Evil Angel.

Echoing the usual ideology of the right wing of the Republican party, the anti-Measure B campaign had three main purposes: to promote the economic benefits of the sector to the regional economy; to deny a need for governmental regulation; and to encourage workers to make their own choices, however dangerous or exploitative the conditions. The campaign committee against Measure B was established through the Free Speech Coalition, which is the lobbying arm of the porn industry.

Diane Duke, the group's executive director, is on record as saying that Measure B was not about "performer health and safety", but rather about "government regulating what happens between consenting adults". So, in place of employees being paid per scene by porn owners who control their wages and working conditions, the industry reframes workers as "consenting adults" having sex that just so happens to end up on film that is distributed through porn industry websites and generates profits for its capitalist owners. This is like those Walmart ads that depict its "associates" as retirees who love hanging out at the store because everyone at Walmart is just so nice and friendly.

As a way to further render invisible the power inequality between the owners of porn companies and their employees, the industry used some performers to make the case that Measure B was an infringement on workers' rights. Porn actress Amber Lynn was quoted as saying that:
"The idea of allowing a government employee to come and examine our genitalia while we're on set is atrocious."
Nina Hartley, a long-time performer and pornographer, sounded like a character out of Orwell's 1984 when she explained that condoms are actually dangerous to the performers' health because "condom burn … can create micro abrasions in the vagina or anal canal," exposing them to potential pathogens.

Anyone familiar with mainstream porn knows that it is the pounding anal, vaginal and oral sex that causes a whole host of health problems, not to mention the saliva, semen, urine and feces that are ever-present on the set. Many of today's mainstream porn movies feature only hardcore brutal sex that often includes women being penetrated by three men at the same time, while they spit in her mouth, pull her hair and push her body to its limits of endurance. The now-shuttered Adult Industry Medical Health Care Foundation, which was the Los Angeles-based voluntary organization in charge of testing performers, included a list on its website of possible injuries and diseases to which porn performers were prone. These included HIV; rectal and throat gonorrhea; tearing of the throat, vagina and anus; and chlamydia of the eye. Nowhere will you find a currently-employed porn performer talking honestly about the type of bodily injuries that occur on the set for fear of industry retaliation.

In a study due to be published in the December 2012 issue of Sexually Transmitted Diseases that examined 168 sex industry performers (67% were female and 33% were male), 47 (28%) were diagnosed with a total of 96 infections. Even more troubling, according to the authors, was that the porn industry's "protocols" significantly under-diagnose infections; 95% of oropharyngeal and 91% of rectal infections were asymptomatic, which, the authors argue, make them more likely to be passed on to partners both in and out of the sex industry. These findings led the authors to conclude that:
"Adult film industry performers in California are workers in a legal industry and should be subject to the same workplace safety standards from which workers in other industries benefit."
Why has the porn industry been allowed to get away with this for so long? A couple of obvious reasons include the revenue that it generates for Los Angeles and the political power of the pornographers. A hint of the latter was found in a fawning article in the New York Times on Hustler owner Larry Flynt. Brooks Barnes, the author, reports that his interview with Flynt was interrupted by a phone call from Governor Jerry Brown of California. According to Barnes:
"Mr Flynt apologized and took the call, saying that the governor, pushing a 6 November ballot measure to increase taxes, probably wanted money for the campaign."
The phone call ended with Flynt saying, "Have your girl [sic] call my office with the information." As well as being buddies with politicians, the multibillion-dollar porn industry in Los Angeles interfaces with local venture capitalists, banks, real estate companies and credit card companies – not to mention all the allied industries it supports: film companies, sound studios, editors, software developer, and a whole host of pimps who rent their "commodities" out to the industry, film by film. No surprise that the industry used the threat of leaving Los Angeles if Measure B was passed.

The porn industry, like all industries, is promiscuous when it comes to jumping into bed with anyone who will support a neoliberal agenda of deregulation and market growth. Industry owners don't care if the performers suffer from diseases, ripped orifices or emotional trauma. What they care about is making a profit, and it is about time their supporters stopped mouthing platitudes about fantasy and sexual empowerment, and instead, wised up to the public health risk that porn poses to us all, because we now have a generation of boys (and, to a lesser extent, girls) being groomed to believe that hot sex is sex without a condom. Measure B is only the first step in the fight against this industry, but the AHF has shown that, when activists organize, even a well-oiled corporate machine is vulnerable. This should be a lesson to activists everywhere.

And for all those out there interested in who radical feminists are in bed with, I can promise that we have never – not once, ever – snuggled up with the Los Angeles County Republican Women's Federation or, for that matter, the San Gabriel Valley Legislative Coalition of Chambers of Commerce.
Porn, syphilis and the politics of the money shot
I regularly saw a mix of saliva, semen, faeces and vomit on porn sets. A call for condom use highlights the plight of performers
More pornography is produced in the Greater Los Angeles area than any other part of the English-speaking world. So when a US-based porn performer recently tested positive for syphilis, the news prompted a self-imposed 10-day moratorium on porn production. Oh, the irony of it. The person held responsible for this outbreak is
Mr Marcus, a well-known porn performer and producer who, in a 2007 XBIZ article, was described as "an outspoken proponent of performers' rights" following his failed attempt to get porn performers to organise as a group with collective interests.

After a number of actors tested HIV-positive in the summer of 2004, Mr Marcus felt that the porn industry had a "moral obligation" to safeguard the health of its performers, so he convened a meeting. Not surprisingly, nothing changed. It was business as usual, with another actor testing positive in 2010, and then another in 2011. It would seem that Mr Marcus has changed his tune a bit since 2004 because, according to a recent story in XBIZ, he altered his test results so that he could continue to work.

As usual, the Free Speech Coalition (FSC), the porn industry's lobbying group, has been working overtime to lend a positive spin to what is simply another example of an industry that shows nothing but contempt for the health and safety of its employees. Diane Duke, the executive director of the FSC, told MSNBC: "Clearly our industry's priority is the health and wellbeing of our performers." This is the same Diane Duke who has fought tooth and nail against a Los Angeles city council ordinance that would require the use of condoms to protect performers from sexually transmitted diseases.

For those unfamiliar with mainstream internet porn, let me explain that we are not talking about films depicting people making love. Today's most popular porn websites have acts that include gagging with a penis; pounding anal sex; spitting into the mouth of a woman; ATM (ass-to-mouth) transitions, in which the penis goes from the anus to the mouth without washing; ejaculation onto the body and sometimes into the eye; and bukkake (wherein any number of men ejaculate on to a woman's body, or into a cup which she then drinks). In writing my book Pornland, I watched hundreds of scenes from the most popular porn movies, and I regularly saw a mixture of saliva, semen, faeces and vomit on the set. Can you name one other multibillion-dollar-a-year industry that is this dangerous, has so little governmental regulation and interfaces with banks, credit card companies, venture capitalists, software developers, hotels and media corporations?

The now closed Adult Industry Medical Health Care Association, which was the Los Angeles-based voluntary organisation in charge of testing performers, had a list on its website of possible injuries and diseases to which porn performers were prone. These included HIV; rectal and throat gonorrhea; tearing of the throat, vagina and anus; and chlamydia of the eye. Not your everyday workplace ailments – unless, of course, you are a prostituted woman.

Sounding like a character out of Orwell's 1984, Duke argued that the condom ordinance spearheaded by the Los Angeles-based Aids Action Committee was not about "performer health and safety", but rather about the "government regulating what happens between consenting adults". Such a statement renders invisible the reality of the lives of porn performers who, like most workers under capitalism, are not equal participants in the employer-employee contract. Porn performers who don't own companies, like the rest of us, do not get to dictate the conditions of their work. Instead, they're at the mercy of the employer, whose role is to maximise profits, no matter what the cost to the workers.

The porn industry projects an image of itself as one run by a bunch of cool and hip renegade artists who are at the cutting edge of protecting our freedoms. In reality, they abhor any government regulations that cut into profit. And there is no doubt whatsoever that requiring performers to use condoms will have a major economic impact on the porn industry. Porn consumers do not want condoms. As the veteran porn performer Ron Jeremy so eloquently put it: "Hey, dicks, it's really quite simple … No matter how you slice it, the viewers don't want to see them."

Why is this? The fantasy of porn is that she is an object who exists to be penetrated, dehumanised and then disposed of. She has no bodily integrity, limits or dignity. She is not someone to worry about, care for or protect from physical harm. On the contrary, porn sex is about pushing her to her bodily limits, and then moving on to the next, and the next, and the next. Given this, it would simply make no sense for the men, during a porn shoot, to take the time or trouble to open a condom, put it on, check to make sure that it covers the penis so she won't be infected, and then start pounding away at her as if her body is a trash can. Condoms mean that she matters, and porn is all about her not mattering.

Another big problem for the industry is that a condom would ruin the "money shot" – the term pornographers use to describe the final scene, in which the man ejaculates on to the body or into the eye of the woman. One performer told XBIZ: "Our industry depends on that shot!" The best explanation for this comes from the veteran porn actor and producer Bill Margold, who is quoted as saying: "The most violent we can get is the cum shot in the face. Men get off behind that, because they get even with the women they can't have. We try to inundate the world with orgasms in the face."

For the time being, the outbreak of syphilis has spotlighted the dangers that porn performers face in the industry. This is a positive thing, but to reduce the debate to one of STDs or condom use obscures the larger issues that we face as a culture. The question we should be asking right now is this: what are the possible long-term consequences of living in a world where the major form of sex education for boys and men is provided by an industry that has time and again demonstrated a total disregard for the wellbeing of women?
Should Pornography Come Out of the Closet?
Read the raging debate about validity of porn biz by group of women who either outright hates it, are paid to utter nonsense, in denial or for porn as long as it evolves to feminine-type of vanilla presentation. I just want to remind my blog visitors something that I learned about women traveling the world and it's a common thread especially in these hedonistic times where women are striving to be equal to men in everything including duplicitous public behavior. It's a pattern that I noticed and now accept it as a mantra. "Women will marry nice guys but given the chance will fuck an asshole who treats them like shit in and off the bed". That's the main reason women strays from a stable marriage (imo). We all know why guys cheat. When a woman does it, it's usually because they're are bored with their stale marital relationship, dull hubby and looking for something different. Which usually lead to destructive consequences for all parties involved. They will exhibit behavior totally in contrast to their normal one. They want to be in charge (female-teachers and their victims) but at same time will paired up with a guy who treats them like crap. Degrade them. Dominate them. Do you have to wonder why Fifty Shades of Grey was such a grand success on global scale. I bet all my money the women - pubilc figures or not - denouncing the book as anti-woman filth owned a copy of it. Like I said before. You can't figure out women and woe for anyone who tries to.
++++++++++++++++++++++++++++++++++++++++++
Just a little bit racy
by
Nadia Cho
| Staff
A recurring subject among my housemates is the racial categorization of sexual preferences. My housemate once complained to me that people call her "exotic" because she is a black woman and that they often want to get with her only because she has curves. My other housemate told me he feels fetishized by women for being an Asian man, as women like to mess around with him because they don't expect him to be sexually assertive. My blond friend also once told me some people aren't attracted to blondes because they don't think blondes are exotic enough.
This conception of exotic beauty is a Western ideology that is assigned to people of color. As explained in a blog on PsychologyToday.com, the conception assumes white phenotypes as the standard and defines exotic beauty as deviant from the norm. From this notion springs widespread stereotypes about people's sexuality based on their race, like subservient geisha Asian girls, passive Asian boys, feisty Latinos and exotic, domineering black people.
In a lecture on racial inequality, UC Berkeley sociology professor Szonja Ivester defined racism as "a set of beliefs and social practices in which people are accorded advantages and disadvantages on the basis of culturally defined racial classifications," which often involves "linking evaluative judgments to these classifications." So even when someone claims he or she like the aggressiveness of black males or the passive nature of Asian males, that person is still being racist because he or she is attributing personal traits on the basis of race and treating those people differently.
Racialized sexualization is perpetuated by people of all races. There are many white guys with yellow fever and white girls with jungle fever. There are Asian girls who are only down to date white guys and people who refuse to date members of their own race. There is also a stigma against those who choose to date people outside of their own racial groups. The issue with racial labeling of sexual preferences is that it makes individuals feel like people aren't attracted to them for whom they are but rather what color they are.
Our society needs to be rid of racial stereotypes about sexuality, but one effect of race that should be taken into account is privilege. All people grow up with different types of racial privilege. Many of us care about the colonization and oppression of our ancestors from around the world and don't wish to perpetuate racial hierarchies. Those of us who enter intimate spaces with partners of different races must take such historical factors into account, acknowledge societal power dynamics and try not to uphold racist standpoints in our relationships.
For example, I dated a damn good-looking white boy recently. We got along fine and had great conversations and debates. But there were instances in which he would express privileged positions, such as calling something distasteful "gay" or blaming affirmative action for why a person of color was chosen as the winner of a beauty pageant. By saying things like that as a straight white male to a queer woman of color, he made me uncomfortable, and it kept me from developing deep feelings for him. Needless to say, we aren't together anymore. But this experience did show me that my future partners need to acknowledge and understand their positions and privileges relative to mine and that I should do the same in order for us to feel completely comfortable around each other.
Individual experiences make us who we are. Race is something that influences our experiences, but we can't assume anyone's experiences based on race. This also goes for sexual experience, in which someone's race won't make him or her freakier in bed, have a bigger dick or just be better at sex in general.
There's nothing wrong with being attracted to particular physical traits, like dark hair, tan skin or almond-shaped eyes. But claiming to be attracted to people of just one particular race is not only discriminatory but also shallow. Your choice in sexual and romantic partners is a personal matter, and your individual preferences should be respected; but race isn't the only trait you should base your preferences on, because that's inherently racist.
If we truly want to be a society that claims to look beyond race and physical appearance, race cannot affect our views of sex and, of course, individual people. Upholding sexual stereotypes defeats the objective of finding individuals attractive for whom they really are.
So next time anyone expects me to be some cute, passive Asian schoolgirl, I will whip you hard enough to cure you of your misogynistic yellow fever.
++++++++++++++++++++++++++++++++++++++++++
* can we classif
y
this as a 'jungle fever'?
The Dutch woman who ran away with Colombia's FARC
Tanja Nijmeijer moved to Colombia in 2002 where she joined the FARC guerrillas in their fight against the Colombian state. She will be a part of their negotiating team during peace talks in Cuba this month.
By

Miriam Wells

|

Christian Science Monitor
Smiling into the camera, a young female guerrilla picked up her guitar and dedicated a song to her family. "Don't Cry For Me Argentina," Tanja Nijmeijer sang to her parents in Holland, who had not seen her in years.

This scene in a 2010 documentary provided the first images of Ms. Nijmeijer since she abandoned a comfortable life in Holland eight years earlier to fight a communist war against the Colombian state.

This fall, her startling story was brought back into the international spotlight, following the launch of the first official peace negotiations between the Revolutionary Armed Forces of Colombia (FARC) and the Colombian government in more than a decade. Colombia's internal war has persisted for more than 50 years.

In the run-up to the second phase of talks between the government and the FARC due to start in Cuba on Nov. 15, the FARC announced Nijmeijer would form part of their negotiating team. Apart from being a rare female presence at the peace talks and helping internationalize the rebels' image, Nijmeijer provides unusual insight into the "revolutionary" psyche, and her trajectory from a middle-class European childhood to a spot alongside the FARC's top commanders can be hard to fathom.
Raised by a close-knit family in a small Dutch town, by the age of 20 Nijmeijer yearned for adventure and responded to an ad in a college newspaper to teach English in the western Colombian town of Pereira. She arrived in 1998, the year the Colombian government agreed to hold new peace talks with the FARC following a series of debilitating large-scale rebel attacks on its forces.


Nijmeijer had a "strong social conscience," her mother, Hannie Nijmeijer, said. She was shocked by the extreme poverty and inequality that surrounded her in Colombia, and became interested in its politics and violent history. The FARC were fighting for social justice and agrarian reform, though many question their true ideological commitment today.

Nijmeijer later said the answers that satisfied her curiosity came from a fellow teacher who showed her some of the country's poorest regions. The teacher taught her about communist movements around the world, and some claim she was deliberately radicalized.



'NEVER IMAGINED BECOMING A GUERRILLA'


By the time Nijmeijer returned to Holland a year later, she was consumed with the "fever of the revolution," she told filmmaker and writer Jorge Enrique Botero, who spent time living in her jungle encampment in 2010.
At home in Holland, she threw herself into socialist activism, distributing radical newspapers and taking part in protests, but when she imagined her life trajectory there she felt despondent. "Soon I would buy a little house, have a husband and three children, while at the same time, the revolution would be taking place in Colombia," she said.

So Nimeijer saved enough money to return to Colombia in 2002, and though purportedly "never imagined becoming a guerrilla," quickly became involved in the FARC's Antonio Nariño Urban Network in Bogota, helping to bomb police stations and public transportation.

Within a year she left the capital for a life of guerrilla warfare and extreme hardship in the Colombian jungle.

"She has a very unusual psyche," says Leon Valencia, an analyst and former guerrilla who wrote a book about Nijmeijer. She has no limits, Mr. Valenica said, often feeling extreme rage, sadness, happiness – "But the one thing I have never seen in her is fear."

According to Mr. Botero, the film director, she has "an incurable inclination toward danger and fear." She struggled initially with the intense physical challenges, such as the days-long marches between encampments loaded with equipment, an induction for new recruits. But she stuck to a strict regime to develop a tough physique. About one-third of the FARC forces are thought to be female.

Nijmeijer's tenacity and bravery under attack impressed her superiors, says Botero, and she rose through the ranks, becoming assistant to a senior commander.



'HER PLACE IN THE WORLD'



Emotional ties were harder to overcome, though. Life as a guerrilla meant abandoning her family for good, something "which caused her a lot of pain," says Botero. "But like all FARC members, the guerrillas became her family – the structures and behavioral codes are very similar to family life, and they learn to forget."

"At first I had true nostalgia, thinking about the fact I was never going to see my family again, but now it doesn't affect me," Nijmeijer can be seen telling Botero with a smile in his 2010 documentary. Dressed in combat gear with an AK-47 on her lap, she said, "I remember the good times."
Her family traveled to Colombia several times to try to bring her home. Her mother broadcast messages on radio frequencies used by the FARC, and even flew across the jungle in an Army helicopter begging over a loudspeaker for her daughter to flee.


But after being granted a jungle meeting in 2005, Mrs. Nijmeijer left knowing her daughter would never leave the rebels, she told reporters. "Tanja came to feel this was her place in the world," says Botero.

But she did have moments of doubt. Nijmeijer's diaries were discovered at an abandoned FARC encampment in 2007, and quickly became front-page news. "One lives here more or less like a prisoner. This would be worth it, if I knew I was fighting for something, but I don't really believe in this anymore," she wrote.

Nijmeijer claimed her words were manipulated, telling Botero she was a committed and proud member of the FARC, and would stay that way until "victory or death."

'MUCH HOPE' FOR PEACE

Now it seems there may be another way out.

Following speculation over whether she would be allowed to participate in the Colombian negotiations as a foreign national, Nijmeijer arrived in Cuba this week.

In an interview with Agence France-Presse news agency, she said life as a guerrilla had been "very hard" but said she felt very happy and fulfilled to be "part of the people's army... [at] the center of the fight for social justice."

"The Colombian people are a vanguard, an example of nonconformity, of fighting spirit, and that has always attracted me," Nijmeijer told AFP, adding that she had "much hope" for the upcoming peace process.

For many, simply by virtue of being a woman, Nijmeijer will be a very welcome addition to the talks – lack of female participation in previous talks has been cited as a contributing reason to their failure. This time around, the negotiating teams are again predominantly male.

For her family, Nijmeijer's presence goes beyond gender roles and representation: This is the first time they have seen their daughter in nearly three years, sparking renewed hope that one day, she may even return home.
++++++++++++++++++++++++++++++++++++++++++
Some Things to Consider When You Think You Want to be a Prostitute
I'm frequently bombarded by thinkers who have no intention of becoming doers, who want my advice with no intention of putting it into practice. In a community where sex work is nominally accepted as a legitimate way to make a living, asking for professional guidance is a lazy disguise for prurient interest, so lazy that the questioners themselves often don't consider the difference. When I started working as a prostitute, I dove right in without a clue about how to do it, calling classified listings in a free weekly until I found an agency that felt like a good fit and got hired. After finding my sea legs a few months later, I set out on my own as an independent escort. It's not an impossible business to figure out, but it's nice to have some guidance, so I tend to err on the side of generosity with the would-be pros who come to me for advice, giving them the full hooker-mama treatment. It snaps them into the reality of what sex work actually is, beyond what they want it to be, and as such is a useful education even if it's rarely put into practice.
The money myth
Why do you want to be a sex worker? If your answer is "I want fast money," and it often is, turn back now. There's nothing inherently unhealthy about sex work, but there's something inherently delusional about get-rich-quick schemes, and if that's what you think you're getting into, it's not a healthy career move. You might make a pile of money tonight, but that doesn't mean you'll make a cent next week, and if you let the Benjamins get to your head you'll be broke more often than you think. Working in a dungeon or massage parlor means spending six hours a day streaming TV shows before you get an hour or two of actual work; whether you're making $75 or $250 a session, it breaks down to a whole lot of nothing per hour.
Wages aside, you probably won't like your job very much. You'll probably make unhealthy choices, like not using protection, not screening, meeting clients who gave you a bad vibe on the phone, or seeing more clients than you can handle.
If you want to be a sex worker because you enjoy work that's physically and intellectually engaging, you like meeting new people and sometimes touching them, you're an exhibitionist or you like to talk dirty or you just don't take sex very seriously, you might be getting somewhere.
You are your own boss
Sex workers need to know their boundaries and be willing to evaluate them, to know when to stand by them or change them when they're challenged. Whether you're working as a stripper or an escort or a webcam performer, you'll likely have an encounter that pushes at those boundaries. Know the difference between what you will do and what you prefer to do, what you won't do and what you prefer not to do. I have friends who give happy ending massages and don't let their clients touch them; I prefer clients who want to make out and get me off. As you consider your preferences, you might realize that working as a prostitute isn't for you, and another kind of sex work is just right. One woman I tutored told me she didn't want to be naked, dance, have any sexual contact with her clients, or see anyone else's genitals; she must have been willing to bend on the last part, because she ended up working as a domme. That, or she's cornered the market in forced chastity.
Working independently isn't for everyone. You often spend more hours screening clients, putting up ads, and answering calls than you do in session, and if you find that kind of work draining, you might prefer to work for an agency. Like any other profession, there are unscrupulous managers and jerks who will expect you to always be on call but will rarely give you work. There are others who will screen thoroughly, be considerate of your schedule, and introduce you to terrific clients. I started out working for one of the latter, but learned that I feel much safer and happier when I'm solely responsible for my screening and scheduling. I also prefer to take home all of my earnings after a session.
Taking risks
Female prostitutes contract HIV at a slightly
lower
rate than women who don't work as prostitutes, because we understand the importance of safer sex and know how to best put it into practice. Of course, there are some women out there who think they're safe because they charge $3000 for bareback sessions and see fewer clients. The choices you make with your body are your own, but the rest of us will think of you as a scab, undermining the safer practices we're fighting for. Assuming you do decide to play safely, and I hope you will, be prepared to encounter men who have a thousand excuses for why they don't want to use condoms. Yes, in 2012. Remind them that if you decide to make an exception for them, you've probably made exceptions before, and you'd be putting them at risk. Remind them of their wives at home. Be firm and be willing to walk out the door. STI transmission rates would probably be cut in half if every woman acquired the authority on safer sex that prostitutes have.
The greatest risk you need to consider is arrest. Getting arrested sucks, and it can impede your ability to enter another profession. A friend of mine got fired from her job at American Girl Place when they did a background check and found she'd been arrested for prostitution, although the charges were dropped. Because, you know, hiring someone who might have worked as a prostitute is a lot more dangerous for children than, say, instilling creepy ideas about gender and race into them in the form of heavily back-storied dolls.
Careful screening is the most important thing you can do to protect yourself from arrest and violence. The internet has made screening incredibly straightforward, and you should take advantage of the many blacklists, whitelists, and background checks that are available. Some whitelists don't require clients' real names for membership and use loose screening methods; you're better off doing most of the legwork on your own. Get to know other sex workers in your area. Having a support network feels good; it also helps you access local groups that keep members informed about problem clients and arrest patterns. Many sex workers will only see clients who have two or more verifiable references from other providers. Whatever method you choose, be consistent about using it, and contribute to the community by reporting bad clients and providing references promptly when asked. Use these tools, and trust your gut; intuition is the cornerstone of screening.
You also have to consider the stigma of being outed against your will. When I worked as a nanny, a family I'd been with for several years found out I was also working as an escort. Fortunately, they spoke with their doctor, who assured them that their daughter wouldn't catch anything from me, and with their therapist, who reminded them that I'd been an important part of their child's life and that this didn't change anything. They decided to keep me on, and didn't out me to the other family I worked for. If they'd moved on their first reaction, and if those wonderful professionals hadn't stepped in to set them straight, they could've flipped out and gotten me registered as a sex offender for life.
You need to make decisions about who should know about what you do and how you'll respond if someone else finds out. You'll find that keeping secrets from people you care about can be uncomfortable and damaging, and that honesty is often a risk worth taking.
Advertising and identity
You'll use another name as a sex worker, but that doesn't mean you'll need another persona. If you enjoy getting into character and being someone else when you work, that might be right for you. It could also make you feel like you're split down the middle. When I work, I wear deodorant and clothes with a minimal coating of cat hair; beyond that, my clients meet the same woman that my friends do. You don't need to conform to mainstream beauty standards to be a successful escort. I don't shave my pubes or armpits, and some of my clients enjoy that but most don't care. That's the strange thing about mainstream beauty standards: in the privacy of their own homes, no one's really that into them. Like anyone else, most clients are looking for a provider who's engaging, genuine, a decent conversationalist, and fun in bed.
Marketing yourself is weird. I don't know anyone who likes writing their ads. It's up to you to decide whether you want to appeal to a general audience or a niche market. Body size and ethnicity could be factors you exploit if you want to see BBW enthusiasts or race fetishists; they can also be parts of you that don't define who you are as a sex worker.
Ads that cost more won't necessarily bring you better clients. They're often not worth it. Play around with different sites until you find what works for you, and remember that you're leaving a trail when you do that will define your working identity. While no website is safe from law enforcement, pay attention to high-profile busts that target specific sites and run the other way. Unfortunately, free and inexpensive classified ads are targeted most often because there's an expectation that women on those sites will screen less carefully.
Your digital slime trail could also screw you out of other jobs. Photos of your face are good for business; they're also hard to erase once you've shifted into a career as an acupuncturist or a teacher. If you consider prostitution your profession, as many of us do, photos of your face are worthwhile. If you're just testing the waters, or think of sex work as a stepping-stone while you make your way through grad school, spare yourself that moment when a boss or colleague asks, "Don't I know you from somewhere?" It begs the question, "Why were you looking?" but it doesn't bode well for your career.
Tricks and turns
Prostitution is emotional labor, and like nurses and social workers, sex workers deal with burnout. Unlike most jobs, working as a prostitute means that you get to decide when you want a break, and it's up to you to take it. There's a common assumption that needing to take time off of sex work means your job is unhealthy; it really means that you have the sense and ability to tend to your own health in a way that makes other people totally jealous.
The stigma that follows us around forces a lot of former sex workers to denounce their careers. It's a legitimate PR move and a balm for the soul of a woman who's been told she's sick. Most often, it's not prostitution itself that makes former prostitutes feel bad-it's the judgment and shame that's been heaped on them because they chose a job that other people wouldn't choose. Half the time, we can't even complain to our friends about a frustrating day at work because they'll read our annoyance as damage. Stigma works to sever women from their own decisions, to push them into self-denial and split identities. It's the culturally acceptable equivalent of ex-gay brainwashing. It also serves to delegitimize the experiences of former prostitutes who actually encountered violence and abuse, erasing their singular, lived experiences in favor of blanket denouncement. When we become sex workers, we accept the reality of the job, with its ups and downs like any other; we should not be coerced into accepting the meanings and experiences written for us by others.
---
Robin Hustle is a writer, artist, and musician living in Chicago. She is the editor of the Land Line, a collaborative print journal, and self-publishes the zines Curdled Milk, Leftovers Again?! and Mirror Tricks. Her writing has appeared in $PREAD Magazine, Vice, and the Journal of Radical Shimming, and her visual art has been exhibited in group shows at Woman Made Gallery, Roots and Culture, and Gallery 400. She archives her writing and drawings at robinhustle.blogspot.com.
There's a chasm between "I've thought about prostitution" and "I think I'd like to start working as a prostitute," namely the difference between wanting to make $300 an hour and wanting to suck strange dick for a living.
++++++++++++++++++++++++++++++++++++++++++
Mum: 'Money and sex my favourite things'
A MOTHER-of-two accused of running a $750,000-a-year online escort agency said she started working in the vice trade because "her two favourite things in the world are money and sex".

Marie McKinlay, 40, is alleged to have employed up to 25 high-class hookers who could provide anything from "girlfriend experience to porn star experience".

They charged as much as £300 an hour and £1,500 for overnight bookings that had to 'include some sleep'.

She is said to have made more than £350,000 in profits from the racket in three years.

Giving evidence McKinlay, who denies controlling a lucrative prostitution ring, told Southwark Crown Court she formed the agency in 2002 with five other women where 'women were in control'.

Asked why she began in the vice trade she said: 'I've been asked this question many times over the years and the way I answer it is, my two favourite things in the world are money and sex, I absolutely love both of them, and a job that allows me to put them both together, why wouldn't I?'

She said she had been able to meet "a class of gentlemen that I had never met before".


"Wealthy people,'"she said, "not just wealthy people, people who worked in certain careers, like the City.

"It opened me up to meeting a broader spectrum of people than I had met before.

"I had a couple of trips to Dubai, Paris, Geneva, staying in five star hotels, places that, had I not been doing this job, I could not afford to go to.

"I saw a different side of life. I saw a life that I wanted to see."

Prosecutors claim the former escort, who is currently pregnant again, bankrolled her two daughters' private school education with her profits from Agency Allure and rented a £1,500 a month four-bed home.

They say her online escort agency was no more than a front for a prostitution racket.

The 40-year-old rented a £1,500-a-month apartment in central London where clients could romp with two girls from a roster with names such as "Sophie Sweetness" and "Beth Angel".

McKinlay told the court she began work as hostess in her mid-twenties at the Stork Club, in Piccadilly, after a stint as a wardrobe assistant on the West End production of Miss Saigon.

She said she left the club because she "got sick of the drinking", telling jurors she "had to drink champagne and only champagne" from 9pm to 2am every day.

McKinlay said she then worked as an escort both independently and for a woman based in South Kensington before setting up Allure.

She said that by 2003 she was the only remaining founder member and following the birth of her first child she had taken over running the administrative side of the business.

"When I realised I was pregnant I had to stop escorting," she said. "I was already doing all the admin so we agreed by mutual consent that's what I would keep doing.

"Everybody who was on the site was paying the commission which was going back to advertise the site.

"It was not a large turnover so whatever was left after the advertising I kept.

"There were no shifts, we could start whenever we wanted, finish whenever we wanted.

"There were no fines [for missing appointments], we could turn down any client that we did not want to see, we did not have to travel to the clients in the back of beyond if we did not want to.

"We had complete control of what bookings we took. The whole idea was that we as women were in control of where we were."

Mark Seymour, for McKinlay, asked what she saw her role as at Allure. She replied: "I found clients for them, which is what they asked me to do."

Mr Seymour asked: "Who employed who?"

McKinlay said: "Well they pay me. In real terms nobody employs anybody. There are no contracts.

"They are on the Allure website, they choose to get some of their work through Allure but, ultimately, I'm working for them as I'm doing what they're asking me to do."

She told the court that photos used online were supplied and owned by the girls and that any information on their online profile was checked by the girls before it was put on the website.

Prosecutors allege McKinlay, who was detained at an address in Southampton in July 2011, banked more than £350,000 in profits from the racket.

Prosecutor Edmund Vickers said: "The allegation in this case is that between 2008 and 2011 the defendant, Marie McKinlay, ran an internet escort agency which provide prostitutes at what could be described as the high end of the market, the expensive end, for clients who were willing to pay £300 or more an hour for sexual services provided by the prostitutes.

"The defendant made a lot of money out of this.

"She charged the girls 30 per cent commission on all the takings, which made her a small fortune.
'In less than two-and-a-half years between December 2008 and May 2011, when one looks at her bank account, one can see she received cash deposits totalling something over £350,000."

McKinlay, of Lewisham in South-East London, denies controlling prostitution for gain and converting criminal property.

The trial continues.
++++++++++++++++++++++++++++++++++++++++++