Netflix Original Series '

House of Cards

' Trailer
Today, a Netflix membership certainly has its privileges. The rental house and streaming service has released to its members the first trailer for
House of Cards
,
the highly-anticipated collaboration between David Fincher and Kevin Spacey, which will be premiering exclusively on Netflix early next year.
Adapted from the BBC TV political drama of the same name, Fincher's
House of Cards
takes place in Washington, D.C. where Congressman Francis Underwood (Spacey) sets in motion his underhanded plan to wring every ounce of power out of his position that he possibly can. Scripted by
Ides of March
screenwriter Beau Willimon, the 13-episode series certainly packs quite a punch considering the talent involved, but it may need all of that and more to win over fans of the original 1990 series from writer Andrew Davies and starring Ian Richardson (
Dark City, From Hell
).
Aside from Spacey, Netflix's
House of Cards
boasts an impressive cast, which includes Robin Wright, Mahershali Ali (
The Curious Case Of Benjamin Button
), Kristen Connolly (
Cabin In The Woods
), Michael Kelly (
Chronicle
), Kate Mara (
American Horror Story
) and Corey Stoll (
Midnight in Paris
).
In addition to serving as executive producer on the series, Fincher has stepped in to lend his directorial prowess to the first two episodes. Meanwhile, filmmakers James Foley (
Glengarry Glen Ross
) and Joel Schumacher (
Falling Down, Batman and Robin
) – a name that will certainly turn some heads – have been brought in to handle multiple episodes of the series. In addition, frequent television directors Carl Franklin (
Magic City, Falling Skies
) and Charles McDougall (
The Office
) will also be contributing behind the lens.
Read the official synopsis from Netflix below:
"A ruthless Congressman, Francis Underwood, and his ambitious wife Claire, will stop at nothing to conquer everything. This wicked political drama slithers through the back halls of greed, sex, love and corruption in modern D.C."
While there is undoubtedly some excitement related to the cast and creators of the series, the real buzz regarding
House of Cards
is the untraditional manner in which it will be presented to viewers. Not only will the series not air on any television network – cable or otherwise – but all 13 episodes will be made available to Netflix subscribers on February 1, 2013. Netflix has reportedly poured $100 million dollars into the project, in the hopes the series will generate more demand for the company's original content, and to get viewers hooked on its
"binge viewing"
model.
According to Netflix CEO Reed Hastings,
"The Netflix brand for TV shows is really all about binge viewing, the ability to get hooked and watch episode after episode. Our release strategy … is to get [you] hooked rather than get strung out."
So, in other words, if
House of Cards
proves successful, it may herald a new model for
the way we view our television series
.
Netflix has been quite vocal in regards to becoming a legitimate outlet for original television programming that is intended to compete primarily with the kind of shows found on pay-cable services like HBO and Showtime. The service's trump card, however, may be the way it steers clear of the standard "weekly installment" model currently used by all television networks. The service previously tried its hand with the original series
Lilyhammer
, starring Steve Van Zandt (
The Sopranos)
, which appeared on the service earlier this year almost as a test to see how subscribers would respond to an entire season being made available for viewing at their leisure.
The model poses an interesting question: with every episode available at the same time, what will this do to the normal build-up and anticipation in regards to a series' premiere and finale?
House of Cards
will be available on Netflix starting February 1, 2013.
* There should be nudity but keeping fingers crossed it's the type we can write about the next day and not some party strippers kind. Again it depends on the

final cut (editing).

Don't want to sound like a broken record but both Kate Mara and Kristen Connolly have prominent roles with strong possibility of sex scenes. The red-band trailer will probably come out in December or January.
+++++++++++++++++++++++++++++++++++++++++++++
Yvonne Strahovski
's days of operating in the shadows are over. After kicking ass for five years as sexy spy Sarah Walker on the cult favorite action-comedy series
Chuck,
the 30-year-old Australian bombshell is currently expanding her audience playing Hannah McKay in the seventh season of
Dexter.
In December, she mines laughs with two of the biggest comedic actors alive,
Seth Rogen
and
Barbra Streisand
, in
The Guilt Trip.
The truth is coming to light.
Chuck spent most of its years on the bubble, so every season finale acted as a series finale in case the show wasn't renewed. Did you have one where you thought, if the show ends here I'm satisfied?
That's hard to say. I don't know that if I've ever thought about that. What I can say is I was always prepared for it to end. We were always on the bubble after every season, so we never knew what was going on. The writers had a very difficult task of writing kind of like Choose Your Own Adventure books. They had to write an ending that would be satisfactory as a real ending, but also be open to continuation if we got renewed. It was great to know that season five was the end, and they wrote with that in mind, knowing that that was it and they could write with a big finale in mind, and not have to play that game of "will we or won't we?" anymore.
Over the seasons there were a number of Sarah-centric episodes. Which is your favorite?
Hands down, the Thailand episode ["Chuck Versus Phase Three"]. That has my favorite fight scene and it was a side of Sarah Walker that we hadn't yet seen, a more evil side. She didn't care about anything except finding Chuck and she stopped at nothing. I had fun playing that.
+++++++++++++++++++++++++++++++++++++++++++++

Miss Earth Russia 2012 Natalia Pereverzeva Posed Topless For Playboy Magazine
MANILA, Philippines - The Miss Earth 2012 pageant is currently happening in the Philippines and several pre-pageant activities already took place and yet a photo scandal has been surfacing over the net since the start of the year.
Miss Earth Russia 2012 (at Krasa Rossii 2011 pageant) Natalia Pereverzeva posed for Playboy Magazine Russia last year May 2011, six months before she was crowned.
The Miss Earth Russia organization may have the leniency in hailing their national delegate as Natalia already arrived in the Philippines to compete for the Miss Earth 2012 pageant.
On the Miss Earth's official website, there were no emphasis as to what ground a candidate should be disqualified from the international competition. On the other hand, in the official website of Miss Earth UK, there are certain "RULES" from those who want to register and join, here's a screencap:


If in UK, they are strict and the organization is under the roof of Miss Earth, should it be the same or should it be applicable to all national pageants?
Anyway, since Miss Earth Russia 2012 Natalia Pereverzeva is now competing and one of the best contenders in this year's pageant, I guess the "Playboy" scandal is no longer an issue or a ground for her disqualification.
Here are the photos of Miss Earth Russia 2012 winner in Playboy Magazine Russia: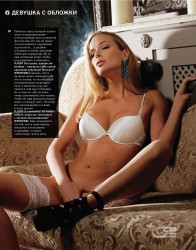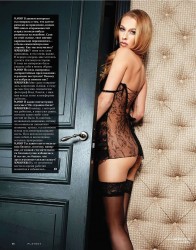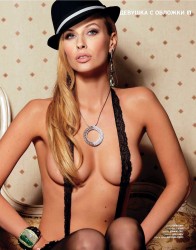 A blondish Natalia when she was crowned Miss Earth Russia:
* The Russian hottie actually thought no one will recognize her

at

the Miss Earth pageant if she dyed her hair! You can't change your name my Russian delight

!

To be fair in Russia, it's norm for Miss Earth contestants to pose topless in name of fashion modeling or something to that effect.
+++++++++++++++++++++++++++++++++++++++++++++
Cinemax Eyes New Incarnation Of '
Hunted

' With Frank Spotnitz And Melissa George
EXCLUSIVE
: The BBC-
Cinemax
series
Hunted
won't go beyond its current freshman season after BBC One opted not to renew the espionage drama for a second season. But Cinemax is working with series creator
Frank Spotnitz
on a new incarnation of the show about spy Sam Hunter (Melissa George). "We are making plans with creator and executive producer Frank Spotnitz and star Melissa George to present a new chapter in the Sam Hunter mythology," Kary Antholis, President, HBO Miniseries and Cinemax Programming, said in a statement to Deadline. "We are very pleased with what
Hunted
has done for Cinemax's brand and are very excited about what lies ahead."
Because of the project's setup – BBC originally commissioned eight episodes from Shine-owned British production company Kudos Film and Television before Cinemax came on board as producer/U.S. distributor — I hear continuing the series in its current form proved impossible without partner BBC. That has led to Cinemax brass looking for another way to keep the premise and the Sam Hunter character alive while also assuming greater creative control. In a complex co-production agreement like the one on Hunted, it is hard for each of the partners to realize their vision for the show as decisions are often made by compromise. Additionally, for a pay cable network, doing a series with a public broadcaster like the BBC imposes certain restrictions on the content that could be featured.
Hunted
earned some of the best reviews for a Cinemax show. Ratings-wise it's done OK, pulling in 250,000 viewers for its premiere last month. While that was below the Season 1 and Season 2 openers of Cinemax's
Strike Back
(567,000 and 390,000, respectively), I hear
Hunted
is a major on-demand draw for the network. So far, the first two episodes have averaged a total of 1.7 million viewers each. Last Friday's Episode 4 was up 6% from the previous week.
As for BBC's decision to drop
Hunted
after Season 1, network sources point to the series' ratings declines from 4.5 million viewers for the series premiere to 2.6 million for the most recent sixth episode, noting that the series hasn't been able to find "mainstream audience." But, like in the U.S.,
Hunted
is doing well in time-shifted viewing, adding some 40% to its Live+ ratings via DVR and on-demand. I also hear the decision may be part of a larger shift in the types of shows the public broadcaster plans to focus on. It comes at a time of turmoil at the BBC, which has been at the center of several scandals that
led to the resignation of the new director general, George Entwistle
, after 54 days on the job.
Cinemax moves forward on '
Hunted

' without the BBC

We are making plans with creator and executive producer Frank Spotnitz and star

Melissa George

to present a new chapter in the Sam Hunter mythology," Cinemax president Kary Antholis said in a statement. "We are very pleased with what 'Hunted' has done for Cinemax's brand and are very excited about what lies ahead."

From what I'm hearing, Cinemax executives are frustrated with the BBC for announcing this decision before the American run is over, but also relieved to be finished with a collaboration that they found creatively stifling much of the time.




I've seen the full season of "Hunted," and without going into too much detail, some of the stories get complete closure, while others were left as danglers to be continued in additional seasons. It's unclear which of those might be allowed to continue in this new Cinemax-only version, which may be frustrating to people who watched this season. On the other hand, the strongest part of the show is Melissa George herself and the character Spotnitz created for her, and a clean break from a fairly complicated storyline in favor of something focused even more heavily on that character — particularly if the people at Cinemax are right that their partners across the pond were holding them back — might not be such a bad thing.


* HBO/Cinemax at the moment believe the series has potential to be a cult hit. Now free of any stupid constraints, the second season will feature Melissa naked much more often alongside new female cast-members. The location could either shift to South Africa, Wales or Canada.
Though Starz could run into same trouble in their collaboration with British broadcasters who are super-timid when it comes to sexual content. Instead of offering two different versions, BBC should adapt quickly to be more accommodating or risk losing viewers to online options. Other British subscription channels should be super flexible on racier content. At the end they're going to end up as losers and putting their American counterparts on the spot. This also doesn't bode well if instead Starz choose to capitulate to guys in charge across the pond demanding sole version particularly when I'm all excited to see Laura Haddock extensive T-and-A display on Da Vinci's Demons.

+++++++++++++++++++++++++++++++++++++++++++++

Marion Cotillard

~ Harper's Bazaar UK December 2012

+++++++++++++++++++++++++++++++++++++++++++++

+++++++++++++++++++++++++++++++++++++++++++++
Kandyse McClure, 'BSG' Star, On Upcoming '

Hemlock Grove

' And The Next Robert Pattinson
"Battlestar Galactica" fans rejoice: Dualla and Chief will soon reunite on the small screen. Kandyse McClure and Aaron Douglas have both been tapped to star in Eli Roth's spooky new TV series "Hemlock Grove," set to premiere in 2013 on Netflix.
The show revolves around the brutal murder of a 17-year-old girl in a creepy small town. The murder's two prime suspects, played by young up-and-comers Bill Skarsgard (yes, Alexander's little bro) and Landon Liboiron, decide to team up to find the real killer. Famke Janssen plays Skarsgard's mom, Douglas is the Sheriff and McClure is Dr. Clementine Chausser, an animal expert brought in to help with the case. (In case the murderer was actually an animal ... or a werewolf!)
McClure called us from her Jamaican vacation to give us the lowdown on the hot young hunks of "Hemlock," being star-struck by Janssen and what it's like working with Douglas again.
What can you tell us about Dr. Chausser?
Clementine has trouble in her life, and a chaotic past. She struggles with that. The way that she manages her inner demons is by throwing herself into her work. She's very flawed and imperfect, but that's what we love about her.
How does she fit into the broader storyline revolving around the murder mystery?
She's brought in as the resident animal expert to aid law enforcement in finding what kind of animal did this. The path that she follows unravels secrets of the town, and who's really in control. She goes there to hunt an animal but finds a town of monsters.
So is it safe to say there are some supernatural elements?
Absolutely. Think of "True Blood" with "Twin Peaks," with a lot of gore. That would be Eli Roth's contribution. A little "Hostel" thrown in there! [Laughs]
I read that Eli Roth directed a couple of the episodes...
He did! He directed the first two, I believe. I unfortunately did not get to work with him on set. My character doesn't appear until a little later. I got to hang out with him, though! It was a surreal experience sitting at lunch eating barbeque ribs chatting with Eli Roth! [Laughs]
What's it like hanging out with him? Is he intense?
He is intense! The references and the people he knows and the situations he's been in -- it's a bit of a whirlwind. He's intense, but he's also approachable and hilarious as well.
What's the dynamic like on set?
On the one hand, we've got these young, talented kids. They're in their early 20s. And then on the other side we have these icons who I've watched from my own screen -- Famke Janssesn, Dougray Scott. Sometimes I'm in a scene with Famke and I forget that it's my turn to speak because I'm just watching her! [Laughs]
What's it like working with Aaron Douglas again?
It's awesome. It was kind of weird for the first couple of days, because we don't talk to each other except when we're out eating dinner, socializing! He'll throw different things at me each take. He teases me, and we make "that's what she said" jokes.
Have you two been spotted by any "Battlestar Galactica" fans who wonder what you're doing together?
Yes. We can get away with [not being recognized] when we're on our own, but when we're together we might as well have a neon sign! [Laughs] Sometimes it blows people's minds, I guess, because it's so random.
What types of things do people say to you?
"Omigod, Chief!" People are flabbergasted or taken aback. We love going to conventions, and Aaron especially enjoys talking to fans. He spends a lot more time with fans drinking in the bar with fans after the panels are done than I do. People are generally complimentary or share an experience that "Battlestar" helped them through or gave them perspective about.
What's the strangest thing a fan has ever said to you?
They gave me a scientific breakdown of what dark matter is, and then asked me if I knew where it was. [Laughs] Sometimes people say, "If you become an officiant, you could marry us!" Or "We have a uniform, would you just try it on?" It's all generally harmless and fun.
Going back to "Hemlock," who do you think the show will appeal to?
Let's see ... sexy, smokin' young men: check. So there's the 18-35, me demographic. Anyone who's a fan of thriller, horror, sci-fi, fantasy. It's a little "True Blood."
Speaking of "True Blood," I know that ["True Blood" star] Alexander Skarsgard's younger brother Bill is on the show. How does he compare? Do you think he'll have ladies swooning, too?
When I first met Bill Skarsgard and Landon Liboiron, I thought, "I'm sorry, Robert Pattinson and Taylor Lautner, your time is done!" [Laughs] There are new werewolves and vampires in town. There's definitely something about those Skarsgards.
So he has the family's intangible quality?
Intangible quality is a great way to put it. Yeah. Definitely.
"Hemlock Grove" is set to premiere in 2013 on Netflix.
+++++++++++++++++++++++++++++++++++++++++++++
Shocking

:
Michael Bay Testing Young Hotties For 'Transformers 4' Including Abbie Cornish's Sister; No Word On Supermodels Yet
"
Michael Bay
Testing Hot Young Actors for '
Transformers 4'
Leads" reads the
THR
headline that spells things out: director Michael Bay is looking at attractive, fresh-faced actors to help star in his 'Transformers' quadrilogy. Uhh, duh? What else would he be looking at? But we're actually shocked to hear that none of them are Sports Illustrated swimsuit models, supermodels or Victoria Secret's models, but hey, the day is young and there's lot of casting still to come, right?
According to the trade, Bay will be looking at the following two actresses:
Isabelle Cornish
, the younger sister of accomplished Aussie actress
Abbie Cornish
and
Nicola Peltz
, the young female lead of
M. Night Shyamalan
's "
The Last Airbender
." She would play some sort of helpless daughter to the film's
Mark Wahlberg
, which makes sense given that both females seem to have strangely wholesome beauty qualities instead of the sexed-up type Bay usually casts in his pictures (those will surely come later).
For the boys, playing the part of the daughter's boyfriend, a racecar driver (of course), Bay will evidently be testing
Luke Grimes
who had a role in "
Taken 2
" plus appeared on the ABC drama series
"Brothers and Sisters
" among other roles, "
Weeds
" actor
Hunter Parrish
,
Jack Reyno
r ("
What Richard Did
") and Aussie actor
Brenton Thwaites
(who starred in the 2012 TV remake of the "
Blue Lagoon"
titled, "
Blue Lagoon: The Awakening
" -- lol). What's clear is that Bay is largely looking at relative unknowns for these two parts instead of the the usual hot, up-and-coming crew; stars in the making they call 'em. Predictably, all the potential actors would have to sign three picture deals as a new franchise is in the works and the film will likely begin shooting next April if all goes according to plan.
* Bay may be many things, but stupid is not one of them. He makes his move during the shooting of the movie. He stakes out the vulnerable one at audition, becomes her on-set mentor once selected for the 'coveted' role. Gets close in pretext of coaching her so she can evolve into a better actress. She is so grateful she wants to repay any way possible. Mind you...this is all gossipy on my part.
+++++++++++++++++++++++++++++++++++++++++++++
Agnes Bruckner

Almost Tricks Us Into Thinking Anna Nicole Smith Led A Good Life
+++++++++++++++++++++++++++++++++++++++++++++
The General Petraeus scandal explodes the myth of a socially liberal America
+++++++++++++++++++++++++++++++++++++++++++++
Six things you didn't know about Miss Nude World
+++++++++++++++++++++++++++++++++++++++++++++
You Can Talk About Piracy and Manwin Takeovers But Porn Won't Address Racism.
Women and Women of Color In Particular Are Marginalized in Porn
According to the LA Times, last week's Los Angeles County porn condom law won big in nonwhite, working-class areas.

The ballot initiative which would dictate condoms in porn racked up huge margins in lower-income neighborhoods that are either heavily Latino, black or both, like East Los Angeles (67%); Inglewood (75%); Compton (76%); Los Angeles' 8th City Council District in South L.A (76%); and Willowbrook, south of Watts (77%).

To me, this sounds a little like porn karma at work where racial discrimination after all these years has bit the porn industry square in the ass.

Years ago I was flabbergasted to learn that movies featuring black performers or IR scenes featuring mixed couples were simply passed over when it came to making cable deals.

And I remember then a number of black performers telling me they were being paid much less than their white counterparts. Truthfully, I didn't know that was going on. Then again, I was representing AVN, the bastion of white bread porn supremacy.

[In all my years at AVN there was one black employee who worked in the warehouse and I doubt if there was ever one on the editorial staff after I left.]

To add fuel to the fire, this week Dr. Mireille Miller-Young, an associate professor of feminist studies at the University of California, Santa Barbara, wrote an article for the NY Times about racial inequality in porn.

As a researcher of the porn industry for the past decade, Dr. Young claims to have interviewed dozens of performers.

For some performers she seems to think that porn is a path to college and out of poverty, and for others it's a chance to make a statement about female pleasure.

"I have found that women enter the pornography industry because they are enthusiastic about its potential for lucrative, flexible and independent work," she says.

Women who previously worked in the retail sector or in nursing [hey, Nina Hartley used to be a nurse!] found that pornography offered them greater control of their labor, and surprisingly, it treated them with more humanity.

"Some women found that it enabled them to rise out of poverty, take care of their families or go to college. Others emphasize the creative aspects of pornography, and say it allows them to increase their economic mobility while also making a bold statement about female pleasure."

But the biggest challenge Dr. Miller-Young discovered to women working in porn is gender and racial inequality.

"Overwhelmingly, women do not control the production and distribution apparatus of the business," she reports.

"The men who run both the large companies and the smaller, amateur businesses tend to marginalize women's perspectives and priorities and to foster a competitive environment that pits female workers against one another."

According to Dr. Miller-Young, African-American women and men of color in general – are paid half to three-quarters of what white actresses are paid.

"Like in other kinds of industries, they face prejudice and inequality in structural and interpersonal forms. But they also challenge them. Porn's workers are fighting to achieve greater control over their labor and the products they produce," she states, noting that with the Internet fast democratizing porn, women should have a larger voice in its betterment.

In an interview she did five years ago with www.npr.org, Dr. Miller-Young was a lot more forceful. She stated then: "I think that - my work specifically looks at pornography, for example - you can see that in the production of the types of films that black women appear in: lower production value, less of the kind of market, lower kind of values in how they treat the workers.

"Women are paid half to three quarters of what white actresses tend to make. And this, you know, reflects the ways in which black bodies have historically been devalued in our labor market since, you know, slavery to the present.

"I think that, you know, it speaks to the ways in which there's this simultaneous problem that was like a deep desire to have those bodies present and to consume those bodies as commodities, but a deep disgust for black people, our humanity and our bodies, at the same time that allows that devaluing to function."
+++++++++++++++++++++++++++++++++++++++++++++