Jessica Chastain

: 'I Couldn't Get A Date When I Was Younger'
She's drop dead gorgeous but Jessica Chastain admits she couldn't even get a date when she was younger.

The actress revealed all about her feelings towards her sex symbols status when she spoke to the January 2013 issue of Britain's GQ magazine.



She said about her tomboy childhood: "I always find sex scenes embarrassing. But at times they are necessary – I get that. It's a huge compliment when someone says you're attractive, especially when I was such an awkward kid – I was very tomboyish, with very short red hair, running around with cowboy boots on."



Jessica is still shocked to hear that people are so attracted to her: "So when someone tells me I'm a sex symbol I'm like, 'what?'. But I'll take what I can get. That'll teach all those boys back in Junior High!
"In fact, I hope my very first boyfriend, the guy I dated for one month and who broke up with me at the Valentine's Day Dance – I hope that boy reads this article."

The thespian worked with the gorgeous Brad Pitt on 'The Tree Of Life' and although he had no idea who she was, he was nice as pie.

She revealed: "He didn't have a huge entourage, nothing like that. He just showed up on his motorcycle on the very first day and went, 'Hi, I'm Brad.'

"You just heard the rumbling of his bike and he'd appear like James Dean, or Marlon Brando from 'The Wild One'. He was kind, he was generous, he'd never heard of me but he never made me feel less."

++++++++++++++++++++++++++++++++++++++++++++
Weeds
creator Jenji Kohan has added to the cast for a major recurring role. Taryn Manning of
Hawaii Five-0
and
Sons of Anarchy
will appear on 9 out of the 13 episodes the streaming provider has ordered for
Orange is the New Black
.
The series stars
Mercy
's Taylor Schilling as Piper, an engaged (Jason Biggs has been cast in the role of her fiancé) Brooklyn woman who finds herself behind bars in a federal penitentiary as a result of her long ago college relationship with a drug runner, played by Laura Prepon (
That 70's Show
), who is also doing time.
Deadline
says Taryn Manning will be playing another of the inmates, Tiffany Doggett. The character is described as a wild child from Waynesboro, Virginia who earns the nickname "Pennsatucky" for her Appalachian accent. A born-again Christian, Tiffany still has major anger problems and doesn't get along well with the other inmates.
Orange is the New Black
is based on the book by Piper Kerman, on whose real life experience the main character and plot are based. It's among a small group of shows Netflix has been working on as they move into the world of original programming. Also on tap are
Lillyhammer
,
Hemlock Grove
and the Kevin Spacey project
House of Cards
. The cast for
Orange is the New Black
has been coming together nicely, and although the plotline still leaves me with some reservations – women in prison just carries so many connotations – I have to say this show is sounding better all the time.
The 2013 Pirelli Calendar:
Why the Models Aren't Nude
Nary A Nipple In The New 2013 Pirelli Calendar. Here's A Look At The Models, The Photos and A Behind The Scenes Video.
For the first time since I began this blog five years ago, I can feature the Pirelli Calendar without having to tag the post NSFW.

For 39 years, the Pirelli Calendar has been known for it's risque and artful photos of female and male nudity (like the Sexy Greek Gods calendar from 2011). But this year, the calendar, shot in Rio by photojournalist Steve McCurry, includes images of fully clothed models, actresses and singers along with pictures of Brazil's art and culture. A departure from the past McCurry wanted to focus on women active in charity and let their sexiness and beauty exude from within. In addition to the models, the calendar features several images of Brazil's people, art and culture.
The models in the 2013 Pirelli calendar.
Brazilian model Isabeli Fontana:
Brazilian model Adriana Lima:
Actress Sonia Braga:
Singer Marisa Monte:
Italian-Egyptian actress Elisa Sednaoui:
Czech model Petra Nemcova:
Tunisian model Hanaa Ben Abdesslem:
Ethiopian model Liya Kebede:
American model Karlie Kloss:
American model Kyleigh Kuhn:
American model Summer Rayne Oakes:
The press has only released 6 images of the 34 thus far, But I've included several more shots in the form of stills from a video about 'the making of' for you:
Summer Rayne Oakes stands alluringly amongst the bamboo:
A pregnant and sexy Adriana Lima:
Brazilian actress Sonia Braga amidst the ruins:
Capoeira masters practicing their art in Rio de Janeiro, Brazil:
A fruit seller at the market in Rio de Janeiro, Brazil:
Street art in Rio de Janeiro, Brazil:

Other shots from the calendar:
Yvonne Strahovski

on stage in Golden Boy
In a revealing interview, Kristen talks about how her parents found it 'difficult' to watch her nude scenes in 'On The Road'. Well, that must have been awkward! Kristen Stewart is so dedicated to her craft, she is not shy about doing nude scenes when acting. However, when it comes to her parents watching, it's a different story!
While doing the promotional tour for her risque new movie On The Road, she says nude scenes are not something that she and her parents "engaged or talked about."
Awkward!
Kristen, 22, has come a long way since playing the demure and innocent Bella Swan in Twilight, as her role playing Mary Lou in On The Road required nudity and sex scenes.
Kristen has had some previous experience of doing nude scenes — she has one in the 2010 film Welcome To The Rileys – but that didn't make her any more comfortable about having her parents Jules Stewart and John Stewart watch!
She talked about how they reacted to her risque scenes to AwardsDaily.com. "I think everyone was really happy that it took a few years for the movie to get made," she laughed. "My mom came to Cannes. She loved it. She was really proud. I haven't talked to my dad about it yet," she admitted.
She also said that Welcome to The Rileys was even more challenging for her parents to watch. "Welcome to the Rileys was probably a more difficult movie for a parent to watch. I was so sensitive after that. That character really found its way into me. I was so overtly sensitive about anything, not just overtly sexual, but anything about a young girl. It just rocked me and I think my parents could probably feel that as well. So it was just not something that we engaged or talked about."
"It's hard to step outside of it. I know it's funny to talk about it from an outsider's perspective, like 'Oh, it must be weird to sit down and watch your ass with your mom' or whatever, but it's so weird being on the inside of it. I genuinely don't feel like… I don't want to say that I'm watching another person at all because what I love about my job is aspects of life that you relate to, but you didn't quite know you had in you, can shock the s**t out of you and so the process of making the movie is finding out why you responded that way."
It's no wonder then that Jules' favorite movie of Kristen's is The Cake Eaters, and not On The Road!
++++++++++++++++++++++++++++++++++++++++++++
The X-files - Frank Spotnitz Wrote Hunted Role For Gillian Anderson
The X-Files writer Frank Spotnitz created his new Tv show Hunted for his former star Gillian Anderson, but had to give the lead role to another

actress

when production delays left her unavailable for filming.
Spotnitz,

the brains

behind Anderson's long-running sci-fi Tv hit, wrote the title character, secret agent Sam Hunter, with Anderson in

mind

after she mentioned her dream of playing a female version of Matt Damon's famous action hero Jason Bourne.
However, Spotnitz was left "heartbroken" when Anderson had to pull out of the project.
He tells Britain's BBC Radio Derby, "Originally it was Gillian Anderson. She actually wanted to play a female Bourne and I wrote this with her in mind and she was hugely helpful actually in developing the script and had millions of ideas, and she's just an amazing actress, who I know well obviously from The X-Files.
"But the

process

took so long and by the time I actually had the

green

light she couldn't do it. There were other things that she was committed to, which was heartbreaking and left me with this terrible problem of

how to find somebody

else who could play this very demanding acting role."
Spotnitz went on to

audition

hundreds of actress and eventually hired Australian star Melissa George for the part, and he insists he has no regrets over the casting.
He adds, "We looked at 200 actresses in

London

and New York and L.A. and Sydney. For me, Melissa was the only choice. As soon as I saw her, I realised she was the right one."
* Love me some tongue play.......
THE BOXER REBELLION: THE RUNNER
Starring: Hannah May and Andrea Chovanova
from MARC and ISH
Music: The Boxer Rebellion
++++++++++++++++++++++++++++++++++++++++++++
Ghost In The Elevator Prank
A hidden camera and a ghost that appears out of no where!
++++++++++++++++++++++++++++++++++++++++++++
Our Special Award for The Best Lingerie Photoshoot of 2012!

Provocative Nudes of Super Sized Big Beautiful Women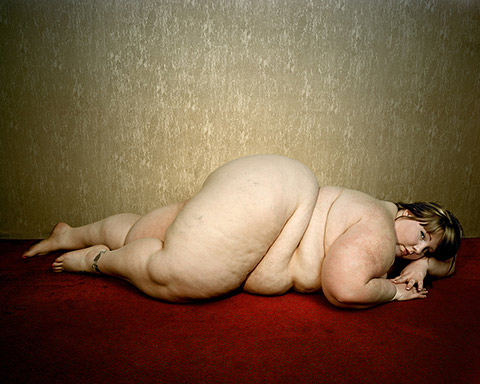 We recently interviewed Italian-based photographer
Yossi Loloi
about his current project,
Full Beauty
, which was born from an interest to explore female fullness, while challenging conventional notions of beauty set by media and society.
What did you initially see in these women that made you want to photograph them nude?
"Women of size have always purely fascinated me. Like all things that are unknown I guess there is a natural tendency for one to be either curious or to just end up plain prejudiced. I was naturally curious and wanted to know more, and eventually I developed the need to photograph them."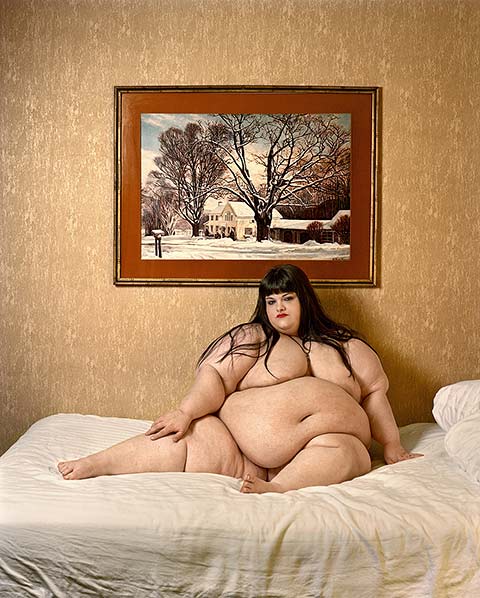 What were your intentions going into the project with regards to how you wanted to portray the women? Did you have any initial concerns on how this work may be perceived?
"My intentions were pretty clear from the first two photos I ever took. I knew I did not have to exploit them or force anything too much. All I was focused on was trying to create the most quiet and intimate, yet contemporary and strong images possible. I knew some viewers might have mixed feelings or even strong reactions to my work but I never took that in during the process. I was concentrated on giving the viewer the opportunity to admire something they rarely get to see."
Where did you find the subjects and how did you entice them into being part of this project?
"The models that decided to take part of my project come from different places in the US and Europe. I didn't have to do anything special to entice them into participating in the project. I guess when your idea matches someone's belief, it just happens."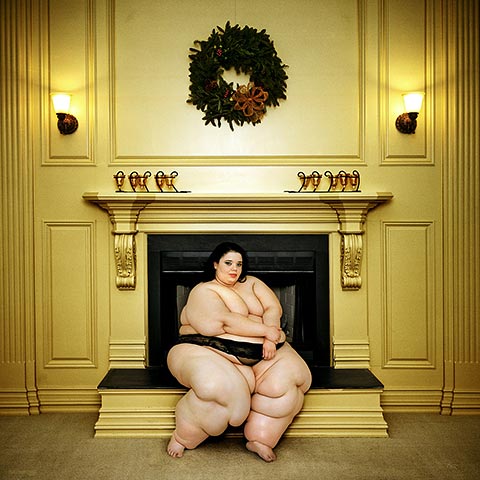 The women seem very comfortable in front of camera and also seem to be comfortable in their skin. Are they models of some sort? If not, how did you get them to relax?
"Some of my models are or have been erotic models. Others are just women that wanted to be portrayed and that never had any experience whatsoever in front of a camera. There is never a sense of hurry in my photo shoots, and that helped them to relax. It is extremely important to spend some time together talking before taking out the camera.
"It's a very special moment when someone drops their clothes in front of your eyes; you immediately understand it's a gift that needs to be treated with the highest of respect. It's a very strong feeling; it's not the print, it's not necessarily the exhibition, it's that feeling you feel that makes you want to shoot again."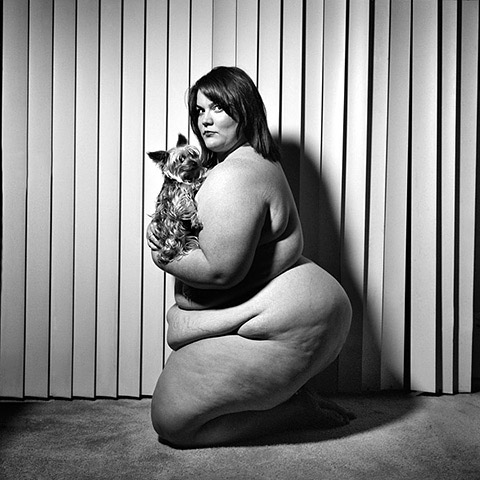 Can you describe a typical shoot? Were the women photographed in their homes?
"The shoot moves quickly because trust has been established long before, allowing space to concentrate on other things such as the decorations, positioning and lighting. My models have all been very patient and understanding of anything I asked of them. I began taking pictures in hotel rooms, using what I had at my disposal and bringing with me little gear. I have also shot in their homes, although I try not to give too much information on 'where we are' in my images, leaving as much of a neutral zone as possible."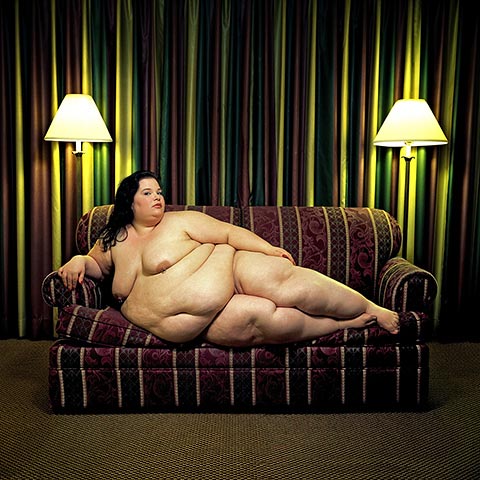 There is definitely a sexy undercurrent in some of these images, especially obvious in the images of multiple women being photographed together. Was this something you were conscious about capturing or did this just happen naturally?
"To be completely honest I never looked for sexuality or even eroticism, in fact my goal was to shoot them almost expressionless, almost as if they were alone in the room; in some cases I looked for expressive glances."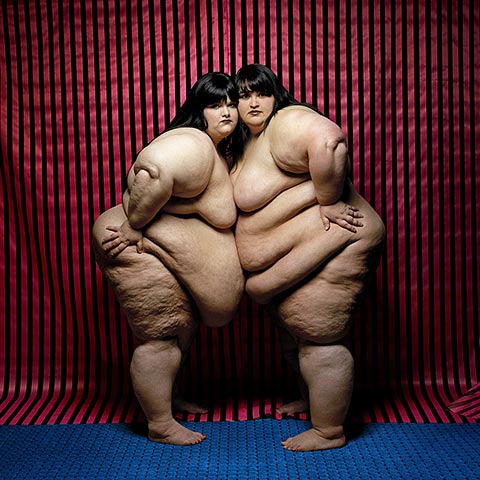 You started this project six years ago. Have you seen any changes with regards to the way people view the images? For instance, do you believe there is more acceptance now?
"To me the fact that
Full Beauty
has been published, exhibited or written about, that's a major success. Fashion magazine
Vogue
for instance, has been showing more curvy women in the past years – that was taboo until not long ago. It's not only the acknowledgement of 'fat' as subversive beauty; it's the realization that simply anyone can be beautiful."
++++++++++++++++++++++++++++++++++++++++++++
naked truth: AIDS activists arrested for disrobing at House Speaker's office
++++++++++++++++++++++++++++++++++++++++++++