Amanda Seyfried

Reaches Jennifer Lawrence-Levels Of Honesty With Letterman Jokes, Voice Comments
Move over,
Jennifer Lawrence
! Not all the way over; we still want to hang out with you forever. We just wanted to make room for
Amanda Seyfried
, who we liked the second her breasts told us it was raining in
Mean Girls
and whom we love now that she has apparently lost her filter. "I understand that I have a problem maybe, but you know? It really gets me through," the
Les Miserables
actress
laughed last night
on
Letterman
when discussing the fact she was "pretty drunk" on whiskey during her interview. Eeeeee, girl! We know 50% of actors and actresses could probably say the same thing, but we enjoy the fact you
actually did.
+++++++++++++++++++++++++++++++++++++++++++++
American actress

Jessica Chastain

and French actor Omar Sy

:
Bruce Weber for Vogue Germany January 2013
+++++++++++++++++++++++++++++++++++++++++++++
Imagine Dragons release 'Radioactive' music video starring

Alexandra Daddario
By: Natalie Kuchik
Imagine Dragons
released an official music video for their song "Radioactive" on the band's
VEVO YouTube channel
. The video was directed by Syndrome and features actors Lou Diamond Phillips ("Southland"), Alexandra Daddario ("Parenthood"), and the puppeteers by the studio Puppet Heap (The Walt Disney Company, "The Daily Show"). You can watch Imagine Dragons' official "Radioactive" music video
here
.
The music video revolves around a mysterious female drifter (Daddario) who is on a quest to save her friends (Imagine Dragons) from the perils of a sinister, underground puppet-fighting ring. Lou Diamond Phillips portrays an evil man who in charge of making puppets fight to their death.
The song "Radioactive" is the second single from Imagine Dragons' debut studio album "Night Visions" which was released on Sept. 4 via Interscope Records. The album debuted at No. 2 on the U.S. Billboard 200 chart selling more than 83,000 copies, which is the best first-week sales for a full-length album by a new rock band since May 2006.
The band will be touring in 2013 to support the album and you can view all their early 2013 headlining tour dates
here
. What do you think about Imagine Dragons' official "Radioactive" music video?
+++++++++++++++++++++++++++++++++++++++++++++
Actress Sues 'Skinemax' for Requiring Late Night Nudity
By Mark Kernes (Dec 12th, 2012)
HOLLYWOOD
—It'll probably give adult actresses a chuckle that a "principal performer" on a "Cinemax After Dark" series is suing that show's producers, directors and various other personnel, as well as Time Warner Cable Media, which owns Cinemax, for "forcing" her to appear on camera wearing pasties and a "pussy patch," and to perform simulated sex on the show... but that's just what actress "Anne G" has done.
In the lawsuit, which was filed yesterday in LA County Superior Court, the pseudonymous plaintiff "Anne G" (who one assumes fears being blackballed if she uses her real name) has charged True Crime LLC (the company that produces the late-night cable series
Femme Fatales
), Time Warner and "Does 1 to 250" for having been "blind sided with rewrite after rewrite which necessitated her character to simulate sexual intercourse and her to appear nude but for pasties on her nipples and a sticker on her private parts, without the proper health and safety protections in place or a set that was closed except for essential production crew."
According to the complaint, the plaintiff "was contracted to perform as an AFTRA principal performer to appear on the Show produced by defendant TRUE CRIME and to be aired on defendant TIME WARNER's subsidiary Cinemax television network, based upon her understanding of what was being requested of her as a performing artist as it pertained to her role on the show. The contractual agreement in place, as well as the protections she benefitted from as an AFTRA union member were part of the bargained for exchange."
The episode complained of was titled "Jail Break," and premiered on Cinemax on July 12, 2012. However, some adult industry personnel find Anne G's complaint to be a bit suspicious.
"[Retired adult actress] Chloe did a whole season of
Young Lady Chatterley
, and I think she did at least one
Red Shoe Diaries
thing—I worked on one of those—and absolutely, the performers' contracts all said 'may involve nudity'," assured director Ernest Greene. "I mean, it would go without saying, but studio lawyers being what they are, nothing goes without saying, which is why I believe it would say that. They'd be crazy not to put that in there."
Sadly, Anne G's contract was not attached to the complaint, so we can't know whether the "nudity" and/or "simulated sexual intercourse" clauses were in her contract—but then again, the series
Femme Fatales
, which was based on a softcore men's magazine of the same name published for about 10 years beginning in 1992, has plenty of nudity in it, as can easily be gleaned by going to the series' website.
"If I were the judge, I'd say, 'I'd like to see the contract as it was originally written. Oh, it says here, "may require nudity"—Is that your signature? Well, I guess you don't have a complaint. Dismissed, with prejudice; don't come back'," Greene speculated. "That's what I would anticipate. But of course, I haven't seen the contract she signed; maybe hers has an exclusion, but if it had an exclusion, then all she had to say was, 'Hey, here's my contract. See this? I'm not doing it. I'm outta here, and you've got to pay me anyway.' So this strikes me as one of those, she wakes up the next day and says, 'I didn't get paid enough for that.'"
Actress Nina Hartley, a veteran of several late-night series as well as a major role in the mainstream film
Boogie Nights
, agrees with Greene's contractual experiences.
"Oh, sure, they'd have to do disclosure so they can't be sued later," Hartley said. "And I can't believe, if the show's been on for a couple of years, that she did not do her due diligence and check out an episode or two."
But apparently, Anne G (or her agent, who isn't mentioned in the complaint) didn't check out the show's bonafides, never watched an episode and never talked to anyone who'd appeared on the show before signing the contract. However, she claims that the on-set rewrites (which Greene said are rare for such productions, which usually operate under a very tight schedule) "completely changed the agreement" she'd originally consented to, and charged that she "informed Defendants that she was not comfortable performing in the new scenes requiring the requested nudity and performance of sexual intercourse." (Of course, if she'd actualy been asked to perform sexual intercourse, that would take late-night cable to a whole new level, so we'll assume she means
simulated
sexual intercourse.)
In any case, Anne G claims that the defendants threatened to sue her for $100,000 if she didn't perform as they instructed, so "Under the duress of significant pecuniary retribution, bullying and intimidation, Plaintiff was left alone to negotiate a soft-core porn scene albeit making it clear to production that she was not comfortable nor did she agree to this content."
Not only does Anne G claim she was "not comfortable," but in the very next paragraph, she charges that, "Plaintiff performed as requested all the while having emotional breakdowns in a state of shock." Among the things she alleges led to this condition were, "Multiple union rules and regulations [that] were violated, including but not limited to, the requirement to have a closed set when performers are required to be semi-nude or naked, the requirement to have fully functioning and properly fitted pasties over private parts, the requirement to provide the performer with the ability to be made aware of in writing and in sufficient detail to [sic] any script changes which require explicit nudity and depiction of sexual intercourse and the obligation of Defendants to fully disclose in writing the extent to which they are requesting the performer to engage in nudity and sexual content[,] thus allowing the performer an opportunity to consent or not to consent."
And not only was she upset that the defendants would have her "perform[] a scene depicting aggressive sexual intercourse with a male performer while she was topless with a pasty on her vagine and nothing more than a sock[!] on the male performer's private parts," but during the scene, Anne G claims the male "began to bleed from the mouth resulting in a transference of blood onto Plaintiff's face and body"—and they wouldn't even let her stop the scene to clean it up! So of course, she had to have an STD test, 'cause "Lord" knows where some of those actors have been! (Remember: According to AIDS Healthcare Foundation, this stuff doesn't happen on Hollywood sets because they've got such good health codes!)
Anne G is also suing for sexual harassment, part of which is because the directors made comments like, "Showing your tits [are] a prerequisite to even be on this show," and aski
ng
her, "How big are [Plaintiff's] nipples?" She claims they promised her more work if she "did what they wanted and showed her breasts."
There are many more similar or even stronger allegations, which can be seen in the complaint (which can be viewed here), but in any case, it will be interesting to see how this case progresses—and whether the plaintiff can indeed produce the "numerous members of the production crew" who told her that "this type of bait and switch casting conduct was employed as a matter of routine on the show," not to mention the "multiple other performing artists [who] had been subjected to the same alleged conduct."
+++++++++++++++++++++++++++++++++++++++++++++
Paz De La Huerta Strips Off For The First Photographer Who Snapped Her Nude At 17
12 December 2012
Actress Paz De La Huerta's nude

modelling

career has come full circle - her new Playboy spread was shot by the same photographer who first caught the

Boardwalk

Empire star in the flesh at 17.
The 28 year old is the cover girl for the January/February 2013 issue of America's Playboy magazine and top snapper Mario Sorrenti was the man behind the lens for the saucy beach shoot, in which a totally naked De La Huerta stretches out on

the rocks

and sand.
She says, "I've been taking photographs... with Mario since I was 14. I did my first nude shoot with Mario when I was 17. He made me feel beautiful, and I really feel it was on that shoot that I overcame my fear of being naked.
"Mario is such an artist. He has taken photographs of me in which my body looks like a sculpture."
And she's thrilled by Sorrenti's latest nude shots: "We did the photos with no make-up, and we both wanted them to have a very natural feeling. It was more about bringing out a part of myself that has not really been shown to the public."
* The last paragraph had me laughing so hard my stomach hurts right now. Thanks for making my day, Paz.
+++++++++++++++++++++++++++++++++++++++++++++
Naked appeal: is it OK to find actors attractive?
New West End shows The Bodyguard and Viva Forever! feature plenty of female whooping at male nudity. Would it be acceptable the other way around?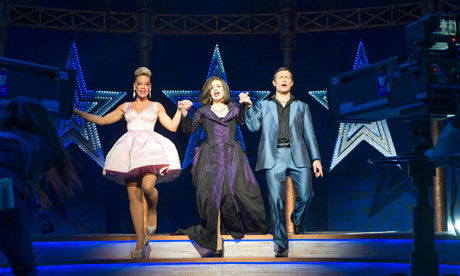 In the flesh … Tamara Wall (Karen), Sally Dexter (Simone) and Bill Ward (Jonny) in Viva Forever!
Is it all right for theatregoers to be sexually aroused by actors? The question arises because of a distinctive sound that now regularly breaks out in audiences. During two new London West End
musicals
–
The Bodyguard
and
Viva Forever!
– a huge whoop came from women in the audience during sequences when an attractive man took off his shirt. Even operatic clientele seem to be affected: I witnessed a similar reaction, though admittedly from what appeared to be a party of schoolgirls, during a male nude scene in
Calixto Bieito's recent production of Carmen at English National Opera
.
What's striking about this response is to imagine what would happen if men behaved in this way. In
last week's column
, I discussed Phyllida Lloyd's tremendous all-female production of Julius Caesar, in which, as it happens, there is a scene in which one of the cast walks around the stage naked.
As a liberal man brought up by a strong mother, I knew exactly what to do at this point: avert my eyes from her body and concentrate on her verse-speaking, or the lighting rig. Any man in the audience who had responded in the manner of the women at The Bodyguard, Viva Forever! and Carmen would – quite rightly – have been asked to leave the theatre and, if they were on a date, would probably have ended up going home alone.
Clearly, it can be argued that the demands of audience decorum differ between a Shakespeare performance and a musical or a production by the established provocateur of international opera. (Bieito is unlikely to be worried by shrieking during the nude scene.) But I am fairly sure that men who vocally expressed their appreciation of female flesh during any mainstream piece of theatre would meet hostility from women around them.
As it happens,
Jenni Murray
had suffered similar concerns at the hen-night yells that pursued Lloyd Owen during the performance of The Bodyguard that she saw, and initiated an
on-air discussion of the subject on Woman's Hour last week
, in which I was asked to take part. The question the programme posed was whether a double-standard is in operation, with women consumers of culture now treating male performers exactly as they have criticised men for enacting with female actors: objectifying their bodies and looks, responding to their sexual appeal rather than their talent.
Without being Talibanesque about it, my view is that there is an inconsistency here, and that the actors in question are at risk of being demeaned. It also intrigues me that the reaction of some women when challenged on this question so uncannily echoes the defence of sexist men in the 60s and 70s: come off it, love, it's just a bit of harmless fun. I've even heard the suggestion – again, an appropriation of an old male-chauvinist line – that the whooping shows how much they like and appreciate men.
The issue also arises for reviewers. As Jenni Murray pointed out, the theatre critic of the Daily Telegraph, Charles Spencer, was widely criticised for sexism when he described
Nicole Kidman's nude scene in David Hare's adaptation of Schnitzler's The Blue Room in 2002 as "pure theatrical Viagra
." Given that the principal effect of that drug is to create and sustain erections, the critic was perhaps giving more visceral information than his readers needed – and I think the controversy probably made him and other male critics more thoughtful about their descriptions of female actors. The conclusion which the Woman's Hour debate reached is that women's
sexuality
is generally more benign than men's, and therefore they may genuinely mean nothing by hollering when men get their kit off or drooling over movie stars in reviews.
I have some sympathy for that view, but I think the question of the whooping at male nudes in theatre also touches on a more fundamental aspect of the performing arts, which is that the sexual response of the audience is often part of the equation. A production of Romeo and Juliet in which a majority of viewers found neither of the leads attractive would surely be doomed to failure, and the profitability of Hollywood has historically depended on making movies featuring stars who will ignite the sexual feelings and fantasies of the mainstream audience – a major reason that so few film actors have come out as gay.
Even so, I think that critics of both sexes should be wary of parading their crushes in print and, while The Bodyguard isn't a very good musical, it would be marginally better without the whooping.
+++++++++++++++++++++++++++++++++++++++++++++
Luke Kenny,

Kirti Kulhari

to have steamy lovemaking scene in Rise of the Zombie
December 13, 2012

(

Mumbai

)
A still from the movie
Luke Kenny and Kirti Kulhari will be seen in a raunchy lovemaking scene in the musician's upcoming zombie film, Rise of the Zombie.

Although the starlet was initially in two minds about doing the act, she was later convinced to go ahead with it, thanks to the film's woman director Devaki Singh.
A source says, "It's one of the most passionate scenes shot in Bollywood. Devaki helped allay Kirti's fears. Being a woman director, Kirti knew Devaki would shoot the sequence aesthetically. Though the makers fear that the Censor Board might have issues, they are fine with getting an 'A' certificate."
+++++++++++++++++++++++++++++++++++++++++++++
Google tweaks image search to make porn harder to find
The company says the move is designed to ensure adult content is shown only to those who explicitly request it.
Search for porn using Google Image Search today and you might not find much.
The company rolled out a change to its image search algorithm overnight that makes it tougher to stumble across adult pictures, whether or not you're searching for them.
Here's how a Google representative explains the change:
"We are not censoring any adult content, and want to show users exactly what they are looking for -- but we aim not to show sexually-explicit results unless a user is specifically searching for them. We use algorithms to select the most relevant results for a given query. If you're looking for adult content, you can find it without having to change the default setting -- you just may need to be more explicit in your query if your search terms are potentially ambiguous. The image search settings now work the same way as in Web search."
In other words, if you have SafeSearch turned off, you can still probably find anything you're looking for by appending the word "porn" to your search.
But that might not be enough to satisfy some users.
A Reddit thread
this morning found users struggling to find explicit content even with SafeSearch turned off.
"What is this? communism?!" asked user
Fake_Cakeday
. "BRING BACK THE PORN!"
Google says the change simply brings image search settings in line with existing settings for Web and video search. But it's worth noting that this move is unusual for a company that in every other case works to make it easier, not harder, for you to find the thing you're looking for. The idea behind products like the Knowledge Graph and Google Now is that the company should bring you information with the least amount of effort possible. With its new image search settings, Google has identified one place where it wants users to work a bit harder.
* There is a subtle but steadily growing war on porn and soon....on on-line piracy. It's also the first of coming pre-emptive action from Google to show

good will

in attempts to appease strong conservative movement (deadly silent in their insidious

ness

and incredibly resourceful

)

and Washington (and big boys in Hollywood) gearing up to pass anti-piracy bill next year. The politicians practically hard to reach when it comes to assisting the common folks but faster than Millenium Falcon in licking major corporations and lobbyist

butt-

holes! They dawdle on fiscal cliff issue but anything corporation/lobby group requires...
+++++++++++++++++++++++++++++++++++++++++++++
'Scandal' Star

Kerry Washington

: 'Jamie Foxx Is A Good Soul'
During the course of her career, actress Kerry Washington has played the wife of Oscar®-winner Jamie Foxx in two films -- "Ray" and Quentin Tarantino's upcoming "Django Unchained."

In this "Oprah's Next Chapter" clip, Oprah asks Kerry, "Do you think [Jamie Foxx] would make a good husband in real life? Not necessarily for you..."

Kerry says, "Yeah, not for me... He's a great movie husband for me. But in real-life... I do [think he would be a good husband]! Jamie's a good soul."

"What was like working with him?" asks Oprah.



"I could not have done [that film] without Jamie," says Kerry. "This character required me to go places that were unimaginable. And it really pushed me to the edge of my sanity... And if I didn't have Jamie -- somebody who I so love and respect and admire -- as my partner, I couldn't have done it."
* Why Kerry is talking like if she did a
rape-slash-
nude scene in the movie? Interesting.
+++++++++++++++++++++++++++++++++++++++++++++
former beauty queen from Indiana 26-years old Brittany Mason continues on her path to become a top nude model...oops sorry..top fashion model with 'artistic' leanings.
Playboy photographer Josh Ryan is a lucky dude to say the least. The sample shots are for TREATS! magazine so we don't have to wait long for uncensored pics.
+++++++++++++++++++++++++++++++++++++++++++++
Spartacus: War of the Damned

- Photo Gallery
The new season begins at 8 p.m. Jan. 25 on Starz.
SPARTACUS (Liam McIntyre), CRIXUS (Manu Bennett), NAEVIA (Cynthia Addai-Robinson), GANNICUS (Dustin Clare), SAXA (Ellen Hollman), AGRON (Dan Feuerriegel), NASIR (Pana Hema-Taylor), CRASSUS (Simon Merrells), CAESAR (Todd Lasance), TIBERIUS (Christian Antidormi), KORE (Jenna Lind), LAETA (Anna Hutchison).
More here
+++++++++++++++++++++++++++++++++++++++++++++
* Watch t

his one

if you're fan of sci-fi shows like Fringe.......

very entertaining with pretty nifty effects
.
In this new Red Giant short film, from the creators of Plot Device, a scientist must prevent a new, powerful technology from falling into the wrong hands.
+++++++++++++++++++++++++++++++++++++++++++++
Fighting the Campus Porno Culture
Ashley Herzog
Last week, when I wrote about the pornification of American college campuses, many readers expressed their loss of hope in the current generation of students, as well as the administrators who encourage such a debased culture.

If my column made you weep for the future, you'll probably be even more disheartened by the book I referenced last week, "Sex and God at Yale: Porn, Political Correctness, and a Good Education Gone Bad" by Nathan Harden. The book is an expose of how, in the words of Vanderbilt professor Carol Swain, "some of our nation's finest universities have allowed themselves to become cesspools of perversion."

Some of the most shocking examples come from "Sex Week" at Yale, which Harden covers in detail. Activities have included sex tutorials, lectures by corporate suits from the porn industry, and a violent BDSM demonstration by porn star Madison Young. (Charmingly, Young performed for students in the buff.)

Harden shows time and again that campus porno culture demands a "there shalt be no judgment" mentality when it comes to sexuality. This commandment applies even to practices that are dangerous or dehumanizing for the participants. In one example, porn star Buck Angel was attacked for suggesting the adult film industry has a moral responsibility to promote condom use. The audience clearly rejected the notion that sex should involve moral responsibility to anyone or anything. Health, well-being, and safety don't matter—just so long as everyone is consenting.

But Harden also mentions a decidedly different event that took place at Sex Week: a talk called "A Philosophical Defense of the Sexual Counterrevolution," sponsored by Yale's Anscombe Society.

I first heard about the Anscombe Society in 2007, when I was a 21-year-old college student interning in Washington, DC. "Counterrevolutionary" is a fitting description for this group of students, who want to "move from saying what is permissible…to what is right and what is good." Anscombe chapters have flourished on Ivy League campuses, where porno culture is most extreme.

"During my freshman orientation program, I was required to attend a presentation called 'Sex Signals,' which aims at informing students about sexual assault," says Luciana Milano, a member of Harvard's Anscombe Society. "However, the crude and offensive presentation gave me a taste of a broader message, one which completely ignores the moral dimension of human sexuality."
Needless to say, students who acknowledge a "moral dimension" of sexuality are often treated like pariahs in this environment. When Harvard's Anscombe Society ran a poster campaign last Valentine's Day, they were defaced and torn down by angry students. Two of Milano's female classmates wrote into the school paper, calling the group "sexist" and the poster campaign "demeaning and offensive." They tossed around the name Sandra Fluke. (And here I assumed Harvard students would be more creative!) On college campuses, porn star lookalike contests aren't considered "demeaning and offensive" to female students, but posters promoting love and commitment are.

"Through their sexual health programming, course reading lists, and administrative policies, many of today's colleges and universities reinforce the attitude that anything goes in matters of sex so long as it is consensual," says Caitlin Seery of the Love and Fidelity Network, an umbrella organization that supports Anscombe. "Conversation surrounding sex on college campuses is therefore often one-sided, making it difficult for those who believe and live otherwise."

The Anscombe Society rejects the notion that any sexual activity deemed "consensual" is therefore exempt from analysis or criticism. They said so loud and clear when Harvard granted official recognition to Munch, a student BDSM group.

"Consent does not make a violent, abusive, or humiliating act suddenly non-violent, non-abusive, or non-humiliating," the Anscombe Society wrote in a press release. "The bottom line is this: If you think there isn't enough violence, abuse, and humiliation in the world, then you should support the recognition and funding of groups dedicated to associating sexuality with these social evils. If you think that there is already too much violence, abuse, and humiliation in the world, then you should join us in asking Harvard to reconsider its support for this group."

That's quite a diversion from the anything-goes, who-are-we-to-judge orthodoxy imposed by campus porno culture. After receiving complaints about the brutal BDSM demonstration during Sex Week, Yale administrators issued this statement: "While the administration may find aspects of SWAY [Sex Week At Yale] distasteful and offensive, Yale's policies on free expression permit students to invite the widest range of speakers."

Really, Yale? How much wimpier can you get?

It's clear to me that the young members of the Anscombe Society have more wisdom, more values, and more guts than their elders. These students deserve our support for standing up to the pornified powers that be on their campuses.
+++++++++++++++++++++++++++++++++++++++++++++
* The show creator Andrew Davies promised as much nudity "as you can get within the limits of prime-time viewing".
Jeremy Piven and Katherine Kelly in ITV's latest period drama Mr Selfridge - pictures
Following in the footsteps of BBC's The Paradise, 2013 brings us another dose of romance and shopping - this time in Selfridges department store...
Written By Susanna Lazarus
Hot on the heels of Downton Abbey, 2013 sees the arrival of a new period drama on ITV. Set in Selfridges department store at the start of the 20
th
Century, the new biopic captures a time of decadence, female empowerment and shopping. Sound familiar? That's because it is… Cast your mind back a couple of months and you'll recall the BBC introducing us to a similar format with The Paradise, a northern equivalent following the fictional progress of the first British department store under the entrepreneurial eye of John Moray.
ITV's
Mr Selfridge
stars Entourage actor Jeremy Piven as Harry Selfridge, the maverick American businessman who founded the landmark Oxford Street store. After shipping his wife Rose and children over to British shores while he runs his store, Harry crosses paths with glamorous stage entertainer Ellen Love whose alluring looks make her the chosen face of Selfridges.
Busy at work within the lavish department store are business-minded shop assistant Agnes (Aisling Loftus), flamboyant creative director and early-day Don Draper, Henri Leclair (Grégory Fitoussi), trusted chief of staff Mr Grove (Tom Goodman-Hill) and confident head of accessories, Miss Mardle (Amanda Abbington).
Meanwhile Harry is busy making important connections to increase his standing in British society – namely in the form of Coronation Street actress Katherine Kelly who plays Lady Mae - a powerful socialite whose connections prove vital in building the Selfridges empire…
Excited? Why not check out these new photos of the extravagantly dressed cast?
Here's Jeremy Piven, looking very suave in his seductively-lit fancy office. Let's take a moment to appreciate the necktie, watch-chain and excellent facial hair he's sporting.
Here's his wife, Rose, looking suitably glamorous - but that miffed expression on her face suggests all is not well behind closed doors.
Maybe her misery is down to the below flirtation? If our dashing moustached husband was giggling playfully alongside dazzling entertainer Ellen Love we wouldn't be too happy about it...
She is rather glamorous, isn't she?
And talking of glamorous, take a look at Katherine Kelly dressed to the nines as Lady Mae. Speaking of his British co-star Jeremy Piven told RadioTimes.com, "She's unbelievable. The character she plays in this is the antithesis from what you know in Coronation Street - this high society woman who I go to and she introduces me to this world. She's just so brilliant and professional - I had a great time working with her."
Meanwhile, on the shop floor there are an array of new characters to be introduced to. Here's chief of staff Mr Grove looking very grave as he attends to some important business.
Next up is Miss Mardle whose serious expression indicates her dedicated running of the all-important accessories department.
And there's young Agnes, standing side by side with creative visionary Henri Leclair. Is there a hint of chemistry between the pair? We'll have to wait and see...
Excited? So are we... Not long to wait now - you can blitz the new year blues when Mr Selfridge rolls onto our TV screens on ITV1 in early 2013.
Katherine Kelly: Corrie fans won't like me in

Mr Selfridge

Katherine Kelly fears 'Coronation Street' fans will not like her character in 'Mr. Selfridge'.
The 33-year-old actress insists her supporters will be ''really disappointed'' if they are expecting powerful socialite Lady Mae Loxley to be anything like mouthy, cider-guzzling barmaid Becky McDonald - who she portrayed for six years in the soap - but hopes fans will be ''completely taken up'' by the new ITV1 period drama.
She said: ''We don't like change, so Corrie fans probably won't like it at first. That's just the way we are, isn't it? I miss Becky too, but I love Lady Mae as much as I loved Becky. I just hope that within 10 minutes they'll forget her and forget me and just be completely taken up by this show.
''If you think I'm going to waltz into Selfridges with a bottle of cider and smash it all up, then you're going to be really disappointed.
''But I left 'Coronation Street' to play other roles and this is a very different one. I loved the script - it's not just another period drama.''
Katherine loves starring opposite leading man Jeremy Piven - who plays Chicago businessman Harry Gordon Selfridge, the man who founded British department store Selfridges - and insists the 'Entourage' star is the ''real deal'' when it comes to acting.
She added to the Daily Mirror newspaper: ''He's everything you'd hope he would be.
''You've got to understand why everybody fell at Harry's feet and adored him - he's got to be so charismatic. And Jeremy has got that in abundance.
''He's a great leading man. He's the real deal. People who adore him in 'Entourage' always say to me, 'Come on, what's he like?' Well, let me tell you, however brilliant you think he is, he's better than that.''
+++++++++++++++++++++++++++++++++++++++++++++
The org. provided one size fits all bikinis...
Miss France 2012, Marie Payet
Diem Huong Luu, Miss Vietnam 2012 (L)
Miss Lebanon 2012, Rina Chibany - someone needs a proper trimming.
Miss El Salvador 2012, Ana Yancy Clavel -

hmmm

Miss USA 2012, Olivia Culpo, gets advice from Fashion Walk Consultant, Lu Sierra, before posing in her Kooey Australia swimsuit during a judges briefing for the 2012 Miss Universe pageant at the Planet Hollywood Resort and Casino in Las Vegas, Nevada, December 11, 2012. The 89 Miss Universe contestants will vie for the coveted Diamond Nexus Crown December 19, live on NBC at 8PM ET.
+++++++++++++++++++++++++++++++++++++++++++++
Are Americans Becoming More European?
Last week the Pew Research Center released a
survey
of American and European attitudes on a host of issues. Conservative commentators
homed
in on two findings: first, fewer Americans believe that our culture is superior to others (49% now, compared with 60% a decade ago); second, a rising share of young Americans support activist government. Such findings have been used to
build a narrative
that under President Obama, we're becoming less American and more like those relativist, collectivist, socialist Europeans across the pond.
+++++++++++++++++++++++++++++++++++++++++++++
Prosecutor in sex scandal probed
By Rey E. Requejo

|

Posted on Dec. 14, 2012
After weeks of tongue-wagging among lawyers, Justice Secretary Leila de Lima confirmed on Thursday that Quezon City assistant prosecutor Philip dela Rosa is now under administrative and criminal investigation after his wife lodged a complaint against him arising from a video allegedly showing his extramarital sexual acts with another woman.

De Lima did not identify the prosecutor, but sources at the Quezon City Prosecutor's Office said Dela Rosa was charged for grave coercion, grave threats and violation of Republic Act 9262, or the Anti-Violence Against Women and Their Children Act, by his wife [identity withheld] before the QC Prosecutor's Office.

But the charges were forwarded to the DOJ after QC prosecutors inhibited themselves from investigating the case because of their professional links to Dela Rosa, who had just joined the Prosecutor's Office last October.

"The central issue is the merit and fitness of a person to function as a public prosecutor. That means living up to the highest standards of integrity," De Lima said, in a text message.

But De Lima also disclosed that prosecutor fiscal filed countercharges for violation of Republic Act 9995, or the Anti-Photo and Video Voyeurism Act, against his wife for allegedly posting in the Internet the sex video she discovered in his laptop.

"The sex video is a collateral issue that demonstrates the emergence of the use and abuse of technology," the DOJ chief noted.

De Lima said reports reaching her office indicated that the video was taken when Dela Rosa was still with the Public Attorney's Office and prior to his appointment as assistant city prosecutor.

The sex scandal has become the scuttlebutt in legal circles because the woman in the video [identity withheld] was allegedly a bar topnotcher who became a public attorney specializing in domestic violence and a law school professor.

She is allegedly a daughter of a regional trial court judge who was recently promoted magistrate of a superior court.

De Lima said the wife has filed separate disbarment complaints before the Integrated Bar of the Philippines against the prosecutor and the judge's daughter, who has since left for Canada.

When sought for comment, Prosecutor General Claro Arellano, who was himself Quezon City prosecutor, agreed with De Lima that prosecutors should preserve high standards of integrity and morality.

"A prosecutor should be an example of morality," said the prosecutor general, who vowed there would be no whitewash in their preliminary investigation. "If we find probable cause on the allegation against our prosecutor, we have no choice but to file the case (in court). As always, we evaluate cases based on merits. Not because the respondent is a prosecutor, he will be spared," Arellano stressed.
+++++++++++++++++++++++++++++++++++++++++++++