New Teaser For Paul Schrader's '

The Canyons

' Introduces Ensemble, 1930s-Style
It seems as though director
Paul Schrader
and writer
Bret Easton Ellis
have yet to learn that the parody teasers for their upcoming exploration of sexual obsession in Los Angeles with
The Canyons
is only hurting their film. We got a
1950s-style look
and then a
grindhouse-esque teaser
, and now one, final "parody" trailer has landed in the form of a 1930s-style preview.
With a cast including porn star
James Deen
and tabloid queen
Lindsay Lohan,
it does give us a look at the ensemble, but does little to kickstart any sort of anticipation for this one. Check it out below and hopefully we'll get an official trailer soon as the film has officially been completed and currently searching for distribution.
"Last of the trailers (parody, that is). Nikolai Mentin, the editing intern who helped us out in NY, was kind enough to put together one last teaser, this is the style of the Thirities. It was fun teasing with these. People wanted images from the film and I didn't want to do anything definitive until a distributor was on board so these teasers were an interim solution. The film is now completed and the next step is to screen for multi-platform distribs."
Synopsis
:
It's not The Hills… THE CANYONS is a contemporary L.A. noir from director Paul Schrader, writer Bret Easton Ellis, and producer Braxton Pope about the dangers of sexual obsession and ambition, both personally and professionally, among a group of young people in their 20′s and how one chance meeting connected to the past unravels all of their lives, resulting in deceit, paranoia, cruel mind games and ultimately violence.
The Canyons
is aiming for a 2013 release.
* Yet to receive proper confirmation about LiLo nudity other than she shows her perfect melons couple of times but Tenille Houston in her first nude scene should earn her a spot on Mr. Skin top

ten nude scenes of the year

. Her tits are in a league of their own.
+++++++++++++++++++++++++++++++++++++++++++++++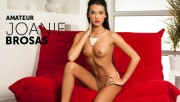 Meet amateur Joanie Brosas, a working model from Salt Lake City, Utah. She's petite, half Filipino, half Dutch and German, with brown hair almost as long as she is. "I was born in Guam," says Joanie. "My dad was in the Air Force, so I don't really have a hometown. We moved all over. I learned to get along with everyone, and to like something about everything."
Joanie's a real girl next door. She works for a graphic software company, and after her shifts she goes for Italian food with her friends and boyfriend. She loves Star Trek, video games, movies and ping-pong. She started as a costume model at convention booths, and now that she's an Amateur, she's got her sights set a little higher. "I want to caddy at a Playboy Golf tournament," she says, "but what I really want to be Miss February."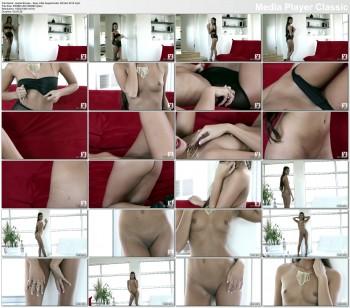 Size: 251 MiB | Format: mp4 | Duration: 5mn 28s | Resolution : 1920x1080
Rapidgator
More of Joanie here and here
Her alter-ego is The Orion Slave Girl (from Star Trek) and she apparently tweets as well.
+++++++++++++++++++++++++++++++++++++++++++++++
Meg Imperial

Hot FHM Photos
Meg Imperial
shocked fans by appearing on the
cover of FHM
's December 2012 issue, displaying her radiant sexiness to keep your cold holiday season hot. At just 19 years old, Meg is debuting her rise to the limelight just like co-TV5 actress
Ritz Azul
who posed previously last month.
The young former star of "Bagets" and "Midnight DJ" is on full throttle towards her sexy new image, as she will also be starring in an upcoming sexy flick "Menor de Edad" which will be directed by Joel Lamangan. In the movie, Meg is a student who falls for her teacher played by Wendell Ramos, and yes, fans can expect some really hot and sexy scenes in it.
Looking at Meg, you know she's incredibly and sinfully fit for this role and we'll only hope that Viva Entertainment continues producing the sexy film comeback.
Meg had the blessing of her parents on her new career course, and she says her mom is really by her side guiding her in this phase of her showbiz life. Seems her parents did a pretty good job raising her, as even though they were conservative and strict on her when she was younger, she isn't rebelling by doing stupid new things and Meg definitely knows how to take care of herself.
Fans may have been criticizing Meg for her new sexy image but she responds with grace, saying though she was conservative coming into showbiz, adding spice to her image is no more than just doing her job, just like
Anne Curtis
,
Georgina Wilson
, etc, and that it's all about perspective.
These sizzling photos of Meg really makes you wish for summer this Christmas.
Enjoy more photos of new sexy star Meg Imperial:
+++++++++++++++++++++++++++++++++++++++++++++++
Serinda Swan on the Beach
* Serinda is currently vacationing in Asia. The gal is into Indu-Eastern philosophies and mysticism. Can't wait to catch her in upcoming series Graceland. Just look at the cast list. Vanessa Ferlito, Jenn Proske, Mia Kirshner,
+++++++++++++++++++++++++++++++++++++++++++++++
William Spengler had an AR-15. Is our country "Brain Dead"?
Added by James Turnage
Did You Wonder Too?
When it was revealed that 62 year old William Spengler had an AR-15, and a twelve gauge shotgun when he murdered 2 Firemen in Monroe County in upstate New York, I asked myself a question. If he was a convicted felon, serving 17 years in prison for the murder of his grandmother with a hammer, how did he get the assault rifle? Felons are restricted from buy weapons of mass destruction.
Here's the answer. His neighbor, a 24 year old Vietnamese woman by the name of Dawn Nguyen purchased them, telling the gun store owner they were for her own personal use, when in truth she was procuring them for Spengler. She is now in federal custody.
So NRA, your premise has always been that "if we take away our weapons, only criminals will have weapons" is another stretch of the imagination. In all the recent massacres of innocent citizens the weapons were legally obtained in one form or another.
As I watched another idiot on the news tonight from Utah who was training teachers how to use firearms, saying that the only way to stop the bad guys with guns was to give the good guys guns, I almost vomited.
It's a Dumb Idea
The gun nuts are wrong again. The NRA has convinced some feeble minded Americans that arming principals and/or teachers will protect our school children. Have they the ability to think logically in any way? Here are the facts why it's a very dumb idea.
Well trained police and military marksmen will tell you that minimal training in the use of a handgun will only get you killed. In a crisis situation, with adrenaline flowing, the average gun owner cannot hit a target six feet away. A teacher, whose natural concern would be for his or her students, would have a heart rate so high that they would become a target, not a deterrent. In this scenario, having a gun in your hand would make you the first to be killed.
In Aurora, Newtown, and Monroe County, New York, the killers used assault rifles. A hand gun is no match for such a weapon. So do we arm teachers with assault rifles? If we do, where do we put them during class to prevent a deadly accident? If they're safe, how quickly could a teacher access them? Would they be loaded or un-loaded? How do we train teachers to be effective with them and not kill innocent children while firing dozens of rounds in seconds?
To think that teachers could have protected their children at Sandy Hook Elementary with handguns is just plain wrong. In the case of James Holmes, the villain in a movie theater in Aurora, Colorado, he was wearing a bullet proof vest. I never read if Adam Lanza was wearing a vest or not, but he could have been. Is the NRA telling me that a terrified teacher must make a clean head shot to nullify an attacker? It sure sounds like it.
The debate over gun control of some form should not happen. We must have a change in the way we think. It is so easy for anyone to obtain the most destructive of weapons that all too frequently criminals are better armed than the police.
All guns should be eliminated from our society. We must become as civilized as Great Britain, Australia, and Japan. Enough is enough, and I am outraged to a greater degree every time I read or hear about one more innocent person who lost their life because a man needed to feel more like a man.
One human life lost through the use of a gun is one too many. There are so many concerns in England about death by handgun that only detectives are allowed to carry loaded weapons.
The NRA is nothing more than a well funded lobby. All lobbies are detrimental to "getting the right thing done" in our legislature. There are no lobbies for the working class or the poor. Supposedly that is why we elect congressmen and senators who protect our rights, our needs. Instead they receive "perks" from lobbyists, whose voices become louder than ours. And, to them, they listen.
I sometimes think our country is "brain dead", and needs to be taken off of life support.
+++++++++++++++++++++++++++++++++++++++++++++++
Leryn Franco photoshoot for Times of India
Paraguayan javelin thrower
Leryn Franco
poses in a bikini exclusively for the Times of India... Having appeared in three Olympics, including London Games (2012), she wants to compete again at the Rio Games.
+++++++++++++++++++++++++++++++++++++++++++++++
Q-and-A: Don Cheadle Talks '

House Of Lies

,' Marty Kaan Character and Corporate America
The second season of Showtime's dramatic/comedy television series,
House Of Lies
, is set to premiere in just two weeks, so we offer a new interview with its lead actor, Don Cheadle, who's performance has earned him a Golden Globe nomination.
The TV series centers around the world of consulting, and Cheadle stars as the charming, fast talking Marty Kaan who, along with his team, plays the corporate game better than anyone. It's gotten rave reviews... and has built anticipation for the upcoming season.
In this Q-and-A, the 48-year-old Cheadle explains why he auditioned for House Of Lies, offers some insight into his Marty Kaan character, and discusses the debauchery that goes on behind the scenes in the corporate world, which he infamously portrays in the series.
Season 2 of
House Of Lies
premieres on January 13th at 10pm ET/PT on Showtime. For more info, visit
Sho.com
.
You had co-starring roles on several memorable television series (Golden Palace, Picket Fences) and even an Emmy nominated guest arc (ER), but what made you want to headline a show?
I wasn't thinking about headlining a show, necessarily, as a goal in my career or anything like that. I read a script,
House Of Lies
, that I really dug and thought would be a very interesting take on an industry and a business that we know very little about and I thought the script was really great and well executed. It was also an opportunity to be at home with my family, and when all the math was done on the reasons to do a show, starting obviously with the material itself, everything lined up and equaled a yes.
Give us a take on "Marty Kaan". What makes him tick?
Good question. I don't know that I have the answer. One of the things that makes him tick is his desire not to lose. Given his emotional background, which you come to learn through the course of the series, he can't back-up, he can't lose. He can't ever be in a position where he doesn't come out on top because every instance is about survival, in my opinion.
Were you at all surprised by the antics behind the scenes (strips clubs, debauchery, etc.) in big business on this level? Do you think the average person knows what goes on in this side of consulting?
No. I imagine successful people in all different businesses avail themselves of whatever recreation is available to them. They're adults and they're in a dirty business, so it's not surprising that the way they blow off steam is not in your down-the-middle-of-the-road entertainment. I don't think the average person knows much about consulting. I think you've only seen it if you've been in a business and have had the pleasure or displeasure, as it were, sometimes to see it up close.
Have you met author Martin Kihn (the real "Marty Kaan")? What was that like?
I've met Marty Kihn. It was pretty interesting. He's not like me at all in the outside packaging, but he's an interesting cat, obviously. He's coined so many of the phrases that we've used on the show and has been a great touchstone for us and a great source for material and insight and is the kind of technical adviser that he acts in the capacity of. It's good to be able to go right to a player and ask questions.
What role do you play as an Executive Producer? Are you involved with the scripts, casting, etc.?
As an Executive Producer, I'm involved in the stories, the scripts and the casting and the editing and the final piece that gets put out -- soup to nuts.

What's it been like working with the cast? Have you previously worked with any of your co-stars?
It's a brand new cast to me and they're great. I love everyone on the show. We come from different backgrounds. Josh and Ben come out of improv, which is a similar background that we have. We just love to go at it on the show. It's kind of wide open for us. The scripts are great -- we have the storylines that we follow -- but we're also allowed and given the opportunity to stretch out, and a lot of times, that's where we find the best stuff between all of us. It's fun to have that latitude as well as the comfort that you're in good hands when you're playing with these guys. And Kristen is a professional. She's already been a lead on a series, so she understands the level of commitment and how to really keep hold of a character and follow them through an entire series and be mindful of the story that she's responsible for telling from her seat. It's a good mix of people.
+++++++++++++++++++++++++++++++++++++++++++++++
Sex scene of actor Haron Laurence from my film 4 Finger Destruction
+++++++++++++++++++++++++++++++++++++++++++++++
+++++++++++++++++++++++++++++++++++++++++++++++
These are the most pirated movies of 2012
TorrentFreak
has once again
compiled a list
of the most pirated movies of the year. It shouldn't come as any surprise to see blockbusters such as
The Avengers
and
The Dark Knight Rises
make the list, but some may not recognize the front runner.
Project X
beat out
Mission: Impossible - Ghost Protocol
as the most pirated film of 2012, reaching an estimated download count of 8.72 million despite
the poor critical reception
and
lackluster box office performance
. There are also some notable exceptions:
The Hunger Games
is nowhere to be seen despite being the third highest grossing movie of 2012, and the other major superhero movie of the year,
The Amazing Spider-Man
, also failed to make the grade.
As usual,
TorrentFreak
is only providing an estimate of the number of downloads using available information from public BitTorrent trackers. Still, it's a reasonable snapshot of the collective tastes of movie pirates the world over.
| Rank | Movie | Downloads | Gross revenue |
| --- | --- | --- | --- |
| 1 | Project X | 8,720,000 | $100,931,865 |
| 2 | Mission: Impossible - Ghost Protocol | 8,500,000 | $694,713,380 |
| 3 | The Dark Knight Rises | 8,230,000 | $1,081,041,287 |
| 4 | The Avengers | 8,110,000 | $1,511,757,910 |
| 5 | Sherlock Holmes: A Game of Shadows | 7,850,000 | $543,848,418 |
| 6 | 21 Jump Street | 7,590,000 | $201,585,328 |
| 7 | The Girl With the Dragon Tattoo (2011) | 7,420,000 | $232,617,430 |
| 8 | The Dictator | 7,330,000 | $177,547,352 |
| 9 | Ice Age: Continental Drift | 6,960,000 | $875,115,339 |
| 10 | The Twilight Saga: Breaking Dawn - Part 1 | 6,740,000 | $712,171,856 |
+++++++++++++++++++++++++++++++++++++++++++++++
In Bed with Vera

- preview
from Nude Vera
+++++++++++++++++++++++++++++++++++++++++++++++