Amanda Bynes
Kicks Off 2013 By Sharing A Photo Of Her 2012 Boobs



Guess she's not the man after all! All That alum Amanda Bynes ended 2012 by sharing a New Year's Eve photo of her boobs on Instagram. Even though we're still in the fetal stages of the new year, I think it's safe to say that this will definitely make the annual New York Times 1000 Best Almost Nip Slip Shots of 2013ish list.
Sarah Lian first shot to fame as the local Internet Ah Moi in the 2010 MyEG commercial.
The 29-year-old then went international, playing a sexy shopaholic (in the Hong Kong produced comedy Mister French Taste) and an edgy-looking hacker (in US online crime drama Cybergeddon), this year.
Now, Sarah Lian has set her sights on becoming an action star.
In an interview with the Daily Chilli, the doe-eyed Malaysian actress, now based in Vancouver, Canada, revealed an interest in equipping herself with martial arts skills to pursue action roles.
"Kung Fu is a must. Naturally, for many of the roles that I auditioned for in Canada, one question that always comes up is 'Do you do martial arts?' As an Asian, you have to sort of expect that because of people like Bruce Lee and Michelle Yeoh," she said.
But it's not just the moves that matter, said the Taiping-born, Vancouver-bred beauty.
"It's more of the ability to move a certain way, to understand what the choreographer and set coordinator want you to do. It's much more important than how high you can kick or how strong you are," she explained.
It helps that she had done taekwondo before.
"There are some parts of me that are coordinated [laughs]. And I enjoy working out. Still, it comes as a bit of a challenge. "I did some basic martial arts training in Toronto for a couple of months. Then I started filming and my schedule got kind of crazy. So I had to stop. I'm definitely looking forward to trying it again in Malaysia. I heard the wushu team here is amazing," said Sarah, who named Indonesian crime thriller The Raid: Redemption as her favourite actioner.
To refresh your memory, the Malaysian darling left Malaysia in March 2011 to pursue bigger acting opportunities in Canada. After a year of working and trying to land a big break, she's now temporarily back in Malaysia.
"After spending three years in Malaysia building up my career, I didn't know what to expect when I was in Canada."
"It's was a huge leap of faith, but with hard work-which involves eating humble pie, auditioning and competing with over 100 actors in Toronto-I slowly started gaining some ground and getting some jobs in TV shows and films."
"While I am recognised in Malaysia for my work, in Canada, I was competing with a few hundred actors for a role. The casting directors would look at your picture, see what you can do, and say, 'Thank you. Call you later.'"
"And you never get the call. You feel like you're one of those people who go, 'Am I ever going to be noticed?'"
"So I put even more work into auditions now than before when I didn't feel I needed to. It's not just the talent. You have to keep working at it. And because I've done that, casting directors remember me."
"They encourage my agent to send me to certain jobs. To have that kind of support from them is humbling. It's amazing and sometimes unfathomable," she said.
Her experiences as a popular host and actress in Malaysia certainly helped.
"It helped that I was not really a newbie. I knew how to work in front a camera, collaborating with others and playing my role well in a team," she said.
Well, how challenging is it for an Asian to work in a Western market?
"It can be. However, I'm happy to say that two of my four roles were cast not because I was Asian. The script never reads something like 'Asian girl walk into the room.' They just think I fit the bill," she said. Though she's based in Canada, Sarah is open to "working internationally."
"I speak predominantly English, Cantonese and a bit of Mandarin.
I'm currently shooting a film in Hong Kong now and they've got a Beijing arm. We are in talks of doing future projects like Chinese films together. I'm really excited," she said.
She remained tight-lipped on her ongoing shooting in Hong Kong though, merely revealing that it's a Hollywood film produced by the folks behind American series The Walking Dead.
"I can't really talk about it, except that it's a horror film, one that might generate a bit of controversy when it comes out. I'm one of the main characters and the film will be released around October next year."
Right now, Sarah just wants to kick back and relax.
"I've spent a full year in Toronto. So while I'm back here, I mostly just enjoy the good food and meet up with my family and friends," she said.
Chances are, she's also going to knock on the doors of Hollywood soon.
"I've had producers pulling me aside and said they want to make some introductions in Los Angeles. So I might spend a few weeks in Los Angeles next year," she revealed.
Still, the thought of trying to make it in Tinseltown sounds "very daunting" to her.
"It's a huge market and everyone is an actor there. I would have to start there from scratch. So I would want to build my name first in Toronto, get a few more things under my belt, so that I would feel more comfortable going there," she concluded.
Sarah Random 25 Things
1. I get a hard on when I read design blog sites, esp product packaging.

2. I wanted to be a teacher when I was young but realized how shitty they got paid when Vancouver School Board Teachers Union were on strike in 1994 [and i was never taught how to swim...]

3. I take pride that I'm Malaysian and will say that before I say I'm Chinese.

4. Kate Moss is my favourite model despite her coke habit. She's still rockin – tho I must admit the Asian Invasion has also included Mo Wandan and Du Juan on my list.

5. I always have visions of myself in my head having accidents and losing a leg or an arm, so I'm even more careful that things like that don't happen.

6. I'm a super-photoshopper! I started at Adobe ver 4.0 and 4.5, 5, 5.5, 6, 7, 8,CS, CS1, CS2 and I still don't know how to smooth the skin like the Mariah Carey posters. [but i know how to make my boobs bigger
]

7. I always meet my best friends within the first week of moving to a new city. MEL- Toronto, HAG/GUMP – KL.

8. I don't have visions of my wedding when I daydream. I'm practical- like city hall practical.

9. I'm a sucker for Missoni and Diesel Ad Campaigns. It's odd, but I have so many of their tearsheets in my Fashion file.

10. I hate doing my nails and toes, but its supposed to be important, so I have them done at a salon.

11. When I'm on dates, I hold out from kissing as long as I can cuz once that happens, it's over.

12. I only hate 2 exes in my life. Thank God I live in a different country!

13. I'm a bit rough around the edges but with my boyfriend i'm the neediest, corniest person ever.

14. When I travel with my girlfriends, we shower together to save time.

15. I like my internet life better than I like my own life – for a while, lilmui had more glory than Sarah Lian.

16. Doing photoshoots in my own room with my own custom setting on my camera is helluva lot better than some of the photographers I've worked with.

17. I will pull the trigger on the next magazine that asks me why I decided to move to Malaysia – I think people are tired of hearing about the same story.

18. I like sleeping naked.

19. I slept on the same bed with a girl for 8 months. Ask Jomomma.

20. Johnny Knoxville called me up to hang out when he was in Vancouver.

21. I'm preventing myself from dating this year because the kind of dating I did last year was unnecessary.

22. My favourite t-shirt is a Navy Blue NIKE Shirt that I found from that thrift store on Main (or Fraser) and Kingsway when I was in Grade 4. I still have it with me.

23. I hate stuffed animals. I don't think they're cute… and u doing a stupid voice with a stuffed animal isn't that much cuter either.

24. I like Noam Chomsky's critical view on politics and America.

25. I think Bush was as close to the anti-Christ as I know and think that Americans were even more stupid to vote him (or stupid to NOT vote) for the second time, which is why I think Americans are kind of stupid. I despise American heroic movies where some random dude saves the world after a lame speech about how "we can do it" and he's American.
* 29-years old Canadian Sarah Lian is another Asian actress-model caught between two worlds and minds about the direction and choices she needs to make in propelling her career on to the right path.
Basically a C-lister and at her age will remain one unless she willing to take risks and it seemed she did (nudity?) if I read the above interview in proper context.
Looking at her film resume shows Sarah is a strong-willed and flexible type of person. Struggling to make a name in a turgid but overcrowded Canadian showbiz, the pretty lass returned to her place of birth Malaysia to exploit the fascination Asians have for Westerners in any shape or sizes. But it appears after couple of years of middling through some telly ads and posing for mags, Sarah comes to realization the region is very much obsessed with Eurasian or Caucasian-looking celebs and she was better off in her homeland Canada. Give it a second shot.
This is where it gets mighty interesting. Sarah apparently dropped her nudity clause and actually auditioned for a role in much delayed and still delayed STARZ-produced Noir with new writers hired to nudge the project into production (but I don't see that happening anytime soon).
Sam Raimi and Rob Tapert are the executive producers and they conducted auditions in Auckland back in late 2011 which Sarah attended to test-read for the role of Kirika.
Sarah in her own words: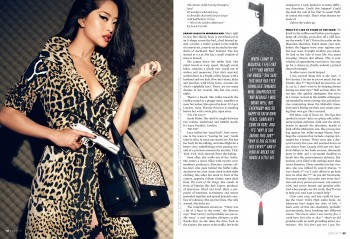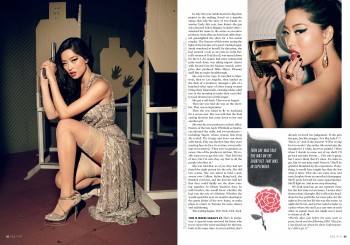 The casting requirement for Kirika:
"The actress playing the Asian character must be completely comfortable with nudity and sexual situations being portrayed onscreen. Full nudity will not be required, but she must agree to exposed breasts, buttocks and simulated sex/love scenes. The written material is of the highest quality, and neither the violence, sexual situations or nudity will be gratuitous nor pornographic. (Bear in mind the nudity/sexual situations of shows like Spartacus, True Blood, Boardwalk Empire)"
Noir follows two female assassins who team up to fight against a secret society. After discovering they're mysteriously linked, the two, under the Noir moniker, have to work together until they get answers about why and how they are connected — or until one of them kills the other.
In the first episode according to the original script, Kirika runs around fully nude in assassin mode in a pretty lengthy scene.

More of Sarah here and here and here

and here and here and here and here and here and here

and here
Sarah also had a Model Mayhem account (under the name of lilmui) for years before deactivating it.

I

t's more than likely she posed nude for either private collection or uncredited pictorials. Her Friends Tag includes far too many photographers who specialize in erotic/nude shoots.
Maybe you guys have better luck in finding her nude pics than me.
Night Luster
Sarah Lian Interview
Sarah Lian for ROX/STA - Rock-and-Rule 2009
"Foolproof"