Vogue Paris 2013 Calendar

: Part 1

The highly anticipated Vogue Calendar makes its celebrated return to ignite the new year. Making a presence as a free insert in the December 2012 Vogue Paris issue, the calendar featured many of the hottest supermodels around the globe. Today we get a better look at the offering and the ladies in which it showcases. Additionally, we are also aware that this is only the beginning, with a second installment due out later this year.

Scantily clad beauties are always an object of affection and the only real reason a man would every buy a calendar, of all things. Vogue's latest gives us a reason to check the days of the week, and not only to see which days of the year we are off. Models Daris Werbowy, Anja Rubik, Raquel Zimmermann, Lara Stone, Kate Moss and Sasha Pivovarova appear in Part 1 of the spread. Part 2 is set to release in June. Stay tuned.

+++++++++++++++++++++++++++++++++++++++++++++++



+++++++++++++++++++++++++++++++++++++++++++++++
Occupy Wallstreet interviews Tufts-Skidmore student Jane Cogger. The interview is in Spanish but she is an American all right.
+++++++++++++++++++++++++++++++++++++++++++++++
Where Are They Now? Some Of Your Old Favorites' Whereabouts
You know those stars who blow up for all of about five minutes -- or five years, if they're lucky -- and then disappear into the ether? The ones whom you're reminded of only upon seeing a late-night commercial for "Totally R-and-B" or gasping with excitement as they pop up on the latest episode of "30 Rock"?
The Huffington Post has been scouring the Web for juice on some of your old favorites, from pop-music princess Mandy Moore to "Cruel Intentions" heartthrob Ryan Phillippe. Find out what these and plenty of other stars are actually up to. Believe it or not, most of them are in fact still working. (We didn't believe it either.)
MUSIC:
Ginuwine
You might not be aware, but R-and-B slow-jam aficionado Ginuwine is still making music. He released a greatest hits album in 2006, and his most recent effort, 2011's "Elgin," debuted at a crisp No. 30 on the Billboard 200. Still, Ginuwine hasn't been able to top his 2001 smash single "Differences," which spent four weeks atop the U.S. R-and-B chart.
At least Tom Haverford still loves him
.
Macy Gray Surely you know Macy Gray from her ubiquitous anthem "I Try," a monstrous hit that went on to be featured as part of entirely too many dramatic moments on TV shows like "Spin City" and "Gilmore Girls." But what else do you know about Gray? How about the fact that she has released five albums and 15 singles since her signature song made its impact in 1999? Or that she had a brief stint as a celebrity contestant on the ninth season of "Dancing with the Stars"? How about her bizarre appearance as an abortionist in Tyler Perry's "For Colored Girls"? Nope? Not ringing a bell? We didn't think so.
Mandy Moore For better or worse, Mandy Moore's fame hasn't endured to quite the same degree as say, Christina Aguilera or Jessica Simpson, two of her peers who arrived around the same time her 1999 debut album "So Real" did. She's released five albums since but is most remembered for her excessively dramatic turn in the 2002 flick "A Walk to Remember" and the accompanying singles "Cry" and "Only Hope." Since then, Moore has attempted to keep her film career alive, but the closest she's come are a few poorly received romantic comedies ("Because I Said So," "License to Wed") and the lead role in the animated flick "Tangled." Mandy, despite a résumé that hasn't quite been growing, we're missing you like candy.
Sinéad O'Connor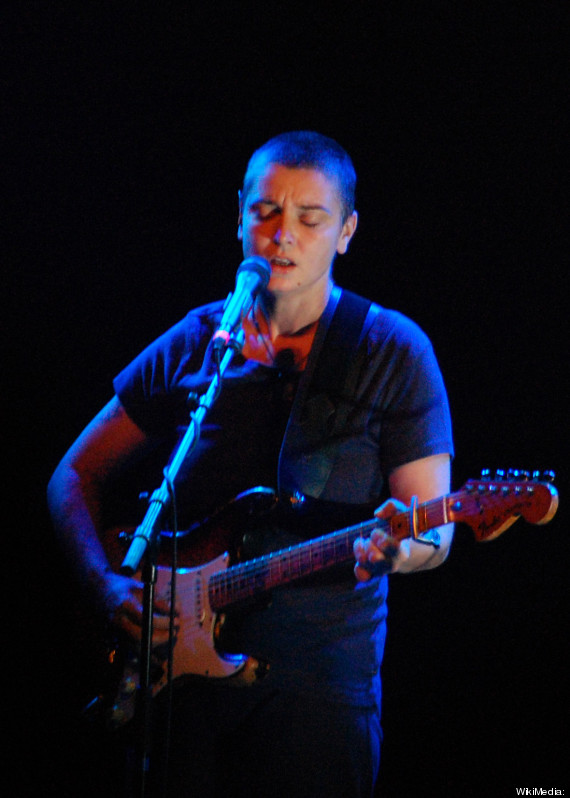 Oh, surely you remember Sinéad O'Connor! She had one of the biggest hits of the 1990s with "Nothing Compares 2 U." Then, in 1992, she ripped up a picture of Pope John Paul II while performing on "Saturday Night Live" and hasn't quite recovered since, despite releasing an additional six albums. Now she turns up regularly to give bizarre interviews, express her often controversial opinions and
get divorced for incomprehensible reasons after 16 days of marriage
. She told Entertainment Weekly in 2005 that she is "three-quarters homosexual" but leans "a bit more toward the hairy blokes." In 2007, she told Oprah Winfrey that she has been diagnosed bipolar. And, of course,
she's still attacking the Catholic Church
.
Sisqó Sisqó's thong-related desires must have been satiated, as he hasn't released an album since 2001. He's had a few forgettable movie roles, the most recent of which was 2006's "Surf School." (Remember it? No? We don't either.) It looked like the Grammy-nominated stud will forever be known for his two chart-topping 2000 singles "Thong Song" and "Incomplete." At least we have that.
Vitamin C The orange-haired songstress known for 1999's sunny pop smash "Smile" and the commencement-friendly ballad "Graduation (Friends Forever)" hasn't made an album since 2001, when her second effort "More" peaked at only No. 122 on the Billboard charts. Vitamin C, whose real name is Colleen Fitzpatrick, told People magazine in 2007 that she was working on two comeback albums, both of which still have yet to be released. No worries, though — Nickelodeon is putting the singer to work as the network's
vice president of music
.
MOVIES AND TV:
Neve Campbell
The "Scream" queen was a '90s superstar, nabbing leading roles in "Party of Five," "The Craft" and, of course, Wes Craven's popular slasher series. Campbell partook in her fourth entry in the "Scream" series in 2011 and has a smalle recurring role on "Grey's Anatomy," but otherwise she's virtually exempt from anything that isn't stage work, obscure indie films or Lifetime original movies. She'll take the lead role in the Jan. 6 premiere of Lifetime's "An Amish Murder" and, naturally, could reprise her role as the troubled Sidney Prescott once again for a
potential "Scream 5."
Brendan Fraser Brendan Fraser's résumé has grown increasingly thinner since his peak in the late 1990s and early 2000s as the star of hits like "George of the Jungle," "The Mummy" and the Oscar-winning 2004 film "Crash." He's reprised his "Mummy" role twice, with 2008's threequel raking in more than $100 million at the box office. Beyond that, Fraser has been strikingly absent from the spotlight, instead opting to appear in a handful of small, unremarkable film roles and a Broadway play that closed after only nine shows. Perhaps his meaty roll as William Tell could revive his star status —
if it ever comes to fruition, that is.
Sean Hayes Following his hugely successful, Emmy-winning turn as the flamboyant, lovable Jack McFarland on "Will and Grace," Sean Hayes has mostly shied away from starring roles, opting instead to pop up in small bit parts on sitcoms like "30 Rock" and "Parks and Recreation." Oh, and there was the unnecessary 2012 remake of "The Three Stooges," which was way below Hayes' pedigree. Now the comedian is co-executive producing TV Land's "Hot in Clevelend" and NBC's "Grimm," but don't worry — Hayes is producing and starring in the lead role of an
upcoming NBC comedy
about a father whose 14-year-old daughter moves in with him.
Amy Jo Johnson You may know her better as Kimberly Ann Hart, the witty Pink Power Ranger. Unlike the other "Power Rangers" cast members, Amy Jo Johnson has had a comparatively sizable film career, although standards for the former Rangers are admittedly low. She nabbed the title role in the Disney Channel's 1996 remake of "Susie Q" and then went on to star as Julie Emrick on the popular college series "Felicity." She hasn't quite cashed in on her television fame since, with the exception of a few made-for-TV movies, a stint on Lifetime's "The Division" and now a role on the current Canadian cop drama "Flashpoint." At least she's taking one for the dilapidated "Power Rangers" team.
Larisa Oleynik "The Secret World of Alex Mack." "The Baby-Sitters Club," "10 Things I Hate About You." If you were a tween in the late 1990s, then Larisa Oleynik was probably part of your lifeblood. Despite an abundance of potential and a degree from Sarah Lawrence to top it off, Oleynik's career has never thrived like it should. She's taken to guest-starring TV roles, the most significant of which has been four episodes as
Ken Cosgrove's gal on "Mad Men."
More please!
Ryan Phillippe Perhaps it was his
2007 divorce from Reese Witherspoon
after seven years of marriage that excoriated heartthrob Ryan Phillippe's career, because we haven't seen much of him since. After a succession of successful films including "I Know What You Did Last Summer," "Cruel Intentions" and "Gosford Park," Phillippe appears to have decided that mainstream fare is no longer his thing, aside from the occasional respite, a la "MacGruber" and "The Lincoln Lawyer." Now he co-runs a production company and is focusing on his directorial debut "Shreveport," an indie thriller set in the eponymous Louisiana town. "Shreveport" is due in 2013.
+++++++++++++++++++++++++++++++++++++++++++++++
Kesler Tran brings us our first web exclusive of the new year: a dark, dramatic pictorial starring Ciara Christensen from Next Models, who also starred in the Ben Watts "Breaking Away" story from issue #2 and Forrest and Bob's "The Fallen". Happy new year, indeed.
+++++++++++++++++++++++++++++++++++++++++++++++
Christopher Guest on His New HBO Series '

Family Tree

'
Christopher Guest's new HBO/BBC2 series Family Tree is set to debut this spring, starring Bridesmaids' Chris O'Dowd as a guy traveling the world to investigate his family lineage. Christopher Guest regulars Michael McKean, Fred Willard, Ed Begley, Jr., and Guest, himself, will be making appearances throughout the first season. HBO passed the following interview with Guest along to us, in which he discusses his move to TV, how he researched the series, and why he always works with the same actors:
HBO: You are well-known for feature films such as Best in Show, Waiting for Guffman, and A Mighty Wind. What led to your conceiving a TV series?
Christopher Guest: I thought about doing it as a film, but because there is no end to the story, television seemed the right format.
Many of the actors on Family Tree – including Ed Begley, Jr., Fred Willard, Jim Piddock, Michael McKean, Nina Conti and Bob Balaban – will be familiar to fans of your films. What is it about this repertory group that makes you continue to work with them from project to project?
I work with actors who can improvise, and they do it brilliantly. Therefore, the same actors are seen in most of my projects.
How did you end up casting Chris O'Dowd, who is not a veteran of your films, as the star of the series?
I was looking for an actor who was funny, smart and appealing. The audience must be able to relate to him. That's Chris.
The premise of the show – a young man investigating his lineage – seems to allow the kind of wide-ranging possibilities for stories and characters that have characterized your feature films. Was that your intent, or will you stick to a tighter storyline than you might in a longer format? Can you talk about the importance of improvisation in this show?
All of my films have an incredibly strict story line. Every scene is mapped out and that is also true for this show. The dialogue is improvised, which is the way I usually work, and I think it results in very spontaneous scenes.
Are the challenges of working in a half-hour episodic format different from feature films?
The challenges I face for television are different from the standpoint of editing. On a film, I take a year to edit. That doesn't work for TV.
Why did you bring this show to HBO? Could it have been staged as a traditional broadcast network comedy series?
This is not a show that would work on a traditional network. HBO is the perfect place for it.
In other words : four-letter words and nudity!
The exploration of ancestry holds strong appeal for many people, perhaps more today than ever before. Can you talk about your personal interest in this subject?
The search for the details of my own ancestry was the thing that motivated me to do a show around the subject. I have an interesting group of relatives, apparently, and the research continues. The show doesn't reflect my own path, however.
Did you meet with any genealogists or experts in the field in the process of preparing the series?
Jim Piddock and I met several genealogists in London when we were developing the show.
What has shooting part of the series in the UK added to the process?
The first four episodes of the show take place in England, where Tom Chadwick, our hero, lives. I wanted to show him moving around to different areas in his search. The next four shows take place in the United States. It can go anywhere from there.
+++++++++++++++++++++++++++++++++++++++++++++++
Visit this Video
here
on TWENTY6 Magazine
+++++++++++++++++++++++++++++++++++++++++++++++
Sori's teaser for "Dual Life" is unbelievably trashy and hot
Posted by: IATFB
Sori recently released the teaser for her song "Dual Life", and boy is it a doozy.
So people are obviously going to react to this, and judging by her company's shameless attempts at media play recently, I'd say that exactly what they want to get.
While I'm sure people will flip out about others trying to sexualize her, to be fair, she does basically flaunt a camel toe in the fucking teaser, so I'm pretty damn sure that the sexual aspect of this IS the goddamn concept, so come off it and enjoy.
For the record, ain't nobody shaming her on this site, and I certainly didn't use "trashy" as a pejorative. It's glorious, baby.
By all means, do you…
…and imma do me while you do you.
MASTURBACEPTION
+++++++++++++++++++++++++++++++++++++++++++++++
TheCerberusLegend

Nick a reporter at the Daily Planet has stumbled apon a hunch, that his coworker Co-worker well mannered Clark Kent is Superman.

+++++++++++++++++++++++++++++++++++++++++++++++
And Now For Chinese Bikini Models in the Snow
by
You can tell the models in the pictures in the gallery below are professionals. Not because they're posing outside in -20°C (-4°F) weather while wearing bikinis, but because they manage to smile while doing it.
The photos were taken on December 31,2012 during a ski performance at Beidahu Ski Resort in Jilin City, located in the northeastern Jilin Province.
Close to 40 models were present, some of them even riding down the slopes to promote the event.
I know if I were wearing a bikini in below-freezing temperatures I'd have hard time doing anything other than cursing.
Or maybe just break down and cry, like the beautiful young lingerie model
Lin Siwi
, seen here during a recent photoshoot in Beijing.
Poor girl. Leaning against a freight container half naked in the freezing cold against a backdrop of rubble probably isn't the highlight of a model's career.
+++++++++++++++++++++++++++++++++++++++++++++++
Sex Scenes On TV: A Supercut Of The Most Awkward, Kinky Moments Of 2012
+++++++++++++++++++++++++++++++++++++++++++++++
Allison Williams

: A Girl who really, really has it all
Listening to the actress Allison Williams enumerate what she considers her flaws made me want to pinch her silky cheeks. It was just so touching that this dazzling 24-year-old, who plays the tightly wound Marnie on the HBO series Girls, is also modest. So bright and articulate is Williams (Yale, class of 2010), so polite and present (she apologized to my photographer for not anticipating his lighting needs), so at the beginning of everything (her Wikipedia page is still a stub), that I almost wrote her parents – Brian Williams, the NBC Nightly News anchor, and Jane Stoddard, a television producer – a tear-stained note of thanks for helping to produce such a blessed creature.
We were in the screening room of a Toronto hotel. Williams, wearing a chic tweed jacket and nosebleed-high stilettos, was treating a line of journalists as if she'd invited them to an intimate party and was personally responsible for their having a nice time. She talks at speed, hopscotching deftly from concept to concept. And her "flaws" were adorable.
There was, "I have trouble with time management" – which she defined as not finishing the papers she wrote as an English major early enough to edit them properly. There was, "Sometimes I'm not very co-ordinated," and, "I'm terrible at sleeping." At this point, Williams may have sensed that I was trying not to beam at her like some crazed auntie, because she wrapped up the list: "Oh my gosh, there are so many other things. There's just a lot; there's really, really a lot." And then I had to beam at her, because she said "oh my gosh."
The second season of Girls begins Jan. 13, and already uncountable pixels have been devoted to the ways its four heroines – Hannah (Lena Dunham, who writes and directs the series as well), the hapless, blunt-tongued Everygirl; Jessa (Jemima Kirke), the cool, reckless one; Shoshanna (Zosia Mamet), the anxious innocent; and Marnie (Williams), the most seemingly together one – embody the zeitgeist. Or at least the specific zeitgeist of twentysomethings in the hipster heaven of Williamsburg, Brooklyn, circa now, as they work the menial end of glamour jobs, sleep with boys who baffle them and try to figure out who they are.
"I can imagine how you, as a parent, want me to reassure you that we're exaggerating things," Williams says with a grin that puts toothpaste ads to shame. "But I think Lena's tapped into something very, very real. She's almost journaling as she creates the show. Anthropologically, I feel this could be left behind as a piece of evidence of this current culture in these apartments in New York City."
The series's strength is that it delves into, in fearless and often unflattering detail, all the things that young women really do, say and think, especially the ones they're not supposed to. But I only had 10 minutes with Williams, so I focused on two areas that seem specific to her generation. First, these girls seem much more entangled with their parents than I was at 22.
Williams agrees. "I ask my friends, 'When something exciting or terrible happens, who is your first phone call?'" she says. "They all answer, 'My parents.' And we don't expect that to change after we get married." Williams's relationship with her own parents is "very, very close" – she's even watched her show with them. "Though I wouldn't recommend it," she says, laughing dryly.
Which brings me to my second observation. Though the Girls are sexually free, they frequently subjugate their desires to their partners'. In the whole of Season 1, the only orgasm any of the foursome has is the one Marnie gives herself, masturbating in a restaurant bathroom. What's up with that?
"That's not an accident," Williams replies, as game to talk about this as she was to act it. "In most shows and movies, sex scenes end the same way" – with the woman quickly being satisfied – "and very vocally so. That was something that, without attacking or being angry with those, Lena was like, 'I'm just going to show the other way this happens, and see if that resonates.' A ton of girls have told me it does, and it makes them feel better. Because the others instill in girls this feeling that there's something wrong with them."
By the end of Season 1, Marnie was unravelling – she'd broken up with her long-term boyfriend (he was too nice), left her job and moved out of her apartment. Williams, on the other hand, has yet to make a misstep. Though her parents wouldn't let her act until she'd graduated, practically the moment she did, a video she'd made (of herself torch-singing Nature Boy to the Mad Men theme) caught the eye of Girls producer Judd Apatow, just as he was casting Marnie. Williams also plays Kate Middleton in a Funny or Die series.
"I wanted to be an actress before I understood anything else about my life, before I went to school" – she grew up in New Canaan, Conn. – "before I understood what it is that my dad does," Williams says. "It was innate. Everything, everything that's ever happened in my life happened within the framework of my knowing that this was where I was going to end up. So in school, I could learn purely for the sake of learning. It gave me this almost gluttonous sense of intellectual curiosity. I never want to stop learning."
She launches into a longish story: At Yale, she once asked for an extension to take a psychology exam because she was too immersed in a play to study. Her professor granted it, but recommended she take the test on time anyway. "He said, 'Allison, you already know where you're going. So if you get a C on a psych test, it's not going to be the end of the world. The choice is yours.'" Her wide eyes widen further. She loves this story.
"It was one of the most empowering, thoughtful things I've ever heard from someone," she continues. "The fact that our actions can tell us what we want. You realize, 'Oh, I must care about this, and not about that.' I think about that daily, I really, really do." I really, really believe her.
"This is the time when you realize and recognize some things about yourself," Williams says, summing up both the appeal of Girls and this period of her own life. "And then the question is, Are you woman enough to deal with them? To live the rest of your life being aware of your flaws, and dealing with them on a daily basis – correcting the ones that affect other people, and working around or learning to love the ones that don't."
I have no doubt that Williams is woman enough. She took that exam on time, of course. She did better than she'd thought she would.
+++++++++++++++++++++++++++++++++++++++++++++++
David Goyer: '

Da Vinci's Demons

' takes 'Batman Begins' approach
Jan. 05, 2013

| Gina McIntyre, reporting from London
David S. Goyer, right, and Tom Riley, who plays Leonardo da Vinci, on the set of "Da Vinci's Demons."
David S. Goyer has made a living inventing outsized mythologies for some of pop culture's most beloved figures — Batman, Superman, he's even working on a new Godzilla movie due out in 2014. Now, he's giving Leonardo da Vinci the superhero treatment. Starz's "Da Vinci's Demons" presents the gifted Renaissance artist as a born-out-of-wedlock tortured genius with a penchant for opium who is branded as a heretic by the all-powerful church.
All of which, Goyer points out, is true.
The eight-episode series, which is set to premiere April 12, concentrates on Da Vinci (played by English actor Tom Riley) as a young man beginning at 25 and imagines his development as a free thinker in a rigid, often-secretive society. There is surprisingly little known about the Italian artist, often regarded as one of the greatest geniuses of Western civilization, during this period in his life.
"I hate saying it's got a graphic novel approach, but it does — it's photographically very different than any other historical show," said Goyer.
"Downton Abbey" this is not, but then, coming from Goyer, maybe that's not a surprise. The Michigan native with the sleeve tattoos is a fixture in the worlds of comic book movies and video game culture, arguably best known for his work on Christopher Nolan's brooding, majestic Batman films and as the screenwriter for the upcoming Superman movie, "Man of Steel," which Nolan produced.
Goyer also wrote the massively popular game "Call of Duty: Black Ops II," but he's yet to find the same kind of grand success in television. His most recent series, "FlashForward," lasted just one season on ABC.
Christian Bale in "Batman Begins."
Inside a darkened editing suite at a Soho post-production facility where he'd been putting the finishing touches on the first few episodes of "Da Vinci's Demons," Goyer displayed a cautious optimism about his latest endeavor.
"It's premium cable so there's no censorship at all, so there's nothing we can't do or show or any theme we can't explore," Goyer said.
He came up with the idea for "Da Vinci's Demons" after meeting with BBC Worldwide executives Jane Tranter and Julie Gardner, who, Goyer said, invited him to craft the "'Batman Begins' version of historical drama" for their new label, Adjacent Prods. (Tranter and Gardner are executive producers on the series.)
David S. Goyer in 2005.
"He was this incredibly complex character," Goyer said. "He was a polymath, he was probably manic depressive, he had a really conflicted, interesting life. He had a real chip on his shoulder. Because he was a bastard, he wasn't allowed into all these aspects of society, and yet his dad lived in the Medici palace. That was deeply humiliating for him."
Although the first season largely takes place in Florence, Italy, the production was shot on location in Wales; an artist in residence was hired to reproduce many of Da Vinci's most famous sketches.
David S. Goyer, right, and Tom Riley, who plays Leonardo da Vinci on the set of "Da Vinci's Demons."
Goyer has already turned his attention to a second season, mapping out a clear direction for a serialized story line that is anchored by real historical events, even as it explores wild flights of fantasy too. "It's sort of one-third Indiana Jones, one-third 'Sherlock,' one-third ['Iron Man's'] Tony Stark," Goyer said. "There's a lot of 'Lost' in there, it's got a heavy mythology. It's got time-bending in there, it's all the [....] I love and grew up on crammed into one show, but I think it's working."
+++++++++++++++++++++++++++++++++++++++++++++++