Listen: Firewall and Iceberg Podcast No. 165
Dan and Alan talk TCA press tour, 'Girls,' 'Shameless' and more

Happy Monday, Boys and Girls! We're in Pasadena to record a new installment of The Firewall and Iceberg Podcast.
Actually, we're in Pasadena for the Television Critics Association press tour, but y'all probably knew that already.
In this week's installment, Sepinwall and I debrief after the first three-ish days of press tour and then we review a slew of cable shows including the new Cinemax drama "Banshee," HBO's "Girls" and "Enlightened" and Showtime's "Shameless."
It's unclear when we're gonna podcast next, but... it'll totally be "sometime."

Here's today's breakdown:
"Banshee" (00:35:10 - 00:43:20)
"Girls" (00:43:25 - 00:53:40)
"Enlightened" (00:53:45 - 00:59:29)
"Shameless" (00:59:30 - 01:10:50)
Banshee

:
The guys saw the first two episodes. Boobs, Amish Mafia and Drifters.
36:46 : Dan confirms boobies exactly 1 mins 20 seconds into the show.
Girls

:
Allison Williams was really really funny in few episodes according to the guys. Nothing

on

nudity or guest star Shiri Appleby



Californication

at 59:36 :
Dan confirms watching first four episodes of Californication. Solely to see if M

a

ggie G

race shows her boobs.

He just stopped shy of confirming Maggie nudity

BUT
SOUNDED DISAPP

O

INTED.

C

laims he won't watch the show again.
Shameless

:
about Emma Rossum : from 69:00 onwards. Dan pretty much implies she will get naked a lot.
+++++++++++++++++++++++++++++++++++++++++++++++
Fresh Faces:

Margot Robbie

NAME:
Margot Robbie
AGE:
22
FROM:
The Gold Coast, Australia
OCCUPATION:
Actress
SIGNATURE STYLE:
Distinctive
Aussie casual cuteness
. Florals and bright yellow suit her bronzed skin and flaxen locks, and a mix of billowy flowing dresses and tight body-cons are often seen on the red carpet. Off duty, she can be seen in boots, jeans, shirts – everything with a beachy vibe.
Looking fresh in floral
YOU MIGHT RECOGNISE HER FROM…
Neighbours
. Yes, like so many other prominent Australian actresses, Robbie found fame in the beloved soap opera that is as iconic down under as it is around the globe. She played Donna Freedman, a young girl who was only meant to be a short lived character, but who ended up becoming a major role for over three years. Her part in
Neighbours
lead to her being nominated for first a 'Most Popular New Female Talent' Logie award, and then 'Most Popular Actress'. She then went on to play newbie flight attendant Laura Cameron in the short-lived but much loved ABC series
Pan-Am,
alongside
Christina Ricci
.
Robbie in New York, October 2012, rocking a bit of mustard yellow
WE LOVE HER BECAUSE…
She's a total innocent. Growing up on the beach and rural Australian farms, she had never been to the USA until she landed the part in
Pan-Am
. She has stated this gave her a really good affinity with her character, who was also meant to be wide-eyed with wonder at all the big cities. Even so, moving from Melbourne to New York must have been a bit of a shock.
Fur and neon at the Midwinter Night's Skate Party in New York, this time last year
WE CAN'T WAIT FOR…
The Wolf of Wall Street
,
Martin Scorsese
's new film, which is set for release this year. In it, Robbie's role is the wife of main character Jordan Belfort, played by
Leonardo DiCaprio
. A drama about a New York stockbroker dealing with corruption, it's a set full of tension, which is maybe why rumours are rife that Leo and Robbie have started a real-life relationship. It does make sense, continuing his penchant for the twenty-something blonde. She's also appearing in Richard Curtis' new comedy,
About Time
, alongside Rachel McAdams, also to be released in 2013.
Margot Robbie on set for 'The Wolf of Wall Street'. We're loving the double leather.
INTERESTINGLY,
one of the reasons that Robbie was so excited about being a part of the
Pan-Am
cast was that her favourite decade in the 1960′s. She's said in a previous interview with MSN that the thrill of rebellion was what drew her to the era. Maybe that's why she spent her 18th birthday skydiving, and was in the midst of a snowboarding holiday when she found out she'd landed the part in
Neighbours
. We need to watch out for this lady's adrenaline addiction.
+++++++++++++++++++++++++++++++++++++++++++++++
Larisa Polonsky brief full-frontal on stage in Thomas Bradshaw' Burning
+++++++++++++++++++++++++++++++++++++++++++++++
Seventeen Questions Raised by the Really Racist Adrien Brody Trailer for InAPPropriate Comedy
The trailer for
InAPPropriate Comedy
was released today. It was directed and co-written by Vince Offer, the ShamWow! guy. It stars Adrien Brody, Rob Schneider, Michelle Rodriguez, and Lindsay Lohan and causes a person to question everything and anything. Below is the trailer and all of the thoughts it made run through our head.
According to a press release, Lohan lives out "her fantasy of taking an ultimate revenge on the salivating paparazzi who haunt her," but maybe her shooting spree was funnier to the filmmakers before Newtown.
But it's Brody that seems to be crying loudest for help here, playing Flirty Harry, "a tough, no nonsense cop with a soft middle and a flair for fashion." In 2003, he won the Oscar for
The Pianist
; in 2011, he was playing Dali for Woody Allen in
Midnight in Paris
. Now, he's the taking direction from the ShamWow! guy and uttering lines like, "Go ahead. Make me gay." That is like Tom Brady losing the Super Bowl, getting dumped by Gisele, and shacking up with Octomom.
Apparently, this movie really exists and is not some viral stunt, as I momentarily hoped;
InAPPropriate Comedy threatens to be released
on March 22.
Why?
How many Oscar winners have acted in a film written and directed by the ShamWow! guy?
Why did they let them keep the word InAPPropriate in the tile? Why did they let them keep the word Comedy?
Was Cuba Gooding Jr. busy? Or did even the star of Boat Trip think this was too homophobic?
Was casting done exclusively at 2 a.m. at the Chateau Marmont?
On a scale from 1 to 10, where 10 is the most racist, how racist does this movie look?
Can we pick 11?
How many Oscars winners have said the line "Go ahead, make me gay" in a movie?
Could ShamWow!s even clean up this mess, or will they need ShameWow!s?
Did they steal College Humor's font?
Why?
Who was a bigger "get" for the ShamWow! guy: Rob Schneider or Theo from Road Rules: Maximum Velocity?
Has anyone ever parodied the Marilyn Monroe air-vent thing before?
Has anyone ever parodied Black Swan?
Wait, is this actually "Adrien Brody's finest performance since The Pianist"?
Do Asian people constantly steal the ShamWow! guy's lunch money? Is there any other explanation for why he is so hostile toward them?
Seriously, just why?
* I don't know about you guys but I'm going to watch it just to hear Brody's double entendres ....."Soon as I came those assholes opened up".
+++++++++++++++++++++++++++++++++++++++++++++++
Why are we so afraid of nudity?
The Classification and Rating Administration (CARA, a division of the Motion Picture Association of America) chooses what ratings to assign to films based on one main guideline – "to reflect what they believe would be the majority view of their fellow American parents in assigning a rating to a film," according to their website.
That principle holds true against most major ratings boards – video games, films, and television are all regulated according to what a small number of people believe to represent cultural sensibilities for whatever area the entertainment medium is being rated for.
This makes it easy to see differences between countries – namely, the rating that sex and nudity is given. One notable case was the 2010 film Blue Valentine. The movie depicts a marriage that is in the stages of decomposition. The films scenes were not designed to titillate – brief awkward sex scenes, quick glimpses of nudity of someone in the shower; it's hardly pornographic material. However, in the United States, the film was given NC-17, a rating that is a kiss of death for most films being promoted. NC-17 ensures that a film will have no commercial or promotional spots, and most theatre chains will refuse to show it. In Canada, it was given the equivalent rating of 18A. The American rating was protested, and eventually withdrawn, but the Canadian rating was upheld. Meanwhile, in most European countries, the film was giving much more reasonable ratings of Adult, 14, or 16+, allowing it a wider circulation.
Now, this would be all fine and dandy if the North American film boards were consistent with their stringent ratings. However, a quick glance at the ratings of current films in theatres shows that their priorities might need a little adjusting. Jack Reacher, The Bourne Legacy, Hitchcock, Les Miserables, Sinister, and Skyfall are all given either 14A or PG ratings. These films are devoid of sexual content, but include hand to hand violence, gun violence, blood, corpses, profanity, and graphic depictions of violence towards prostitutes and children. Yet, somehow they sit and two to three rating levels below films like The Sessions and Holy Motors, which show brief depictions of sex and nudity, and very little else to be offended about.
Ryan Gosling, an actor in Blue Valentine, summed up his feelings about how the ratings system's double standards. "The MPAA is okay supporting scenes that portray women in scenarios of sexual torture and violence for entertainment purposes, but they are trying to force us to look away from a scene that shows a woman in a sexual scenario, which is both complicit and complex."
On Facebook, a strange rating system also applies. A document leaked in February of this year showed how Facebook decides whether to approve or ban photos – breastfeeding is unacceptable, but crushed heads and limbs are absolutely okay.
Clearly, in North America, something is out of place. Maybe it's time to rethink our priorities – we all have bodies, and viewing nudity is pretty natural. However, we don't all carry submachine guns everywhere, and our film ratings should reflect that.
+++++++++++++++++++++++++++++++++++++++++++++++
Heidi Klum

: When You Have A Good Body You Can Quickly End Up Not Wearing Much Clothing
Heidi Klum is not one to be shy about going nude. The supermodel has graced many magazine shoots (seriously, many) sans clothing, wore nothing but body paint for a beauty gig, took it all off in the name of "Project Runway" and even tweeted a few scantily clad personal snaps of her own. You get the picture.
Naturally, when Ocean Drive sat down with the supermodel for their 20th anniversary issue, they had a few questions about how the 39-year-old maintains her relatively clean image (er, besides that whole body guard thing) in spite of all of the stripping. Ms. Klum dished how she learned to toe the line between tasteful and obscene at a very young age:
"When you have a good body, photographers will often be like, 'Yeah, let's take this off, and why don't we lose this too,' and you can quickly end up not wearing much clothing. You have to be careful and strong at saying no, especially when you're younger and on your own. Not everyone is cool and has your best interest [at heart]. But Rankin has always made sure, when some of my shoots would be more on the naked side, that they wouldn't look raunchy. They were sexy, yes, but very classy."
We can't say we've seen the mother of four in any photo shoot that was less than classy, but we're sure it takes quite a good head on your shoulders to maintain your sense of self in an industry with few boundaries. Just ask Kate Moss. The British model recently opened up about her own struggles with nudity when she began modeling at 16. Oy.
Fortunately, it looks like both ladies have maintained long careers and have the power to call the shots now. But what do you think of Heidi's latest take on going nude in the modeling industry?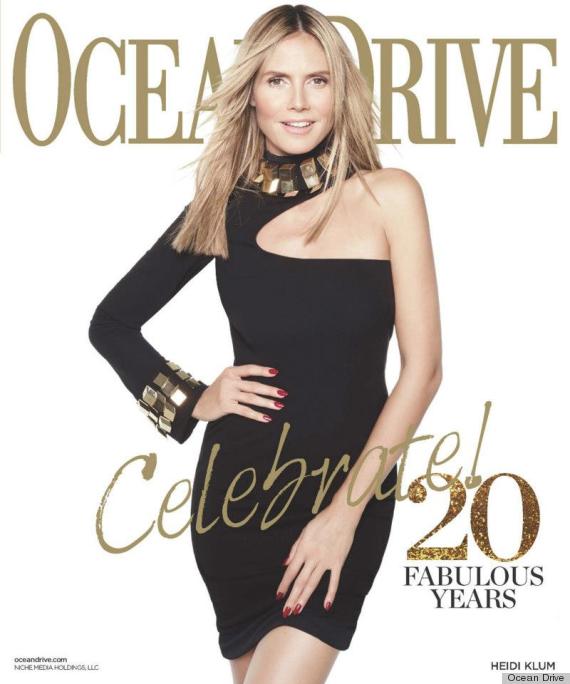 +++++++++++++++++++++++++++++++++++++++++++++++
Can Erotica Help Women's Sexuality?
Trina Read (Founder VivaXO.com, Eat Drink Love and CBC radio relationship columnist
)
I'm glad the
Fifty Shades of Grey
(FSG) trilogy and its 15 minutes of fame are over. I couldn't for the life of me understand why such a poorly written book became 2012's biggest blockbuster seller since there's much better erotica to read. I also could not understand how such a vanilla, mainstream book -- one notch up from a Harlequin romance, really -- started such a controversy in the first place.
One thing for certain the
Fifty Shades of Grey
phenomenon was the perfect storm and, I believe, has forever changed the way many women perceive and read erotica.
For those who haven't heard of this book, it's an erotica book cloaked in a "love story." Handsome tycoon billionaire Christian Grey wants to dominate young, innocent college student Anastasia, and he wants her to be his submissive. But Christian is a broken man which leads him down the path of BDSM. They sign a contract, yet Anastasia constantly asks herself whether she wants this relationship.
So of course, from the time the book came out there was outrage about the BDSM theme. Which is understandable -- I would be astonished if there wasn't push back from a segment of the population.
For instance, a U.K. women's charity
refers to Fifty Shades as
"an instruction manual for an abusive individual to sexually torture a vulnerable young woman" and organized a book-burning protest.
How do you explain someone who doesn't believe fantasy is a good thing that a book about BDSM fantasy is an okay read? Not easy. Especially if you
don't understand BDSM
-- and most people, understandably, don't -- then yes, of course, a book like this can seen harmful.
What is actually going on in the novel is an "exchange of power" which puts Anastasia on equal footing to Christian Grey. Everything is consensual and agreed upon. Professionally, I wish all couples would take a chapter from BDSM in that there is a mutually satisfying exchange.
The American press had a heyday vilifying this type of female fantasy -- again. In 1973 Nancy Friday gathered women's fantasies and published
My Secret Garden
. Many of these average gal's fantasies were about being dominated -- just like Anastasia.
Interestingly history shows that S-and-M erotica comes in and out of fashion about every 20 years (or so). Ann Rice published her erotic fairytales in the early 1990s. Anais Nin was wildly popular in her day (mid-70s);
The Story of O
published in 1954 by Anne Desclos; and so on.
Women loved and read these books but had to pass them along secretly to her friends and family. The difference is FSG is a lot more accessible and women feel a lot more empowered to read it openly.
As much as I'm not a fan of the FSG trilogy I am glad and grateful for one thing: for once the average gal was in your face about her sexuality. Not caring that she was being titillated for everyone to see. It was almost a status symbol to be seen reading the book in public places. It's one of the few times since women "won" her right to orgasm in the 1970s that she put her sexual needs first.
As for inevitable conservative backlash here's what I think: Society still isn't comfortable with a woman flaunting her sexuality. Especially when she gets turned on by certain fantasies that are seen as taboo'ish. I really don't believe today's woman is sexually emancipated and the backlash telling her she shouldn't like this sort of book is simple proof.
Many long-term couples are stuck in a romance rut -- they love their partner but don't know how/ what to do to make things interesting. Suddenly someone hands her a book and says, "You've got to read this" and it awakens her sensuality. FSG opened up a world for a lot of women that they never knew existed. And it felt good to connect with her partner (and with her sexual self) at that level.
How could that possibly be bad or wrong?
Being titillated by erotica is as natural as breathing, and an incredibly easy and healthy way to get turned on.
If
Fifty Shades of Grey
doesn't appeal to you please don't give up on erotica. This book may not be your thing, but there are a lot of
other story lines
that might.
And for the sake of women's sexual emancipation world wide -- sorry to be dramatic, but I feel that strongly --simply ignore the media when they tell you it is harmful. It's not.
Reading erotica and being titillated is good. Very good.
+++++++++++++++++++++++++++++++++++++++++++++++
Sofia Vergara Nude Photoshoot Behind the Scenes
+++++++++++++++++++++++++++++++++++++++++++++++
* least surprising news of the day.
By the way and I'm speaking from experience, shopaholic is a dangerous addiction or symptom

...whatever you want to call it but I've seen girls with this habit

dabble in nude modeling just for the cash and not because they're passionate about

the work

, pro-am hardcore porn (check out Backroom Casting Couch) and like Juno w

ho

will take on any roles as long as she gets

her

paycheck an

d spend it like crazy

.
Juno Temple plans risque lingerie range
'Atonement' actress Juno Temple wants to create her own clothing and underwear lines inspired by Agent Provocateur.
Juno Temple wants to set up her own lingerie line.
The stylish 'Killer Joe' actress - who has been named one of the five 2013 EE Rising Star Award nominees alongside Elizabeth Olsen, Suraj Sharma, Andrea Riseborough and Alicia Vikander - hopes to branch out into

fashion design

by creating her own range of underwear and clothing inspired by saucy shop Agent Provocateur.
Speaking after the

announcement

at BAFTA in London, Juno exclusively told BANG Showbiz: ''I'm a huge lingerie fan. If I'm really honest, if I

have money

I spend it in Agent Provocateur. I absolutely want to design, I can't wait to do it one day.
''I'm very inspired by the 30s, I like a high waist, I think that's beautiful. Just a little risque. I've got a few really good ideas that I've talked to some people about and hopefully I'll do that one day!''
The 23-year-old star is a self-described ''vintage junkie'' and admits her favourite way to relax after a hard day's filming is to snap up some retro bargains in second hand stores.
The shopaholic - who got her big break as Cate Blanchett's daughter in 'Notes on a Scandal' before impressing in 'Atonement' - admits her first big paycheque went straight on a

designer handbag

, which still has pride of place in her wardrobe.
She revealed: ''I spent it on a white Miu Miu bag that I still have. It's the coolest bag ever and I've had it since I was

sixteen

. Most of my

money

goes on clothes!''
Voting is now open to the public at ee.co.uk/bafta and the winner will be announced at the EE British Academy Film Awards ceremony on Sunday 10 February 2013.
+++++++++++++++++++++++++++++++++++++++++++++++
'Downton,' 'Girls,' 'Idol' and more this January
NEW YORK (AP) - Where once the post-holiday schedule was a blizzard of chilly reruns, January is aburst with premieres and finales.
Already, the much-adored British miniseries "Downton Abbey" has made its much-awaited season return Sundays on PBS.
On IFC on Fridays, the hilarious "Portlandia" is back for its third season of sketch comedy poking fun at the peculiarities of Portland, Ore., starring Fred Armisen and Carrie Brownstein.
And NBC's mystery melodrama "Deception" has arrived on Mondays. Meagan Good stars as a detective going undercover at the home of a rich family with whom she was once friendly, to investigate a murder within the clan.
On Tuesday, PBS' "American Experience" begins a three-week documentary miniseries, "The Abolitionists," spotlighting Frederick Douglass, William Lloyd Garrison, Harriet Beecher Stowe, John Brown and Angelina Grimke.
Also on Tuesday, the FX drama "Justified" is returning for its fourth season of Kentucky hill-country crime-fighting led by Deputy U.S. Marshal Raylan Givens (series star Timothy Olyphant).
On Thursday, comedic action centers at the White House with the premiere of NBC's "1600 Penn." Josh Gad ("The Book of Mormon") stars as the goofball son of the incumbent U.S. president (played by Bill Pullman) who keeps the first family in a stir, yet manages to make everything turn out all right by the final fade-out.
The Gallaghers of "Shameless" are a much different family. In this dark comedy, William H. Macy stars as the boozy single father of a brood of kids who manage their ragtag Chicago homestead in spite of Dad's overindulgences. Also starring Emmy Rossum, it returns Jan. 13 for its third season on Showtime.
Also on Jan. 13, HBO's comedy "Girls" returns for a second season sure to be at least as ballyhooed, discussed and argued about as the first. Lena Dunham (who also writes, produces, directs and created the series) stars as one of a quartet of twentysomething gal pals in New York.
Right after "Girls," HBO launches the second season of "Enlightened," an affecting comedy starring Laura Dern as a confused New Age-y activist who's bent on changing the world.
What was Carrie Bradshaw like before Sarah Jessica Parker and "Sex and the City"? Find out on "The Carrie Diaries," which debuts on the CW on Jan. 14. AnnaSophia Robb stars as the high-school era Carrie in this likable prequel.
"American Idol" returns on Jan. 16 on Fox. Veteran judge Randy Jackson will be joined by Mariah Carey, Nicki Minaj and Keith Urban. Ryan Seacrest, as always, is the affable host.
After five seasons, Fox's lovably inscrutable sci-fi series "Fringe" concludes its head-scratching run on Jan. 18. Stars include Anna Torv, Joshua Jackson and John Noble.
Fox's bloody suspense drama "The Following" premieres Jan. 21. Kevin Bacon stars as a former FBI agent drafted back into service to chase a serial murderer and his vicious disciples.
My, how Spartacus' army has grown! Commanding thousands of freed slaves, Spartacus is primed to bring down the entire Roman Republic as the final season begins for "Spartacus: War of the Damned," Jan. 25 on Starz. Liam McIntyre plays the rebel leader.
The world of "Dallas" will be rocked during its second season with the death of arch-villain oilman J.R. Ewing (played, of course, by Larry Hagman, who passed away in November while the series was in production). Also starring Patrick Duffy and Linda Gray, this rebooted (so to speak) version of the long-running CBS prime-time soap returns on TNT on Jan. 28.
FX weighs in with an edgy new drama "The Americans" on Jan. 30. It stars Matthew Rhys and Keri Russell as two KGB agents posing as the heads of a normal American household in the 1980s, as they work tirelessly to bring down the U.S. on behalf of Mother Russia.
On Jan. 31, NBC unveils a new medical drama "Do No Harm." Steve Pasquale ("Rescue Me") stars as a neurosurgeon with a great bedside manner who inconveniently shares a body with his sociopathic alter ego.
The same night, NBC closes the book on the brilliant mockery of "30 Rock." This Tina Fey comedy wraps seven seasons of making fun of pop culture, modern life and especially its own real-life broadcast network _ which, like the rest of the TV universe, has even more midseason goodies in store come February.
+++++++++++++++++++++++++++++++++++++++++++++++
+++++++++++++++++++++++++++++++++++++++++++++++
Watch: Six Sundance 2013 Short Films Now Available To Stream. Go here
+++++++++++++++++++++++++++++++++++++++++++++++
'

Californication

' clarification: award-winning Showtime series much more than a skin spectacle Evan Handler (Charlie Runkle) talks season six (note - some small spoilers)
In some circles, misconceptions run rampant when it comes to the popular Showtime television series "Californication." Before even watching the gripping drama some call it a show about a sex addict or they say it exists as a ploy to use skin to increase viewership. True, "Californication" should be viewed by mature audiences, but like they always say -- and here it's true -- the artistic program shouldn't be judged by its cover.
"(Starring David Duchovny as Hank Moody, 'Californication' is) about a writer on the skids -- with a substance-abuse problem for sure -- who pines for a relationship that he ruined and is trying to relocate that love and his writing gifts as he drowns himself in booze and various sexual encounters," said Evan Handler, the actor who plays Moody's best pal and agent Charlie Runkle.
After hearing the IMDB description of the show, Handler couldn't help but be disappointed about the picture the website's bland synopsis paints. And with great reason. Sure, fans of the show love it for being sexy, edgy and provocative, but it also portrays an engagingly vivid view of the entertainment industry. The show is philosophical, it examines relationships with friends and family in a new light and it delivers an often comical as well as brutally honest look at alternative lifestyles.
"It has a tone that's very unique," Handler said. "It manages to be very highbrow and lowbrow simultaneously. You have these guys who are behaving in an infantile fashion for their ages and yet the banter is quite clever and sprinkled with literary references."
While season five's finale hinted at the possibility of Moody being poisoned to death by a jealous ex-girlfriend, a trailer for the new season reveals the main man very much alive, as well as a plethora of great guest stars. In previous years the show has featured guests like Rob Lowe, RZA of film and Wu Tang Clan fame, Rick Springfield and Zakk Wylde. This year's guests include Australian-British actor-musician Tim Minchin, "Taken" actress Maggie Grace, Steve Jones of the seminal punk group Sex Pistols and the ever-so-brilliant shock-rocker Marilyn Manson.
"In season six, Charlie descends with Hank into the world of rock 'n' roll," Handler said. "He gets coerced to adapt one of his books and screenplays into a Broadway musical with a fictional character named Atticus Fetch (played by Minchin) -- he's a Bowie-esque rock legend. Minchin is well known in Australia and England and less known here. I think that's bound to change."

"(Grace) plays a professional muse -- I didn't know there was such a thing," Handler continued. "A woman who's made it her business to inspire rock legends and she sets her sights on Hank Moody as an underachiever worthy of her charms and gifts."
Jones plays a "burly and surly" bouncer and Manson plays himself in season six. Manson's role also includes a staged performance at the Greek Theatre in Los Angeles, according to Handler.
Lowe will also reprise his role in season six.
While the premiere of season five of the show saw a jump in time of almost three years, season six begins about a week later.
"Hank has recovered from his poisoning (in the episode airing Sunday)," Handler said. "The woman who did that to him does not recover as much as Hank does. So he's plagued by guilt over this, which sort of fuels his descent over the season."
Handler, who first met Duchovny during a conference room test-read for the show, said that he and the former "The X-Files" star kicked their relationship off by reading scenes for series creator Tom Kapinos that were half scripted and half ad-libbed.
"There's this great love affair between Charlie Runkle and Hank Moody that's outlasted any of their heterosexual relationships," Handler said. "It's a great buddy story, a great up-and-down, round-and-around type of thing."
Initially intended to be a screenplay, Showtime asked that it be reformatted into a series. "Californication" in its early stages was supposed to portray Runkle as a closeted homosexual -- something that was changed before the pilot was filmed.
Ironically in season six, Handler said Runkle pretends to be gay in order to sign an openly gay, major movie star client who wants an agent.
Originally from New York but currently living in Southern California on the coast where "Californication" is shot, Handler attended The Juilliard School in the late 1970s and early 1980s and was a member of the Drama Division's Group 12 with Kevin Spacey, Ving Rhames, Kelly McGillis and Elizabeth McGovern. In addition to being known for his role in the HBO series "Sex and the City," Handler has some big screen credits as well -- he was in 1981's "Taps" starring Tom Cruise and Sean Penn as well as 1996's "Ransom" starring Mel Gibson.
In the late 1980s, Handler was diagnosed with a seemingly incurable case of leukemia when he was 24 years old. He was cured.
To tell his story, he wrote the 1996 book "Time on Fire: My Comedy of Terrors" and another in 2008 called "It's Only Temporary: The Good News and the Bad News of Being Alive."
"(The newer volume) tells the story of the 20 years after the illness and the extremely lengthy process of finding and experiencing gratitude (for) the life that I knew I was lucky to be living," Handler said.
Both published, the two works are now available in all formats as E-Books.
Handler has also written articles for ELLE; O, the Oprah Magazine and he contributes regularly to The Huffington Post.
The premiere of season six of the Emmy and Golden Globe Award-winning show "Californication" airs on Sunday at 10:30 p.m. PST.
+++++++++++++++++++++++++++++++++++++++++++++++
Dangerous People is a dark comedy with horror overtones about three serial killers set in 1972. Starring Playboy model Angelina Leigh, Vincent Stalba, and Garo (Actress Apocalypse) Nigoghossian. Story by Garo Nigoghossian and Richard R. Anasky. Director Of Photography Wheat. Produced by Catherine Epstein, Marisha McCormick, and Garo Nigoghossian. Directed by Garo Nigoghossian. Shot on the Canon T2i.
+++++++++++++++++++++++++++++++++++++++++++++++
Actriz Angie Cepeda. Behind the scenes
from
Mauricio Hilb Briceño
+++++++++++++++++++++++++++++++++++++++++++++++
Lena Dunham Addresses 'Girls' Nudity, Implores Everyone to Cool Their Jets


Lena Dunham is clearly a fan of nudity, harboring a consistent attitude along the lines of "I'm naked, so what?" It should be a refreshing dismissal of entertainment's constant oppression of real bodies in favor of svelt, flawless figures — an act that simply says, "This is a female body, too" and moves on. Instead Dunham's nudity, which continues right from the start in Season 2 of HBO's Girls, constantly twists peoples' brains into tiny pretzels of disbelief over the fact that (gasp!) a woman with a shape not found in the window of a Forever 21 dares to make us look at her unclothed figure. Thankfully, Dunham continues to strip away the bullshit.

Dunham addresses the unyieldingly popular topic yet again in her appearance on NBC's Today on Tuesday, saying once and for all that's it's really not that big of a deal. "It's not that brave to get naked if you're not stressed about being naked," says Dunham after her co-star Alison Williams praises her for being "the bravest person [she] know[s]." The writer/director/actress's reaction is a refreshing one in an increasingly body-image obsessed culture – a culture that allows such descriptions of Dunham's naked body like the one that ran in the NY Post review of Girls' second season premiere: "giant thighs, a sloppy backside and small breasts."

It's a wonder (and a damn sad shame) that descriptions like that still exist. Yet, in the top half of a review of Dunham's work, we're talking about her thighs and not one of the four jobs she performs on Girls (writer, director, producer, actress). And while the prevailing discussion should be about her creativity and her writing, for or against, it was and continues to be about her body.

But we've been here before. Long before she was wearing her birthday suit on HBO's Girls, Dunham was filming scenes in the buff. In her 2010 film Tiny Furniture, Dunham is seen walking around in nothing but a short t-shirt, exposing her thighs and her bottom and later exposing it all with clips of her video "The Fountain" (in which she is nude in, well, a fountain). Even then, her proclivity for nudity aroused interest in critics and viewers alike. Some reviewers like Manohla Dargis of The New York Times directed attention to the use of nudity as expression, "This, she seems to say whenever she points the camera at herself, is me, a very real, very human body coming into being." Others, however, can't get past the fact that Dunham continues to bare it all.

When Dunham addressed fans during her New Yorker Festival discussion in October, she of course touched on the topic. "It completely sickens me what our culture is doing to women," she said. Dunham had recently worn an outfit that exposed her legs, from the top of her thighs down to her ankles and received rampant criticism for her "no pants look."

"I didn't go out without pants, I had shorts on… If Olivia Wilde had gone to a party with a big silky top and little shorts she might have been told her outfit was cute," she said. "What it was really: 'Why did you show us your thighs?'" And that's the problem with descriptions like that from the Post, which called Dunham's exposure of her "sloppy backside" a "boon for the out-of-shape and perhaps a giant economic loss for high-end gyms," as if Dunham's perfectly normal female form is some sort of expression of anti-establishmentarianism in a world of oppressive physical fitness. It's as if average women of the world might see Dunham in the buff, throw out their gym memberships, and cry "fuck it" in unison. But again, that's not the point.

Dunham tries time and again to address the "issue" calmly and with the assertion that it simply isn't the ordeal it's constantly made out to be. The woman ate cake naked on a toilet in an Emmys sketch – you'd think with that we could reach the limit of shock, move on, and stop feeling a sense of surprise every time Dunham takes her shirt off on television.

Okay. You've got us: she doesn't look like most naked actresses we see in any form of media. But for the love of all that's normal, so what? There is no point in uttering a word about Dunham's ongoing self-exposure if we're going to make it the yin to the yang that is the Perfect Female Figure According to Hollywood and boil it down to terms that make it something other.
+++++++++++++++++++++++++++++++++++++++++++++++
DirecTV's Audience Network hopes to make mark with originals
Thandie Newton stars in the Audience Network drama "Rogue." (

DirecTV

)
Satellite broadcaster DirecTV is taking the next step with its in-house channel Audience Network.

Best known as the channel that gave a second chance to critically acclaimed but low-rated dramas "Damages" and "Friday Night Lights," the Audience Network is now making a big push into original scripted programming with the drama "Rogue."

Set to premiere in April, "Rogue" is a gritty and dark look at a detective (Thandie Newton) who goes undercover and finds herself crossing lines and putting her career in jeopardy. The Audience Network has ordered 10 episodes and owns half of the show.

While the Audience Network has delved into original programming before with its simulcast of Dan Patrick's sports radio morning show, "Rogue" is the first dramatic series it has been involved in from the ground up. Last year, it acquired the U.S. rights to "Hit and Miss," a drama that played overseas starring Chloe Sevigny as a contract killer who is also a transgender woman.

DirecTV senior vice president Chris Long said his goal is to have four original dramas and comedies on Audience Network within the next three to five years.

"You have to start slow," Long said.

In the meantime, DirecTV will continue to acquire product it hopes will build awareness for the channel. It recently bought rights to all the episodes of the Fox action show "24."

For DirecTV, Audience Network is strictly a promotional platform.

"It is about differentiating us from other distributors and having exclusive content," Long said. DirecTV subscribers, he added, do not pay a fee to get the channel. "There is no hidden cost, it is absolutely free." With regards to its programming budget, Long said, "obviously we have to look for bargains because we don't have the budgets of other competitors."

DirecTV says 4 million and 6 million of its 20 million subscribers watch the channel on a weekly basis. For now, Long said there are no plans to offer the network to other pay-TV distributors. While the Federal Communications Commission has had rules requiring cable operators to sell channels they own to competitors, there have never been such rules for satellite broadcasters including DirecTV.
* Here is a suggestion. Ramped up on the sex content. Show boobs of every actress on a particular series between age of 18-to-50. Full frontal will be even better. Sex scenes that goes on for about 3-to-5 mins tops. No low lighting and fucked-up angled shots. Clear satisfying view of the tits, ass and pubes.
+++++++++++++++++++++++++++++++++++++++++++++++
Katrina Bowden discusses her future after '30 Rock'
Katrina Bowden at a fashion show
Katrina Bowden has a
new interview with Maxim Magazine
in which she discusses her future, being on television, and her embarrassing moments on the set of '30 Rock'.
Now that '30 Rock' is coming to an end, Bowden has had to think about her future, and she says, "I don't know, but I'm definitely excited for a new chapter. I'd love to do a completely different kind of show, like 'Breaking Bad' or 'Homeland'. I'm really open to anything whether it's TV or more films."
She also talks about being embarrassed on set, saying, "There were moments where I didn't get references because I was younger. One time we filmed an episode at Kenneth's apartment, and Jack McBrayer, who plays Kenneth, had filled it with real photos of his family and also decades of TV memorabilia he'd collected. So I picked up this photo of four old women and ask Jack if they were his aunts, and Judah, who was there, was like 'Are you serious? Those are the Golden Girls!' I was like 'Oh, my God, I guess I really am a lot younger.'"
Katrina Bowden at the TCA's
And how does she feel now that '30 Rock' is syndicated? She says, "There are reruns, like, three or four times a night. It's crazy! It becomes this weird timeline where I can tell what point of the shooting process we were at based on how everyone looks, like, did I have bangs? Or what baseball cap Judah Fredlander's wearing."
* She barely had any lines on the show. Katrina better off doing comedy/horror flicks for now. I don't see boobies in immediate future. Soon to be a married woman, Katrina will grow more comfortable with her body and if she becomes a mother even better. Just look at Kelly Overton. In few years time, Katrina either will be angling for a co-star role in a sitcom (multi-camera) or forever stuck in B-grade movies (except for the masterpiece Tucker and Dale vs Evil).
+++++++++++++++++++++++++++++++++++++++++++++++