Updates on Sara Tommasi venture into smutland
:
I translated as best as I could but it appears former Miss Italy contestant will be performing for Federico De Vincenzo's "Star Dive and Production Management" directed by
Guido Maria Ranieri
. She will be doing 3-scenes in the gonzo-type porn. One is solo. A lesbian encounter with Romanian-Italian
Cecilia Montana
(active in 2009/10). But the showstopper is Sara's first Anal and likely DP(P) with Italian studs
Leonardo Conti
and Max Del Toro
. The director Guido stresses on his female performers to take it up the ass and sometimes DP is thrown in for good measure.
According to Sara the filming took place years ago in Miami (she was in Florida around 2009 on pretext of modeling assignment but likely escorting as well). She was paid handsomely to get fucked in the ass. Alludes to double penetration ("sandwich"). But youtube
trailer posted below claims there will be 10 scenes with her... and it will be released for downloading July 6 2012 in yet to be activated site :
www.love-me.it.
The DVD will come out in September.
But Sara and her lawyer friend are confident the movie release will be halted because it's illegal to circulate porn produced in Italy and any content on the web. It's likely the site to stream the movie will be created outside of Italy including the DVD release.
Interview with Sara Tommasi: "The porn is nothing new. I put my body in the service of the nation"
http://www.agoravox.it/Intervista-a-Sara-Tommasi-Il-porno.html
Yesterday is risen again, the headlines, this time not for a striptease, but for something much more
hard
. The news of her debut in the porn industry has bounced all over the newspapers, blogs and social networks enriching the curriculum (already substantial) of Bocconi graduate who married the noble cause of fighting against the bank oligarchs. We asked her, Sara Tommasi, born in 1981 to talk about her first feature film at red lights. And here's what she told us: the "plot" of the film, shot in Miami years ago and never released. Her passion for the sandwiches ...
Tgcom24 published photos of the backstage of a porn movie that you'd be running right now and that should be out shortly. How come you chose to debut in the world of hard?No, that porn movie. The film is very "special" ...In what sense?
That's funny.
It's a red light film shot abroad, many years ago in Miami.
So this is not a current project. How come the news came out only now?
I do not know.
Because I'm famous now, perhaps.
You are famous for many years. Why the film has not been circulated before?
Because in Italy it is illegal to circulate the film, if they are produced in Italy.
So the film also will never go abroad, because in Italy there is the veto to put porn on the web.
Will never go out!
If you ever come out, come out a little bit, five minutes, the time that the authorities realize it and take it away.
To my knowledge, there are forms of censorship for what concerns the distribution of porn movies on the web ...
How did not you know?
For example, I know the manager of Rocco Siffredi.
He, Rocco, do not fucking ever.
Only on the set.
That has not succumbed to the advances of Canalis, because he fucks just for work, otherwise you lose the myth that has been built (laughs)
We have seen from the photos in the film harbors a blonde wig. It is a choice directing?
But I'm blonde now!
I went back blonde.
As a child I was blonde.
Then growing up I got brown hair brown because Italians love and marry brunettes, like the old saying, right?
But then they lose their heads for blondes, and then I came back blonde.
I chose not to marry.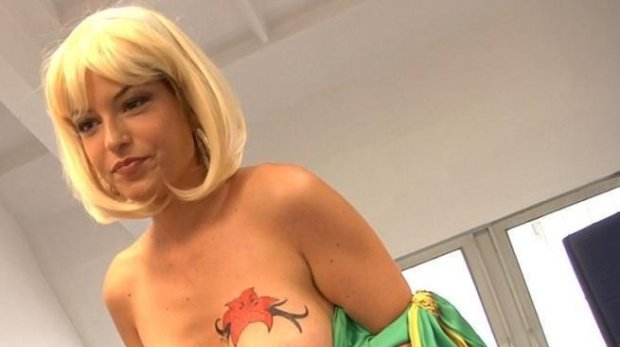 It is a hardcore film as has been said?
It's a red light film, shot in Miami and paid handsomely, but years ago, the United States.
Can you tell us something about the plot? Also if you have a plot, of course ...
The sandwich ...
Sorry?
Yes ..
(Laughs) The theme of the sandwich!
In the sense that "you interact" with two partners in the film?
That's right, good.
Not a single scene was filmed, but three, in one of these the beautiful
Sara
would (we use the conditional for the record) experienced a scene with two to three actors (
Leonardo Conti
and
Max Del Toro
).
According to a deep source on the set, the newly porno actress experimented with all type of porn fetish including DP
(technical term indicating a double-vaginal, anal penetration during the same scene)
.
Sara was seen enjoying the fucking experience yelling loudly amid dirty sex phrases (cum inside me...put a baby inside my belly). The project, which should have been managed and directed by the director of "long course
Guido Maria Ranieri
, a lesbian scene with actress Italian Spanish
Cecilia Montana
(Vega?) and several scenes of exhibitionism.
______________________________________
Simulated Sex and Laughs on the Set of 'Californication'
This week I got to work on "
Californication
" again, which means I got to shoot another simulated sex scene with
Pam Adlon
. I'd have to say out of everyone in the world I would want to have simulated sex with, Pam is at the top of the list. We have a difficult time getting through a scene. We're laughing too hard. There's nothing wrong with that. Unless you are laughing during simulated sex, you're not doing it right.
But it brings up an interesting problem -- besides signing the legal document beforehand stipulating that no part of me will enter any part of Pam at any time or I will be sued. What about the problems actors have on the set when they are having too much fun?
These problems are a lot sneakier than dealing with shooting under difficult conditions, be it a night shoot, a confused director, an ego-driven star, or a trained dog. When times are tough, it is easier to marshal your concentration for the tasks at hand.
Take my unique situation on "Californication." This is the sixth season and the third season I've worked on the show. It's the same cast, crew, writers, and directors -- a big family. When I showed up on the set for the first time this season, everyone came up to welcome me. It was a wonderful feeling. They called us in to rehearse. The cameramen and sound technicians hugged me or patted me on the back. When she saw me, Pam screamed, ran up, and gave me a huge squeeze.
I had worked with the episode director, John Dahl, several times in the last two years. He is clear, fast, and fun to work with -- like all of the directors on the show. He greeted me warmly and asked how everything was going. I talked about my wife, Ann, and what the kids were doing. He talked a little about what he had been up to the last few months. Then he said, "Shall we rehearse one?"
Oh yeah. Work. I forgot.
Pam and I went through the first part of the action for camera positions. I realized I wasn't in the right place to do the scene -- the right place in my head. My focus had been sabotaged by comfort. In spite of the good times, I had to find the beginning of the scene.
John came up and said, "Do we need another rehearsal? Want to just shoot one?" Pam yelled out "Shoot!," which I totally agreed with on a theoretical level. You don't want to overrehearse a comedy scene, even if it is a scene that is filled with grief and remorse, like the one we were about to shoot.
I stood outside the front door and got ready to make my entrance when more crew people came up, shook my hand, and told me how happy they were to see me back on the show. It was hard not to feel good from all of the love, but in this case it was counterproductive.
I had to pull out one of my oldest but most tested techniques for focusing: I said I needed to run to the restroom. No one will ever say no.
I ran to the bathroom and locked the door. I took a moment to feel the quiet and mentally get to the moment when I knock on my ex-wife's door to apologize. I secured the starting place in my head and ran down the stairs and called out to John, "Thanks. I needed that. I'm ready to go."
He called "Action!" I knocked. Pam opened the door. I looked into her eyes and said my first line. And the rest is part of Season 6 -- simulated sex and all.
______________________________________
"Magic City" writer-creator Mitch Glazer offers an insider's guide to critical scenes from the first season (only the juicy parts)
For the fourth episode episode ("Atonement"), Glazer shares the inspiration behind Ben Diamond's (Danny Huston) incredibly creepy
two-way mirror
:
Mitch Glazer:
One of the most memorable moments in this (or any?) "Magic City" episode is Ben Diamond's two-way mirror, voyeuristic experience with Lily. I wish, I guess, that I could take credit for inventing this particular fetishistic architecture but it came from descriptions of Errol Flynn's infamous Mulholland Drive mansion. Flynn had a two-way mirror built above his guest bedroom and after a boozy night would excuse himself, sneak upstairs and watch his usually young and nubile company entertain themselves in the downstairs bedroom. I read about this twenty years ago, always knowing that someday I would find exactly the right character for it. Who better than Ben Diamond?
In the first season finale ("Time and Tide"), Glazer takes us behind the scenes of masterful heartbreaking performances from Jessica Marais (Lily)
The Ben-Lily pool "love" scene was nearly as wrenching to shoot as it is to watch. It was shot from midnight till dawn at the "Ben Diamond mansion" on Indian Creek. Ed Bianchi broke down the violence into controllable pieces, carefully staging and shooting each moment in a brutal mosaic that would be later editorially assembled into a whole. And even so, my heart was in my mouth the entire night. Jessica tore something so desperate and fierce from herself. She yanked Lily from suicidal to survivor before our eyes and, even in the most horrific moments, as Ben lashes out at Lily in his full fury, even when all seemed, felt, must have been, totally out of control — Jessica/Lily never let her hand from the throttle. It was an exhausting, precise and inspiring performance. And as you watch Jessica's fearless abandon, remember that she is also four months pregnant.
An incredible end to our first season of "Magic City." See you all in 2013.
* Just sent a request and suggestion to Starz and Magic City producers to release an unrated and extended DVD version with uncut nude/sex scenes snipped from the initial broadcast. We need more of you to do the same. Hopefully the boys in charge will take heed and maybe we get more extensive segments featuring Elena Satine and Olga in the buff.
______________________________________


Deborah Ann Woll warns her boyfriend when she has steamy scenes in 'True Blood'
She returns for season five on HBO show as a more seasoned vampire, no longer the newbie
Deborah Ann Woll is back as blood-sucking stunner Jessica in "True Blood," and the actress often finds herself warning her boyfriend when she has skin-baring scenes.
While Jessica keeps her clothes on in the first episode of season five, Sunday at 9 p.m. on HBO, that likely won't last long in the hit vampire show known for steamy sex scenes.
"I don't do full nudity, but I do let [family] know if it's going to be a sexually explicit scene, for particularly my boyfriend," Woll says. "Most everyone else in my life, they just sort of roll their eyes, and go, 'Okay, there she is doing it.'
"But it has deeper meaning for him, so I do prepare him for when those scenes are popping up."
Jessica is a much more confident vampire in season five. She's fairly young in the supernatural world, having been turned by vampire Bill (Stephen Moyer) at the end of the first season.
She spent much of seasons two and three figuring out how to live like a vampire, and trying to resist her teenage temptations to feed on any human in sight.
Last season left off with Jessica and her ex-boyfriend on the outs after he discovered she slept with his best friend, Jason (Ryan Kwanten). In Sunday's premiere, she's quick to point out she's an older vampire than the newly turned one threatening Jason.
"It's fun playing a changed Jessica," Woll says. "Now that she's a little older and been through some stuff, you can find a little more nuance, rather than just petulant teenager. It's fun not being the only baby vamp."
The other "baby" is former vampire-hating reverend Steve Newlin (Michael McMillian). And another series regular may also soon sport fangs.
"Jessica gets to be more powerful than another vampire for once, which I think is going to be an interesting power struggle there," Woll says. "So she gets to be more confident and sow some wild oats."
Woll, who grew up in Park Slope, had some social struggles of her own at the private middle school she went to in downtown Brooklyn.
"I was bullied a lot through middle school," says Woll, now 27. "I probably annoyed other kids. I sang a lot in the halls and was very much an outspoken kid and I didn't care about being cool, and I think that that really confused other kids.
"So yeah, I had people leave me a lot of very mean notes in my locker, bad rumors got started, a lot of prank phone calls, people stole my stuff. And I end up shutting up in high school. I was much more quiet and shy and people left me alone more."
In Sunday's episode, Jessica hosts a karaoke house party where she sings the Runaways' "Cherry Bomb." Woll has done musicals and operas in the past, but had to downplay her singing background.
"I ended up working very hard for that [scene] because you want it definitely to sound like a 17-year-old girl," she says. "They don't want it to sound too practiced or too rehearsed. You want it to sound like a couple of kids having a lot of fun. And sometimes that's harder than it sounds.
"So I spent a lot of time listening to that song and really trying to just throw all caution to the wind and just go for it."
As for the blood-soaked scenes, cast members make use of lots of different red substances to sub in for the fluid.
"There's new blood, like mouth blood that has a minty-chocolaty taste to it," Woll explains. "It's very red and you drop a couple of those in your mouth, put your mouth on someone's neck and let it ooze out as your feeding on them."
Makeup is used for "aged" blood, while stringy gelatin is used to rip up tendons with teeth. But the stickiest substitute is a syrup-based "blood."
"I often find that if you're covered in it, if you touch your arm and you don't pick your hand up right away, it starts to stick," Woll shares. "And we're all getting wax jobs every time we're doing this stuff, so we use a lot of K-Y Jelly actually to loosen up the sticky blood."
'True Blood' Snags A Talent In Kelly Overton
Tonight actress
Kelly Overton
joins HBO's
True Blood
as Rikki, the newest werewolf in Bon Temps.
Yet you should also know her from her guest-starring role as Detective Rena Yablonski on CBS' underappreciated medical drama
Three Rivers
, or a front-and-center part in one of the best episodes of the Eye's
Cold Case
. The Massachusetts native has a knack for performances that are memorable no matter the size of the role.
The
True Blood
part is particularly juicy for Overton given that she's a fan of the series. "I've been a huge fan of the show since day one," she told me recently. "I've seen every episode, so I was caught up on everything happening in Bon Temps. It's really amazing to be a part of something you love so much."
She can't say too much about the part, but here's what she
can
tell you: "I'm playing a new werewolf named Rikki. She's really tough, really resourceful, and pretty much the polar opposite of the damsel in distress.
"At the end of season four, the pack master has been killed, so at the beginning of season five, I'm pretty determined to figure out what happened.
"Being a wolf is unlike anything I've ever done before," she added. "Working with real wolves has been exhilarating. They're so amazing. They're these beautiful, brilliant animals and they're great to work with."
It's the latest addition to a resume with plenty of notable TV appearances. In 2007, she guest starred in the
Cold Case
episode "Blood on the Tracks," where she was a former 70's radical turned suburban wife who elected to murder her husband rather than let him go to the cops about a past crime. It's been five years and I think I've just now forgiven her for blowing up
Jamie Bamber
, who played her husband.
"He's just the sweetest guy. He was really a joy to work with," she said of Bamber, continuing, "That [episode] was pretty awesome. A good friend of mine directed that episode, Kevin Bray. He had directed a pilot I did for Joel Silver maybe a year before. And
Cold Case
, that's also how I first met
Sam Trammell
. It was so nice to have a reunion with him on
True Blood
."
Two years later, Overton snagged a key supporting role in
Three Rivers
as Rena, the estranged wife of series lead Andy Yablonski (played by current
Hawaii Five-0
star
Alex O'Loughlin
). Though she was only in
two episodes
, Overton and O'Loughlin did a fantastic job of making the audience feel the history between their characters, and even hope for a reconciliation that sadly never happened.
"I loved, loved being a part of that show," she said. "That was one of my favorite jobs I've ever done. From my cast and my crew, and the storyline, and I loved working with Alex O'Loughlin [below right, with Overton and guest star Kari Coleman]."
A future acting role she'd love to have? An appearance on Showtime's
Homeland
, one of her favorite series. "I'd love to work with them," she told me. Memo to executive producer
Howard Gordon
: cast this talented lady, ASAP!
In addition to her acting work, Overton is a multihyphenate behind the camera; she wrote, directed, produced and starred in the film
The Collective
in 2008, on which she collaborated with her husband, Judson Pearce Morgan.
"The longer I was in the business, it hit me that things are so accessible," she explained of how the project came about. "It's so much easier now with Final Cut and everything we can do on our computers, it dawned on me how easy it was to do. I was in New York and it really was kind of a passion project where it wasn't premeditated. It was very guerrilla style. We shot it in two weeks. We had no idea if anything, at the end of the day, was even in focus because we had never done it before. It was really just everything from scratch ourselves."
The experience "definitely kind of informed [me], being more aware of all the different aspects that go into storytelling. It has definitely enriched me in that."
With
The Collective
behind her, Overton sees herself as "definitely continuing to be an actor, no doubt about that. But directing and writing, editing and creating this whole movie, really kind of ignited a passion. It's easy to do. More than ever, we're at a time where you can create things yourselves. It's all about collaboration, and that's an art in itself too."
She might not have the biggest part in any project, but for Kelly Overton that's an afterthought: she makes something out of everything.