Lizzy Caplan Tackles "

Masters of Sex

"
Get ready to see a lot more of
Lizzy Caplan
, and not just because she's got a series called "
Masters of Sex
" coming up.
Tell me about your TV show.
It's called 'Masters of Sex'. It's on Showtime. I don't know the air date. We shot the pilot but we haven't begun shooting the series yet. It's about Masters and Johnson, the famed sex researchers in the 1950s. I play Virginia Johnson and Michael Sheen plays William Masters. It's based on this book, this biography of the two of them, and it is one of the most fascinating stories I've ever read. It is so outlandish, what these two people did, and yet it all really happened. And so I'm very excited to make a show where if anybody's like, 'No, that's unbelievable.' It's like, 'Well, read the book.' Because these people did it. And they did it in real life in Missouri in the '50s.
How did you get your hooks into her? What helped you crack the code as to who she was?
Well, I read the book, and there were little things peppered throughout the book that were pretty strange coincidences. Just little tiny things that wouldn't be mind-blowing but that I started to feel sort of connected to her. And there was something so brave to me about this woman who was so comfortable with her sexuality at a time where women weren't. They had no ownership over their own sexuality. And she was this twice-divorced woman with two kids and a nightclub singer and she sort of hustles her way into this hospital and becomes this doctor's assistant all by virtue of her own moxie and personality.
And she becomes half of what is the most important sex researcher team that I think has ever been. Showing up on set with Michael Sheen, who's an actor who I respect so much – I refer to him as a real actor because he's like played Hamlet and is one of those trained actors. And it felt like the dynamic was already in place because I felt like this scrappy little comedy actress coming in and playing with this big gun. And that was how it was for the two of these people, so before we even started rolling it was like, 'Okay, whoever's casting this show is smart because they're setting up this like power situation like from the get-go.' And Michael and I have since become good buddies and we're gonna have a blast shooting the show. And I'm like ridiculously excited.
Crazy sex fact that you learned as a part of that gig?
The craziest sex fact that I learned as a part of that gig was that before Masters and Johnson kind of blew the lid off this, everybody considered the male orgasm to be the only important orgasm, the only one that mattered. And it's all Freudian s***, like the virginal orgasm was the only one that counted and a clitoral orgasm was bullshit. And like people really lived their lives like that. That's crazy. I'm gonna have to say the word 'clitoral' so many times in the next year.
+++++++++++++++++++++++++++++++++++++++++++++++
Hollywood scriptwriter David S Goyer says Swansea is the real deal


HOLLYWOOD scriptwriter David S Goyer says Swansea will become a key filming destination.

The US screenwriter and director, whose writing credits include the Dark Knight Rises and Blade, believes the 265,000 square feet of stage at Swansea Bay studios in Fabian Way is a huge draw.
​

Mr Goyer, who first visited Wales on a bike trip when he was 16, is shooting the historical fantasy Da Vinci's Demons at locations in Swansea, Neath, Port Talbot, including Margam Castle, along with the studios.


It is the first joint production from the premiere cable channel Starz Entertainment and BBC Worldwide Productions and tells a story based on Leonardo da Vinci's life.

Mr Goyer said he was enjoying the experience of filming in Wales — despite the bad weather.

He said: "Wales is becoming more of a filming destination.

Mr Goyer said he would not have been able to film the series in the US as it isn't home to castles as Wales is.

The production has already given the local economy a £20 million cash injection and out of that figure a total of £12 million covers the cost of the wage bill.

A total of £750,000 has been spent on materials on set and the show has created 3,300 temporary jobs along with 163 permanent jobs.

Da Vinci's Demons stars English actor Tom Riley, who has previously appeared in Monroe and Bouquet of Barbed Wire, as the young Da Vinci and Laura Haddock, from Upstairs Downstairs, will play Lucrezia Donati, the mistress of Lorenzo Medici and lover of Leonardo da Vinci.

Mr Goyer, who is no stranger to working on films about comic book heroes, says the Da Vinci story would have a modern twist.

"We are treating Da Vinci as if he was the first superhero," he said. "It's one part Da Vinci and one part Sherlock Holmes — there's a lot more action than people expect.

"The Da Vinci story we have is based on historical fact and has a compressed timeline."

He revealed viewers can expect the show to be filled with mystery and sexual intrigue.
+++++++++++++++++++++++++++++++++++++++++++++++
Kylie Minogue bares her derrière in artist's short film.
Kylie Minogue
has bared her famous derrière in a new short film by British artist Katerina Jebb.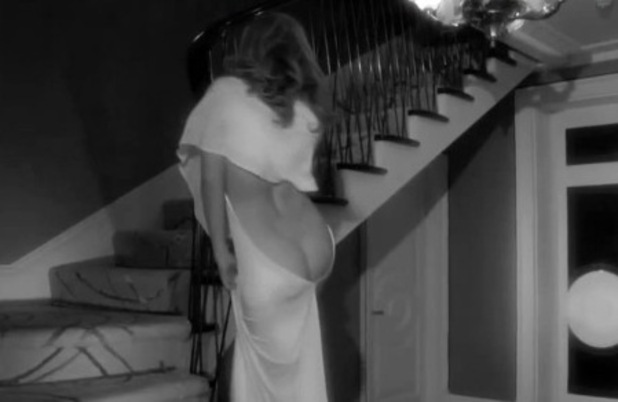 In the seductive black-and-white short, entitled
Simulacrum and Hyperbole
, the 44-year-old singer can be seen climbing a staircase wearing a backless gown which exposes her rear.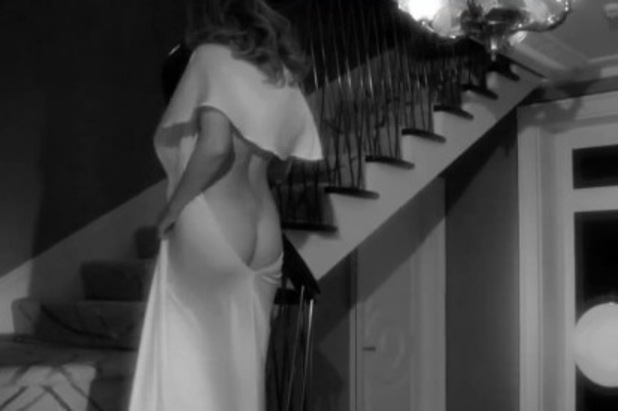 A voiceover is heard asking: "Are your assets fully covered? Protect and cover the things that are most dear to you. Don't wait until tomorrow. Beautiful body of London."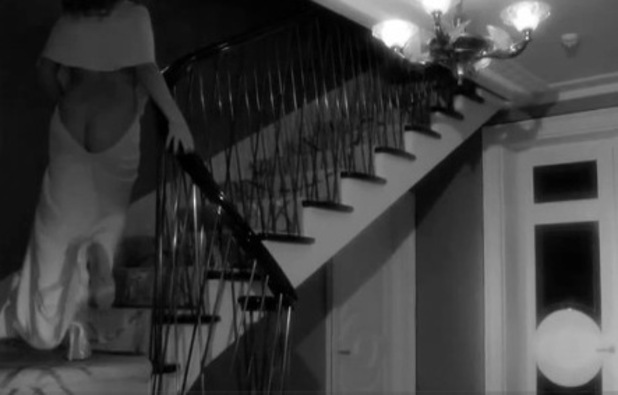 The star, who premiered her new
music video for 'Flowers' yesterday (September 25)
, is currently starring in the feature length
movie Holy Motors
.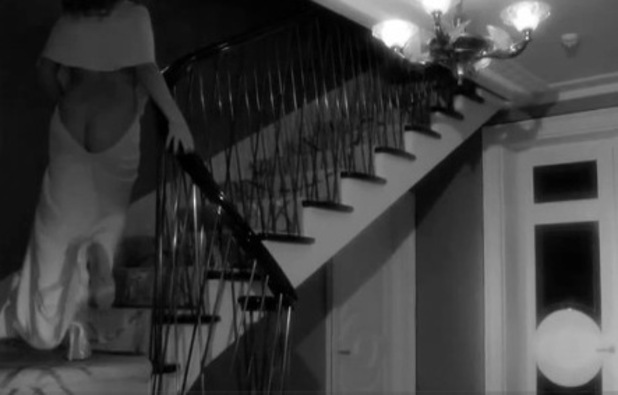 +++++++++++++++++++++++++++++++++++++++++++++++
Singer Andy Williams Dies
"Moon River" singer Andy Williams died Tuesday at the age of 84. The cause was bladder cancer. Williams was one of the most popular singers of the 1960s after recording "Moon River" in 1961, written by Johnny Mercer and Henry Mancini. In the 1970s and '80s, he sang on Christmas specials and hosted the Grammys, the Golden Globes, and the People's Choice Awards. In the late 1970s he made headlines when he stood by his ex-wife, French-born singer and dancer Claudine Longet, was charged with fatally shooting her boyfriend in Aspen, Colo.
Mr.Williams suave touch on

Frankie Valli's

Can't Take My Eyes off You
+++++++++++++++++++++++++++++++++++++++++++++++
Camilla Belle
Net Worth (2012):

$2.5 Million
Born on:

Oct 02, 1986 (Age: 25)

Libra
Born in:

Los Angeles, California
Though she is a modern and chic actress, Camilla Belle has been introduced to the world audiences as the prehistoric babe with a perfect body in
10,000 BC.
Those who are a bit more into Hollywood and movies will also know her as the brave babysitter who fights against a psychotic intruder in the movie
When a stranger calls.
With more than 25 titles in her filmography and 5 more at various stages of completion, acting is definitely the mode through which Camilla fills her wallet! Having a perfect, 'model' figure, she is also sought after for commercial endorsements. Till 2009, she was the face of the Vera Wang Princess perfume line. She has also shot a music video,
Lovebug
for Joe Jonas' band.
One cannot expect a lady who does not even depend on a professional stuntperson for doing her stunts to spend her parent's or boyfriend's money! She is very intelligent when it comes to spending. She has not lavished on a house for herself. However, she seems to have a weakness for cars and BMWs at that! She has been spotted at the wheel of the BMW Mini Cooper and the BMW 325i Convertible. Like any girl out of teenage years, she seems to love being a tourist and she has been spotted in Malaysia, riverside Indio and New York. One important aspect of her personality is her warm, caring and giving personality. She designs beautiful jewelry with Lori Leavitt, a designer, to support the poor children in Malawi via the organisation,
H.E.L.P.
She also supports Kids with a Cause, Free the slaves and
Artists for Peace and Justice
.
Ms. Belle's life has been one of focus and getting one's priorities right. She was born as a daughter to a fashion-designing mother and a construction company-owner father. She got her first exposure in a national print ad when she was 9 months old! That translated in her growing up into television shows (
Deconstructing Sarah, Marshal Law
etc.) even as a kid. The early success did not go into her head and deter her from studies. Along with her studies, she graduated into movies, doing good roles in Alfonso Cuaron's
A Little Princess
and Steven Spielberg's
The Lost World: Jurassic Park.
She kept up with academics, taking piano lessons even as she continued with her acting success; Disney's
Rip Girls
which gave her a Young Artist acting nomination being a case to point. Then came a break of 3 years after which she returned strongly with
The Ballad of Jack and Rose,When a Stranger Calls
and
10,000 BC.
She had a brief, 1-year relationship with Joe Jonas. The relationship ended but it looks like Belle's career is just taking off in the right direction.
* The rich and famous and their net value. All the details here
+++++++++++++++++++++++++++++++++++++++++++++++
Fans are making trailers like crazy featuring their favorite stars as Christian Grey and Anastasia Steele.
However, someone went out of their way to create an actual fan-made movie.
The short film, "Fifty Shades of Grey - We Aim to Please," has gained increased popularity.
Fifty Shades Film recently reposted the teaser, and full youtube trailers and first seven minutes of the short film.
According to the
Facebook page
, the low-budget film stars Emily Sandifer and TJ Dalrymple as Anastasia Steele and Christian Grey. It was directed by Nicholas Acosta and made by Unrendered Media, Baku Pictures, and Hero Pictures.
Fifty Shades Film
gave praise for the film:
"This small production company has done an AMAZING job at giving us a SMALL taste of what we might see on the big screen once the real movie is released!We really love hearing all the iconic lines and getting a glimpse of our favorite scenes!!"
While this is not the real movie that will be released in theaters, it gives fans something to think about while waiting for more information about the hotly anticipated film.
The pictures on the Facebook page really give an inkling to how Anastasia will look while tied up with Christian's favorite Grey tie. They also give a hint into what might look like the bathtub scene.
+++++++++++++++++++++++++++++++++++++++++++++++
Rita Wilson says no to nudity on 'Girls'. What other actresses have no-nudity contracts?
Girls
doesn't return until January, but we've got some new gossip coming out from the set to tide us over: Rita Wilson will be guesting on the show this season as Marnie's (Allison Williams) mom.
While that's exciting enough the real story is Wilson's contract. Reportedly, it stipulates that the actress won't appear nude on a program that is buzzy for all the stripping down. "I [wanted] it put in my contract . . . [They] don't want to see me nude," Wilson told
US Weekly
. "That's all I have to say. I'm like, 'Don't write in any nudity, please!"
If she's a fan, Wilson knows what she is getting into. It's not just the twenty-somethings who are constantly without pants on HBO's Emmy-nominated hit. Hannah's (Lena Dunham) parents were on the show this past season, and they were nude in one seriously uncomfortable shower scene.
That got us thinking: What other actresses have a "no-nudity" clause in their contracts (We wanted to look at men as well, but information was much more scarce.) While many actresses have stripped down as part of roles to great critical acclaim (Kate Winslet, Maggie Gyllenhaal, Michelle Williams), below are just a few who've said they'll never appear nude on camera:
1.)
Sarah Jessica Parker:
The woman most famously tied to sex on TV never actually appeared nude on
Sex and The City
.
People
reports she has a strict no-nudity clause in her contract.
2.)
Jessica Alba:
"I don't do nudity. I just don't. Maybe that makes me a bad actress. Maybe I won't get hired in some things. But I have too much anxiety" she told
Elle
.
3.) Kirsten Dunst:
She was asked about a no-nudity contract
and said
,
"Yeah, I'm always very careful about that, definitely….I would never do that and [producers] knew that." (Although later, she did appear nude in
Melancholia.
)
4.) Isla Fisher:
"I feel like if you have a female comic character and then you see her nipples, then she is no longer funny, which is clearly wrong, but that was my theory, and that's why I didn't want to do it" she's
said
. (The actress used a body double in
Wedding Crashers
).
5.)
Allison Williams:
If Wilson won't appear nude, she won't be alone on the HBO show. Reportedly, Allison Williams also
won't be showing
her, err… girls. Obvious to anyone who watches the program – or even caught the Emmys Sunday – Dunham certainly has no such qualms.
+++++++++++++++++++++++++++++++++++++++++++++++
Fantastic Fest Review

:
Award-Winning 'Vanishing Waves' Is a Beautifully Trippy Melodrama
By definition, cinema implants experiences in the minds of its viewers, so it follows that movies about characters burrowing into the subconscious of unwitting subjects naturally fit the medium. From "Eternal Sunshine of the Spotless Mind" to "Inception," contemporary movies have embraced this loopy fantasy by illustrating the improbable journey in exciting, magical terms. "Vanishing Waves," the sophomore feature from Lithuanian director Kristina Buozyte, takes the opposite tact, depicting a tragic story of impossible love by hitting dark, elegiac notes without negating the inherent trippiness of the scenario. Both disturbingly surreal and hauntingly beautiful, "Vanishing Waves" finds that the human psyche is a severely haunted house.
Then again, the mind in question is significantly more haunted than most. While the doe-eyed Aurora (Jura Jutaie) lies dormant in a coma in the wake of a debilitating auto accident, a group of enigmatic scientists cluster around her, attempting to inject their conscious subject Lukas (Marius Jampolskis) into her mind by attaching diodes to his head and dunking him into a damp sensory deprivation chamber. As the scientists scrutinize 3D models on old-fashioned computer monitors, "Vanishing Waves" takes the focus off the precise meaning of their study and instead foregrounds the impact it has on the unsuspecting Lukas.
Unlike the slow-burn experimentation found under similar circumstances in "Altered States," the scenario in "Vanishing Waves" yields instant success, and a startled Lukas finds himself not only literally gazing into Aurora's mind's eye but cavorting with her in the nude and quickly falling for her erotic appeal.
Each bonding session with Aurora ends with a rude awakening, as Lukas is pulled out of his dream state and peppered with questions from the doctors around him. Both startled and aware that he may have crossed a vaguely defined ethical boundary, Lukas keeps the details of his missions into Aurora's mind a secret -- but we take the trip with him each time.
Little else happens in "Vanishing Waves," but Lukas' real life love affair suffers from the strain of his bizarre newfound attraction and as the researchers grow dubious about his motives, the stakes inch higher. In favor of prolonged exposition, "Vanishing Waves" frequently turns to a series of increasingly disorienting sequences depicting Lukas' encounters with Aurora. Although they exchange few words, their bond develops a profound dimension that Buozyte depicts with swirling camerawork and shadowy, inexplicable moments that take on an ominous edge as Lukas gets closer to Aurora's emotional core.
While he locks lips with her from their first encounter, as he gets further invested in her past, he discovers its creepier mysteries, at one point stumbling into a seething mass of nude bodies and getting trapped in a claustrophobic orgy of her own making. Although Lukas makes feeble attempts to fully comprehend the everything he sees, he knows that he has started to care and worry about her disturbed state. Jampolskis' nuanced performance draws out Lukas' increasing shift from confused lab rat to committed lover eager to rescue his damsel in distress from the specter of death.
Oscillating between the austere laboratory setting and the murky palette of Aurora's mind, "Vanishing Waves" threatens to bludgeon its dreary scenario into a lifeless state by way of redundancies. But with their joint commitment rendered in expressionistic terms, Lukas' investment in his attempts to save Aurora from certain death take root in a consistent stream of feelings rendered with poetic imagery. Constantly drawn to his dream life with Aurora, Lukas wanders through each scene in a dazed state, and we're stuck their with him. Rarely does a final credits sequence arrive like such a harsh wakeup call.
Criticwire grade
:
A-HOW WILL IT PLAY?
"Vanishing Waves" made its U.S. premiere over the weekend at Fantastic Fest, where it won a top jury prize. Artsploitation Films plans to release the movie early next year, but it will likely struggle to find an audience in North America due to its grim, arty sci-fi mold. It stands a good chance of garnering further acclaim on the festival circuit.
+++++++++++++++++++++++++++++++++++++++++++++++
Ellen Hollman
* for more go here
+++++++++++++++++++++++++++++++++++++++++++++++
I made more money waitressing than posing for the camera: One model reveals the financial realities of her career
Ashley Stetts
from Toronto, Canada, was signed by Ford Models aged 18, and after graduating from university she moved to New York to pursue a modelling career.
But far from enjoying a high-flying lifestyle, she found herself struggling to make ends meet, and was shocked to discover that she could earn more as a cocktail waitress than she could on the catwalk.