Maggie Grace

talks very briefly about her role on Californication.
* Observe how Maggie Grace hesitated for a second to mention about Californication. The body language. That shy-ish pause before she finally refers to the Showtime series is classic 'I-did-something-very-naughty-recently-and-I-really-want-to-talk-about-it-but-I-have-to-wait-for-clearance-from-producers'. The recent hoopla about body double is nothing to worried about. I know my credibilty level is nothing to shout about but I can assure you guys, Maggie shows everything but the pubes! Look at Mia's throwing knowing smirks at her friend. LOL.
The full interview (all about The Twilight Saga: Breaking Dawn) is here
+++++++++++++++++++++++++++++++++++++++++++++++
Katie McGrath

's boobs could be on full view sooner than expected : the mini-series Labyrinth will be broadcast on the channel in Portugal TVS5 Saturday, November 24, 2012. Under the name O Labirinto Perdido @ 'The Lost Labyrinth' in Portuguese.
* I be praying to Gods of Nudity every day until the premiere...
"Please grant the request of your humble perv. I'm not asking too much. Just a good clear view of Morgana's boobies without pasties or any other lighting/editing nonsense."
+++++++++++++++++++++++++++++++++++++++++++++++
Michael Sheen on his upcoming Showtime series, '
Masters of Sex

'

by

I got to see a preview of "Masters of Sex" at the Television Critics Association this summer. What sort of research did you do on Masters and Johnson?

There's the book obviously about Masters and Johnson which I read, which was fantastic and really useful. I met an OB/GYN guy here in L.A. who had been working around the same time that Masters was working, so I got a sense of what the world was like at that time as well. As we go into series now, in late January I think we start shooting, then I'll start doing more and more research again but it's a fascinating, fascinating story. There's the possibility of telling that story season after season if it goes that long, but their story goes through the '50s, '60s, '70s, '80s. Who knows? We'll see but their story actually goes through that time because their story is mirrored by what's going on in society in each decade in terms of their relationship to sex. So it's kind of fascinating, the sexual revolution of the '60s into the '70s. Then the influx of porn in the '70s and the sexual liberation. Then you're starting to see the advent of AIDS in the '80s and how all those things affect their work and how their work affected all those things, so it's a fascinating story. I'm looking forward to it.

Of course they probably showed us the most outrageous sexual clips, but is every day a closed set on that show?

Pretty much, yeah. It's kind of full on. It's pretty intense with all that stuff because obviously the nature of their work is sex research. He started off by working with prostitutes, watching prostitutes at work through a little peephole, writing everything down to then working in secret within the hospital and doing research with women. He invented this machine which was this sort of glass dildo really with a light inside it that you could look through and watch what's happening whilst a woman brings herself to climax. That's not something you see every day on a TV show. And then eventually he's monitoring people having sex with each other, strangers having sex so it's pretty intense every day, but fascinating.

Do you have to be prepared to go full frontal, or is your character safe from that?

I don't know, we'll see. I don't think anyone's safe. I think at some point everyone will get involved, so we'll see what the writers come up with.

So that's the outrageous side. What is the meaty drama side of it?

Well, it's about these people and the relationships between them because for all the work they were doing on sex, their own private lives were very, very complicated and not as open as the work they were exploring. It is a really fascinating dynamic between these characters.

+++++++++++++++++++++++++++++++++++++++++++++++




Marilyn Monroe

: Playboy icon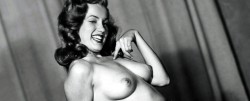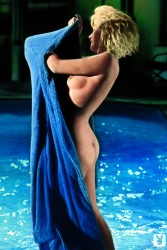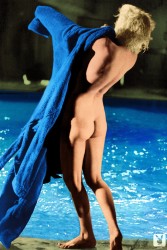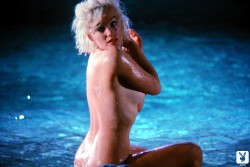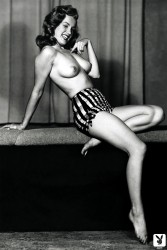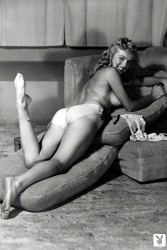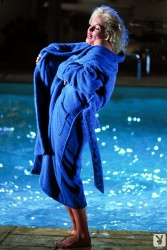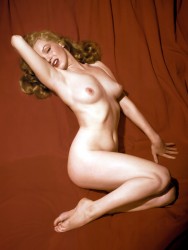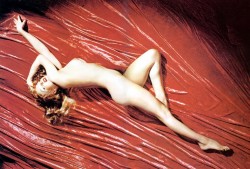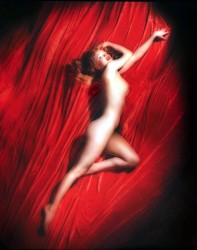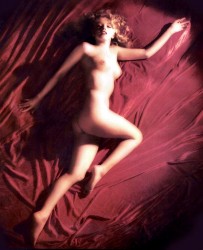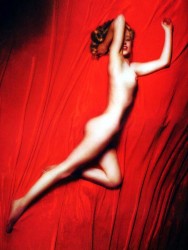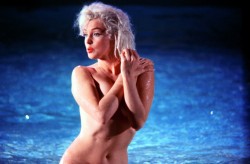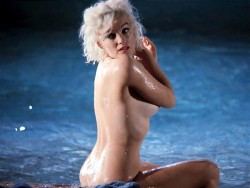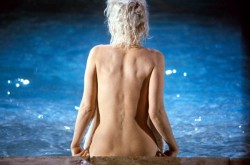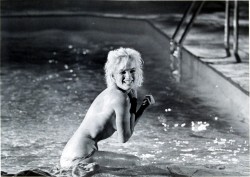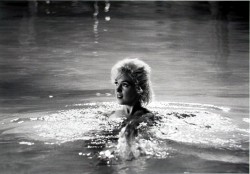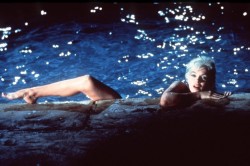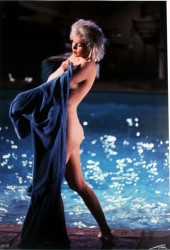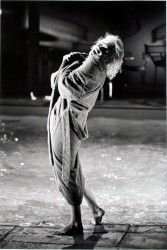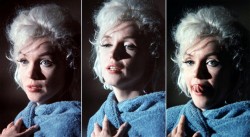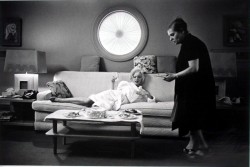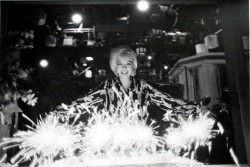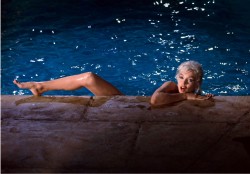 Marilyn and N°5 - Inside CHANEL
+++++++++++++++++++++++++++++++++++++++++++++++
Vanessa Hudgens

shines in a Blumarine dress on the winter cover of Canada's Glow magazine.
The 23-year-old actress chats with the mag about her fitness regimen, standing out and staying true to herself. Check it:

On her Spring Breakers sex scene with James Franco: "It was very nerve-racking for me. I told my agent that I never want to do it ever again."

On Gimme Shelter: "With so many actresses who want the exact same role, you've got to stand out and be different and not let anybody tell you no."

On finding fun in fitness: "I spin, I do yoga, I dance a lot. I'll go hike. Honestly, anything that sounds like fun."

On following her heart: "At the end of the day, I'm going to do what I want to do, regardless of whether it may upset someone. But I think that if I'm doing right for myself, then that's all I really need to care about."
+++++++++++++++++++++++++++++++++++++++++++++++
the trifecta for nudity essential
:
Model/Dance/Muse 22-years old Brit blonde Raphaella McNamara
from
Paul Ottey
More of Raphaella
here
and
here
and
here
+++++++++++++++++++++++++++++++++++++++++++++++
Full Cast Announced for the Michael Bay's Black Sails
Starz has just announced several new cast members for the upcoming Michael Bay-produced original series "Black Sails." The eight episode freshman season of the drama series is set to air on Starz in 2014. The pirate adventure tells the story of Captain Flint and his men, and takes place 20 years prior to Robert Louis Stevenson's classic "Treasure Island."
Luke Arnold will star as the classic character, "John Silver," in the years before his well-known feats. Arnold is a native of Australia, where he began working in television on series including "McLeod's Daughters," "Rush" and "Rescue: Special Ops." He also went on to star in the feature film,
Broken Hill
. Zack McGowan will be featured as "Captain Charles Vane," a rival pirate captain to the brilliant and feared "Captain Flint," played by Toby Stephens. McGowan is most recently known for his role in the series, "Shameless."
Hannah New will be stepping into the role of "Eleanor Guthrie," a beautiful and determined young woman who runs the smuggling operation on New Providence. She is a promising London-born actress who starred in the miniseries, "El Tiempo Entre Costuras (The Time Between Seams)," the feature Fuga De Cerebros 2 and most recently was filming Maleficent, a Sleeping Beauty tale told from the alternative perspective of the villainous sorceress, starring Angelina Jolie and Elle Fanning. Rising star Jessica Parker Kennedy has been cast in the role of "Max," a tortured young prostitute who sees the dark side of New Providence. She is known for her work in the television series, "The Secret Circle," and has appeared in the films 50/50 and In Time.
Additional casting includes classically trained UK actor Hakeem Kae Kazim playing "Mr. Scott." He recently appeared in the TV series, "Strike Back," and has had film roles in
Hotel Rwanda
,
Black November
and the upcoming,
Half a Yellow Sun
, to name a few. Toby Schmitz, who had appeared in the Australian series "Crownies," and the miniseries "The Pacific," will take on the role of "Rackham."
Clara Paget has been cast as, "Anne Bonny," a female member of Captain Vane's crew. Paget was in the film, One Day, and can be seen in the upcoming feature, Fast

and

Furious 6.
"Black Sails" will be executive produced by Michael Bay (
Transformers
,
Armageddon
,
Pearl Harbor
) and his Platinum Dunes partners Brad Fuller and Andrew Form (producers on
The Texas Chainsaw Massacre
(2003) and
Nightmare on Elm Street
(2009). The series is created by showrunner and executive producer Jon Steinberg (creator "Jericho," "Human Target") and co-executive producer Robert Levine ("Touch").
The production is set to shoot at Cape Town Studios in Cape Town, South Africa later this year.
* The trio of Hannah New, Clara Paget and Jessica Parker Kennedy will do the T-and-A shi

fts

on the show. All three are foreign talents chosen because they didn't give the usual crappy noise about nudity like the American girls. Clara Paget will go full-frontal (with merkin of course).
+++++++++++++++++++++++++++++++++++++++++++++++
Canadian model Candice Keast : by Dwayne Evans and Wally Sparks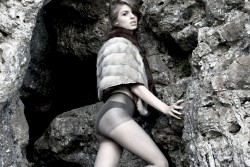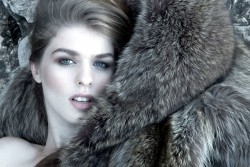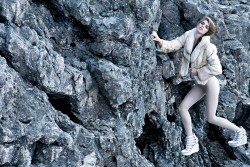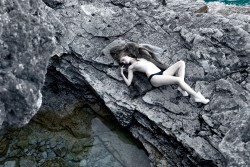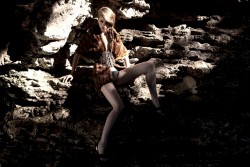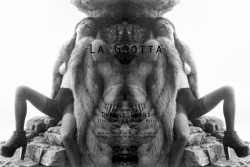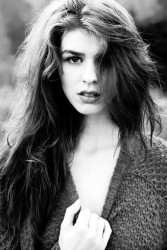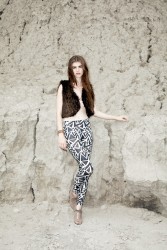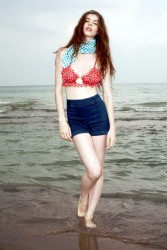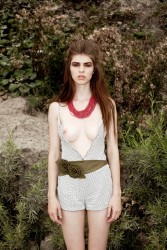 LaPointe Prod. + Wally Sparks Fashion Shoot
GOLD AND DENIM - HOMETOWN BEATDOWN
from
Daniel Poirier
MODELS: CANDICE KEAST (ELITE), SAM K (ELITE), JULIA KUKUSHKINA (ELMER OLSEN), ANASTASIA BUTERINA (ELITE)
+++++++++++++++++++++++++++++++++++++++++++++++
26-years old pro-am model Elisa Meliani : test-shoot by David Bellemere For Angels + Demons [Winter 2012]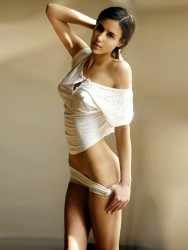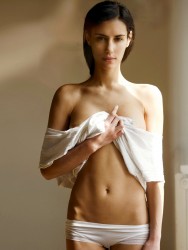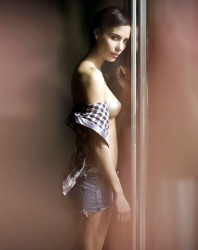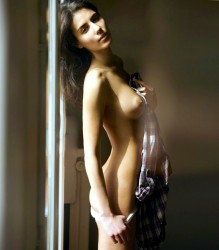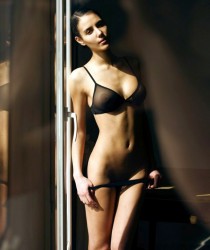 More here
+++++++++++++++++++++++++++++++++++++++++++++++
11 Things You Need to Know About Homeland's

Morena Baccarin
by Ileane Rudolph, TV GUIDE
If
Homeland
's
Morena Baccarin
were a lesser actress, Jessica - the betrayed wife of Al Qaeda operative-turned-double-agent
Nicholas Brody
(
Damian Lewis
) - would be a forgettable obstacle in the way of Brody's passionate bond with CIA agent
Carrie Mathison
(
Claire Danes
). But Baccarin plays what she calls her "incredibly emotionally layered character" with moving subtlety and fierceness. "She's got some brass knuckles this season," says Baccarin, 33, who also doesn't hold back when it comes to opening up. Here's what you need to know about her.
Showbiz is in her genes.
"My mother, Vera, is an actress who's done television, film and theater in Brazil. Her brother was an actor, my great-uncle is a well-known theater director and my father is a news editor for Brazilian TV. My first role was in a Nativity play. My mom was playing Mary, and I was crying backstage, so she brought me out as
Baby Jesus
."
She and costar Claire Danes go way back.
"When I was 7, we moved to New York because my dad's job was transferred. I grew up in the West Village and went to the
New York City Lab School
for junior high. Claire was there at the same time! We were somewhat friendly, so when Homeland came up, it was great."
Meryl Streep is a fan.
"I understudied
Natalie Portman
in a Shakespeare in the Park production of The Seagull [featuring] everybody on the planet. I went to a dress rehearsal and did scenes with
Philip Seymour Hoffman
,
Kevin Kline
and Meryl Streep. I'll never forget Meryl holding my face between her hands when rehearsal was over and saying, 'You were amazing. The new joke around the set is going to be: Nobody get sick, because the understudy is great.' That made me feel so special. I look up to her to this day."
Natalie Wood was an early acting inspiration, but Jean Seberg inspired her trademark pixie hairstyle.
"When I first cut my hair short, I was trying for a mix of
Mia Farrow
and Jean Seberg. The photo I took to my hairdresser was Jean Seberg in Breathless. I said, 'Make me look like this.'"
She's enjoying her Homeland character more this season.
"I like the turn that Jessica is taking. She's stronger and she's really not standing back anymore and letting Brody do whatever he feels like doing."
Baccarin's sci-fi résumé is out of this world.
Her "first real break" came in
Joss Whedon
's
Firefly
, playing the courtesan
Inara Serra
. "It became a cult hit and made everyone in the cast sci-fi stars," she says. That was followed by a gig as Adria, a superpowered bad girl on Stargate SG-1, the voice of Black Canary on the animated
Justice League
and, finally, Anna, the ruthless alien leader on ABC's short-lived thriller
V
. "I couldn't pass that up," says Baccarin. "Anna was such a fantastic character."
Being a sci-fi goddess has its drawbacks.
"It's a little daunting. One time, a fan asked me to ask his girlfriend to marry him - at a convention's autograph table! I said, 'Why don't I write it on the photo and you give it to her? It's a little weird for me to ask.' I felt strange being a part of that relationship."
She played a male-to-female transsexual named Carmen in a TV show, but we never saw it!
"I was in the original pilot of It's Always Sunny in Philadelphia because [exec producer and star]
Glenn Howerton
is a good friend from college. It was fun and we went crazy with it. The biggest research was what to put in my pants to make it look real. After the show got officially picked up, I was working on another project and couldn't do it, which made me very sad."
Timing was also the reason she hasn't yet worked with her husband, director/screenwriter Austin Chick (August).
"We got married in November [2011]. We were friends a really, really long time before we started dating. He wrote a small role for me in one of his films, but I couldn't do it because I was working at the time. I'm sure we'll find something to do together at some point."
Mad Men's Jessica Paré is her tenant.
"I own a duplex in Los Angeles. When it was up for rent, I asked around and Jessica was looking for a place and we became friends. She's moving out shortly, but she's been great."
Baccarin is Homeland's top chef!
"I'm an avid cook. Brazilian, some Italian, a little French. And I often throw dinner parties. I make this Brazilian fish stew that has become popular around the set. Mandy [Patinkin] went crazy for it, then Claire, then everybody! But it's not my favorite. I like to make a very slow-cooked braised beef shank, because you just throw it in a pot with a bottle of wine and some garlic and you let it cook for eight hours. You don't have to do any of the work!"
+++++++++++++++++++++++++++++++++++++++++++++++
Calendario Campari 2013 :

Penelope Cruz

Backstage Shoot
+++++++++++++++++++++++++++++++++++++++++++++++
ITV1 to become ITV in channel rebrand
ITV, broadcaster of Downton Abbey and The X Factor, has revealed a major rebrand of its business, including a new logo and scrapping the '1' from its flagship channel.
ITV's new logo, which is designed to mimic handwriting, will draw out colours from particular programme trails. It could, for example, become become green and purple alongside Dancing on Ice. On I'm a Celebrity,
currently featuring Nadine Dorries MP
, the logo could be browns and greens to mirror the jungle.
The overhaul is linked to ITV's "transformation plan", under which the broadcaster is looking to cut costs, curb debts and reduce the company's reliance on advertising.
ITV's new identity will be launched in January next year and will stretch across all channels - including ITV2, ITV3, ITV4 and CITV - and online, as well as ITV Studios content and distribution business.
The multi-million pound new design has been mainly drawn up by ITV's in-house creative team.
Rufus Radcliffe, director of marketing and research at ITV, said: "In an ever more crowed market place, both domestically and internationally, the need for a modern, flexible brand identity that connects with our viewers and customers has never been more important."
"We are really excited to soon be unveiling a new identity that is as up-to-date, and relevant as our content," he added.
ITV will also launch a new range of short 'idents', which are promotional clips shown as the announcer introduces a new programme. These will feature real people in moments from everyday life.
Each channel will be given a different logo and 'idents', with ITV2, the entertainment channel, getting a red logo and "mischevous" idents. ITV4, which aims to be the "fan club for all things men" will feature a grey logo.
Earlier this week, ITV's shares jumped 9pc as the
broadcaster bucked the downturn by selling programmes to rivals overseas
. The broadcaster increased revenues by 4pc to £1.57bn in the nine months to 30 September, after sales at its production arm, ITV Studios, rose by a fifth to £498m.
The unit is on course to deliver more than £100m of profits this year, and has a strong pipeline of orders for next year. This includes shows such as Mr Selfridge, a forthcoming costume drama about American Harry Gordon Selfridge, who founded the eponymous London department store.
+++++++++++++++++++++++++++++++++++++++++++++++
Miss Earth 2012

: Cameltoe edition
More here and here and here
+++++++++++++++++++++++++++++++++++++++++++++++
Peter Greenaway: 'I plan to kill myself when I'm 80'
As his latest heady mix of art and sex premieres in Rome, Peter Greenaway says he'd actually rather be a painter – and plans to end it all in 10 years anyway
Xan Brooks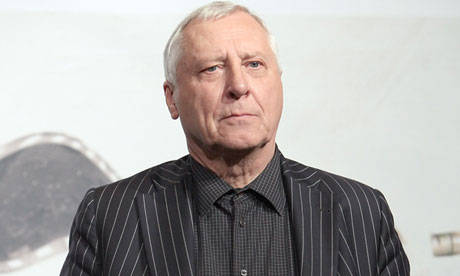 'I don't want to be a film-maker' ... Peter Greenaway at the Goltzius and the Pelican Company premiere in Rome.
Or could it be that there's no real difference between the two? Goltzius and the Pelican Company spins a tale of eroticism and religious hypocrisy; an examination of the symbiotic relationship between art and sex. The hero is
Hendrik Goltzius
(Ramsey Nasr), a 16th-century Dutch engraver who convinces the wealthy Margrave (F Murray Abraham) to fund a revolutionary new printing press by having his employees enact lusty scenes from the Old Testament. But Goltzius, it transpires, is playing with fire. The Margrave is variously seduced and scandalised. The religious establishment is up in arms.
On balance, I'm glad I didn't join the exodus of escapees at the premiere. Whatever the failings of Greenaway as a storyteller (the over-meticulous compositions; the perceived lack of humanity), Goltzius and the Pelican Company provides food for thought and a feast for the senses. In the end there's something glorious about it.
No doubt the film contains an autobiographical flavour too. Holding court in the lobby of his Rome hotel, Greenaway explains that Goltzius eventually made so much money from his printing press that he could afford to give up the day job and spend his last 10 years as a painter. "And I suppose that's also my ambition," he says. "I don't want to be a film-maker. I think painting is far more exciting and profound. It's always at the back of my mind – let's give up this silly business of film-making and concentrate on something more satisfying and worthwhile." In the meantime here he is, a director for his sins.
Greenaway was born in Wales and raised in Essex. He trained as an artist at Walthamstow and cut his teeth as an editor at the Central Office of Information. His early features – The Draughtsman's Contract,
A Zed and Two Noughts
– saw him hailed as one of the most distinctive, provocative talents of his generation, while 1989's operatic
The Cook, The Thief, His Wife and Her Lover
nudged him perilously close to mainstream success. His chosen subjects are sex and death; his inspirations are
Rubens
, Bruegel, Van Eyck. At the age of 70, with his pinstripe suit and sensible hair, he resembles an ageing bank manager toiling – not altogether successfully – to restrain his puckish inner nature.

It strikes me, however, that Greenaway's parallels with Goltzius may extend further. The film shows the ways in which "new technology must get into bed with lechery" and how its hero is forced to use his art in the service of titillation. In documenting this transaction, Greenaway might be accused of doing the same. His film is positively bulging with scenes of striptease and threesomes, incest and adultery.
Well, yes, says Greenaway. Sex sells and that's an interesting issue. He points out that every emergent visual phenomenon is at least partly seeded by erotic taboos. You can see it with oil painting in the Venetian period, photography in the 1840s, cinema in the 1890s and the internet today. And all of this is fine and fascinating; a rich source of drama and inquiry.
He sips at his water and fixes me with a beady stare. "Are you trying to make me out to be a pornographer?"
No, I tell him. Not necessarily, although I am interested in where he draws the line. Goltzius, after all, reasoned that the depiction of sex makes his art more saleable. I'm wondering if, in the process of staging a movie, Greenaway performs the same calculations.
"That's a very naive question," he says waspishly. "You've seen my previous films: they've always been pretty frank about notions of sexuality. You've seen it in The Cook, the Thief. You've seen it in Drowning By Numbers, The Baby of Macon. So this subject is nothing new. Maybe inch by inch we push things forward a little bit, but I believe this is a credible and honourable use of a contemporary vocabulary. It's a film about how sex and religion refuse to get into bed with each other. So throw away your Daily Mail hat because I don't believe it fits you anyway. You're fishing for some sensationalism and I don't think that's worthy of you."
It is Greenaway's long-held belief that cinema has somehow missed its calling. It's a visual medium in thrall to the written word. "Whether you're Godard or Almodovar or Scorsese, it's text, text, text. Everything begins with the text and this is a source of great anguish to me. So please let cinema get on with doing what it does best, which is expressing ideas in visual terms."
When scripting his own films he tries to compose them like a musical score, labouring for them to work "vertically as well as horizontally". He concedes that if they're not easy to write, they're even harder to read and often induce a state of panic in the actors he hires. Ideally, he says, he'd like to push the envelope still further. Toss out the narrative rulebook and rely on a purely visual language. But a career is sustained by striking the right balance between risk and reassurance: "I don't want to commit creative suicide."
I suspect he likes his reputation as a polarising figure, the recessive gene of contemporary cinema. For every person who reveres his work, there are many others who regard it as arid, cerebral and insular. "It's a big criticism of Greenaway films that they are far too interested in formalism and not enough interested in notions of emotional content," he says. "It's a criticism I can fully understand from a public that has been brought up by Hollywood movies that demand intense emotional rapport. But look, we're here and we're talking, not because of emotional rapport but because of an intellectual ability to discuss the issues. And I think, if only to lighten the load or change the perspective, there's a place for that too. We have more than enough deodorised, over-the-top, sentimental cinema. Let's try to bring a little human intelligence into things. It can be very rewarding."
Greenaway quit England 16 years ago and lives in Amsterdam with his second wife and two young children. He seems happy and engaged, with a whole raft of projects (films, paintings, installations) at various stages of development. But he will have to get a move on. At 80, he says, he plans to kill himself.
I can't believe he's serious; I bet he chickens out. "Well, OK," he concedes. "I admit that death is not just about you, it's also about the people who love you. I have a child of 11 and a child of eight and they're not going to want Daddy to disappear. But I am seriously thinking about it and I could do it in Holland."
He argues that the world is too full and it belongs to the young. "I can't think of anyone who has done anything remotely useful after the age of 80. One or two late prints by Picasso. One or two late paintings by Titian. Now you might say, 'Well, I've got this grandfather who's a beautiful old gentleman and rocks the cradle.' But really, is he not just taking up space? OK Grandad, happy 80th birthday. Here's your cake and here's the needle."
What he longs for, I think, is the perfect formalist's death. "Perhaps," he says. "And wouldn't that be wonderful? Wouldn't it be wise to make a good death for yourself? We all know that we're going to die, but we don't know when. That's not a blessing, that's a curse. Imagine if we knew. If you knew when you were going to die, wouldn't you make your life more worthwhile?"
I don't know, I tell him. I hope so, but I'm not sure it works that way.
"Well OK," says Greenaway. "Hope, hope, hope. Hang on to the hope." He reaches for his water and gulps it down like belladonna.
+++++++++++++++++++++++++++++++++++++++++++++++
smart cookie Casey Calvert chose porn as

a

career choice.
Mark Spiegler AKA The Shylock. He's an agent in Porn Valley responsible for Sasha Grey. You probably know who she is...and if you don't, Google her. Anyway, When Spiegler is your agent, you're known as a "Spiegler Girl", and Spiegler's girls are special. There's a rep to maintain. When a Spiegler Girl walks on set, they take the scene to another level. Casey Calvert is the newest Spiegler Girl, and she's ready to take the world by storm. Today Mr. POV gets some help from Super Porn Fan, who tosses questions at Casey.
The good thing is she's an anal girl. Enjoying a 7-incher up your asshole is a plus point but Casey seems to be wary of big cocks so that could be an issue soon. Why porn? Self-proclaimed exhibitionist and in my opinion a very low self-esteem seeking constant validation from strangers to make her feel 'fulfilled'. A potent combo in smutland.
+++++++++++++++++++++++++++++++++++++++++++++++
Synopsis Revealed For Michael Winterbottom's 'The Look Of Love' (The King Of Soho) – Starring Imogen Poots.
The following synopsis has been officially released for the Steve Coogan-starring, Michael Winterbottom-directed '
The Look Of Love
' (formerly titled 'The King of Soho'). With Coogan playing the infamous porn impresario Paul Raymond, the film reunites the pair following their critically-acclaimed collaborations '24 Hour Party People,' 'A Cock and Bull Story' and 'The Trip.' 'The Look Of Love' is scheduled for a March 8th, 2013 UK release. Expect a US date shortly.
Alongside Steve Coogan, 'The Look Of Love' co-stars
Anna Friel
,
Tamsin Egerton
and
Imogen Poots
. The comedy-drama follows the colourful business and personal life of renowned club proprietor and porn publisher Paul Raymond. Raymond was dubbed the King of Soho by the press due to his huge club and property empire which, along with his porn business, amassed him a fortune of billions of pounds. Friel will play Paul's first wife Jean Raymond; Edgerton his glamour model girlfriend Fiona Richmond; and Poots will star as Paul's beloved daughter Debbie Raymond. 'The Look Of Love' is written by Matt Greenhalgh (Nowhere Boy, Control).
Check out the newly released synopsis below. Source:
Collider
.
After 24 HOUR PARTY PEOPLE and THE TRIP, Michael Winterbottom and comedic genius Steve Coogan team up once more to chronicle the scandalous world of Paul Raymond, legendary "gentleman's" club owner and erotic publisher in London.With an eye for business opportunities and a taste for beautiful women, Paul Raymond (Coogan), realized early on that sex sells. It all started out with one gentlemen's nightclub so hot that no real man could resist. Soon he took over the block, and shortly after, all of Soho. But that wasn't enough for Raymond, who, fearless to opposition, went on to publish erotic magazines and produce nude theater, earning the title of Britain's richest man!Raymond's personal life was not too different from his shows. His marriage to Jean (Friel), a nude dancer, choreographer, business partner, and mother of his children, fell apart when he met Fiona (Egerton), a glamour model who became a pin-up star of his shows and magazines. The love of his life, however, was his daughter Debbie (Poots), who became his business partner and heir to his empire, until her tragic and untimely death at age 36.The film will tantalize audiences around the world by experiencing swinging London through the eyes of a man who could even have made Hugh Hefner blush!
* It's very unlikely Imogen will show us her perky English tits but it will be a major travesty if Tamsin Egerton don't have a single nude scene in the movie. Fiona

Richmond wa

s practically naked most of the time and I hoping for a full-frontal from Ms.Egerton as well.
The real Fi

ona:
+++++++++++++++++++++++++++++++++++++++++++++++
Alison Brie

And

Lizzy Caplan

Talked Clowns, Porn, And Underwatched TV Shows
Alison Brie and Lizzy Caplan seem like fun ladies. There is plenty of evidence to back that up, as a quick perusal of UPROXX's rather extensive
Alison Brie
and
Lizzy Caplan
tags will confirm. So when the two of them teamed up to make a movie, titled Save the Date, it felt almost inevitable that they would become friends. And sure enough, it appears to have happened. They did
an interview with The AV Club
recently, and if the transcript is any indication, they had a grand ol' time, talking about everything from Alison's gig working as a clown at kid's parties, to the pressure to do nudity when your show is on a premium cable network, to porn parodies and how much all of you masturbate, to the experience of working on shows that are critically adored but ratings challenged. The whole thing is a fun read, but because I know you are very busy and important people with very busy and important schedules, I have helpfully excerpted the stuff about clowns, nudity, and porn. You are very welcome.
Alison Brie, on her gig as a children's party entertainer:
I think I was 17 or 18 at the time. A friend of mine who I did drama with who graduated a year before me was like, "Hey, do you want to work this job?" She goes, "They're looking for young, cute, fun girls to be clowns." And she goes, "Since we're drama students, it's really easy." But it was also really ghetto. It's not like we went to clown college, it was like a company that rented out Moon Bounces, the bounce-houses. They started in Compton. Straight out of Compton for real! [...]
I would literally drive into Compton, change into my clown gear, and then drive to whatever party. It was an awesome job. [...]
I would roll up with my boom box. My clown name was Sunny; it was pretty straightforward. I had a yellow wig and a yellow suit, and I did my own face paint, of course. I also did characters sometimes, like Cinderella and Snow White and Powerpuff Girls, which was the worst, because you had to wear a little mini dress, but then a huge head that just had this little chinstrap, and you could see through these little dots. You had to do balloon animals and paint kids' faces while dads were scoping you out. It was really weird.
Lizzy Caplan, on Party Down and some very helpful notes the show received from the executives at Starz:
We had a very impressively tiny audience, and it wasn't until it got canceled that it started to gain momentum. [...]
It was great to do a show for no money. It really teaches you how little money and time you need to accomplish something. But you know, Starz likes to see you in a loincloth swinging from a wire, and we didn't really fit into that. Though, had they have given us the opportunity, I think we could have incorporated some of those motifs. The network notes were mostly, "More tits," that was a big one, and, "More sex."
And, finally, both of them on porn, and how much all of you sick perverts masturbate:
AVC: Alison, you mentioned on the Nerdist TV special that there's a Community porn parody.
AB: Well yes, I've recently heard an update about this, and I'm bummed. Here's what it is: They shot a Community porn movie, but it's never going to be seen, because they're not going to distribute it, because not enough people know what the show is. Dan Harmon interviewed the girl who played Britta in the porn version of the show, and she was like, "Oh yeah, none of us knew what the show was, we still don't know. We were just there to do our job." I think we were all really crestfallen, like, "What? You didn't research the show?"
AVC: They're not real fans?
AB: I was more disappointed that no one will ever see it.
AVC: Those are not dedicated porn stars.
AB: They're even benching our porn.
AVC: You may not have as many viewers as some of the other shows that are parodied, but maybe your fans masturbate 10 times as much.
AB: It's true; I bet we have some good masturbators in our group.
LC: Career masturbators.
AB: I'll just have to rally some troops and shoot my own. Lizzy's going to star in it with me.
LC: Alison's totally going to make a porno.
AB: I'm going to make Community porn. Lizzy Caplan's going to play Annie, and I'm going to produce it. I'm not going to be in it.
I suppose this would be a good place to leave this GIF:
+++++++++++++++++++++++++++++++++++++++++++++++

24 Year Old Miss America Contestant Bravely Chooses Preventative Double Mastectomy
24-year-old Miss America contestant Allyn Rose
will undergo
a preventative double mastectomy after she competes in the beauty pageant this coming January. Rose, whose mother died of breast cancer when Rose was 16, made the decision to undergo this brave act of preventative care after learning she is a carrier of the same rare genetic abnormality that caused her mother's cancer.
Sharon Osbourne also recently underwent a preventative double mastectomy; I
wrote that
I hoped Osbourne speaking out about it would help destigmatize the practice. But a 24-year-old beauty queen voluntarily removing her breasts is a different story, and one that I hope will even further destigmative preventive mastectomy, especially for younger women. Despite all the rampant pinkwashing in our culture, I'm not sure that younger women understand the
real risk of breast cancer
. Despite the fact that less than 7% of all diagnosed breast cancer cases occur in women under 40, having a mother or sister diagnosed with breast cancer
more than doubles
a woman's risk of developing cancer herself.
Rose, who will represent Washington D.C. in the pageant, told People:
…my mom was diagnosed at 27. That's three years away from me. I'm not going to let my fear of losing this part of my femininity stop me from living.
She continued, saying her decision was highly influenced by her mother's situation:
It's a very scary proposition. But my father and I have met with a surgeon and countless doctors. Some of them are wary because I don't have breast cancer and I am so young, but others have said it's a very smart move, especially for someone who is genetically predisposed.
Rose, a model and former Miss Maryland whose beauty pageant talent is roller-skating (??!!!), is using her pageant work to educate young people about how to be proactive in their own healthcare.
While I can't say I'm a huge fan of beauty pageants, anything that increases the public's awareness about health issues is valuable and worthwhile. Allyn Rose's personal experience and personal convictions have empowered her to make hard decisions about her own health and because of that, I'd love to see her continue to change the face of preventative mastectomy as Miss America 2013. I'll be rooting for you in January, Allyn!
+++++++++++++++++++++++++++++++++++++++++++++++