Upcoming Movies with P

ossible

Nudity
Rated R For strong sexual content, language, nudity, drug use and violence throughout.
Release Date:
TBA 2013
Synopsis :
Four college girls who land in jail after robbing a restaurant in order to fund their spring break vacation find themselves bailed out by a drug and arms dealer who wants them to do some dirty work.
Nudity: numerous extras at the opening credits. Rachel Korine (breasts

)

. The threesome between Vanessa Hudgens and Ashley Benson with Franco is lame at best fuzzy at worst. The girls wearing pasties. Brief

ass view. Nothing from Selena.
Pawn Shop Chronicles
Rated R For violence, sexual material, graphic nudity, pervasive language and some drug use.
Release Date:
-
Synopsis :
Directed by Wayne Kramer of "Running Scared" with Paul Walker, "Crossing Over" with Harrison Ford and "The Cooler" with William H. Macy, "Pawn Shop Chronicles" tells the intertwined tale of three main characters and how their lives intersect through the items going in and out of a pawnshop.Walker plays meth head Raw Dog while Fraser will play a pathetic Elvis impersonator. The story revolves around "a man searching for his abducted wife, a couple of white-supremacist meth heads and a sad sack Elvis impersonator all linked through items sold or found in a small Southern town's local pawnshop."
Primary Interest

:
Rachelle Lefevre
and
Ashlee Simpson
.
Wrote about possible Ashlee topless scene

previously

but I'll be keeping my expectations pretty low despite the presence of Wayne Kramer at the helm. Rachelle could spring a surprise. She is 33 - about the right age when nudity dodgers finally gives it up.

R

ealistically the n

udity

should

come from

girls credited
as
'
Johnny Shaw's Girl

s

'. Feels like strip club scenario

.
Rated R For bloody violence, language and brief sexuality/nudity.
++++++++++++++++++++++++++++++++++++++++++++
* I can't be sure for certain but it appears there will be nudity on upcoming History Channel's new scripted show "Vikings". I posted earlier about the series with flyers going out for extras (in Ireland) and to apply if they're okay with being partially nude. And for the last few months numerous casting notices have gone out - from Ashford Studios in County Wicklow where Vikings was filmed - requesting extras preferably actors/models (male and female) to appear and perform in sex/nude scenes. There is no editor credited (yet) which tells me the show could have different versions for different regions. Slim chance of any real nudity but a show about Vikings without naked

Scandinavian

chicks running around will be personally a major

disappointment.
Irish Studios Have a Moment in Clover
A set for the coming History series "Vikings" at Ashford Studios in County Wicklow, Ireland.
At the brand-new Ashford Studios, 30 minutes south of this capital city, the groaning of saws and whining of drills echoed around Ragnar's house, a rough-hewed Scandinavian-inspired assemblage of timber that will be the centerpiece of "Vikings," the first scripted series being made for the History channel, as well as the first production for Ashford, in County Wicklow. Large as it is, Ragnar's home doesn't even dominate the room: the 30,000-square-foot main stage is a vast space competitive with London's Pinewood Studios and is just part of this site that includes 300 acres that can provide rolling green fields or a rock quarry.

At the brand-new Ashford Studios, 30 minutes south of this capital city, the groaning of saws and whining of drills echoed around Ragnar's house, a rough-hewed Scandinavian-inspired assemblage of timber that will be the centerpiece of "Vikings," the first scripted series being made for the History channel, as well as the first production for Ashford, in County Wicklow. Large as it is, Ragnar's home doesn't even dominate the room: the 30,000-square-foot main stage is a vast space competitive with London's Pinewood Studios and is just part of this site that includes 300 acres that can provide rolling green fields or a rock quarry.

"Everyone we'd worked with had said, 'Ireland would be terrific if you had bigger stages,' " said the veteran film producer Morgan O'Sullivan, a co-producer on "Braveheart" and "Angela's Ashes," among many other films. His companies Octagon and World 2000 are making "Vikings" in collaboration with History, MGM and Shaw Media in Canada. "And we do have a really nice facility called Ardmore Studios. This, Ashford, is sort of an add-on to Ardmore. So now it means that with the facilities in this country we can do a couple of productions at the same time, and a couple of large productions."

Ardmore, owned by Paul McGuinness, U2's manager, and the accountant Ossie Kilkenny, and also in County Wicklow, is not as healthy as it might be: it has not seen action since the Starz show "Camelot" ended last year, and its facilities are considered outdated. But despite a possible state takeover it is likely to continue a history stretching from "The Tudors" in 2010 back to "Shake Hands With the Devil" in 1959 with James Cagney.

In the meantime it's Ashford that's home to "Vikings." Behind the scenes the team includes Michael Hirst ("Elizabeth," "Elizabeth: The Golden Age"), who wrote all 38 episodes of "The Tudors," and the costume designer Joan Bergin, a multiple Emmy winner for that show. She said she was brought onto "Vikings" under false pretenses.

"My big interest is in when they go to Byzantium," she said of the Vikings, played in part by the Australian actor Travis Fimmell and the Irishman Gabriel Byrne. "I went to an exhibition at the Met a few months ago, and I had this vision of creating these glorious costumes, so I said, 'I'll do it.' Then I found out they don't get there till Season 2."

Presuming there is a Season 2, "Vikings" will thus continue to aid the cause of employment in Ireland. "Our primary focus is to support Irish talent in making audio and visual works" whether it's Irish co-productions or not, said James Hickey, chief executive of the Irish Film Board, at the Galway Film Fleadh.

An undertaking like "Vikings" hires 300 to 400 workers, Mr. O'Sullivan said. "So if you have three or four shows on at a time, that's significant employment. And we're just one production company."
'Vikings' Begins Filming At Ashford Studios
09 Jul 2012 : By Steve Cummins
Travis Fimmel, Gabriel Byrne and Jessalyn Gilsig will shoot 'Vikings' in Ireland
Production has today got underway on Irish producer Morgan O'Sullivan's €30m TV series 'Vikings' at Ashford Studios in Ballyhenry, Co Wicklow, with Gabriel Byrne (The Usual Suspects) and Travis Fimmel (Tarzan) among the lead cast.
The History Channel series – which will shoot for 18 weeks in total – is the first production to use the newly-built €22m Ashford Studios, which opened its doors to 'Vikings' last April for pre-production.
The nine-part series will chronicle the world of the Norsemen during medieval times and has been created and written by Michael Hirst. Hirst has previously worked with O'Sullivan's World 2000 productions on 'Camelot' and 'The Tudors', both of which were made at Wicklow's Ardmore Studios.
Swedish director Johan Renck will helm the first three episodes of 'Vikings' from today (July 9) with Ireland's Ciaran Donnelly (The Tudors) and Ken Girotti (Rescue Me) to take the reigns of the second and third block of episodes respectively.
Other cast attached to the series include 'Glee' actress Jessalyn Gilsig, actor Gustaf Skarsgard (The Way Back), Clive Standen (Camelot) and 'Bones' actress Katheryn Winnick. Irish actors Eric Higgins (The Tudors) and Gerard McCarthy (The Fall) have also landed roles.
Canada's Take 5 Productions will co-produce the series while MGM will distribute it outside of Ireland and Canada. World 2000 will retain the Irish distribution rights.
Key Irish crew attached to the project include line producer Séamus McInerney, costume designer Joan Bergin and production designer Tom Conroy. Dee Corcoran is looking after hair while Tom McInerney is on make-up.
Emmy award-winning cinematographer John Bartley (The X Files) is the director of photography. Morgan O'Sullivan will produce for World 2000 while John Weber will produce for Take 5 Productions. The show's executive producers include Alan Gasmer, Michael Hirst and Sherry Marsh. All post-production on the series will be carried out in Canada.
The series has received funding of €250,000 from the Irish Film Board.
First Season of 'Vikings' Wraps in Ireland, Leaving €20m Revenue Behind
15 Nov 2012 : By Eva Hall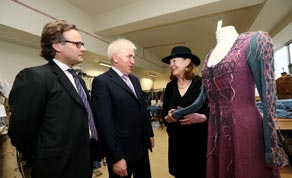 Naoise Barry and Minister Deenihan on set of Vikings Photo: Courtesy of IFB
'Vikings' the TV series will ship out of Ireland today after an 18 week-long shoot, leaving €20m in revenue behind.
The History Channel series has been shooting on location in Ashford Studios in Ballyhenry in Co Wicklow since July. It is estimated that the €30m production has employed over 500 Irish cast and crew, and invested a hefty €20m in the country, from everything to set designs, studio facilities, and employing thousands of extras.
Michael Hirst, the vision behind period dramas 'The Tudors' and 'Camelot', which also shot in Ireland, received funding from the Irish Film Board and benefited from Section 481 for his latest project.
CEO of the Irish Film Board, James Hickey, said Hirst's Irish-shot projects were responsible for over €140m in direct foreign investment. He added: "Overall, the increasing levels of film and television production in Ireland over the recent past could, if sustained, create over 5,000 new full time equivalent jobs over the next five years."
Among the Irish crew wrapping their scenes in Ashford today are actors Tadhg Murphy, Diarmuid Murtagh and David Murray, who are filming under the direction of Canadian director Ken Girotti.
Lead actor Gabriel Byrne, who plays Viking leader Earl Haraldson in the 10-part series, wrapped his scenes almost two months ago. Byrne will begin production on another TV series called 'Quirke' in Dublin on Monday.
'Vikings' will mark the first scripted series for The History Channel, and follows real-life figures such as Haraldson and Ragnar Lothbrok, who is known as a young descendant of the gods, played by Australian actor Travis Fimmel (Tarzan).
The series will chart Lothbrok's attempts to become King of the Vikings, as he conspires with Haraldson's wife, played by 'Glee' star Jessalyn Gilsig, to overthrow the Viking leader.
Among the 500-strong Irish crew were co-producers World 2000 Entertainment, of which Morgan O'Sullivan was the executive producer along with Octagon Films' James Flynn and Hirst. Canada's Take 5 Productions co-produced.
'The Tudors' director Ciaran Donnelly helmed episodes in the second block of the series, while Emmy-winning production designer Tom Conroy (The Tudors) designed the set, which is reported to have cost millions to assemble.
Line producer Séamus McInerney, costume designer Joan Bergin, hair stylist Dee Corcoran and makeup artist Tom McInerney were all on set to cater for the thousands of cast members.
Irish actors David Pearse (Trivia), Eric Higgins (The Tudors) and Gerard McCarthy (The Fall) also landed lead roles.
Speaking on set this week, O'Sullivan, who will be present for today's final shoot, said he was "delighted" to work with Hirst again, having previously produced Irish-shot 'Camelot' and 'The Tudors' with the period drama specialist.
O'Sullivan added: "The combination of his great writing, a fantastic team of Irish creative talent in front of and behind the camera and the wonderful new facility at Ashford Film Studios made Ireland the right choice for this production. These factors combined with the support from the Irish Film Board and access to Section 481 made Ireland a financially competitive location for 'Vikings'."
Conroy's set will be dismantled immediately after shooting wraps today. All post-production will take place in Canada.
O'Sullivan told IFTN he is "optimistic" a second series will get picked up by The History Channel. 'Vikings' will air on The History Channel in March in 2013. World 2000 will retain the Irish distribution rights, while MGM is handling international distribution.
++++++++++++++++++++++++++++++++++++++++++++
Chris Meloni To Star In

Shailene Woodley

's 'White Bird In A Blizzard'.
After wrapping a long run in
Law and Order: SVU
, Meloni has gotten busier on the feature front. Next year, he will be seen in Jackie Robinson-Branch Rickey drama
42
, the Superman reboot
Man Of Stee
l, and
Small Time
. He just wrapped production on
They Came Together
, which will be released in 2014.
* Araki is said to be sticking closely to Laura Kasischke semi erotic-cum-thriller novel which means Shailene Woodley should appear topless at least in one scene of non-sexual nature (a pessimistic view). But a body-double could be an issue for sex scenes. The director is also co-producing it with French-based production company Why Not Productions (Pascal Caucheteux and Sebastien Lemercier). WNP had a good year with Rust and Bone (2012) and making steady inroad into US-market. I'm frankly surprised Shailene accepted the role but as I mentioned before she has indicated to her rep she wants a Anne Hathaway type of career and wants to star in her own 'Havoc'. At the end it depends on Araki himself. It will be his first flick in 3-years and there is fear he could water it down to PG-13 for commercial purposes which ultimately defeats the whole point of the movie. Shailene's Kat 'sexual encounters' are vital cog in the plot wheel. But I'm confident it will be R-rated for sexuality/nudity.
++++++++++++++++++++++++++++++++++++++++++++
Movie actress Noomi Rapace bares her boobs for the Rolling Stones
Her breast hitchhiker impression ... Noomi Rapace
SEMI-naked Noomi Rapace attempts to hitch a ride with her boobs on display in the shocking new Rolling Stones video.

The Swedish movie beauty plays a repertoire of characters in the legendary band's Doom And Gloom single promo, shedding her clothes for several scenes.

Among the highlights are her portrayals of a pink-haired bra-free hitchhiker, a picture-perfect air hostess and a blue-haired topless street dweller who writhes around in a pile of rubbish.

She's also seen rolling around in her undies on a bed of 100 dollar bills, shooting zombies with a pump-action shotgun and replacing Mick Jagger as leader of the group – going commando in a vest for added impact.

Another character features the Prometheus star – who made her name in the original film adaptation of The Girl With The Dragon Tattoo – stuffing her face as she gorges on a feast of fast food.
Trash flash ... Noomi Rapace
Her binge-eating alter-ego then sticks her fingers down her throat and throws up before her head explodes.
The 32-year-old's jaw-dropping scenes are interspersed with footage of Mick, Keith Richards, Ronnie Wood and Charlie Watts rocking out to their new tune.
Directed by Jonas Akerlund, the promo was filmed in a Paris warehouse prior to the Stones' upcoming five gigs in London and New York.
They're playing two dates at the O2 on November 25 and 29 and three shows in New York next month as part of their 50th anniversary celebrations.
On the money ... Noomi Rapace
Doom And Gloom is lifted from the Stones' new greatest hits collection GRRR!, out now.
Talking about their short 50 And Counting tour in October, frontman Mick said: "London is super appropriate. It's a full circle because we started out in London and that's our home town.
Sick scene ... Noomi Rapace
"I think the Rolling Stones are kind of quite irreverent about (our anniversary) in a way. I don't think we take it very seriously and we joke about it really. It doesn't exactly feel like your golden wedding.
"I think it kind of feels like a bit of a 'f*** off' moment to be honest, and I don't think we've laughed at it enough.
Rocking out ... Noomi Rapace dances bra-free as Ronnie Wood strums in the background
"I think one of the reasons is that we don't really believe that amount of time has gone by so quickly, and here we are, still here."
Up in the air ... Noomi Rapace
++++++++++++++++++++++++++++++++++++++++++++
Laura Haddock

SEXY Photoshoot
++++++++++++++++++++++++++++++++++++++++++++
Australian

Michelle Jenneke

Returns with Tantalizing Cosby Sweaters Teaser
You might remember Australian hurdler Michelle
Jenneke
from that one little video you and every last person you know saw.
Well, she is back.
A tip of the cool-guy fedora to
Cosby Sweaters
, who apparently spent some time with the Internet superstar and promise us more in the way of pictures and videos in the near future.
Look for a full interview so you can get to know her better, a couple of fun videos and, of course, one of the best photo galleries you will ever lay eyes on.
Consider our interest piqued and our fancy tickled, because
Jenneke
happens to be that rare athlete we just can't get enough of.
In fact, I have never rooted for an athlete to make the Olympics more than I have for this awesome Aussie.
For those uninitiated, and there really shouldn't be many of you, this 19-year old sprinted to fame when
With Leather
posted a video of her warming up for a heat at the 2012 Barcelona World Junior Championships.
From there, pretty much everyone with an Internet feed had seen the video.
Now it seems she has granted the fortunate website an interview as well as so much more. As teasers go, this one is an instant success.
You want to leave the audience craving more after the end of a trailer. Job well done, Cosby Sweaters.
++++++++++++++++++++++++++++++++++++++++++++
Bates Motel Is Back in Business
With the holidays bearing down on us, it's important to remember that there's always a family more dysfunctional than your own. On A-and-E's series
Bates Motel
, debuting in spring 2013, Freddie Highmore will play a younger Norman Bates — the oedipal killer in Alfred Hitchcock's masterwork
Psycho
— living with his very beloved mother (Vera Farmiga) at the iconic lodging. But showrunners Carlton Cuse (
Lost
) and Kerry Ehrin (
Friday Night Lights
) say the series won't be limited just to what occurs in the rooms (and showers) of the motel. ''The town itself is very much a character in the show,'' Cuse says. ''There are a lot of secrets that lurk beneath this bucolic veneer.'' So maybe the Bateses aren't the only ones harboring some unhealthy psychological issues? After all, as someone once said, we all go a little mad sometimes.
* know this is unlikely but I'm holding out for A-and-E to relent a tiny bit on nudity seeing they're pretty okay with mega gore on The Walking Dead. Something tells me Bates Motel could spring a surprise on nudity front.
++++++++++++++++++++++++++++++++++++++++++++
Beach Photoshoot:

Manoela Corradi

for Espiritutara Jewelry
Photographer: Jason Bassett
Model: Monoela Corradi (Next Model)
++++++++++++++++++++++++++++++++++++++++++++
Check out this site: depravityrules.tumblr.com
++++++++++++++++++++++++++++++++++++++++++++
Mourning Child
from
charisse skye
short raw experimental dance film exploring the grief in losing a child through abortion, and the body being forever changed by that traumatic process. It is exploring the interior dialogue of a woman, through movement while experiencing the surgical procedure. And the emotional assault on the psyche during and post-procedure.Full work soon to develop.
++++++++++++++++++++++++++++++++++++++++++++
Frank Spotnitz interview: Hunted, the BBC cancellation...
Frank Spotnitz's eight-part spy drama
Hunted
, starring Melissa George as Sam Hunter, a female spy in the Jason Bourne mould, comes to an end on the BBC tomorrow evening.
Originally a co-production between the Beeb and HBO, it was announced last week that the BBC would not be renewing
Hunted
due to it not reaching the desired viewer figures, but that HBO was to develop a spin-off based around Sam Hunter. In the divorce settlement, so to speak, Spotnitz and HBO were given custody of Sam's character, but the new show will have to be just that, a different incarnation of Spotnitz's stylish, slightly bonkers vision of the life of a private-sector spook.
You followed some of the audience reaction to the first episode of Hunted on Twitter didn't you?
Yes absolutely.
That's a brave move…
[Laughs] I can take it, I'm strong.
There's always that one snarky comment or offhand remark that needles though isn't there? Was there any specific criticism that got to you?
Well it's funny. No, I can't think that there were any specific remarks that have stuck in my memory thank goodness, but you can read a thousand nice things and then there's the one or two nasty ones that really hurt and the nice ones just go right past. You know, I think I've learned that's just the nature of discourse and not to be too bothered by it.
Moving from Hollywood to the UK, you'll have noticed the sizeable difference in TV budgets. Were there things you wanted to do with Hunted but couldn't because of money constraints?
Well, in the beginning I was looking at a pretty major rewrite of the script because we just didn't have the resources. Actually when HBO came on, it doubled our budget so we were actually able to do pretty much everything I wanted to do. Not that I wasn't pushing against the budget every week, I was, and in truth we probably went a little over, but I'd say it was one of the best financed British productions ever, outside of a costume drama. We had a pretty healthy budget.
It shows, especially in the first episode with those fantastic locations…
That was really exciting for me. To be able to go to Morocco, and write those scenes for Scotland and then actually go there and take it outside of London. I think you can tell the difference, the audience can tell the difference, so that was really exciting to do.
There's been some talk, whether it has any basis in truth, of the UK/US collaboration having been "creatively stifling". Was that your experience or is that just hot air?
No, I mean I know where that perception is coming from, but that wasn't the case at all. I had a fantastic relationship with both broadcasters both with the BBC and HBO and honestly, they saw eye-to-eye on their notes throughout the series.
I think what's being talked about there is that Hunted is going to go on in another form after this year without the BBC, and when you make the decision to go forward just with HBO, it means you can go full-throttle for that audience, and you don't need to be concerned with serving the general audience. So I think it's a liberating move but it's not an indication of frustration in any way with the BBC, who were great.
Tell us more about the new Hunted we're going to see from HBO then, are you keeping the name, the same settings, the cast?
Well, I know it's going to have Sam Hunter in it! [laughs] Actually, I have a pretty good idea where we're going and what we're going to do but I'm not free to say just yet. I'll be saying something in the near future on that.
Respecting that, am I right that you won't have acces to some elements of Hunted because of the departure from the BBC?
Yeah, it'll be a different series. It has to be a different series. That's where the risks of co-productions come back and change your plans unexpectedly sometimes. Because of losing the BBC as a partner, we had to do a different show, we couldn't do the same show we did this year.
So will you be taking more advantage of HBO's reputation for nudity and violence now?
I don't think so, no. I think that the storytelling we did this year was one long serialised arc and I don't think we have to follow that form now, so that's the kind of difference in format I'm interested in.
(* Right, Frank. HBO/Cinemax will let you get away with minimum of sex/nudity. No way, Jose. The viewers needs a distraction if the script is lousy, highly-charged or is way too convoluted. Boobies are a respite. It's Strike Back déjà vu all over again with Cinema

x and Sky

)
When did you first hear the BBC announcement that they wouldn't be continuing with the show?
Well, it's been weeks, but it was a discussion. We were trying to see if there were terms we could reach where we could still continue with the co-production, but it just didn't work out.
I've just watched episode eight and with all its revelations and things coming full circle from episode one, it made for very rewarding viewing by the end.
Thank you very much, I'm delighted to hear that.
So we're chuffed that HBO will be taking it on.
Thank you, me too. I'm very, very happy about it.
You said in a previous interview, "Americans will watch British people, if they're spies" presumably thinking about John Le Carré and Bond etc. How far were you making Hunted for a US audience?
Well, first I should say I said that with a smile in my voice, you know.
Americans are famous for not watching other people's television, and pretty much just watching American television, which puts the rest of the world at a huge disadvantage economically, because the rest of the world buys American television, but Americans, until recently, wouldn't buy television from anybody else. I was very interested in breaking through that wall and finding a way to get more European television in America, and not just in a niche, not just on PBS - which is great by the way, I love PBS and fully support it - but I wanted to reach a wider audience with European talent and storytelling and I thought the spy genre is something where Americans are used to seeing spies with British accents, you know, John Le Carré and James Bond, take your pick,
The Saint
, there are many excellent adventures so that was very much in my mind.
Having said that, I was also fully aware that you can't do a show in Britain, and certainly for the BBC, and have it not be a British show. It
has
to have that integrity, it has to be designed for this audience first and if it isn't then this audience is going to smell it and nobody likes that. Nobody wants something that's been jury-rigged for commercial purposes, it has to have artistic and creative integrity and I wanted to please the British audience first.
Would you call Sam Hunter's emotional unavailability a kind of British character trait then? A version of the stiff upper lip cliché?
I didn't really look at it as being particularly British to be honest. I mean, my starting point with the series was, you know, 'If Jason Bourne was a real person, what would he be like and how would he have got that way?', and I just thought probably, that if you're someone who lies and kills for a living, then you're pretty damaged.
It becomes - as you'll know, having seen all eight episodes - the things that happened to Sam as a child that are now catching up to her are really the centre of the series. She's going to have to go back and face these traumatic events if she wants to stay alive. I thought, that's so ironic, because for a character like Sam it's easier for her to kill people than to go back and look at her childhood traumas, so that was in my mind more than any cultural stereotypes.
Do you think if Sam was less of a snow maiden, viewers would have found her easier to make an emotional connection with, and you may have kept a wider UK audience?
I don't know. I think the audience the show found really connected with it, and I'm really pleased with the reception the show's got. I think the ratings were good but not great, and it was just one of those calls, we just didn't have a commanding argument in our favour to make the case for renewal. But I don't know, I think that was sort of the character she needed to be and it wouldn't have been truthful to soften her up just to win a larger audience.
SPOILER WARNING
I have to ask this. I read that you deliberately didn't use certain real-life spy gadgets in Hunted so that it didn't become, in your words, "silly". How then do you explain the six foot rabbit in episode six?
The rabbit? I thought that was very funny. To me, that was very funny. The darkness of that, having that poor man dressed in a rabbit suit, yeah there were many times in the writers' room - I developed these episodes with three fabulous British writers for six months - and we were crying with laughter at some things in that series. [Laughing] To us, they were very, very funny.
There is a dark sense of humour running through the show isn't there? I loved the Communist being beaten to death with a statue of Karl Marx…
Yes! The Karl Marx thing, and then you know, when Fowkes retrieves the shoe…
Hassan's boot, which he then keeps on his desk!
Yes, from the place where they're incinerating the body. We thought we were very funny at least.
Do you think some people just didn't get the jokes?
You did at least.
Something that struck me about Hunted, which may explain why some viewers found it hard to follow, was how even very late on, even in the final two episodes, a number of new characters were being introduced in each episode. Even in episodes seven and eight, we were still meeting people for the first time. Were you laying the ground for future series by doing that?
Absolutely, and I think that will be one of the things in the changed format, the spin-off, is that I'll be eager to reward those who've seen this series and give them the answers that those last two episodes demand.
Just between you and me, that woman on the bridge in episode eight… is Sam's mother really dead?
Oh, I can't say. [Laughing] "Just between you and me", you're funny. Oh, you'll have to watch, you'll have to watch.
Okay, we will.

SPOILER WARNING ENDS
You mentioned being pleased with the audience the show found. The BBC non-renewal statement said that Hunted "…hasn't found the mainstream audience it was hoped". How important was reaching a mainstream audience to you?
You know, it's one of those things that you don't really get to decide. I always want to reach as many people as I possibly can, and I think I was spoiled by the experience of
The X-Files
because we got to tell exactly the stories we wanted to tell and we reached huge audiences all around the world but that's not something anybody can predict. You just make the show you love and put everything you have into it and you just hope for the best, and a lot of it is luck too, a lot of it is stuff you just can't possibly anticipate.
Going back to the online response, did you find the comparisons to shows like Spooks or Homeland fair or frustrating?
I understand totally why people make those comparisons, though I don't think they're particularly valid comparisons. I mean, I don't think
Hunted
is anything like either one of those shows, nor was it ever intended to be. When we started out,
Spooks
was still on the air and nobody had any idea that it was going off, it was 2009 that I first started writing Hunted. And with
Homeland,
we'd already shot and edited the first two episodes of
Hunted
before I even saw
Homeland,
so the audience's perception of these things is not in sync with how long it actually takes to develop a TV series.
If you wouldn't compare Hunted to those two shows then, is there another touchstone you would compare it to?
Well I really tried to make it unlike anything that I had seen because I do love the genre so much - and by the way, I love
Spooks
and
Homeland
too. I tried really hard to honour some of the shows I loved, like
Mission: Impossible
or
I Spy
or James Bond or the
Bourne
movies, but not to ape them. I think there are deliberate nods and winks to those franchises in the show, but I tried very much to make it feel like its own unique self.
What kind of nods are you talking about? Were there specific shots or scenes in which you've paid homage to those earlier shows?
I think that the opening of episode one feels very
Mission: Impossible
. It's similar because it's twist after twist after twist in the very beginning in Tangier, and the idea of going to Tangier at all was sort of Jason Bourne.
I Spy
was this phenomenal series in the sixties where they amazingly travelled all over the world on locations, and then, James Bond for me is the greatest cinematic spy and just casts a shadow that no one will ever completely escape, and happily so.
All of those characters and movies and TV series were in the back of my mind, but I was always trying to find a way to do it differently or reflect the character of Sam. I think that the perfect story has the character and plot intertwined, you know?
That
story can only be happening to
that
character, and there were many things I think about this first series that I hadn't seen before. I hadn't seen a character quite like her before, and I hadn't seen a world that was quite the same world as the one in which she operated, so it just created a whole bunch of interesting dramatic questions for us to answer.
Are more exotic locations in the pipeline for the HBO Hunted spin-off then?
Yes. Yes. I mean, none of that's been decided as I speak to you today, but that's definitely my ambition.
Hunted's cynicism was a really defining feature with this first series wasn't it? Its suspicion of corporations and capitalism and the moral murkiness of it all. There's no sense that anybody's doing anything good, ever.
Yeah, yeah. Well, I hate to say it, but I think that's pretty much the way I feel [laughing].
You're jaded.
To me, it makes goodness all the more moving, when you set it against an assessment that honest and that bleak of the way that most of the world operates. Because I do believe that there are good people in the world who want to do good things, and I'm enormously moved by those people, so I think it just sort of heightens the heroism of somebody like Sam, to see her do good knowing that there's no reward for it, knowing that in fact you pay a cost for doing the right thing.
Returning to Hunted, what do you think you learnt making it that you'll take into future work?
Oh well, this was my first production in Europe and the way television is made here is completely different from the way it's made in Hollywood. The whole thing was a huge learning experience and I got to work with so many amazing people. The actors I think are second to none in this country, the crew is incredibly dedicated and talented and the directors I had, starting with SJ Clarkson, who did the first two and ending with Dan Percival, who did the last two. You learn something by working with great people, so it was a great experience.
We haven't scared you off then, you're going to stick around in the UK?
I'm not going anywhere, not yet anyway!
Frank Spotnitz, thank you very much!
Hunted's series one finale airs on BBC Two this Thursday at 9pm and the BBC series one DVD is released on Monday the 26th of November.
++++++++++++++++++++++++++++++++++++++++++++
Model: Auburn Model
Shot and
Edited by: PrinceH
Music: The Art of Love by Toni Braxton
++++++++++++++++++++++++++++++++++++++++++++